If you love traveling and photography, then camera bags are something that you must have. They would keep all of your expensive equipment together. But looking to the aesthetics of the bag, they are plain ugly and do not appeal to most of the people. With the entry of Wandrd Prvke, things have taken a different turn.
This is not only useful but has a very classy and elegant design. This is a pragmatic do-everything bag that all camera lovers crave for. You can take this one to photo shoots, your traveling days, and so on. This bag is best and can be used regularly without any problems. The bag has a very clever design, which surely enhances the experience of the users. This one is weather-resistant, has convenient access points, and is indeed full of utilities.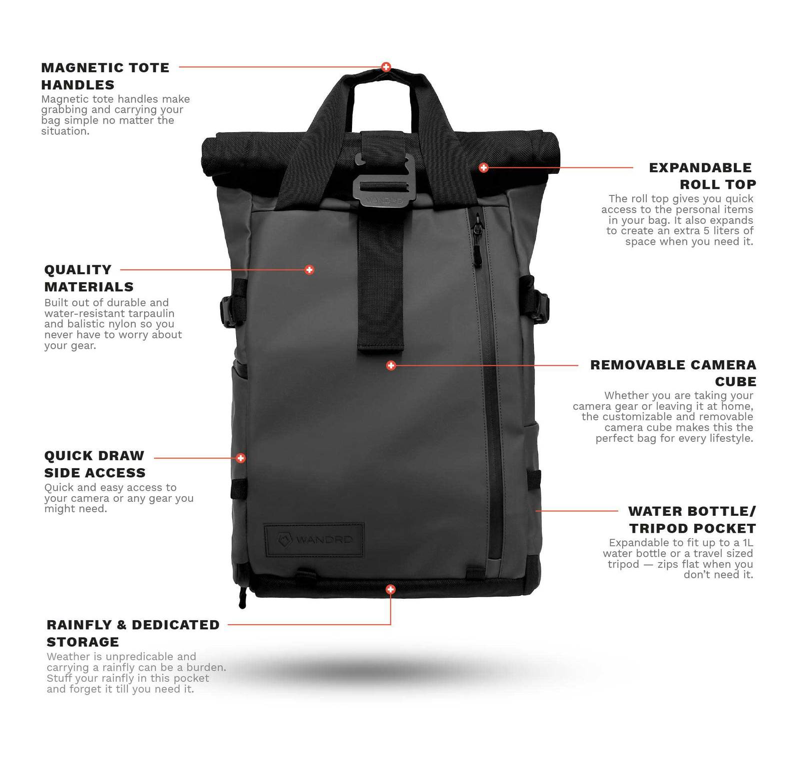 CHECK THE GUARANTEED BEST PRICE
You would love taking this aesthetically pleasing utility bag with you outdoors. It has the sheer of packing together a lot of gears. You would get the bag in 21L and 31L to attempt a one bag travel, which is indeed ideal for a day out or a multi-day trip. This bag has a minimal urban design with useful features that you would absolutely love.
Wandrd Prvke Review
CHECK THE GUARANTEED BEST PRICE
Wandrd Prvke Backpack Specs
PRVKE 21 Specs:
Dimensions: 17″H X 11″W X 6.5″D
Volume: 21 L to 25 L (roll top fully extended)
Weight: 1.3 kg (2.8 lbs)
Laptop Sleeve Dimensions: 13″H X 9.5″W X 1″D
Tablet Sleeve Dimensions: 12.5″H X 9.5″W X .5″D
PRVKE 31 Specs:
Dimensions: 19″H X 12.5″W X 7.5″D
Volume: 31 L to 36 L (roll top fully extended)
Weight: 1.5 kg (3.4 lbs)
Laptop Sleeve Dimensions: 13.5″H X 10″W X 1″D
Tablet Sleeve Dimensions: 13″H X 10″W X .5″D
The basic features of the Wandrd Prvke are:
You would get an option for the storage space between 21L and 31L.
It comes with a tarpaulin that is waterproof.
The nylon is of premium quality, Robic 1680D
The quality of the zippers is premium and is waterproof too.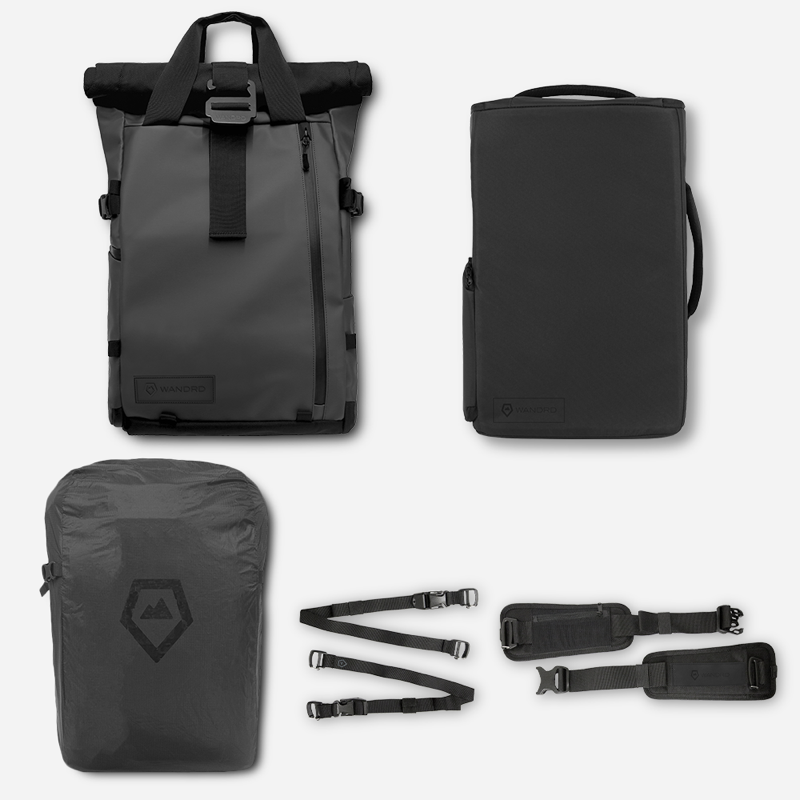 You would also get
It comes with a water bottle pocket that is expandable.
It has a magnetic tote handle for your convenience.
Additional storage pockets to make space for your extra equipment
Different points inside the bag would keep your equipment anchored.
Great Features
The bag has a camera cube which is componentized.
Also, consist of roll top access that is expandable
High quality, TSA approved laptop compartment
Convenience is the fact here, and hence you would get multiple access to the main compartment of the bag
With the internal dividers, you would be able to organize all your gears properly
There is also quick side access so that you can keep the things that you need at your convenient reach.
You can even store your money at the hidden pocket inside the bag
You can use it on a daily basis or just during your vacations.
CHECK THE GUARANTEED BEST PRICE
Who is the Wandrd Prvke Backpack Suited For?
If you love photography and possess camera equipment, then this is just for you. Photographers around the world swear by this bag. This one is classic, elegant, and definitely a style forward. The design is unique and is sure to get some attention. If you love the versatility and want a bag that would suit your gear configurations, then this is the one for you. The one bag travel concept can be well executed with this one- from cameras to drones, and you can fit them all here, especially in its 31L variant.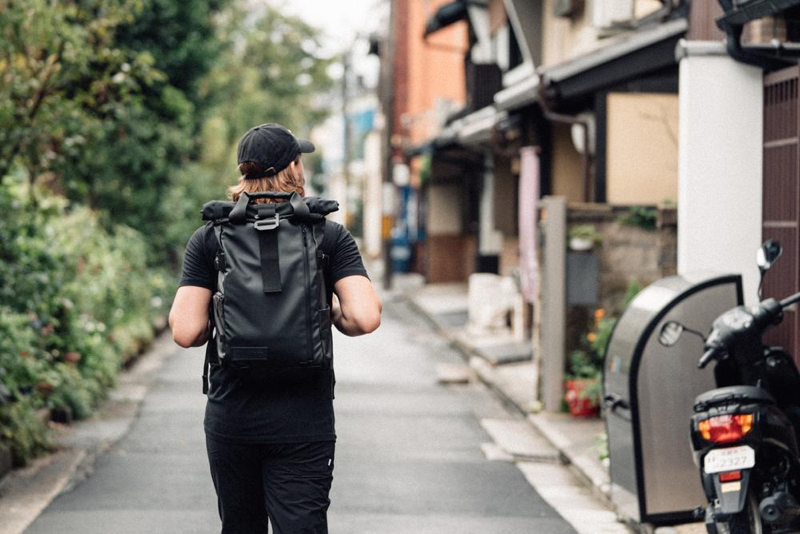 The bag comes with multiple pockets, both hidden and exposed. This would give you the space to keep small things together without losing them. The best thing about the bag is its huge main compartment. You would be able to keep your equipment like a camera, laptop, drone, etc. together in the different organized spaces or partitions. Thus, if you are a traveler or an explorer who loves capturing the beautiful images of the world, then this elegant and functional backpack is just for you.
CHECK THE GUARANTEED BEST PRICE
Who is the Wandrd Prvke Backpack NOT suited for?
If you like keeping your profile low and not grab some attention, then avoid buying Wandrd Prvke. You would not want to walk down some weird street with this bag as it will surely grab some attention. Never go on any dangerous place with this bag as the outward appeal of this would attract more and more people. The aesthetics of this one is something that is truly praiseworthy, but it might not blend well with the traditional workplace.
Also, if you believe in keeping it minimum, then the size of the bag might give you some trouble. This is really a big one and does not come with the detachable compartment so that you can size down according to your needs. So this means you would have to carry a small bag for your basic requirements.
CHECK THE GUARANTEED BEST PRICE
What's so good about the bag?
When we are talking about good things, for the bag, there is a lot to tell. This bag blends elegance with style, functionality, and minimalism. The bag has a very modern design, is sleek, rugged, and is the perfect fit for urban photographers. To conclude it all, Wandrd Prvke is a fully functional and good looking bag.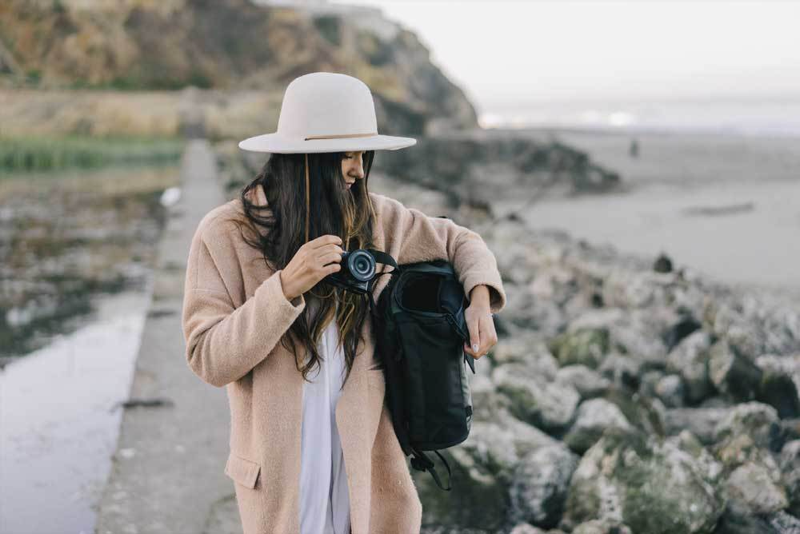 Easy access to your belongings – If you are into variable activities and often travel, then traveling with minimum belongings might be your mantra. So with Wandrd Prvke, you would be able to keep your shoes, clothes, and other belongings together. Coming with a big compartment and multiple access to the same, keeping all the things together is not at all a problem. On trips where you do not wish to carry multiple bags to carry multiple things, this will be your ideal partner. This is adaptable, and you would be able to access a lot of stuff at a time. Traveling packing has indeed been simplified with this bag.
Comfort – Now coming to comfort, this bag is surely a very comfortable one. You can pack all your gears and other travel requirements together in this bag. It would surely be heavy but will not be a burden for you. The comfortable and padded shoulder straps do contribute greatly to this. With the right mix of padding and rigidity, the bag is successful in distributing the weight evenly all around. Adding the hip and sternum straps are not only comfortable but will take the look of the bag to a whole new level.
Design – The back panel of the bag comes with a noteworthy design. It has molded not only foam but also horizontal channels so that you can keep it comfortably at your back during the hot and humid summer. If you wish to purchase the bag primarily for photography equipment, then this one is a real champ. You can get a camera cube which can be secured or left loose from inside the bag, according to your own conveniences. The internals of the cube can also be customized according to your requirements, which is really great. One thing to keep in mind is that, while the 21L version will be able to fit a camera and a few other types of equipment, the 31L is much more versatile. When you wish to carry it all together, then 31L is the best variant for you. You would also get an additional side access flap that is zipped. This is for memory cards and other small things that are prone to get lost. The small zipped pockets are extremely useful when you are traveling and need to find things urgently. You can also wear the bag behind and leave the camera cube by your side, which is convenient when you are out taking photographs.
Multiple pockets – One of the best things about this bag is that you would get multiple pockets in this one. You would be able to store various items in this. We absolutely love the hidden pockets where you can keep your valuables without any worries. You can keep your passports or boarding pass here, and with small spaces to organize pens and small tools, things would become very convenient for you. You can store important documents easily in the front pocket. The top pocket is where you can get quick access. There are many other pockets that you will discover once you start using this one. At the bottom of the bag, you will get rain fly storage, which would give additional protection to the bag in bad weather. Even though it is quite weather-resistant, but there is no harm in being extra careful. If you wish, you can keep other things in rainfly storage like cables, straps, ropes, etc.
Tote handle – The tote handle of this bag is uniquely adequate. You would understand the same after using this for some time. This is very comfortable to hold, and you would feel it more when the bag is really heavy. You would be able to walk seamlessly just by carrying the handle. They have the right length, which you can easily scoop. You would also find a magnet attached to the handle so that they do not go away from one another easily.
Being a wanderer's bag, you would get several anchor points here. These are extremely useful when you wish to strap the equipment outside the bag. The position of the anchor points is very convenient and also would allow for configurations. This is very useful on the go, as you would be able to do a makeshift desk with this one.
The hardware of the bag is really great, even after using this one for multiple days, you will see that the bag will look fairly new. The components of the bag will remain intact, and this consists of very high-quality material. Being water-resistant, you will be able to take this bag anywhere you want.
The zippable expandable water bottle pocket is a great option. The pocket is really very deep, and thus, you would not have to worry about the bottle falling out. You can also stuff other components with the bottle due to the large size of the pocket.
What could have been better?
Even though this bag is a great one and comes with one of the best hardware, there are some minute details that can be improved. In doing so, the user experience would surely get enhanced.
Firstly, when it comes to organizing small tools, there are not many options here. The hidden pocket can store the smallest of the equipment that is not flat. The size of the quick access pocket is also quite small.
The side pocket is a tiny one. The front pocket, even though it is big, would make the things present inside visible with their shapes. This is not a very secure thing to do. Even if you keep your documents here, they would be crushed or wrinkled. Thus, even though there are multiple pockets and compartments available, but they do need some modifications.
Also, the bag is very big, which grabs the attention of many people. This is true for the 21L variant as well. The tarpaulin material of the bag is foamed, and hence, the bag always looks the same. The zippers also need a bit improvement as they look and feel cheaper than the other counterparts.
Coming to the inside part of the bag, there is not much internal organization unless you are using the camera cube. This is the primary storage for the bag. You can even Velcro the partition up, but everything would depend on your using pattern.
Wandrd Prvke Backpack Review Reddit
u/papasmurf – Love mine, but don't disagree with the cons others have listed. Bottom line: if your travel is oriented around tech/camera gear, it will be hard to find a better option. If you just want to pack your clothes, and maybe a small camera or go pro, there are better, lighter, less expensive options.
u/epcrct – Used mine 3 weeks in SEA. They bag should have broke with as much stuff as I was stuffing into it (a whole other story) but it worked very very well for our trip
u/Netcooler – Dunno about the travel backpack, but I have the everyday backpack. I abuse it day in day out and I've worn one of the zippers to the point the bag was unusable. This happened twice already (they refuse getting YKK zippers), but their warranty and service is unparalleled. I'm on my third backpack from them, and didn't need to put up a fight for it. Their word is their bond.
Wandrd Prvke Backpack Review Verdict
So if you are into photography, DSLR, and camera equipment, then this bag is a definite buy for you. This is indeed a gorgeous and functional bag but would require many improvements. The size is really big, and hence you might not want to take this one to every trip. If you do not care about the attention, then you can take this bag with you.
There are minor inconveniences that the bag can cause you, but that is the case with all bags. Being water-resistant, the bag can be taken out on all seasons. The bag is very secure, and you can take out your camera equipment out in the rain in this backpack. None of them is perfect. But if you want a classy and functional backpack, then this one is just for you. So the next time you are out shopping for a travel backpack, consider this one.
Wandrd Discount Code
They're many websites on the internet making misleading offers such as:
Wandrd Prvke Coupon
Wandrd Prvke Discount Coupon
Wandrd Prvke Discount Code
Wandrd Prvke Discount
Wandrd Prvke Coupon Code
Wandrd Prvke Coupons
Wandrd Prvke Code
Wandrd Prvke Student Discount
Wandrd Prvke Student Discount Code
Wandrd Prvke Student Coupon Code
Wandrd Prvke Promo Codes
However, the truth is that Wandrd does not offer any coupon code for the Prvke backpack or otherwise. But all orders come with FREE US SHIPPING, 30-DAY RETURNS & LIFETIME WARRANTY.