Confused between Airalo or Halofly? Your trip is due and you aren't sure what kind of an eSIM to get? We will help you clear up that confusion. In this article, we will guide you through the major Esim providers and determine which one is the best.
Rest assured, we've got you covered from every angle to ensure your travel and exploration go off without a hitch. We'll dive into all the important details – whether it's making sure you stay connected with great network coverage or helping you navigate the ins and outs of pricing. Consider us your go-to resource for a smooth and hassle-free journey!
Halofly vs Airalo
Holayfly is well established eSIM provider that's been around since 2018. Airalo, on the other hand, is a newer eSIM provider that was founded back in 2019. While Airalo shot in popularity to become one of the biggest eSIM provider globally, Holafly gained its footing much later and it is now one of the most upcoming and promising eSIM provider. The technology surrounding these eSIMS is pretty simple. Unlike a physical SIM card, an eSIM doesn't need to be inserted into your device. Instead, the eSIM plan is downloaded directly into your mobile phone. To use either service, you'll need a device that's compatible with eSIM technology.
How to get started with Airalo

Create an account on Airalo.
Download the app or use the desktop version.
Choose your destination and preferred plan.
Install your eSIM.
Activate your eSIM.

How to get started with Holafly

Pick an eSIM plan on Holafly.
Use the express checkout or enter your information.
After completing the payment, you'll receive an email.
Scan the QR code to install your eSIM.
Activate your eSIM.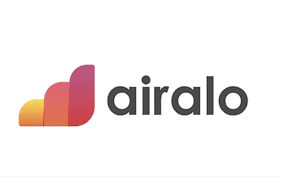 Halofly vs Airalo Pricing plans
While both offer great plans, there's one main distinction to be made that separates them from each other. Holafly has unlimited data plans while Airalo's plans have a data limit. Now it may look like Holafly is a clear winner here due to its capacity to provide unlimited data plans.
This is where you are mistaken.
You will have to pay a little more for the unlimited plans while you pay less for a set data plans. Let's be honest. You don't truly require unlimited data while traveling. It's not as if you'll be streaming movies or downloading games while you're overseas. Most likely, you'll need the internet for essential needs and basic communication. While there may be some constant worrying over running out of data plan, Airalo's prices are still arguably better than Holafly's. Plus, most of the accommodations or public spaces have Wi-Fi.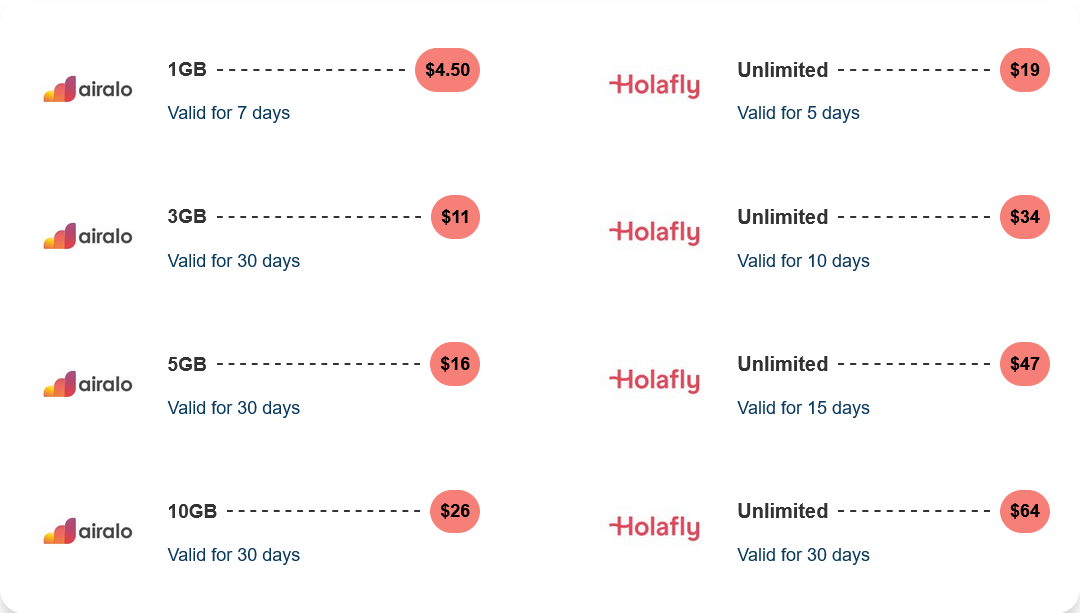 You can see from the image above the stark differences in prices. If it isn't obvious enough, Airalo takes the cake when it comes to having better plans with great prices,
Click Here To Check Airalo eSIM Packages
(Prices are based on plans in the USA.)
Holafly vs Airalo Coverage
In this section, we will be covering the range both of these eSIM providers cover. A strong network with good coverage all over the world is a testament to the reliability and the service an eSIM provider stands for. While Airalo and Holafly offer coverage for travelers in various countries and regions, their coverage and plan offerings differ in several ways.
Airalo boasts an extensive coverage network that spans over 200 countries and regions. On the other hand, Holafly has an established network coverage that spans over 130 countries and regions. As they both continue to expand their services, the number of countries they support is likely to grow further.
Before we get into who offers what kind of coverage, let us break down the different kinds of eSIMs:
Local eSIM: These plans are designed for specific countries, allowing you to have a convenient and cost-effective means of staying connected while visiting that particular destination.
Regional eSIMs: Regional eSIMs are tailored for broader areas and continents. Especially if you intend to go country-hopping across Europe or Asia.
Global eSIM: Global coverage. Ideal for you if you want to move between multiple destinations and need a seamless connectivity solution.
Airalo

Local eSIMS
Regional eSims:

Hello Africa: This plan covers 26 countries across the African continent.
Asialink: Encompassing 14 countries in Asia, this plan is ideal for travelers exploring the region.
Island Hopper: With coverage across 22 Caribbean islands, this plan is perfect for those seeking a tropical getaway.
Eurolink: Covering 39 European countries, this eSIM is great for travelers exploring various parts of Europe.

Global eSIMs:

Discover Global: Covering 87 countries

Holafly

Local eSIMs
Regional eSIMs:

Europe: With coverage in 32 European countries, this plan suits those exploring the diverse continent.
Asia: Covering 12 Asian countries, this plan is tailored for travelers visiting this part of the world.
North America: Holafly offers coverage in Canada, Mexico, and the United States.
South America: This plan covers 13 countries across South America.
United Kingdom: Holafly provides coverage specifically for the UK.
Things are clearly in Airalo's favor due to their sheer number of coverage. While Holafly is pretty competent with its coverage, it just cannot surpass Airalo at the moment. It also lacks a global eSIM which can be pretty inconvenient if you are planning a multiple-destination trip.
Click Here To Check Airalo eSIM Packages
Holafly vs Airalo Customer Support
You have to admit that if your eSIM is not working or if you are having any other trouble, you need rock steady support from your eSIM's customer service. Especially if you are stranded on a no man's land without any means of communication.
While conducting our tests on both the eSIMs, it was found that Airalo's customer support is one of the best in the industry as they respond in less than a minute at any time of the day. They offer support in various languages too. English, Spanish, German, French, Italian or Japanese. And if you had any doubts or issues regarding the installation process, they would solve it immediately through their support chat or whatsapp.
Holafly's customer service on the other hand needs to work a lot more if they want to compete with Airalo. Although the customer can contact them through the chatbot or through social networks, the truth is that they take a long time to respond, and if we have any problem with internet abroad, we usually need an immediate solution.
Holafly vs Airalo Pros and Cons
We are well aware that both of these eSIMs are not entirely perfect. We have curated an advantages and disadvantages list for both the companies so that you can decide which one is truly better.
Holafly
Advantages

– Unlimited data.

– You can pay in euros, dollars and Mexican pesos.

– Many data plan options: 5, 10, 15, 15, 20, 30, 60 and 90 days.

– App where you can check the remaining days of the contract.

Disadvantages

– Their eSIM cards do not include calls or sms.

– They are one of the most expensive options on the market.

– They do not allow data sharing with other devices.

– Installation cannot be done through their App.

– Reliable but subpar customer service.
Airalo
Advantages

– It is the cheapest brand on the market.

– They have an App and you can buy and install the eSIM from it.

– They allow you to recharge the eSIM.

– Their eSIM card allows sharing data with other devices.

– They have eSIM cards for 190 countries.

– Quick, efficient and reliable customer service.

Disadvantages

– Gigabytes are limited to 20GB or less.

– They do not have unlimited data cards.

– Short-term plans have very limited gigabytes.

– Their eSIM cards do not include calls and sms.

– The duration of the plans is limited to 7 and 30 days.
Halofly vs Airalo Verdict
Airalo is the clear winner here. Don't get us wrong. Holafly is a good reliable eSIM provider but when compared to Airalo, it falls short. Firsty, the plans on Holafly are simply too expensive and paying that much for unlimited data makes no sense. Especially with the availability of WiFi almost everywhere. Secondly, while Holafly can offer good customer service, it simply cannot match the speed of response of Airalo. And lastly, the coverage of Airalo is so widespread that it covers almost every other continent. Holafly simply does not have enough firepower to match that kind of coverage.
Click Here To Check Airalo eSIM Packages
Frequently Asked Questions (FAQ) – Choosing the Right eSIM Card for Traveling Abroad
1. Which is the best eSIM card for traveling abroad?
In our experience, Airalo eSIM cards are the best for traveling due to their low cost plans and wide availability.
2. Is Holafly's eSIM card better or Airalo's?
If you tend to use a lot of data while travelling, Holafly can be a good eSIM for you. However we firmly believe that Airalo is better due to it's low cost pricing and wide availability.
3. Are Airalo's eSIM cards reliable?
Airalo is an eSIM card brand with a good reputation in the market and a 4.5 rating on Trustpilot.
4. Are Holafly eSIM cards reliable?
Holafly is a Spanish eSIM card brand with a very good reputation in the market and a score of 4.0 on Trustpilot.
5. Do Airalo eSIM cards offer unlimited data?
Airalo eSIM cards do not offer unlimited data. The only eSIM company that offers unlimited data is Holafly.
6. Do Holafly eSIM cards offer unlimited data?
Holafly eSIM cards offer unlimited data in most of their eSIM data plans.
7. When should I activate my eSIM card?
An internet connection is required to activate eSIM cards, so it is recommended to activate them before embarking on your trip or at the first place with a Wi-Fi connection at your destination.
8. Is Airalo better than Holafly?
Airalo offers better support than Holafly. Additionally, you'll find more countries and plans on Airalo. However, Holafly is a better choice if you need a plan that includes unlimited data.
9. Which is cheaper: Airalo or Holafly?
Generally, Airalo is cheaper than Holafly. However, it's worth comparing plans on both Airalo and Holafly as prices can vary based on the destination or type of plans you're looking for.
10. Which eSIM provider is the best?
We believe that Airalo is one of the best eSIM providers at the moment. That being said, for some destinations, Holafly or Nomad might be a better choice. We recommend researching the plans a bit before embarking on a journey.