People that are constantly traveling abroad are plagued with high roaming bills, poor connection, and Wi-Fi issues. If you are on a budget, you will most likely purchase a local prepaid SIM card for the country you are going to. Data roaming plans are expensive, and some international SIMs are not affordable either, so you will be spending huge costs on your trip.
Click Here To Check Airalo eSIM Packages
Since the launch of eSIMs, the high cost of roaming has been slashed, and it has become a thing of the past. Airalo eSIM is one of the best out there, so you no longer have to pay for roaming charges or run around the airport looking for a decent Wi-Fi connection. But how good are Airalo eSIMs, and will they replace traditional sims for travelers? Well, in this article, I will look in detail at the features offered by the company and tell you whether it is the one for your travels.
What is Airalo eSIM?
Airalo is a global eSIM provider that helps travelers add eSIMs to their phones, allowing them to connect in more than 200+ countries and regions worldwide. It is the first eSIM marketplace that helps people travel the world and stay connected wherever they might be.
The platform has a ton of different regional and local data plans that you can choose from. You can be assured to be connected at an affordable price anywhere in the world. It is a massive store for eSIM packages, but what differentiates it from its competitors?
Airalo has spent resources and time connecting to local networks and cellular companies around the world. You are essentially purchasing a local eSIM cellular plan from your local provider. All this means is that everything is available at lower costs and without any hassle.
Airalo will do all the work for you efficiently. You can easily enjoy the convenience of an eSIM without having to pay a fortune. This has resulted in Airalo becoming so popular over the past few years.
Airalo Esim Review Reddit
U/Secure-Jellyfush-252- "I have used Airalo for the US and recently Mexico. It is cheap and super simple if your phone supports eSIM. Just follow the directions carefully and remember to turn roaming off from the Airalo eSIM.
U/cybersurfr- "I've used Airalo extensively, especially in the US, and had friends and family also use it. Even my elderly parents. It is solid, and the eSIM download is instant. Use this whenever you travel, and don't pay the extortion fee from your carriers".
U/luhe- "Had a good experience with Airalo eSIM in US and Canada, and it did its job and was less cumbersome than getting physical SIM cards".
Click Here To Check Airalo eSIM Packages
eSIM vs SIM Card
Nearly the entire world today has mobile phone coverage. This is why you can connect with anyone, no matter where you are. However, that doesn't mean that traditional phone carriers have become cheaper and more affordable. Many travelers will come home to huge bills applied to their data plans, even though they have turned roaming off in a foreign country.
Airalo allows users to purchase regional and local data plans that are available all around the world for local providers. The platform has spent its time and effort to connect efficiently with local cellular carriers worldwide, ensuring that you get affordable data plans when you are traveling. Here, you no longer have to worry about any hidden fees or expensive roaming fees. With it, now you can easily book your cab or contact anybody without having to worry about your bill skyrocketing.
Listed below are the benefits of eSIMs:
Flexibility to install a new eSIM anywhere and anytime
Local data plans from local providers
No issues with storing a physical plastic SIM card
More options for data plans and packages
Keep your number active while being able to switch your data plan anytime
No excessive roaming charges
Fewer restrictions with contracts or other commitments
Better security for your SIM
Instant activation
Switch over between local, regional, and global plans easily
Physical SIM cards are slowly turning out to be a thing of the past, and eSIMs make your life easier and offer enhanced flexibility while you are traveling.
Now that you have understood the benefits that come with eSIMs, we'll look into how to set up Airalo eSIM to make your travel smooth.
How Does Airalo Work?
Most of the packages offered by Airalo are data-based, so you won't be able to make phone calls or send SMS. The good news is that you can easily make calls or send messages across most internet-based services on your Phone.
Airalo has three types of eSIMs:
Local eSIM- The eSIM allows you to get coverage across the 200+ countries that Airalo covers. This is a great choice for users if they are only visiting one country on their trip.
Regional eSIM- The eSIM gives you complete coverage across different regions and continents. For example, the Island Hopper regional eSIM covers 24 Caribbean islands. Similarly, the Eurolink regional eSIM covers 39 countries in Europe. Apart from this, there are also regional eSIMs in Asia and Africa. If you are going for a multicountry trip within the same region, the eSIM is designed for you.
Global eSIM- The eSIM covers around 84 countries having 1-20 GB data having a validity of 7-180 days. This is ideal for users if they are planning a multicountry trip across multiple regions of the world.
You can choose to buy an Airalo eSIM based on the country you are visiting. Prices for them vary based on the location, data amounts, and the validity period. You can purchase top-up packages for your eSIM that meets all your requirement.
Next, you simply have to download the Airalo app from the Play Store or the App Store. Follow all the instructions carefully to add the eSIM to your phone utilizing the device settings. You can directly do this on your mobile device, and you no longer have to waste time getting going on your laptop. Users can purchase the eSIM directly from the Airalo website and connect it to their QR code.
Depending on the eSIM you choose, it will be activated immediately once you arrive at your destination. However, in certain cases, the activation policy will give you further installation instructions that typically involve the setting up of an APN. You don't have to worry even here, as Airalo will provide clear instructions on how to do it.
If the QR code doesn't work, then you'll have to manually activate your Airalo eSIMs yourself. Here are quick steps to do so.
Go to the settings tab on your phone
Select the cellular or mobile section and press on Add a cellular/mobile plan
Enter your details manually
Enter the SM-DP, address, and activation code, which you'll find in its purchase confirmation details
Finally, add a 4-digit confirmation code if applicable
Once you have added the Airalo eSIM, you connect directly to the local network and enjoy super-fast and reliable internet access. It sounds cool, right? In the past, you would have 2 choices:
Get a local SIM card
Pay a huge roaming cost
Both are less attractive, making them time-consuming and costly. With Airalo, you can stay connected while traveling to a foreign country. You simply have to buy a data plan that is suitable for the country you are traveling. Once you arrive at the destination, activate it like the steps we have discussed above, and you are good to get going right away.
Click Here To Check Airalo eSIM Packages
What Network does Airalo use for eSIMs?
Airalo makes use of the top cellular networks around the world that help provide data efficiently to their eSIMs. In the UK, data is given through the Uki mobile and Telefonica O2. In the USA, the data is transferred through AT&T, T-Mobile, and others.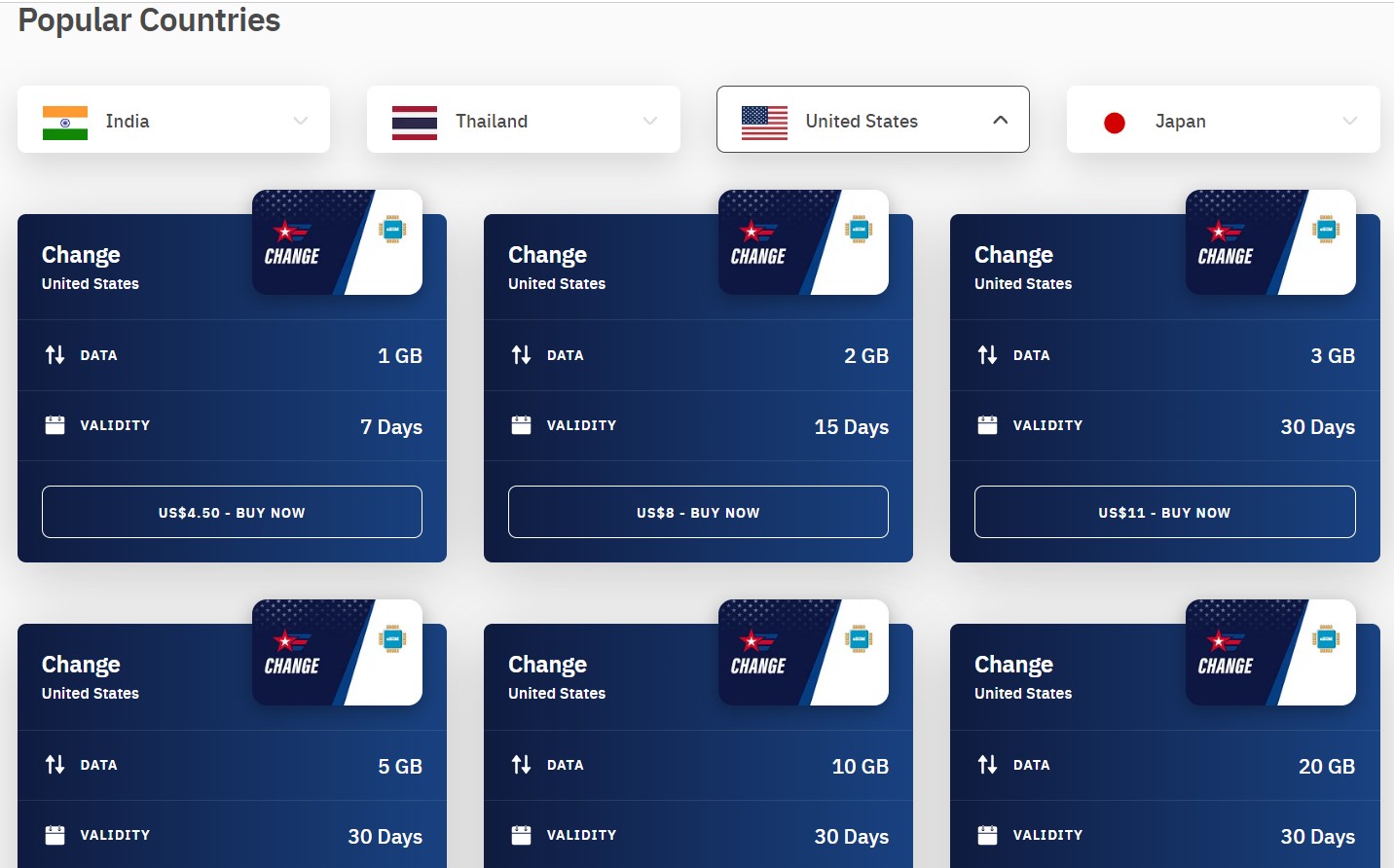 If you want to see the networks for the country you are visiting, then you can click the country name under Local eSIMs. You can click on one of the packages and scroll down to get additional information.
What Devices Support Airalo eSIM?
Before purchasing an Airalo eSIM, you must make sure that your phone is compatible with it. Airalo has a list of compatible devices that they keep on updating all the time. This list allows you to see and verify whether your phone will work with the eSIM.
It is important to note that the Airalo eSIM is only compatible with the latest cellular devices, and it is not able to service older phone models for the time being. Phones are not the only things that can take advantage of eSIM for travel. Tablets and laptop computers can be run with an in-built SIM chip installed. This makes it really easy to work from anywhere and gives you the freedom to enjoy your life. Some of the compatible devices include the latest iPhone models, 3rd gen iPads, Google Pixel, latest Motorola devices, etc.
An important thing to check is that your device is unlocked by your carrier. Many carriers lock the devices that are on monthly or leased from the carrier. Cellular devices that you pay in full may lock devices for a certain time frame after it is purchased, which often lasts 30-60 days. In this case, Airalo might not work with your phone.
In your mobile device (iOS devices), just head over to the settings tab > General > About. Scroll, and you see the Carrier lock. If it says No SIM restrictions, then you are good to go. If it says SIM Locked, you might be restricted by the original carrier. In this case, Airalo won't work on your device, and you will have to contact your carrier for more information.
If you are an Android user, then you will need to check whether your device carrier is unlocked. Each carrier has its own policies for when the device will be unlocked, so you can go ahead to give your carrier a call to see if they can unlock yours. Once you have checked that your device is compatible and the carrier is unlocked, you are ready to use the Airalo eSIM.
Click Here To Check Airalo eSIM Packages
Airalo eSIM Features
When you are going abroad, one of the first things you will do when you land at an airport is to purchase and connect to a travel sim. With Airalo, the step is more effortless and simpler.
1. Connect to Local Network as you Land
Airalo completely eradicates the stress of purchasing a new SIM in the country you are going to. There is no requirement to set up a new SIM, and you can easily connect to your local network as soon as you land. You don't have to run around to find the airport Wi-Fi to book your cab or find where you want to go in this new place. This is very convenient for people that are constantly traveling from one place to the other and especially for first-time visitors to a new country.
2. Access to Multiple eSIMs
Having a stack of plastic SIMs is a big problem for people at airports. With Airalo, you have the ability to store multiple eSIMs directly in your account. You can easily store these eSIMs on your devices without frantically searching for plastic SIM cards at the airport. Airalo offers regional eSIMs for those that are staying in multiple countries, so you don't have to switch over to another SIM if you are moving every 5-7 days.
3. Language Support
When you enter a new country, understanding the language of the place if you are not a native is difficult. You can easily connect to Airalo's customer support team, who will speak to you in your native language.
This means language will no longer be a barrier, and you can efficiently conduct your business without worrying about the installation of the eSIM or any related work.
4. Airmoney
Airmoney is Airalo's in-app web currency that is generated each time users purchase an eSIM. However, this is not applicable if you are using a referral or promo code. Once you made the payment and it gets verified, your account wallet is credited with a percentage back of Airmoney.
For example, if you pay $10 for your eSIM, then you will get 5% of Airmoney cashback on your account that can be utilized for your next eSIM purchase. This is a very convenient way to pay and, at the same time, save on eSIMs in the long run.
Users can also get Airmoney through Airalo's referral program. When you refer a friend to the app using your unique code, you'll get $3 in Airmoney, while your friend will also get $3. This is a win-win for both individuals.

5. Save 10x on Roaming Mobile Data
Airalo helps you to completely get rid of roaming charges, and you can travel the world without worrying about a bill when you get home. Their mobile data plans are cheap, with the lowest one starting at $4.50.
6. Customer Support
For a traveler, not being connected for a short while in a new place is very scary. Airalo has a great chat function built directly into the app. They offer 24/7 support and service; however, its only downside it is not necessarily live.
On average, it takes about 15-20 minutes to get a reply from the customer service team. However, it may take a longer time, which means if you have an issue urgently, you may be in hot water. However, if you compare it to its competitors, then you'll be surprised that is much better. So, you can say it is an industry thing.
The team at Airalo is friendly and resolves most issues efficiently. They can help solve any problems without having to push individuals away. Service is an essential part of any online business, and the support that is provided by Airalo and its staff is best in this space.
Airalo Pros and Cons
Pros
Access to eSIM plans across 200+ countries, territories, and regions around the world
Good performance and speed in most countries
Easy to use, intuitive app
Excellent 24/7 customer support
Affordable data plans with no hidden fees
The eSIMs are connected to the fastest local network
Regional as well as global plans for better convenience
Support multiple languages
Save 10x roaming on mobile data
Cons
Doesn't include a local phone number
eSIMs aren't cheaper than local SIM cards
No family plans to share data
No live chat support
Supports mostly data-only plans and limited call plans, and no SMS
Click Here To Check Airalo eSIM Packages
Is Airalo eSIM Worth It For International Travel?
Airalo is the best eSIM provider in the market today. As a traveler constantly on the move, it is a great tool for me to have. It is a super easy and affordable way to stay connected with the world. From the time of purchase, installation to usage, it is fast and reliable. It is every traveler's dream. However, its only downside is that it has a limited number of plans and it doesn't support direct calls from your phone. But it is important to note that Airalo has completely changed how I connect online while traveling full-time as a digital nomad. The convenience and flexibility that they offer are unbeatable for me.

Airalo eSIM FAQs
1. Can you make calls using Airalo?
Yes, you can easily contact and call your friends and family using Messenger, Skype, WhatsApp, and other online apps. However, you cannot call directly from your phone. When you are selecting a plan on Airalo, you have to confirm the plan you want.
2. How does Airalo work?
Airalo and its plans are data-based. You just have to download the Airalo app, select your preferred plan and follow the instruction to install the eSIM to your device. All this can be done on your phone, so you don't require a laptop to get you started.
3. Does eSIM drain your phone battery?
No, but when you are setting up the eSIM, it will use your battery, similar to the way when you connect to a new Wi-Fi network. It will not consume more battery compared to your standard SIM card.
Click Here To Check Airalo eSIM Packages
Airalo eSIM Alternatives
Airalo is one of the best eSIM providers in the market; however, it is not the only option available. There are some alternatives to it, and we've discussed them below.
1. Nomad
Nomad is a great alternative to Airalo and offers competitive pricing for local data plans that are fit for budget travelers. The installation process is very simple; however, the actual data plans are where it stands out.
It doesn't cover the same number of countries as Airalo, but it offers the option to buy a lot more data, including its unlimited data plan. If you are on a budget and require more data, this tool is one for you.
2. Holafly
Holafly is another app that users can be used to purchase eSIMs. The process of buying and installation of the eSIM is simple; however, I would choose Airalo if I had to base it on this metric. When it comes to cost, Holafly is expensive, but it has unlimited data plans.
Read Next: