We have taken it upon ourselves to solve this debate once and for all. 1Password and LastPass are two of the leading password managers in the industry. This has sparked several debates across various platforms and articles, with everyone discussing which one is superior.
If you're feeling confused about which one to choose, don't worry! Our guide will analyze the differences and assist you in making the right choice. We understand that researching the best password managers can be overwhelming due to the technical jargon used. Therefore, we will simplify the technical aspects, making it easier for you to comprehend and make an informed choice. The simplified explanations are highlighted like this. If you understand these concepts, feel free to skip the highlighted content.
Both products are highly advanced solutions for managing passwords. If you've been contemplating whether to choose 1Password or LastPass, we're here to help you make that decision.
LastPass and 1Password at a glance
Not trying to be one of those all-in-one tools that try to be everything to everyone, LastPass and 1Password mainly focus on storing and managing your passwords. While they may be a little different from each other, they are pretty similar when it comes to functioning and features.
Why you should consider NordPass
Before we proceed to settle the debate, we would just like to point out why NordPass is a good Password Manager and a great alternative to both, 1Password and LastPass. NordPass stands out as an exceptional password manager for several compelling reasons.
First and foremost, its user-friendly interface makes it a breeze to navigate, ensuring a seamless experience for both beginners and tech-savvy individuals. The simplicity and intuitive design of NordPass make it accessible to users of all levels of expertise, eliminating any potential barriers to adoption.
Click Here To Get 34% OFF NordPass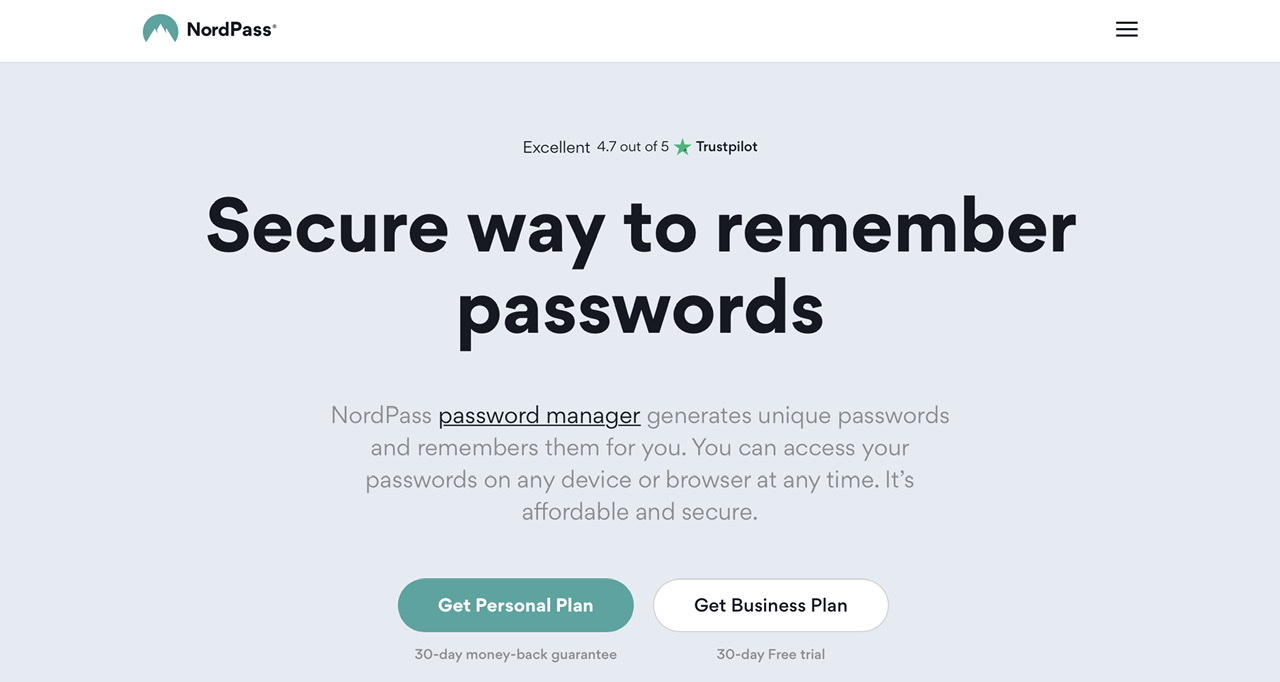 Furthermore, NordPass offers a powerful free version that rivals many other password managers in terms of functionality. This free version provides users with essential features such as password generation, password storage, and autofill capabilities, allowing them to secure their online accounts without spending a dime. The availability of a robust free version makes NordPass an appealing choice for budget-conscious users who still desire top-notch password management.
Click Here To Try NordPass For Free
1Password vs LastPass: Security
We believe that security should be one of the primary factors to consider when selecting a password manager. Both 1Password and LastPass excel in this aspect, as they exclusively transmit encrypted data to their respective server providers.
To elaborate, when you send data to their servers, it undergoes encryption, transforming it into a secure code that can only be deciphered using the correct encryption key. This encryption ensures that your sensitive information, including passwords, remains safeguarded during transmission. In essence, both password managers implement the necessary measures to ensure the security of your data throughout the transfer process.
However, we would like to highlight an incident involving LastPass in August 2022. During this time, LastPass disclosed that a hacker had gained access to a confidential developer account, allowing them entry into the program's development environment. LastPass assured its users that they were actively addressing this attack and that no confidential user data had been compromised.
In September, LastPass declared the completion of its investigation, stating that no evidence suggested any compromise of customer data or encrypted vaults.
Unfortunately, in late November, LastPass announced that one of its third-party cloud storage services had been hacked, through the information obtained during the August 2022 incident. As a result, the hackers were able to access certain customer information.
In January 2023, a class action lawsuit was filed against LastPass, citing their alleged "failure to exercise reasonable care in securing and safeguarding highly sensitive consumer data."
It is worth noting that this is not the first time LastPass has experienced a security breach.
To put things into perspective on how serious the situation is, the hackers now have a backup of customer vault data. While certain fields in the vault databases, such as passwords, were encrypted, others like email addresses, telephone numbers, IP addresses used when accessing LastPass, and billing addresses were not. This means that even if the hackers were unable to crack the passwords, they still possess a substantial amount of personal and identifiable data pertaining to every affected LastPass user.
Encryption
LastPass uses the industry standard 256-bit AES encryption with PBKDF2 SHA-256 for master passwords. 1Password uses the same 256-bit AES encryption with PBKDF2 Password hashing for the master password to make it more resilient against cyber attacks. 1Password takes a step further by adding an additional layer of security with a 128-bit secret key on top of the master password.
To break it down in simpler terms, both password managers use a very strong method of protecting your information.
LastPass and 1Password both use a very strong method to protect your information. They use something called encryption, which is like putting your data in a locked box. This encryption is based on a widely accepted standard called AES, which is very secure. It uses a key (a special code) to lock and unlock your data.
To make it even more secure, both LastPass and 1Password use a technique called password hashing. This means that your master password (the one you use to access your LastPass or 1Password account) is transformed into a different, more complex form before it is used to encrypt your data. This makes it harder for attackers to guess or "brute force" your password by trying lots of different combinations.
LastPass and 1Password both take security seriously, but 1Password goes one step further. In addition to encryption and password hashing, 1Password adds an extra layer of security with a secret key. This secret key acts as an additional code that is combined with your master password. It provides an extra layer of protection so that even if someone somehow gets your master password, they still won't be able to access your data without the secret key.
To summarize, LastPass and 1Password both use strong encryption and password hashing to protect your information. They make it harder for cyber attackers to crack your master password. 1Password goes the extra mile by adding an additional layer of security with a secret key. This combination of techniques helps ensure that your data remains safe from cyber attacks.
Two Factor Authentication
In 1Password's case, It is possible to set up two-factor authentication via authenticator apps like Authy or Microsoft Authenticator. You can even confirm login requests through push notifications via Duo Security. Additionally, you can implement Windows fingerprint or Apple's FaceID.
In the case of LastPass, most of the password managers can be integrated as a Two Factor Authentication option. The list includes TOTP (time-based one-time password) apps, physical authenticators, smart cards, and more. If you want to amp up the security, you can even enable them all and require to use the TOTP app, biometrics, PIN, and smart card – all at the same time.
Platform Compatibility
Both password managers are compatible with various operating systems, including Windows, macOS, Linux, Chrome OS, Android, iPhone, and iPad. They also offer support for popular web browsers such as Chrome, Firefox, Safari, Edge, and Opera. When it comes to mobile devices, both managers are on par.
However, when it comes to laptops, 1Password gains an edge with its native apps that work in conjunction with browser extensions, while LastPass relies solely on browser plug-ins. This provides 1Password with a slight advantage in terms of flexibility, although the difference is negligible for most users.
Password Sharing
When it comes to password sharing, 1Password and LastPass differ in their capabilities:
1Password allows you to share items with recipients who are not 1Password users using a feature called Psst! (Password Secure Sharing Tool). By opening an item, you can generate a link that can be shared with anyone, providing convenient and flexible sharing options.
On the other hand, LastPass only allows credential sharing with other LastPass users. You can also manage access to the login credentials within the LastPass platform. However, a downside is that LastPass frequently requires you to verify your email address before granting permission to share items.
In terms of functionality, versatility, and user-friendliness, 1Password outperforms LastPass in this area. The broader sharing options and ease of use make 1Password a favorable choice when considering password-sharing features.
Secondary Features
Other than managing passwords, 1Password and LastPass host a lot of secondary features like:
Autofill Passwords and two-factor authentication codes
Password-sharing functionality with other people
Password strength assessment guidance
Strong Password Generation
Both Apps Support Passkeys
Autofill Passwords and Two-Factor Authentication Codes: Both password manager apps have a feature called autofill. This means that when you visit a website or app that requires a password, the password manager can automatically fill in the password for you. This Autofill also works for Two-Factor Authentication codes as well.
Password Sharing Functionality: Both apps allow you to share passwords with other people. This can be useful if you need to share an account with a family member, friend, or colleague. The password manager ensures that the passwords are securely shared and only accessible to the people you choose.
Password Strength Assessment Guidance: Both apps can help you assess the strength of your passwords. They can provide guidance and recommendations to help you create strong passwords that are more difficult for others to guess or crack. This helps increase the security of your accounts.
Strong Password Generation: Both apps have a feature that can generate strong and unique passwords for you. These passwords are randomly generated and are designed to be difficult to guess. Using strong and unique passwords for each of your accounts adds an extra layer of security.
Passkeys Support: Both apps support the use of passkeys. Passkeys are a replacement for passwords that provide faster, easier, and more secure sign-ins to websites and apps across a user's devices. Unlike passwords, passkeys are always strong and phishing-resistant.​
Apart from this, both password managers are identical to each other and serve a singular purpose; Managing Passwords.
Watchtower and Dark Web Monitoring
1Password's Watchtower and LastPass' Dark Web Monitoring are proprietary security features that monitor the dark web for compromised information.
The Watchtower within 1Password checks your saved passwords against known security breaches, and weak or reused passwords, and alerts you if any of your passwords are compromised. It provides insights and recommendations to improve your password security.
Dark Web Monitoring is a feature offered by LastPass that scans the dark web for any leaked or stolen credentials associated with your email address. If it detects any compromised information, it sends you an alert and provides instructions on how to address the issue.
While the Watchtower by 1Password focuses primarily on monitoring the security of your saved passwords within the vault, LastPass' Dark Web Monitoring specifically scans the dark web for compromised credentials associated with your email address.
Basically, the Dark Web is a part of the internet that is only accessible by means of special software, allowing users and website operators to remain anonymous or untraceable. It is typically used by people for carrying out illegal activities such as selling weapons or drugs. Your private information should be protected and should not be available on the Dark Web. Both LastPass and 1Password prevent this through their proprietary features mentioned above.
Lastpass vs 1Password: Pricing
When it comes to the pricing of password managers, both LastPass and 1Password provide attractive deals. If you're in search of a free password manager, LastPass is the top choice. However, we suggest investing a small amount to fully leverage all the features offered by these password managers.
When considering paid services, 1Password holds an advantage. Firstly, you can enjoy a free 14-day trial without submitting any payment information. Additionally, they offer a 30-day money-back guarantee. The personal account option is billed on an annual basis, but the monthly cost amounts to $2.99 per month.
1Password has a family sharing plan too wherein it costs $4.99/month and is accessible to upto five family members. If you want to add an additional member to the plan, you can invite them for an extra $1/month of your total price.
1Password also provides options for Teams and Business users. The Teams plan is priced at $19.95 per month for a team of 10 members, while the Business plan costs $7.99 per month per user. The Teams plan offers unlimited shared vaults, administrative controls, 5 guest accounts, and 1 GB of document storage per person. On the other hand, the Business plan includes all those features, along with 5 GB of document storage per person, 20 guest accounts, custom roles, usage reports, and additional benefits.
Coming on to LastPass, with the free version you get support for any device type, unlimited password storage in your vault, password generator and much more. However, the biggest drawback is you only get 50 MB of Data storage, which is quite less. Also you will be restricted to only one device type and cannot use it across multiple devices.
You have the option of selecting either LastPass Premium at $3.00 per month or LastPass Families at $4.00 per month. LastPass Premium offers additional features compared to the free version, including one-to-many sharing, dark web monitoring, emergency access, priority tech support, and autofill applications. Importantly, it enables cross-device functionality, allowing you to access the same vault on both mobile and desktop devices.
You can add up to 6 users on the Family Plan and Premium is limited to only one person.
1Password Vs LastPass: Pros/Cons
Let's examine both password managers, 1Password and LastPass, to gain a comprehensive understanding of their features and functionalities. By comparing these two options, you can make an informed decision based on your specific requirements and preferences.
LastPass
Pros
Cost-effective Families plan with $4.00 per month with 6 members
30-day trial period
Free option available, with advanced features in its Premium package for $3.00 per month.
Strong security functions with AES 256-bit encryption
Cons
Free version is only available on one device
Busier user interface due to the sheer number of features
More complicated for beginners
Suffered a data breach in August of 2022
1Password
Pros
Allows users to add tags to passwords
Stronger security with an additional Secret Passkey
Convenient QR code setup option
14-Day trial period with a 30-Day money-back guarantee.
Cons
No free version
Family Sharing plan is more expensive than LastPass with $4.99 per month for five family members.
LastPass vs 1Password Reddit
When it comes to obtaining genuine feedback instead of promotional endorsements, Reddit emerges as a valuable platform where users freely express their experiences and suggestions. Let's dwell deeper into what Redditors have to say about this whole debate:
'Just wanted to jump in and say that after importing to 1Password that I can not believe how much nicer it is to work with. I have been with Lastpass long enough to remember when it was a great product and pretty much just worked… It's been a LONG time since those days and I honestly can't tell you why I stuck with it for so long. Probably because it's just seem like a huge task to move to another PW manager. Real glad it was so EASY to move the data.' – u/cmeretire

'I've been using 1password for a few years and absolutely love it, never had an issue. There's a free trial available too. I tried LastPass a long time ago but I don't remember thinking it was great.' – u/RizRiz57

'They're both great password managers BUT from a usability point of view nothing compares to 1Password. You can also store your vaults offline! IE never on the cloud.

If you're looking to save 25% then go with LP but if you want a Password manager that has excellent usability, great features and never fails to impress…then pay the full amount for 1Password' – u/brunzing
So the general consensus on Reddit is that 1Password is miles ahead of LastPass.
'There is always a chance for any company to be victim of a compromise/breach. The way LP has handled it was the breaking point for me. They have refused to be open with customers and it seems like a 50/50 chance calling support if they are going to be helpful or not. Do some research into the next password manager you are looking at to see what kind of encryption they use and if they have any past breaches and how they handled it. I decided to go with Nordpass after some research and already having one of their other products. Most you can do is keep using complex passwords coupled with MFA and hope for the best.' – u/tinman7889
LastPass seems to have garnered a lot of negativity and loss of trust in its customers after the incident back in August 2022. Many users have been switching from LastPass to other password managers like NordPass and 1Password.
NordPass – Our Favourite Alternative
Founded in 2019, NordPass is an upcoming Password Manager that is on track to become one of the best in the industry. It's our favorite alternative to 1Password and ensures easy and secure logins as well as safe password sharing. It encompasses nearly all the features offered by leading password managers such as 1Password and LastPass, including two-factor authentication (2FA), identification of weak or reused passwords, and a multitude of other capabilities. You can even integrate Touch ID or Face ID and it offers support for Windows, MacOS, Linux, Android, and iOS.
NordPass serves as an excellent alternative to LastPass, particularly for beginners or average users, thanks to its user-friendly interface. Prices for NordPass start at just $1.43 per month, and there is a generous 30-day refund policy in case you change your mind. Also, there is a free version in case you do not want to pay.
Click Here To Get 34% OFF NordPass

1Password vs LastPass Reddit FAQs
1. What is the main difference between 1Password and LastPass?
The primary distinction between 1Password and LastPass lies in their security approach and pricing. 1Password places a strong emphasis on enhanced security measures, but it comes at a relatively higher cost. On the other hand, while LastPass offers good security features, it is just not as robust as 1Password, and it provides users with a free version along with premium plans.
2. Which password manager offers better security features, 1Password or LastPass?
Both 1Password and LastPass prioritize security and offer features such as two-factor authentication (2FA) and password strength analysis. However, 1Password is often regarded as having stronger security measures, including advanced encryption algorithms and additional security auditing.
3. Are there any notable differences in pricing between 1Password and LastPass?
Yes, there are differences in pricing. LastPass offers a free version along with premium plans, while 1Password offers a 14-Day Trial Period with a 30-Day Money Back Guarantee.
4. Can I use 1Password and LastPass on different devices and browsers?
Yes, both password managers are compatible with various devices and browsers. They support popular operating systems such as Windows, macOS, Linux, Android, and iOS, as well as major web browsers including Chrome, Firefox, Safari, and more.
However, the free version of LastPass is limited to one device only.
5. Is it easy to switch from LastPass to 1Password or vice versa?
While switching password managers can require some effort, both 1Password and LastPass offer tools and guidance to facilitate the process. They provide import/export options to help users transfer their passwords and other data between platforms.
6. Which password manager offers better customer support, 1Password or LastPass?
Both 1Password and LastPass offer customer support through various channels, including email, live chat, and extensive knowledge bases. However, some users have reported that 1Password provides more responsive and personalized support compared to LastPass.
Also, the customer support at LastPass is locked behind a paywall. You have to be a paid customer to avail of support at LastPass.
7. Can I trust 1Password and LastPass to securely store my passwords?
Both 1Password and LastPass have established themselves as reputable password managers and employ strong encryption methods to protect user data. However, no system is completely immune to potential security vulnerabilities, so it's important to follow best practices such as using a strong master password and enabling two-factor authentication.
Conclusion
For the majority of users, 1Password emerges as the superior password manager when compared to LastPass. The user experience, availability, and pricing of both applications are so similar that the enhanced security and transparency offered by 1Password make it a clear and easy choice.
If you are already using LastPass, have a secure master password in place, and prefer to avoid the minimal inconvenience of switching services, it is understandable to stick with LastPass. However, for new users, LastPass would have to offer specific niche features that they highly desire (or provide a significant discount code) in order to be a better choice compared to 1Password.
If you prefer not to spend money and are looking to utilize free features, LastPass becomes the go-to option.
Read Next: