TLDR: If you're in a hurry NordPass is the Best LastPass Alternative according to Reddit! You can try it out for free, but the premium version is worth it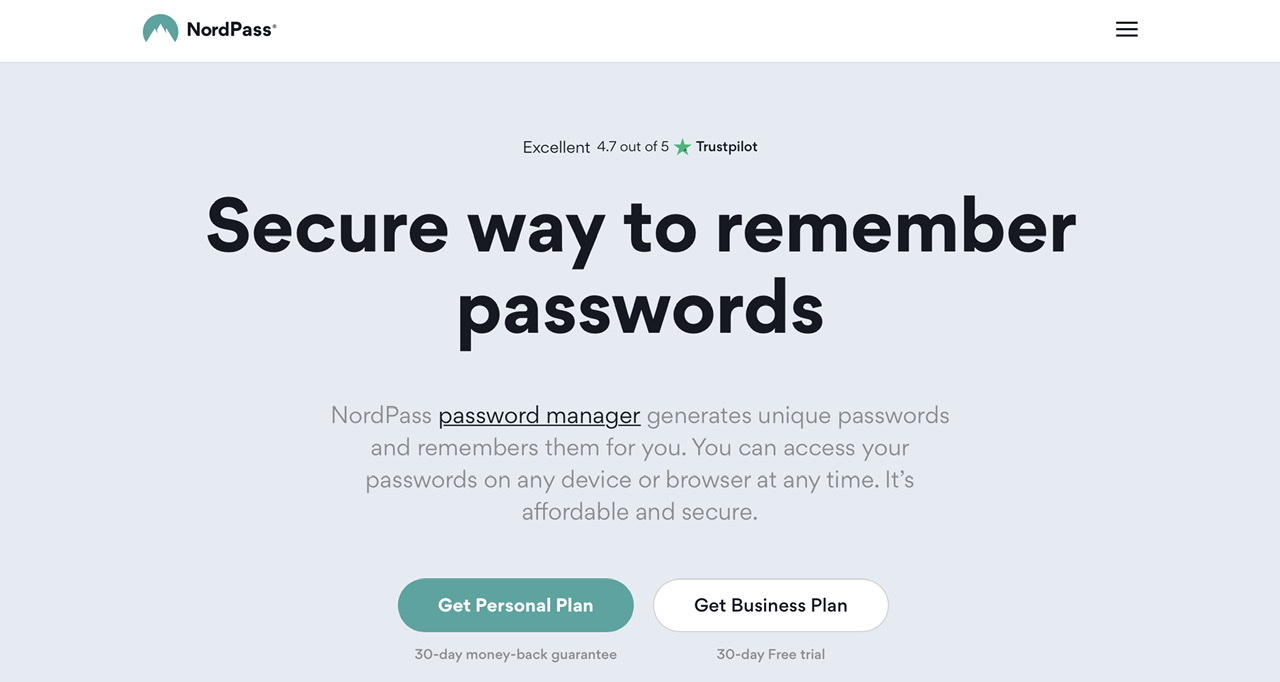 LastPass, the most well-known and widely used password manager, confirmed in August 2022 that an unauthorized party had gained access to certain elements of customers' information within a third-party cloud storage service. It was revealed that hackers had obtained extensive information from user accounts such as billing and email addresses, end-user names, telephone numbers, and IP address info.
However, LastPass' data breach woes continued, as in March 2023, LastPass announced that the hacker behind the previous breach in August 2022 had hacked a senior engineer's home computer and obtained access to a critical corporate vault available to only four top employees. This vault gave the hacker access to a cloud-storage environment that contained encryption keys for 30 million customer vault backups. This news was concerning to users of LastPass. Since then, many users have shifted to other password managers.
If you are looking for an alternative to LastPass to keep your data secure, then look no further. In this article, I have reviewed the most popular alternatives discussed on Reddit. When it comes to finding a secure alternative to LastPass, there are many options available. Keep reading to know more!
Why should you use a password manager and what to look for?
Passwords are an important security feature that protects your data from falling into the wrong hands. However, having to create usernames, login IDs, and passwords for every account or website you like to use, makes it difficult to keep track of it all. Password managers are a great solution to this problem. A password manager stores all your passwords in a single account which is protected by a master password. This means that the master password to your safe is the only password you'll ever need to remember.
Password managers do more than just store and input passwords for you, they also help create strong passwords and even protect other sensitive digital information. Password generators make it easy to create unique and strong passwords that are impossible to crack. Password managers also sync information across several devices which makes automatic logins easy while keeping all of your devices safer. Those that provide cloud-based syncing, help you switch to another device and have all of the updated login information waiting in your vault.
Most password managers (at least the good ones) have multiplatform support so that you can access your password vault regardless of what OS or device you're using. Look for password managers that support the four major platforms: Windows, Android, iOS, and Mac OS which will cover the needs of the vast majority of users. Often, logins happen through a web browser, so choose a password manager with browser extensions on major browsers. This will make it much easier to use the password manager seamlessly.
Look for password managers that use the best encryption protocols such as AES 256-bit encryption to keep your data safe. Password managers using a zero-knowledge storage approach ensure that they cannot access your secure storage vault, so a compromise from their end does not expose your credentials.
Some password managers also offer additional vault storage that lets you store things like notes, bank account numbers, manually-entered credentials, and files of any extension in a secure vault. Good password management tools provide recovery options in case you forget your master password. This approach may differ from one service provider to another.
Password managers also have an autofill option where you are allowed to save the username and password of a newly-created account. There are a few other features that some password managers provide like easy and secure credential sharing and vault export. But these features are not high-priority but can be handy in the future.
LastPass Alternatives Reddit 2023
1. NordPass – Best LastPass Alternatives According To Reddit
NordPass is a password management software developed by NordVPN, a well-known provider of virtual private network (VPN) services. NordPass is dedicated to securely storing and managing sensitive information such as passwords and credit card details. It came into existence in 2019 and is placed in Panama, which is great for security. Redditors find this password manager highly secure and the most reliable. It is feature-rich and won't break your bank account.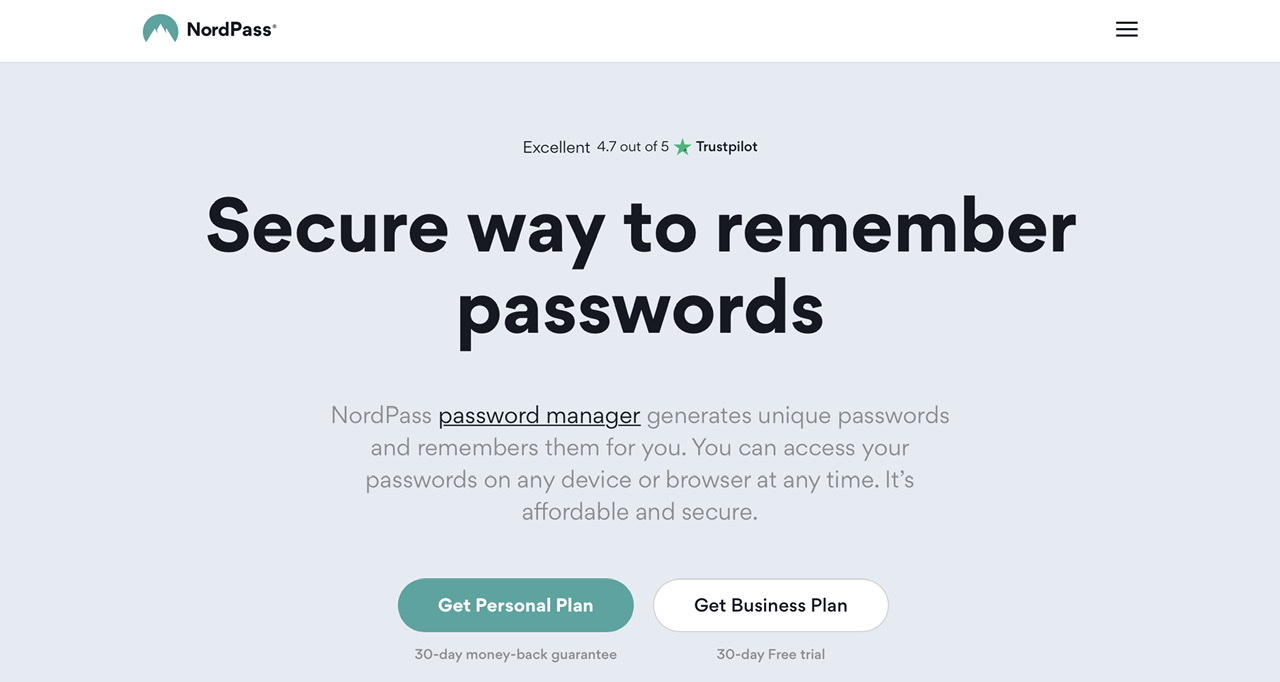 It is an excellent alternative to LastPass for several reasons. NordPass uses the AES-256 encryption standard to protect the user's data, which is considered a high-end military-grade encryption standard. The encryption keys are stored on the user's device which means that NordPass does not have access to them. This approach ensures that only the user can access their data. Additionally, NordPass offers XChaCha20 encryption, a zero-knowledge policy, and multi-factor authentication (MFA) as an added layer of security. In contrast, LastPass uses the AES-256 encryption standard as well, but as we know there have been security breaches in the past that raised concerns about the security of user data. Some other useful features that make NordPass the most secure password manager are biometric logins, secure password sharing, data breach monitoring, password health checks, and emergency access.
NordPass' user-friendly interface makes it easy to add, edit and delete passwords and other sensitive information. It also provides browser extensions that are compatible with more popular browsers such as Chrome, Firefox, and Safari whereas LastPass is only compatible with a few browsers. These extensions help in automatically filling in login credentials and other sensitive data when the user visits different websites.
If you want to shift from LastPass to NordPass then the import feature of NordPass makes it very easy to import all your passwords smoothly. It can import CSV files from anywhere and offers you a chance to avoid importing data by hand.
NordPass comes with a password generator tool that enables the creation of strong and unique passwords. The tool allows users to customize the length and complexity of the password and generate a randomized password that can be used for accounts that require high-level security measures such as online banking and email accounts. This level of customization is something that you do not see in LastPass.
The software is available on different platforms including Windows, Mac, iOS, and Android. This allows users to sync their data and passwords across all their devices, ensuring that they always have access to their information.
By comparison, NordPass has more affordable pricing than LastPass. It also offers a free version with limited features, and the premium version costs less than LastPass for individual users and significantly less for business users.
Overall, I consider NordPass as a good alternative to LastPass because it is a password manager that is not only user-friendly but is also secure, as it uses stronger encryption, offers a more customizable password generator tool, and is more affordable. These features make NordPass a superior option for users looking for a secure and easy-to-use password manager.
Reddit's Opinion About This LastPass Alternative:
u/Prize-Ad9063 "I just switched from LastPass to NordPass. Works really well, including the autofill. Migration was very easy. They also have a family plan if you need PW sharing."
u/2k18_till_infinity "LastPass is no longer an option since the recent breach. With that said NordPass is the way to go. It is nicer and somehow more user-friendly UI. It has a password strength indicator when you create passwords + for existing logins. As sb already mentioned, on a computer, NordPass adds these little buttons to a username & password form, that opens a small popup with the saved passwords for that website, just like LastPass does"
2. 1Password
1Password is a password manager developed by AgileBits Inc. This is a popular choice among many Redditors as it provides strong security features compared to any other password managers out there. 1Password has never had a data breach and offers a range of features to help users manage their digital identities with ease and security.
It uses AES-256 encryption, a Secret Key, and a Master Password for added security. The Secret Key is a unique code that is created by the user during the sign-up process, while the Master Password is a unique password that the user creates to protect their data. It also offers two-factor authentication (2FA) and supports various 2FA methods, including SMS, authenticator apps, and security keys. 1Password uses 650,000 iterations that slow down attempts to brute force a master password while LastPass uses 100,100 rounds of an algorithm called PBKDF2.
The password generator found in 1Password lets you create passwords with up to 100 characters, meaning you receive unbreakable protection for each of your accounts. The Watchtower security tool alerts the user to any weaknesses in the security ecosystem, including passwords that need changing, compromised logins, and security updates from the website's user's store credentials.
When it comes to the availability of the software across various platforms, 1Password provides users with local apps for Windows, Linux, and Mac, which can be used offline to access their passwords and other sensitive information. These apps come with a universal keyboard shortcut that allows for quick password searching, something that is not seen in LastPass's desktop apps. This makes 1Password your only choice if you want to use a local desktop app for offline use.
Its browser extensions are designed to work with or without the desktop app installed. These browser extensions are compatible with popular browsers such as Chrome, Firefox, Edge, and Opera, among others.
Overall, 1Password offers a wide range of options for accessing and managing passwords, including local apps for Windows, Linux, and Mac, a browser-based app for Chrome OS, command-line tools, and browser extensions that work with the most popular browsers. This versatility and flexibility make 1Password a popular choice for users who want secure and easy-to-use password management software.
Reddit's Opinion About This LastPass Alternative:
u/ushills "I've moved my family account over to 1password and all seems good so far, like the security of the additional secret key. About 200 of 800 passwords updated over Christmas, thanks Lastpass, this is the last time."
u/ EmperorConstantin "I have moved from Lastpass about 2 weeks ago to 1password… and i love it so far…really polished, and it feels like they actually care about you."
3. Bitwarden
Bitwarden is a highly secure password manager which has an excellent free plan. Redditors cannot stop recommending this as an alternative to LastPass. What earns Bitwarden extra points is the fact that it is open-source.
Bitwarden offers both free and paid plans. With the free plan, you can use its service across an unlimited number of devices. It also includes core functionality such as two-factor authentication, username and password generator, unlimited vault items, and automatic syncing across devices. Bitwarden's free plan is more comprehensive and provides you with the most important features. LastPass's free plan is designed to push its paid version to customers as it does not offer many features. The premium plan includes all the features of the free version plus encrypted sharing of text and files, advanced two-factor authentication, priority support, and emergency access.
Bitwarden offers apps for Mac, Windows, and Linux. It also provides mobile apps for iOS and Android devices. By comparison, Bitwarden offers more browser extensions compared to LastPass. Both have browser extensions for Chrome, Firefox, Edge, Opera, and Safari but Bitwarden has browser extensions for Vivaldi, Brave, and Tor as well. Bitwarden is more transparent and fully open source while LastPass is closed-source.
Bitwarden uses AES-256 encryption and a master password-derived encryption key and follows the zero-knowledge model of encryption. When it comes to the password generator, Bitwarden offers more customization capabilities as you can create a username and passphrase and specify a minimum quantity of numbers and special characters. It also has some other unique features that you can check out.
Bitwarden has the upper hand when compared to LastPass for its advanced security features, some of the cheapest plans on the market, great usability, and performance.
Reddit's Opinion About This LastPass Alternative:
u/Arsy51 "I just moved to BitWarden, too (late last night). I've got ZERO complaints with BitWarden so far. Works great on my iPhone, iPad, desktop Win11 PC, and MacBook Pro. So far, so good. Had to manually re-do all my TOTP in Authy (I was using LastPass' Authenticator since I was paying for the premium subscription)–that was a fun process."
u/sirc314 "Ya I switched to bitwarden a while ago. There are some minor differences, but overall I trust them more than I trust logmein running LastPass now. If you think you can create a super strong MP (you probably can) then Bitwarden is a fine option. It is third-party audited, and it publishes the results of those third-party audits (unlike LP)."
4. Keeper Security
Keeper Security is another password manager that most Redditors swear by. It has multi layered security features that keep your information safe. Keeper has also passed multiple third-party audits to inspire consumer confidence. It takes your security seriously and adopts end-to-end encryption which ensures that not even Keeper employees have access to your data.
Keeper offers many plans you can choose from: a free plan, an individual plan, a family plan, and a business plan. Keeper has solid security features and uses AES-256 encryption, PBKDF2 encryption, two-factor authentication, biometrics, and private sharing for keeping your data highly secure and safe from any breaches. Keeper supports various two-factor authentication (2FA) methods such as TOTP generator apps like Google Authenticator and Microsoft Authenticator, Hardware tokens, U2F-based physical keys such as YubiKey, and Smart wearables like Apple Watch. Keeper's zero-trust architecture policy ensures that any data is monitored and validated, regardless of its source.
By comparison, Keeper is more secure as it supports consistent MFA access via SSO Connect while LastPass's multi-factor authentication support is often limited when federated login is used. Keeper offers encryption at multiple levels while LastPass only supports encryption at the vault level. Keeper is available across multiple platforms when compared to LastPass. These platforms are Mac, Windows, Chrome, Firefox, Safari, IE, Edge, and Opera. Keeper provides you with more business add-ons such as advanced reporting, compliance reports, secure file storage, and sharing, and much more compared to LastPass.
Keeper also offers emergency access where a loved one or other designated user can access account information in case something happens to the primary account holder. Keeper's superior MFA support, encryption, and history of favorable third-party certifications give it an edge in the overall security category when compared to LastPass.
Reddit's Opinion About This LastPass Alternative:
u/StorminXX "Im using Keeper Security, for about 3 weeks (because of LastPass). I really like it so far. AMA"
u/matt_quelc "Another Keeper user here, for over 3 years. It's a little on the expensive side but does a good job for me."
u/ollivierre "Keeper their SSO and SCIM is great."
5. KeePass
This is a completely free password manager that is open source and is another option you can choose if you are planning to shift from LastPass. While it may lack features that are easy to use, it is secure and hasn't had any recent breaches. It has limited built-in features but is a decent option that you can consider if you want to use an open-source and completely free password manager.
Some of the features that it lacks are auto-saving, auditing, sharing, account recovery, syncing between devices, and data breach monitoring. But what makes it an option worth considering is the fact that it stores all the data on your device and not on cloud servers. This lets you have full control over your login credentials.
When it comes to security, you can trust KeePass as it is a self-hosted password manager. Your data and sensitive information is stored locally on your devices which keeps them safe from server-level hacking threats. It also uses unbreakable 256-bit AES encryption and 2FA. Another great feature that it offers is its highly customizable password generator where you can generate passwords up to 30,000 characters long. You get a lot of flexibility in choosing the kind of password you want to generate. You can also use custom characters to add to your password.
KeePass provides you with several plugins that you can use to add more features such as account backup, database syncing, password auditing, browser integrations, and much more. It is available on OS like Windows, Android, Mac, iOS, and Linux. The desktop apps are not as user-friendly compared to LastPass but the most popular KeePass App has to be its mobile app for Android, KeePass2Android. It is very user-friendly and easy to use.
Overall, this password manager is worth considering if you are looking for an open-source password manager. I would not recommend it to anyone who is not tech-savvy.
Reddit's Opinion About This LastPass Alternative:
u/DurstaDursta "I was a Lastpass fanboy and was really angry when their pricing and features changed. So I migrated to KeePass, and I will never look back. Hands-on is the best password manager and it's free."
u/nemec "If it's only gonna be used by 20 people in IT internally, I've had great success throwing KeePass on a network share. Not a great solution for complex access control, but for a single team with access to everything it's significantly easier."
6. Dashlane
Dashlane is a well-organized password manager that is another great alternative to LastPass according to Redditors. It offers extra features and has some of the best security features compared to competitors. Its premium plan is backed by a 30-day money-back guarantee, so you can try it out without any risks. Other plans that it offers are a free plan, premium plan, family plan, team plan, and business plan.
By comparison, Dashlanes free plan is better than LastPass as it offers unlimited password storage on a device, auto-save, auto-fill, password sharing, password auditing, and 1 GB of file storage. It is one of the only password managers on the market that comes bundled with a VPN. Another extra useful feature is its live dark web monitoring. It is available across the same OS as LastPass: Windows, macOS, Linux, Chrome, iOS, and Android.
Dashlane has a much cleaner and clutter-free interface compared to LastPass and this may be because LastPass offers some additional features. When it comes to security, Dashlane has two-factor authentication, secure notes available on all paid plans, and dark web monitoring available on premium and family plans. It uses 256-bit AES encryption and encrypts all of your data locally on your device before your data and other sensitive information reach Dashlane's servers. This means that, unlike LastPass, in case of a breach your data will not be compromised. Moreover, Dashlane adopts a zero-knowledge protocol.
You can't go wrong with Dashlane when it comes to your password protection and management. It has all the features to keep your passwords secure and is very beginner friendly. It will make for a brilliant alternative to LastPass.
Reddit's Opinion About This LastPass Alternative:
u/zippykaiyay "Evaluated LastPass and DashLane. I have a number of tests and test sites that I ran each through and evaluated for our needs and amount of friction. DashLane won hands down. There are a few showstopper issues with the other service that made it an easy decision."
u/fitting_pieces "Dashlane is quite good, but the frequent logins (every 15 days) could be a deal-breaker for some."
u/ladladladz "I've actually just moved to Dashlane from LastPass."
7. KeePassXC
KeePassXC is an open-source fork of KeePass. It is different from KeePass and KeePassX as it works on Linux, Mac, and Windows. Moreover, it is a more advanced and improved version of the three password managers. It is continuously updated to make sure that users get the best experience. It has brilliant security credentials and cross-platform support and works well for passwords, login details, and handling attachments, notes, and documents. It is a decent alternative to LastPass.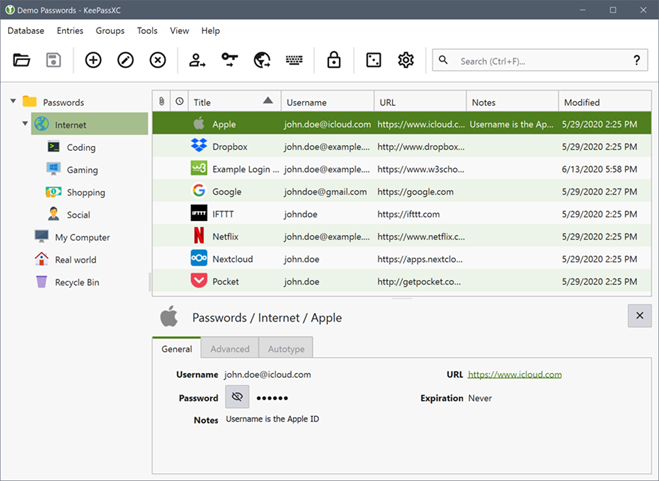 It has a customizable password generator and amazing browser integration but lacks plug-in support. KeePassXC has security features such as military-grade AES 256 encryption and two-factor authentication (2FA). Since this is an offline password manager your data is not stored in an online cloud keeping your data safe from possible hackers. It also supports YubiKey to secure your database.
Since KeePassXC is a community-created password manager, it promotes users' participation. You can download the KeePassXC app from their official websites for Linux, Windows, and MacOS. It has browser extensions for Chrome, Chromium, Vivaldi, and Firefox. It also has mobile apps for Android and iOS. KeePassXC allows you to import passwords from other password management platforms using a CSV file that was created when exporting your passwords from another product.
It also provides you with the Auto-Type feature which remembers your data so you don't have to type it every time. Since KeePassXC is a free password manager, you get to enjoy enhanced security features without paying anything. These features make KeePassXC an excellent alternative for people who've lost their trust in cloud-based password managers.
Reddit's Opinion About This LastPass Alternative:
u/sirc314 "If you are "done" with the cloud, KeepassXC is a good local alternative, but you risk losing your data so make sure you have a good backup strategy if you go that route. If you are highly technical it's a good option that people have been using for decades."
u/cameos "KeePassXC is widely trusted by many KeePass users. It's safe, it works very well and it's worthy."
What's Your Favorite LastPass Alternative?
These were some of the best alternatives to LastPass according to Redditors. Redditors trust NordPass the most when it comes to their security and sensitive data.
There are several factors that will determine the items you will consider as being among the best, or even valid, LastPass Alternatives. While NordPass is a clear winner, the other options are great too depending on your requirements.
Read Next: