NordPass is a powerful password manager tool in the market. Designed by the creators of NordVPN- the top-rated VPN provider, the password manager is easy to use, secure, and constantly evolving.
It allows you to store your passwords, credit card details, personal data, and other information. NordPass is packed with awesome features that we'll discuss in detail in this article.
TLDR: If you're in a hurry, here are a few takeaways about some of the features offered by NordPass
NordPass can store data, including passwords, credit cards, secure notes, and personal information.
It uses cutting-edge XChaCha20 encryption that stands out from other competitors.
Secure encryption of data without threat from hackers.
Access to a master password and recovery key
Excellent security features, like multi-factor and biometric authentication.
Click Here To Get 34% OFF NordPass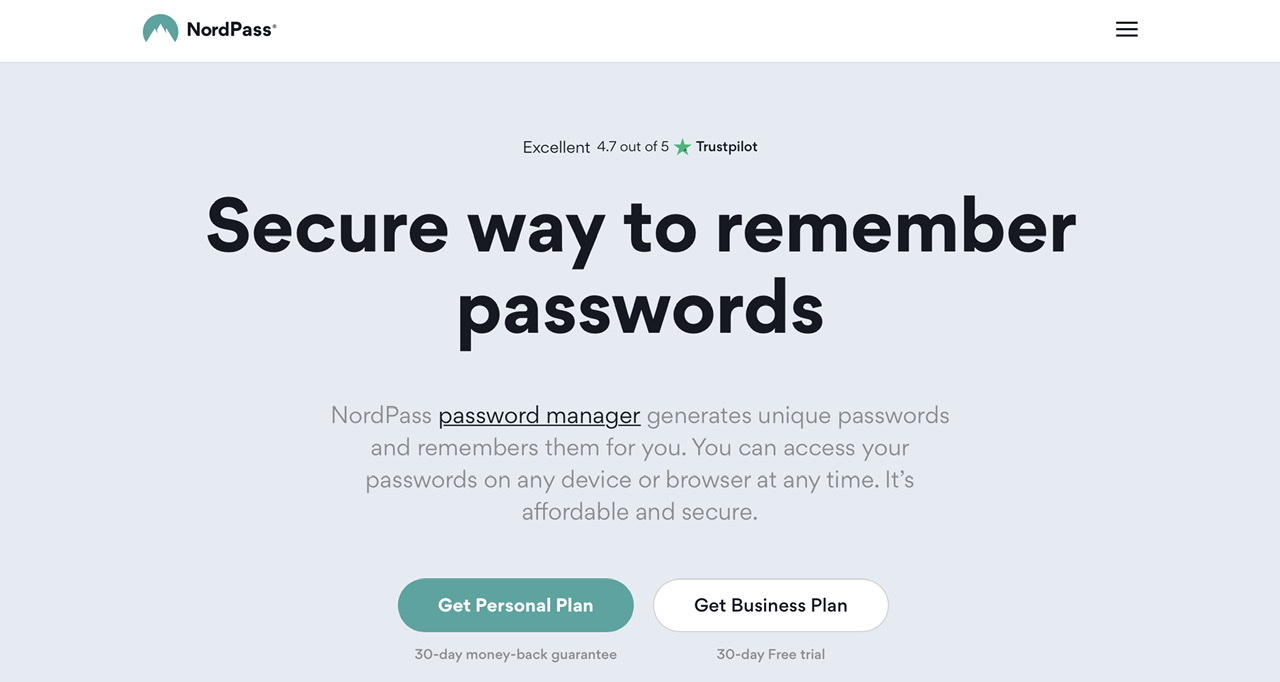 NordPass Review
1. Security and Encryption
NordPass is a very secure password manager and employs the modern XChaCha20 encryption algorithm used by well-known companies like Google. It has a zero-knowledge infrastructure, so only you have access to your data. NordPass also conducts independent audits to spot any vulnerabilities that hackers can exploit. These third-party audits prove that the application you're using has the highest levels of security.

NordPass has a master password that you've set during the installation process that allows you to unlock your account easily. You must create and set a strong and secure password. NordPass has a multi-factor authentication method available for free and premium users of the platform.
The MFA options include confirmations via the authenticator app, email, google authenticator, etc. One of the best security features offered by NordPass is their Biometric authentical features. It allows users to use fingerprints or their face to unlock their accounts. It is simpler and easier than remembering a long master password. This feature is only limited to devices that have fingerprint scanners or face ID built-in features.
NordPass stores all your passwords in cloud storage, so you won't lose them even if your device breaks down. It's so secure that people working in NordPass can't decipher it. Also, your information is updated and backed up automatically. You can access it using an app or browser extension and see the same passwords and other data you've saved.
2. Ease of Use and Usability
NordPass is easy to install, and you have to follow standard patterns like other web services. You can install the tool on both desktop and mobile devices. After installation, you'll create a master password that gives you access to operate your online accounts. NordPass also gives users a recovery key where they can recover their passwords in case they forget it.
Once you have installed NordPass, you will have the opportunity to import passwords and other items into a vault where you can store all your credentials. The user interfaces in simple and straightforward, allowing users to find the correct buttons without any hindrances.
Click Here To Get 34% OFF NordPass
3. NordPass Password Generator
Setting a secure password is a tedious task that may require you to add characters in different formats. NordPass has an online password generator that allows you to choose how long your password needs to be and decide what other characters have to be included in them. You can also generate a words mode that creates password phrases, which are easier to memorize and remember.
4. Password Health Checker
The password health checker feature is available with the premium subscription of NordPass. It allows you to find any weak points in the passwords you've saved. The results are grouped into weak, reused, and old passwords. Passwords that fall under these categories are vulnerable to attacks, and you should change them before they cause any problems.
5. Data Breach Scanner
NordPass has a premium feature where you can see whether your sensitive data or passwords have been leaked. This feature automatically compares any leaked databases with information stored in your vault. The breach scanners provide users with information about the type of leaks that have occurred and will recommend how to secure the affected accounts. In addition to this, there is a real-time data breach monitoring feature that scans 24/7 for any breaches in your email address.
6. Password Sharing
NordPass is installed to keep your password safe and prevent other people from using credentials. At times, you may want to give access to friends and family members, and you can do it safely. You can select the password you want to share to the receipt's email address, and NordPass will encrypt it for you. This means that only the person you've given access to can use it. You also have the opportunity to stop sharing items, so you have control. Apart from passwords, you can also share important data securely through this channel.
7. Import Existing Passwords
NordPass allows you to import existing passwords across to your vault. You can import the passwords in bulk using CSV files or add them using a step-by-step instruction set in the settings. There is also an option to import passwords from a different tool.
8. Emergency Access
NordPass has an emergency access feature that gives your closest contacts read-only access to your passwords. In case something happens to you, then your personal data will still be accessible. Additionally, if you forget your master password, you can access this solution. This may not be a cutting-edge feature, but it is a solid addition to the NordPass package.
9. Auto-Saving and Auto-Filling
NordPass allows you to save all your passwords automatically. You have the option to save your password when you first log in to the tool. Whenever you're logging onto your online account, NordPass will auto-fill the saved credentials, and you can easily log in.
Click Here To Get 34% OFF NordPass
10. Syncing with Different Devices
NordPass allows you to add the same account to 6 different devices. The information is backed in cloud storage, so you have a seamless experience. This means that whenever you add a new password, it will automatically be added to all other devices.
11. Unlimited Password Storage
NordPass vault has unlimited storage, and you don't have to be worried about storage space. All the data you've encrypted is securely stored on the cloud. Unlimited storage allows you to keep records of other important data and personal information.
If you have several passwords in your storage, then you can save them in different folders and organize them. This makes NordPass more user-friendly than other password managers in the market.
12. Credit Cards Information Storage
NordPass has a neat interface that allows you to securely store all your credit card information. Next time when you're shopping online, you have access to your card details within a few clicks, and the information will be automatically filled out for you, just like the passwords with this tool.
13. OCR Scanning
OCR scanning is an extra that comes with NordPass. With this feature, you can scan written documents, images, and credit cards to save the data without having to type it out. The feature works well with fully-printed information, while handwritten notes don't perform that well.
14. Web Vault
NordPass has a web vault that will give users access to all their information on a browser without requiring them to download additional software. This comes in very handy if you're using somebody else's device to access your information.
NordPass Review Reddit
u/deriath- "Nord team has good security experience because they successfully run their VPN service. NordPass is still new in the market; however, it is constantly improving. I wouldn't trust any other password managers apart from NordPass".
u/nerbyberby- "NordPass seems legit, and it is constantly being audited as well".
u/redditingatwork23- "NordPass is pretty good. It creates automatic passwords and stores up to 24 characters. With it, I have to only remember a single password".
u/Koskenjuho- "I use NordPass for everything, and it's very handy as I use the random password generator nowadays. I don't know about other password managers, but I feel safer with NordPass".
Click Here To Get 34% OFF NordPass
NordPass Pricing
NordPass offers two types of plans that cover all customer needs. These plans are Personal and Business plans.
1. NordPass Personal Plan
The Personal plan offers 3 types of plans, each having its own features to meet the requirements of regular people and small businesses who are looking to keep their password protected.
2. Free Plan
NordPass free plan has all the core features offered by the password manager. It is the most generous plan out there in the market. The plan includes
1 user account
Secure storage for credit cards and notes
Password import and export
Autosave and autofill
Save unlimited passwords
Import and export passwords
Fill forms with personal information
Multi-layer authentication
Generate unique passwords
3. Premium Plan
The Premium NordPass plan is priced at $1.49 per month and comes with all the features of the free plan plus
1 user accounts at a time
Secure sharing with unlimited recipients
Password health checker
Stay logged in while switching devices
Scan the web for any breaches
Share items with your friends or colleagues
Give access to password in case of emergency
Build trusted contacts
4. Family Plan
The NordPass family plan is priced at $2.79 per month. The family plan has identical features to the Premium plan; however, it covers up to 6 users per subscription.
Click Here To Get 34% OFF NordPass
30-day Money Back Policy
The Personal plans have a 30-day money-back policy, so you can test the material, and if it doesn't fit your requirements, then you can always cancel the plan.
NordPass Business Pricing
The Business plan is catered specifically towards businesses. This plan is designed to meet the demands of agencies and large firms. It has 2 plans that come under its spectrum.
Click Here To Get 34% OFF NordPass
1. Business Plan
The Business plan is a versatile plan priced at $2.56 per month and allows up to 250 users to use it at once. The features of the plan include
Company-wide settings
A robust security dashboard
Google workspace SSO
24/7 support
Password import
Unlimited storage for passwords, credit cards, and note storage
Multi-factor authentication
Activity log and secure item sharing
Business admin panel, allowing for better user management
Free trial period to test the product
2. Enterprise Plan
The Enterprise plan is the top-tier plan that requires you to contact the sales team to get the pricing and other features. With this plan, you can give access to an unlimited number of users and have a dedicated account manager. The plan also has a face-to-face onboarding service and offers premium customer support.
NordPass Support
The team at NordPass has thoroughly documented the application in detail, which you can check in the support section of your website. This section has articles on a range of subjects, account setups, data information, troubleshooting guides, and other information. If you still didn't find the solution to your problem, then you can contact the customer staff via live chat. Generally, your issue will be solved by the staff in a short period.
NordPass Pros and Cons
Pros
Ease of use
Excellent security and authentication
Password sharing options
Biometric authentication available
Live chat support
Independently audited security
Compatible with many platforms
The free version offers a plethora of features
Cons
Auto-fill only works with passwords, secure notes, and credit cards
No encrypted storage
Is NordPass Worth the Hype?
NordPass is a strong tool having excellent security features and outstanding performance. The tool is very simple, which gives it an edge in the market. The user-friendly interface can be easily set up and works well with both mobile and desktop versions without any downgrades across the operating systems.
NordPass uses the latest encryption technology with other impressive security architecture. It is ideal for users who are just starting out and find it difficult to work with complex apps. However, it doesn't have more detailed and customizable fields for data storage as offered by its competitors.
Overall, NordPass has a decent offering across all its plans, and its pricing is one of the best in the industry. The free version is also a great option, but its premium plans give you excellent protection and unlimited password storage. If you're looking for a simple password manager, then NordPass is a great choice. The tool requires some fine-tuning to make it the market leader.
Click Here To Get 34% OFF NordPass
Read Next:
Best Project Management Software Reddit 2023