Website design is an essential element of any website. After all, humans love visual and will definitely stick around longer if they like what they see.
Moreover, if you're building a personal brand, it's essential to pick a theme that's compatible as a WordPress theme serves as an extension of a website's personality.
However, the WordPress theme industry has shared a ton of options and this can make it quite overwhelming to choose a single theme.
This is where I come in and share some of the best WordPress theme providers in the market.
In this article, I am going to lay out the best WordPress theme providers that will showcase who you are to your viewers as per your choice.
The list contains the best WordPress theme providers which over 90% of WordPress websites are already using with its numerous features.
Best WordPress Theme Providers
Quick Answer: The Best WordPress theme providers
Elegant theme is the most popular and apt theme provider on WordPress. Many people are unable to afford theme providers because of the exorbitant prices, but Elegant theme is unlike those. It is within your budget and understands that a low price is important since not everyone has a huge budget. (Read my full Divi Elegant Themes Review)

Who is this for?
A user-friendly theme that works out great for freelancers (or enthusiasts) that are looking to build beautiful custom WordPress websites.
Best reasons to buy Divi:
Affordable pricing
Intuitive drag and drop builder
Ability to design beautiful custom websites
Great community
Excellent support
A popular WordPress theme provider, StudioPress produces each theme with search engine optimization with Genesis framework which makes is significant for those looking to make money from their WordPress website. (Read my full StudioPress Review)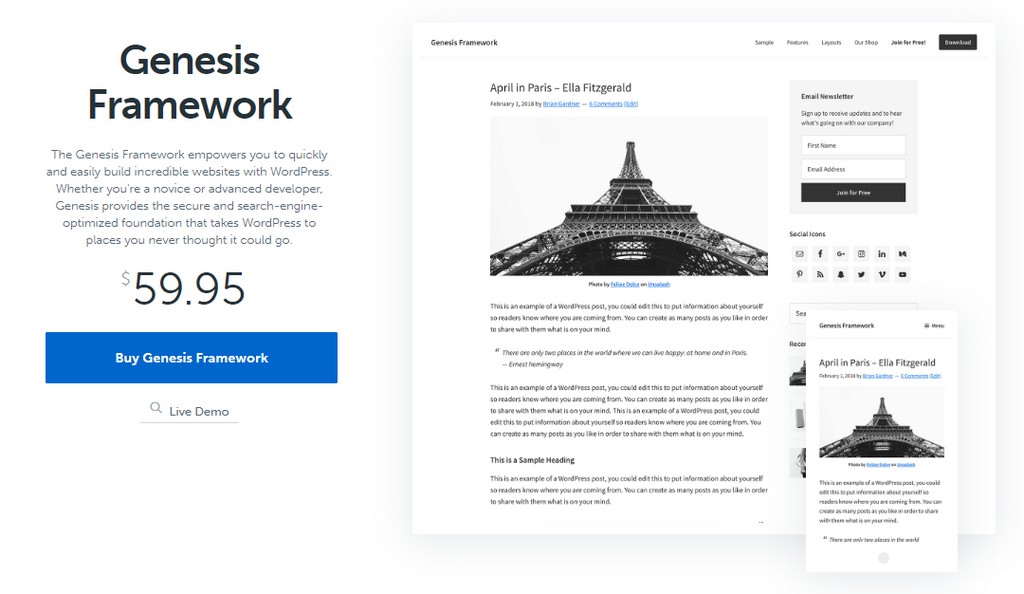 Who is this for?
This theme is particularly useful if you're a business looking to expand in the future as it features a 100% clean source code that's great for scalability.
Fun fact: Foundr (I was their head of SEO) 3x'ed their traffic shortly after installing StudioPress!
Best reasons to buy StudioPress:
Top-notch code
Excellent site library with a multitude of child themes
Genesis framework
SEO friendly integrations
Get StudioPress Genesis Themes
#3 MythemeShop
A premium WordPress theme provider that offers premium WordPress themes, plugins and add-ons at affordable prices. It also has a membership plan that offers unlimited access to all of its features.
Who is this for?
MythemeShop is excellent for WordPress enthusiasts and developers looking for a reliable all-in-one solution for WP themes and plugins.
Best reasons to buy MythemeShop:
Lightweight and SEO friendly code
Affordable pricing
Good customer support
Decent site library
Wait! What about free themes?
Now, if you've done your research well… you've probably heard of 'free WordPress themes.'
And if you haven't — there's many!
However, nothing in this world is ever free, and the same can be applied for WordPress themes. Think about it — why would ANY company spend hundreds of thousands of dollars to hire developers to build an awesome WordPress theme for free?!
Spoiler alert: They're not!
And yes there are STILL a whole bunch of free WordPress theme providers. However, there are definite deal breakers that make it a terrible idea to use them:
Bloated as F*ck!
Most free themes are coded poorly with a lot of junk code, and this ultimately leads to terrible site performance that takes ages to load (trust me you don't want that!).
Not Responsive
A lot of the internet users are on mobile (or table) and if you use a free theme that's poorly designed — it's most likely not going to look the same on a smaller screen (and not in a good way).
Terrible interface
Again, if the theme isn't coded right, the user interface isn't any good either. So, you're going to spend hours trying to make changes that would've been done in seconds in a good WordPress theme.
What to look for in a WordPress theme?
A website theme is an essential element of a website. After all, it's the entire visual structure of your site.
So, before I dive into the nitty-gritty and share the best theme providers — I decided to share what exactly makes a good WordPress theme.
Knowing this will help you narrow down on your needs and pick a WordPress theme that's right for you as opposed to something that's not.
1. Customer support
If you lack technical knowledge, you're definitely going to need excellent customer support to help you get around. Keep in mind building a WordPress website is no easy feat and has a definite learning curve.
2. Clean source code
This one's an obvious one. After all, a theme that is coded with bugs and errors is going to affect the functioning of your website definitely. Moreover, if you're looking to get a developer (in the future), a clean coded theme is going to save a ton of hassle.
Fun Fact: StudioPress follow the highest industry standards and have an excellent source code.
3. SEO friendly integrations
While there are many ranking factors, website performance is one of the most important ranking factors. After all, no one likes a website that's laggy and takes ages to load.
So, look for a theme that's responsive across multiple screens, loads fast and in general, has SEO friendly integrations.
4. Beginner friendly
A beginner-friendly interface is an essential factor for people without much technical knowledge. After all, the last thing you need is struggling to build a website because the interface is too technical.
Additionally, look into the documentation on the theme website and judge if it's extensive or lacking.
Fun Fact: Divi elegant theme is one of the best themes for beginners.
Best WordPress Theme Provider 2020
1. Elegant Themes
The best option to buy WordPress themes at affordable options is Elegant Themes. The owner of Elegant themes, Nick Roach, is the man behind the success of this enterprise.
Currently, there are many theme providers who charge excessive amounts for purchasing a theme, and many couldn't afford it because they were unable to pay hundreds of dollars.
Best reasons to buy Elegant Themes Divi
Reason #1: Value for money
Most competitor themes average out at $100. However, With Elegant themes — you can get access to multiple themes for a single price of one!
For about $89 you are able over 88 themes and five premium plugins for a year, and if you don't want to renew it every year, the sum of $249 is enough for a lifetime.
Use my Elegant Themes Coupon to get 20% OFF
Note: Elegant themes allow you a 30-day money back guarantee. Joining now is entirely risk-free.
Reason #2: Beginner friendly
One of Divi's highlights is its highly intuitive drag-and-drop builder. This builder does have a bit of a learning curve, but you can build a beautiful custom website in a few hours.
Reason #3: Add-on Functionalities
Divi comes with popular plugins like Bloom opt-in forms email marketing, Monarch one of the best sharing WordPress plugin.
Additionally you a Divi website is integrated with a nifty A/B testing system that's great for Conversion rate optimization.

PROS
CONS

Mega Tool kit in affordable prices.
Unlimited Usage.
An intuitive Visual Page Builder.

The builder can be overwhelming for beginners.
2. StudioPress Genesis Themes
Studiopress is a top-notch WordPress theme provider that makes responsive, flexible, customizable and the most popular and more selling and the most popular theme in StudioPress is the Genesis Framework.
Get StudioPress Genesis Themes
Best reasons to invest in Studiopress:
Reason #1 Excellent code
Genesis uses lightweight code that supports schema.org which is required for higher rankings and juicy featured snippets. This works out great for user experience as your site would load much faster as compared to poorly coded themes.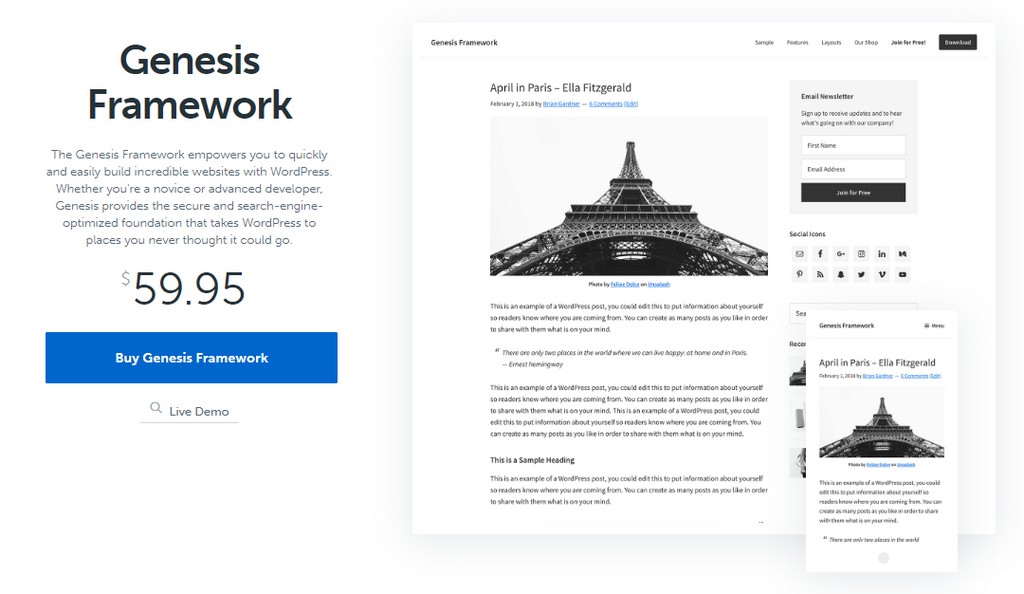 Reason #2 Developer friendly (scalable)
Genesis framework sports unique clutter-free code that works out great when getting a developer on board for custom changes. I highly recommend StudioPress if you're looking to scale in the future.
Reason #3 Awesome community and support
StudioPress provides a ton of documentation to help you get started. Moreover, the Genesis community is filled with awesome website enthusiasts, startup founders and basically people you definitely want to network with.
PROS
CONS

Affordable pricing with multiple discount offers
Reliable Genesis framework
Recommended by WordPress
Get StudioPress Genesis Themes
3. MythemeShop
Another top-rated premium WordPress theme provider with affordable pricing that features a simple and minimalist design.
Best reasons to buy MythemeShop
Reason #1 Value packed website bundles
MythemeShop not only sells premium themes but also comes with popular WordPress plugins. This alone is a cost saving of a few hundred bucks.
Reason #2 Excellent code
All the themes from Mythemeshop are 100% responsive across 24 different screen sizes. Additionally, they are optimized for search engines making them SEO friendly.
Reason #3 Extensive site library
Mythemeshop has an extensive site library with a whole multitude of theme options. So you can rest assured you will find the theme you're looking for.
PROS
CONS

Affordable pricing with multiple discount offers
SEO ready themes for higher rankings
Handy documentation for beginners

No Lifetime access so you'll have to renew it for every year.
4. Flexi Themes
FexiTheme is the best WordPress theme provider if you're looking for the best value. Added value is that they have the most WordPress themes in the world- over 2,200 of them!
Best reasons to buy Flexi Themes:
Reason #1 Free pricing plans
Flexi themes are free before purchasing which works out great for those on a budget. However, free themes contain sponsored links in the footer.
Flexi Themes comes in a low monthly subscription of $19.95, $29.95 for three months, $39.95 for six, and a $49.95 annual subscription.
Reason #2 Multiple niche-specific websites
What's even better is that they have a one-year membership plan that gets you full access to every theme. Their wide range of categories covers generic business themes to a niche site.
Reason #3 Great customer support
FlexiThemes is a reliable theme shop that's been in business since 2009. Their support theme is customer friendly and has a tremendous customer-centric brand since 2009.
PROS
CONS

Multiple pricing options
Good design choice
Great customer support

Themes tend to be a bit buggy
5. Themeisle
The best WordPress theme for old and existing blogs is Themeisle. These themes are already used by more than 471,000+ users across the world and have 20+ premium WordPress themes and plugins.
It has all types of templates for every website including personal theme to e-commerce theme. Many personal blogs recommend Themeisle because of their perfect design and look.
Best reasons to buy Themeisle:
Reason #1: Value for money pricing options
Themeisle has more than 20+ free themes to use which seem to be way better than most premium themes you look at in the market. A $149 pricing plan will you get 100% access to the whole package.
Reason #2: CRO integrations
Conversion rate optimization is vital to growing a sustainable online business. Fortunately, all Themeisle WordPress themes are integrated with CRO tools that work towards increasing conversions.
Reason #3: Multiple layouts
Themeisle is packed with a whole bunch of unique designs that help you build excellent custom websites. For example, it has a "review layout" to make custom product review sections on product pages.
PROS
CONS

Beginner friendly with no tech knowledge of coding
Great minimalist designs
Great after-sales support that works out great for beginners
Affordable pricing

The settings can be overwhelming (at first)
6. Rocket Theme
One of the leading template companies is RocketTheme which provides templates for both WordPress and Joomla.
Best reasons to buy RocketTheme:
Reason #1 Easy-to-use interface
Rocket Themes uses the Gantry framework which brings out the whole dashboard user experience, it enables the site to load more quickly, and the themes are very responsive.
Reason #2 HQ custom themes
The theme provider has a vast number of themes which enables your site to look professional. It is even your ability to adjust the theme as far as you like and they are really easy to do.
Reason #3 Great customer support
Lastly, RocketTheme has got excellent customer support and daily updates to keep the users up-to-date.
PROS
CONS

Beginner friendly with no tech knowledge of coding
Great minimalist designs
Great after-sales support that works out great for beginners
Affordable pricing

The settings can be overwhelming.
7. Theme forest
Launched in 2008, ThemeForest is the most popular WordPress theme marketplace — pairing WordPress theme developers with website enthusiasts.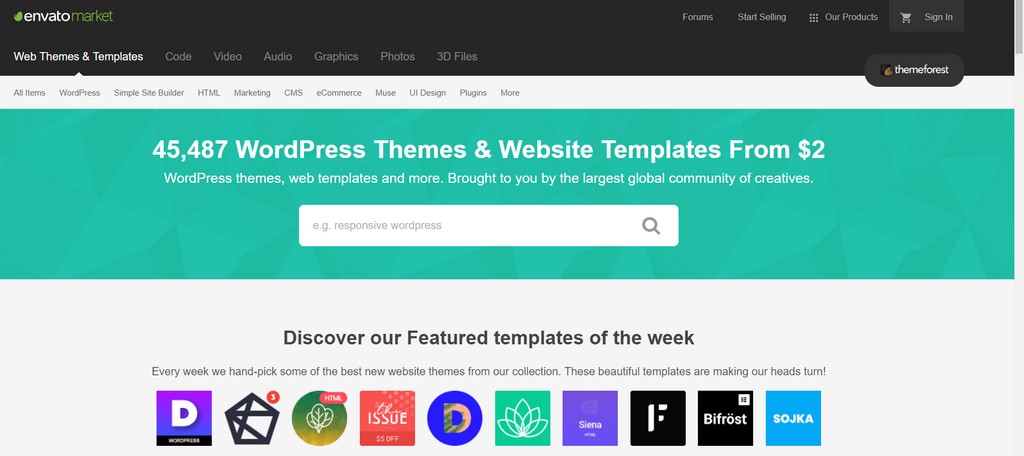 Best reasons to buy Orange Themes
Reason #1: Extensive set of themes
Theme forest is one of the most extensive WordPress theme providers. With over 21,000 + customers, it satisfies its large customer base with designs for just about any niche.
Reason #2: Multiple pricing options
Unlike other competitors, Theme forest themes offer incredibly affordable pricing that works for both low and high budget users. Moreover, there's always a ton of discount offers and bundles which make it extremely valuable for the buck.
Reason #2: Top-notch customer support
Theme forest has top-notch support and the fastest response for the queries to customers by the expert team, and every theme is coded with Clean CSS/HTML standards so that it meets the WordPress present and future updates.
PROS
CONS

Clean CSS/HTML coding
Good customer supported
Affordable pricing

Some themes aren't coded as well and tend to be bloated
8. Template Express
Template Express has premium and free responsive themes which are easily customizable and with over 500,000+ downloads it easily stands on the list of the best premium WordPress theme providers.
Reasons to invest in Template Express
Reason #1: Beginner friendly themes
The themes are simple to set up and are easily customizable with the creative design which will make your website look beautiful and mesmerizing.
Reason #2: E-commerce support
This theme is integrated with official E-commerce plugins, that work great for those looking to set up shop and sell their products on the internet.
Reason #3: Affordable pricing
By paying $59, you can get all the 14 premium WordPress themes and get future themes when they release. Also, template express offers a 30 Day Money Back Guarantee On All Themes And Bundles.
9. Diythemes
Diythemes is an innovative WordPress theme provider that lets you build beautiful websites with the extreme comfort of customizing the whole website from WordPress dashboard. They're the people behind the Thesis Theme.
Reasons to buy DIYthemes:
Reason #1: Extensive DIY builder
DIYThemes are different from other themes and provide a unique "do it yourself" mentality.
DIYThemes is more of a theme engine that helps you build multiple elements of a website without writing a single line of code.
Reason #2: Extremely functional
DIY themes focus on not only good looks but also the functionality. These themes are built to deliver optimal speeds and are easy to maintain and understand.
Apart from this, they are easy to configure and designed for SEO optimization.
Reason #3: Great support
DIYThemes is known for providing great hands-on customer support. For the price paid you would expect as much which is great to see.
PROS
CONS

Extremely functional themes
Good customer support

Expensive price tag as compared to competitors
Winding up on the best WordPress theme Providers
There you have it!
Some of the best WordPress theme providers in 2020. And remember, each theme is good and bad in its own way, so there isn't a theme that's best.
It makes more sense to understand your preferences and needs before the decision. After all, it doesn't make sense to get a WordPress theme that isn't compatible with your online business.