Tired of shifting thought 100s of WordPress Themes trying to find the perfect one?
Well look no further, picking just any old theme won't do it in 2021, so in this article I'll dive into the Best WordPress Themes of 2021 that are easy to use but also allow beginners to modify things easily (without coding)
Wait! What about free WordPress Themes?
Now, if you've done your research well… you've probably heard of 'free WordPress themes.'
And if you haven't — there's many!
However, nothing in this world is ever free, and the same can be applied for WordPress themes. Think about it — why would ANY company spend hundreds of thousands of dollars to hire developers to build an awesome WordPress theme for free?!
Spoiler alert: They're not!
And yes there are STILL a whole bunch of free WordPress themes. (In fact 2 in this list are Freemium & an except to the rule) However, there are definite deal breakers that make it a terrible idea to use them:
Bloated as F*ck! – Most free themes are coded poorly with a lot of junk code, and this ultimately leads to terrible site performance that takes ages to load (trust me you don't want that!).
Not Responsive – A lot of the internet users are on mobile (or table) and if you use a free theme that's poorly designed — it's most likely not going to look the same on a smaller screen (and not in a good way).
Terrible interface – Again, if the theme isn't coded right, the user interface isn't any good either. So, you're going to spend hours trying to make changes that would've been done in seconds in a good WordPress theme.
Best WordPress Themes 2021
1. Divi By Elegant Themes – Best WordPress Theme For Beginners
Divi by Elegant theme is one of the most popular WordPress themes out there. While many drag and drop WordPress page builders cost an arm and a leg, Divi is incredibly cheap & easy to use. In fact it's the best WordPress theme for someone who wants the Squarespace/Wix experience on WordPress.

Who is this for?
Divi is a user-friendly theme that works out great for freelancers (or enthusiasts) that are looking to build beautiful custom WordPress websites.
Best reasons to buy Divi:
Affordable pricing
Intuitive drag and drop builder
Ability to design beautiful custom websites
Great community
Excellent support
Click Here To Get 20% OFF Divi
Reasons to Try Divi
Reason #1: Value for money
Most competitor themes average out at $100. However, With Elegant themes — you can get access to multiple themes for a single price of one & that Includes the incredible Divi Theme.
For about $89 you are able over 88 themes and five premium plugins for a year, and if you don't want to renew it every year, the sum of $249 is enough for a lifetime.
Note: Elegant themes allow you a 30-day money back guarantee. Joining now is entirely risk-free.
Reason #2: Beginner friendly
One of Divi's highlights is its highly intuitive drag-and-drop builder. This builder does have a bit of a learning curve, but you can build a beautiful custom website in a few hours.
Reason #3: Add-on Functionalities
Divi comes with popular plugins like Bloom opt-in forms email marketing, Monarch one of the best sharing WordPress plugin.
Additionally you a Divi website is integrated with a nifty A/B testing system that's great for Conversion rate optimization.
Click Here To Get 20% OFF Divi
2. Elementor Page Builder – Best WordPress Theme Builder For WordPress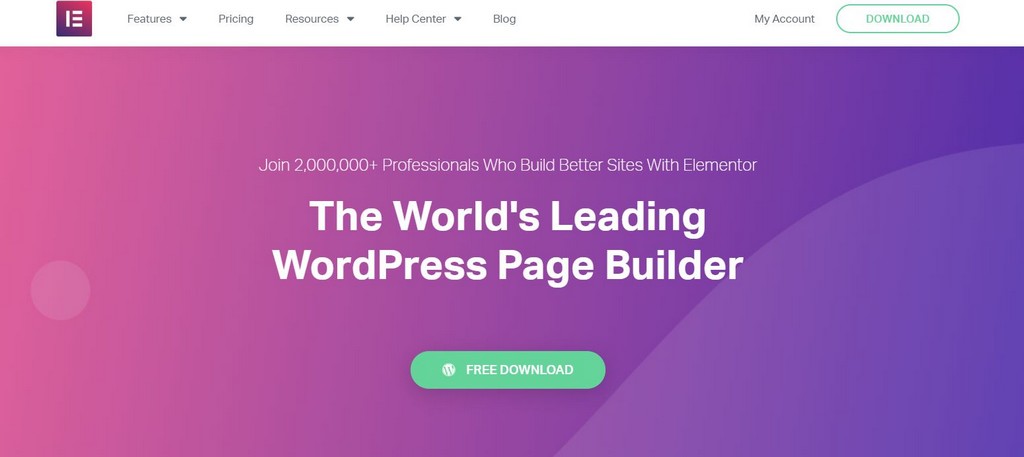 Elementor is a WordPress Page and Theme Builder that was founded in 2016. In just 3 years, Elementor has more than 2,000,000 active installs and is loved by many and has over 3,000 five-star reviews.
Elementor is current without a doubt the best Free WordPress Page Builder, Elementor comes as a WordPress Plugin and the Elementor Pro subscription add more to the capability of the plugin.
Elementor isn't really a "WordPress Theme" and instead has to be used along with a WordPress Theme. Elementor does have a free theme called "Hello" that you can use along with the plugin, however I'd recommend using Astra or GeneratePress as your base Themes.
You can get started with the free version of Elementor directly by clicking here. However, the free version of Elementor is limited in what you can do and it's definitely worth upgrading to Pro.
Click Here to Get Elementor Pro
3. Astra Pro Theme – Best Standalone Lightweight WordPress Theme
Astra is the new guy on the block when it comes to WordPress Themes, having come out in mid-2017, the Astra Theme hasn't been around for that long compared to its competitors. It's may just be the Best Lightweight WordPress Theme that you are going to find on the internet.
Astra is a lightweight WordPress Theme that was released in 2017 by Brainstorm Force, the company that for the past 9 years have been making great WordPress products like
Ultimate Addons for Gutenberg
Ultimate Addons for Beaver Builder
Ultimate Addons for Elementor
Convert Pro
Schema Pro
WP Portfolio
In just 2 years, Astra has more than 600,000 product downloads and is loved by many and has over 3300 5-star reviews. That's bloody insane! 
To put it into comparison, GeneratePress (my #4 choice) which came out at around the same time has only 821 5-star reviews as I type this.
Astra is currently without a doubt the best Free WordPress theme that you can use, you can also pay for the Astra Pro add on that adds a lot more flexibility and power to your theme.
Astra Pro was designed from the ground-up to be perfectly compatible with popular page builder plugins like Elementor, Beaver Builder, Divi, Thrive Architect and others.
GeneratePress, on the other hand, is the go-to theme for most of the online marketing professionals to use with page builders as it's been around for a while.
Even Cyrus, the ex-head of SEO at Moz, considers GeneratePress is his go-to Theme to use with Page Builders!
My Current WordPress Stack (for the non-dev):
1. Theme = GeneratePress https://t.co/IvnQmUJisd
2. Page Builder = Elementor https://t.co/hbhCo4fP4p
3. Hosting = @wpengine (also @kinsta)
4. Cloudflare

— Cyrus (@CyrusShepard) June 14, 2018
However, Astra is slowly becoming more popular as it's the new guys on the block that's gaining traction.
I'll check out Astra – thanks.

— Cyrus (@CyrusShepard) June 15, 2018
Honestly, when it comes to using a WordPress theme with a page builder like Elementor, both GeneratePress and Astra are a no brainer.
One upside Astra has over GeneratePress is that the Brainstorm Force team behind Astra have build plugin for page builders like Ultimate Addons for Beaver Builder and Ultimate Addons for Elementor and you can get them included with the agency bundle of Astra.
Click to Get The Astra Them Now
4. GeneratePress – Most Popular Free WordPress Theme
GeneratePress, as I've already talked so much about is a lightweight theme that you can use regardless of the website building.
GeneratePresss is perfect for those who value performance more than visuals. That's not to say that you can't create a good visual website using GeneratePress it's a tad bit harder than something like using the Divi Theme.
However, you can always combine GeneratePress with a page builder like Elementor Pro and redesign your theme to make it look exactly the way you want.
So you can run your site just on GeneratePress Pro however if you want to extend the capabilities, it's one of the best themes to use with Page builders by I prefer Astra.
My Girlfriend's blog at Hogare.org is built with GeneratePress as all she wanted was a super simple theme, that works! (and I obviously didn't want to compromise on SEO or performance, so I picked GeneratePress)
Click to Get GeneratePress Pro
5. StudioPress Themes – Best WordPress Theme Provider
While the above Themes are usually standalone things from companies, StudioPress is a little different as it's a WordPress theme provider. StudioPress produces some of the best WordPress Themes, using the Genesis framework.
This site is built using a StudioPress theme. All of my SEO consulting clients are recommended to use the Genesis Framework as well. At Foundr Magazine (when I was the head of SEO) we switched to a custom StudioPress theme that I worked with the StudioPress team to build.
The only Downside (and why StudioPress isn't higher up on this list) is that it isn't really easy to modify the design on StudioPress and is only good if you like the designs on one of the StudioPress Themes.
Who is this for?
StudioPress Theme are particularly useful if you're a business looking to expand in the future as it features a 100% clean source code that's great for scalability.
Fun fact: Foundr (I was their head of SEO) 3x'ed their traffic shortly after installing StudioPress!
Best reasons to buy StudioPress:
Top-notch code
Excellent site library with a multitude of child themes
Genesis framework
SEO friendly integrations
Click Here To Check Out The StudioPress Themes
Best reasons to Use StudioPress Themes
Reason #1 Excellent code
The Genesis Framework uses lightweight code that supports schema.org which is required for higher rankings and juicy featured snippets. This works out great for user experience as your site would load much faster as compared to poorly coded themes.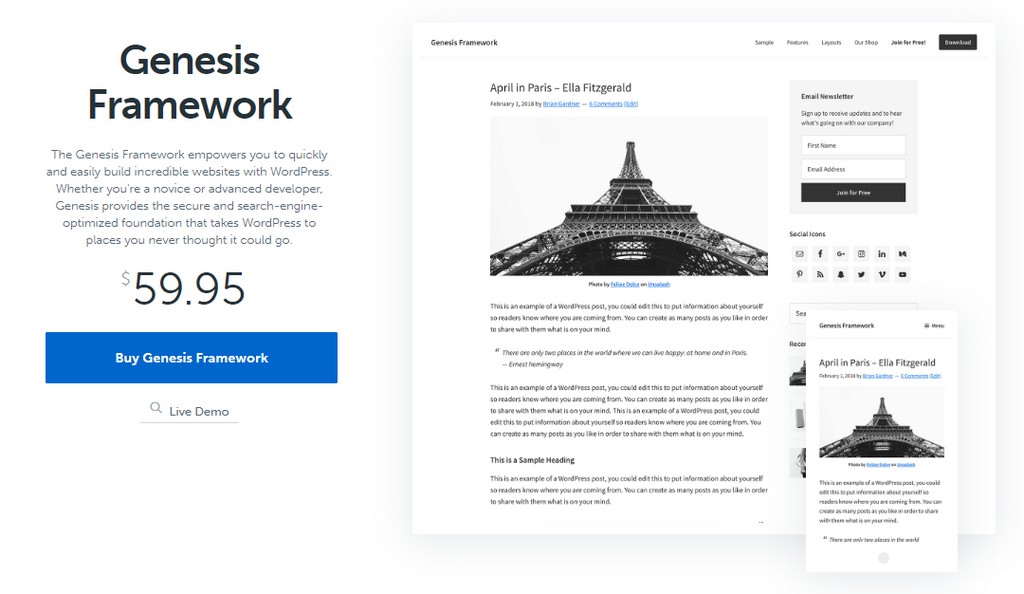 Reason #2 Developer friendly (scalable)
Genesis framework sports unique clutter-free code that works out great when getting a developer on board for custom changes. I highly recommend StudioPress if you're looking to scale in the future.
Reason #3 Awesome community and support
StudioPress provides a ton of documentation to help you get started. Moreover, the Genesis community is filled with awesome website enthusiasts, startup founders and basically people you definitely want to network with.
Click Here To Check Out The StudioPress Themes
What to look for in a WordPress Themes?
A website theme is an essential element of a website. After all, it's the entire visual structure of your site.
So, what exactly makes a good WordPress theme?
Knowing this will help you narrow down on your needs and pick a WordPress theme that's right for you as opposed to something that's not.
1. Customer support
If you lack technical knowledge, you're definitely going to need excellent customer support to help you get around. Keep in mind building a WordPress website is no easy feat and has a definite learning curve.
2. Clean source code
This one's an obvious one. After all, a theme that is coded with bugs and errors is going to affect the functioning of your website definitely. Moreover, if you're looking to get a developer (in the future), a clean coded theme is going to save a ton of hassle.
Fun Fact: StudioPress follow the highest industry standards and have an excellent source code.
3. SEO friendly integrations
While there are many ranking factors, website performance is one of the most important ranking factors. After all, no one likes a website that's laggy and takes ages to load.
So, look for a theme that's responsive across multiple screens, loads fast and in general, has SEO friendly integrations.
4. Beginner friendly
A beginner-friendly interface is an essential factor for people without much technical knowledge. After all, the last thing you need is struggling to build a website because the interface is too technical.
Additionally, look into the documentation on the theme website and judge if it's extensive or lacking.
Fun Fact: Divi elegant theme is one of the best themes for beginners.
The Best WordPress themes of 2021
There you have it!
Some of the best WordPress themes in 2021, they're many other new themes that come out each year that claim be the "best" however, most of that is marketing jargon. The above list are some of the best things available on the market in 2021.
Found a theme you think deserves to be on this list? Let me know in the comments below!
Read Next: