When creating a blog, business, or personal website, picking the right theme is the crux of the matter.
A website that serves its purpose is a blend of various essential elements, including the theme.
However, there are ample of free WordPress themes available, with each claiming to be the best. How do you know which one is right for your business? It's a tough decision, isn't it?
Therefore, in this review, I will walk you through the Neve theme, which is one of the most renowned themes for WordPress.
It is not only a multi-purpose theme but is also lightweight. Not to forget — it is free.
I am going to demystify its features, followed by reviewing the Neve Pro theme.
But that's not all; I am also going to compare Neve Theme with other amazing WordPress themes like Divi and Astra.
So stick till the end!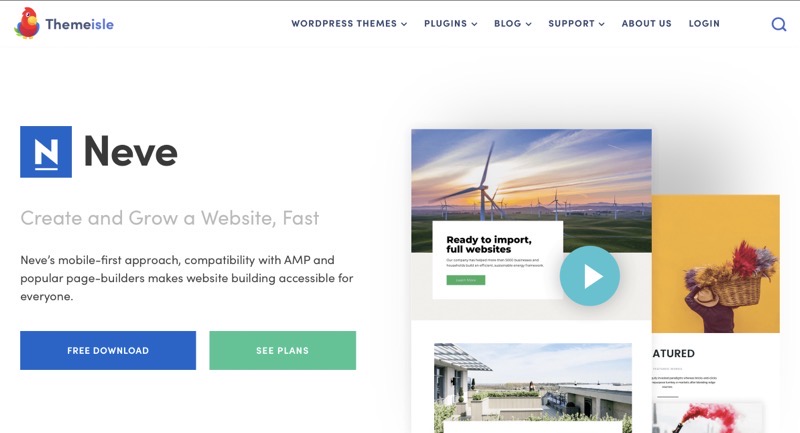 Neve Theme Review
Neve theme is the creation of ThemeIsle, who have been around the WordPress theme space for quite a while now.
Carrying decent experience, the team does a great job with their new product, i.e., the Neve Theme.
As I write this article, this theme has witnessed 70,000 active installations.
With quick loading speed, an abundance of features, and an intuitive interface, Neve Theme successfully stands apart from the competition.
Not just this, but the theme is compatible with well-known page builders like Elementor, Glutenberg, and Brizy.
Since its inception, there have been continuous upgrades to the theme to amplify its quality.
Moreover, the team behind Neve Theme holds an excellent reputation in developing WordPress themes, which assures us of credibility.
Another thing that impresses users is its paid add-ons that you can layer on the existing theme.
Despite the wealth of features in the free version, you can upgrade when the need arises.
You can install the theme from the WordPress directory or the site of ThemeIsle directly.
Overall, the authenticity of the theme, regular updates, maintenance, support, and reputation gives us a green signal to trust Neve Theme.
Let us now review the features of this theme.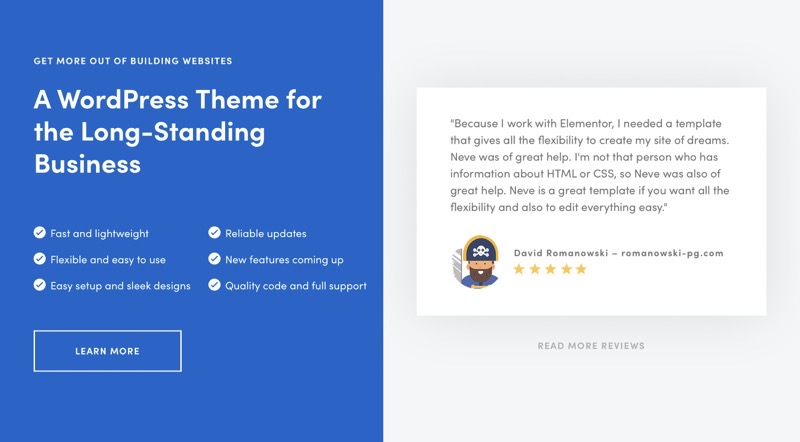 Neve Theme Features
1. Intuitive Interface
Right from the beginning, the Neve Theme interface guides you through and through the entire process.
From installation to launching to setting up, they have got you covered.
Once you install the theme, you are prompted to navigate to the site builder, where you can start working right away.
Most themes would leave you hanging in the WordPress dashboard, letting you figure out the next steps.
With Neve Theme, you do not have to do the guesswork; instead, follow the prompts and begin working on your web pages.
Once the installation is done and dusted, you will find yourself inside the theme where you can find the following options:
Getting started
Useful plugins
Site library
Documents
This is a welcoming section where you can find manuals to get started, along with other resourceful pages.
Speaking of which, the useful plugin is a crucial step you should not skip.
Here, you can get your hands on some necessary plugins like AMP and site builders.
These small things add up to making an impeccable user experience.
Especially if this is your first time designing the website, you will face no difficulty since the process is quite elementary.
Therefore, site-building with Neve Theme does not seem too intimidating; instead, it facilitates ease of use.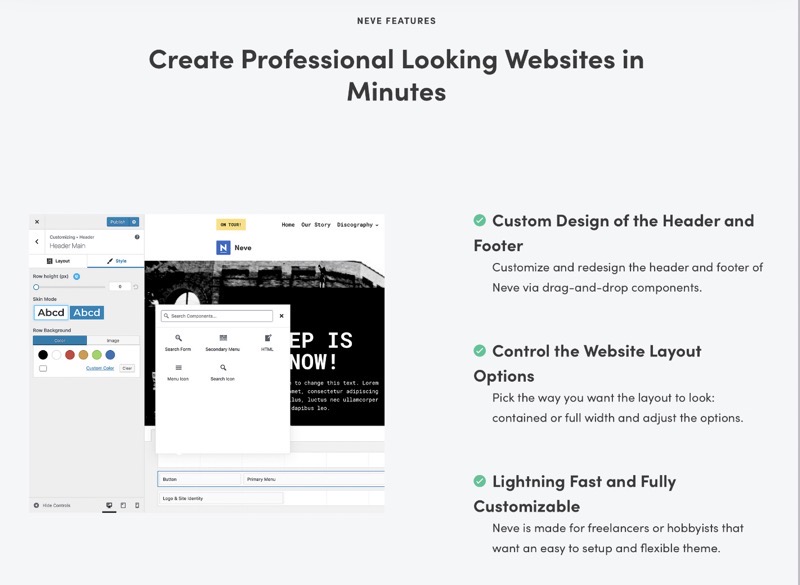 2. Starter Sites
In the starter sites section, you can find several sites that you can import with one click. This way, you get a reference point for starting.
The site library lets you load a new site with existing pre-made templates. This gives you the opportunity to build competitive websites with the help of inspiring templates.
Moreover, you can load starter sites with Glutenberg, Brizy, Elementor, and other site builders. You can preview each of the themes and see how they look in real-time.
Now the best part here is that once you import any theme, you can customize what all elements do you wish. From blog pages to the home page, you have the required flexibility.
What other themes do with the installation is they introduce all of the components, including blog pages, widgets, and more while installing.
This way, you end up spending time on deleting all the unnecessary components, rather than focusing your time on building a stunning website.
But this is not the case with Neve Theme. You can untick the elements you do not want to import, saving a ton of your time.
Overall, the site builder is a beginner-friendly section where you can begin building your websites with ease, without getting intimidated.
3. Customize each page and element
Another remarkable feature of the Neve Theme is that it is customizable in every aspect.
It is excellent because other free themes lack the flexibility they provide you.
You will usually observe a chunk of content with no idea to customize to adjust to your brand or make its UX friendly.
But Neve Theme is unlike those free themes that offer limited features before asking for an upgrade.
It truly stands apart and lets you customize each element on the website. You can select the width, position, and number of content pieces on every single page.
Now the best part about all of the features is that you need zero experience of coding.
All of the customizations work within a single click, and the changes happen in real-time. This way, you can assess how the website looks.
Overall, customization options are noteworthy in Neve Themes since they aid in building great websites and are free of cost too.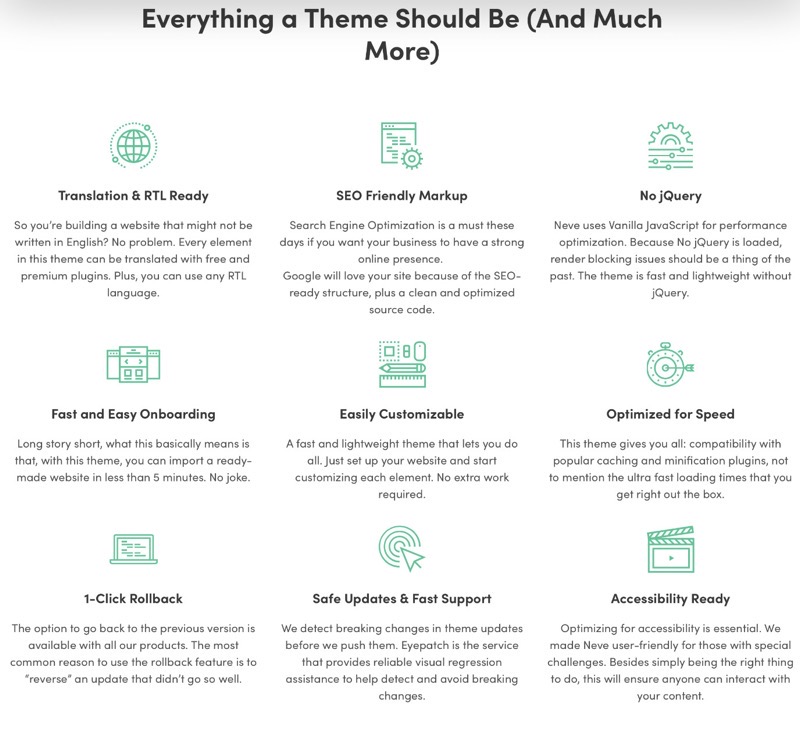 4. Header and footer layout
By now, you would have gotten an idea that Neve Theme includes every feature that other free themes lack. One of them is the customization of the header and footer, which is a useful feature.
They allow a lot of different options to customize the header and footer of your website.
Again, this feature is not so easily seen in the free WordPress themes.
Moreover, to customize your website and make it ready for mobile, you can simply toggle the button placed right onto the screen and scrutinize how your site looks across devices.
In the header section, you can customize the size of the logo, header menu, and more.
You can adjust the size by setting the way they look and adding buttons that you wish to make the website more engaging.
This is great and intuitive, so you can be assured that there is no huge learning curve for Neve Theme.
The best part is that the customization does not end with the easy to drag and drop elements, but it goes lengths to include the HTML element.
Therefore, if you are familiar with HTML, you can customize your website even further and add more elements.
Neve Pro vs Neve Free
The free theme is forever free of cost, and that is sufficient to build a great website and maintain it. However, if at some point you outgrow the theme, you can move to Neve Pro.
The Pro version allows extended functionality, which the free version lacks.
The paid versions are ideal for advanced blogging features and eCommerce stores.
Moreover, the packages offer a white labeling option, which is excellent if you are building a website for other businesses.
Here is what the pricing for Neve Theme looks like:
What do you get?
Additional features like the header, blog, Elementor boost, and custom layouts. Ideal for personal websites and small businesses.
What do you get?
WooCommerce add-ons and premium starter sites. Ideal for eCommerce stores.
What do you get?
White label, priority support, and more. Ideal for agencies and businesses.
While the above mentioned are annual plans, you can purchase all of these for a lifetime as well.
For this pricing, the Neve Theme theme provides excellent features and functionalities.
The extended features do complete justice to the pricing. If you already have some experience on your hands with website creation, then Neve Pro themes are investment-worthy.
However, if you are not ready to put in that investment, the free version has got you covered.
It comes with a bundle of essential features that aids in creating stunning and fully-functional websites.
Now let us compare Neve Theme with some of the popular themes so you can get better clarity on the subject.
Neve vs Divi
Features: while Divi sounds like a lucrative option at a glance, it is typically tough to get the hang of.
If you are just starting or have minimal experience with page building, or if you are a non-designer, you are in good company with Neve Theme.
The reason is that Divi themes are overwhelming for beginners.
You do not need bells and whistles, to begin with. All that you need is drag and drop functionality, customization, and starter sites, which are all available in the free version of Neve Theme.
Purpose: While Neve is a multi-purpose theme, Divi is a visual page builder.
If you have a flexible budget and are willing to run trials before launching the website, you can choose to go with Divi.
Otherwise, it is best to stick with Neve Theme.
In Divi themes, you may have to hire a developer at some point or write the code yourself. Doing so will cost you additional time, money and effort.
Apart from that, the Divi theme is quite substantial, while Neve Theme is lightweight.
Another reason for identifying the purpose of your theme is that small businesses and those working solo prefer going with lighter, more economical themes.
Even if you do not like Neve Theme at the end of the day, you are not locked with a huge pricing module like Divi.
Price: One of the most significant drawbacks of the Divi theme is that you cannot get it for free.
The cost of the Divi theme starts at $89 a year while, on the other hand, the Neve Theme comes with a free version.
Not only this, but the free theme gives you enough functionalities to setup a fully-function website.
Moreover, the Divi theme's pricing package is either yearly or for a lifetime; this means you are going to be locked out once you have opted-in.
Neve vs Astra
Features: both of these themes do well on the features front.
They are compatible with essential page builders like Elementor, which comes with a wealth of features and is intuitive.
However, Astra Pro has more features than the free version of Astra. Astra free is just enough for you to get started but is not likely to sustain in the long run, given the restriction in place.
While on the other hand, you can continue with the free version of Neve Theme as long as you wish to.
Moreover, there is no such restriction in place for the costing since you can get additional add-ons.
This means you pay for only what you will use. Both of these themes give you great functionality like header and footer customization, responsive designs, and ample starter sites.
Purpose: as discussed above, Astra Pro comes with more functionalities than its free counterpart.
Therefore, anybody can start for free on Astra, but its paid version is ideal for Agencies and medium-large businesses.
While on the other hand, Neve Theme is free, to begin with, which makes it an ideal theme among busy entrepreneurs who do not want to burn too much cash yet want a great design and theme.
Price: both of these themes come free, and they allow upgrading options.
However, the Astra theme is costlier than the Neve Theme. While Astra comes at a starting price of $59 a year, Neve Theme comes at $39 per year.
Neve Theme verdict
Neve Theme is a multi-purpose, free WordPress theme that is perfect for solopreneurs, bloggers, and small businesses.
It can also be used for building an impressive portfolio. It is a sleek, minimalist theme that comes free of cost. It is an amazing WordPress theme that is ideal for entrepreneurs and small business owners.
Despite being free of cost, it accommodates some outstanding features like:
Search engine optimization
Highly customizable options
Compatibility with major page builders
Lightweight and quick loading speed
Beginner-friendly
This is very rare to get into any free themes available today. Not only this, but the theme is minimalistic and lightweight.
Therefore, I would recommend going with the Neve Theme theme if you want an impeccable website that functions well, is economical, and aligns well with your preferences, purpose, and budget.
Read Next: