If you are looking for a Quickbooks Discount Code, then you've come to the right place! In this article, I'll share how you can get the maximum discount on Quickbooks Accounting Software. QuickBooks is a highly versatile yet scalable and fully intuitive accounting software that's suited for everyone – from self-employed freelancers to fully established businesses with growing needs.
Click Here To Get 50% OFF QuickBooks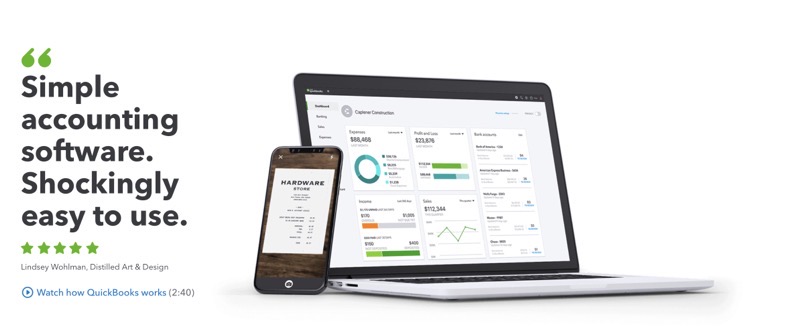 Quickbooks Discount Code
QuickBooks Online is a cloud-based accounting software that's specifically targeted towards helping small businesses manage all their transaction records, expenses, invoices, etc, and to help them centralise all their businesses financial activities to make it easier for them to manage.
Established in 1983, Intuit originally launched their first software called Quicken that became popular as an MS-DOS and Apple-II based software for individual financial management. As Quicken didn't function as a 'double-entry' accounting software, Intuit launched QuickBooks based on the Quicken codebase to help fill the gap left by Quicken for accounting professionals and businesses.
By 2000, Intuit developed and launched QuickBooks in the form that we know it today in Basic and Pro packages which were further categorised into industry specific versions over the years. Today, QuickBooks is available in 3 main forms – QuickBooks Online, QuickBooks Desktop, and QuickBooks Enterprise.
QuickBooks Pricing
QuickBooks Online comes with 3 plans that are tailored to progressively suit a variety of businesses based on their requirements. They offer a Free 30-Day Trial to let you get a hang of their software before you decide to use it for your business, however, at this time, QuickBooks is offering a flat 70% off for new users that are wanting to sign up with them on all their plans if they forego the Free trial option.
1. QuickBooks Online Simple Start
For entrepreneurs starting out and small businesses with basic accounting needs, QuickBooks Online offers their entry level plan called Simple Start at $25/month offering a basic list of services to cover core accounting requirements. These are –
Tracking income & expenditure
Accepting Invoices & Payments
Maximizing Tax Deductions
Running General Reports
Capturing & Organising receipts
Tracking sales & sales tax
Sending estimates
Managing 1099 contractors
Single user access
Now although this doesn't include inventory tracking, QuickBooks Online includes integrations with many third party apps that'll help you manage your inventory and save money while doing it.
2. QuickBooks Online Plus
For a small to mid-size business that's growing, QuickBooks Online offers their mid-tier plan Essentials at $70/month which includes all the features in its Simple Start plan and adds –
Running Comprehensive Reports
Up to 5 user access
Bill management
Time tracking
Inventory tracking
Project Profitability tracking
The QuickBooks Online Essentials Plan is the best in my opinion as it gives you the ability to provide individual access to multiple users and even track inventory, manage bills and project profitability – all of which should cover the requirements of an established business.
3. QuickBooks Online Advanced
QuickBooks Online's biggest plan – Advanced comes at a whopping $150/month and is best suited for mid to large businesses with intensive accounting requirements. They offer all features of the Online Plus plan and add –
Running Powerful Reports
Access for up to 25 users
Business insights & analytics
Batch import & send
Automated workflows
Customised access by roles
Dedicated account manager
On-demand online training
Ability to restore company data
The sheer price of this plan puts it far beyond the reach of small businesses, but for mid to large businesses, the cost isn't as significant considering the amount of cash flow they manage requiring such an extensive list of features.
Click Here To Get 50% OFF QuickBooks

QuickBooks Coupon Code
They're many websites on the internet making misleading offers such as:
QuickBooks Coupon
QuickBooks Discount Coupon
QuickBooks Discount Code
QuickBooks Discount
QuickBooks Coupon Code
QuickBooks Coupons
QuickBooks Code
QuickBooks Promo Codes
QuickBooks Promo Code
QuickBooks Vocher
However, the truth is that QuickBooks does not offer any coupons! But you can get a 50% Discount for 6 whole months by clicking the link below.
Click Here To Get 50% OFF QuickBooks
Quickbooks Online Pros & Cons
Pros
Feature rich
Cloud-based software
Easy to use
Advanced invoicing features
Good tax support and reporting
Good mobile apps
Tons of integrations
Built-in Capital/Funding
Cons
Slightly expensive
Average customer support
Click Here To Get 50% OFF QuickBooks
Is Quickbooks Worth it?
So, after looking at everything QuickBooks offers, here's my unbiased opinion – is it worth it?
Well, that depends on what stage you are in your business journey. If you're a freelancer who's just starting out, you might be better suited with opting for one of their smaller plans like the Self-employed plan, however, if you have employees, need to manage payments and want to stay on top of your tax obligations, I'd highly recommend QuickBooks Online as an accounting software for your business.
You can try QuickBooks Online for Free for up to 30 Days – No Credit Card Needed and then decide if it meets your accounting requirements. Rest assured, if you put in some time into working with QuickBooks Online and exploring the entire list of features it offers, you'll be left wondering how you got by with spreadsheets for so long!
Click Here To Get 50% OFF QuickBooks
Read Next:
Quickbooks Accounting Software Review