Omnisend is a popular marketing automation platform in the e-commerce market. It is generally advertised as an email marketing tool but allows for an omnichannel promotion to reach all your customers Omnisend helps autopilot your sales while staying consistent with your brand messaging across various channels.
Try Omnisend For Free & Get 10% OFF
Omnisend Coupon Code: YOUFOUNDIT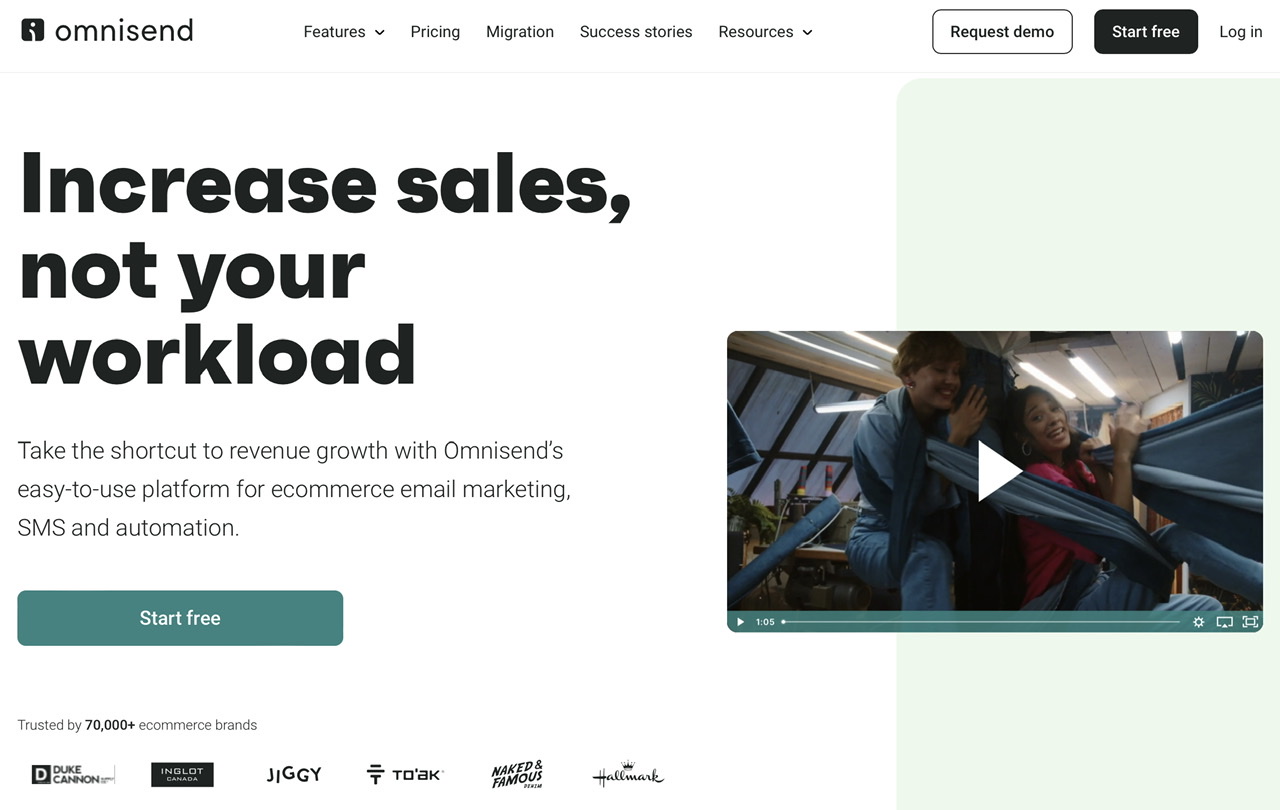 Omnisend has placed itself in the market as an e-commerce heavyweight that caters to businesses of all sizes. It has a series of in-built templates that can be used to create personalized emails. On top of all this, it integrates well with Facebook Messenger and various other SMS marketing tools.
The platform is embedded with rich features that allow you to create powerful forms for lead generation that boost your lead capture rates. There are forms of different styles to choose from with a range of automation features. All these features are seamlessly blended with your email marketing campaign for optimum growth.
Omnisend Review
Omnisend is an omnichannel tool loaded with different features. From the wide range of email templates to innovative drag-and-drop editing tools, Omnisend offers the best of all. If you add this with the CTR boosters and the product picker features offered by the platform, you'll be able to create emails that will grip the minds of your subscribers.
Here are some of the features offered by Omnisend.
1. Email Marketing
Email marketing is a core feature of Omnisend. The design and the formatting of your emails paints a picture of your business establishment. With Omnisend, you have a range of templates that can be custom designed to create aesthetically appealing professional emails within no time.
Try Omnisend For Free & Get 10% OFF
Omnisend Coupon Code: YOUFOUNDIT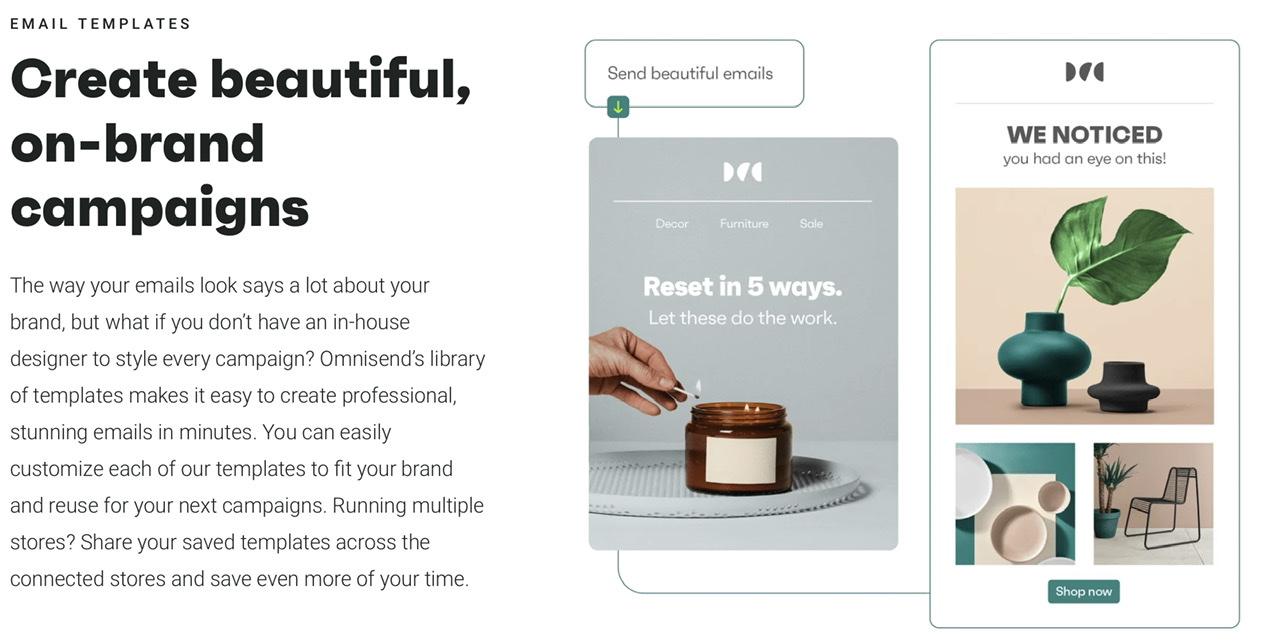 The dynamic drag-and-drop content editor allows you to access several features without requiring any technical expertise in coding. Omnisend's product picker helps you pick email marketing products from the store. This includes URLs, images titles, etc. Several dynamic discount codes and scratch cards all come as standard options. These features help you create and send emails to keep your subscribers engaged with your product.
2. Marketing Campaign through Multiple Channels
Omnisend doesn't only focus on email marketing but also helps create different marketing campaigns across different channels. This includes SMS, email, and social media marketing. The simple but efficient way helps to extend your reach to more people and grow exponentially faster. Integrations made through your favorite applications make the entire process simple and easy
The users on the platform can merge their social media accounts and communication channels into a single unified network. You can launch marketing campaigns across email, web push notifications, Google, Facebook, and SMS messaging. This helps make the process of automation straightforward. Also, this helps to keep track of multiple channels to make the entire marketing campaign simple and easy.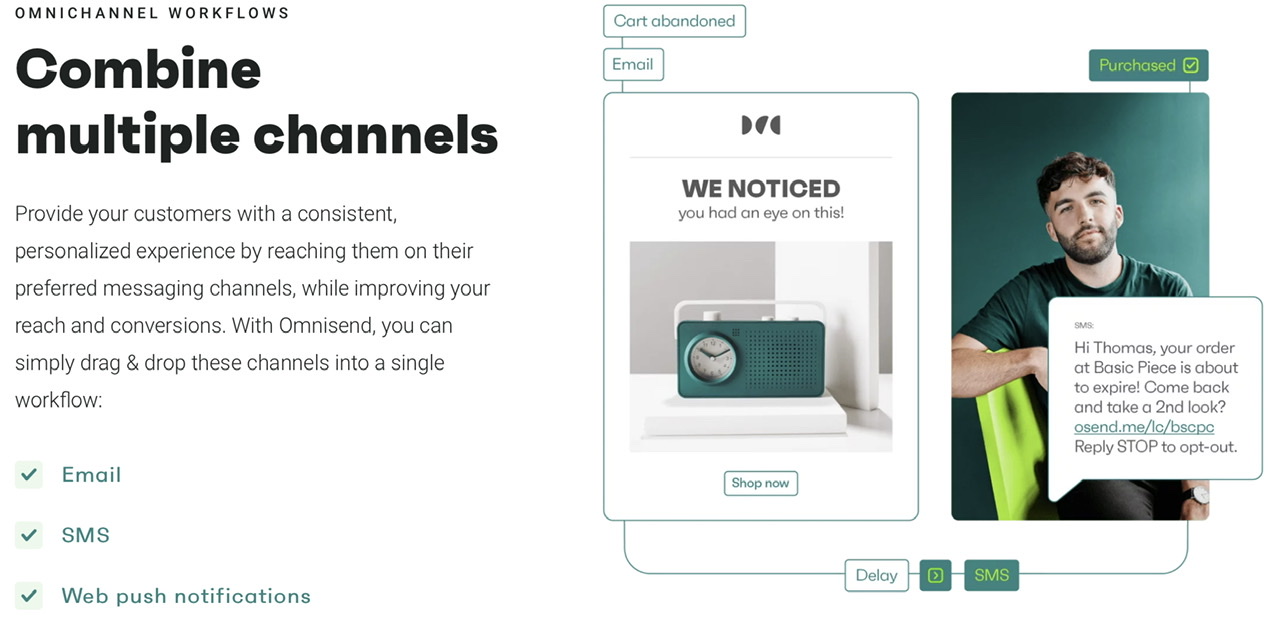 The use of the centralized platform ensures that there is consistent branding across all channels. This guarantees that customers have a personalized experience across any channel they interact with.
YouTube and Instagram are the only two noticeable channels that are missing from the omnichannel feature. The marketing on both these channels is handled differently to cater to that specific audience.
On the downside, users have to input data from scratch every time a new social media campaign is started on the platform. This is not a major issue, though it might be inconvenient. Most marketers in the e-commerce sector focus more on web push notifications and SMS messaging, so this is not a major issue to worry about for them.
3. Smart Segmentation
All your customers have different tastes, likability, and preferences, so meeting the expectations of all these groups is very important. The smart segmentation feature offered by Omnisend enables you to divide your subscribers into smaller groups. This can be done based on demographics or the purchasing habits they have with the organization.
Two auto-renewable features allow you to identify and categorize customers based on their activity, shopping behaviors, and the various channels through which they connect with your company.
Smart integration is a feature that makes every customer feel special as you are creating personalized content to speak with your loyal customer base.
Try Omnisend For Free & Get 10% OFF
Omnisend Coupon Code: YOUFOUNDIT
4. Customer Oriented Reports
Reports and analytics are a must for an automated email marketing campaign. You have to understand what is in the minds of your audience, so you can cater to their requirements and create powerful outcomes for your campaign.
The Omnisend reporting feature offers an in-depth and comprehensive analysis. With the specific data, you can analyze all the aspects of the marketing campaign to check what is working and what needs improvement.
You can generate customized reports to efficiently grow your enterprise's email strategy and design automation to cater to your audience. Custom reports can be created by metrics and KPIs that are important for your business. For example, you can get insights into the language, country of origin, or type of devices of your customers.
The in-depth examinations help you drill into different email strategies that can attract your old customers back while simultaneously acquiring new customers. Using Omnisend, you will discover what works and what doesn't in your strategies.
The reports on Omnisend are actionable and can be employed to get improved success. Furthermore, the reports are very easy to understand and implement in comparison to reports generated by its competitors.
5. Easy Software Migration
The migration process in Omnisend is straightforward and simple. With Omnisend, your data can be transferred within minutes. You no longer have to be terrified of data loss as all your data will be migrated with one click with this e-commerce's platform integrations.
Omnisend claims that you can switch your account and have your first automation up and running within 30 minutes which is very impressive. The 24×7 support and complete data sync also accelerates the process of migration.
6. One-Click Integrations
Omnisend has integration with over 30 applications across various categories ranging from shipping, logistics, e-commerce, customer support, etc. If there is any feature that Omnisend doesn't offer, then you can easily integrate it with these apps.
The platform of Omnisend stands out from the rest due to its one-click integrations with popular e-commerce platforms like Shopify, Magneto, WooCommerce, BigCommerce, etc.
7. Lead Generation Forms
Omnisend has several choices when it comes to generating and capturing leads. Here users can opt for where their sign-up box will be located. Generally, marketers place this on the bottom end or sides of web pages.
There are other innovative ways of collecting email addresses, like a flexible popup widget. You can also launch a wheel of luck king as the signup form.
The lead generation strategy may differ from one person to the other. However, Omnisend will have a signup form that is designed to meet all your needs.
Try Omnisend For Free & Get 10% OFF
Omnisend Coupon Code: YOUFOUNDIT
8. Automated Marketing
If you're in search of a tool to drive your sales on autopilot across multiple channels, then Omnisend has you covered. The marketing platform allows you to do all the marketing on a single centralized platform.
Omnisend takes marketing automation to a whole different level by combining several features in a single workflow. This allows it to personalize messages with customers to build a solid relationship with the audience. The automation technology allows you to pinpoint what subscribers are doing and what materials can keep them glued or get them back on your portal.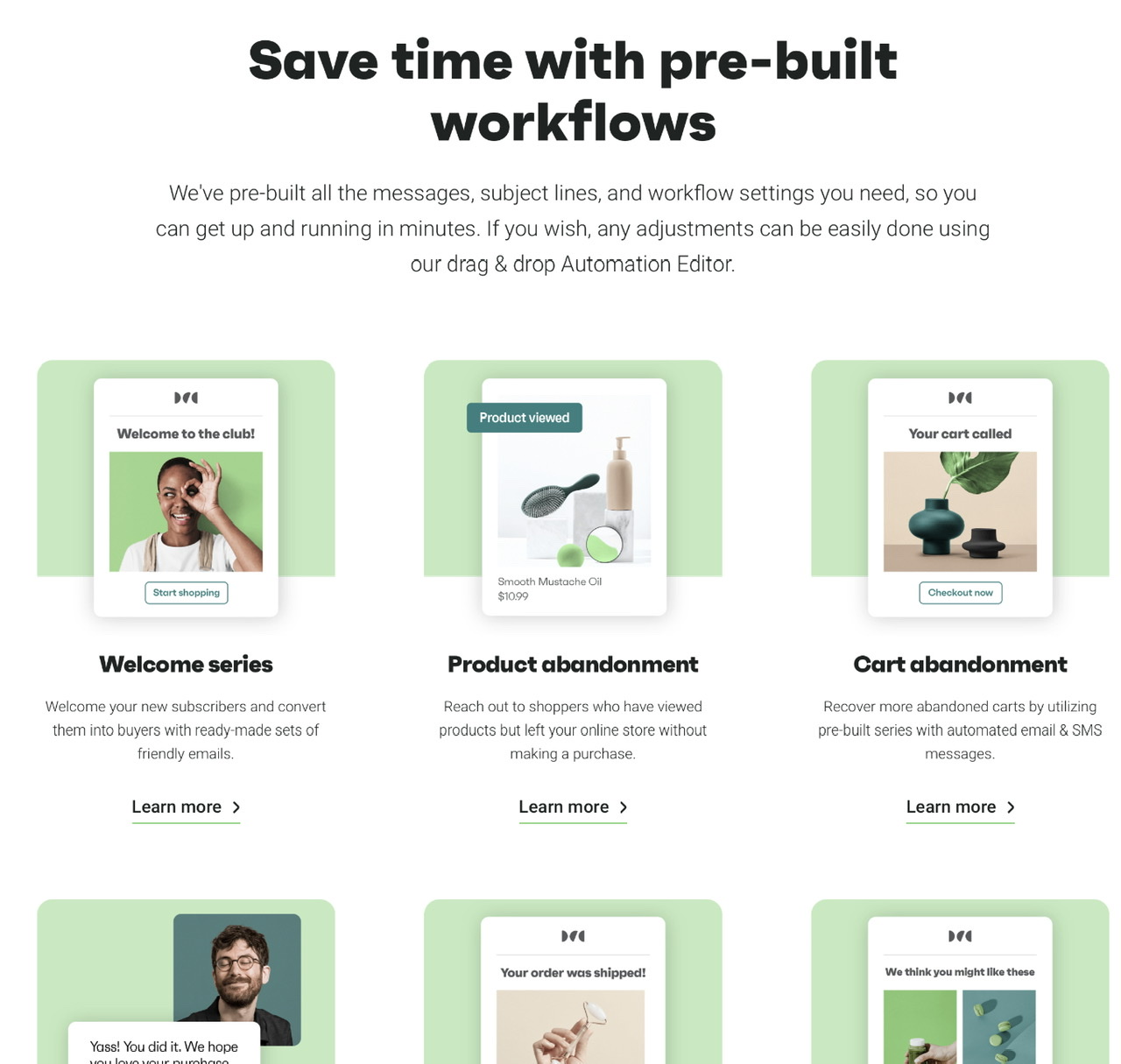 Omnisend has some pre-built workflows that will save you a lot of time while you are chasing prospective customers. Some workflows that you can find already built-in include:
A welcome series to welcome new subscribers and eventually convert them into buyers.
Product abandonment messages for shoppers who have viewed your products but haven't purchased them.
Cart abandonment workflow for shoppers who have added items to their cart but are yet to finalize the same.
Shipping and order confirmation emails are also there. These emails help keep customers updated with their orders.
Omnisend has several messages and subject lines that have been already built with workflow settings for different scenarios. The messages are ready to get you started in no time. If you want to make any changes in the format or the outline of the messages you can easily do so with the drag-and-drop automation editor.
The optimization features offered by Omnisend allows you to identify which automated marketing effort is most effective to meet your end goal. The automation splits allow you to cater and offer special offers and incentives using different messaging paths on a single workflow. This way, you can check which message is getting a conversion.
Omnisend is amongst the best in the market for its automation features. Many store owners state that setting up and using this automation process is easy and efficient.
Omnisend Pricing
Omnisend offers flexible pricing based on your contact list and business needs. Omnisend offers four plans which are unique in their own ways. However, it doesn't dictate how many contacts you will have on each of the plans. Instead, it offers you the opportunity to decide how many contacts you would like and adjusts the pricing accordingly.
Try Omnisend For Free & Get 10% OFF
Omnisend Discount Code: YOUFOUNDIT
Let's take a deep dive and look at the four plans that Omnisend offers to its customers.
1. Free Plan
The Free Plan is not a trial period, Omnisend offers a basic plan that can be availed for 365 days. The plan is best for beginners who are looking to get started with email marketing. You will have access to easy-to-build email campaigns, signup forms, and performance reports. The plan is limited and allows you to send 60 SMS each day with 500 emails each month. These features are very generous especially compared to its competitors.
Features of the Free Plan
A drag-and-drop email editor
Popup and signup forms
A range of professional email templates that can be customized
Full access to email segmentation
Customer support with email
A/B testing
Definite sales and performance reports
Website tracking with data history for up to a month
Pre-built automation and workflows
2. Standard Plan
The standard plan is for individuals who want to enhance their marketing tactics using SMS marketing and automated emails. The Standard Plan starts at $16 per month for a maximum of 500 contacts with 60 SMS in a day and 6,000 emails each month.
Features of the Standard Plan
The first paid Omnisend plan gives you access to everything as in the free plan, along with:
Marketing automation
International SMS which incurs additional costs
24×7 chat and email support
Automation reports of all workflows
Website tracking with 3 months of data history
Unlimited signup forms
Custom events
Advanced email features like product picker
3. Professional Plan
The Professional Plan is the best value-for-money plan offered by Omnisend. Starting at $99, it can cater to requirements of a maximum of 500 contacts with unlimited emails and up to 3,933 SMS per month. It unlocks the omnichannel marketing feature of Omnisend so you can get the best of the platform.
Features of the Professional Plan
The plan includes all the features from the standard plan plus:
Multi-channel audience connection
Free SMS credits
Advanced report generation
24×7 priority access to customer support
Unlocks third-party plugins
Access website tracking up to six months of data history
Operate your custom domain
Unlimited web push notification
4. Enterprise Plan
An enterprise plan is the best choice for those looking to have premium services. With this plan, you can customize your service to get optimum results. The Enterprise Plan is customized to meet your requirements, so you will have to contact Omnisend to get a quote.
Features of the Enterprise Plan
The plan includes all the features from the professional plan plus:
Customer success manager
Advanced deliverability support
Email account migration
18 months of web tracking data history
Custom IP address
Pricing on SMS and MMS
The number of messages you are capable of sending is determined by the country you are sending them from. Each store you connect to on the platform has its own budget on SMS and MMS. Some plans also include credits in the cost of the plan.
The plans offered by Omnisend are great value for money. The plans are tailored to the number of contacts you have, which is a plus point. If you're not sure whether a plan is right for you, then you can opt for the 14-day free trial. Here you can check all the features of the plans and opt-in if you think it will be viable for your business.
Omnisend Coupon Code
Omnisend has an official Discount code on their webpage.
You can get a 10% off Standard or Pro plans by using following discount code. The discount code is applicable for new and existing users on the Free plan.
Try Omnisend For Free & Get 10% OFF
Omnisend Discount Code: YOUFOUNDIT
Omnisend Customer Support
Omnisend provides users with 24×7 email and live chat support. There is a range of self-service articles and solutions on their portal that help in efficiently solving most problems. The service team usually solves issues within a few days.
An Enterprise or Pro user is offered a dedicated account manager as part of its service. The line of contact helps them in solving all the issues quickly.
Omnisend Pros And Cons
During my research, I've found that Omnisend has a lot of benefits as well as drawbacks. Let's take a deep dive and look closer at the same.
Try Omnisend For Free & Get 10% OFF
Omnisend Promo Code: YOUFOUNDIT
Pros
Easy to use and incredibly user friendly
Harness the power of automation
Competitive Pricing
Unique tools like product picker
Free messages up to 2,000 as per the plan
Omnichannel marketing to reach customers around the globe
The free plan has several features for beginners to explore
Several integrations with popular platforms
14-day free trial period
Excellent 24×7 customer service
Better conversion rates
Smart segmentation for different audiences
One-click integrations
Easy software migration
Cons
Lack of communication about updates
Limited customizable options
The requirement to input data from scratch for new campaigns
High price rise in plans without a host of extra features
Some channel restrictions
Omnisend Review Reddit
What Does Reddit have to say about Omnisend?
u/saascosmos22 " Omnisend is an email marketing automation platform that is built to grow e-commerce brands. With this platform, convert your visitors to customers as you create personalized emails in a few minutes. The smart segmentation feature allows users to create relevant and hyper-targeted email messages. Omnisend works with different e-commerce platforms".
u/ceomentor " Omnisend is an omnichannel automation marketing campaign. It not only does SMS but also sends push notifications, popups, Google ads, and dynamic Facebook integrations".
Verdict: Omnisend is a flexible e-commerce Automation Platform
Omnisend marketing has become extremely important in the digital market. Omnisend is an industry leader which allows you to connect with individuals across different channels. The e-commerce automation offered by the platform lets online store owners connect with their target audiences more efficiently.
The platform has everything necessary to thrive in the growing online digital markets. Customizable email templates, abandoned cart automation, follow-up emails, transactional emails, and various other advanced features. These features help save a lot of time and let you focus more on building strategies and growing your business.
The professional segmented campaigns allow you to cater to the tastes of different individuals. From a range of designs to various integration options, you give everything that a customer wants.
The reporting features generates report and analytics on customer behavior or purchase patterns. But if you want to deep dive and find exact details, then it is not viable. Also, if you're starting a new campaign, you will have to insert data from scratch, which might not be convenient for some users. Since most marketers focus on SMS messaging and push notifications, this is not a major issue that would deter them from using the platform.
If you are planning to try an email marketing platform, you can give Omnisend's 14 day free trial. Here you can test all the different features and functionality of this unique platform. All in all, Omnisend is a premium, top-of-the-line e-commerce automation system that lets you manage all your marketing operations in one platform.
Try Omnisend For Free & Get 10% OFF
Omnisend Coupon Code: YOUFOUNDIT
Read Next: