Update: In 2019, Nomatic decided to stop all coupon codes on their site so you can't really get a code anymore. If you go search on Google for a "Nomatic discount code" all of the ones shared are expired like mine above.
So what should you do? Well, I would suggest that you go ahead and by Nomatic! Because the bags are Soo good. I'll update this article if this changes.
Also if Nomatic is running any sale the discount is automatically applied on your purchase so click the link below to see if Nomatic has any deals.
Nomatic is one of the best pack makers in the industry that produces the most functional gear built for people that live on the go. If you've been looking for good travel backpacks Nomatic is a name I'm sure you've heard somewhere in a backpack review or recommendation.
However, if you're reading this you already know that and also know that Nomatic backpacks are NOT cheap! I paid $294 for their travel and vacuum bags which is A LOT for a backpack.
This is why many buy these backpacks during a holiday discount which is well only restricted to the holiday season (ex. Christmas)!
In this article, I'll share my exclusive Nomatic discount code which will get you a FLAT 20% off your next Nomatic purchase that will definitely save you a ton of cash and also share my views on the Nomatic travel backpacks after using them myself for a year now!
In a hurry? No Problem!
Click here to go to Nomatic and use my discount code "NORONHA20" to avail a FLAT 20% off from your Nomatic purchase.
Nomatic Discount code
Step #1: Click here to go to Nomatic.com, choose what you want to purchase and in the order page using my exclusive Nomatic coupon code "NORONHA20" to avail flat 20% off your purchase
Note: This discount code will not work during Holiday seasons as the products are already heavily discounted.
Step #2: You have the option of creating an account or checking out as a guest.
Step #3: Get Discount! That's right there's no bullshit survey or something tedious it's just a good ol' discount code because I'm an authorized Nomatic affiliate.
Why do I recommend Nomatic?
I've been traveling the world since 2016 and used many backpacks but at the start of 2018 I upgraded to just a single backpack I would use for all my travel needs the Nomatic Travel bag and my experience with it has been simply amazing!
Based on my experience here's Nomatic's biggest selling points:
Extremely high Quality
Nomatic being one of the best pack makers in the industry has a very high standard for quality and constructs its backpacks with materials of the finest quality that are bound to last. Perfect for those that need a backpack for a loooong time!
Highly Functional
All of Nomatic's backpacks are designed and constructed with the purpose to help you stay organized and have the confidence to live comfortably on the go.
I particularly love the attention to detail on the functionality department especially because I always have a place for all my gear and in general I love functional products.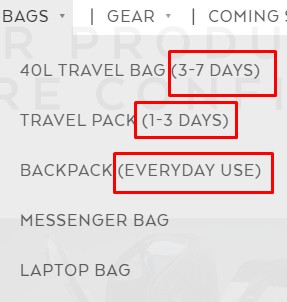 I also find it very interesting to see how they segregate their backpacks as per the duration of travel which is often difficult to figure out from the look but only upon travel (which is too late!)
Very Versatile
Nomatic backpacks apart from being of very high quality and functionality are adaptable to any situations. For instance, its backpacks can be converted into messenger bags fit for boardrooms!
In my opinion, it's the best backpack for any traveler and especially a digital nomad that packs a lot of tech with them because I've personally used it and it has worked for me.
Thank you for reading this article if you have any queries do let me know in the comments below.