Livestorm is the first video engagement platform to manage meetings, webinars, and virtual events from start to finish.
With Livestorm, you can basically unblock traditional video conferencing silos and use an end-to-end video engagement platform for your meetings and events.
You can get access to email templates and sequences, customizable registration pages, email delivery tracking, website widgets, built-in social sharing, and so much more. In this Livestorm Review we breakdown all it's features.
Try Livestorm For Free & Get 20% OFF
Livestorm Lifetime Deal: Auto Applied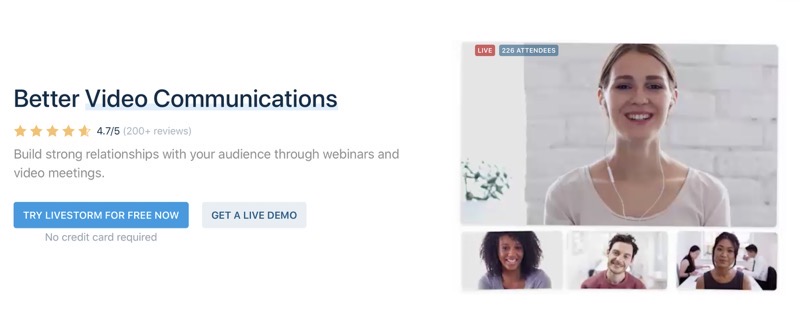 Forget boring meetings and events with very little interaction. With Livestorm, you can choose from a host of features to engage participants: launch polls, answer questions, send emojis, share files, and allied things.
Finally, take data-driven decisions thanks to Livestorm's integrated dashboard to track registrations, attendance, and participant engagement. Integrate Livestorm with Salesforce or HubSpot CRM to leverage the data from any event.
Livestorm is definitely built with ease of use in mind. It serves companies of all sizes, from startups to Fortune 500s. Brands like Shopify, Honda, Spendesk, Front and Revolut trust Livestorm to organize their online meetings, webinars, and virtual events alike.
Livestorm's customers come from various sectors, including technology, education, healthcare, government, media, real estate, and many others.
Livestorm is also available in 24 languages, connecting users all over the world.
Livestorm Review
Livestorm enables powerful, yet pain-free video engagements at scale. Their end-to-end video engagement platform enables organizations to create professional video engagements that can be easily managed in one place. It's a browser-based platform that doesn't require a download, or setup. You can use Livestorm for on-demand, live, or pre-recorded meetings or events.
Try Livestorm For Free & Get 20% OFF
Livestorm Lifetime Deal: Auto Applied
About Livestorm
Livestorm is a platform designed to make it easy for companies to build video communication strategies.
With Livestorm, marketing, sales, customer success, or HR team can create online events for their audiences. From meetings, webinars, conferences, online training courses, podcast interviews, or product demos, Livestorm has a very adaptive nature for any kind of event.
Livestorm is a browser-based platform, as mentioned earlier that lets teams organize their online events in one place, from any device. Livestorm provides tools needed to: Create custom landing pages, send promotional emails and reminders, host engaging online events with integrated chat, polls, and Q&A functionalities and analyze event performance through an advanced analytics dashboard. Livestorm aims to be the one software for all corporate video communication.
1. Online Events Collaboration Features
During web conferences, webinars, and other online events, Livestorm supports audience polling, where presenters can ask for an audience input and receive it in real-time.
There is a Q&A feature where the attendees can ask questions during an ongoing presentation.
2. Reporting & Analytics Features
Users can report on and analyze usage, performance, ROI, and/or other metrics of success. Users can create dashboards that can be customized and shared. They also provide an overview of the most important metrics.
There is data exportability as well, wherein data can be exported via a CSV or Excel file for further reporting and analysis outside of the tool.
Try Livestorm For Free & Get 20% OFF
Livestorm Lifetime Deal: Auto Applied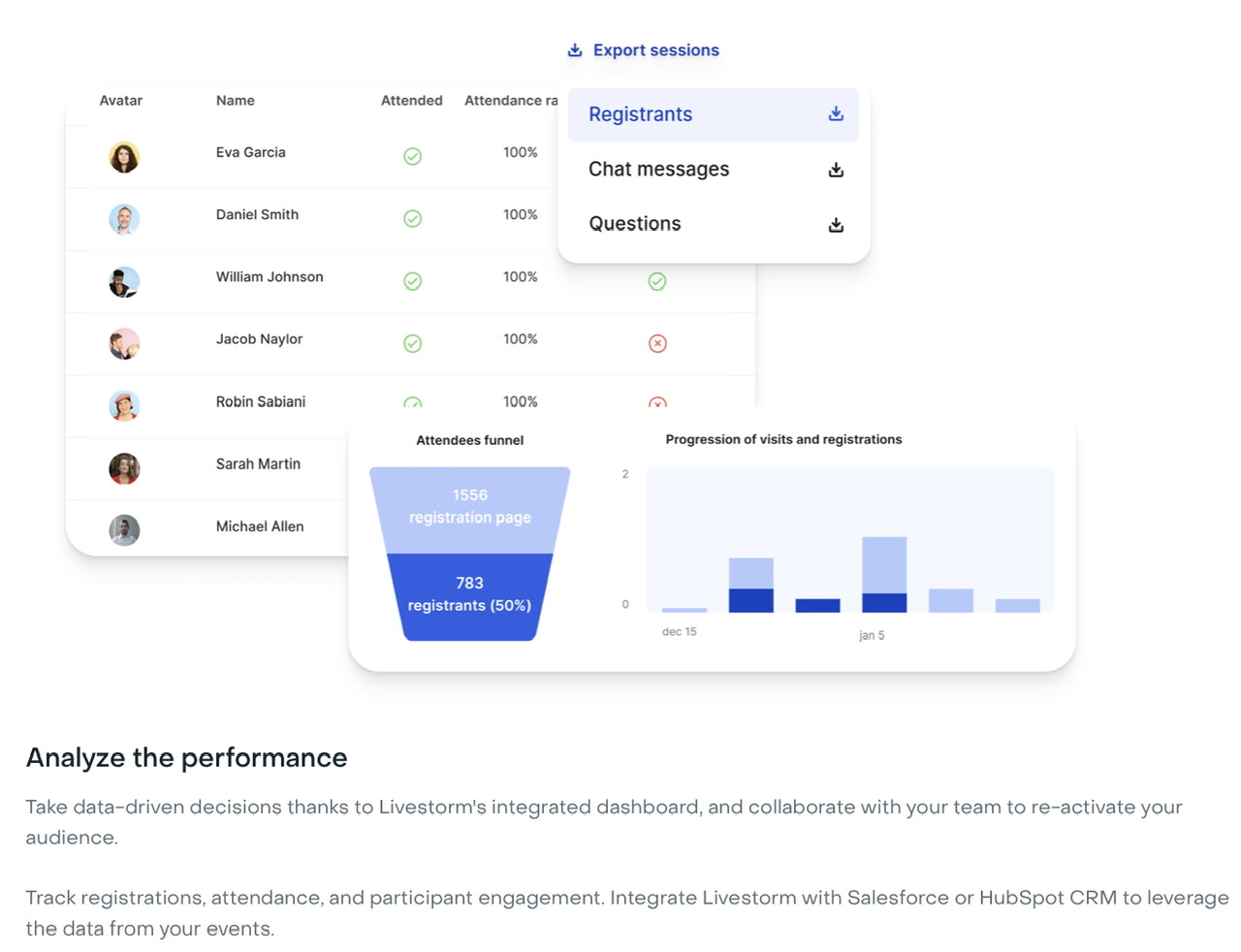 3. Performance & Compatibility of Online Events Software Features
During web conferencing and webinars (online events), for instance, there is high quality audio which is consistently available, with few or no interruptions.
It is also Chrome compatible, wherein all features work with the Google Chrome browser. Likewise, all features also work with the Firefox Internet Explorer and Apple safari browsers.
Livestorm is also available for the Linux operating system, Windows and OS X. It also includes mobile support, wherein attendees can access meetings and webinars from mobile devices as well.
4. Online Events Security Features
Security is of utmost importance in today's times. Especially, during meetings and other events held via web conferencing or webinar software.
For this very reason, participant roles and permissions can be handled. Administrators can grant users different levels of access to conferences, as moderators, presenters, attendees, or participants. Permissions can be set for individual users, or based on user role or group.
Livestorm can also operate on a confidential attendee list, where presenters, moderators or admins can see a confidential list of attendees that is not visible to all attendees.
5. Online Events Marketing Features
There are multiple branding options available wherein the users can customize the look and feel of the application so that online events are branded with the desired colors, company logo, and so on.
There is integration to marketing automation where the webinar software integrates with users' MA systems to send out registration conformations, email reminders about the various upcoming events, follow-up emails with webinar recordings and so on.
6. Online Meetings / Events Features
Hosting and attending meetings and events online is made simple and easy to use.
Calendar integration is possible. Scheduling capabilities integrate with the users' calendars. Meetings and events can also be recorded for playback in the future, when needed.
Slideshows are supported too, wherein presenters can present slideshows during the meeting within the web conferencing platform. And of course, last but not the least, there is an event registration feature available as well.
Try Livestorm For Free & Get 20% OFF
Livestorm Lifetime Deal: Auto Applied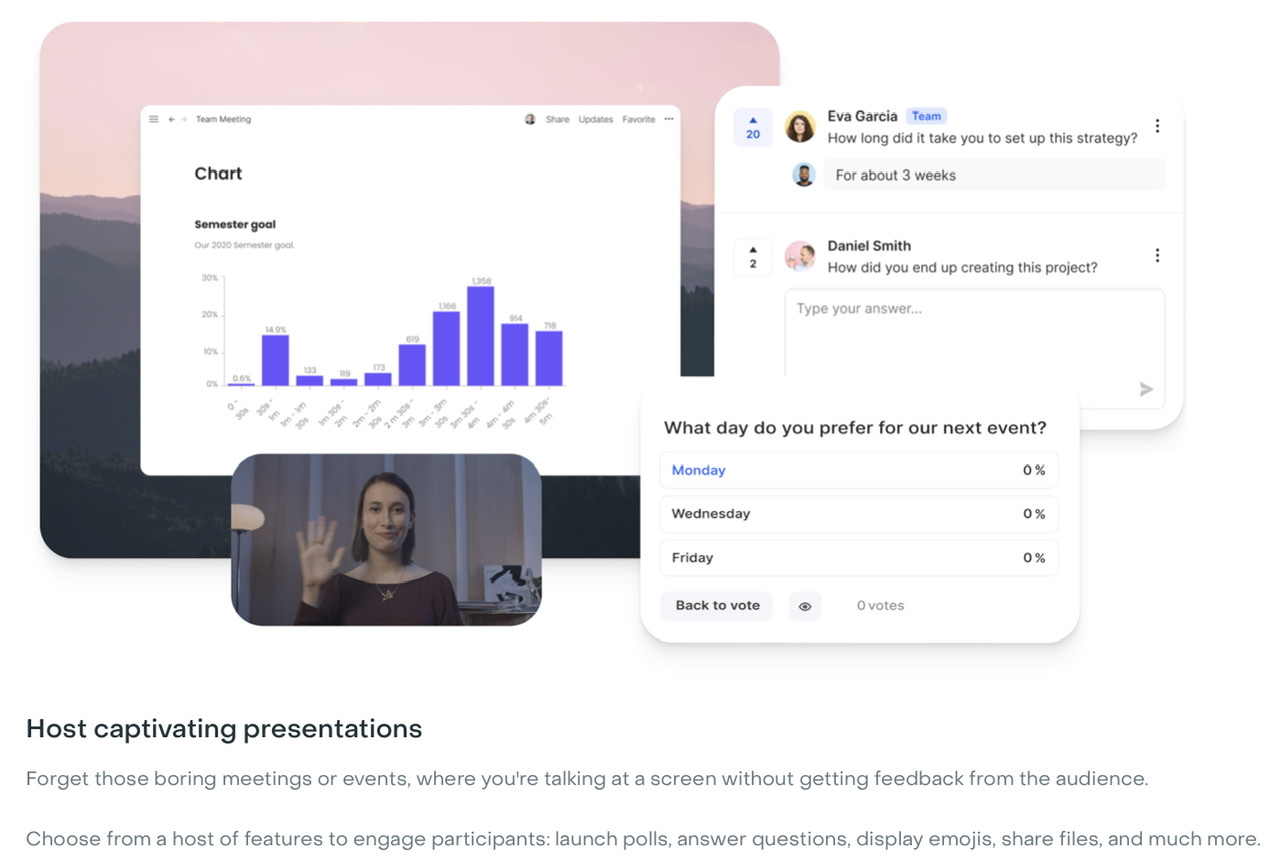 Livestorm Pricing
When you sign up to Livestorm, you get a free account to try the platform with no day limit. You will get to publish one webinar for free and then you can then ask them to renew your quota.
Try Livestorm For Free & Get 20% OFF
Livestorm Lifetime Deal: Auto Applied
Livestorm has three pricing plans. The Livestorm basic is a free plan that lets you publish as many events as you want to host up to 20-minute events, each with ten registrants and ten attendees. The basic plans also allow users to have one instant meeting room.
The Livestorm premium plan allows you to host up to 4-hour events, each with 1000 attendees. It also allows users to add additional hosts with unlimited registrants and create instant meeting rooms. Users can create up to 12 participants for each instant meeting. Users will pay $99/month for 250 attendees and up to $209/month for up to 1000 attendees.
The Livestorm enterprise plan gives users a dedicated CSM, priority support, and the ability to host up to 3000 attendees. The plan also comes with premium training from an expert alongside multiple workspaces with a unified billing.
Livestorm Discount Code
They're many blogs making false claims of:
Livestorm Discount Code 2023
Livestorm Discount Code
Livestorm Discount
Livestorm Discount Coupon
Livestorm Coupon Code 2023
Livestorm Coupon
Livestorm Promo Code 2023
Livestorm Promo Code
Livestorm Promo
However, the truth is that Livestorm does not offer any coupons! But you can get a 20% discount on all plans by signing up yearly instead of monthly!
Try Livestorm For Free & Get 20% OFF
Livestorm Lifetime Deal: Auto Applied
Livestorm vs Zoom
Webinar platforms and video conferencing solutions are invaluable tools in the modern business world. From mitigating business commuting costs to helping companies keep talent, the need for easy-to-use, multi-platform solutions has never been greater.
As per research sponsored by Lifesize, 69% of business professionals think that video communication will be as crucial to their work as voice assistants. Moreover, 47% of business professionals believe that video conferencing reduces the need for business travel.
Among the many solutions on the market, two popular video conferencing solutions stand out; Livestorm vs Zoom. Both companies offer similar services, but they do have some key differences.
Bottom Line Up Front
The main difference between Livestorm vs Zoom is that Livestorm is more of a Webinar marketing tool, whereas Zoom is primarily a video conferencing solution. Moreover, Livestorm is a browser-based solution, whereas Zoom comes with a desktop and mobile application.
About Zoom
Zoom is a cloud-based online video conferencing platform. Zoom offers HD video conferencing, online meetings, webinars and chat functions, screen sharing, and virtual backgrounds. The camera and audio control features are easy to use and provide users with a high-quality experience.
Zoom also provides unlimited chat time for all its paid accounts while allowing for portrait and gallery views on its screens. This feature allows you to add your own personal touch to the meeting experience, switch between views, and share content.
You can use Zoom on desktops, mobile devices, and video conferencing systems. The tool offers point-to-point connections to help you optimize your video conferencing experience. You can even mirror your video and touch up your appearance with Zoom's built-in video functions.
The Zoom App marketplace makes it possible to expand Zoom's features even further. It offers a wide selection of plug-ins and integrations such as Google Workplace, Epic, Rippling, and HubSpot, among other options.
Zoom has four pricing plans. The free plan allows users to host up to 100 participants with group meetings for up to 40 minutes. The plan also allows users to host one-to-one meetings each thirty minutes apart.
Differences Between Livestorm vs Zoom
Livestorm is browser-based, whereas Zoom is an app for desktop and Android applications.
Livestorm lacks screen sharing features on mobile devices, whereas Zoom allows for desktop and mobile screen sharing.
Livestorm has automated webinars that help attract leads, whereas Zoom offers on-demand webinars.
Zoom has low latency rates and high frame rates, whereas Livestorm has higher latency rates and minimal frame rates.
Livestorm has extensive marketing automation capabilities, whereas Zoom lacks these marketing tools.
Livestorm vs Zoom Features
1. Video Conferencing
Video conferencing is the heart and soul of any webinar or online meeting. Both tools have video conferencing as their core feature.
Livestorm guarantees a seamless, high-quality video conferencing experience. It provides HD video with unlimited screens and seamless audio without any interruption. However, this depends on your bandwidth, internet speed, and how many attendees you have.
Zoom offers a full suite of video conferencing services. This includes group video conferencing with its contact center solution, one-to-one video conferencing with screen sharing capabilities, and Facebook Live streaming.
Besides HD video conferencing, Zoom also features a high-quality audio output with noise-canceling technology. Zoom has the highest frame rates and lowest latency rates among the video conferencing tools we've tested before. This makes it a great tool for both webinars and online meetings.
Verdict: Zoom stands out as a more comprehensive video conferencing platform with better functionality and quality of sound and video.
2. Live Chat
Live chat is a great way to engage attendees and promote interaction. Both Livestorm and Zoom have live chat features as part of their core offerings.
Livestorm's live chat has cross-platform capabilities, an intuitive interface for ease of use, and real-time analytics to track data generated by the chat feature. Users can send public or private chats to attendees and increase engagement.
The chat function on Livestorm also comes with a sidebar that lets you know who is online and offline. The host can also disable chat functions to ensure no interference whatsoever.
Zoom has a comprehensive live chat feature that allows for more personalized engagements. You can send private messages, start group chats, and set up custom automated chat functions to increase engagement. Users can preview the chats they send and receive notifications for new chats.
Verdict: It's a tie! Both tools have live chat features that are reliable and easy to use.
3. Mobile Friendliness
As of 2021, the number of mobile phone users globally was 15 billion. This metric illustrates that mobile device usage is a prominent form of user engagement. You can't afford to ignore it.
Livestorm features a responsive mobile interface that you can use on Android and iOS. The video format and quality automatically adapt to the mobile browser through WebRTC, a leading video technology for compatible browsers. However, since Livestorm is browser-based, performance is dependent on internet connectivity.
On the other hand, Zoom has a dedicated mobile app for Android and iOS. The apps allow for a seamless broadcasting, recording, and screen-sharing experience like you would expect from a desktop app. There is less lag time by using the app, and the video quality is not affected by bandwidth issues.
Normally, video conferencing apps for mobile devices come with limited functionality. But Zoom has a rich feature set for both Android and iOS users.
Verdict: Zoom's features and the special app give it an edge over Livestorm regarding compatibility and performance on mobile devices.
4. Reports and Analytics
Reporting and analytics are essential for post-event documentation and maximizing your webinar's return on investment. Livestorm offers a suite of reporting features that allow you to track engagement data, see which participants connected at what time, analyze the performance of your live chat function, and know who visited the pages you promoted in your event URL.
Zoom comes with a reporting interface that gives you a real-time overview of key metrics and engagement data. You can track live views, unique video views, screen shares, the total length of all sessions, and all other available metrics across your account. The pre and post-webinar analytics also provide further insight into the success of your event.
Verdict: Zoom is far more comprehensive with its reporting and analytics suite.
5. Integration and Third-Party Platforms
Both Livestorm and Zoom have APIs to integrate with third-party solutions. You can add a video chat widget on your website or blog, send invitations through social media, and connect using other tools you use regularly. It's all possible because of these integrations.
Livestorm integrations include Google Analytics, MailChimp, Zapier, YouTube live, SalesMate, Zenkit, TypeForm, Salesforce, among others. This allows you to use your live chat software for other features on your website or integrate it with the third-party tools you use daily. You can also connect Livestorm with Zapier if, for example, you need to share an attendee's data immediately after they register.
Zoom has numerous integrations that allow easy connections to third-party tools and platforms. For a quick live chat feature, you can connect with websites like Facebook, YouTube, HubSpot, Gmail, Zendesk, or any other platform. It also connects with a wide variety of CRMs and marketing automation solutions.
Verdict: It's a tie! Both platforms feature a large list of integrations that let you use your software beyond webinar interactions.
6. Screen Sharing
Screen sharing is an important component of online events where participants need to get the big picture. It's also useful for non-webinar events like seminars, hackathons, webinars, and more. Both Livestorm and Zoom offer screen sharing with their video conferencing solutions.
Screen sharing with Livestorm is easy. All users have to do is click the screen share button and start sharing. It's a great way to share information without resorting to other tools or applications quickly. However, the screen share feature is not available on mobile devices.
Zoom's screen share feature also lets you share your desktop, whether it's Mac or PC. But unlike Livestorm, the latter allows for remote control sharing as well. This feature is useful because Zoom permits conference hosts to guide participants through a process without leaving the virtual room.
Verdict: Zoom has a more intuitive screen-sharing feature on mobile devices and PCs.
7. Automated Webinars
Automated webinars are useful tools for marketers who want to automate webinars without limiting participants' capabilities.
Livestorm's automated webinar features allow you to generate leads, shorten your sales cycle, and streamline the lead nurturing process. For example, you can create great events at scale and engage audiences automatically. There's also the ability to tailor your webinars so they can fit your marketing goals.
Zoom doesn't offer automated webinars; however, it has on-demand webinar options. The tool enables you to schedule a webinar, record it automatically in the cloud or locally, and distribute it to the people you want. Anybody who has access to the registered link can watch the webinar.
Verdict: Livestorm has extensive marketing functionalities with automated webinars than Zoom.
Try Livestorm For Free & Get 20% OFF
Livestorm Lifetime Deal: Auto Applied
Livestorm vs Zoom Verdict
If you want to run webinars, Livestorm is the clear winner given the marketing tools.
Zoom doesn't offer automated webinars. Zoom webinars don't show your face. It's a view-only platform, which means that the host can't see the attendees, and neither can the attendees see the host. As such, you can use Zoom webinars for cold outreach or broadcasting your message at scale.
However, it has on-demand webinar options that you can schedule and tailor to your marketing goals. Anybody who has access to the registered link can watch the webinar after publishing it.
Both platforms offer video conferencing and live chat capabilities. However, Zoom features more integrations, an extensive list of third-party apps you can connect with, and offers screen sharing. It also has a more intuitive screen-sharing feature on mobile devices and PCs.
You can use Livestorm on mobile devices. However, the connection is browser-based, which means you access the meetings through a browser. Unfortunately, you can't use your phone for screen sharing.
The Livestorm vs Zoom debate is a tough call. They're both popular platforms with their own sets of features and functionalities. Livestorm has comprehensive marketing capabilities, but Zoom has a more intuitive screen-sharing feature on mobile devices and PCs.
From the in-depth research, Zoom is generally recommended for its feature-rich screen share, collaboration capabilities, and integration options. It has low latency rates and high frame rates, making it a great option for small businesses and large enterprises.
But all in all, considering everything, Livestorm surely tilts towards a good, solid and most liked platform out there to conduct and manage meetings, webinars, and virtual events from start to finish.
Every platform will have its own benefits and disadvantages and that's just how things work and it all comes down to each person's personal or business use for Livestorm.
Try Livestorm For Free & Get 20% OFF
Livestorm Lifetime Deal: Auto Applied
Livestorm Review Reddit
u/General_Difference – Anyone know of good webinar software platforms for small business / non-profit?
u/MikeyMeatballz – Livestorm
Livestorm Review Verdict
Well, all in all, considering the pros and cons of Livestorm, it surely tilts towards a good, solid and most liked platform out there to conduct and manage meetings, webinars, and virtual events from start to finish.
Every platform will have its own benefits and disadvantages and that's just how things work and it all comes down to each person's personal or business use for Livestorm.
Try Livestorm For Free & Get 20% OFF
Livestorm Lifetime Deal: Auto Applied
Read Next: