TLDR; Kinsta is the better Managed WordPress Hosting, while Pressidium's infrastructure is better suited for Enterprise customers.
Click Here to Get Kinsta Managed Hosting
WordPress is one of the most widely used Content Management Systems (CMS) on the internet today. As of 2019, it powered more than 35% of all the websites on the world wide web!
If you're planning to launch a new website, it is very likely that you'll use WordPress to power it. Being open-soruce and free with an extensive plugin ecosystem and a wide variety of themes, there's not a lot that WordPress cannot do. It can handle all types of websites from simple blogs to huge eCommerce sites and it can do it well.
Due to the incredible popularity of WordPress as a CMS, you can also find a lot of managed WordPress hosting services that take care of the day-to-day management of your WordPress site so you can focus on the important things such as creating amazing content.
In this blog, we're going to take a look at two of these managed WordPress hosting services – Pressidium and Kinsta.
We're going to go through the differences between the two so you can make an informed choice when it comes to choosing a managed WordPress service for your next website!
Why do you need a managed WordPress hosting?
A managed WordPress hosting service is a hosting service that is specifically designed and optimized for WordPress websites. Managing a WordPress website and ensuring that it can handle huge amounts of traffic is not an easy thing to do. If you do not want to deal with the technical hassles and want your website to have super fast loading times, using a managed WordPress hosting service might be the best choice for you
Most managed WordPress hosting services also have 24/7 customer support which helps in quickly resolving any issue that your website might face. You also have the advantage of server-level caching and CDN which also helps in keeping your website fast and optimized.
Kinsta vs Pressidium
While hosting a WordPress website is also possible on a "shared hosting service", there are a number of benefits that you only get when you use a dedicated managed WordPress hosting service instead of a shared hosting service.
Shared hosting is all about offering cheap hosting for your website by cramming many different websites on a single server. However, due to the inherent limitations of sharing resources, sharing hosting services cannot offer the speed and value-added services that managed WordPress hosting services can provide. Of course, this is why managed WordPress hosting services also charge more than shared hosting services.
In a nutshell, here are some of the major benefits of using managed WordPress hosting services over a regular generic web hosting service:
Your website will load much faster as the hosting server is configured keeping WordPress websites in mind.
They come with tools that make it easy to manage WordPress websites like staging areas.
They provide automatic updates and automatic backups which ensures your website is automatically maintained.
They provide additional security features and other value-added services like instant customer support.
About Kinsta
Kinsta is one of the biggest managed WordPress hosting services used by huge companies around the world such as TripAdvisor and Ubisoft. It is a premium WordPress hosting service and is not really a good option for people who want a budget solution.
Click Here to Get Kinsta Managed Hosting
You do definitely get amazing value for money when it comes to Kinsta. The hosting service is powered by the Google Cloud Platform which is also used by Google's internal tools such as Gmail and YouTube. Being powered by such a robust cloud infrastructure is one of the main selling points of Kinsta as it ensures your data is transported safely and with lighting speed.
Some other key features of Kinsta include the use of cutting-edge technology like Nginx, PHP 7.4, and LXD containers. It also offers excellent security with features like DDoS detection, free SSL support, and hardware-based firewalls.
If you can afford it, Kinsta is a great managed WordPress hosting service, maybe even the best. It also provides a simple unified management dashboard and great customer service so you can rest assured that you'll never have an issue with your WordPress website when you're using Kinsta.
About Pressidium
Pressidium is a relatively new managed WordPress hosting service that started in 2013. It provides its services to many media outlets, tech startups, digital agencies, and Fortune 500 companies. Some might consider Pressidium to be one of the best-kept secrets in the industry and it is rapidly gaining ground.
Like other big players in the industry, Pressidium is also considered to be a premium hosting service which is made evident by taking a look at their plans. Naturally, they also provide premium features that are on par with the top managed hosting services for WordPress.
With Pressidium, you get features such as a hosting architecture that is load balanced and "highly available" which means you don't have to worry about facing any uptime issues on your website. It also provides staging sites, automatic scalability, instant backups and expert WordPress support by a team of experts who know WordPress better than the back of their hands.
With four major data centers in North America, Europe, Oceania and the Asia Pacific, Pressidium also has 42 strategic edge servers spread around the entire world which makes an incredible managed WordPress hosting service that covers the entire globe.
Kinsta vs Pressidium: Pricing
The pricing of the hosting service is very important for a lot of businesses and entrepreneurs. While we want to get the most value out of our investment, we also want to keep our costs as low as possible. Let's take a look at the different plans offered on Kinsta and Pressidium.
Both Kinsta and Pressidum offer a wide range of plans. While the starter plan offered on Kinsta is charged at $30 per month, the starter plan on Pressidum is charged at around $42 per month. Since both of them are enterprise-ready managed services, they also provide custom plans that can go above $1000 per month based on the requirements.
Here's a comparison of the three basic plans offered on both the platforms:
1. Personal Plans
Kinsta: $30/month, 1 Website, 20k Monthly Visitors, 10GB Disk Space.
Pressidium: $42/month, 3 Websites, 30k Monthly Visitors, 10GB Disk Space.
2. Professional Plans
Kinsta: $60/month, 2 Websites, 40k Monthly Visitors, 20GB Disk Space.
Pressidium: $125/month, 10 Websites, 100k Monthly Visitors, 20GB Disk Space.
2. Business Plans
Kinsta: $100/month, 5 Websites, 100k Monthly Visitors, 30GB Disk Space.
Pressidium: $250/month, 25 Websites, 500k Monthly Visitors, 30GB Disk Space.
Click Here to Get Kinsta Managed Hosting
Kinsta vs Pressidium: Features
While both Kinsta and Pressidium offer an amazing quality of service and great features, there are some slight differences between those two. Let's take a look at some of the differences between Kinsta and Pressidium when it comes to features:
1. Servers
Kinsta is powered by the Google Cloud Platform which is one of the key features that give Kinsa an edge over its competitors. The Google Cloud Platform is a highly robust and reliable cloud computing infrastructure that powers some of the biggest websites around the world. Some other features of the Kinsta server architecture include LXD containers, SSH Support, PHP 7, automatic updates and more.
Pressidium uses a highly optimized and load-balanced architecture which makes its servers extremely fast and reliable too. There is no single point of failure in their architecture which also makes it extremely secure. Other add-on features include an efficient caching system, automatic updates, and an optimized load balancing architecture.
2. Speed and Performance
With an average load time of a Kinsta site being 1.34 seconds based on recordings from 11 different places in the world, there are not really a lot of hosting services that can rival Kinsta's blazing speed and performance.
Pressidium does offer decent speed which is much better than what you would get from a shared hosting service, it is still not as well-performing as Kinsta.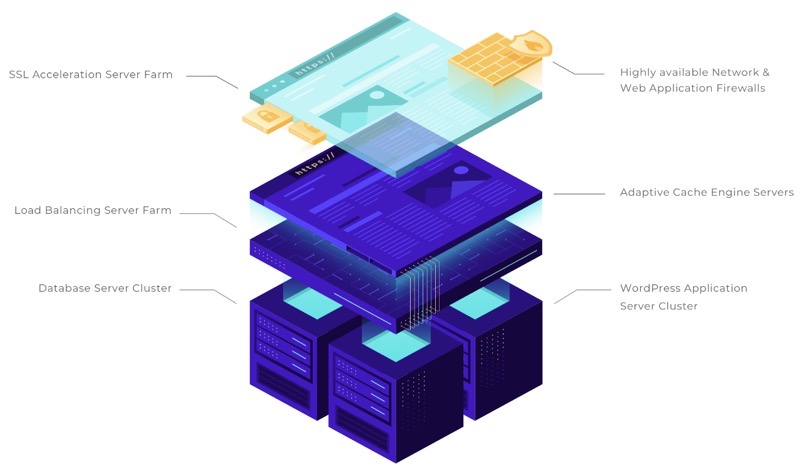 3. Backup and Support
Both Kinsta and Pressidium offer automatic backups and support for staging sites where you can view any changes on your website before pushing it on the live website. As for customer support, you can also expect a similar quality of support as both the hosting services employ WordPress experts and provide 24/7 support.
4. Additional Features
Here are some of the interesting additional features provided by the two services:
Kinsta: SSD Storage, Free CDN, Google Cloud Platform, 24/7 Support, Staging Area, Free SSL Certificate.
Pressidium: SSD Storage Free CDN, Load Balanced Server Cluster, 24/7 Support, Staging Environment, Enterprise SSL Management.
Click Here to Get Kinsta Managed Hosting
Kinsta vs Pressidium: Which one is best for you?
As mentioned earlier in this blog, Kinsta is the best-managed WordPress hosting service currently if you can afford it. If you're serious about your websites and want an enterprise-level solution that can take care of all your hosting needs, Kinsta is an excellent choice.
While Pressidium is not as established as Kinsta, it does have a lot to offer. Its server architecture is not as robust as the Google Cloud Platform that Kinsta uses but it does offer plans which cost a lot less and offer a lot more.
Overall, you can't really go wrong with either of them unless it is important for you to have the absolute best performance and speed for your website. Then, you should go with Kinsta which is considered to be the best-managed hosting service in the industry currently for many good reasons.
Click Here to Get Kinsta Managed Hosting
Other Reviews: