WPX is a powerful WordPress hosting provider bolstering excellent performance in the market. Launched in 2013 by Terry Kyle, WPX is allegedly the fastest WordPress hosting company. It is not one of the biggest names in the industry, but it isn't a newcomer.
The vendor has a presence in the US and UK, with its website being available in English and other languages. The founder decided to create this service after being frustrated with the service offered by other hosts.
Naturally, if you can't find a good host, you have to become one, so he started WPX to give him the best performance for his business. Generally, hosts make these 3 bold promises to sell their services.
Super-fast loading speed

Excellent customer support with an average response time of 30 seconds

Simple hosting and managed solution suited for beginners and advanced individuals
WPX hosting services are something that comes to mind when you see the above-mentioned point. Not only this, but it also offers good security, free migration, and various other features. In this article, we'll cover the features offered by WPX and showcase why it is one of the best wordpress hosting providers in the market.
Having worked with WordPress sites receiving thousand to millions of visitor, I've bounced between every popular host imaginable.
By the end of this article, you'll see why I consider WPX the best managed wordPress host for a certain kind of person. Someone who…
Runs and needs to host multiple websites
Isn't a big company with a very large budget (ie Kinsta gets expensive really really quickly 😉)
Doesn't want to meddle with the technicalities to get their site fast
That right there describes a ton of my non-technical internet marketing peers, and for them WPX is without a doubt the best wordpress host!
Get The Best Deal on WPX Hosting Now! Simply click the link below!
Save 50% on Your 1st Month With WPX Hosting
WPX Hosting Coupon Code: Jeremy50
Note: Jeremy50 is case sensitive
So lets dive into why I love WPX Hosting…
WPX Hosting Review
1. Multiple Sites on Base Plan
One of the most popular reasons many bloggers use WPX Hosting is because its the only WordPress Host that allows you to most multiple sites on the base hosting plan.
Their base plan of $25/month lets you host 5 websites. To put that into perspective, to host 5 website you have to pay
$115 with WPEngine
$100 with Kinsta
$99 with Liquid Web (10 sites)
$115 with Flywheel (10 sites)
Most online professionals and bloggers aren't running just one website and one big issues with having your host limit the number of sites it can get expensive pretty quickly so you are forced to upgrade. WPX is great in this respect.
In fact, it only costs $100/month to host 35 websites on WPX! No other Managed WordPress Host even comes close!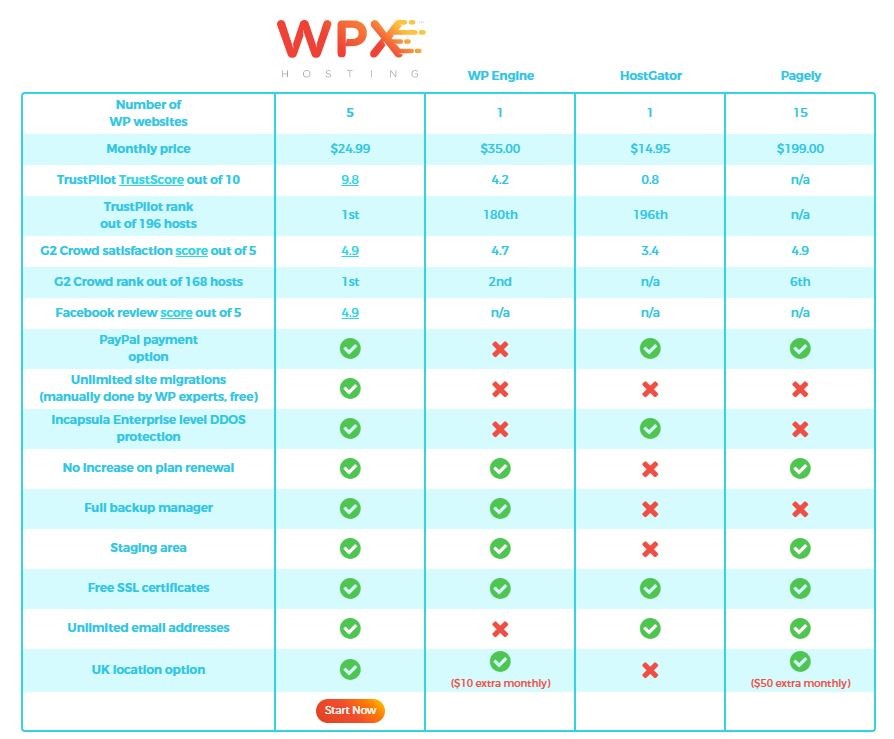 2. No Charge per Page views
A great feature offered by WPX that stands out from other Managed WordPress hosts is that you are not charged based on pageviews or sessions. Instead of this, you have a certain amount of bandwidth for each plan. However, if you exceed the specified bandwidth, you'll site won't be taken down abruptly.
Their base plan comes with 100GB of bandwidth, their $99/month plan comes with Unlimited Bandwidth**
Wait a moment, **???? Is their Unlimited Bandwidth just bullshit and similar to Bluehost and Godaddy in the fact that it's a total scam?
Well, not really. According to their terms and conditions "At WPX Hosting, we do NOT have sharp, automatic bandwidth ceilings and when a site does temporarily exceed its limit, we personally review it." And the site is never abruptly taken down ie. No reddit touch of death
If you utilize a CDN, it's less likely that you come close to your specified bandwidth. This feature works well with WPX hosting as it uses a powerful WPX cloud, which has an in-built CDN for WordPress optimization, and it is free for all customers on WPX.
So what does all of this mean for you?
Well, let's say you receive 1M visitors a month. On Kinsta, you would have to pay $600/month, (and an enterprise plan on WPengine). However, in reality if you optimize your cache and use a CDN as you would on WPX hosting, you could easily host that site through WPX Hosting for only $25/month.
Get The Best Deal on WPX Hosting Now! Simply click the link below!
Save 50% on Your 1st Month With WPX Hosting
WPX Hosting Coupon Code: Jeremy50
Note: Jeremy50 is case sensitive
4. Ease of use
When it comes to hosting management, WPX is the easiest in the market. It comes with its own custom panel that makes navigation across your website straightforward. Once you begin the installation process, WPX activates and configures Cloud CDN hosting service account by default, so you don't have to sweat it out worrying about its setup.
WPX offers an easy-to-use straightforward dashboard. The dashboard allows you to manage all the activities on your website with ease. A new user can easily relate to and handle all aspects of their website to manage all your accounts. Inside the account, users can access traffic details. bandwidth and check email usage for your website. Apart from this, you also have access to your server space utilizing SFTP and FTP, which allows you to efficiently upload plugins and themes for your website.
The LiteSpeed servers that run WPX allow it to handle a range of connections using minimal resources. The server helps event-driven architecture, allowing it to be faster and more reliable. This is an outstanding operative service offered by the host and gives you optimum speed and performance.
If you want to install WordPress, then it can be achieved in a few clicks. The process is very simple, and the most intensive thing to do is add your email address, password, and other important credentials. Although you can install WordPress directly from the WPX hosting client dashboard, you can also access your server space using SFTP and FTP. With this, you have the ability to upload themes and plugin files using FTP clients. You can also utilize FTP to upload and download various other files through their server space.
5. Managed WordPress Hosting
WPX offers its own managed servers to host WordPress websites. The managed hosting service offered by WPX may cost higher, but it is worth the price. For businesses that value fast website speeds with good security, reliability, and scalability, the hosting option is an ideal choice.
It is slightly more expensive than shared hosting options, but its list of features gives it a competitive edge. Also, with the managed hosting offered by WPX, you make websites simple with their hassle-free setup and use.
Get The Best Deal on WPX Hosting Now! Simply click the link below!
Save 50% on Your 1st Month With WPX Hosting
WPX Hosting Coupon Code: Jeremy50
Note: Jeremy50 is case sensitive
6. Best out of box optimization
WPX Hosting has one of the best out of box optimization of WordPress. So much so that while I did a test on Liquid Web I has 3 different configurations of a website ie.
Fresh Liquid Web WordPress Install
Above + few popular plugins* + Astra Theme + "Fashion Lifestyle Blog" Astra Starter Site + Elementor
Above + Caching + CDN optimization
However in the case for WPX Hosting my #3 test was removed, because whenever you install a new site on WPX hosting they install and optimize W3 total cache and enable their WPX Cloud CDN.
In fact, its even an option when you migrate a site over to WPX from another host. If you've used W3 Total Cache, you know that its the best free caching plugin but configuring it is a pain in the ass.
In fact I have an entire step by step article on how to configure W3 total cache and Cloudflare! The fact that WPX does this automatically when you start a website (or migrate one over) is amazing cause the settings are optimized work perfectly for the server.
Anyways, lets get to the speed tests.
7. WPX Hosting Speed & Load Tests
WPX has super fast loading speed and outstanding performance. In general, WPX has a loading speed of 0.9 seconds across different geo-locations, making it one of the best hosting providers taking speed as a factor. If you get a surge of traffic on your website, then WPX can handle it like a champ without compromising the performance of your site.
WPX has a 99.5% uptime guarantee, which stands out from the 99% guarantee advertised by other hosting providers. And it stays true to its words and offers a fine experience for its users.
I've done Load + Speed tests with WPX Hosting in 2 different configurations.
Fresh WPX Hosting WordPress Install
Above + few popular plugins* + Astra Theme + "Fashion Lifestyle Blog" Astra Starter Site + Elementor
*Plugins used: Yoast, Akismet, Easy Table of contents, Ninja Tables, WPform lite.
The Load test simulators 50 users at one site on the site. That comes to around 200k visitors a month and WPX Hosting had an average response time of less than 50ms.
1. Fresh WPX Hosting WordPress Install
Being a fresh WordPress install its obvious that this would load fast. This test is just done to place a benchmark.
2. WordPress + Plugins + Astra + Page Builders
This is how most normal website on the internet would be configured. If you import your average site into WPX Hosting (as you'll see below), this is the performance you're going to get.
To get this same performance with Liquid Web, I had to configure W3 total cache and cloudflare by myself, install and setup autoptimize, enable lazy loading for images as well as vanish page cache.
With WPX this was the out of box optimisation!
WPX Hosting Migration Speed Tests
A friend of mine also migrated a existing website over to WPX Hosting, this a year old wordpress site with a ton of images heavy website. Here're the url load time results.

Before/After GTmetrix Speed test.
That's a 5s drop in speed! He's not technical and just migrated over from cheap shared hosting to WPX Hosting, they enabled their WPX Cloud and installed W3 total cache and now his site loads under 2s and he didn't do shit.
And with WPX's Unlimited site migrations, you never have to worry about optimization old sites when you move them over.
WPX has a free CDN service with its cloud platform. Once it is activated on your website, your website assets will load quickly based on the data center close to the visitor. This will improve the loading time on your website and reduce latency. Currently, WPX has data centers across 30+ locations around the world that facilitatesrapid site loading time across different corners of the world. It also has a smooth loading balance time during mass traffic on your website.
WPX also comes with a free speed optimization feature to speed up your website. To ask for this service, you have to open a support ticket and ask the team to optimize your site. The support staff will run some tests to see what issues are slowing down the speed of your site and make some tweaks or provide any other recommendations. Some other companies may charge you to get this service, but this is free with WPX.
Save 50% on Your 1st Month With WPX Hosting
WPX Hosting Coupon Code: Jeremy50
Note: Jeremy50 is case sensitive
8. High S
ecurity
When it comes to security, WPX doesn't compromise on any aspect. They offer all the features necessary to secure your website. Some of the features it has are:
SSL Certificates– A SSL certificate is an important factor used to rank your website on google. These certificates encrypt all data for your hosting server. WPX offers free SSL certificates to users and creates a secure connection between your visitor and the server. All plans on WPX come with unlimited Encrypted SSL certificates that are

not

enabled by default but need to be installed, which can be done within a few clicks.

DDoS Protection– WPX has enterprise-level DDoS protection that protects against spam messages. The Incapsula DDoS protection offered by WPX blocks both application and network layer attacks. It comes with auto-detection, triggers, and supports SSL certificates and more.
Web Application Firewall– This feature is included in all plans offered by WPX. WAF protects WordPress

sites

against various attacks from SQL injection, cross-site scripting, etc.

Security Coverage– While selecting a WordPress hosting service, you must check all the security features offered by the host. WPX offers a

Sucuri

security service to get a top-notch website security solution. The premium

Sucuri

cloud-based platform scans

your website for any malware on your server. If your website is attacked, then you can simply recover it using this service.

Multisite WordPress Support– WPX allows for a multisite installation process. You just have to enable it from your Hosting panel

to get started with it

. Using this feature, you can manage multiple websites using a solo dashboard.

Malware Removal– A good malware recovery service will cost you a fortune if you were to buy it separately. WPX offers this with their plans, so you can easily recover your data and resume your business in case of a cyberattack on your website. If you see messages like "The site contains harmful programs", then

you're

website is hacked. Malware removal service allows you to remove and prevent these issues

from coming

to

fruition

for free. This service will work alongside your existing malware scanning to keep you safe from hackers. If at any time you think your website is infected you can raise a safety ticket with WPX hosting. Security is one of the reasons you should opt for WPX hosting, and it will tackle all these problems very efficiently.  

Two-factor authentication– WPX has a two-factor authentication that helps protect your website even in case somebody has access to your password. This feature creates a secondary layer of protection alongside the existing password. You can either set a unique number or access the authenticating factor using an application.
Spam Protection– The spam protection is an integral feature that helps protect your email and account for managing your business. The

lower

volume of spam allows you to increase your productivity by eliminating any unwanted messages. This

feature enables users

to improve system performance by eradicating unnecessary traffic.

Daily Website Backups– WPX offers free site

backups

on a daily basis which is not available for all hosting providers. The platform allows users to select either manual or daily

backups

. You get

full

access to the last 28 days

of

data on your dashboard. WPX takes utmost care and stores the backup files and secure servers to offer extra protection. You can also install third-party plugins to make backups by yourself.

Whois

Privacy–

Whois

or domain privacy protection protects your personal data from unauthorized people. Once you've activated

this

feature your personal information is hidden from public view. This helps keep your data

secure

from identity theft.
All the safety features help build confidence amongst your visitors and audiences that they're data is safe.
9.
Direct MySQL Database Access
WPX has a relational database management system. This database is very reliable, and secondly, it is an open-sourced system that gives it an edge in the industry. Lastly, it is free to use, making it very versatile in the market.
10. Best Global WordPress Hosting
Thanks to their powerful CDN the amazing WPX Cloud, WPX is one of the fastest hosts for the money in countries like Austrialia, Germany etc. If you try to find good WordPress hosting out of the few 5-10 major cloud cities in the world, you know how important this is.
If you want good hosting hosting in certain regions, you will have to pay to the roof, this is why using WPX cloud comes in.
These are the current WPX CDN end points (website content loads from the closest point in our CDN to each individual visitor):
New Jersey, USA
Chicago, USA
Dallas, USA
Seattle, USA
Los Angeles, USA
Atlanta, USA
Kansas City, USA
Silicon Valley, USA
Miami, USA
Toronto, Canada
Amsterdam, Netherlands
London, UK
Manchester, UK
Frankfurt, Germany
Moscow, Russia
Sydney, Australia
Auckland, New Zealand
Paris, France
Tokyo, Japan
Singapore
Hong Kong, China
Pune, India
Johannesburg, South Africa
Sofia, Bulgaria
Sao Paulo, Brazil
PLUS, WPX will be adding new, high speed origin servers making your site load lighting fast no matter where you are.
11. Email Service
WPX hosting plans come with an email service that allows you to send and receive emails from the registered email address associated with the domain name. When you are setting up your email, you have the option to forward any emails to your normal Gmail account. Alternatively, you can also access the emails through various other channels, and Google Apps are also supported.
Creating email addresses for the domain associated with your website is very easy. All you have to do is select the add email box button and add the specified details. Most of the services offered by WPX are user-friendly and easy, which sets them apart from other hosting providers.
12.
Staging Sites
WPX allows users to create staging sites to see the live copy of your WordPress site. With this feature, you can test changes and see any updates on your website. Once you're happy with everything on your website, you can push to the live version to make your website live. The hosting provider allows you to create a staging site within a few clicks and press the live button.
It is important to note that, unlike other WordPress hosts, WPX doesn't count these staging sites for billing purposes. You can create 5 different websites and have only two live websites, and you'll only have to pay for the live websites.
Save 50% on Your 1st Month With WPX Hosting
WPX Hosting Coupon Code: Jeremy50
Note: Jeremy50 is case sensitive
13. Free Website Migration
Website migration is a complex process that would need you to employ professionals. WPX hosting offers free website migrations to help you switch your old websites to WPX. Professionals in WPX will efficiently take care of your website migration. WPX offers website migration across its three premium plans:
Business account- 5 sites

Professional account- 15 sites
Elite account- 35 sites
You can initiate a site migration by creating a ticket in the support option on your dashboard. After filling in the required details, the support team will complete your website migration within 24 hours.
14.
Customer Support
WPX offers excellent customer support to its users. The 24/7 service offered by the platform has a live chat feature that has an average response time of 32 seconds. If you send tickets, you'll get a response within 5 minutes. However, they don't offer live phone support.
WPX Hosting Pricing
WPX keeps things simple with its hosting services and the plans it offers. There are three plans offered by the provider for you to choose from. Each plan has a monthly or yearly subscription, with the latter offering better discounts. 
All the plans include
One-click WordPress installation

Data

centers

across different locations around the world

Superfast SSD storage

Unlimited Site migrations to WPX servers

Free SSL certificates

High-speed Custom CDN across 33 global locations

Outstanding cover due to its DDoS protection

Staging area

28 days automatic backup

Multi-user access

Unlimited email boxes, databases

LiteSpeed

Server, Cache, and

OpCache

Two-factor authentication 
Here is a rundown of the plans and what is included in each of them.
1. Business Plan
The Business plan is the basic plan offered by WPX to its users. It is priced at $20.83 per month, while you can purchase it for $249.99 yearly.
The features of this plan include
Create up to 5 websites

15 GB storage

200 GB bandwidth

Free malware removal

30 sec

onds

response time for support

99.5% uptime

Free website speed optimization
2. Professional Plan
The professional plan offered by WPX is priced at $41.58 per month with a yearly subscription of $499.
The features of this plan include
Create up to 15 websites

30 GB storage

400 GB bandwidth

Free malware removal

30 sec

onds

response time for support

Free fixes if the site is offline

99.5% uptime

Free website speed optimization
3. Elite Plan
The Elite plan, as the name suggests is the premium quality plan offered by the hosting provider. The plan is priced at $83.23 per month with a yearly subscription of $999.
The features of this plan include
Create up to 35 websites

60 GB storage

Unlimited bandwidth

Free malware removal

30 sec

onds

response time for support

Free fixes if the site is offline

99.5% uptime

Free website speed optimization
30-day Money Back Policy
WPX offers a 30-day money back policy that allows you to explore the features without taking any risks. With this policy, you're guaranteed to get a refund if all your requirements are not satisfied. However, you don't have any free plans on any of its plans so far, so you'll have to work with this refund policy for the time being.
Save 50% on Your 1st Month With WPX Hosting
WPX Hosting Coupon Code: Jeremy50
Note: Jeremy50 is case sensitive
WPX
Hosting
Reddit Review
u/BertErnie1968- "You get what you are paying for if you're serious about hosting a website, then pay a little more. Hands down wpx.net is the best hosting service".
u/StrippedYangon– "WPX is a good recommendation, and I'm currently using this hosting service. I find it pretty good for lightweight websites too".
u/whdbf– "Yes, you can try WPX, and I love it, and mainly their support is awesome. It's better than some hosting providers in terms of pricing. The service is the fastest WordPress host, and my site loads in under 0.5 secs".
WPX
Hosting Pros and Cons
Pros
Free SSL certificates
Full backup manager
Lightning speed loading time
Free website migration
Daily backups
No cost for fixes in case of a malicious attack
Top-notch security features
A staging area
Excellent customer support
Cons
No traditional cPanel
It doesn't offer phone support
Premium prices
WPX Hosting Coupon Code
Using my discount code you can give get a whole 50% Discount on your first month of hosting.
Save 50% on Your 1st Month With WPX Hosting
WPX Hosting Coupon Code: Jeremy50
WPX Hosting Discount Code
This WPX discount is only applicable on WPX Monthly hosting.
You can get your 1st month of hosting for half the price
WPX Hosting Annual Discount
WPX Hosting doesn't have any discount code for their Annual plans. However you can always switch from monthly to annual plans with WPX Hosting.
Pro Tip: Its always better to pick the annual plan as you save more over the long term
So my advice would be sign up for the monthly plan using my WPX Hosting Coupon, get the first month for 50% off, and as the month comes to its end, message WPX and switch to their annual plan.
This is honestly a nobrainer, especially considering the fact that WPX comes with a 30 day money back guarantee!
Is WPX Hosting Worth It?
Hell Yes! WPX Hosting is the best hosting without a doubt for anyone who wants to host multiple sites and not have to worry about the technicalities.
Get The Best Deal on WPX Hosting Now! Simply click the link below!
WPX is a fast web hosting provider in the market today. Its interface is easy to use and is ideal for people who are planning to upgrade their budget website while keeping costs low. The hosting provider doesn't bolster decades of experience, but it is one of the fastest-growing hosting services today.
WPX has solid performance with excellent security features and an innovative dashboard. The malware detection and recovery features are something you don't get from budget hosts. This is why it is worth paying a little extra over low-budget providers.
WPX says it is the fastest web hosting service, but this isn't true, as some others are far faster than it. However, it is important to understand that WPX has decent site loading speed due to its data centers spread around the world. Its 99.5% uptime guarantee also allows it to be accessible to the user at all times. Further, its customer service is very good and can solve nearly all your issues efficiently.
The pricing of the Managed Hosting offered by WPX is another important factor in selecting it. Unlike other WordPress-managed hosts who price users based on monthly visits, WPX has fixed limits and pricing. All in all, WPX hosting service is very reliable and catered to suit the requirements of beginners, intermediaries, and higher-end professionals.
WPX Hosting 
Alternatives
I've been singing the praises of WPX throughout this article, but it is important to understand that the plans offered by it are of the higher echelons. However, you don't have to worry, as I've enlisted three alternatives to this hosting provider.
1. Hostinger – Best Budget WPX Hosting Alternative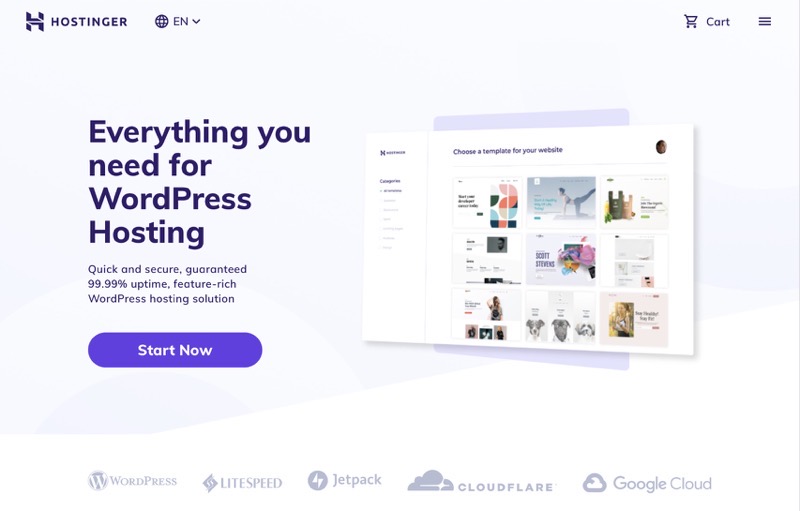 Hostinger is one of the cheapest options in the market if you're looking for an affordable alternative to WPX.  The shared hosting provider's basic plan starts at $1.99 per month and allows users to add several free resources. The provider caters to the demands of beginners who are looking to start fresh in the market.
Hostinger has several WordPress-centric perks that allow for high-speed WordPress performance. It has excellent security, and its intuitive dashboard is easy to use and operate. The hosting provider has 7 data centers around the world, so you are assured that your website will load instantly. Further, Hostinger uses updated technologies and features to give the most reliable experience to the end user. To top it all off, Hostinger has a helpful support team who can solve most of your issues within a short time.
2. Bluehost – Decent Cheap WPX Hosting Alternative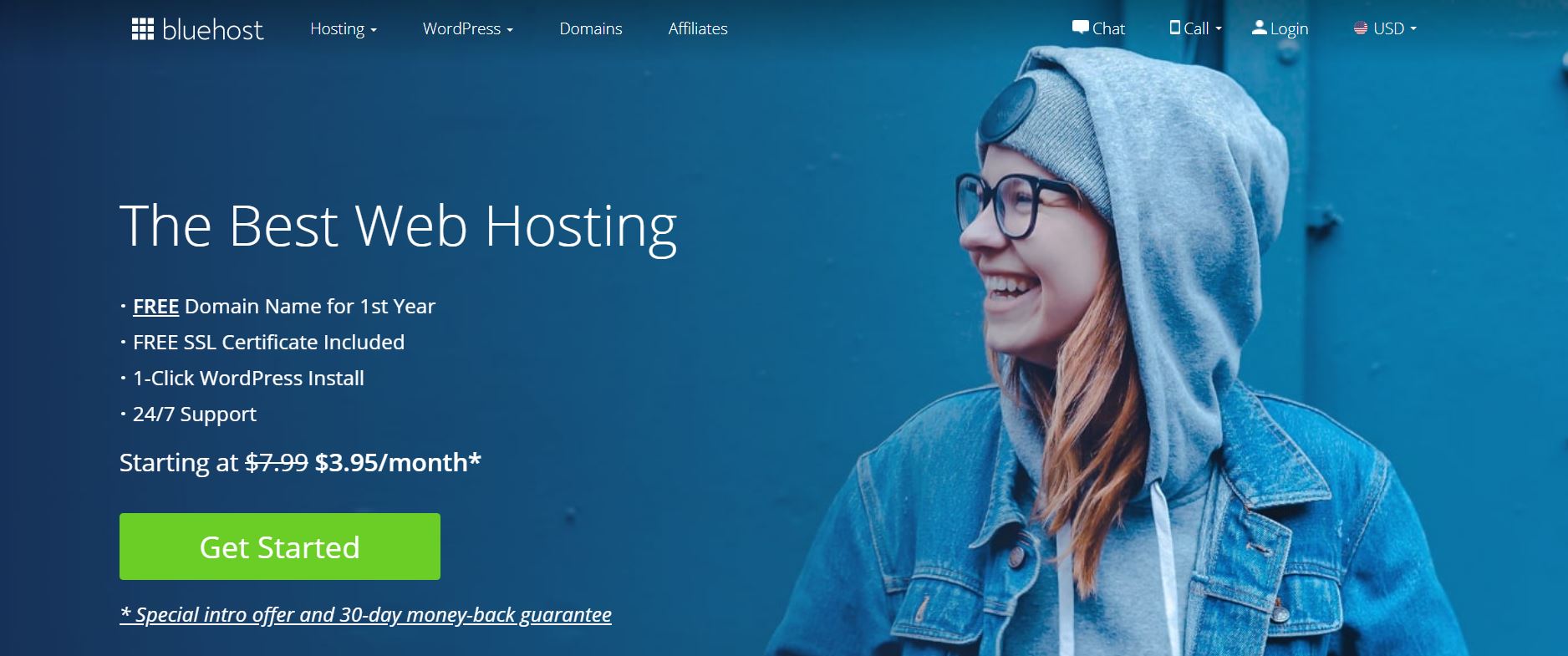 Click to Get 67% OFF Bluehost Now
Bluehost is another good hosting service for beginners. It starts at $5.45 per month with unlimited storage across all its plans. It operates at lightning speed, and the process of setting up and operating is straightforward. Further, it offers excellent security features at such low prices that leave a mark on its users.
Bluehost has data centers across 6 locations that allow them to offer excellent uptime and the ability to load websites in an instance. Its versatile plans are designed to handle high volumes of traffic on your website. The helpful customer support personnel can help troubleshoot all your issues efficiently. Lastly, its flexibility and generous storage allowances make it one of the best budget-friendly hosting providers today.
3. Kinsta – Premium WPX Hosting Alternative
Click Here to Try Kinsta Managed Hosting
Kinsta is a premium hosting service and is a solid option to host WordPress websites. It has some advanced infrastructure that can handle higher volumes of traffic. In simple terms, it is well-versed for users who don't want to compromise on performance. Powered by the Google Cloud Platform, its basic plan starts at $35 per month.
Kinsta has super-fast speed with excellent staging services. The hosting provider offers built-in CDN and SSL certificates with excellent uptime. It also has several WordPress-catered services that allow you to work efficiently. All in all, it is designed to achieve great heights at premium prices.
WPX Hosting FAQS
Do I need hosting for my WordPress website?
You can run your WordPress using standard shared hosting plans. However, if you choose a WordPress-optimized hosting provider, your users will be treated with a more reliable and optimized option.
Is WPX hosting service worth the hype?
WPX hosting is a little expensive, but it's built using LiteSpeed servers that offer users excellent page-loading speeds. The hosting provider offers outstanding features that make it one of the best hosting services in the market.
Does WPX hosting remove malware from your website?
WPX runs scans daily to find any malware free of cost. In case you are attacked by a cyber-attack, the company offers a reliable solution to get your data back. 
Other Reviews: