Last Updated on June 24, 2022
I first came across WPX hosting when a ton of affiliate bloggers I knew started switching over their site to them. Then just like most people I came across Matthew Woodward's test of the Best Managed WordPress Hosting.
However, of course I had to test WPX Hosting out for myself.
Having worked with WordPress sites receiving thousand to millions of visitor, I've bounced between every popular host imaginable.
By the end of this article, you'll see why I consider WPX the best managed wordPress host for a certain kind of person. Someone who…
Runs and needs to host multiple websites
Isn't a big company with a very large budget (ie Kinsta gets expensive really really quickly 😉)
Doesn't want to meddle with the technicalities to get their site fast
That right there describes a ton of my non-technical internet marketing peers, and for them WPX is without a doubt the best wordpress host!
Get The Best Deal on WPX Hosting Now! Simply click the link below!
Save 50% on Your 1st Month With WPX Hosting
WPX Hosting Coupon Code: Jeremy50
Note: Jeremy50 is case sensitive
So lets dive into why I love WPX Hosting…
WPX Hosting Review
1. Multiple Sites on Base Plan
One of the most popular reasons many bloggers use WPX Hosting is because its the only WordPress Host that allows you to most multiple sites on the base hosting plan.
Their base plan of $25/month lets you host 5 websites. To put that into perspective, to host 5 website you have to pay
$115 with WPEngine
$100 with Kinsta
$99 with Liquid Web (10 sites)
$115 with Flywheel (10 sites)
Most online professionals and bloggers aren't running just one website and one big issues with having your host limit the number of sites it can get expensive pretty quickly so you are forced to upgrade. WPX is great in this respect.
In fact, it only costs $100/month to host 35 websites on WPX! No other Managed WordPress Host even comes close!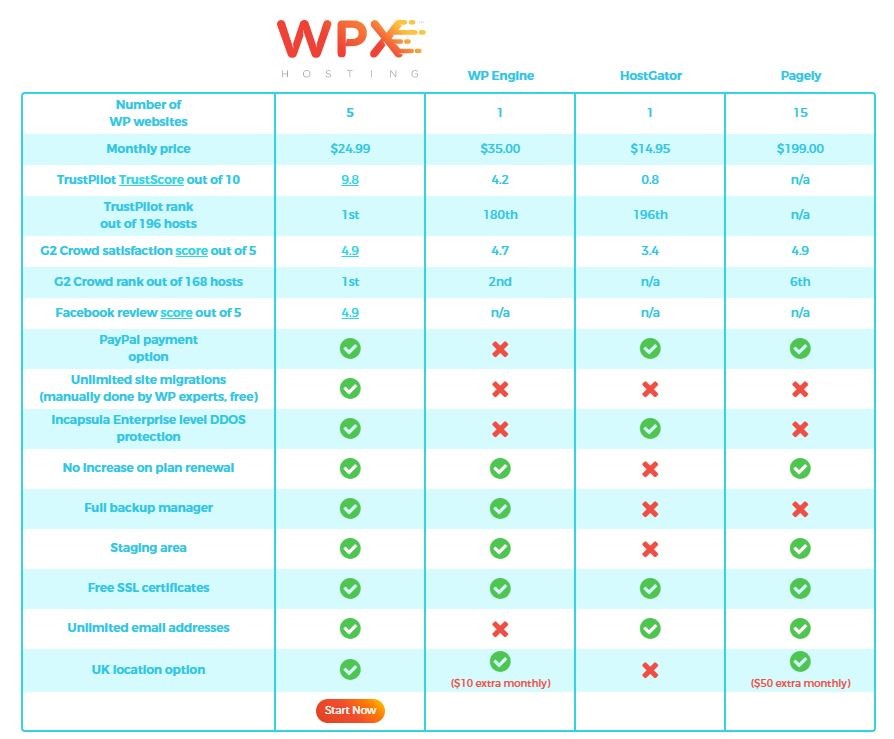 2. No Charge per Page views
Another great feature that separates WPX from other Managed WordPress Hosts is that you aren't charges on pageviews or sessions. Liquid Web is similar in this instance.
Instead you have a certain amount of bandwidth in each plan. Their base plan comes with 100GB of bandwidth, their $99/month plan comes with Unlimited Bandwidth**
Wait a moment, **???? Is their Unlimited Bandwidth just bullshit and similar to Bluehost and Godaddy in the fact that it's a total scam?
Well, not really. According to their terms and conditions "At WPX Hosting, we do NOT have sharp, automatic bandwidth ceilings and when a site does temporarily exceed its limit, we personally review it." And the site is never abruptly taken down ie. No reddit touch of death
Also if you use a CDN, its less likely that you'll come close to worrying about using a ton of the bandwidth. This is especially great with WPX Hosting because it comes built in with its powerful WPX Cloud which is CDN built especially for WordPress optimization and is FREE for all of WPX Customers.
So what does all of this mean for you?
Well, let's say you receive 1M visitors a month. On Kinsta, you would have to pay $600/month, (and an enterprise plan on WPengine). However, in reality if you optimize your cache and use a CDN as you would on WPX hosting, you could easily host that site through WPX Hosting for only $25/month.
Get The Best Deal on WPX Hosting Now! Simply click the link below!
Save 50% on Your 1st Month With WPX Hosting
WPX Hosting Coupon Code: Jeremy50
Note: Jeremy50 is case sensitive
Liquid Web is actually better than WPX in terms of bandwidth, their base plan of $29/month comes with 5TB of bandwidth, that's 50x the bandwidth offered by WPX. Meaning that if you have a single website with high traffic it's better to host it on Liquid Web.
However as mentioned earlier, Liquid Web's base plan only allows one site, making it more expensive for multiple websites but the best value for money if you have just one website with a ton of visitors.
3. Best out of box optimization
WPX Hosting has one of the best out of box optimization of WordPress. So much so that while I did a test on Liquid Web I has 3 different configurations of a website ie.
Fresh Liquid Web WordPress Install
Above + few popular plugins* + Astra Theme + "Fashion Lifestyle Blog" Astra Starter Site + Elementor
Above + Caching + CDN optimization
However in the case for WPX Hosting my #3 test was removed, because whenever you install a new site on WPX hosting they install and optimize W3 total cache and enable their WPX Cloud CDN.
In fact, its even an option when you migrate a site over to WPX from another host. If you've used W3 Total Cache, you know that its the best free caching plugin but configuring it is a pain in the ass.
In fact I have an entire step by step article on how to configure W3 total cache and Cloudflare! The fact that WPX does this automatically when you start a website (or migrate one over) is amazing cause the settings are optimized work perfectly for the server.
Anyways, lets get to the speed tests.
4. WPX Hosting Speed & Load Tests
I've done Load + Speed tests with WPX Hosting in 2 different configurations.
Fresh WPX Hosting WordPress Install
Above + few popular plugins* + Astra Theme + "Fashion Lifestyle Blog" Astra Starter Site + Elementor
*Plugins used: Yoast, Akismet, Easy Table of contents, Ninja Tables, WPform lite.
The Load test simulators 50 users at one site on the site. That comes to around 200k visitors a month and WPX Hosting had an average response time of less than 50ms.
1. Fresh WPX Hosting WordPress Install
Being a fresh WordPress install its obvious that this would load fast. This test is just done to place a benchmark.
2. WordPress + Plugins + Astra + Page Builders
This is how most normal website on the internet would be configured. If you import your average site into WPX Hosting (as you'll see below), this is the performance you're going to get.
To get this same performance with Liquid Web, I had to configure W3 total cache and cloudflare by myself, install and setup autoptimize, enable lazy loading for images as well as vanish page cache.
With WPX this was the out of box optimisation!
WPX Hosting Migration Speed Tests
A friend of mine also migrated a existing website over to WPX Hosting, this a year old wordpress site with a ton of images heavy website. Here're the url load time results.

Before/After GTmetrix Speed test.
That's a 5s drop in speed! He's not technical and just migrated over from cheap shared hosting to WPX Hosting, they enabled their WPX Cloud and installed W3 total cache and now his site loads under 2s and he didn't do shit.
And with WPX's Unlimited site migrations, you never have to worry about optimization old sites when you move them over.
Save 50% on Your 1st Month With WPX Hosting
WPX Hosting Coupon Code: Jeremy50
Note: Jeremy50 is case sensitive
5. Best Global WordPress Hosting
Thanks to their powerful CDN the amazing WPX Cloud, WPX is one of the fastest hosts for the money in countries like Austrialia, Germany etc. If you try to find good WordPress hosting out of the few 5-10 major cloud cities in the world, you know how important this is.
If you want good hosting hosting in certain regions, you will have to pay to the roof, this is why using WPX cloud comes in.
These are the current WPX CDN end points (website content loads from the closest point in our CDN to each individual visitor):
New Jersey, USA
Chicago, USA
Dallas, USA
Seattle, USA
Los Angeles, USA
Atlanta, USA
Kansas City, USA
Silicon Valley, USA
Miami, USA
Toronto, Canada
Amsterdam, Netherlands
London, UK
Manchester, UK
Frankfurt, Germany
Moscow, Russia
Sydney, Australia
Auckland, New Zealand
Paris, France
Tokyo, Japan
Singapore
Hong Kong, China
Pune, India
Johannesburg, South Africa
Sofia, Bulgaria
Sao Paulo, Brazil
PLUS, WPX will be adding new, high speed origin servers making your site load lighting fast no matter where you are.
WPX Hosting Pricing
You have two options where to Host your site with WPX, either US or the UK with both of them priced the same. However thanks to their WPX Cloud it doesn't matter where your readers are located, your site will be blazing fast.
---
Business
5 websites
10 GB Storage
100 GB Bandwidth
Price: $24.99 / Month
Professional
15 websites
20 GB Storage
200 GB Bandwidth
Price: $49.99 / Month
Elite
35 websites
40 GB Storage
Unlimited Bandwidth*
Price: $99.99 / Month
---
All plans include: High-speed, custom CDN, Unlimited Site Migrations, Unlimited Let's Encrypt SSLs, 24/7 Fast-response Support, Staging Area, Email Hosting, Manual Backups, DDoS Protection, Malware Scanning & Removal, PHP 7.X, HTTPS/2, 30 Day Money-Back, 28 Day Automatic Backups, 99.95% Uptime Guarantee, 1-Click WordPress Installations.
WPX Hosting Coupon Code
Using my discount code you can give get a whole 50% Discount on your first month of hosting.
Save 50% on Your 1st Month With WPX Hosting
WPX Hosting Coupon Code: Jeremy50
WPX Hosting Discount Code
This WPX discount is only applicable on WPX Monthly hosting.
You can get your 1st month of hosting for half the price
WPX Hosting Annual Discount
WPX Hosting doesn't have any discount code for their Annual plans. However you can always switch from monthly to annual plans with WPX Hosting.
Pro Tip: Its always better to pick the annual plan as you save more over the long term
So my advice would be sign up for the monthly plan using my WPX Hosting Coupon, get the first month for 50% off, and as the month comes to its end, message WPX and switch to their annual plan.
This is honestly a nobrainer, especially considering the fact that WPX comes with a 30 day money back guarantee!
Is WPX Hosting Worth It?
Hell Yes! WPX Hosting is the best hosting without a doubt for anyone who wants to host multiple sites and not have to worry about the technicalities. They're very few conditions understand which I wouldn't recommend WPX Hosting.
If you have only one website that receives a lot of traffic then Liquid Web is a better option.
Get The Best Deal on WPX Hosting Now! Simply click the link below!
Other Reviews: