Hey! Jeremy here, I'm writing this guide on How To Make Money Blogging in 2023 because blogging absolutely changed my life!
I went from dropping out of college to traveling the world for a living, getting featured in magazines and so many other wonderful things all thanks to blogging. If I hadn't started a blog I would've been a broke engineer back in India :P
During the last week of March 2016, I started my first blog called "ThinkTravelLiftGrow" when I have less than $200 in my bank account and it eventually grew to over 100k people in less than a year and paid for me to travel the world full time.
Over the years I've expanded out and built a lot more sites including the ones you're currently reading and helped a ton of people do the same.
If you've asked me How to make money traveling? or read my article on How I make money traveling, you'd know that blogging makes up a huge chunk of my income and hopefully, this article will help you if that's your goal.
How To Make Money Blogging
In this step by step guide, I'll give you the steps to start a blog and make money and tell you about the different strategies that I have used that have worked in growing this blog!
Why should you start a blog?
Many people who just get introduced to me think that I believe everyone should "quit their jobs and travel the world" but that couldn't be further from the truth! My thesis is promoting doing what you love, whether that is spending more time with your family, volunteering at a worthy cause or even traveling the world!
When you get to do what you love, You've won! Simple as that, doesn't matter if you are millionaire or just making a couple 1000 bucks. When you get to wake up each day and do what you love, you've won!
Starting a blog gave me that freedom, which is why I'm writing this guide for you right now!
Benefits Of Starting A Blog
Income: The title of this article is "How To Make Money Blogging", however blogging solely for money or income is honestly a waste of time.
Can you make a million bucks blogging? Yes! There are already people who have done that!
Should you start a blog just for the purpose of making money? I don't think so!
Your purpose should be to bring value to your readers and have a positive impact in people's lives! The money will come if you start by doing that!
Credibility: Blogging can give you a lot of credibility and recognition in many fields! You can use your blog as a portfolio if you want to get into writing or use your blog to showcase your marketing skills if you want to start freelancing as a social media manager!
This step-by-step guide on Make Money Blogging should give you everything you need! Blogging changed my life, and I love to talk about it! So let's get right into it…
How To Start A Blog And Make Money
Step 1: Get Started
The entire process of starting your blog should only take you about 30 minutes. After that, your site will be online and ready for you to start blogging!
Here are a few reasons why you should avoid free blogging platforms!
Without a doubt, you need to self-host your WordPress blog.
When was the last time you saw a successful blogger with a website like "jeremynoronha.freeblogs.com"(ew!) instead of their own domain name like "JeremyNoronha.com", for example?
The domain name is not the worst of it!
You don't control your content – the platform you are using does. They have the right and could shut you down anytime, and for any reason. Seriously! Don't believe me? Read this.
The web address will look like something like this yourfreeblog.blogspot.com! Yikes.
You're not allowed to advertise on most free blogging platforms! That kinda beats the point of reading an article called "How To Make Money Blogging" when your platform doesn't allow you to do the making money part of that.
That's why I wrote this guide because I cringe every time someone tells me that "they blog" and the link to their site has a .wordpress or a .wix! I usually don't even click through as the URL sends me vibes that the person isn't really committed to blogging!
Before you can start blogging the right way, there are two things you need to do:
Pick a domain name
Already have a name in mind? Skip this part and scroll below. The domain name for this blog is jeremynoronha.com. If you type that domain name into a browser anywhere in the world you will be sent to this site.
You want to pick a name that is unique, it's useful but not extremely necessary to have a descriptive name so that your audience will immediately know what your blog is about. However, always remember that "Google" didn't mean anything 30 years ago so a name doesn't make or break a blog.
Another option is to simply use your own name. For example, I use JeremyNoronha.com for my consulting business and for my personal brand. You can also add your middle name or middle initial if you find your name is already taken.
Ideally, try to go for a .com name but even other alternatives such as .net and .org work just as well. 
Too many people get stuck over here, spending months debating about a name when their time could be better spent in producing actual content, I probably made a "mistake" picking such a long name for my blog, but at the end of the day that never stopped me! Stop focusing so much on trying to get the 'perfect' name.
Choose a Web Host
You need a web host if you plan on starting a blog. If you consider your domain (eg. jeremynoronha.com) to be the address of your website then your web host is the plot of land on which you are going to build your house that is your blog.
I'm sure we can all agree that we hate websites that take forever to load! That's why you need a good host!
I host this blog on SiteGround and I can't praise and recommend them enough! Their customer support is just absolutely amazing and they moved my site over from my previous host for free!
It was after I came across this poll in a group on Facebook that I decided to give SiteGround a try! It's also one of the very few hosts actually recommended by WordPress.org themselves.
Switching over to SiteGround was such a great idea. I haven't experienced a single instance of my site being down thanks to SiteGround.
Speed was also a huge concern for me, I hate when I go to a website and it takes FOREVER for the site to load! Let's be honest, we all hate websites that waste our precious time. That is why I always make sure my site loads as fast as possible and SiteGround's fast SSD servers truly help me achieve that. Here are some screenshots of my page load time from Pingdom!
Also, Google likes it when your website is fast and it helps your SEO and you come higher up in Google Search! Here's a screenshot of my page speed score from Google's Pagespeed Insights. 
I'm not sure if you guys noticed but this site is secured with SSL (the tiny green lock at the top next to the URL), that means all data passed between the web server and browsers remain private and integral!
Basically that any info you enter on this site is safe from hackers and here's the cool part, that was free with SiteGround!
So it's probably super expensive to start huh? Nope! 
There are multiple plans with SiteGround and through the features change with each plan, all of them offer the basic features mentioned above (which cost 100s of $ elsewhere) along with features such as
Unlimited Data Transfer
Free Website Transfer
Free Website Backup
And the best customer service I've ever come across!
Click here to get 70% off SiteGround's Hosting
Affiliate Disclaimer:  If you decide to use SiteGround and want to use my affiliate link I will earn a commision from SiteGround at no expense to you. Your support helps keep this blog running and I genuinely appreciate it. The truth is that I would recommend SiteGround to you either ways, it's the host I use for this blog. I made a promise when I started this blog that I would only recommend products or services that I love or believe in.

I honestly love and believe in SiteGround so much which is why I host my blog through them and hence I would recommend them even if I wasn't getting paid. However if you don't want to support this blog but want to buy hosting from SiteGround here's a non-affiliate link to SiteGround. Either way, you can use the rest of this guide with the best WordPress host I've ever used till date and I asure you that your site will run amazing. Do your research and when it comes to SiteGround you'll find most people (who've used them) will say the same.
Alright perfect, now that we got that out of the way let's get to the info you're actually here for! Let's start with the actual setting up of your blog!
Step 2: Set Up Your Blog
Click here to get 70% off SiteGround's Hosting
Once you are on SiteGround, you will come face to face a couple of options!
The right plan for you would depend on a lot of factors, here's what I would recommend!
Startup: This plan is great for someone just getting started and with only a single website. Thanks to a 60% discount I share its cost only 3.95$/Month! That's less than a dollar a week! It's one of the cheapest in this industry!
GrowBig: This plan is perfect for bloggers like me, who have multiple websites as it's the best bang for your buck as you can add additional websites to the same hosting account for free. You also get more power and features like the Supercacher.
GoGeek: I recommend this pan for the more advanced bloggers and developers that need resources like Git or any other staging features.
Whichever plan you chose, I recommend getting a 2-year or 3-year plan as the 60% discount is only applicable on your first purchase, this why I recommend buying hosting for 2-3 years will save you money down the line.
Click on Get Started below the plan of your choice!
Type in your domain name in the box and then click "Proceed" to see if it is available
If you already own a domain name and want to use it for your blog, click the "I already have a domain" and type your existing domain in the box and then click "Proceed"
Once you've chosen a hosting plan and decided on a domain name it is time to enter all of your important information.
You can choose how long you would like to pre-pay for SiteGround's hosting services at the discount rate and can lock in the rate for up to three years. The only downside to this is that you have to pre-pay for all of those years up-front, which can be pricey.
In addition to choosing the length of your initial contract, you can also choose any extras. You also have the option of adding Domain Privacy and/or SG Site Scanner to your account. Currently, these services cost an additional $12 and $19.80 each per year respectively. Neither of these services is a necessity! But I would recommend Domain Privacy.
Once you pay the bill, your account will be created! Now we just have to get you set up with WordPress!
Now here's one of the many reasons I recommend SiteGround, I messaged them and asked them if this would work and they gave me a thumbs up! After you buy your hosting using the above link to get the discount, you can request a free setup via the User Area or via contacting a customer support rep through the Live Chat to setup WordPress for you and send you the WordPress login details.
Seriously, how cool is that! That won't take more than a few minutes as you can see from the picture below, SiteGround has one of the faster support I've ever dealt with and it's free! Isn't that great, head over to SiteGround using the link below to get started if you haven't already!
Click here to get 60% off SiteGround's Hosting
Step 3: How To Use Your Blog
Once you've had WordPress install and got your login details from SiteGround, head on to http://www.yoursite.com/wp-admin (replace "yoursite.com" with your domain name) to bring up the login screen for your site!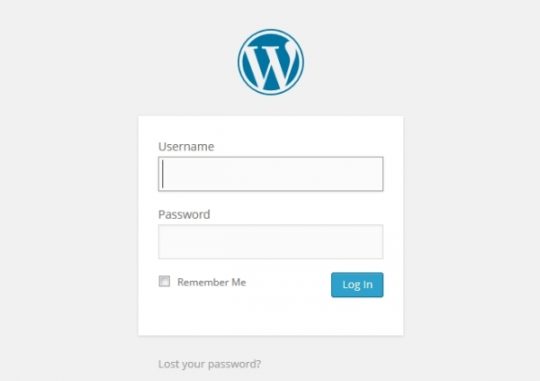 Once you login you will be in the WordPress administrator area. This is where you will make any changes you want to your blog. To start with, you will probably want to change the title of your blog. To do this, go to the bottom of the left menu and click "Settings". That should take you to this screen:
On this screen, you can change your "Site Title" and also the subtitle, known as your "Tagline". Enter whatever you want in these two boxes and then scroll to the bottom and click the "Save Changes" button.
Once you save these changes they will immediately be live on your site. To see what your site looks like at any time you can just type your domain name in the browser and hit enter.
How to Write a Post
Blogging is all about writing, so let's learn how to write your first blog post.
Go to the left menu and click on "Posts".
You will see there is already a post there titled "Hello world!" This is a default post on every new WordPress blog, and we don't need it. To delete it click "Trash" just under the post.
To begin writing a new post, click the "Add New" link (found in either the left menu or next to the word "Posts").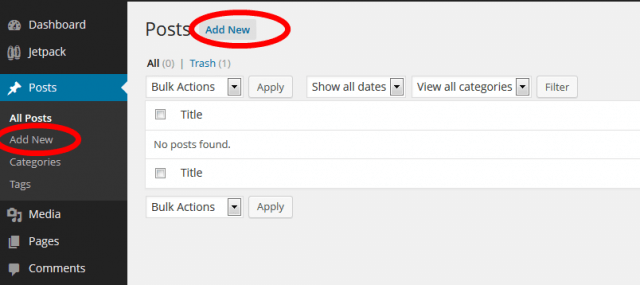 You should now be on the post creator screen. You can enter the title of your post in the top box and then begin writing your post in the lower box.
If you would like to add a picture to your post, click on the "Add Media" button and click "Select Files" to upload a picture from your computer. You can make adjustments to the picture size and alignment on the next screen. When you are all set click "Insert into post" to add the picture.
Once you have finished your post just click the "Publish" button on the right side of the screen to publish it.
Congratulations! You now know how to publish content on your site! Your blog is now on the internet. Yup, your site is LIVE! See that was much cheaper, easier and faster than you thought, right?
Step 4: Design and Configure your Blog
You're probably thinking that your blog design looks pretty boring now, right? Not to worry, I will show you how to change your design and layout in this step, along with a bunch of other cool tips and tricks for personalizing your blog.
Basic Blog Design
Everyone has a different idea of how they want their blog to look. One of the great things about WordPress is that you can change the entire layout and design of your site with just a few clicks.
Your Theme is going to be the design and layout of your blog! Themes come in 2 types, free and paid and here's a place where you get what you pay for. Free themes are usually bloated and slow and also can't be edited easily. Themes usually are just a one-time payment and worth the investment.
Here is a list a couple of places where you can good themes, I'm giving a lot of choices, as each person has their own subjective opinion of what is a good design and hopefully these will give you a lot of options.
Elegant Themes: Elegant themes is a favorite among many bloggers as it's an incredible deal of $89/year or $249 one time payment with access to around 88 themes with new ones always being added. The most popular paid theme in the world Divi is also a part of it. Divi itself is worth more than the price as it's a drag and drop editor wherein you can build absolutely any kind of blog. I would definitely recommend Elegant themes as you get everything you need to build any type of blog. Use my Divi Discount Code to get 10% off!
StudioPress: Some of the fastest and best WordPress themes that I would recommend for a little more advanced users! They're a little more expensive as compared to Elegant Themes. I use Authority for this site. At ~$99 for a theme or $499.95 for all the themes, it's definitely worth its price for a little more advanced users.
Astra Theme: Astra is a great lightweight WordPress theme. You can even get it for free by click here.
Those easiest places to get your themes. I recommend Elegant Themes if you are just starting out, while Studiopress themes for more advanced users. Elegant themes are useful for beginners as support is provided via a forum. You can post a question and within a few hours or so, you'll have your answer which will be good if you are starting out.
If you are extremely tight on your budget, you can find free themes by googling "Free 'type' blog WordPress themes" and replacing 'type' with the type of blog you have, eg travel, food etc. However most of the time these themes will be limited in their functions. I recommend investing in a paid theme.
Head to "Themes" under "Appearance" and click "Add New" and click "Upload" to upload the theme that you bought or search for the free theme that you find in the search bar and click "Install"

After that head back to 'Themes" and click "Activate" on the Theme you installed. To see your new theme in action, go to your site and take a look!
Each theme will have it's own options when you get to this screen. If you are using an Elegant Theme you will have Divi Builder, a plugin that will make all of this incredibly easy as you can design your entire site by dragging and dropping the components you want. Want a slideshow? Just drag and drop it! Elegant Themes does a great job explaining how to use them hence I won't do it here.
I honestly feel like you shouldn't spend too much time focusing on trying to get the "perfect" design at the start and instead focus on producing content!
Step 5: Start Blogging!
Yes, now that we are done with the technicalities, let's get to the fun stuff!
The heart and soul of a successful blog is great content. If no one wants to read what you are writing about then your blog won't be very successful.
One of the easiest ways to write content that people actually want to read is to answer a question about your topic that you have yourself. Chances are if you are wondering about something, so are other people. Obviously, you will need to do some research to find the answer, but once you do you will be providing valuable content that people actually want to read and share with their friends.
It is also important to keep in mind that great content is about more than just writing. Images, videos, different fonts, and colors all make your content look eye-catching and interesting. Blogs are not books, and they need to have more than just a huge block of text to keep the readers' interest.
Marketing Your Blog
Even if you set up your blog properly and create great content, there is no guarantee that anyone will ever see it. Because of this, marketing your blog correctly is a requirement if you want to be a successful blogger. Distribution is everything!
Here are some things I've done to successfully drive traffic to my blog and towards my consulting business.
Forums: Just by Googling "Your niche" Forums, you will come across hundreds of forums in your niche. These forums have your target audience, however, don't be a spammer just spamming a link to your blog! Form connections, your audience is talking and having discussions out there on the internet, join the conversation and add value or some unique insight. Answer any questions that you can with the content you've already created as well as linking back to the full post for additional content if it's beneficial to the context.
Social media sharing: Simply sharing your latest blog post on all your social media channels with a boring one-line description won't cut it. You have to tailor updates based on the social network to get the best results. You don't dress the same way for a barbecue party as you do for a funeral, similarly, each platform from Facebook to Instagram works a different way, produce valuable content, engage with your community and never take anyone for granted.
Email newsletter: It's a good idea to start building an email list when you start blogging, don't spam them instead try and bring them extra value and use your email newsletter to create a deeper connection with your community!
SEO: If you Google a lot of queries my blog comes on the first page eg. 'Dropping out to travel the world',  even for some high competitive queries like "how to make money traveling"! I now do SEO consulting for businesses and startups as a side hustle!
My best tip for marketing is to give before asking! Don't be the asshole spamming your link everywhere, find a way to give than you take! Bring value to your readers and engage with them! Put in the work and have patience!
Step 6: Make Money Blogging
I remember once as I was crossing immigration during an international land border crossing from Vietnam to Laos I had to write my occupation on the immigration form, I had the tiny thought of what would happen if I filled the box in with "blogging", I mean that's how I make money right?
In this day and age of the internet and social media, the possibilities of what people can do to make an income have increased exponentially from having "blogging" as a job title to posting pictures on Instagram for a living being an 'influencer'!
However the entire idea of "making money online" is sadly filled with thousands of scams from people spamming you shit on facebook to people selling you a "system" that's usually a pyramid scheme that promises you millions of dollars for a weekend's work, when shit like that doesn't exist.
This isn't going to a get rich quick or become a millionaire by blogging kinda article, if that's what you came here for then save your time, hit the 'x' and leave my site, because everything mentioned below is going to be actual practical and helpful advice and requires you to put in real work and effort to make the end goal a reality!
Make Money Blogging in 2023
There are plenty of ways to make money blogging however if you enter with the mindset just to make money blogging you are rarely going to be successful! You need to ask yourself, what is it that you truly want to achieve? Do you want to make an impact in people's lives? Do you want to share your knowledge and experience in a certain niche and learn more about it?
Whatever that is, find your "why", because the "How" of making money blogging is pretty simple and will be shared below, but if you don't know your "why", when it gets tough and you struggle you will not be motivated to continue and put in the work to make your goal of becoming a blogger a reality!
If you don't have a blog yet, go to the top of this article and set it up in less than 30 mins!
Advertising
Advertising is one of the most popular ways to make money blogging, if you are on the internet you have already been exposed to ads as they are the most widely used form of making money through a blog. The easiest way to enable ads is to use one of the ad networks like Google's Adsense.
Later when you grow your audience, companies will reach out to you personally to advertise on your site. Most of the ad networks work on Pay-per-click model wherein you get paid every time someone clicks on an ad, while others work on an impression model wherein you get paid X $s for every 1000 ads viewed by your audience.
Ads used to be a good way of making money in the past especially with niche sites but this is slowly changing as people are turning blind to ads and ignoring them completely. This is why sites like the Wall Street Journal are shifting off from being dependent just on Ads and now hide their content behind a paywall and you need a subscription to read it, but that's a completely different way of making money that I'll get more into depth later.
Studies have also shown that publishers are going to be losing $27 billion by 2023 due to the use of ad blocks. I personally hate ads, they look ugly and rarely improve the user experience for the people viewing the site which is why I don't have ads on this blog.
Native Advertising is something that's all the buzz these days. It's gotten popularised with companies like BuzzFeed. Native advertising is basically ads that don't look like ads. Here's an example of an article Buzzfeed did for Call of Duty.
When I started this blog I had ads for a very short while, it was during that time that I made 36 cents that are still in my Adsense account. Those 36 cents was the first time I ever made money online and made me realize that yes, this blogging thing can actually make me money which later led me growing this blog and making a living out of it. This blog makes me 1000s of $s now and it all started with that 36 cents.
Everyone starts at the bottom, you have to put in the work and make you way up!
Affiliate Marketing
Affiliate marketing is how I personally make the majority of my revenue from this blog. There's a lot of a bullsh*t on the internet when it comes to affiliate marketing and in this part, I'll try to keep it as simple as possible.
When you become an affiliate for a product or service, you can recommend people to the said service and you can earn a commission for the recommendation. However most of the time, the end customer buying doesn't usually pay extra, you get paid out of the companies cut.
Eg. When I talk about the Nomatic 40l Travel Bag in that article I linked to the product. Now if anyone clicks through and buy anything on Amazon I earn a percentage of the sale.
Usually between 2-6% based on the product category. But the person buying doesn't pay extra and I get paid out of Amazon's cut. The same goes for my article on Elementor Pro Discount, Teachable Coupon Code, Unbounce Coupon Code etc.
Almost every company has an affiliate program like that, and each one has it's own terms of service and extra benefits. Some of them have tracking cookies that give you a commission if someone buys a product even 90 days after clicking your link.
There are some Cost per action affiliate programs as well which give you a bounty for getting people to submit their emails or sign up for a trial etc. The biggest affiliates I promote in this category are Skillshare and Audible.
For example, with Audible if someone signs up for a free trial they get 2 free audiobooks and even if they can even quit the membership and don't pay anything they get to keep the books. I get paid 5$ from Amazon for recommending it. Win-Win, because if they sign up for a trial without my link they only get 1 free book.
My advice with affiliate marketing is to only recommend and promote products that you use personally or services that you believe in! I personally love promoting Audible because books absolutely changed my life and audiobooks make it easier to listen to a lot of books.
I love and believe in SiteGround so recommending them is not an issue for me, they're the host I'm using for this blog after all!
Don't go down the path of recommending a product that will make you a quick buck as you will lose the trust of your audience over the long term.
Click here to read a great post on how to promote affiliate links!
Speaking & Event Marketing
Lately as I type this, I've been starting to get speaking opportunities being pitched to me because of this blog, however, it's not something I have done yet as I'm traveling around and haven't made speaking a priority yet.
Having a platform like a blog can open opportunities for you to speak at conferences once you become known in your industry or when you become an influencer in your field. Many bloggers at the top of their fields like Pat from Smart Passive Income make a killing on speaking and blogging opened those doors for him as they are just starting to for me.
While on the other side, some of the biggest blogs also are the guys running the conference. Eg. Darren Rowse holds the ProBlogger conference that gets hundreds of bloggers coming from around the world and he makes money by charging readers to attend or by finding a sponsor for the event.
Services
If you provide any service or if you freelance, you can use your blog to market your service. Whether it's graphic design, marketing or any other service, you can use the content on your blog as a gateway to get more clients which are always the problem for most freelancers who are just starting out.
Now, this is more of an indirect form of making money from blogging as you aren't making money from the blog, but having the blog enables you to have more opportunities to make money elsewhere.
Currently, I work as an SEO consultant for startups and businesses like Foundr and Botlist and most of the businesses I work with got in contact with me because of this blog. I've also used this blog as a proof of work, as an SEO my job is to help companies come higher up in Google and improve their organic traffic. So the fact that this blog itself comes on the first page of Google for queries like "how to make money traveling" and so many more valuable queries is an additional plus.
Membership Sites
Instead of putting out your content for free, if you have an audience you can start a membership site. Your content is behind a paywall and readers need to be paid subscribers in order to have access to your content.
From a financial perspective, this is great as you can get a little more guaranteed monthly income versus having a more uncertain income, but you need to provide a lot of value with your content so that your audience can justify paying you on a monthly basis.
Create a product
Instead of advertising some third-party product, once you have some experience in the niche, you can make a product and sell it directly to your readers. If you are writing a blog about dogs, you could write a book on how to train dogs and then sell it on your site.
Or if you feel like you are qualified you could make a course on a certain topic that you are an expert in. Some bloggers also go about selling physical products like t-shirts or merchandise.
The reason I don't recommend most beginners and people starting out to go into creating products is that they usually end up being pretty crap like the thousands of e-books and courses most of my fellow bloggers are "trying to sell" on their blogs.
That being said, if you put in the work you can definitely make products that bring value to other people and solves an issue. The great thing about online products like a course is that they can be scales amazingly well. For example, if you want to make a new physical book, it takes a certain amount of money and time to print the book, while with an e-book a digital copy can be made in a second for next to nothing.
Patreon
Patreon is a great platform that you can use as a content creator to have your audience support your work. My favorite YouTubers Kurzgesagt make nearly 34k$ a month on Patreon as I write this but I remember a time when it was less than 1000$, however they kept providing their audience with amazing content that made their audience grow and more and more people began supporting them.
Patreon is a way you can have your audience directly support your work, instead of trying to make commissions by selling products. If you produce quality content, you will start to gain a following and someday if you decide to sell something there are going to be a couple of people who will buy it just because it is a way to give back to you. It doesn't matter if they don't need it or not, they just want a way to thank you and give back to you for all the value you have brought to them, and Patreon can be a way you can do this without having to sell anything, per se and instead just produce.
Are you ready to Make Money Blogging in 2023?
If I could sum up my advice for someone who wants to make money in blogging it would be a single word, Value. Bring value to your audience and form actual relationships with them, don't start blogging just to make a quick buck. There are enough blogs doing that, I almost went down that path at one point of time, however thankfully I learned the truth and that is that it's not about the money, it's about the impact you can make with your content, the income is just a plus.
I hope this article helped you understand the multiple ways you can earn money blogging and if I'm being completely honest this is just a short list because the reality is that they are 100s of different ways you can make money blogging, I just gave you the most popular methods.
Blogging isn't a way to make money quick! You need to have patience and put in the work if you want to start a blog and make money, I made barely a dollar in my first month of blogging but now it pays for my travels all around the world! And do you want to know what's better than the money I have made blogging? The messages and emails, I receive from readers of my blog, telling me about the impact my writing has had on their lives, that right there is worth more to me than any amount I might earn blogging.
All the best! I'd love if you'd hit me up and tell me if this article on How To Start A Blog And Make Money had a positive impact in your life! xoxo
Cheers,
Jeremy