TLDR; If are focusing on building sales funnels then I'd recommend Clickfunnels, however, if you're mainly building landing pages, Leadpages is a better option.
Clickfunnels: Try Clickfunnels for free
Leadpages: Try Leadpages for free
Building and growing an online business is not an easy thing to do and most people make at least a few mistakes on their journey. One of the common mistakes is using the wrong tool at the wrong point.
Both Clickfunnels and Leadpages are great tools that can be used to grow your online business and can be vital to boosting the results of your digital marketing campaigns. However, you might be wondering which one is the right option for you?
Both of them are different in terms of functionality, pricing, and both of them can be the right option for you depending on what you're trying to achieve.
In this review, I've broken down the main differences between Clickfunnels and Leadpages in terms of features, integrations, pricing, etc to provide an overall view of both the tools so you can make an informed decision to grow your online business in the most effective manner.
Sales Funnels vs Landing pages
To keep things simple, let's start with the biggest difference between the Clickfunnels and Leadpages – Leadpages primarily helps you with building effective landing pages while Clickfunnels helps you with building online sales funnels. Keeping this in mind, it is a good idea to understand the differences between sales funnels and landing pages before we compare the two.
A landing page is the first page a visitor "lands" on when they visit a website. A landing page can be a sales page, a home page, an about us page, a specific product page, or basically any kind of a web page. Landing pages should ideally have a powerful call-to-action (CTA) that allows the visitor to opt-in for a service, webinar, email list, etc.
Landing pages are very important when it comes to your digital marketing initiatives as they directly affect the conversion rate of your campaigns. With Leadpages, you can create effective and beautiful landing pages and you don't need any coding skills at all!
A sales funnel is essentially a series of pages that creates a journey for the visitor that eventually leads to the goal of the sales funnel. The goal in most cases is to get the visitor to buy a service or product but you can also create funnels with other goals such as getting the visitor to sign up for a free trial or to get them to subscribe to your mailing list.
A typical sales funnel may look something like this in order:
A page that introduces your product > An opt-in page to collect the email of the visitor (also known as a squeeze page) > A sales page that sells the product > A checkout page > A page for upselling or offering additional value once a sale is made.

Clickfunnels, as the name suggests, is a tool that can help you in creating powerful sales funnels that are optimized for conversion.
TLDR.
Landing pages are standalone or single web pages that are optimized to convert the visitor and sales funnels are a series of pages that are optimized to take the visitor on a sales journey.
A landing page can be a part of the sales funnel.
Leadpages is primarily used for landing pages and Clickfunnels is primarily used for creating sales funnels.
Click Here to try Leadpages for free for 14 days
Exclusive Offers For JeremyNoronha.com Readers
Here's a special discount for you guys if you're are thinking about signing up for ClickFunnels, you can get 6 months of the Etison Suite (worth $297/Month) and other bonuses that include
6 Week Funnel Hacks Master Class – $2,997 value
Instant Traffic Hacks – $1,997 value
Inception Secrets – $1,997 value
SOAP & Seinfeld Email Sequences – $997 value
For only $1997! That's over $8700 in saving to get started click the link below and sign up!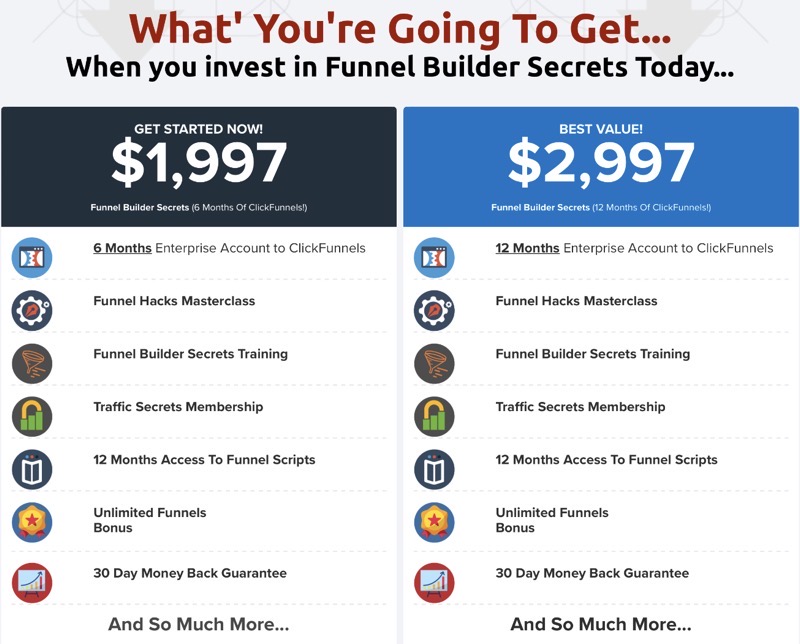 Clickfunnels vs Leadpages
Leadpages is an easy-to-use service that comes with intuitive features and tools to build powerful and effective landing pages. You can also build entire websites using Leadpages but it is primarily used for building landing pages and most of its features are based around that purpose.
Clickfunnels is used to build entire sales funnels for products or services. You can also use Clickfunnels to build landing pages but that is just the tip of the iceberg and the key selling point of Clickfunnels is that it allows you to quickly and easily create effective sales funnels that are optimized to convert well.
ClickFunnels vs Leadpages Comparison Table
Here's a basic overview of the differences between the two platforms:
| | |
| --- | --- |
| Leadpages | Clickfunnels |
| Leadpages is mostly used by small businesses. | Clickfunnels is mostly used by entrepreneurs and online marketers. |
| It is mainly used to generate leads. | It is mainly used to create full-fledged sales funnels. |
| The plans for Leadpages start at $25 per month. | The plans for Clickfunnels start at $97 per month. |
| It comes with a drag-and-drop builder that is easy to use but limited to a certain extent. | It comes with a "truly flexible" drag-and-drop builder. |
| Try Leadpages for free | Try Clickfunnels for free |
As you can probably guess, Leadpages is a decent service if your goal is to just create landing pages but Clickfunnels take it a step further.
Before we get into these and more differences more in-depth in this review, it is also worth noting that Clickfunnels is the brainchild of Russell Brunson and has a huge community of entrepreneurs and online marketers that swear by it. In the case of Leadpages, there is not really a community to speak of. If you're serious about being an effective online marketer, Clickfunnels is the obvious choice.
Clickfunnels vs Leadpages: Features
Now that we have covered both the services overall, let's take a deeper look at the features provided by Clickfunnels and Leadpages.
Clickfunnels Top Features
Clickfunnels is a full-fledged online marketing tool that comes with a lot of impressive features. Here are some of the top features of Clickfunnels: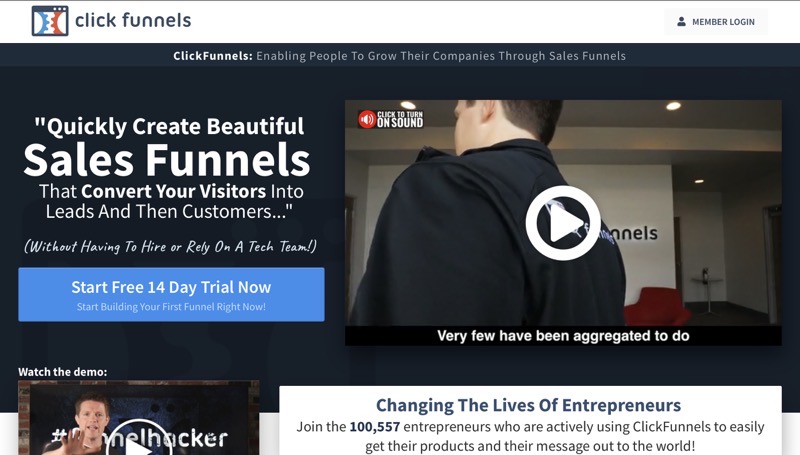 1. Hosting and Custom Domains
Normally you have to use a hosting service when you're creating a website. However, you don't have to use third-party hosting when you create a sales funnel or a landing page with Clickfunnels. All pages created by Clickfunnels are hosted by the service for free. You can also register a custom domain using Clickfunnels if you want or you can also use a domain that you already own to redirect to your sales funnel.
2. Flexible Drag-and-Drop Editor
As we mentioned above, you can create amazing web pages without the need to write even a single line of code. The visual editor in Clickfunnels is not only easy to use but it is also extremely flexible and powerful. It is very easy to create impressive web pages very quickly using the editor and its flexibility allows you to dictate all aspects of the design and functionality of the pages.
3. Impressive Themes and Templates
If you don't want to design your sales from scratch, you can simply use one of the many professional themes and templates in the theme gallery. This ensures your design is consistent across the entire funnel and can be of great help to those of us who are not very design-centric.
4. Split Testing
Split Testing, or A / B testing, is a powerful method of optimizing your landing pages and sales funnels and it is an integral feature of Clickfunnels. You can test between different content, design, headlines, buttons, and more with Clickfunnels to ensure your sales funnel has the highest conversion rate.
5. Handy Email Autoresponder
While it is stupidly easy to integrate Clickfunnels to a third-party email marketing tool, it also comes with a powerful autoresponder that you can use to automate marketing emails for the sales funnel.
6. Inbuilt Shopping Carts and Membership Sites
You can also quickly create online shopping carts using Clickfunnels so your visitors can buy your products within the sales funnel itself. Clickfunnels also allows you to create membership sites that your visitors can subscribe to which gives you even more flexibility when it comes to your sales funnels.
7. Lead Magnets
Lead magnets are super powerful when it comes to converting potential leads. Clickfunnels makes it easy to set up a lead magnet delivery system that can help you win over prospects effortlessly and increase your conversion rate.
8. Analytics and Tracking Conversions
You can easily access the key metrics of your sales funnels quickly with the "stats" tab provided in Clickfunnels. You check out various critical metrics such as "Earnings per click", "Gross sales value", and more that help you with tracking how well your sales funnels are performing.
9. Share funnels
Clickfunnels also allows you to share any funnels that you've created on the service. This makes collaboration much easier and you can showcase your work to other people easily too.
Click Here To Try ClickFunnels For Free
Leadpages Top Features
Leadpages is a powerful tool and comes with a lot of decent features as well. Here are some of the top features of Leadpages:
1. Free Hosting for Landing Pages
Leadpages also provides free hosting for all landing pages that you create. Of course, you can redirect your own domain to the landing and also integrate any landing pages into your WordPress site effortlessly.
2. Drag-and-Drop Visual Editing
Building landing pages in Leadpages is made easy by a drag-and-drop visual editor. However, the visual editor on Leadpages is not really as flexible as the editor in Clickfunnels. It is worth noting that the visual editor in Clickfunnels is considered to be one of the best visual editors available today so any other visual editor will pale in comparison.
3. 200+ Pre-Built Templates and Themes
One of the key features of Leadpages is that it comes with more than 200 amazing templates that you can use to get your landing page up and running in no time! If you know what you want, you can have a landing page ready in just 20 minutes! Even though the visual editor is not as flexible as it ideally should be, most of the templates are polished enough that you need minimal editing and customization anyway.
4. Easy Split Testing
Leadpages also makes split testing your landing pages extremely easy. You can easily set up a control page and different variants and allocate the percentage of traffic that should be directed to each version to help you split test your landing pages and optimize them.
5. Leadboxes for Easy Two-Step Opt-Ins
One of the best features of Leadpages is Leadboxes which are basically pop-ups that can be added to your landing pages or can be used as standalone pop-ups on any page on your WordPress site. You can create a wide range of different pop-ups using Leadboxes that can be used flexibly. This allows you to create a two-step opt-in process for your landing pages which is extremely effective when it comes to increasing the conversion rate on your landing pages.
6. SMS Sign-Ups
Leadpages comes with a feature called Leaddigits which allows you to offer SMS sign up to your prospects too. While it is not really a widely used feature, it still offers a lot of niche use cases and can be effective if used correctly.
7. Lead Magnets
Leadpages also allows you to create lead magnets and distribute them easily. You can easily set up a lead magnet in no time as Leadpages offer a step-by-step guide that you follow.
Click Here to try Leadpages for free for 14 days
Clickfunnels vs Leadpages: Integrations
You will probably use a lot of tools with both Clickfunnels and Leadpages for online marketing. This is why both the services make it easy to integrate with a number of third-party tools easily.
Clickfunnels Integrations: Clickfunnels integrates with a large list of third-party applications and the list is growing every day. Here are some of the most popular third-party integrations for Clickfunnels:
Drip
GetResponse
MailChimp
Salesforce
Sendlane
Zenplanner
Maropost
HTML FormIntegrations
ConvertKit
HubSpot
Madmini
Infusionsoft
Constant Contact
ConvertKit
ClickBank
JV Zoo
NMI
PayPal
Stripe
Taxamo
Warrior Plus
Recurly
EasyPayDirect
Leadpages Integrations: Leadpages also integrates easily with a number of third-party applications with some of the popular ones being:
ActiveCampaign
Drip
Emma
GetResponse
Hubspot
GoToWebinar
InfusionSoft
Madmini
SandReach
Salesforce
WebinarJam
AWeber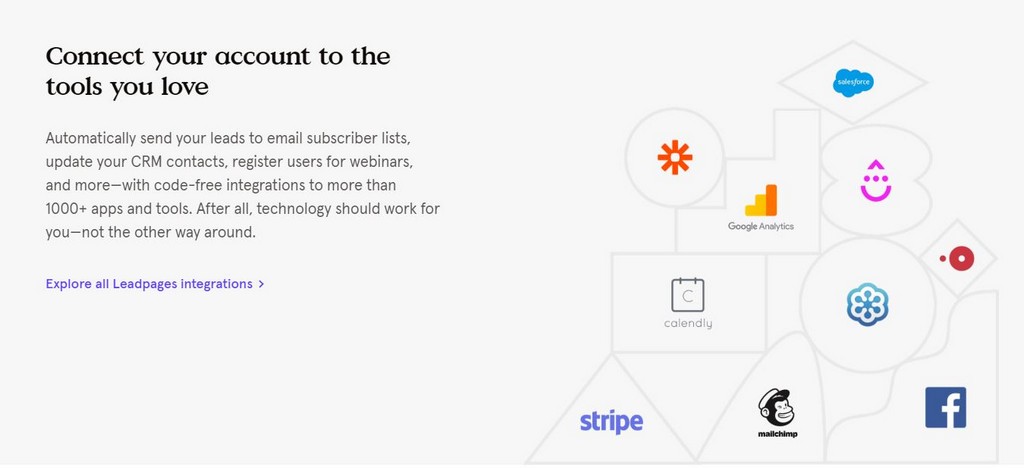 Clickfunnels vs Leadpages: Pricing
The plans on Clickfunnels range from $97 per month to $1,497 per month while Leadpages has plans ranging from $25 per month to $199 per month.
Comparing these plans just on the basis of the price is not a good idea as all the plans provide different value on both the services. You can find a more detailed breakdown of the plans below.
What's great is that both Clickfunnels and Leadpages provide a 14-day free trial that can be used to get a taste of what these services have to offer.
Clickfunnels Pricing Plans
There are three plans you can choose from when it comes to Clickfunnels – the basic plan is called Clickfunnels, and the other two are Clickfunnels Platinum and Clickfunnels Collective.
Here's what you get with the different pricing plans on Clickfunnels:
Clickfunnels ($97 per month): On the basic Clickfunnels plan, you can make up to 20 funnels and 100 pages. You are also limited to integration with only 3 payment gateways and are also limited to connecting to 3 domains. You also get basic customer support, access to the Funnel Hacker Forum and Funnel Flix, and the ability to share your funnels.
Clickfunnels Platinum ($297 per month): Clickfunnels Platinum allows you to create unlimited funnels and unlimited pages. You can also integrate with 9 payment gateways and connect up to 9 different domains. You also get priority customer support, access to the Funnel Hacker Forum and extended access to Funnel Flix. You can also create follow up funnels that allow you to connect with your audiences even if they leave your funnel. Lastly, you can create 3 different user accounts on this plan.
Clickfunnels Collective ($1,497 per month): The Clickfunnels Collective plan is the highest tier plan and comes with all the features you get with Clickfunnels Platinum. Some additional features that come with this plan are that you can add up to 10 different user accounts, and connect up to 27 different payment gateways and domains. You also get VIP Phone support with this plan.
Click Here To Try ClickFunnels For Free
No obligations, no contracts, cancel at any time.
ClickFunnels Gives You THE TOOLS You Need To Market, Sell and Deliver Your Products Online!

​Simple drag and drop webpage editor!
Quickly build sales funnels that convert!
Smart shopping cart with 1 click upsells!
Email and Facebook Marketing Automation!
Everything organized in one simple dashboard!
Leadpages Pricing Plans
Leadpages also has three major plans – Standard, Pro, and Advanced. They also offer a new plan called Start but it is a limited-access plan and it is better to go with the standard plan as the difference is only $10 per month. The prices for the plans are also different if you chose to get billed monthly or annually.
The different plans on Leadpages are:
Standard ($25 per month when billed annually / $37 per month when billed monthly): The Standard plan allows you to create only 1 landing page or site and provides all the core features like landing pages, pop-ups, and alert bars. You also get unlimited leads and traffic along with free hosting. Other features include lead notifications, email customer support, ready-to-go templates, and 40 standard integrations. You also get a free custom domain if you chose to be billed annually.
Pro ($48 per month when billed annually / $79 per month when billed monthly): The Pro plan has all the features that come with the standard plan and you can create up to 3 landing pages or sites. In addition, some other features provided are online sales and payments, split testing, 10 Opt-in text campaigns, and Email trigger links. You also get better customer support with live chat in addition to email.
Advanced ($199 per month when billed annually / $321 per month when billed monthly): The Advanced plan has all the features of the Pro plan and allows you to create up to 50 landing pages or sites. Additional features included in the plan are advanced integrations, 5 user accounts, 50 extra opt-in text campaigns, and also a personal 1-on-1 quick call to get you started. In addition to getting customer support via email and live chat, you also get priority tech support over the phone on this plan.
Click Here to try Leadpages for free for 14 days

Clickfunnels vs Leadpages Pros and Cons
Now that we have a good overall idea of the two services, let's take a look at some of the pros and cons of Clickfunnels and Leadpages.
Clickfunnels Pros and Cons
Pros
It is very easy to use.
It comes with one of the best drag-and-drop visual editors available today.
It comes with an in-built email auto-responder.
Easy split testing.
You can share every funnel you create.
It allows you to create membership sites and shopping carts within the visual editor.
You can create your own affiliate system with BackPack.
It has a huge community behind it called the Funnel Hackers and also comes with valuable resources like Hacker Flix.
Cons
The pricing can be a bit expensive for a lot of people.
The customer support can be better.
Click Here To Try ClickFunnels For Free
Leadpages Pros and Cons
Pros
200+ high-quality ready-to-go templates that are responsive.
Easy-to-use visual editor.
Split testing.
Integration with Stripe and Leadpages Checkouts feature.
Great value for money when it comes to the plans.
Cons
The visual editor could be more flexible.
Split testing not available on the standard plan.
It is still more expensive than most WordPress page builder plugins.
Click Here to try Leadpages for free for 14 days
Clickfunnels vs Leadpages: Customer Support
Both Clickfunnels and Leadpages provide good decent customer support but both of them also provide different levels of customer support based on the plan you're using. You can find more details on the customer support provided by the two services below in this review.
Clickfunnels customer support: Clickfunnels has an in-depth knowledge base that is very well organized and you should not really have a problem in finding support documentation quickly. However, you only get basic customer support on the starter plan which is standard practice but considering the high cost of the plans, it is a bit disappointing.
You also have access to a strong community on Clickfunnels on the website itself and also on social media platforms like Facebook. You can connect with a number of marketers around the world and share and discuss your problems and questions not only relating to the service itself but also about things like strategy.
Leadpages customer support: Leadpages also bifurcates the extent of customer support that it offers on different plans but in general, the customer support provided is pretty good. They also offer weekly coaching calls on all plan levels which definitely adds values.
Of course, you get the best quality of customer support on the Advanced plan which comes with a 1-on-1 Quick Start call to get you started and also has free virtual workshops.
Clickfunnels vs Leadpages: Which one is right for your needs?
Now that we've covered both Clickfunnels and Leadpages in-depth, you might already have a good idea about what's the best option out of the two for your specific needs. Here are some key things you might to consider additionally:
Clickfunnels has a much wider scope than Leadpages. While creating a landing page is possible on Clickfunnels, you cannot create a sales funnel on Leadpages. So depending on whether you're looking for a simple landing page builder or a full-fledged online marketing tool, you can either go with Leadpages or Clickfunnels.
Click Here To Try ClickFunnels For Free
The pricing is the next thing you should consider. The starting plan for Leadpages is $25 per month and the starting plan for Clickfunnels is $97 per month. For most small businesses, saving money and maximizing the return on investment is crucial. It might be a good idea to asses your exact needs and make an informed decision based on your requirements.
Click Here to try Leadpages for free for 14 days
Lastly, you might want to consider the community aspect. Clickfunnels has a huge online community called Funnel Hackers and you get to access that community by using their service. If you're an online marketer or entrepreneur, this can be a great opportunity to meet and learn from like-minded people around the world. However, if you're running a small business and just want a quick way to create landing pages for your business, Leadpages might be a better choice for you.
Read Next: