Due to the thriving trend of the nomadic lifestyle, surf camps are all the rage nowadays. They have been underrated for too long and are finally getting the spotlight they deserve. And what's not to like about them? They are a great way to learn how to surf, improve your skills or use it as a fun and active vacation to fully detox yourself from that urban lifestyle.
Chances are you have been planning to go for a little retreat at a surf camp. If it's foreign territory to you, it can be super daunting to take up this adventure. No worries though. We have got you covered with this guide on some of the best surf camps around the world. But first, let's go through a couple of things so that you understand what exactly makes a Surf Camp so damn interesting! You can skip the below section and move right ahead to the Best Surf Camps around the world.
What Differentiates a Surf Camp from a Beach Hotel?
One of the key differences between a surf camp and a beach hotel is that surf camps are designed to support you surfing as much as possible. They may come in different forms like a surf academy with accommodation and food or a surf hostel with scheduled surf timings. These camps are thoughtfully packaged to not only provide accommodation and meals but also surf gear, surf lessons, coaching, or guidance tailored to your individual surfing ability. You will never find this in a traditional beach hotel/resort.
It doesn't matter whether you are an advanced surfer or a beginner surfer. It does not even matter if you have never touched a surfing board. Surf camps accommodate all kinds of individuals and have training plans from beginner levels to advanced levels.
Also, surf camps always have the best vibes and authentic local cuisine so that you can have the absolute best time. With multiple common areas available for you can meet other fellow surfers, there's ample opportunity to meet great people and make new friends for life.
How will your days look like at a Surf Camp
If you decide to book a surf trip vacation, you could expect to take a surf class for a couple of hours each day/morning, depending on the type and length of the package you choose. Once you're out of the water, the rest of your time is yours to enjoy as you wish!
You can do plenty of things. You can enjoy the breathtaking views of the beach or practice the skills you picked up from earlier classes. However, after the surf lessons, many surfers usually meet up together to relax, socialize, and enjoy each other's company with refreshing food and drinks. But if you are not into socializing and want to just spend time alone and unwind, you are free to do so!
You can even explore the local cities. It's food, it's culture. Maybe hit up a couple of heritage sites. Plenty of things to do and the locals are always around if you need help. Or if you don't want to do anything then you can simply unwind at the surf camp residence.
Best Surf Camps
1. Hollow Tree's Resort — Mentawai Islands, Indonesia
If you're looking for a surf retreat that combines luxury, adventure, and the beauty of nature, Hollow Trees Resort in the Mentawai Islands, Indonesia, is the ultimate destination. This exclusive resort is a haven for surfers seeking land-based comfort and style while being treated to one of the world's best right-hand barreling waves just in front of their doorstep. With a limited capacity of only 16 people, you can enjoy the waves whenever you desire without the need to wait for transfers or crowds.
As shown in the picture, the resort features beautifully designed bungalows that sit on the beachfront. These bungalows come with private plunge pools, providing the perfect spot to relax and unwind after a thrilling surf session. The recent renovations ensure that you experience modern amenities and a comfortable stay while surrounded by nature's beauty.
Just minutes away from the resort, you'll find the 10-class waves, which boast ideal
conditions for surfers of all skill levels. These waves are breathtaking, and Hollow Trees, also known as Lance's Right, is particularly famous for its world-class barreling right-handers. You can wake up to the sight and sound of waves from your bungalow every day.
2. Surf Cruise – Maldives
A Cruise ship that exists exclusively for the sole purpose of surfing. A literal fantasy for surfers around the world, the Surf Cruise in Maldives is tailored for intermediate and advanced surfers, ensuring an experience filled with thrill and excitement.
The Maldives, renowned for its tropical setting, provides the perfect backdrop for this surf cruise. The waves offer an impressive amount of power, making it an ideal destination for those seeking challenging and rewarding surf conditions. During the cruise, you will get to primarily ride the waves at reef breaks and reef points, offering an excellent opportunity for you to improve your skills and take your whole surfing experience to new heights.
You can avail a week-long package at any of the OTAs (Online Travel Agency). The cruise (known as the Hope Cruise) is a custom-built 36-meter boat is designed to pursue waves, providing a cozy home for up to 12 guests. You can unwind after a day of surfing. with various social and relaxation spaces, including a shaded upper deck with sunbeds and tables. On the main deck, enjoy the air-conditioned living room with couches, a bar, TV, stereo player, and a collection of entertainment options. Delight in meals at the dining area while gazing out at the breathtaking sea view.
3. Sri Lanka Adventures — Ahangama, Sri Lanka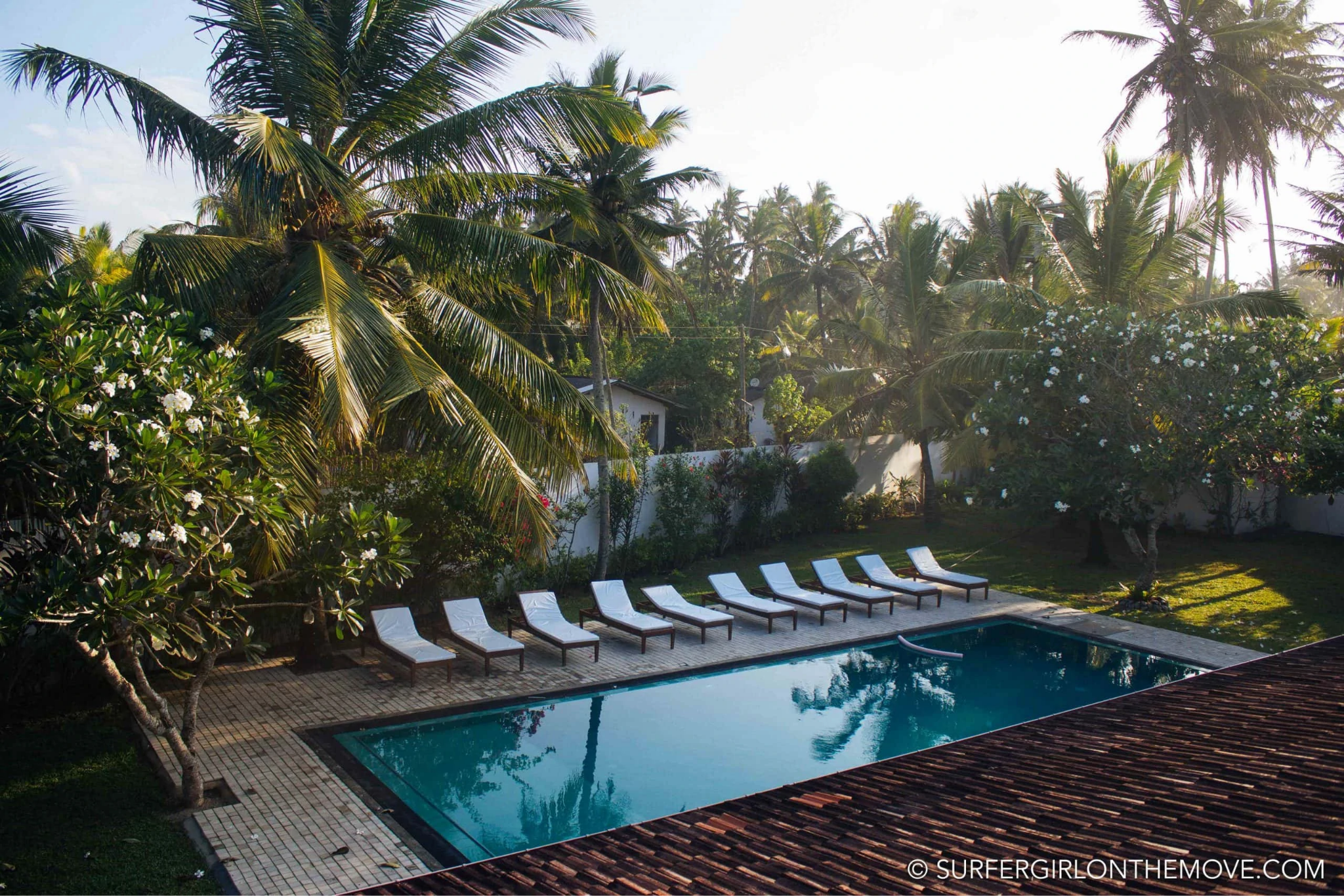 The small town of Ahangama is widely known for its beautiful beaches and swaying palm trees in Sri Lanka. Located amongst this town's beaches, Sri Lanka Adventures by Lapoint acts as a perfect base for an exotic tropical adventure. Located just minutes away from the beach, this camp seamlessly combines traditional colonial design with modern facilities, creating a high-quality and comfortable environment for guests.
At the surf camp, you can take advantage of surf lessons offered from level 1 to level 3, with a maximum of five students per instructor. The warm tropical waters eliminate the need for wetsuits, making it an ideal location to improve your surfing skills under the guidance of professional local instructors.
The waves in the Ahangama and Weligama areas are mellow and fun, catering to surfers of all levels. Whether you're a seasoned surfer or just starting out, you can pick and choose from the various surf spots that suit your skill level. The surf camp in the area provides a wonderful opportunity to meet fellow surfers, ensuring a sense of camaraderie and good times.
And beyond the waves, Sri Lanka offers a window into a different culture and way of life, allowing you to gain insights into the local customs and traditions. The surf camp's friendly local staff will be there to assist you with anything you need, making sure you feel at home in this unfamiliar land.
4. Tiny Whale Surf Lodge – Lagos, Portugal
The Tiny Whale Lodge is an upscale boutique surf camp that is nestled in the countryside of Lagos, Portugal. Situated along the breathtaking Algarve coast, this lodge offers the ultimate retreat for surf enthusiasts. It comes with designated coaching areas, a wellness center for relaxation, and an array of room options to cater to your preferences and comfort.
With an in-house chef employed, you can enjoy delightful lunches and pre-dinner cocktails around the fire pit. You can also mingle with fellow surfers and other locals and forge lasting connections. And end the day with a home-cooked 3-course dinner that will nourish your body after an exciting day of surfing.
Whether a noob surfer or an intermediate, all levels of surfers are welcome here. The boutique has its own unique 'surfers handbook' that, when combined with personalized lessons in small groups, daily video coaching, theory sessions, and in-water coaching, ensures you leave at the end of the week with a new library of surf skills and knowledge to elevate all your future surf sessions.
Tiny Whale Surf Lodge has carefully curated week-long packages that encompass everything you need for an unforgettable surf vacation. Your seven nights of accommodation, top-notch small-group surf lessons, complete surf equipment, convenient transportation to the beaches, and other special treats are all included to ensure you have the best experience possible.
5. Hoddevik Surf Camp — Stad, Norway
Not many of you may expect Norway to be one of the surfing destinations. The Hoddevik Camp in Stad, Norway – a hidden gem dubbed by many – is one of the best surf camps in Europe. Nestled in a captivating bay on the western coast of the Stadtlandet peninsula, this surf camp offers a unique and unforgettable experience for surfers of all levels.
As the seasons change, so does the character of the surf. During the fall and winter, the water may be cold, but surfing amidst snowy mountains creates a surreal and unforgettable atmosphere. For those visiting during the summer, the milder waters and stunning surroundings will captivate your heart.
The camp offers an array of activities to complement your surf experience. Take in the breathtaking scenery while hiking with friends, enjoy cozy bonfires on the sandy beach, gaze at the stars in a way you've never experienced before, and have a thrilling time skating down the iconic winding road to Hoddevik during the mesmerizing sunset. Due to Hoddevik's secluded nature, it has fostered a tight-knit surf community. From the moment you arrive, you'll feel a sense of belonging and connection with nature, as the dramatic landscape of Norway surrounds you, inspiring you to take your surfing to new heights.
Accommodations are available at Villa Innsikten, the largest house and the base for the surf school. Here, you'll find a range of outdoor facilities, easy access to the beach, and a lively and social atmosphere. Alternatively, you can opt for Villa Utsikten, where peaceful surroundings, fantastic sea views, a sauna, and an outdoor barbecue area await you.
6. Puro Surf Hotel & Academy – El Zonte, El Salvador

One of our absolute favorites, The PuroSurf Hotel and Academy is not only super welcoming to beginner surfers but also to intermediate surfers looking to refine their technique and skill. A boutique hotel with around 15 rooms, it is nestled on the shores of El Zonte in El Salvador. With such an intimate setting, you will have a peaceful and serene stay with a beautiful view of the coast.
With multiple pools and jacuzzis for relaxation, a yoga studio to find your inner balance, and a functional gym to keep you active and energized, PuroSurf is pretty committed in promoting a healthy lifestyle.
But the one thing that makes PuroSurf stand out from other surf camps across the world is that it is one of the only known surf camps to have a skate park. Yes, you heard that right. A concrete wave skate park for you to kill time in the evenings or at night.
The Academy (Known as PuroSurf Performance Academy) offers all the equipment, facilities, and qualified coaches you need to learn, practice, and perfect your surfing skills. You can choose to book a la carte courses, tailor-made to suit your needs or indulge in our all-inclusive packages that include lessons, food, and accommodation.
7. Malibu Popoyo, Popoyo – Nicaragua
Wholly known for its 10 world-class breaks within a 30-mile radius, Malibu Popoo in Nicaragua completely spoils its surfers. World-class breaks or Surf Breaks are permanent obstructions such as a big rock, coral reef, or a headland that cause a wave to break, forming a barreling wave or another wave that can be surfed. Now getting back on point, this small boutique hotel is nestled steps away from the shores of Playa Santana in Nicaragua's Costa Esmeralda.
The accommodations at Malibu Popoyo are a seamless blend of minimalist design and comfort. Each room features a king-sized bed adorned with unique art and tropical plants, complemented by organic cotton linens for a restful night's sleep. The semi open-air rain showers add a touch of luxury to your stay. Some rooms even boast high ceilings and a loft with an additional queen bed, making them perfect for groups of up to four guests.
Beyond the rooms, the property is surrounded by gardens adorned with generous cotton hammocks, so that can unwind and embrace the laid-back atmosphere. For those seeking to rejuvenate after a day on the waves, the open-air yoga palapa(a small traditional shelter roofed with palm leaves) provides the perfect spot to stretch and find your inner balance. And at the end of an adventurous day, the communal lounge area is the ideal setting to share stories over a cold beer.
The meals at Malibu Popoyo are made fresh using local ingredients from the neighboring organic farm called La Quinta. You can even enjoy a few cocktails and beers at the in-house Sunset Cantina & Beach Bar. Your stay at Malibu Popoyo includes three organic meals a day, complete with cold-pressed juices and refreshing smoothies. If you're in the mood for a crafty cocktail or a chilled beer, these are available at an extra charge.
At Malibu Popoyo, the dedicated team ensures you have everything you need for an unforgettable surf retreat. Enjoy daily guided yoga sessions to enhance your mind and body, and take advantage of unlimited 4×4 transportation to any surf break, making it easy for you to explore the numerous surf spots in the area. Whether you are a beginner or an experienced surfer, you do not have to worry as the personalized surf guiding and instruction cater to surfers of all levels, helping you make the most of your time on the waves.
Read Next: