TLDR: If you're in a hurry Wise is hands down the best online "bank". You can send money to 77 countries and can hold money in 47 currencies, also the wise card lets you withdraw $200/month internationally without a fee (after which you still get one of the best exchange rate in the world).
Click Here To Get A Wise.com Account
The rapid rise of globalization across the world has made international transactions more important than ever before. Whether you are a freelancer trying to get paid from an international client or a traveler trying to pay for your food in a restaurant, you'd need a multi-currency account capable of making international transactions.
However, these transactions often come with additional fees, and they are often time-consuming and complex when done through traditional banks. International online banks provide you the flexibility and ease-of-use that you need to make international money transfers with a peace of mind. They also provide you some of the best exchange rates and don't charge a lot as additional fees.
Best International Online Banks Reddit
1. Wise (formerly TransferWise)
Click Here To Get A Wise.com Account
Reddit reviews:
"I've been using Transferwise since 2017 for my business since I receive payments in several currencies and I had to travel a lot too. It has been great so far, I can totally recommend it." -u/misatillo

"Transferwise is fine for transferring money and getting a good exchange rate but it is not a real bank. Don't leave large amounts of money in it as they do sometimes close accounts with no warning." -u/david8840

"I've used Wise for 4 years and am very happy with them. They have incrementally raised their fees over the years but are still fine." -u/DietyOfYourChoice
Highlights:
Send money to 77 countries
Supports 47 currencies
Charges low fee rates
Wise card available
Technically, Wise is not a bank, it's a "money-services provider," as the company explicitly states on its website. Based in London, Wise was launched in 2011 with the goal of making international money transfers low-cost, fair, easy, and fast.
You can send money to 77 countries and can hold money in 47 currencies. However, you can add money to your account in only 21 currencies. For the rest, you would need to add money to your account in a supported currency and then convert it to your desired currency.
Wise has two types of accounts: Personal and Business. Business accounts come with a few additional features designed to cut costs and make business easier, like an invoice generator offered by Wise, and the ability to receive payments from e-commerce platforms. If you're an individual intending to use Wise for sending your money to your family and friends or to receive money from them, go for a Personal account. If you're a freelancer trying to receive money from an international client, or a business trying to expand its operations globally, go for a Business account.
The fees for transactions depend on the currency used, the amount, the payment method, and whether you're sending money or receiving it. If you're on a Personal account, the fee rate for converting USD to EUR varies from 0.49% to 0.33% depending on the amount. The higher the amount, the lower is the fee rate.
For example, converting 100 USD to EUR would cost you 0.49 USD (a rate of 0.49%), but converting 1,000,000 USD to EUR would cost you 3,663.27 USD (a rate of 0.37%). Since most people won't make such large transactions, for all intents and purposes, you'll basically be paying somewhere around 0.5% to 0.6% of your amount as conversion fees depending on the currency you use.
You can also earn interest on money held on wise, just like a normal bank.
Once you set up a Wise account, you can also apply for a Wise card.
2. Revolut
Reddit reviews:
"For Europeans: Revolut. I've used it a couple of times for a virtual card and haven't had any problems yet." -u/Centti50

"In Poland, we have app called Revolut. You can create one time use cards. After they are used, they not exist anymore and you cannot be charged. I use it every time, I'm shopping on websites, I don't trust. Each time, with a new number." -u/fckueve_

"On Revolut (the most popular cash app in Europe) you can set up groups and add in receipts as you go. You can even segregate receipts if everyone doesn't owe for it. It'll keep a running total and you can settle up at any point.

2 friends and I used it for a trip last year and I think I was owed €3 at the end of it." -u/AbsolutShite
Highlights:
Supports 28 currencies
3 Plans: Standard, Premium, Metal
Revolut >18 account available for teens
Revolut operates in 37 countries currently, in three different regions: Europe, the Americas, and Asia-Pacific. It allows exchanges in 28 different currencies, including the major ones like EUR, USD, and GBP. While Revolut already works in most major economies of the world like the United States, Australia, and the E.U., it's also coming soon to some more major countries like India and Brazil. Opening up a Revolut account is very easy and completely free. There's also an option to open a "Revolut >18" account for teens. This basically makes Revolut an option for anyone above the age of 13.
There are two types of Revolut accounts: Personal and Business. For a Personal account, if you're in the U.K., you get the option to choose between 4 plans: Standard, Plus, Premium, and Metal. However, if you're from the U.S., you only get to choose between 3 plans: Standard, Premium, and Metal.
The Standard Plan is free of cost, but you can only have a maximum of one fee-free international transfer in a month. On a Standard account, you don't get any purchase protection or theft and/or accident coverage.
The Premium Plan costs $9.99 per month, and gives you the benefit of up to 3 fee-free international transfers a month. You get a theft and accident coverage of up to 90 days.
The Metal Plan costs $16.99 per month, and allows you to have up to 5 international transfers a month without any fees. You get a theft and accident coverage of up to 90 days.
3. XE Money Transfer
Reddit reviews:
"Thanks for your advice and information. Though I have been sending money to Thai bank many times for my Thai family and I paid no transfer fees with XE, they also give the best rate compared to other money transfer services. I just don't know if they give better rate than Schwab or not. I haven't used Schwab in Thailand or any other countries before" -u/Available-Stop-182

"I've always used XE Trade for international money transfers and found them reliable and fast." -u/Fallcious

"FWIW I used XE.com (they are BC based I believe) to transfer a large amount of money from Switzerland to Canada. Mind you I had a bank account in both countries and the money moved between them. I don't know, but I would assume you could open a bank account in the UK and do the same.

My transfer went smoothly and I believe the rates were very good, certainly much better than the bank. I'd at least compare their exchange rate and transfer fees with transferwise and see" -u/mcgillickerr
Highlights:
No transfer fees after a certain amount
Cash pickup available
Limits on number of transfer you can make in a day
XE is a subsidiary of Euronet, a large financial services company. It lets you send money in around 100 currencies to around 130 countries across the world. However, the number of countries you can send money from is significantly lower. For example, you can send money from the U.S. to India, but not the other way round. This stands in stark contrast with Wise, which lets you send money from a lot of countries worldwide, but not so many to send money to. XE offers you the option of creating either a personal or a business account. XE's exchange rates are not the best of the lot, but XE has one great thing about it: it charges no fees after a certain amount.
XE offers cash pickup, which is available in the U.S., Europe, Canada, and the U.K. It is a feature that allows you to send money directly to the recipient without needing a bank account. The process is simple: you pay for the transaction, and the recipient goes to the selected destination and picks up the money in physical form. In a single transaction, you can send up to 3,000 of your local currency by this method, and you can make up to 5 transfers in a day. This means that in the United States you can transfer up to USD 15,000 via cash pickup in a day. However, there are restrictions in some states. In Arizona, New Mexico, and Oklahoma, you can only transfer up to USD 999.99 a day.
If you're from Canada or the United States, you need to send at least $3000 to get the option of bank or wire transfer. On online transfers, there are limits on how much money you can send in one go. In the U.K. and the E.U., you can send up to GBP 350,000, in Canada up to CAD 535,000, in the U.S. up to USD 535,000, and in Australia and New Zealand up to NZD 750,000.
4. Western Union
Reddit reviews:
"I can send money internationally through the app my bank gives me for no money through SWIFT. If it's somewhere outside the network I can go to the newsagents 5 minutes away who do Western Union transfers which are instant, secure and fees well under 10% if transferring more than a few hundred pounds. Doesn't require either the person receiving or me to understand the intricacies of wallets, gas fees and doesn't just refuse to transfer if we haven't made the top bid. Doesn't get hacked on the way and even if it did there are consumer protections." -u/AtJackBaldwin

"I used it many times. It works, it works eveywhere (except for Iran, Russia and North Korea, obviously), the receiver only needs a valid passport or another ID, but it's expensive." -u/Transaktion

"WU sends money to and from a lot of places that other services won't, especially places in the developing world.

Also, the recipient doesn't need a bank account or to sign up to anything to get the money; they just need ID.

Those two factors make it very popular for remittances." -u/titus_1_15
Highlights:
Rewards program available
Send money to over 200 countries
Cash pickup available
Founded in 1861, Western Union is one of the oldest companies in this list. It lets you send money to over 200 countries and territories. You can send money through Western Union's website, its app, or even in person through any Western Union agent location. You can receive money in three ways: a direct bank transfer, cash pickup from a WU agent location, or using the WU wallet.
You can also sign-up for the Western Union Rewards program, which rewards you with Cash Back and points for fees paid in money transfer. You earn 1 WU point per dollar of fees paid in money transfer. You can redeem these points for discount in fees for a future money transfer. You can further use your earned Cash Back once you reach a minimum balance of $25.
There are 4 channels to send money: Online, In-store, Mobile app, and Phone call. You don't need to pay any fees if you pay online via bank account or Debit Card, while the fees are highest for Credit Card payments. To pay via Debit Card, your transfer amount must be less than or equal to 5000 USD. You will, however, have to pay higher fees via other channels like mobile app or In-store transfer.
5. MoneyGram
Reddit reviews:
"Moneygram is good for bank to bank transfer. If the amount is large then it takes 3-5 days but if the amount is small then should go through overnight. Also has good exchange rates compared to Paypal and Remitly. If you want the best exchange rate then ask the person to send through Walmart. They will charge a nominal fee though." -u/sandacurry

"For money transfers, use remittance services like Moneygram irrespective of the bank you choose for better exchange rates.

Moneygram is integrated in popular local eWallets like urpay." -u/Smooth_Club_6592

"If you're from the US Moneygram is much cheaper than wise or western union. I think wise even shows so on their website for some reason when it compares. It could also be the currency." -u/Electronic_Rule5945
Highlights:
Send money to over 200 countries
Transfer times may vary wildly
Rewards program available
MoneyGram is another platform that allows you to make international money transfers easily. You can send money from the United States to over 200 countries. On MoneyGram, transfer may take anywhere from a few minutes to a few business days, depending on the country and currency chosen.
Just like Western Union, MoneyGram also offers a rewards program, which rewards you with a 40% discount on the transfer fee for every 5th transfer you make. If you join the MoneyGram Plus Rewards program, you get a 20% discount on the transfer fee for every second transfer that you make.
There are limits on the amount of money you can transfer on a daily, weekly, and a monthly basis, but MoneyGram doesn't publicly release those limits to consumers because they fluctuate according to market trends, "security needs," and laws.
MoneyGram allows you to send money directly to the recipient's bank account or their mobile wallet. A lot of countries support Express transfer, which helps you transfer money within minutes of initiating it, while Standard transfers take around 3-4 business days to process your payment.
6. Xoom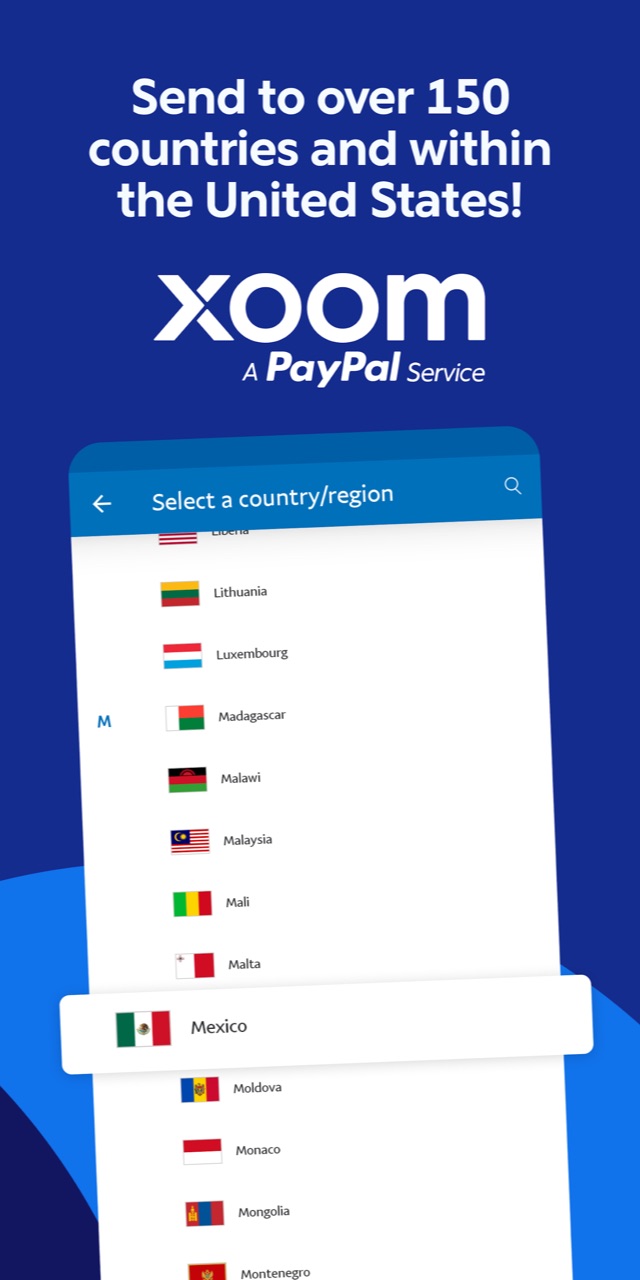 Reddit reviews:
"Try looking into the Xoom app. You can send money to yourself and pick it up at locations like 7-11s, Oxxo, or banks. The fee is very small.

If you need to withdraw an amount over $200 or so USD you'll definitely need to go to a bank as Oxxo or 7-11 won't give you that much.

Banco Azteca is the only bank that will let you do a transfer through Oxxo without a CURP number." -u/extraextraspicy

"I believe those articles are referring to people in US getting money from abroad. As others have mentioned above, money going out of the US has higher limits. If it were me, I would split it to two people, just in case. We send money to my wife's family in Brazil all the time. We use Xoom, it's a payment method owned by PayPal. Fees are lower than a typical bank, usually. Since it's one time and so large, your bank might be easier, as they don't have to validate your funds (since it's already in your account that you have with them)." -u/dober1982

"A money transfer service such as Xoom, Remitly or Worldremit works great.

I regularly used Xoom to transfer money from my US bank account into my SA bank account. I never had any problems, and transfer is fairly fast and you get a decent exchange rate and low transfer fees." -u/Dave_er23
Highlights:
Accounts organized in 3 levels
Higher the level, higher the transfer limit
Owned by PayPal; supports transfers from PayPal balance
Cash pickup available
Xoom is a service by PayPal, a well-known payment services company. You can send money via your PayPal balance, Bank account, Debit Card, or your Credit Card. The recipient can receive the money either via Bank Deposit or Cash Pickup.
The fees you pay depend on the recipient's country, your payment method, and the channel you choose for the recipient to receive money. For example, you need to pay 10 USD for a cash pickup based money transfer of 1000 USD from the United States to the United Kingdom, regardless of what payment method you use. However, when sending the same amount of money from the U.S. to Argentina using your bank account, you need to pay no fees if you transfer money via Bank deposit, but you need to pay 30 USD if you opt for a cash pickup. Moreover, unlike Wise, Xoom takes a margin on the exchange rate too, and explicitly states that on the site itself.
There are transfer limits on Xoom, which vary according to the country you're sending money from, the "level" of your Xoom account, and the channel you pick up for the recipient to receive money. Xoom accounts are organized in a hierarchy of three levels. These levels are based on the amount of information and documents you've submitted to verify your account. Level 1 senders just need to provide the sender's profile information. Level 2 and level 3 senders require additional verification with IDs and documents which vary based on your region.
In the United States, you need to submit your Social Security number or Passport to upgrade your Xoom account to level 2. You need proof of identity (passport, Green Card, Driver's license), proof of address (like a Utility bill), and a bank statement to upgrade your account to level 3.
Level 1 senders in the United States can send a maximum of 2,999 USD in 24 hours, 6,000 USD in 30 days, and 9,999 USD in 180 days, which is quite restrictive. Level 1 senders in Europe have even more unforgiving restrictions: they have a lifetime maximum sending limit of 14,999 EUR. If you plan on sending more money, consider upgrading your account to level 2 or 3.
7. HSBC Global account
Reddit reviews:
"I've got a HSBC global account. Can transfer in money and exchange it to the currency you want, or keep it as £. Not sure on the exchange rate if you use the £. But it's £500 a day withdrawal." -u/ThisHairIsOnFire

"I've been using the hsbc global money card and a revolut, both been working fine so far" -u/MundaneMango7012

"Is there an hsbc back home? If they have enough time to open an account there – 6 months history and hsbc will open an acct for then in Canada. Global money transfer. Pulls funds through instantly." -u/eemlets
Highlights:
Support for 19 currencies, 25 countries
Maximum sending limit between your own HSBC accounts: USD 200,000
Maximum sending limit between other accounts: USD 50,000
Must have an eligible HSBC current account
No interest earnings
Unlike most other services on this list, HSBC is an actual bank. An HSBC Global account allows you to send money in 19 currencies to 25 countries across the world, including India, China, Canada, Hong Kong, Singapore, the United Arab Emirates, and the United Kingdom. However, the number of currencies and countries you can transfer to vary based on the region you're from.
For people in the United States, the maximum sending limit is USD 200,000 for transferring money to your own HSBC accounts, while it is USD 50,000 if you transfer to someone's else's HSBC account.
You get a Global Money Debit Card which lets you withdraw cash from any ATM machine around the world, just like a local. You can convert and hold money in 8 currencies: AUD, CAD, EUR, GBP, HKD, NZD, SGD, and USD.
To set up an HSBC Global account, you must already have an eligible HSBC current account. If you're in the U.S., you need to have either a Premier Checking Account, a Premier Savings account, or a Premier Relationship savings account.
HSBC Global Account is available only on the HSBC mobile banking app. You cannot transfer checks or cash directly to your Global Money account, you need to transfer them to a traditional bank account first, and then transfer the money from that bank account to your Global Money account. This can be a bit cumbersome.
Unlike Wise, which gives you the benefit of interest rates for holding money, you won't earn any interest on the money you hold in your HSBC Global Money account.
8. Citibank (Citigold International Personal Bank account)
Reddit reviews:
"Consider CitiBank if offered where you are. They offer multiple currency accounts – albeit you'll be better off with Wise for any FX conversions. With CB you can link your debit card on the fly to whichever currency you require. E.g., I use Wise for FX conversions among my various CB currency accounts rather than CB." -u/tomorrow509

"Citi plus is the easiest one. It's just a normal AUD bank account that gives you a good price when you use your card in foreign currencies. Great for online shopping and for travel. I've used it for nearly 10 years now and recommend it." -u/funfwf

"I recently use the Citibank and ING cards in South Africa abs was pleased with everything. ING for ATM withdrawals and CITIBANK plus for transactions except care hire( credit card)

The ability to generate a OTP ( one time pin) on the Citi app could prove useful if you buy a SIM card overseas.

I was under the impression with the Global currency account you could hold several currencies in that account , say, USD if you received USD income for example. I see no reason why you couldn't use TransferWise or such to do the conversion from your normal savings account to your Citi account.

I would like to explore this further because in S Africa some Safari lodges listed prices in USD" -u/finrev
Highlights:
Support for 16 currencies
Minimum balance of USD 200,000
Aimed at business-class people
Accessible via Citi Online or Mobile app
Citigold International provides an International Personal Bank for customers with a minimum deposit of USD 200,000. This is, therefore, not very ideal for the masses, neither was it made to be. It targets a specific segment of the market, especially those who tend to work in foreign nations or those who use it for business purposes. It's a premium account for premium consumers.
You get a Citibank Multi-currency Debit Card, which allows you to withdraw up to GBP 2,000 on a daily basis without any withdrawal fees. A multi-currency account on Citibank allows you to hold or convert money in 16 different currencies, including AUD, CAD, EUR, GBP, HKD, JPY, RUB, and AED.
You can access your multi-currency account via Citi Online or the mobile banking app. You also earn interest on your money when you keep a minimum balance of USD 200,000 in your bank account.
Read Next:
Best Meal Replacement Shakes For Weight Gain