TLDR: If you're in a hurry the ClickUp is the Best Project Management Software according to Reddit!
Click Here To Try ClickUp For Free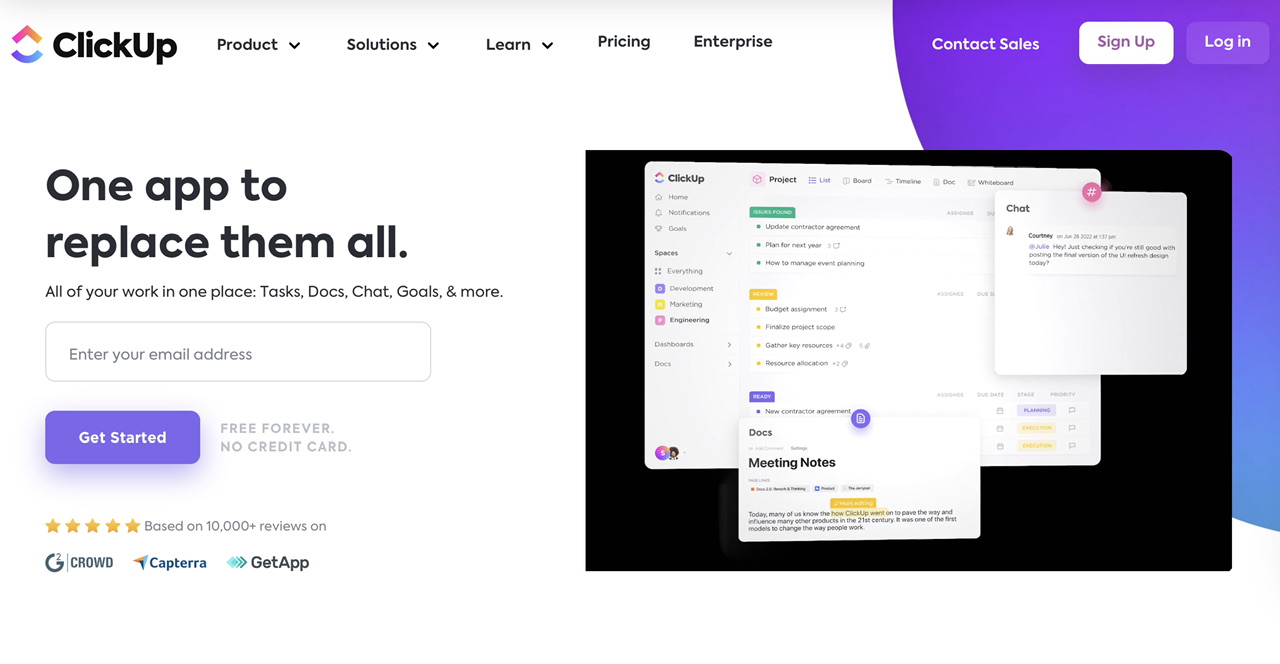 Managing multiple projects is no easy task especially if you are a manager and juggle people, tasks, and goals. Projects have various moving parts and you could easily get lost and overwhelmed amidst all of it. If you are not using project management software you are doing more work than necessary. The collaboration among team members is inefficient and you do not know who is doing what.
Good project management software helps you stay organized at work by helping you plan and execute various projects efficiently. It helps allocate resources for managing projects, track the project's progress, define tasks and responsibilities and allow smooth collaboration between stakeholders. There are tons of project management software in the market today but just a handful are worth looking at. Recommendations from authentic Reddit users helped us identify the most popular and efficient project management tools in 2023. These recommendations come from Redditors who have tried and tested multiple project management software for their businesses and team projects.
However, before deciding on any project management software, you have to understand what type of software you need and if the software has the features you require.
Features of a good project management software
Project Planning: This is a core feature of any project management software. It helps you work out the various steps to be completed in a project in the form of Gantt charts, calendars, or schedules. It keeps track of projects' progress by helping you set project goals, milestones, and deadlines.
Task Management: This helps break down the project into various components in the form of manageable tasks that can be assigned to different team members. This makes it possible to know who is doing what and who is responsible for what.
Resource Management: It helps ensure that each project is properly staffed and everyone is assigned the tasks efficiently.
Time and Budget Tracking: This tracks the hours put into the project and helps keep people accountable. Managers can keep a check on the cost and stay within the budget.
Project Dashboards: This is a great tool for visualizing the progress of any project. It shows which projects are more successful than others, what the time spent by different team members on a particular task is, and shows the amount of work that has been done.
Project Views: Projects can be viewed in different ways like a task list, calendar view, or a kanban board depending on the preference of the team members.
Documents and project files: PM software that allows you to share docs, files, images, and spreadsheets help with improving communication among team members. It also helps organize them into folders so they are easier to access.
Integration: PM software that integrates with third-party tools allows you to track all your work in one place and prevents working on different software.
Best Project Management Software Reddit 2023
1. Click Up – Affordable Project Management Software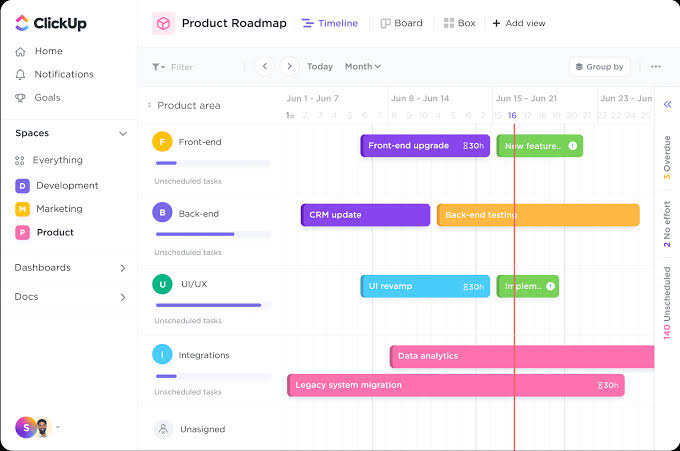 Click Here To Try ClickUp For Free
This cloud-based project management software is very user-friendly and feature-packed. It is highly customizable and offers great visibility into all projects. Click Up offers shared task-setting functions, team collaboration, status alerts, project updates, and much more. You can manage your team on one single platform from their tasks to docs and goals. It is excellent for anyone looking for value-for-money productivity solutions. Click Up is a great match for small and large businesses alike.
What Redditors had to say about it
u/ColeRoolz "I love ClickUp and my team has seen immense benefits from it."
u/Dogzmomma "ClickUp is priced well, and can be set up as simple or as complex as you need it. I am using it with a small company right now"
u/Truck_Bitter "We use ClickUp in our small law firm. Seems to work pretty well once everything is set up. It's pretty easy to understand in terms of actually using it."
Highlights
Highly Customizable: Click Up offers a fully customizable online software solution. You can personalize your projects according to your workflow, personal preferences, and business model. You can choose the structure that works for you. The custom dashboard lets you select among 50+ widget variations for a work overview.
Affordable: Click Up has the most affordable pricing without compromising on the features. It offers a Free Forever Plan which is free so you can explore the platform without spending any money. Its paid plans start from $5 per user per month which is one of the cheapest plans in the market.
Real-Time Reporting Capabilities: The highly customizable dashboard helps you see a high-level overview of the project. You can track your team's schedule, current projects, missed deadlines, and tasks completed. The reporting tools track the progress of each task and the entire project.
Multiple Views: Click Up offers multiple views to view your project. Some of these are Calendar View, List View, Box View, Board View, and Gantt View. You can also check out Workload View which allows you to visualize your team's capacity and manage resources. There are many such useful views to choose from.
Amazing Mobile App: Unlike other project management solutions, Click Up offers an excellent mobile app that provides great updates, and assigns tasks and anything you require. It has a very intuitive interface and user-friendly features.
Pros
Very Affordable
Easy time-tracking
Effortless team communication and collaboration
Cons
The initial setup can be overwhelming
Fewer features for post-project feedback
2. Smartsheet – Spreadsheet Style Project Management Software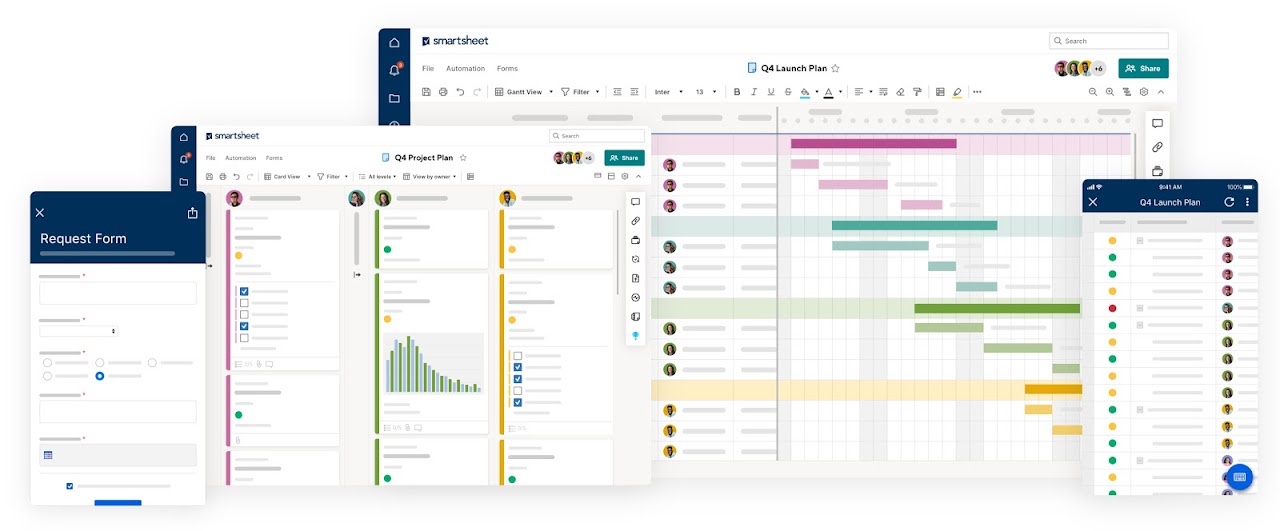 This spreadsheet-style project management software is another highly recommended project management solution by Redditors. It is excellent for companies of any size to improve collaboration and manage workflows. Smartsheet is the most powerful and efficient spreadsheet tool and is an impressive alternative to Google Sheets and Excel. It could be a project management platform, CRM app, or task-tracking tool depending on how you use it. This makes it very versatile and highly customizable.
What Redditors had to say about it
u/Andy_WORK_BOLD "I'd say Smartsheet for almost everything because I've never seen a tool or service with a quicker adoption rate than Smartsheet and there are many exciting things in the works!"
u/Thewolf1970 "Have a look at SmartSheet. It has timekeeping templates and workflows. It will also help with tasking and assignments."
u/PhotonTheParrot "Our IT PMO switched to Smartsheet recently, and we like it. My favorite features are automated messages to slack on the task due date, and guest mode for access."
Highlights
Pricing and Plans: The plans offered are Pro Plan, Individual, Business, and Enterprise. It also offers a 30-day free trial. The free trial offers 50 sheets at a time. The cheapest plans start from $19 per month and come with custom pricing as well. The Individual Plan is limited to one user, 10 collaborators per item, 10 sheets, 5 reports, and one dashboard. It also offers 50GB of storage space.
Templates: Smartsheet has a fantastic collection of templates under different categories like Human Resources, IT, Marketing, Product Development, Clients & Customers, Finance & Accounting, and Sales. It also has templates for highly specific use cases.
Features: Smartsheet has various features like columns with a drop-down menu of several entities, conditional formatting tools, a report-generating system based on specified criteria, linking cells on one sheet to another, creating web forms, proofing, and markup tools.
Powerful Analytics and reporting: This helps consolidate crucial information into a single report. Smartsheets activity log helps to see who is accessing the reports. Any changes made to a report are updated in real-time.
Data Security: It has industry-standard security features like two-factor authentication, SSO, AES 256-bit encryption, secure data centers, and more which prevent unauthorized access.
Pros
Great customization and flexibility.
Robust Automation tools
Supports proofing, approvals, and input from web forms.
Cons
Budgeting, time tracking, and advanced resource management tools aren't included.
Confusing to understand for beginners.
Smartsheet doesn't auto-save by default.
3. Wrike – Comprehensive Project Management Software
Click Here To Try WrikeFor Free
Wrike is the perfect solution for marketing teams or professional service providers. This is a good fit for large companies that want to use one software across different departments and for small teams as well. It has a very useful dashboard and a comprehensive reporting suite. It has features like Gantt charts, a built-in time-tracking tool, interactive boards and spreadsheets, and much more. It offers a free and paid plan that is loaded with features.
What Redditors had to say about it
u/Gorcbor19 "I'm a big fan of Wrike. It automatically creates projects based on form submissions. I have been utilizing Wrike now for two years and am impressed with it from project input to reporting. It is a very robust system that is super flexible for various teams within your organization."
u/hijusthappytobehere "I liked Wrike a lot when I used it. I found it very useful to be able to visualize information in different ways. Very versatile and quite efficient once you set it up the way you want it."
u/lukeflegg Wrike is almost without a doubt, the most advanced, customizable, and feature-rich project management software out there."
Highlights
User-friendly Dashboard: The dashboard gives a consolidated view of your workflow that helps you see the final details and gives you an overview at a glance. Three panes offer various functions providing you with every detail at your fingertips.
Automated Workflow: Wrike integrates with over 400 third-party tools that allow you to build automations across multiple business tools. This includes automation of approval processes, automated analytics, resource management, smart workload balancing, and task assignments.
Custom Request Forms: The custom form builder lets users submit a form instead of having your team update the spreadsheet. The form can automatically assign a task, give due dates, and more by setting custom rules that trigger custom automation.
Robust Analytics: Wrike updates charts, reports, and analytic dashboards automatically giving you a real-time view of the project.
Team collaboration tools: Wrike allows you to invite third parties like a client, contractors, or other stakeholders to track the status of their projects at no extra cost. You can also centralize conversations and communicate on tasks in one place.
Pros
The free version supports up to five members
Comprehensive reporting solutions
Built-in time tracking tool
Cons
Can be challenging for beginners to navigate
Mobile apps are not very user-friendly
Expensive
4. Trello – Kanban style Project Management Software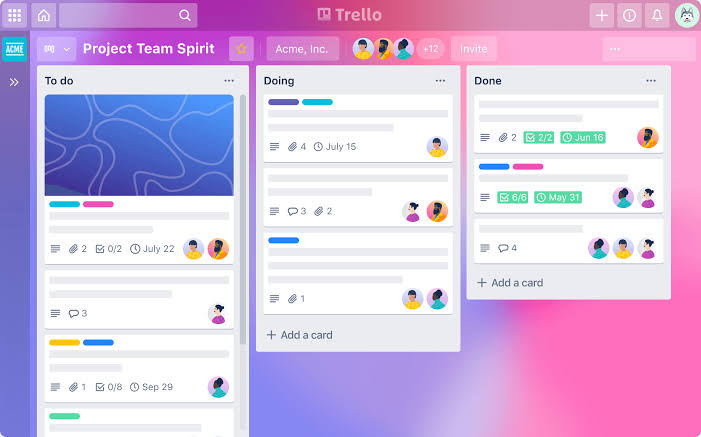 Trello is a highly recommended project management tool by Redditors for those who do not want to spend any money on software. It is an excellent kanban app that lets you customize any board you create. It is great for managing work and workflows not only within the team but with outside partners as well. The free tier does come with its limitations but you can always upgrade your plan in case you feel the need to have more features. It is great for individuals and small teams who want to get started with basic project management.
What Redditors had to say about it
u/lostnebula "I love using Trello for our print production and design business. It's easy to use and has a spreadsheet beta starting soon. I also love how customizable it is and has automation features as well. Using Trello has increased our efficiency"
u/dpy81 "If a very small start-up team, please don't waste your time with complex Project Management tools … Trello is great."
u/Vrushti008 "The tool that has worked for me is Trello (you can arrange task lists for people and color code them basis what's complete and what needs to be done – you can also manage multiple members' workload via Trello simply by creating cards for each of them)"
Highlights
Pricing and Plans: Trello has Free, Business Class, and Enterprise plans. The free account offers you 10 boards and file attachments of 10 MB but doesn't allow integration with other apps. You have 50 automated command runs. You get one Power-Up per board. The prices of the other two plans are fair and much less than competitors.
Apps and Interactivity: Trello can be used on the web or mobile and desktop apps. The desktop app has a notification option and a quick-add feature as well. You can create keyboard shortcuts and get Touch Bar features. There is a Trello app for Slack.
Features and Power-Ups: Trello offers color-coded labels and keywords tags as labels. It has time-tracking tools, reports, and scrum features. You can add time-tracking capabilities as a Power-Up.
Automation: You can create command runs by setting rules for your board that will follow one action with another, every time.
User-friendly, flexible, and visual: Many new templates give you suggestions on how to get started. The interface is very user-friendly and easy to use.
Pros
Can manage individual projects and full workflows
Generous free plan with basic features
Customizable kanban app
Cons
No swimlanes
Reporting is not the best
Many features come as add-ons
5. Jira – Affordable Agile Project Management Software
This is a great tool for IT teams and is known for its bug-tracking functionality. It is highly popular among software development teams but can be used by other types of teams too. It has products for all types of teams from marketing to HR and finance. This is a highly recommended project management software by Redditors for technical-minded project teams.
What Redditors had to say about it
u/techtpm "JIRA has great artifacts for task-level tracking. Create a bug/task/FR, etc. and there is a whole lifecycle around it (comments, status, you can link to it, etc.). Very useful for keeping track of granular work and knowing who is working on what."
u/PplPrcssPrgrss_Pod "My favorite for ease of use and appearance is Jira. Web-based, easy to customize, integrated charts, etc."
u/RONINY0JIMBO "The best one is JIRA – It allows easy tracking of tasks and stuff even though I don't have any real permissions it allows my project staff to update and create tasks/issues which allows me to view them without having to go on a scavenger hunt."
Highlights
Bug Tracking Functionality: Jira was built to track bugs in software projects making it easy for developers to locate and record bugs within the software. You can view all bugs and issues in the backlog in a single view.
Multiple Use Cases: Jira not only supports software development teams but also supports other departments like Marketing which can use Jira to plan complex product launches and Human Resources which can utilize Jira features to create custom workflows to improve hiring processes.
Highly Customizable: Jira offers great visual representation and helps with reports and has scrum boards that can be fully customized. Jira also integrates with third-party apps so you can expand its functionality.
Top-Notch Reporting Capabilities: You can gain insight in real-time regarding the team's performance with Jiras 12+ reports. Some great agile reports that Jira offers are sprint reports, burnup charts, velocity charts, burndown charts, and more.
Fantastic Agile Tools: The scrum boards and kanban boards offered by Jira helps you visualize workflows and the progress of tasks in real time. You can check which projects are on track and which are delayed.
Pros
Great for agile and scrum project management
Multiple project views
Very safe and secure
Cons
Designed for technical users
The interface is not the friendliest
Doesn't offer timeline views
These are some of the best project management software that are recommended by Redditors based on factors like features, capabilities, cost, ease of use, and more. These provide the best value and customer experience. You can select the software program that suits your needs and priorities.
Read Next: