An important and difficult part of building a website is its domain name. A good domain registrar can help resolve the issues and get you going without much hassle. However, selecting the best domain name registrar is surprisingly tricky.
There are several domain name registrars in the market that offer attractive introductory rates, which are buffered with higher renewal rates, contract lengths, and other issues. To get the guesswork out and avoid surprises, we'll look into three of the popular choices- Namecheap, Porkbun, and NameSilo. Let us look into the features offered by them and find the best fit for your business.
Namecheap Overview
Namecheap is a high-quality domain registration service that specializes in selling cheap domain names. Namecheap has several domain registrars based on speed, space, simplicity, etc. Founded in 2000, it has several plans that fit the requirements of users of different prerequisites. It has an intuitive interface, and you can navigate through various sections of the tool without any hassle. The company is one of the leading ICANN-accredited domain registrars and has over 2 million customers with 16+ million domains worldwide.
It goes beyond just domain names and has reliable hosting for over 1.5 million websites with different requirements. To sum it up, it is a top domain registrar and offers a reliable and affordable solution for users of different niches.
Pros
Simple interface
Easy domain transfer
A trusted brand
Free migration and affordability
Free domain privacy
Excellent support
Cons
High renewal rates
Charges on domain transfer
Porkbun Overview
Porkbun is a new domain registrar that has quickly turned into one of the best sources for low-cost quality domain names in the market today. The ICANN-accredited domain registrar has a user-friendly interface, making it a great choice for new users.
Porkbun also has other web-related services like web hosting and email hosting services. However, their primary pitch is its enjoyable domain registration process.
Pros
Free domain name privacy
Easy domain search process
Several Top Level Domains
Simple domain management
Free URL forwarding
Complementary products
Cons
Doesn't offer 24/7 support
Lack of onboarding
No discounts for new users
NameSilo Overview
NameSilo is a domain registrar that allows users to enter keywords and find apt domain names for them. The ICANN-accredited domain registrar has over 3 million active domains, which makes it among the 15 largest registrars in the market.
The registration fee is remarkably low, with a simple registration experience that has several consumers attracted to it. It offers exceptional customer support that helps resolve queries and issues. NameSilo also offers hosting, SSL certificates, professional email, etc.
Pros
Brilliant DNS management
Bulk domains available
Enterprise-grade security
Wide variety of free add-ons
Affordable pricing
Great customer support
Cons
Renewal rates are higher
Domain security is strict but can give way to scammers
Doesn't offer a money-back guarantee
Namecheap vs Porkbun vs NameSilo
1. Ease of Use
Ease of use is an important factor when you are using anything on the internet today. The same is the case for domain registrars, as you'll want a domain registrar that is easy to understand and use without requiring much technical know-how.
Namecheap is extremely easy to use for domain registrars in the market today. To purchase a domain on the tool, you simply have to enter a domain name and check its availability using its advanced domain name generator to get an ideal domain. This lets you purchase whatever you want without any confusion.
Porkbun has a minimalist web 3.0 interface having an array of DNS management tools. It offers good flexibility to assign custom labels for domains to manage your DNS records in bulk. The feel of the interface is not very great and can be prone to bugs or glitches.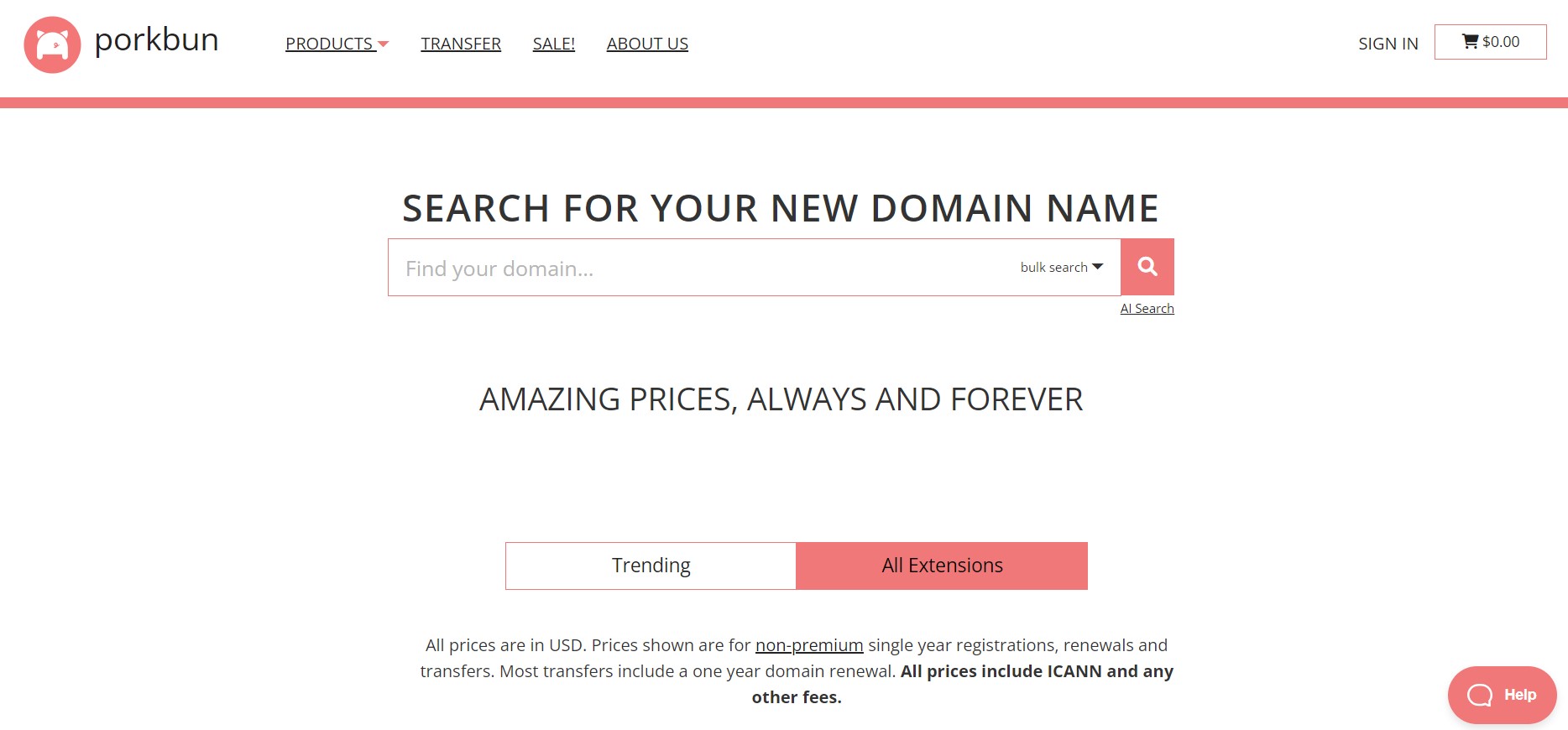 NameSilo claims to have a superior domain registrar, but its UX is a bit outdated due to its infinite account options and advanced domain management tools. It is not an ideal choice for running infinite accounts, but not ideal for newcomers in the space.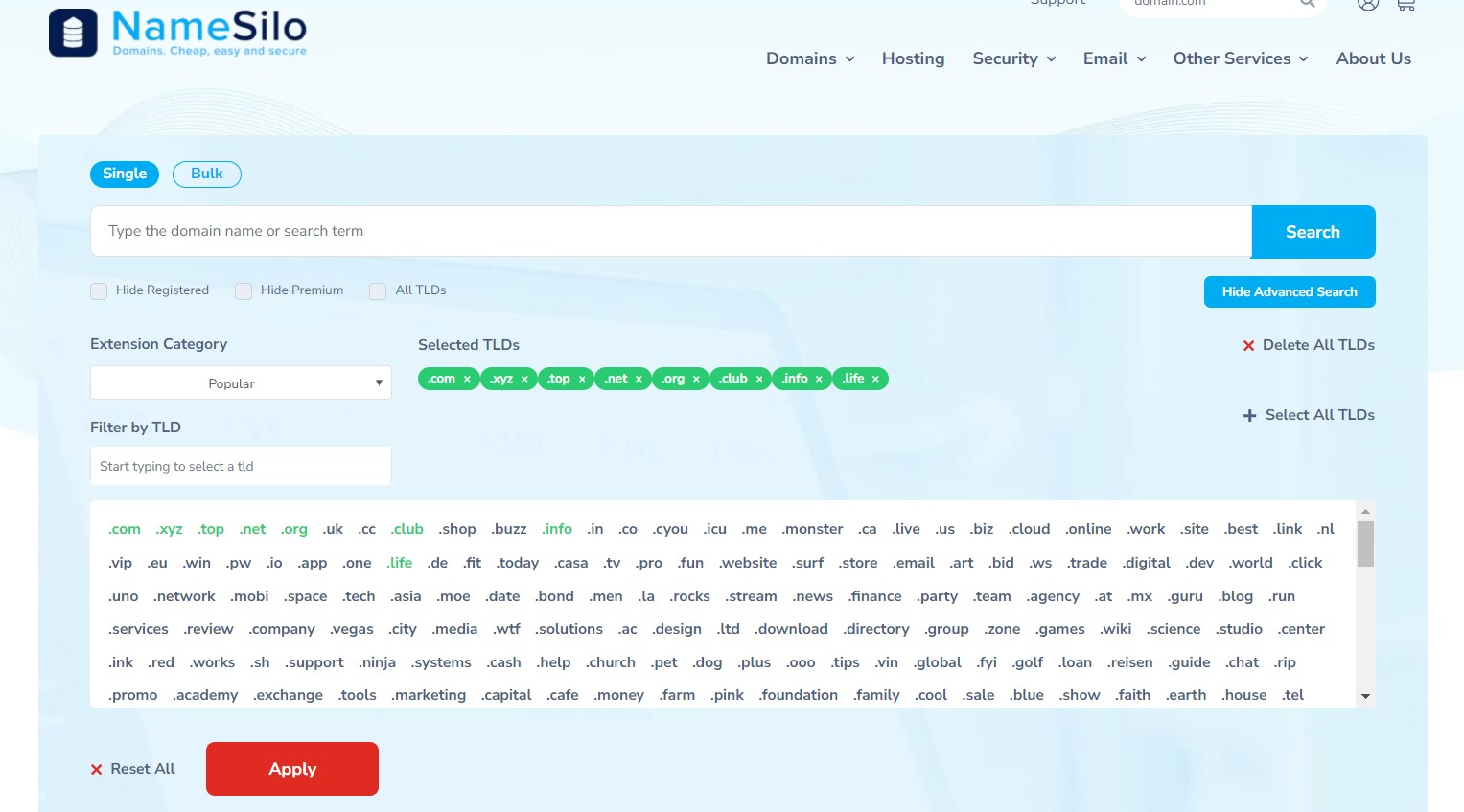 When you consider the ease of use and interface, Namecheap is a clear winner with its intuitive dashboard, making it great for newcomers who have little to no experience in the space.
2. Validity
A reputable domain registrar will give you peace of mind that you are in safe and reliable hands. It is advisable to choose software that is ICANN-accredited domain registrars to get stable and professional service. Let us understand more about this aspect below.
Namecheap is a pioneer in the domain registrar space with more than 20 years in the space. It has a huge customer base on its wing, so you know they are doing something right. You can fully trust their domain registrar alongside its other offerings.
Porkbun is a new domain registrar that was founded in 2015 and is slowly growing to stamp its mark. It will offer a personal touch to it; however, since it is new, it has some issues that you don't face with established software like Namecheap.
NameSilo has been amongst the fastest-growing domain registrars since launching in 2010. It is one of the first registrars that offered free WHOIS privacy with transparent pricing and discounts on bulk purchases.
If you are looking for a secure and established brand, then Namecheap is a clear winner in this aspect. Launched in 2000, it has seen the ups and downs in the industry and is more experienced compared to the other two software's.
3. Security
Security is paramount to keep your domain details safe from threats, especially when they are public in different directories. It is thereby very important to select registrars that have good security and privacy protection.
Namecheap lets you have peace of mind when it comes to security threats. The tool has excellent account security with custom security notifications, custom password recovery, and dynamic support pin numbers. Its domain lock security will prevent unauthorized transfer of your domain and protect your important data. One of its best features is its forever-free domain privacy. The platform has a dedicated SSL certificate, server backups, SSD storage, and private SSL. Its DDoS protection and two-factor authentication ensure most internet accounts are protected without any issues. Apart from this, it has Anycast Premium DNS, TOTP account security, and free DNSSEC. It has generous renewal grace periods with diverse payment methods.
Porkbun has free WHOIS privacy across each domain that is operated by its own privacy service, Private by Design. It has a Redacted feature that allows you to transfer your domain. Apart from this, it also lets you encrypt SSL certificates, DNSSEC, domain password protection, and account hardening. They have generous auto-renewal grace periods for expired periods, which last for up to 30 days.
NameSilo has a free WHOIS privacy- PrivacyGuardian, which lets you customize your WHOIS records. It has a domain defender that gives users strong account and domain security features. The software has pre-configured DNS templates with affordable Premium DNS, DNSSEC, and custom nameservers in case you use a professional DNS service. Finally, they have a grace period for renewals.
When it comes to the security of your domain registrar, Namecheap edges out both the software due to its private SSL and server backup options.
4. Domain Transfer
If you are planning to transfer your domain from one registrar to another, then you have to have a reliable platform that makes it possible. It is necessary to select a provider that has a simple transfer without any fee to get the desired functionality.
Namecheap allows you to switch over from another provider if you are not happy with the services. The entire process is free and easy to switch over to any other plans. The free migration service is completed within 24 hours. All you need to do for this is just fill in and submit a few requests about your site details. In case they don't do it in the stipulated time frame, the first year of web hosting is free. Apart from this, they also provide a free domain with the purchase of any plan. These domains come with free domain privacy protection and allow you to stay online with no downtime when you transfer your site. This makes great sense since domains are their specialty.
Porkbun has a simple domain transfer process, and all include a 1-year renewal of the domain. To easily transfer your domain, you have to be registered for at least 60 days, and the domain name has to be unlocked and not on hold.
The domain transferring process of NameSilo is very straightforward, and the entire process is completed in a short time frame. If you transfer your domain to the platform, then you will receive a year added to your expiration date, which is included in your transfer price.
Overall, all three domain registrars allow for easy domain name transferring from one platform to the other. So there is no clear winner in this aspect.
5. Pricing
The domain provider's pricing policy is important before you commit to it, as it may have hidden fees or renewal prices after the initial year of registration. You need to choose a registrar that has no hidden information and has been published to WHOIS and RDAP.
Namecheap offers low prices upfront, and you can get deals as cheap as $0.99 for some extensions. This is the lowest price that you get when compared to other domain registrars. They have a minimum registration period of 1 year with a maximum registration period of 10 years. Their renewal is slightly expensive compared to the initial price.
Porkbun has affordable domain pricing that is amazing for users. It has similar prices as the other domain registrars, but its renewal may be higher. All the domains come with WHOIS domain privacy to protect your information from the public.
NameSilo is another domain registrar that is available to consumers at affordable rates. It starts at $0.99 with additional discounts that can be availed when you purchase in bulk or join their Discount Program. It also has several add-ons that come while purchasing the domain.
Namecheap and NameSilo both have excellent pricing for users to select from and get their domain name. If it was for me, I would recommend using a domain registrar offered by Namecheap.
6. Add-ons
Add-ons are a great addition to give users more than just normal domain registration options. The three software's offer a good choice of add-ons to better enhance your functionality.
There are several domain registrars that offer email and web hosting, but at most times, they are overpriced or dull. Namecheap can be attributed as the only domain registrar that has some great hosting and email marketing channels that are innovative and budget-friendly. Its WordPress hosting service offers the simplest way to launch a WordPress website on a budget. Their private email service is built on top of Open-Xchange, which acts as a great choice for professional emails at cheap rates. Apart from this, Namecheap has apps that allow users to buy applications to build a great website, especially the website builder app.
Porkbun offers some high-performance hosting solutions for users other than domain registration services. Its hosting solution includes easy WordPress, Shared CPanel hosting, static hosting, Weebly SiteBuilder, etc. Each domain that you purchase has a three-month free email hosting where you get access to a custom address of your own domain that gives your online presence a professional feel. It also has free email forwarding, where you can forward email addresses for your new domain to already existing email addresses. Similarly, you can redirect a new domain to an existing website using its Free URL forwarding feature.
NameSilo offers free email and website builders included in its domain registrar plans. It has blazing-fast servers having enterprise-level security with great support. They have several email plans with a website builder having an easy WordPress installation. Apart from this, it gives users access to API, a Free logo maker, and a Reseller program.
Namecheap is a clear winner as it has some incredible add-ons that invariably help users polish their offerings to their clients.
7. Integrations
Integrations are not something that will interest you in a domain registrar. However, having something extra alongside the add-ons is something that no human will pass on. Here are some integrations that come with the software.
Namecheap has integrations with some of the leaders in the space. It currently has 18 integrations, which include
WordPress
Shopify
Authy
EasyWP
redirect.pizza
Keitaro
GitHub
cPanel
CodeGuard
Teamstack
Affilo Tools
Clientexec
Smart Copy by Unbounce
MailRoute
FounderHub
Apartment Investor Pro
Afternic
HostBill
Porkbun has integrations with only a single application, which is WordPress. This gravely affects its capability to enhance your performance outside the application.
NameSilo, on the other hand, has integrations with Clientexec and HostBill. If you want to use other applications, then you'll have to purchase a separate subscription plan for your business.
When you compare integrations, Namecheap is a clear winner that helps enhance your functionality and features.
8. Customer Support
Good customer support can make or break any software. You may have advanced knowledge of things, but you'll never be dismayed by getting extra help along your venture. Let's understand the customer support offered by the tools.
Namecheap has a rich customer service team that is at your service 24/7. The software has a rich knowledge base where you get a walk-through of your products and services at every step of the way. There are some detailed blogs, and Guru guides with deeper-level expertise from its in-house professionals. Its live chat support is available all days of the year, and your queries are resolved within a short time. If you still need more support, then you submit a support ticket. Here, the team will answer all your questions and make the entire process simple and efficient.
Porkbun doesn't have 24/7 support like the other two domain registrars we are comparing in this article. They offer support for people from Monday to Friday between 9 am to 8 pm. On weekends, users get support between 12 pm to 8 pm. It has a good reputation for support, but its limited availability is not an ideal choice for everybody. However, it allows users to create a transcript of live chat conversations, so users can record and review their issues to get proper answers and insights.
NameSilo has good customer support to resolve most user queries. It offers support via chat or email. Live chat support is prompt, but it is of lower quality compared to phone support. They also have phone support that is available between Monday to Friday between 11:30 am to 6 pm ET. Apart from this, they have a ticketing system that will address technical issues in a fast and reliable manner.
The customer support offered by Namecheap is a winner by a mile due to its swift problem-solving capabilities and channels available to the user.
Namecheap vs Porkbun vs NameSilo: Who is the Ultimate Winner?
Namecheap, Porkbun, and NameSilo are some exceptional domain registrars in the market today. There is a clear in this comparison; however, the choice to select the best software is up to your requirements. If it were for me, then I would choose Namecheap as it has been in the space for a long time and comes with excellent usability, security, performance, and valuable add-ons to enhance your overall experience.
Fun fact: This website JeremyNoronha.com is actually registered with Namecheap! I've been using it for around 8 years
Namecheap vs Porkbun vs NameSilo FAQs
1. Does it matter which domain registrar you use?
Yes, not all domain registrars offer the same domain name extension, privacy options, and features. Some may offer web hosting, email marketing tools, and much more. This is why you need to select the best domain registrar for optimum performance of your business.
2. How long does domain registration take with Namecheap?
Domain registration begins instantly on Namecheap once you make the payment if the domain is available. It will take 48 hours for the new domain to propagate on the internet and be accessible to everyone.
3. What is the cheapest domain registrar?
The cost of a domain registrar is based on several factors, such as its domain name, extension, or additional features that you want. Namecheap is a low-cost hosting name, especially for the first year.
4. Can you permanently buy a domain name?
No, domain registration is like a rental leasing service. Most domain registrars let you register your domain for 10 years at a time, and they have an auto-renewal service to protect you from losing your domain.