People are working out more and eating healthier. More and more people are trying new fitness trends and rucking has emerged as a popular choice. Walking does not burn enough calories, and running gets monotonous and boring after a while. In comes the rucking. Inspired from soldiers marching on with load on their shoulders, the activity gets its name from the rucksacks.
The trend has been further popularized by many challenges and events held every year. Rucking involves walking with a weighted backpack or the rucksack on your back. It is that simple but it has health benefits across the board. It is a great cardio.
Rucking burns up to three times more calories than the simple walking. It is great for your back. Almost essential if you spend most of your day sitting. It builds endurance, and it does so gradually and safely without risking injuries. Rucking helps you get more mileage out of your other exercises. It is inexpensive and simple. So let us see if after reading up to here if you too want to try out rucking? If yes, then let's talk about the only accessory rucking need – the rucking backpack or the rucksack.
And make no mistake a good rucking backpack is integral to enjoy your rucking. And since most of the top quality rucking backpack comes with a lifetime warranty. This means that you will have to buy them only once, so make sure to get one that is just right for you. So let's check out some of the best backpack for rucking and see just what it is that makes them the best.
Best Rucking Backpack
1. GORUCK GR 1
What Redditors had to say about it
u/pandadude "The GR1 fits what I usually need in my everyday carry (or carry-on travel) with ease and is as comfortable as a loaded backpack can be under heavy loads. The black is unassuming and blends into most casual situations and outfits. The proportions are nice for getting on a crowded subway or tossing under an airplane seat. My Thule laptop sleeve for a Macbook Pro 15″ fits into the laptop compartment. Shoulder straps are very comfortable. The bottom of the pack is slightly bigger than the top, which allows for more storage"
u/jdmess401 "I EDC'd a 21L every day for about three years when I commuted 1.5 hours each way via train between my home and Boston for work. Since I didn't have a dedicated spot in the office, I had to carry everything I needed for a full 8-hour day: food, water, laptop, chargers, mouse, cables, battery packs, etc etc. I needed a bag to carry all those items. The GR1 held up incredibly well while performing these tasks. (The wide straps made it easy to lug the weight around, sometimes for hours if there was standing room only on the train.)"
u/heatx "GoRuck backpacks are great! I've used mine daily for the past few years. It's one of the most versatile backpacks I've seen. It can work for almost any scenario. I've used this bag for traveling, college, photography, etc. it easily fits everything I need in it. "
GORUCK is a brand that is very synonymous with the rucking itself. So it can be expected to offer the best products and GR1 fulfills your expectations. It is a compact rucksack that can double as an everyday carry bag as well. It comes in 21 liters and 26 liters sizes. GR 1 comes in special forces medics inspired open flat design. Just open the flap and you can easily organize your rucking backpack. Both shoulder straps and carrying handle comes with the extra padding you so that you won't feel uncomfortable.
GR 1 comes with a promised bombproof laptop compartment. Well, we can't say about combat zones but the hustle-bustle of the city will not harm your MacBook that's for sure. A false bottom in this rucksack ensures that you don't accidentally damage your laptop. The laptop compartment comes with a removable hard plastic frame sheet. This is to stabilize your rucking weights and will let you carry more weight comfortably. YKK zippers that come with rucksack are durable and constructed from parachute 550 cord. It is made from 1000D Cordura fabric. So your rucksack will remain like new even after a long time of rucking. It is rainproof so you won't have to worry about your gear.
The GR 1 comes with 3 pockets – 1 large elastic pocket, 1 large mesh zippered pocket, and 1 small go-to pocket. So you can organize all your stuff. There is also one extra slant pockets for keys and stuff. Also provided are 3 rows of external and internal MOLLE webbing that let you customize GR 1 how you want. You can also clip your hydration bladder into the interior MOLLE webbing. This way you can continue to hydrate yourself without breaking the momentum. And it comes with a lifetime guarantee.
Pros
Made from 1000D Cordura
Open flat design
Perfect size for rucking and every day carry
Removable frame sheet for stability
Modular construction
Scars lifetime guarantee
Cons
Costly
Cordura can wear out your clothes
2. GORUCK GR2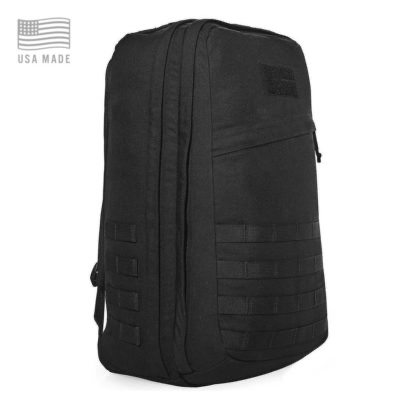 What Redditors had to say about it
u/Outcome005– "I used the GR1 21 liters backpack for all my college time, and it is awesome. And now I use it as a work and travel backpack. You cannot mess with a GORUCK".
u/SilkyChineseFood- "I have a GR2 and use it every day. I hike and travel all the time and get the GORUCK as hand luggage on the place. Had it for a year or more, and it still looks brand new".
u/hackatac- "If you're looking for the toughest bag in the market and ready to compromise to carry the extra weight, then you should buy a GORUCK backpack. I have owned the backpack for nearly 2 years and have performed 2 GORUCK challenges using it and it still stands out and is fantastic. I would say out of the 10 bags I have it carries weight on the shoulders, unlike others. I've put 100 pounds in the bag, and it is still comfortable".
GR 2 from GORUCK is the upgraded version of GR 1. It has all the features of GR 1 with added space and compartments. GR 2 is available in 3 sizes – 26 liters, 34 liters, and 40 liters. If you are looking for a rucksack that will double up as your everyday carry bag we will recommend 26 liters size. But if you carry lots of gear with you, you may go for bigger sizes. All sizes are TSA compliant so you won't have any trouble fitting them in the overhead compartment of airplanes. GR 2 is made from the same 1000D Cordura, so its toughness is guaranteed. It is also rainproof and comes with YKK silent, glove-friendly zippers. The zipper pulls constructed from the parachute 550 cord. Shoulder straps and top handle are extra padded to carry heavier loads more comfortably.
There are 3 internal pockets: 1 large elastic pocket, one large mesh zippered pocket, and one small go-to zippered pocket. It also has a slant pocket on the front that provides you quick access to keys, snacks, and other small items. As in GR 1, it also comes with a removable frame sheet that allows you to carry more weight comfortably. Your laptops will be secure by a reinforced Bombproof Laptop Compartment and a false bottom. There are 4 rows of external and internal MOLLE webbing that let you customize your GR2 how you want. The GR 2 is covered by GORUCK's Scars Lifetime Guarantee, so you will never have to worry about your rucksack.
Pros
1000D Cordura fabric makes it rugged
Open flat design
Silent, glove-friendly zippers
Ample space for all your gears
Removable hard plastic frame sheet
Extra padded straps
Modular construction with lots of compartments
Scars lifetime guarantee
Cons
Because of its size, you might need a hip strap
Cordura can wear out your clothes.
3. Camelbak H.A.W.G – Military Inspired Backpack For Rucking
Camelbak has introduced lots of military-inspired gear for all sorts of outdoor activities like hiking, running, and rucking. The H.A.W.G. is a compact mil-spec backpack perfect for rucking. It has a volume of 23 liters, so you can also use it for the daily commute. Made from 100 percent tough 500D Corduroy fabric, the H.A.W.G is one rugged rucking backpack. The shoulder harness is made of 420D high-density nylon, so durability is expected. It comes with a hydration bladder and a valved tube so you can continue to hydrate yourself without breaking momentum. The bladder is easily detachable for quick cleaning or refilling. There is an Independent suspension harness for optimal load distribution.
The air DIRECTOR back panel is designed for breath ability. The Camelbak H.A.W.G is also lightweight and will not burden your shoulders like some other rucksacks. It is machine washable so you can take it any kind of environment without worrying that it will get dirty. Also provided are adjustable compression straps for minimum or maximum compression, so that you can distribute weight on your shoulders as per your comfort. The zippers are smooth and noiseless. An external quick stash pocket is also provided for your convenience. One of the things it lacks is MOLLE webbing. So you can't attach an extra pouch on the side or front. However, you can easily upgrade your rucksack with a list of accessories offered bu Camelback.
Pros
Detachable hydration bladder
Made from tough 500D corduroy fabric.
Compact and lighter weight design
Breathable back panel
Independent suspension harness
Cons
Maybe a bit small if you carry a lot of gear
No MOLLE webbing
4. Maxpedition Falcon-II – Durable Rucking Backpack
The Falcon-II Backpack is a durable and ergonomically designed product from Maxpedition. At 23 liters this is a compact rucksack that can also serve you as an everyday carry (EDC) backpack. Falcon II is made from 1050-Denier water & abrasion resistant nylon fabric. So it is ready for the tough outdoors. While organizing you can fully open your backpack like a clam shell. It enables you to organize its spacious interior in the most efficient and convenient manner. After packing it up you can press it down with front & side compression straps. The dual-directional YKK zippers add to the quality.
The padded shoulder straps and ergonomic design make it comfortable to wear. It also built-in sturdy sternum & waist belts that provide extra support when hauling heavy gear. The water bladder is great for hydrating yourself on the rucking without having to stop. Falcon II has multiple internal pockets and loop fields for customization. A concealed carry pocket is also provided. The external PALS Webbing is very useful and you can attach an extra pouch to them. One thing that Maxpedition could have done better with the Falcon II is the ventilation on the back. The straps can also use a bit more padding. Otherwise, it is a great product that will accompany you on many expeditions.
Pros
Sturdy and rugged construction
Compact and lighter weight design.
Customizable multiple inner pockets
Hydration bladder
MOLLE webbing
Cons
Lacks ties for the straps
The fabric is stiff and not flexible
5. CVLIFE Tactical Rucksack – Budget Rucking Backpack
This is an affordable backpack designed for rucking and other outdoor activities. CVLIFE rucksack is the largest backpack on our list. It has a capacity of 60 liters so you can haul around all of your gear without running out of space. This rucking backpack is durable and sturdy in construction. It is made from water-resistant 600×600 oxford fabric. The stress points are reinforced for the added strength. On the inside, it has one main large compartment. There is one front detachable bag that can also be used as a tactical fanny pack separately. It also has two side detachable pouches which can be used as first aid bags. There is also a hose thru-put from the main compartment on the top of the bag for a water bladder to be used from.
The shoulder straps are padded and covered with dual density ventilated mesh, so the won't cut into your arms even with a heavy weight. A cinching waist strap provides extra support and distributes the weight more evenly. Once you are all packed you can tighten it with dual compression straps. CVLIFE has provided a padded back that adds to the comfort. The zippers are heavy duty and won't get stuck because of outside dust and grime. There are rain diverting flaps to keep them dry. The extensive MOLLE webbing on the outside allows you to easily attach outdoor gear, more pouches and sleeping pad.
Pros
Great price
Sturdy construction with reinforcing at stress points
Spacious
Padded back and shoulder straps
Multiple detachable pouches
MOLLE webbing for extra attachments
Cons
Waist strap could be more adjustable
Zippers do make a little noise when you are moving
6. 5.11 RUSH24 Military Rucking Backpack
In this list, we have mostly covered brands whose product strictly follows military standards, and 5.11 is one such brand. The Rush 24 is an excellent rucking backpack from the brand 5.11. It is a fine piece of craftsmanship made from 1050D nylon. Its durable and sturdy construction makes sure it can take its fair share of punishment. You can carry your Rush 24 with you on hiking, trekking, camping or even hunting trips apart from your daily commute or rucking. A water-repellent coating makes it rainproof. Its 37 liters space is roomy enough for all your gear and not too big for the airplane compartments. This is a backpack built to be ready for anything. Rush 24 comes with a reinforced grab-and-go handle for you to drag it around. On the inside are three mesh admin compartments for you to organize all your gear. The dual zipping side pockets and a stuff-it pocket with integrated draw cord and glove-friendly pull tabs are nice to have. We also liked that 5.11 provided a zippered fleece-lined eyewear pocket.
Also provided is a zippered side water bottle pocket. A pocket for the hydration bladder is also there. There are built-in twin drainage grommets so that any spillage doesn't spoil your gear. Rush 24 is designed with a contoured yoke shoulder strap system, which feels nice on your shoulders. An adjustable height sternum strap provides extra stability. The two external compression straps will pack your gear tightly so that they don't move around while you are rucking. A hook and loop name tape and flag patches are a nice touch. Self-repairing YKK zippers are a good thing considering this is designed for rough environments. The wrap-around MOLLE / SlickStick web platform for you to attach add-ons.
Pros
Made from tough 1050D nylon
No lack of space
Multiple pockets for different purposes
Not too heavy on the wallet
Comes with wrap-around MOLLE webbing
Cons
Lacks a quick-access side pocket
Lacks a waist belt
Best Backpack for Rucking Reddit 2023 Buyers Guide
The market is flooded with rucksacks and tactical looking backpacks from a multitude of brands. So we understand that it might be a bit daunting to find the right rucking backpack for you. Still, it is absolutely necessary to pay attention to details before buying the right rucking backpack. A hastily chosen rucking backpack may not only feel uncomfortable during rucking but may also lead to injuries. Worry not, this article here will help you in making the right choice. We will see all the things that should be looking for in a rucking backpack before you make a purchase.
Comfort: No matter if you are just adopting rucking or have a more ambitious drive. Whether you just want the fitness benefits or you want to take up the challenge – comfort is paramount. Discomfort from a wrong rucking backpack can suck out all the joy you were hoping to get from your rucking march. Make sure that your rucksack has padded straps and back. It must also distribute the weight evenly, this would be good for your posture too.
The straps should have thick foam padding and should be wide. Thick padding enables you to carry more amount of weight without feeling uncomfortable. Wider padding distributes weight more evenly on your shoulders. A chest or sternum strap is prudent. It will let you decide how the weight is distributed around. Another good choice will be looking for the model with a reinforced handle for dragging your rucking back.
Pockets for rucking weights should be given. The pockets will hold the wight snuggle so that it doesn't move around when you are walking. Compression straps will also help you in fixing your rucking backpack.
Utilitarian: As we mentioned that most top brands standby their products for a lifetime. So it would be prudent to get the backpack that comes with all sorts of pockets. A bag that comes with a pouch or attachment for your water bottle is sensible. This is that you can quench your thirst without breaking your momentum. It is also just good sense to get a backpack that comes with extra features like a laptop compartment. This is so that you can also use it in your everyday life.
Heavy-Duty: Rucking is an outdoor activity so it should be obvious that your rucking backpack is durable. As the rucking involves long marches with a heavy weight on your back. So you must make sure that your backpack doesn't just come apart at seams. It should also be able to resist abrasions when you are dragging it outdoors and not start wearing or tearing.
The attachment between straps and back is usually first to give out, so make sure that it is reinforced. Another thing to make sure is durable zippers. See that zippers are big and ready to brave the elements.
Make sure that stitching is done from heavy-duty nylon threads. You can try pulling at the stitched part, you should be able to feel it. The stitching should stretch unreasonably.
That the rucking backpack should be made from tough, abrasion-resistant, and water-resistant fabric goes without saying. Rucking backpack made from nylon cloth will be better and more durable than the ones made from polyester. We would recommend you to get one made from 1000D Cordura Nylon.
Read Next:
Last update on 2023-10-01 / Affiliate links / Images from Amazon Product Advertising API