If you're reading this article, one this is probably true you don't know to code.
Well, neither do I! However that never stopped me from making a career in blogging and online marketing for over 3 years and even building websites for a living.
How?
Well, Drag and Drop builders! Now, I'm not talking about sites like Wix or Squarespace (because they suck for your SEO rankings on Google) I'm talking about Drag and Drop Builders in WordPress.
In this Divi Theme Review, I'll dive into the pros and cons of Divi Theme from Elegant Themes, how it's making it easier for people like you and me to build great looking websites without coding!
Exclusive Offers For JeremyNoronha.com Readers
JeremyNoronha.com readers can get a 20% Discount on Divi. Simply click the link below and signup and the discount will be applied automatically.
Hurry Up! Limited Time Offer.

Divi 4 Theme Review
Divi theme is an incredible theme building from WordPress that's built like a premium product, however, it's incredibly affordable even for someone building their first website.
Instead of paying for the theme itself, you buy access to Elegant Themes' whole catalog of themes and plugins. Luckily, this doesn't turn out to be that pricey and is a one-time payment.
Read to figure out why…
About Divi Theme 4
Elegant Themes the company behind Divi has been around for eight years, and have served over 500,000 customers to date. Just as most online marketing companies, Elegant Themes has a large team working in several countries around the world.
Divi started out as a page builder that allowed you to build landing pages in WordPress, however, over the years it's grown to be a complete theme builder that allows you to do everything from Popups to structure posts.
In the past to build a simple website you'd have to write all the code manually which was time-consuming and complex. Or you would have to rely on a theme that you couldn't edit (and most of them looked like crap)
However recent advancements have introduced builders and themes like Elegant Themes and Divi with which you don't need to learn to code rather just use drag and drop features that allow you to see changes made to your site on the front-end.
Divi is what a canvas is to an artist, It allows you to design beautiful websites without having to manually write the code on the backend.
The best part is even if you do want to code it now has a "code module", to allow you to manually enter your custom code on the backend! So if you are into coding it's still a great option for you!
Divi 4 Theme Features
1. Drag and Drop Theme Editor
You install Divi just as you would any other WordPress theme and once you go to modify it you're presented with a beautiful to use drag and drop editor.
What does a drop and drop theme editor mean? Basically think of modifying your website like "Minority Report"
Yeah! It's that good, you just drag the things you want where you want it.

You don't have to "save and Publish your site" to see how it will look when it goes live as you have to do with most WordPress themes. Instead, you are editing it in real-time.
What you see on the page when you are editing is what the final product will look like!
Additionally, you also get the Divi builder Plugin which you can use with any WordPress theme so if you feel like getting a specific WordPress theme you can still use the Divi builder plugin to make changes to it much more efficiently and to a higher degree of customization.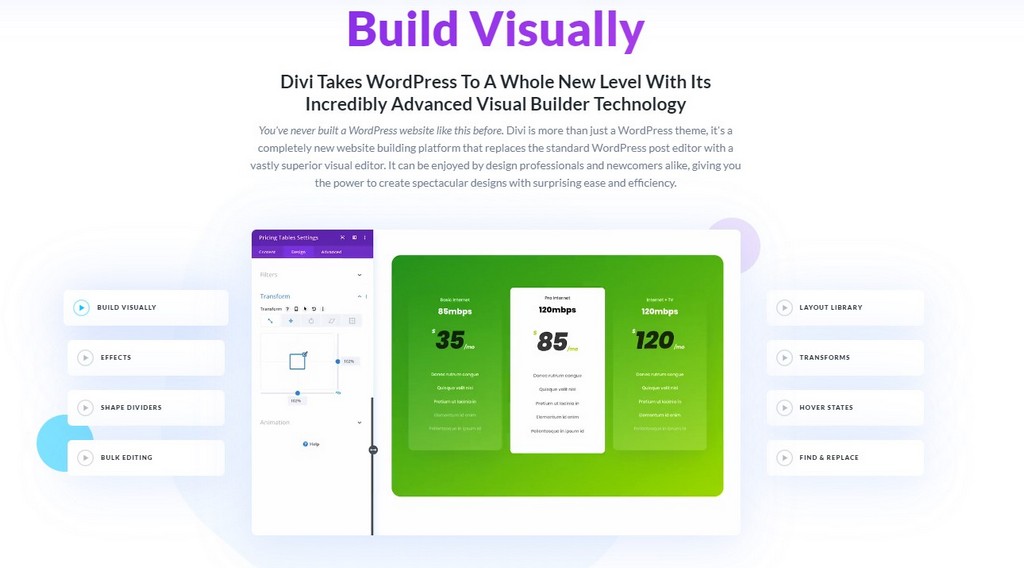 2. 40+ Website Elements
The Divi Theme comes built-in with a ton of great website elements like "CTA button", "Sliders" Testimonials etc, so you don't have to invest in extra marketing plugins for your WordPress business.
Your Divi membership also gives you access to the Bloom Email Opt-in Plugin as well as Monarch Social Plugin making email capture and social media marketing so much easier.
3. 800+ Website Designs
Divi comes bundled in with 800+ pre-designed templates that you can use and edit so you can design your blog pages to look exactly the way you want it to.
It doesn't matter what type of website you're planning on building, Divi has a template that makes it super easy for you to import a design and just modify it to fit your needs.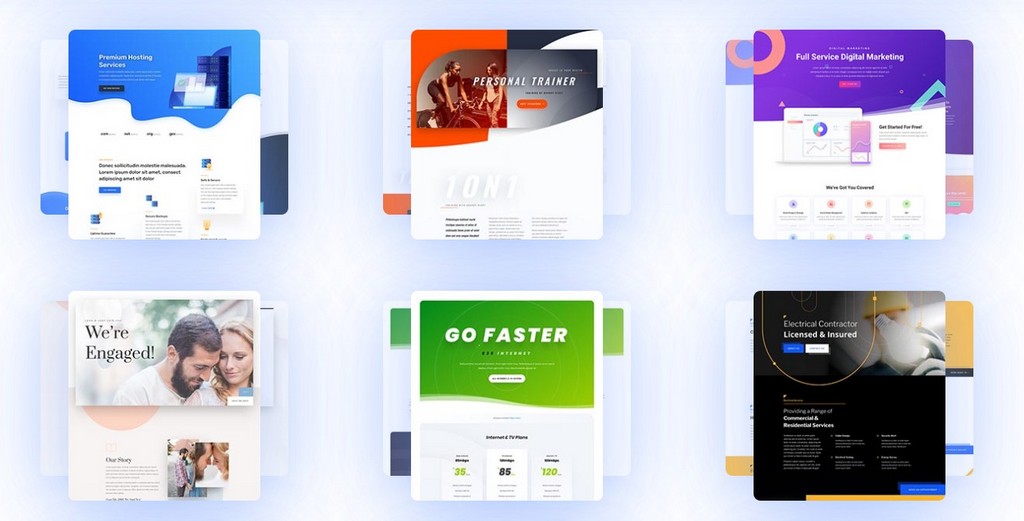 Brand new layouts are added weekly along with royalty-free photos, icons, and illustrations.
This is extra great for freelancers looking to build websites for clients as they can easily just import a new template based on their clients business and just modify it to fit the requirements.
4. Unlimited Everything
Once you sign up for Elegant Themes you can use the Divi theme you can use it on as many sites as you want! That includes any number of clients websites or even your own websites you may build.
5. 24/7 Great Support
As an Elegant Themes subscriber, you can get 24/7 Premium support from Elegant Themes, however, given the size of their support and tutorials it's unlikely you'll have to contact them. However they're always there is you need them. It doesn't matter if you're a beginner, their support team will be there to back you up!
6. Lifetime Plan
One of a huge plus of Elegant Themes is that it comes with a lifetime subscription option with which you can use Divi for free for life and get all future updates and upgrades.
With the lifetime membership, you have no yearly fees. You can just purchase once and get access to product updates forever. Click here to get an extra 20% off the lifetime plan.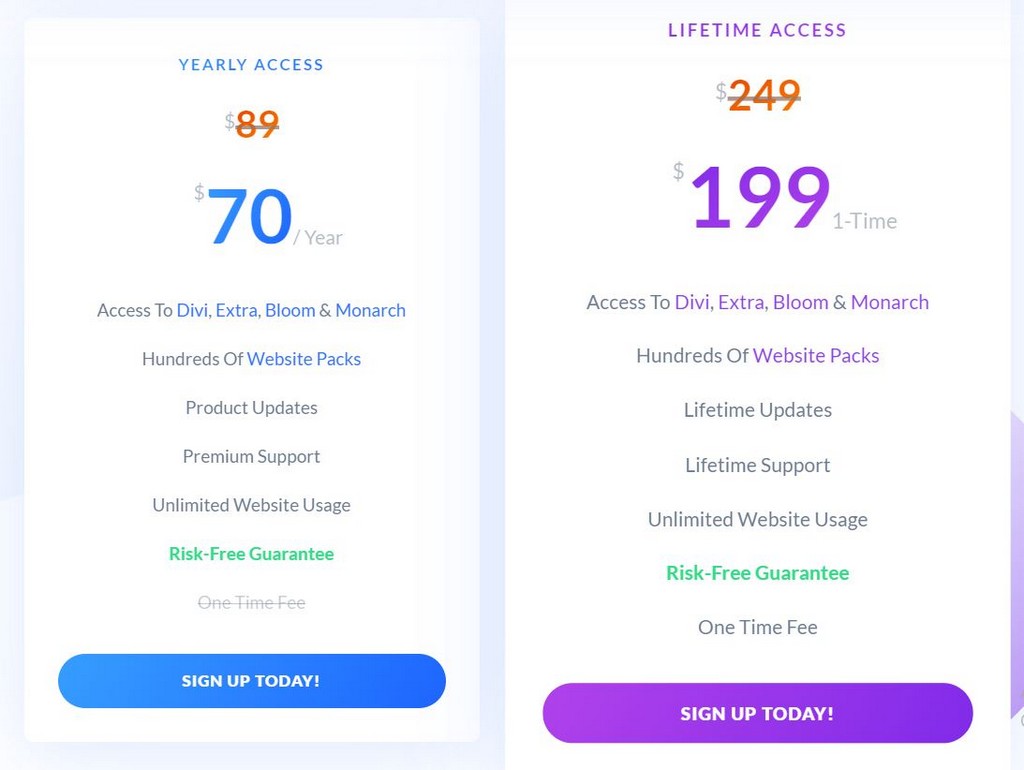 I would personally recommend the lifetime membership plan as it is much cheaper in the long run and is equal to a little more than paying for 2 years of the yearly plan.
Another big plus is once you've got the lifetime plan, you can then use Divi on unlimited websites without worrying about renewing your license every year. (also you don't have to worry about your theme expiring on past clients websites.)
7. Website Optimization
Divi comes built-in with an A/B testing tool that allows you to test multiple designs to check what converts best.
You can use A/B testing for every module you make. 
It even goes as far as to record the bounce rate of a particular page which is basically how fast users move away and how much time their spending on so you can get rid of what doesn't work and focus on what works.
Divi Theme Examples
It's a common myth to think a website built using a page builder is bloated or looks common However it can be customized to a great degree using custom code and help from support.
The websites look just like every other if not better.
Divi Customer Support
I've learned (the hard way) that for anything I buy, a super important criterion to make sure it is a worthy investment is the after-sales support. Luckily Divi turns out to have a really really really good support team.
Divi's Customer support tends to back to you within an hour! So you can work on the other aspects of my website when I have an issue and come back to my ticket to have a solution that always works.
Most of my queries are code-based and I think yours will be too and the replies and help you get is the equivalent of hiring people on Fiverr or even Upwork. (for FREE!)
When you're using a product like a WordPress Page builder there will be A LOT of can I do this type of questions and if the support is shit you're going to end up spending a lot of time on google trying to fix the problems rather than actually build the site!
Divi Theme Documentation
If you're one of those who like reading through manuals and guides you'll be in for a treat with the comprehensive guides and documentation on the Elegant themes page. I personally learn through the application but it's definitely useful to have an organized dedicated resource of guides.
If you're not into text you'll be surprised to find video guides by Divi and many other DIVI web designers. In fact, the official DIVI channel has over 800 videos that cover literally everything. I almost always find the solution to my problems on their channel if not from another DIVI designer. They're constantly updating with cool series that I always find packed with value
Divi Theme Pricing
The Divi Pricing is pretty cheap for what it offers especially thanks to the Divi Sale. You can get a Lifetime plan with Divi, while the Elementor Pro Price is only yearly.
YEARLY ACCESS
Access To Divi, Extra, Bloom & Monarch
Hundreds Of Website Packs
Product Updates
Premium Support
Unlimited Website Usage
Risk-Free Guarantee
Price: $89 / Year
LIFETIME ACCESS
Access To Divi, Extra, Bloom & Monarch
Hundreds Of Website Packs
Lifetime Updates
Lifetime Support
Unlimited Website Usage
One Time Free
Price: $249 One time
Elegant themes has two pricing plans to purchase the Divi theme which is $89 for yearly access and $249 for a lifetime license.
Exclusive Offers For JeremyNoronha.com Readers
JeremyNoronha.com readers can get a 20% Discount on Elegant Themes. Simply click the link below and signup and the discount will be applied automatically.
Hurry Up! Limited Time Offer.
Both plans give you access to all Elegant Themes products which personally is immensely valuable which include:
Monarch Social Sharing:

social sharing plugin

Bloom email Opt-in:

Email lists

Extra theme:

popular theme for a content-rich magazine-like websites

Loads of DIVI themes that are great to build quick websites/landing pages.
What Divi Pricing plan is right for me?
If you are not sure about whether you want to stick to DIVI and want to just try it out for fun then go for the

$89

yearly plan.

If you see yourself using this

for clients as well I recommend you go for the $ 249-lifetime license!

If your license runs out and they're still on Divi the updates won't work and the websites

would cease to function.
Is The Divi Theme Worth it?
The answer is definitely yes, for only 70$ per year (with my discount), you can edit your entire website and build the blog you want instead of settling for some boring theme.
Divi is a WordPress theme among thousand other themes but what makes it stand out for me is it is just enough to give you that level of comfort but also challenges you to go further improvising on your web design.
It isn't a website builder rather a WordPress page builder allowing you to still create light websites while enjoying the comfort of a builder.

Divi is a canvas allowing you to create literally any theme you just need to get a little creative with it.
And you can get all that for less than 6 dollars a month with my Divi Discount Code!
Exclusive Offers For JeremyNoronha.com Readers
JeremyNoronha.com readers can get a 20% Discount on Elegant Themes. Simply click the link below and signup and the discount will be applied automatically.
Hurry Up! Limited Time Offer.