In April 2018 I graduated from college and decided to not join the rat race but rather start out my very own hustle. Divi by Elegant Themes helped make that happen.
I wanted to learn a set of skills that would allow me to live independently. I started reading about all these digital nomads and felt like that is something I want to do.
Jeremy a childhood friend was already running a successful blog and traveling around the world which inspired me to take that first step into the unknown and start a blog.
However I didn't know how to code or even the basics of a website I also knew nothing about building a blog, nada but I couldn't give up just yet I had to at least try so I simply went full on google search mode…
Fast forward about 2 months and today I've successfully built not one but 3 websites and I also freelance building websites and the best part I still do not know how to code but I understand how it works and the basics without doing a single course or boot camp and it's all because I stuck to using the Divi Elegant Themes WordPress builder!

Exclusive Offers For JeremyNoronha.com Readers
JeremyNoronha.com readers can get a 20% Discount on Elegant Themes. Simply click the link below and signup and the discount will be applied automatically.
Hurry Up! Limited Time Offer.
---
Divi Elegant Themes Review
The Divi theme is a premium product, but the pricing model is a new and original one in the WordPress space. Basically, instead of paying for the theme itself, you buy access to Elegant Themes' whole catalog of themes and plugins. Luckily, this doesn't turn out to be that pricey and is a one-time payment.
About Elegant Themes?
In the past to build a simple website you'd have to write all the code manually which was time-consuming and complex. However recent advancements have introduced builders and themes through which you don't need to learn to code rather just use drag and drop features that allow you to see changes made to your site on the front-end.
Divi is a bit of both it is a WordPress Theme and a Page builder making it an all-in-one WordPress Theme.
Divi is what a canvas is to an artist, It allows you to design beautiful websites without having to manually write the code on the backend. The best part is even if you do want to code it now has a "code module", to allow you to manually enter your custom code on the backend! So if you are into coding it's still a great option for you!
How does Divi Elegant Themes work?
Divi is like a WordPress theme you get a .zip folder which you simply upload as a theme to WordPress and then activate it. Additionally, you also get the Divi builder Plugin which you can use with any WordPress theme so if you feel like getting a specific WordPress theme you can still use the Divi builder plugin to make changes to it much more efficiently and to a higher degree of customization.
Divi 3 being a Drag and Drop Page Builder allows you to build your page on the front-end of your website. Using the Visual composer plugin it allows you to make changes in real-time a WYSIWYG(what you see is what you get) feature of the builder. This makes it really easy to see what you are creating before even hitting the publishing button which is huge for people who don't know the code to enter manually on the backend.
Divi Elegant themes review
When I first decided to get Divi I got it simply over a whim which was not the way to get something like this. It's good that you are reading a review of Divi before. Perhaps it was a blessing in disguise to be ignorant but fortunately for you by the end of this article you will know if DIVI is for you or not. This is my unbiased review of Divi 3 Elegant Themes after using it for 3 months!
Divi Theme Examples
It's a common myth to think a website built using a page builder is bloated or looks common However it can be customized to a great degree using custom code and help from support.
The websites look just like every other if not better in fact if you just google "Dovo websites" there's plenty of articles or just go to my blog entirely built by Divi elegant themes. I personally use Divi like a canvas If I see something that intrigues me on the internet I just make it better and implement it on my website. Your imagination is the limit and the end product is a responsive mobile-friendly website!
Commercial Feasibility of DIVI
I'll get straight to the money (pun intended) to talk first about whether your websites will actually work for your business. This is probably of the highest priority if you are looking to make money from your website. Just like any business the commercial feasibility of your business would depend on whether your website is loads fast, SEO-friendly and whether it is optimized to convert.
The website speed: I like to go crazy with my designs but still with some optimization my website is still pretty fast. As long as you don't use all the features in DIVI's arsenal you should be fine. There are many guides to speed up your website.
SEO-friendly: Yes Divi is SEO-Friendly if perform regular SEO audits and submit your page to the crawlers and overall create a clean, bloat-free website you should be good.
Website Optimization
The thing about optimization is it's speculation until you get real data which is where Divi's A/B testing comes in. It's basically testing out which designs work the best for conversions something like tinder's smart photo feature that shows only the best matching pictures after tracking the swipes to photos.
Divi has something called A/B testing for every module you make. If you've been reading Jeremy's blog he goes on and on about SEO this and SEO that and I can't tell you how important it is for your website.
However, most of the tools are pricey and the free tools aren't worth the time but you don't really have to spend on these tools if you simply optimize your site for the best possible conversions.
It even goes as far as to record the bounce rate of a particular page which is basically how fast users move away and how much time their spending on so you can get rid of what doesn't work and focus on what works.
The Page Builder Interface
I like the organized layout and having pre-made formats for content. This speeds up the page building process immensely. To add content to your page you simply select the appropriate module and begin adding into the template. For instance, the button module literally adds a button and you simply enter in the text and you're all set, It's that simple!
Backend: On the backend, Divi 3 follows a 'boxed layout' representing modules. I usually use this to make quick edits to my pages as it's easier than the front-end due to the compact box layout.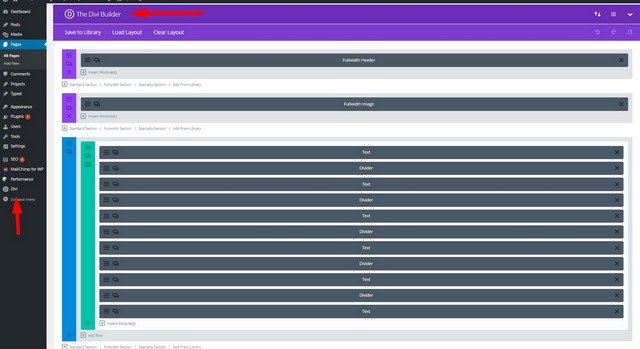 Front-End: This is basically seeing what content you are putting on the website. You're seeing what your customers see. I use this a lot as I like to see whatever changes I'm doing.
A very important feature to have is the ability to switch through mobile, tablet and PC view. Most websites are not mobile friendly which is basically a shitty website in 2019. Which is why knowing how to make a website mobile friendly is huge in the web design world and a must if you want to build any website. It's where most of your customers are hanging out!
The builder extends to even the font and size which is huge because font size mattress and needs to be made responsive for different screens. Even the spacing can matter and all this is already provided by the DIVI builder mobile/table styles section.
The best part about the builder is the ability to save your designs for future use: I run a blog where I keep posting content in format's I would pretty much use everywhere for instance for Product Review articles and I like to keep the same design across all my platforms. Divi knows this and has a library session to save all your templates so you can literally copy paste them and write articles in minutes. If you're feeling lazy you can also use their predefined layouts to create full pages from Divi's set of layouts.
The Divi Customer Support
I've learned (the hard way) that for anything I buy, a super important criterion to make sure it is a worthy investment is the after sales support. Lucky for me Divi turned out to have a really really really good support team.
No I'm not trying to oversell Divi I'm only saying this because I've used this feature A LOT (Yes they probably hate me). They usually get back to me within an hour! So I can work on the other aspects of my website when I have an issue and come back to my ticket to have a solution that always works.
Most of my queries are code based and I think yours will be too and the replies and help you get is the equivalent of hiring people on Fiverr or even Upwork. I've learned to read code because of Divi support and I can confidently build websites that are almost as good as something built by developers.
My point is when you're using a product like a WordPress Page builder there will be A LOT of can I do this type of questions and if the support is shit you're going to end up spending a lot of time on google trying to fix the problems rather than actually build the site!
Helpful documentation & Guides
If you're one of those who like reading through manuals and guides you'll be in for a treat with the comprehensive guides and documentation on the Elegant themes page. I personally learn through the application but it's definitely useful to have an organized dedicated resource of guides.
If you're not into text you'll be surprised to find video guides by Divi and many other DIVI web designers. In fact, the official DIVI channel has over 800 videos that cover literally everything. I almost always find the solution to my problems on their channel if not from another DIVI designer. They're constantly updating with cool series that I always find packed with value
The Divi Community
(aka Divi Nation)
You might find it odd that I'm adding this to a product review but personally the community around this product is HUGE. I honestly haven't seen a company create a community of users that engage with the product and among themselves.
There are authority Divi blogs with loads of free content, guides, podcasts what not!  I'm already part of 2 facebook groups and am regularly watch a ton of DIVI related videos and follow a ton of blogs. I definitely see myself getting into this space for my blog in the future. I didn't realize this when I was getting Divi but it's not just a SAAS software rather a ticket to a world of designers, creatives and honestly, I've learned a lot from this to the point where I freelance building websites.
Divi 3 Elegant Themes vs WordPress Themes
If you are looking to build a website for your business or one you plan to make money off it's best to go for a WordPress theme or even better the DIVI 3 Elegant Themes page builder. It will save you money and time still keeping that professional functionality and support you definitely need on a website.
| | | |
| --- | --- | --- |
| Metric | DIVI Elegant Themes | WordPress Theme |
| Usability | Compatibility with any WordPress Theme and plugins. | Restricted to one theme but most plugins. |
| Size | Larger but can be optimized to perform fast. | Smaller due to one theme. |
| Functionality | Highly Customizable into any imaginable WordPress website | Highly restricted to the theme. |
| Pricing | 89$ yearly Plan / 249$ Lifetime (Includes 3 Paid Plugins, 89 Themes) | $50 onwards for a bloat-free theme |
| Reason to buy | You are highly creative who is not satisfied with just one look | You don't plan to change the look of your site and aren't looking for much customization rather a basic level site. |
Divi Elegant Themes vs Website Builders
Now I know Divi is a WordPress Page builder and not a website Builder but the two are often mistaken for the same. The latter is more of an all-in-one website the most common one being Wix that using its own hosting plans and content management system.
Metric
DIVI Elegant Themes
Website Builders(WIX)

Usability

Compatibility with

any

WordPress Theme and plugins.

Restricted to one theme

but most plugins.

Size

Bigger than WP themes but can be optimized to perform fast and reduce size

Bloated and Heavy meaning your site loads slower.

Functionality

Highly Customizable into any imaginable website. You can literally copy the best practices followed by businesses and implement it in your site.

Highly restricted to the themes the builder supports and everyone using the builder is using the

same theme.

Pricing

$89 yearly Plan / $249 Lifetime (Includes 3 Paid Plugins, 89 Themes)

Costlier at 20$ per month which can easily add up with the upsells that can easily go to 140$/year

SEO Friendly?

Yes, you can DIVI has inbuilt SEO features, A/B testing to increase conversions. You can optimize it additionally to perfection.

Depending on what plan you go for which is basically paying more for features like even SEO.

Reason to buy

You are highly creative who is not satisfied with just one look and want a website that you can customize to the tee

You're too lazy to set up a website and want an all-in-one option with hosting.
Divi Theme Pricing
Divi Elegant Themes is pretty cheap for what it offers. Unlike Elementor that only offers a yearly pro plan, you can get a Lifetime plan with Divi, so you don't have to pay yearly for Divi Elegant Themes.
YEARLY ACCESS
Access To Divi, Extra, Bloom & Monarch
Hundreds Of Website Packs
Product Updates
Premium Support
Unlimited Website Usage
Risk-Free Guarantee
Price: $89 / Year
LIFETIME ACCESS
Access To Divi, Extra, Bloom & Monarch
Hundreds Of Website Packs
Lifetime Updates
Lifetime Support
Unlimited Website Usage
One Time Free
Price: $119 One time
Elegant themes Divi offers you two pricing plans to purchase the Divi theme which is $89 for yearly access and $249 for a lifetime license.
However, if you click this link or any link in this article, you can get a special 20% Discount on the normal prices 🙂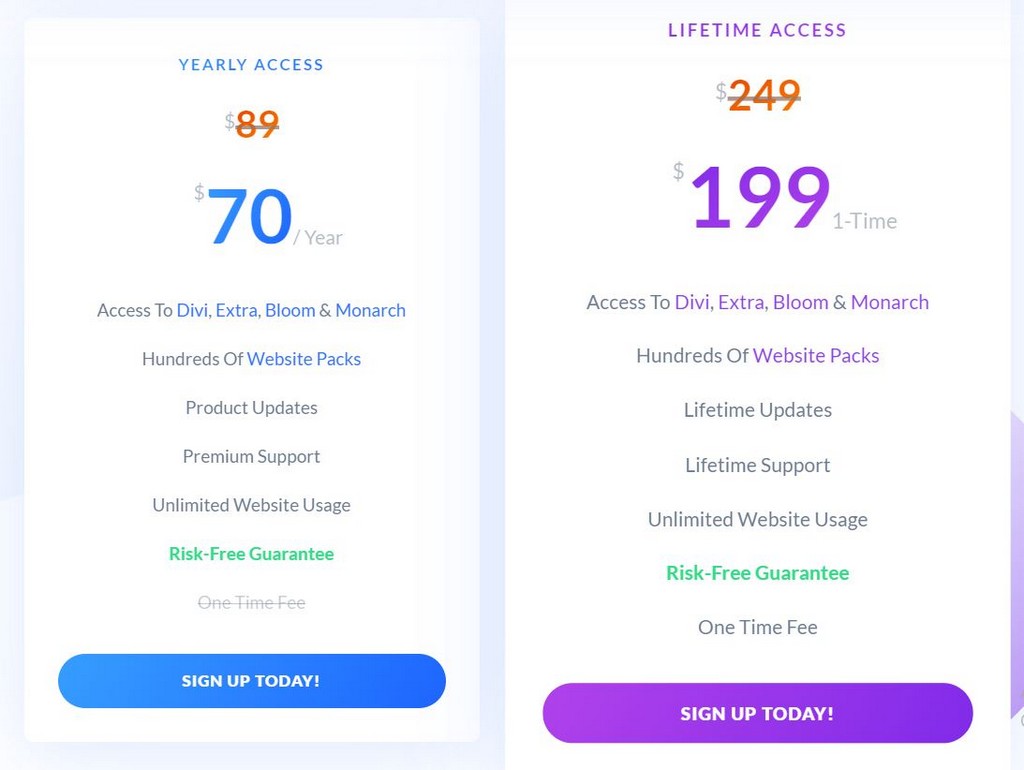 Both plans give you access to all Elegant Themes products which personally is immensely valuable which include:
Monarch Social Sharing:

social sharing plugin

Bloom email Opt-in:

Email lists

Extra theme:

popular theme for a content-rich magazine-like websites

Loads of DIVI themes that are great to build quick websites/landing pages.
What Divi Pricing plan is right for me?
I went for the $89 yearly plan which I greatly regret because I'm definitely going for the lifetime plan now so I'm spending $199 to get Divi.
If you are not sure about whether you want to stick to DIVI and want to just try it out for fun then go for the

$89

yearly plan.

If you see yourself using this

for clients as well I recommend you go for the $ 249-lifetime license!

If your license runs out and they're still on Divi the updates won't work and the websites

would cease to function.
Is Divi Elegant Themes Worth it?
The answer is definitely yes, for only 70$ per year, you can edit your entire website and build the blog you want instead of settling for some boring theme.
Divi is a WordPress theme among thousand other themes but what makes it stand out for me is it is just enough to give you that level of comfort but also challenges you to go further improvising on your web design.
It isn't a website builder rather a page builder allowing you to still create light websites enjoying the comfort of a builder.

Divi is a canvas allowing you to create literally any theme you just need to get a little creative with it.

I am someone who keeps improvising so for me to stick to one WordPress Theme is simply impossible! Which is why Divi works perfectly for me as it allows me to make drastic changes without much effort.
That's less than 6 dollars a month with my Divi discount code! 
Exclusive Offers For JeremyNoronha.com Readers
JeremyNoronha.com readers can get a 20% Discount on Elegant Themes. Simply click the link below and signup and the discount will be applied automatically.
Hurry Up! Limited Time Offer.
If I were to stick to a regular WordPress Theme I can definitely see myself eventually getting tired of it and buying another one! Hence rather than shelling out money unnecessary I rather just use an all-in-one WordPress builder to keep improvising for free and at the same time enjoy performance equivalent to a custom-coded site which is something you won't see in a bloated website builder.
Simply put You don't buy DIVI because you want a  cool WordPress Theme you buy it because you care about the design and performance of your website but can't spend a lot of time learning or writing to code for complex websites.
Drawbacks and Elegant Themes Alternatives
Short-codes:
When using a builder plugin the only drawback is short-codes or code that isn't clean if a situation arises where you switch your site over to another platform you developer will have to spend a bit of time remove all the shortcodes.
Larger Page size: When compared to a custom coded website a Divi site is larger because of the former is of clean code. If you optimize the cache settings, images you should be able to minimize this to a very competitive size.
Confusing Customization: building a website is no easy feat a WordPress builder tool like Divi sure makes it easy but you still need to learn how to use it which takes a little bit of time and dedication. If you want to make basic looking websites then it's not an issue!
To save you the time I have decided to share my top pick when it comes to Divi Alternatives,
1. Elementor Pro
Elementor is a WordPress Page and Theme Builder that was founded in 2016. In just 3 years, Elementor has more than 2,000,000 active installs and is loved by many and has over 3,000 five-star reviews.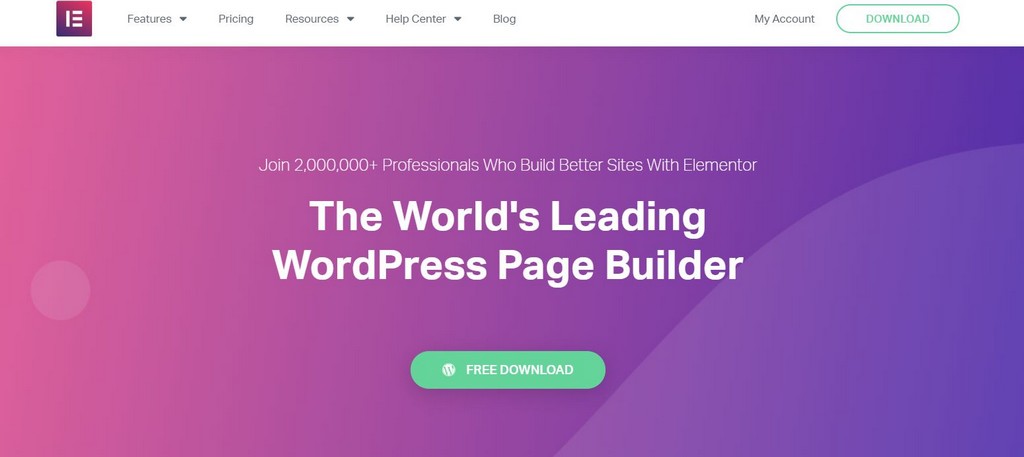 Elementor is current without a doubt the best Free WordPress Page Builder, Elementor comes as a WordPress Plugin and the Elementor Pro subscription add more to the capability of the plugin.
You can get started with the free version of Elementor directly by clicking here. However, the free version of Elementor is limited in what you can do and it's definitely worth upgrading to Pro.
Get The Best Deal on Elementor Pro Now! Simply click the link below!
Click Here to Get Elementor Pro
---
I hope you found this Divi Elegant Theme review helpful to make an informed buying decision. Remember that no tool will give you success it's only through application and actual execution it that you will learn. Anything is possible you just have to take that extra step to try.
This is a guest post by my friend Mark who blogs at Dherealmark.com. Follow him on your favorite median. Cheers!