TL;DR: The Divi Theme is a power packed Theme that's built like a premium software. With features like Split Testing, Version Control and Transform Controls, it covers every aspect of design and functionality. Although it doesn't have a free option, it offers a lifetime plan that gives it an edge over its main competitor – Elementor. If you're looking for a well rounded theme, I would highly recommend giving the Divi Theme a try.
Exclusive Offers For JeremyNoronha.com Readers
JeremyNoronha.com readers can get a 20% Discount on Divi. Simply click the link below and signup and the discount will be applied automatically.
Click Here To Get The Discount While It Lasts
Hurry Up! Limited Time Offer.
Page Builders have revolutionized web development and made it faster, easier and extremely affordable for anyone who can use a computer to build a website without any technical knowledge.
While earlier you would have had to pay top dollar for attractive themes or talented web developers, today, you can easily do everything yourself at a fraction of the cost!
When there's talk of the top WordPress themes or page builders, there are a few names that have consistently dominated the charts over the years. One such name is the Divi Theme by Elegant Themes.
In this Divi 4 Theme Review, I'll dive into the pros and cons of Divi Theme from Elegant Themes, how it's making it easier for people like you and me to build great looking websites without coding!

Divi Theme Review
Divi theme is an incredible theme building from WordPress that's built like a premium product, however, it's incredibly affordable even for someone building their first website.
Instead of paying for the theme itself, you buy access to Elegant Themes' whole catalog of themes and plugins. Luckily, this doesn't turn out to be that pricey and is a one-time payment.
Read to figure out why…
About Divi Theme 4
When most people refer to Divi, they're usually referring to 2 individual things built by Elegant Themes – ie the Divi Theme and The Divi Builder. While you can only use the Divi Theme with the Divi Builder, the builder itself isn't restricted to the Divi Theme and can be used on other WordPress themes as well.
Built by industry veterans – Elegant Themes, Divi is one of the most popular WordPress theme and page builder combos out there today. From Freelancers to Agencies and Website owners, Divi is perfect for anyone who's looking to Build, Design, Customize, Promote, Sell or Showcase just about anything online.
In this Divi Theme Review, I'll lay out the pros and cons, key features, and major drawbacks of using Divi so you can decide if this is the perfect theme and page builder combination for your next project.
Elegant Themes the company behind Divi has been around for eight years, and have served over 500,000 customers to date. Just as most online marketing companies, Elegant Themes has a large team working in several countries around the world.
In the past to build a simple website you'd have to write all the code manually which was time-consuming and complex. Or you would have to rely on a theme that you couldn't edit (and most of them looked like crap)
However recent advancements have introduced builders and themes like Elegant Themes and Divi with which you don't need to learn to code rather just use drag and drop features that allow you to see changes made to your site on the front-end.
Divi Theme Review – Pros and Cons
Before we dive into this Divi Theme Review, here are some of Divi's Pros and Cons to give you a quick idea ofwhat I love about Divi and the few quirks that come along with it –
Pros
Powerful Visual Page Builder
800+ Pre-made Templates
Supports 32 languages
Website Optimization with built-in A/B testing tool
Responsive Editing
Global Elements
One of the best Support teams + Community Forum
Cons
Lacks a Popup Builder
Short codes When You Deactivate
Steeper learning curve
Can be Glitchy With Long Pages
Divi 4 Theme Review
Divi is more than just a theme or page builder combo, with additional plugins like Bloom and Monarch to help you build a comprehensive marketing strategy – it's a complete package.
Let's look at some of Divi's Key Features to see what makes it so good.
1. Divi Theme Builder Review
Powerful Visual Builder: The Divi Builder is an extremely powerful Drag and Drop style Visual building tool that makes it easier for you to design your website live on the front end without having to deal with endless lines of code.
Custom CSS Control: To make it truly versatile, Divi allows Custom CSS control to those who're looking to tweak Divi's visual designs with their own CSS, making its interface simple without limiting functionality.
Responsive Editing: Divi is completely responsive by design, which means you have full control over how your website looks on all devices and screen sizes.
Inline Text Editing: Editing your pages with Divi means you can draft pages directly on the front end of your website by clicking and typing on the front end and viewing results instantly.
Revision Control: Divi is designed like a modern software application that easily lets you undo or redo changes, and browse through your entire editing history to find and fix mistakes or changes
You install Divi just as you would any other WordPress theme and once you go to modify it you're presented with a beautiful to use drag and drop editor.
What does a drop and drop theme editor mean? Basically think of modifying your website like "Minority Report"
Yeah! It's that good, you just drag the things you want where you want it.
You don't have to "save and Publish your site" to see how it will look when it goes live as you have to do with most WordPress themes. Instead, you are editing it in real-time.
What you see on the page when you are editing is what the final product will look like!
Additionally, you also get the Divi builder Plugin which you can use with any WordPress theme so if you feel like getting a specific WordPress theme you can still use the Divi builder plugin to make changes to it much more efficiently and to a higher degree of customization.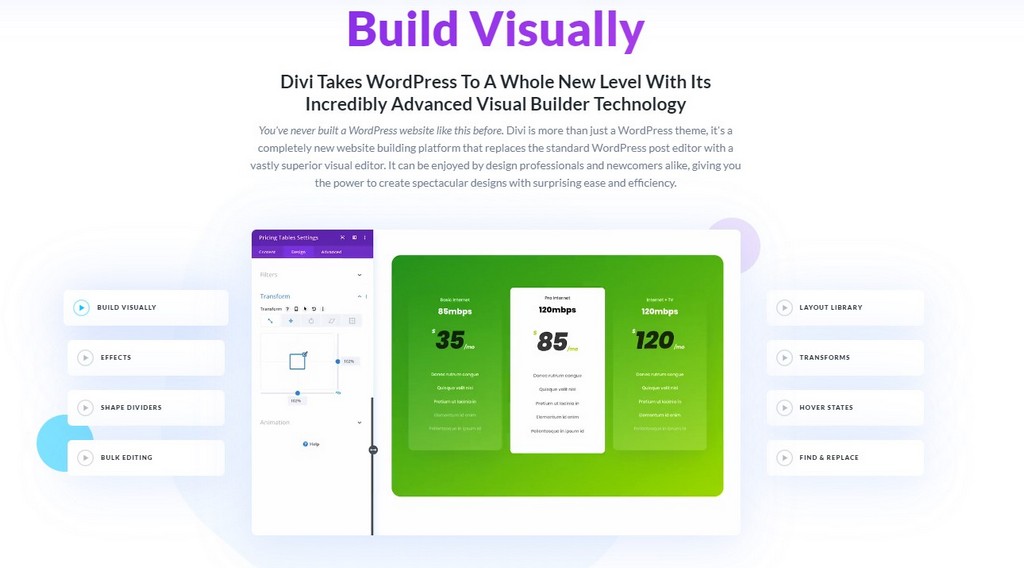 2. Divi Theme Customization Review
Hover State Styling: You can create stunning hover effects and transform Divi's modules into fun, interactive elements using Hover Options in Divi.
Fonts and Styling: Choose from a full range of font options, pick from hundreds of web fonts, and even add your own if you like. With Divi, you can fully customize all text and fonts with full control over styling and elements like anchor links and block quotes.
Shape Dividers: With Shape Dividers, you can add some extra flair with custom shapes and effects on your pages and also by creating dynamic transitions and building transition effects between different parts of your page.
Border Options: Divi lets you retain full control over every aspect adding borders to all its elements and allowing you to fine tune settings like size, colour, and style to create unique effects.
Transform Controls: One of my favourite features, Divi lets you transform elements on any page by scaling them on X, Y and Z axis with a super slick interface that's extremely user friendly.
Code Editing: Mainly for technically sound users, Divi has a fully featured code editor that makes writing and editing code extremely easy and enjoyable with features like syntax highlighting, error reporting, auto complete and a lot more.
Filters and Effects: Divi lets you enhance and adjust appearances of every element on your page with filter settings like Hue, Saturation, Brightness, Contrast etc. and even lets you use background blend modes to create stunning designs.
Shadows: To give your pages extra depth, you can add shadows to all elements and text on your website without having to deal with a messy graphic design program.
Animations: Easily apply simple animations through presets, or build your own custom animation types to wow your website visitors as they interact with content on your website.
3. Divi Theme Efficiency Enhancing Review
Editing features: Divi makes it super easy to use CTRL or CMD to click and select multiple elements on any page at once. You can also Bulk Edit all elements by changing their style or move them on the page at the same time.
Find & Replace Styles: Another nifty feature in Divi, you can instantly find and replace design values like colours, fonts etc. across a page or from specific locations instead of changing each element individually. It's guaranteed to save you hours of editing time when redesigning a website or designing one from scratch.
Magic Color Manager: Divi stores recently used colours to give you easy access when you're editing you website and it also creates an extended colour pallet using an advanced colour theory to suggest alternate colours that might look good on your page.
Copy Pasting Styles: A game changing feature, in Divi, you can copy individual settings, group settings and even complete designs between elements with a simple copy and paste.
Extendable Styles: Instantly extend design styles you've created to multiple elements with a few easy clicks which means if you've designed a perfect setting for an image on your page, with a few clicks, you could extend those settings to other images as well.
Quick Actions: A huge time saver, the Divi Quick Action system lets you search through their help videos and options to perform advanced actions like adding elements or layouts.
Drag & Drop Upload: Instantly upload media files inside your design by dragging and dropping media files directly onto your page without having to access the WordPress media library each time.
Divi comes bundled in with 800+ pre-designed templates that you can use and edit so you can design your blog pages to look exactly the way you want it to.
It doesn't matter what type of website you're planning on building, Divi has a template that makes it super easy for you to import a design and just modify it to fit your needs.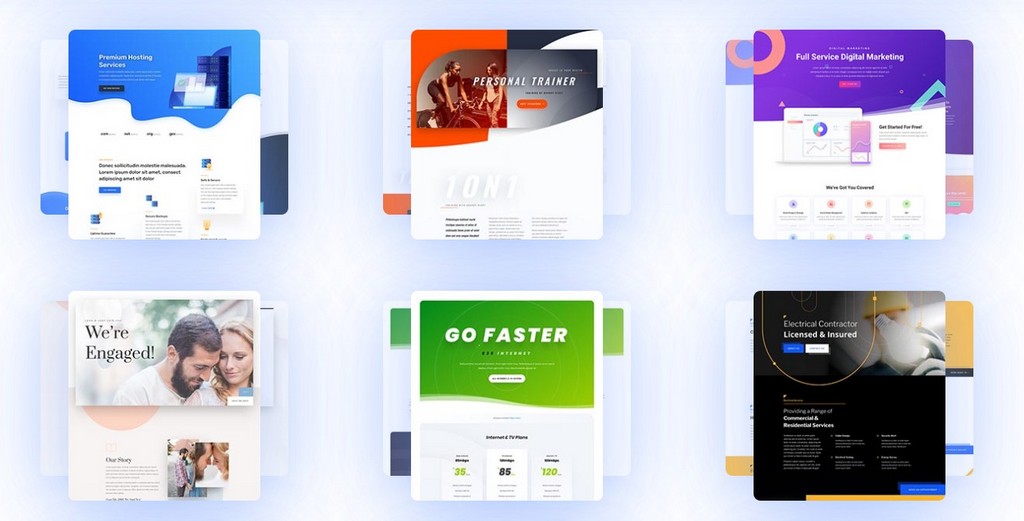 Brand new layouts are added weekly along with royalty-free photos, icons, and illustrations.
This is extra great for freelancers looking to build websites for clients as they can easily just import a new template based on their clients business and just modify it to fit the requirements.
4. Divi Theme Marketing Review
Email Opt-In Provider Support: Divi's in-built email opt-in module makes it super easy to build your marketing lists with integration support with top marketing tools and Full GDPR compliance.
Pricing Tables: Add attractive pricing tables for your products and services with the entire range of content and design setting options in Divi.
Contact Form Building: Build custom form fields to collect any type of data from your visitors or choose to hide and display fields with conditional logic. Divi lets you create full feature contact forms with its builder.
Built In Split Testing: Test the performance of designs and content against each other and even set unique goals to see how variations perform. With powerful performance insights, you can easily fine tune your website's conversion rate.
The Divi Theme comes built-in with a ton of great website elements like "CTA button", "Sliders" Testimonials etc, so you don't have to invest in extra marketing plugins for your WordPress business.
Your Divi membership also gives you access to the Bloom Email Opt-in Plugin as well as Monarch Social Plugin making email capture and social media marketing so much easier.
5. Divi Theme Review – Additional Features
Custom User Roles: With Divi's Built In Role Editor, create and set user roles and permissions for your team or clients to limit accessibility from within the builder.
Multi-Language Compatibility: Fully RTL ready, Divi will automatically switch to RTL mode when you enable RTL language in the WordPress dashboard. You can translate everything from front end elements to the entire Divi interface including form fields and descriptions in up to 32 languages.
Monarch Social Sharing: Claimed to be the best Social Sharing Plugin, with Divi, you get access to Elegant Themes' Social Sharing plugin – Monarch that makes it easier for your visitors to share your content across 20 different social media platforms.
Bloom email Opt-in: Another great addition to Divi, the Bloom Email Opt-In plugin makes it easier for you to convert visitors to loyal followers and helps you gain more email subscribers with elegantly designed Popups and Opt-in forms that are targeted to specific posts and pages based on visitor location and interaction.
24×7 Customer Support: One of the best customer support teams I've come across, the team behind the Divi Theme takes customer service extremely seriously. Their helpful team is available 24×7 so if you run into an issue in the middle of the night, you can be sure that you won't have to wait 2 days for a response and might even get your issue resolved before the sun comes up.
Unlimited Everything: Once you sign up for Elegant Themes you can use the Divi theme you can use it on as many sites as you want! That includes any number of clients websites or even your own websites you may build.
6. Divi Theme Lifetime Plan
One of a huge plus of Elegant Themes is that it comes with a lifetime subscription option with which you can use Divi for free for life and get all future updates and upgrades.
With the lifetime membership, you have no yearly fees. You can just purchase once and get access to product updates forever. Click here to get an extra 20% off the lifetime plan.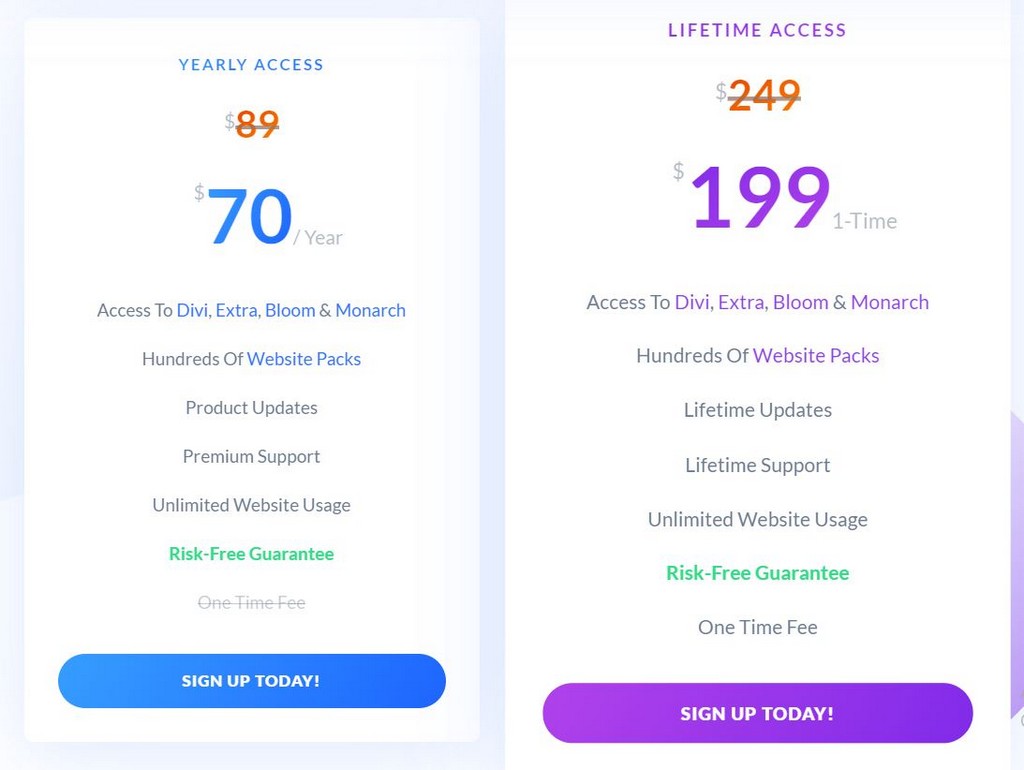 I would personally recommend the lifetime membership plan as it is much cheaper in the long run and is equal to a little more than paying for 2 years of the yearly plan.
Another big plus is once you've got the lifetime plan, you can then use Divi on unlimited websites without worrying about renewing your license every year. (also you don't have to worry about your theme expiring on past clients websites.)
7. Divi Customer Support
I've learned (the hard way) that for anything I buy, a super important criterion to make sure it is a worthy investment is the after-sales support. Luckily Divi turns out to have a really really really good support team.
Divi's Customer support tends to back to you within an hour! So you can work on the other aspects of my website when I have an issue and come back to my ticket to have a solution that always works.
Most of my queries are code-based and I think yours will be too and the replies and help you get is the equivalent of hiring people on Fiverr or even Upwork. (for FREE!)
When you're using a product like a WordPress Page builder there will be A LOT of can I do this type of questions and if the support is shit you're going to end up spending a lot of time on google trying to fix the problems rather than actually build the site!
8. Divi Theme Documentation
If you're one of those who like reading through manuals and guides you'll be in for a treat with the comprehensive guides and documentation on the Elegant themes page. I personally learn through the application but it's definitely useful to have an organized dedicated resource of guides.
If you're not into text you'll be surprised to find video guides by Divi and many other Divi web designers. In fact, the official Divi channel has over 800 videos that cover literally everything. I almost always find the solution to my problems on their channel if not from another Divi designer. They're constantly updating with cool series that I always find packed with value.
Divi Theme Drawbacks
As always, to ensure complete transparency and keep this review balanced, I'll shed some light on areas whereDivi falls short of the mark.
Shortcode Dependency: The biggest drawback when using is Divi is its heavy dependency on shortcodes. Divi is a complete shortcodebased builder and while that's okay, the issue with being dependent on shortcodes is when you disable the plugin and decide to move away, you're left with a massive amount of shortcodes scattered through your website which can be a pain to deal with. While there are plugins to help you clean up shortcodes, Divi could be designed to take away it's theme related shortcodes after removal so it doesn't leave the website cluttered.
Steeper learning curve: Having so many options and fancy features like transform controls means that if you're a learner with no previous knowledge or experience using Page builders or Graphic design software, you're bound to have a tough time figuring out how to really make use of the features and functionality the way they were designed to. Divi tried to make it as easy as possible with their detailed documentation and massive knowledge base, but for newbies, it could take some practice.
No Free Option: Divi doesn't have a Free core plugin like Elementor, so it can be a problem for those who want ot try the plugin before they put down any money for it. Although they offer a 30 Day No Questions Asked Money Back Guarantee, you still need to pay for it before you can try it.
Divi Theme Pricing
Although Divi doesn't offer a Free plan or a trial option either, with a '1 License To Rule Them All' style pricing, you only pay for 1 license and gain complete flexibility to use it across an unlimited number of websites.
Divi also gets a major edge over its main competitor Elementor by offering a Lifetime Access Plan, which means you don't have to keep paying for the plugin each year and can pay for it once and enjoy lifetime free premium support and updates.
The Divi Pricing is pretty cheap for what it offers especially thanks to the Divi Black Friday Sale. You can get a Lifetime plan with Divi, while the Elementor Pro Price is only yearly.
Here are the two plans that Elegant Themes has on offer for Divi –
Yearly Access – $89
Lifetime Access – $249
Irrespective of which you choose, you get ALL of Divi's benefits and features which makes it a great value for money option compared to its competitors.
Here's what paying for Divi gets you –
Access To Divi, Extra, Bloom & Monarch
Hundreds Of Website Packs
Product Updates
Premium Support
Unlimited Website Usage
One Time Fee (Lifetime Plan)
The best part is, if you're not sure Divi's the right theme for you, Elegant Themes offers a 30-day money back guarantee on all purchases – No Questions Asked!
And if you really like it, they'll even let you upgrade your Yearly Access to a Lifetime Access in that period.
YEARLY ACCESS
Access To Divi, Extra, Bloom & Monarch
Hundreds Of Website Packs
Product Updates
Premium Support
Unlimited Website Usage
Risk-Free Guarantee
Price: $89 / Year
LIFETIME ACCESS
Access To Divi, Extra, Bloom & Monarch
Hundreds Of Website Packs
Lifetime Updates
Lifetime Support
Unlimited Website Usage
One Time Free
Price: $249 One time
Elegant themes has two pricing plans to purchase the Divi theme which is $89 for yearly access and $249 for a lifetime license.
Exclusive Offers For JeremyNoronha.com Readers
JeremyNoronha.com readers can get a 20% Discount on Elegant Themes. Simply click the link below and signup and the discount will be applied automatically.
Hurry Up! Limited Time Offer.
Both plans give you access to all Elegant Themes products which personally is immensely valuable which include:
Monarch Social Sharing:

social sharing plugin

Bloom email Opt-in:

Email lists

Extra theme:

popular theme for a content-rich magazine-like websites

Loads of DIVI themes that are great to build quick websites/landing pages.
What Divi Pricing plan is right for me?
If you are not sure about whether you want to stick to DIVI and want to just try it out for fun then go for the

$89

yearly plan.

If you see yourself using this

for clients as well I recommend you go for the $ 249-lifetime license!

If your license runs out and they're still on Divi the updates won't work and the websites

would cease to function.
Is The Divi Elegant Themes Worth it?
Affordable, Feature-Rich and Backed by a solid team, the Divi Theme has everything most users could possibly want in a theme.
At $89 per year, you can build an unlimited number of websites without having to worry about keeping track of multiple licenses or paying for every site you build separately.
And you can get all that for less than 6 dollars a month with my Divi Discount Code!
Exclusive Offers For JeremyNoronha.com Readers
JeremyNoronha.com readers can get a 20% Discount on Elegant Themes. Simply click the link below and signup and the discount will be applied automatically.
Hurry Up! Limited Time Offer.
Opting for Divi over any other option, comes down to the features you're looking for in a Good WordPress Theme.
If you're looking for something versatile, that can help you build pages with unique effects and animations, and has nifty features that make it easy to copy paste styling and formats, the Divi Theme would be a perfect match for you.
All things considered, I'm a fan of the Divi Theme and highly recommend it to anyone looking for a well rounded Theme + Page Builder combo.
Have you used Divi before or plan on using it for your next project? Let me know in the comments below!
Read Next: