So, I got back into the gym for the first time in 6 years. This article is basically all the things I do to 'have it all'.
My competance categories to take into consideration when reading below:
High: Hiking, powerlifting, growing muscles, fasting
Medium: ketosis, olymic weightlifting, lifestyle strength, yoga
Low (but improving): gymnastics, swimming, surfing, pilates, endurance
Most of my fitness advice is geared towards non-professionals who still want 90% of the upsides.
Before I continue, yes-not everything in this article will be useful for you. Take what you can, ignore what you can't implement today and implement it in the future
Been There, Done That
When I was 17 years old I went from a chubby kid to having an eight pack in 6 months. I could deadlift 200kg (4x my body weight)
I've done a 200km 15 day hike (Annapurna circuit) with everything I own (15kg then) on my back with no prior hiking experience.
I swim, surf, hike. All pretty good, not professionally.
I checked my weight for the first time in 5 years & I gained 10kg of muscle and bone density in the past 6 years without even trying, just thanks to my "normal" active life. (47kg to 57 kg)
I joined the gym again in 2022 and in less than 3 months was able to lift 140kg again. Little over 2x my body weight and I don't think I exaggerating when I say I look pretty great🙃. Maybe I'll add a pic here sometime if I take one.
Update: Finally in 2023 I actually do have a picture :) enjoy that wide lat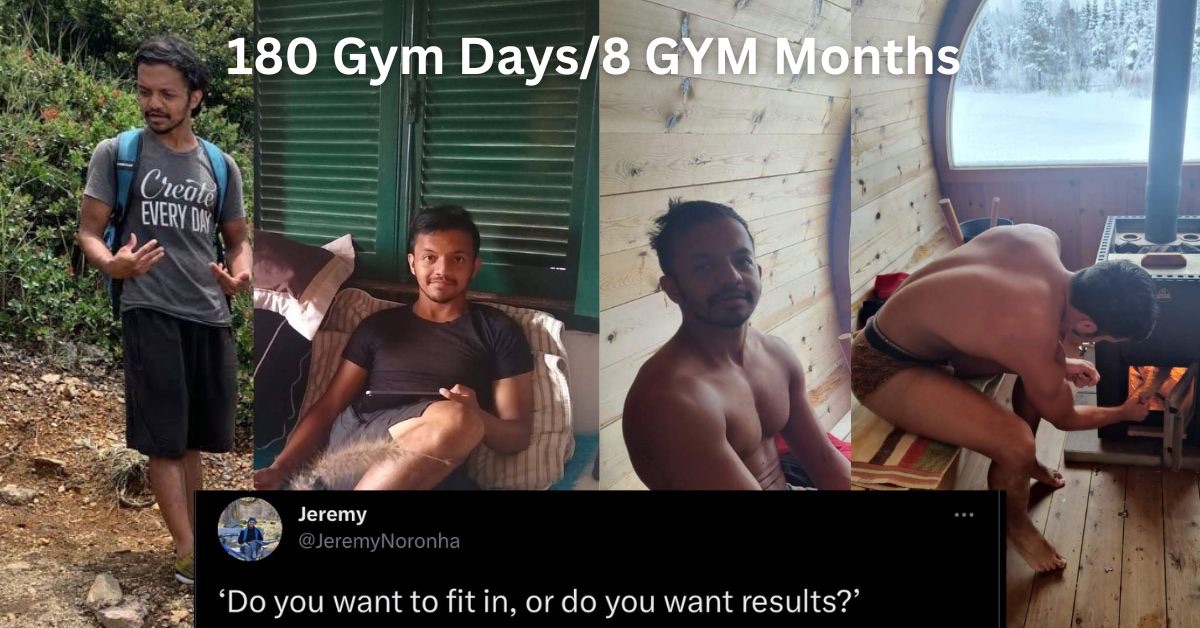 Why did I want to write this article?
Because I came to the weird realization that I get more results in 3 months in a gym than most people get in a year.
and it isn't just muscles I'm talking about. I optimize around overall fitness. I optimize around strength, muscles, endurance, flexibility, stamina and health.
I don't have to sacrifice "strength" to gain "muscle" and I don't have to sacrifice muscle to flexibility. The majority of people who believe stuff like that are just playing life on hard mode cause of myths.
1% vs 0.1%
Theres a big difference between between being in the 1% of something and being in the 0.1% at something.
When I was 17 I was in the 0.1% in the world at dedlifting for my weight. The world record for 47kg category was 220kg and I could do 200kg. So heuristic: deadlifting 4x body weight = 0.1%
Today I can only deadlift 2x body weight and hope to hit 3x this year. I'm not training to hit 4x.
Why?
Because if I want to deadlift 4x my body weight I have to sacrifice something. So my above belief is wrong right?
Well kinda. If you want to be in the top 0.1% in the world in something you'll have to sacrifice something, but if you want to be in the top 1% of the world at something they're a lot of "free lunches".
Which is why everyone reading this can easily be in the "top 1% in fitness" but being in the top 0.1% will be a iffy.
With deadlifts I can probably easily deadlift 3x my body weight by going to the gym 3-4 months/year (leaving space for travel, hiking, resting, surfing, yoga etc etc).
But if I want to deadlift more than 4x I'd probably have to go to the gym 6 months in a year and probably start eating carbs again and be intentional.
So most of the heuristics in this article is optimized around being in the top 1% at fitness & health, not the top 0.1% at something specific like powerlifting or surfing.
Actually you know what, those are just limiting beliefs. I'm going to try to lift 90% of the deadlift world record in less than 2 years by going to the gym for less than 6 months a year.
250kg deadlift here I come 💪
Big obvious Disclaimer: This article is "what I do" it's not what I believe "you should do". Feel free to pick the parts that are most relevant to you. If you have a normal 9/5 life, jumping between surfing town and hiking town every month is unrealistic but my 45 min gym workouts aren't.
Show your work
"Show your work" was a thought I had recently about how influencers work. If you have a large audience you're expected to mouth feed them all the required information, answer their questions and show your journey to your conclusions. Fuck that!
If you're here for that then close this article. Cause I don't have to time to show you my work.
This is an article of "I do this", if you want to know "why I do this" explore those rabbit holes by yourself. If I spent all my time explaining the reasons why I do things a certain way this will be a book not an article.
People who I believe are good at "showing their work" on fitness are Nat Eliason, of course all the keto people like Dr Ronda Patrick, and for exercises there's an guy on YouTube I like Jeff Niffard. There are also other YouTubers I visit once in a while to pick up a new more effective exercise or two. I like Athlean's Best to Worst exercise ranking but it's also just focused around "gym muscles" so it's not always that useful.
Also, as I update/change my workout I'll probably update this page once every couple of months to reflect that.
If you have any information that you believe is actually "better" than what I do, get results from your "better strategy" before sharing it with me because else it's just empty talk. Do, don't tell.
"The purpose of knowledge is action, not knowledge." – Aristotle
Exercise
1. Weights
I love lifting heavy weights, there's something incredibly enjoyable to me about it. Especially once you've overcome the learning phase and every time you lift is just fun.
Note the below workout applies equally to women and men. My wife deadlifts more than her body weight, if you're training differently cause you're a women you're just wasting your time & your trainer is probably just stupid.
I like to joke with my male friends that my wife can deadlift more than them🥲. She's 55kg and can deadlift 80kg in just 3 months of training. To put that into perspective the Women's world record (58kg) is only 190kg.
So good heuristic: after 3 months of training, guys should be able to deadlift 2x body weight, women should be able to deadlift 1x body weight. After 6 months maybe 3x and 1.5-2x respectively.
If you train the way I do you'll probably be the only one in the gym training that way because each exercise is done with intension and control. There's no heaving or ego lifting.
All weights in kgs.
Note: I only do 6 exercises per gym session, I swap them based on gym equipment etc. Usually 3 per muscle group per day.
Back + Biceps
warm up by dead hanging/walking to the gym
stretch using an empty bar
Powerlifting deadlifts (do this once every 3 back days):
deadlifts start with lightweight, 1 set doing max I can for 12 reps (60kg for me)
keep adding weights doing max 2-3 reps until you hit/break your one rep PR (I'll start off by adding 40kg the first time, then add another 30, then 20, then 10, sometimes I have to remove 10 and add 5.)
For me currently it's 60, 100 second set, 140 third set, 160kg +/- 5-10kg for now.
Normal deadlifts (every back day including when I do the above):
Next I remove weights until the weights are light enough that I can do 8-12 reps. Do 3-6 sets there.
Good rule for deadlift weights: if you can do 12 add more weight, if you can't do 7 remove weight.
I'm currently doing sumo deadlifts on the way up (powerlifting) and conventional deadlifts on the way down (volume)
fun fact: no sumo is not cheating and interesting it's a linear chart in world records where sumo= heavier lifts the shorter you are. It's good to balance both equally over the longer term
Next I do Zottman Curls with one arm at a time. Usually 3 sets of 8-12 reps. Doing the negative section very slowly. I usually do this with 8kg, max 12kg.

side note: Yes I go from lifting 160kg to exercising with 8kg. That's probably why I get better results than the all the EGO lifters you probably know.

Your muscles don't know how much weight you're moving, all it feels is tension. 
Next I do a Wide grip lat pull down (front only) 3-5 sets, usually 10-12 reps with paying attention to the negatives (Ie controlling the bar on the way down as well as up) also careful to have thumbs up.
Next up I do standing dumbbell curls  one arm at a time making sure that the arm stretches out completely on the way down. 3 sets of 8-12.
Dumbbell Bent over row (   Tripod > bent over as reduces risk of hernias for the long term) Tripod Rows making sure to stretch all the way down. 3 sets.
Barbell Bent over rows for 8-12 reps, around 4-5 sets with very good attention paid to the negatives letting the lats stretch on the way down.
Sidenote: I'll stop saying pay attention to negatives and stretching. Just assume that's true for every exercise. SLOW. I take 2 mins to do one set of leg extensions (the time stupid gym bros might do a shit-set+rest+shit-set). Control > weight.
Strength: doing negative deadlifts help the most.
Deadlifts are a terrible back exercise but the best whole body exercise. So deadlifts vs rows aren't an arguments its 'both' if you want muscles as well as over whole body strength and performance.
Straps for back exercises are great for being able to isolate the back and focus on the exercise vs letting your grip hold you back. Work on your grip as well but I use straps to get an extra rep or 3 while keeping control. (Muscle gain = use straps, lifestyle strength section= never use straps get stronger risk, not a dichotomy the answer is both.)
Bonus stuff I do once in a while based on gym:
Rope climbs want to do this
rings pull up if the gym has rings
Ring chin ups are the best bicep exercise ever
Forearms: Train sometimes by doing reverse curls with negative reps and lots of control. In total volume I try to make sure forearms is at least 1% over the longer term.
Leg + ShBoulders day
stretch using an empty bar and doing lunges if the gym has space. Else a bit of quick legs yoga poses (5 mins)
Squats (ass to grass) start with lightweight, 2 sets doing 12 reps
keep adding weights until you hit/break your one rep PR again always ass to grass. (Once ever 3 squat days)
Next I remove weights until I can do 15-20 reps.
Legs benefit for higher volume so unless I'm doing max weight I try and do 15-20 reps with all leg exercises. Only legs.
Good rule for legs weights: if you can do 20 add more weight, if you can't do 15 remove weight.
Facepulls with a lot of attention paid to the negatives. The top part of the rope should be slightly above forehead height, use the adjustable machine.
Leg extension machine & Leg curl machine (hamstrings) both exercises for 15-20 reps for 3-5 sets. Use drop sets to get more reps. Each rep should be a minimum of 10 seconds long, be very slow on both the negatives and positive sections of the exercises. Do it very very slowly and try and not let the weights touch the stack so your legs are always under tension.
Note: the lying down on stomach hamstring machine is shit, use the leg curl or do Romanian/Stiff leg deadlifts standing on something for more stretch.
Next Dumbbell Upright row with only one arm at a time. 3 sets of 8-12 reps. And using something to lean with the working arm hanging. Like this but leaning more to the side with the dumbbell.
Next Hack squat if possible 3-5 sets, usually 15-20 reps. I try and do at least 3 sets of hack squats until complete failure.
Next Arnold Press single arm at a time. 3-4 sets of 8-12.
Next Walking Barbell Lunges if space in gym. Minimum 15 reps, get your knee touching the ground (if soft) else near the ground over the longer term. Your ass should hurt the next hour/day. If can't do lunges I do Bulgarian Split squats with dumbells.
Glutes🍑: haven't started but I'm planning on adding hip trusts to work on my glutes, gals: do this with good form with heavy weights and control to achieve the only muscle most of you seem to go to the gym for.
Olympics Lifts/The exercises that have given me the most lifestyle strength:
Next Snatch + Overhead Squat. I combine the snatch and over head squat by first doing a snatch and when I have the bar overhead I try and do additional squats. 3-5 sets.
No exercise will point out in balances in your body than an Overhead Squat.
Next Clean & Jerk + Front Squat. Similarly here I combine a clean & jerk and a front squat by doing multiple squats between and "clean" and "jerk" motions. 3-5 sets
(no your don't have 'weak wrists' for Olympic lifts, you just haven't made your wrists strong yet. I do the above with 45kg and 60kg respectively)
Optional: I don't train calves as it's easier to grow them while hiking mountains, but if I know I won't be hiking soon I'll add Calf Raises machines as long as it has complete range of motion (i can stretch the legs all the way up slowly as well as all the way down without the weights touching). If not I'll put dumbbells on my thighs and sit on a bench with my feet on an aerobic step and recreate the calf raise machine. 5 sets of max reps (15-20)
Bonus new calve exercise: I've been able to recreate the muscle experience of hiking by doing something simple.
Put barbell with weights on my shoulders (I do 40-60kg) like you're going to do a squat
Lift heels off ground
Move forward and back and side to side, dance, and stretch, stand in one foot without your heel etc etc.
Never let your heel touch the ground, go up and down, move like you're doing ballet etc.
The above works your calves as well as your ankle making your entire foot strong and not just your calve muscles.
Chest + Tricep day
stretch using an empty bar and doing push ups. (Clapping push ups or Twisting push up if I'm pumped!)
Flat barbell Bench press start with lightweight, 2 sets doing 12 reps
keep adding weights until you hit/break your one rep PR (I do this once ever 2 chest days)
Then I remove weights until I can do 8-12 reps and do 3-5 sets.
Next I go pretty light weight and do partial reps of bench press where the arms aren't ever fully stretched or contracted and is just moved in the middle zone. Do it until failure 3 sets. Usually only do this if I have a spot.
Next Tricep Rope Press Down 3 sets 10-15 reps (weights never go back on stack, slow both ways, let arms go all the way up that your bicep kinda flexes)
Next Inclined Dumbbell press 3 sets, 10-15 reps (note: I use the lowest incline, not flat but as flat as possible while still being inclined 15* to be precise, not 30 and definitely not 45*, this is chest day not shoulder day)
Next Closed Grip Bench Press for triceps (learn how to isolate triceps) 3 sets 10-15
Next Inclined (as above) Dumbbell Press Drop-set : basically using 3 weights, heavy to light and every time you reach the limit with the heavy weight you switch (drop) and go to the lighter weight. Currently it's 20kg to 14kg to 7kg and sometimes even 5kg for me. 3-5 sets, burnout session.
Lastly Overhead Tricep cable extension 3 sets, 10-15 reps
Single arm tricep rope (if no rope, see if you can hold the round thing at the end of the cable), hold it vertically, isolate triceps and really stretch. I do this with like 5kg cause its so hard when you do it right and slow. Min 7 reps for 3 sets.
Machine fly (shoulder blade locked to pad behind back, arms straight, palms open like you're being crucified, slow both ways, at the front try and act like you want to touch your elbows) 3-5 sets min 7 reps each.
Fly rules: sometimes you have to have the machine set for lats because you want your arms to get stretched on the way out as it helps your chest get wide asf, never let the weight tough stack, you'll end up working out super light.
Single arm machine fly, you get wider range of motion and isolation. (your right- completely-stretched-arm reaches up to to the front of your left pec) same as above.
Effective
(Non professional) people working out more than 60 minutes in a gym are probably just wasting their time either doing bullshit exercises, talking or over exercising. Especially if you go to the gym regularly.
if you're grunting, you're probably lifting more weights than necessary. Drop that ego and the weights.
if you are swinging your body or doing any uncontrolled motions, you're probably being ineffective. Control and contract your muscles.
if a single reps takes less than 5 seconds you're probably working out too quickly, slow down. 1 second reps are not reps.
Stupid words to drop from your vocabulary: bulking, cutting, deficit, surplus. Yes you can build muscles and lose fat at the same time it's super easy.
Optional exercises that are not part of routine:
hanging knee raises
levitation crunches
hanging leg raises
Gym days
So as you see from above I just have 3 different "gym days"
Back (70%) + biceps (30%)

Legs (70%) + shoulders (30%)

Chest (70%) + triceps (30%)
% = how much of workout is spent on muscle group.
If I'm having a gym month, then probably I go to the gym 5/6 days a week.
My workouts are never based on the day of the week but completely based on the past day. For example let's say I start Deadlifts on 1st of a month, rest of the next 10 days will probably look like this.
Day 1 deadlifts, 2 squats, 3 chest, 4 deadlifts, 5 rest, 6 squat, 7 C, 8 D, 9 S, 10 R etc etc etc. Weekends, holidays etc irrelevant unless gym is closed. Most of it is usually just based on what day my body hurts the most. Sometimes I'll even take 2 days of rest in a row, other times work 7 days in a row.
However, this is also cause I usually take month+ long breaks from the gym but more on that in the "rest" topic.
If lifting weights is your only workout and you don't take long breaks than 4 days/week would probably be my max but even if you go 4 days a week to the gym it's better to have a break in between those days vs 2 days in the weekend.
2. Supplements and tools
I always (outside gym too) wear barefoot shoes (currently Merrell Vapor Glove and another pair of barefoot shoes for autumn). Sadly all winter barefoot shoes I've tired so far are meh so I don't wear barefoot shoes in winter.
Read: Antifragile
Belt: I use a belt when I do really high volume/heavy weights and it helps, probably 20% of the reps in the gym I use a belt.
Straps: I use it when I want to really isolate my back muscles and get more volume or if I'm lifting heavy. Probably 5% of the gym reps.
What Supplements do you take?
Creatine: loading + maintenance = more energy + muscles growth if trained right.
Started taking a low dose of creatine even when I'm not working out. 3g when not working out, 6g when working out.
Started taking electrolytes if I do a lot (30 mins daily for 30 days +) of sauna as well as working out.
Obv Vitamin D for euro winters but that's not gym related.
Mct: black coffee + mct oil (+ butter) is better than just coffee especially if you work out on an empty stomach like I do.
So mct + coffee is great pre workout and helps you burn fat even more in ketosis. I don't often take it on days I don't workout. Best described as a wheel chair ramp for people wanting to use body fat as energy.
Don't recommend unnecessary taking supplements. Eat real food. Never protein powders, fuck that shit.
So to illustrate that you don't have to take anything. Kinda like straps/belt.
Unnecessary/ or even bad for most people, useful for very specific situations.
A gym log books (I use an app) has been the best add on I added recently, I was able to double my gym volume and become 2x more effective.
Highly highly recommend a gym log book (helps you track what you're doing vs what you think you're doing)
(Thanks to @BowTiedOx for getting me into it, one of the only 2 or so people around fitness I follow on Twitter, highly recommend)
Other tools:
Mi

smart band 6: Data I find valuable to see over months

Sleep – Notice how different countries/seasons affects sleep. Swedish Summer with no good curtains = 7 hours, Winter = 10 hours etc.

Heart rate: early detector to 'sickness' vs 'just off '. Earlier this year when I got covid I felt tired (no cold) but resting heart rate spiked to 66 from 58. Also let's me know if I'm still recovering (low 60s) vs fully recovered (54-58 multiple days in a row)
Gym bag: For the first time in my life I own a gym bag. Worth the purchase as my gym session keep on getting longer. Earlier this summer my mornings were: 1.5hr weights, 30 mins swimming, 30 mins sauna, 30 mins reading in spa area, Back in sauna Reading until hungry.
Sleeveless Hoodie: Used to work with airpods pro. Very good my fav, But headphones always beat earbuds. Had the Sony XM3 for years, now using it back in the gym thanks to the hoodie. Hoodie = no sweat on headphones. Also hoodie = block the world out
Yoga mat: Get my ass to do yoga more often. Having my own yoga mat that I have to carry everywhere will do that to you.
Pants/shorts with zips: think every pant I've owned for the past 7 years has zips for pockets.
3. Cardio
I don't do "cardio". Ever.
I hate that word. Jogging might be a gateway drug to many into "fitness" but I'd never recommend it.
Instead I "move", how I move is based entirely of where I am. For example here's my "movement" from Jan 2021 onwards
Jan- Feb: Hiking in Patagonia (upto 20km a day)

March -April: only gym lightweight

May -June: sprinting (hiit) once in a while for max 2 km. sprint, walk, sprint, walk.

September: Surf almost everyday sometimes upto 4hrs a day

October – November: nothing rest and walking. A few hikes

November – Jan: 4/5 days heavy hardcore gym + swim around 3x a week

Feb- March: swimming sometimes
April – June: hiking, cycling & gym
July – August: basketball+ gym
etc etc
Switch switch.
Whole body gets worked out by combining hiking, surfing, lifting, swimming, dancing etc with lots of rest in between.
Endurance is a thing I need to work on: while playing basketball recently I hit a heart rate of 195, I have a sprint personality and don't train endurance enough. Need to probably try and make endurance a bigger priority. Will probably either swim, run or a sport more regularly. I can do long distance medium intensity things (hike 8 hours) but I'm not great at a 1km peak heart rate run. More basketball basically.
if I'm into sports is a Gym necessary?
I would say that it's not necessarily but it's useful.
For example:
Squats = better hiking

Deadlifts = better swimming

Bench = better boxing
But also the other way around
Hiking = better squats

Swimming = better deadlifts 
Etc etc
So I would say neither are "necessary" but you can always combine everything for max results. You don't have to pick one, stop having the weak arguments.
A conversation I had half a year back:

M: which gym did you end up joining?

Me: the CrossFit one cause the normal one is closed

M: so they have kettlebells

Me: me yeah but I don't use it. Probably should slowly start with trying some exercises tho gradually

M: yeah man I have this kettlebell at home. I just workout on it once in a week and I can stay on shape.

Me: yeah I saw it

M: I'm telling you man, you don't need a gym just get a kettlebell. Even once every two weeks is enough to stay in shape.

Me: I agree M, I didn't go to the gym for 6+ years. I'm not trying to stay in shape (that's not something I need to try to do), I'm trying to hit 90% of the world deadlift record (again) for fun😝
What's the difference in your fitness when you just lifting weights vs today?
Then vs now for me
Strength in deadlift: stronger then.
Strength outside gym: stronger today.
Overall muscles in body: more today but distributed everywhere while being super loose.
Then I had "gym muscles".  Today I have "gym muscles + surfing muscles + swimming muscles + hiking muscles + whatever sport I do next muscles."
Then I used to use carbs as energy, today my body is always in ketosis and uses fat as energy.
Today I optimize around Strength, health, endurance, flexibility and "muscles" as well.
4. Walk
I slow walk a lot just naturally, in 2021 I walked 2000kms.
However when I actually break it down by month it's more interesting.
165km
230km (Patagonia)
130km
155km
135km
160km (walkable city)
160km (walkable city)
133km
150km
165km
170km
240km (very walkable city)
For starters I walk more than most people because I'm always traveling to new places so I walk to explore. But also it helps that I spend the time I do in cities in very walkable cities which make walking second nature.
You're obviously going to walk more in Paris than Delhi, Europe than South east Asia, a hiking town vs a beach town etc etc.
When I "walk" it's often variable, in the sense that I might walk 20km one day but be too lazy to walk 2 the next. So if we zoom into two weeks, one "hiking area" and another in a city you can see the difference.
I rarely do long hikes multiple days in a row (unless I'm doing a multi day hike). So hiking areas has more variance than city life.
And sometimes I'm in a place where I just don't walk usually bad cities or beach town where I can just swim etc. That's usually my down rest time. Feb 2022 was only 70km for me.
5. Flexibility
There's a quote I used to use often,
"The people doing yoga should go lift some heavy weights and the people lifting weights should probably go do some yoga"
If you made it this far into this article you probably realize that I'm someone who believes in "having it all". I believe that anyone who believes that you have to sacrifice flexibility for muscle or strength for flexibility is just not thinking enough.
Flexibility reserves
Flexibility reserves is an idea I picked up over the years from Jerzy Gregorek and Christopher Sommer (Both podcasts I've listened to 5+ times over the years)
I'll sum up my idea of flexibility reserves as:
1. Let's say you don't work on flexibility
Naturally you might have 60 points of flexibility (just a made up number, think of a credit card limit)
Day to day you're probably unaffected , you go about life as normal using max 30 points.
Even in your day to day sports training you're normal cause you only need 50 points
But let's say one day you wear a new pair of shoes and you weren't adjusted for it and you basically end up injured. This happens to a lot of professional athletes.
Really? A new pair of shoes/lifting a suitcase at an airport/reaching for the top shelf caused you to injure yourself?
It's not the shoes, it's that your flexibility was "just enough" for you to play the sport in a "comfort zone" but not outside it.
You did not have more reserves than you needed.
It's a fitness version of living paycheck to paycheck.
Another example is people thinking they have too weak wrists to do Olympic lifts (I believed this). Really? Maybe you just never made getting strong wrists a priority.
2. Now let's say you max flexibility by doing Pilates, yoga and gymnastics.
You improve your flexibility along with your strength and always have more than you need. Ie need 60? Have 90. Need 100 points have 150.
Eg. I deadlift 160kg but I probably have the 'flexibility reserves' to Deadlift 200kg safely.
By the time I reach 200kg, I'll have worked on my flexibility to increase it to 250kg and so on. So I'm never really using up all my reserves and putting myself at risk of injury.
If you're going to play a professional sport you probably should be doing yoga just as often as you train. And If you're the strongest person in the gym, you should become the most flexible.
---
One of the basics of flexibility before yoga might be stress.
Having a low stress life might probably be the thing that can help you relax the most. For most people this might mean dealing with something external like work, family etc to remove the stress from their life. Meditation, slow walks through forests helps too.
Recently noticed that one of my friends had a resting heart rate of 70 & daily life 90 I was shocked, I'm not 'peak performance' in terms of heart rate (still not yet in athlete category) But my resting heart rate ranges between 54-58
And as I sit in a couch and write this I have a chill heart rate of 60-70 That means 'me sitting on a couch = my friend sleeping' That's crazy but also shows how the baselines are so different. Get your stress down, meditate more and maybe just reject modernity and fix your life.
Recovery: Everytime I had a daily sauna after my workout I've noticed that I've been able to push myself incredibly vs without sauna. So now going to try extra hard to always have a sauna vs looking at it as a 'nice to have'.
---
Secondary, doing yoga along with calisthenics & dancing is a great idea for when you don't have access to a gym or even when you do.
I probably don't do as much yoga as I should and that's something I'm working hard to change.
I also started doing gymnastics recently. I first listened to Chris Sommer over 6 years ago and it had a huge influence for me.
I started small but it's mainly doing exercise from this video below and adding more over time.
For the most part I freaking love Jefferson curls. I also do Pilates once in a while.
I started doing a bridge quiet often and within a week of practice I've been able to do a walking bridge.
So my flexibility for now is, no stress, yoga, Pilates and gymnastics. Currently I'm aiming for 1 of Pilates+yoga session for 2 gym day and 1% of gym volume of gymnastics (Jefferson curls)
6. Sleep
Seriously, met a bunch of my friends earlier this year and you guys have terrible sleeping habits.
Like seriously guys😑
In my case I need a min-9 hours of sleep when I workout and min-8 when I don't to be at peak performance
Noticed the things that most affect my sleep negatively is light and heat. I'm mostly okay with some noise. Want to double your testosterone, just sleep 9 hours, lift heavy weights and eat big meals. It's that simple If sleep was a drug it'd be illegal for athletes.
Tips: no phone 2 hours before bed, become a morning person (I've been both, yes you can switch), I sleep 8-10pm based on if I'm doing something outside or not, no notifications (outside emergency/have to eg. Delivery), read light fiction at evening, workouts in morning
Working when tired either morning or night is just terrible and ineffective.
Work less, do more and also sleep more. Also means you rarely live in 'normal world' with the above schedules cause that's overrated and irrelevant anyways
Read: Zoom out (Jump baselines, stop playing stupid pointless games, fuck other people's 'normal/sleep deprived' shared realities)
7. Do you want to fit in, or do you want results?
One of my close friends didn't want to work out the way I described in this article because 'its so different than what everyone else is doing'
Yea no shit, that's why they look the same every year. Ignore 'most people' completely.
Yes, when you start working out differently trainers might come up to you trying to correct you.
Give it 6 months They'll up to you asking you for advice or the more often one I get 'who the hell are you. No trainer even tries questions me in any gym in the world nowadays.
Eg of 'different'
Isolate dumbeel curls with light weight (I still curl 5kgs)
Gymnastics/bending your neck/Jefferson curls
Semi-bench press for high 'time under tension'
Modified Olympic lifts (eg. Clean and press and not clean and jerk)
Ass to grass
'Dancing calves exercise'
Also fitting in applies equally within 'fitness communities', all your sub groups will probably end up holding you back.
The bodybuilders will never understand Olympic weightlifting, the basketball players will always (wrongly) assume you're slow with your 'big muscles', the powerlifters don't realize that exercises only using one rep max aren't good for longevity, the other people in your Pilates or yoga class will joke about how the stupid gym bros are so stiff
fuck them all. Honestly all those things are true, but also weak arguments that you can quickly move past and incorporate in your life so you get all the upsides without downsides. Instead of laughing and 'being part of the group', I'll rather get the objective results.
Fitting in isn't all bad. I understand why it happens

Let me describe what fitness sub groups do to people. Most of you in your particular sports or fitness activity probably have a community around it.

That community helps you workout, it might be the reason you go to the gym 4 days a week instead of 1. You might have met your best friend or your wife in the community, without the community you never would have learnt all these things.

Maybe your sub-fitness community is also the only real positive community you have in your life. Everyone else is negative and they're the only ones who are slowly nudging you to improve things, that are optimistic.

I get that, I've been there.

The above applies equally to the bodybuilder as to the pilates girl as to the runner teen.

I'm not saying "don't embrace the community". Go ahead embrace it.

But, realize that you're sacrificing your long term fitness results for the community if you stick to the community past the time you gain something from it.

You might need the community to join the gym, but grow up and move past it.

Instead of it taking 5 years of being a part of your yoga community and you suddenly realize that 'yoga + weights' > 'yoga' or 'weights', realize in 6 months. If you actually want the fitness results.

If yoga community> better fitness results, then this point is of course irrelevant.

As you improve more things in your life than just fitness you'll figure out that you can get positive communities everywhere from business and money to travel and friends.

So as time goes on, you don't need to hold on that one fitness sub groups tightly cause you have an abundance of positivity.

In my experience most communities end up being net-negative to the goal after 6-8 months. Because you have to sacrifice objectivity for consensus.

"Haha pilates doesn't help lose weight"

"Haha callisthenics are better than weights"

"Haha sports are better than a gym"

"Haha imagine choosing to work in a dark room vs going for a hike a nature"

If you want to fit in you have to laugh and agree, vs telling the person that they're creating a false dichotomy and you can do both.

Above obviously false if your goal is covered entirely in a single community ie. You're a professional athlete in a single sport and that's it, you don't care about fitness outside powerlifting. But then you wouldn't be reading my article.
Why you want to gain weight, not lose it
Here's something a friend of mine found interesting that you might too.
Late last year I checked my weight for a first time since I started traveling. I was 10kg heavier than when I'm was the "most fit".
Pre travel (most fit, muscles + deadlift 200kg) : I weighed 47kg
Last year: I weigh 57kg
My friends thought I was heavier in the past.
But I'm heavier today and I'm not fatter. (Still got an 8 pack)
So what's up? Basically my bone density is up along with more overall muscles distributed everywhere in my body.
Bone density = how heavy + strong your bones are = how big your muscles can grow.
More heavy deadlifts/hiking + good food = more bone density.
Why is that important because over the longer term you want your weight to go up, not down. 
You want fat to go down (up-to a point), but weight go up in the longer term.
On Bone Density
Men's bone density goes up until they turn 35, women top up at 30 before starting to go down. So naturally as you grow up to a point your bone density should be going up.
However even past that point lifting heavy weights along with good food keeps/increases your bone density.
Limit of of how much your muscle grows= based on how high your bone density is.
So tldr: Lift heavy weight = better bone density = can grow bigger + stronger muscles = can lift heavier weight = better bone density….
Its very important to have a high bone density as you get older. That's probably going to be the difference between you being able to climb a mountain at 60 vs needing help crossing the street. The earlier you make health a priority the less effort you need to put in.
Relevant Article: Early vs Late.
Theory: Make The Best Out of Double Jointedness
They're probably a bunch of people reading this who had Double Jointedness as a kid.
What is correlated with DJ? Weak immune system, low density and lots of other sicknesses like Asthma
I wouldn't wish DJ on anyone. It probably meant that as a kid you had a weak immune system.
Based on most of the research it seems the direction of causation is 'weak bone density -> weak immune system -> asthma'
So as you grow up and especially with good nutrition + weight you solve it by increasing bone density.
But here's the positive thing: you can't change your childhood sicknesses but you can get rid of your future sickness and you keep the excess flexibility that double Jointedness gives. Which gives you an advantage wrt gymnastics and yoga especially when you work hard on those things.
So personally thanks to this theory I look as DJ as something I wouldn't wish on any child but if you've already gone through that tough childhood, you get the extra flexibility, USE IT
Excess flexibility = Better range of motion = better stretch of muscle = more tension for muscle = muscles grow more per rep.
I like Movement by David on YouTube as well for additional flexibility exercises.
Stay flexy
Check Weight Max Once a Year
I'd probably recommend checking weight max 1 a year.
Cause the 5 year difference between weight matter so much more than the month to month change which is complete noise
I'm probably going to try to beat 65kg in the next 5 years. (70 would be pretty cool too) I don't have any weight goals shorter than 5 years,
Ideal weight change:
Low fat person: 

Let's say now you're 60, maybe you lose 2kg of fat, you probably want to gain 3kg of muscles+bone density. 

So end result you weigh 61kg but have no fat.

Higher Fat Person: Probably lose 3kg fat while gaining 2kg muscles = net weight change -1kg.


But realistically you shouldn't be checking weight often enough to notice.
Weight is Noise
Weight change per day = based on water in body = based on food/salts
Weight change per week = based on muscle growth + water
Weight change per month = based on fat + muscle +water

 

Weight change per year= health + muscle + fat (only thing that's signal everything else is noise)
Have you ever checked your fat/muscle %?
Never checked in my life. Usually it's obvious over time.
I checked my fat % for the first time ever and I was 15% after a month of trying to gain a little weight.
Currently I'm 55kg at 15% fat. My 2 year goal is to be 59kg at 10% fat lifting 250kg (90% of world record). Don't have goals shorter than that.
Food
This is probably the section most people have the strongest tightly held beliefs about this. Oh well, here are my heuristic anyways.
Losing fat is more about food than exercise.
Sugar, Wheat, seed oil, fast carbs, processed food is usually poison.
Poison in small doses is okay.
I treat all home cooked food as good, all restaurant food as poison. (Cause I can't control the ingredients)
Eat unhealthy things but don't fool yourself into thinking it's healthy (Eg. sushi is rice dipped in sugar water, every supermarket sauce has sugar etc etc)
Edible cholesterol isn't bad. Ffs catch up to things that were obvious 20 years ago.
Sugar + fat = bad. Fats by themselves = not bad.
Bad (most restaurant food)
Better (restaurant food like streak, fish fillet ideally cooked in good fats/oil etc)
Good (restaurant food that's as good as home cooked = lamb cooked in butter in Georgian mountains)
Easier to just eat healthy the majority of the time and eat completely unhealthy when you want to treat yourself vs finding a middle ground of "healthy deserts".
Carbs are usually not as bad, junk food with empty calories is
1. Why you eat what you eat
A while back I asked my friend a question, what will fill your more? A 500g rib eye steak or 500g of rice and curry?
He thought for a moment was confused so I told him the answer. Probably both equally.
But what's probably going to give you more nutrition, the steak duh.
So why do you choose to eat the rice and curry? Because a steak a day is expensive. So cool you're not eating the way you eat based on what's good for you, you're doing it based on what's affordable.
The funny part about this story is this friend started working online so now makes 20x their salary and we were talking about this conversation and I said the following.
"6 months ago you were eating Rice with Chicken, Today you're eating Chicken with Rice. The difference is very clear"
Money, location, tradition and habit are probably the 4 biggest reasons people eat what they eat. It has nothing to do with what's good for them, it's basically just doing what everyone else is doing and having bad results just like everyone else.
Earlier this year I made a normal lunch: lamb + rice cooked in butter

And a friend said 'wow I never cook in butter cause as a child my father told me not to waste it'

Economic choice, not a food choice
Example of normal meals:
Usually 250g of meats, carbs (I usually prefer black rice) lots of butter
Snacks: eg. entire packet of bacon mixed with kale. 250g of thickest yogurt (I found 17% fat), 2 handfuls of blueberries and honey etc etc.
2. Fat adapted
I mostly eat something closer to an modified "ketogenic/low carb/atkins" diet I'm not really rigid and keep on changing things seeing what works for me.
"Jeremy, you talk about keto more than you eat keto" – My wife. Yes, I ignore the 100% keto people just like i ignore the keto-is-a-fad people.
have you ever measured if you're in ketosis?
Nope I've never done a ketone test. As you probably are aware by now I don't care about being "exact" in the things I do. I don't believe in having a "keto food" lists or anything. I just eat normal healthy food.
Counting Calories is complete noise 
Maybe a week or two might be useful to learn about the relative calories and understand how much "empty calories" some food have. But not really much after that.
Using fat as energy
The best analogy for this is the Fridge vs Freezer. I'll simplify this a lot but Your body has 2 sources of energy, carbs and fat. One is like eating food from the fridge, the other one is taking something out from the freezer. Ie you need to thaw it out.
If you always have food in the fridge (carbs) your body never feels the need to open the freezer (fat) because it's too much of a hassle.
Now if you don't eat carbs and become "fat adapted", you basically start using fat as energy all the time.
Fat as energy is less spiky, you don't get the huge highs but you also don't crash.
2 things to notice in the above image:
The spike in carb energy is higher than the baseline in fat energy. This is why I said if I was training for 4x body weight deadlifts I would need to eat carbs again.
Goddamn notice how bad the crash is.
I shared the above earlier
"I don't think I can train and lift 4x my body weight in 6 months without using carbs as energy. But I don't want to and that mean sacrificing my overall fitness But i can probably hit 3x my body weight using just fat as fuel."
Fat as fuel is more sustained = you have more energy + clear mind after a workout than before.
Carbs as energy= spike and crash and burnout
I read somewhere that I takes people a couple of weeks to go from being carb adapted to being fat adapted. I personally made the switch over 8 years ago so I don't really know how true it is but I'll let you go down that rabbit hole on your own.
+ MCT is kinda like a bridge to help your body burn fat quicker + bridge the time until the fat "thaws" hence it gives an additional boost to people to switch to being fat adapted or use fat more easily/quickly.
3. Fasting
I haven't been eating breakfast for over 8 years, outside maybe special occasions in hotels, events etc.
So most days if I have an early dinner I'm fasting from 6pm to 1pm. It's second nature to me.
Ideal "normal city" day:
Wake up

 

Black Coffee (no sugar or milk) + maybe MCT oil

Gym Workout

maybe swimming + sauna if doable

First meal sometime between 1-3pm

Second meal probably latest 6pm unless I go out/special occasion

Sleep
19ish fasting hours I guess with a workout in it. I go surfing with an empty stomach, I've done 2 dives with an empty stomach, I climb mountains with an empty stomach and I lift 2x my body weight with an empty stomach.
That's my normal baseline daily fasting that's been in place since I was 17.
On top of that I do 3 days water fasts and 7 days water fasts once in a while.
That's basically 7 days of nothing but water and maybe salt. Some fasts I might add black coffee and mct oil but so far I haven't added mct yet.
If I were trying to be as healthy as I can be, I'd probably do 4x fasts a year with one of the fasting being 7 days
So 3, 3, 7, 3 over the year. Once every quarter.
Reality is over the last half decade I've only ended up doing one 3 or one 7 per year.
Sidenote: I have more energy on day 3 of fasting than most people have on a normal day. I remember being 3 days without food and I was chatting to a guy for 30 mins in Bali and he was like "do you want to grab lunch" and I was like no I'm fasting I haven't eaten in 3 days. He looked at me shocked and said "dude you have more energy than me wtf?"
I haven't tried lifting weights on fasting yet But Dom D'Agostino was able to deadlift 10 reps of 500 pounds and 1 rep of 585 pounds after a 7 day. Gonna try it during my next fast.
Stuff like this is normal when you switch to using fat for energy instead of carbs and get used to fasting.
Doing 7 days water fast is normal

Not faiting if you've skipped a meal is normal

Walking for 10 hours without a snack is normal

Just cause society is sick doesn't mean you should have an insulin level of the 65 year old.
Actual Difference in Men vs Women
"But I know women stronger than guys" Yeah duh!

Almost all women boxers would knock me out in a second. But very few can out deadlift me without taking hormones.

I'm talking about lifting 2x, 3x and 4x your weight in this article. I don't care about the strength of the average women vs average man, differences often show up at the margins.

With the same level of training:

3 months: I deadlift 2x body weight, my wife 1x.

6 months: I hope to deadlift 3x body weight. I think she'll manage 1.5-2x.

58kg World Record Deadlifts.

Men: 275kg = 4.75x body weight.

Women: 220kg = 3.8x body weight.

The world record for Women's 47kg is 176kg.

I weighed 47kg and deadlifted 200kg when I was 17.🤷‍♂️

Reality and especially gravity + weights doesn't care about your beliefs.
If you're trying to deny biological reality, you're definitely on the whole site you should probably go back to outrage Twitter..🤷‍♂️
As I said earlier, Women should be training just like men. In the gym there's literally not a single exercise that I would change for a woman (who isn't competing professionally in something).
But they're some differences that actually matter:
Women will always have a higher fat percent than men even with the same fitness level.

A professional male bodybuilder having 5% fat is probably = a professional bodybuilder woman having 10% fat. So while I'm probably between 8-12%, my wife is probably between 16-24% fat. So basically women are +8-10% fat but same level of fitness.
Woman's peak strength depends on their hormonal cycle while men are stable (kinda like the fat vs carb energy chart). It's normal to have less than 60% of peak strength for a women just based entirely of when in her hormonal cycle she is in.
So the "try to beat personal record deadlift" is something most women can do only during one week a month. But during the rest of the month they can often train technic a lot and with lighter (but still heavy weights). If pr is 70kg you should still be able to lift 40-50kg on rest of the month so workout is the same but don't be disheartened if you feel like you can't lift what you could in the past.
"It's not me, it's my hormones" isn't a meme for strength.
Women often have less relative "explosive strength". While a man and a woman with the same fitness might be able to swim/surf/hike the same, when it comes to HIIT or sprinting, guys tend to do better while women do better with things that need more ultra endurance.
Women benefit from fasting just like guys, but guys perform better in working out with an empty stomach. Most fat adapted guys will probably workout worse if they eat something small, while a fat adapted woman performs better. Ie. Guys perform better in a "hunting" mode.
So based on the above, one big difference between my wife and me is that we both eat 2 meals but she eats a meal in the morning & afternoon while I eat my meals in the afternoon and evening.