Running a profitable online business in this highly competitive world is challenging.
Your customers prefer the ease of purchasing your products or service without having to navigate through clunky pages and finally make a purchase.
The worst scenario is when you lose out your hard-earned visitors/leads in one stage or the other.
That's why it's undeniably essential to invest in a robust sales funnel builder.
Sales funnel builders enable you to guide your leads from the beginning, i.e., the first touchpoint, till the end, providing an impressive buying experience.
When you invest in a remarkable sales funnel, the results are high-conversion landing pages and successful email and social media campaigns.
In this blog, we are going to shed light on the best funnel builders for WordPress. While some provide full-fledged services, others focus on standalone services like a landing page. Therefore, in this blog, you will find a perfect sales funnel builder to boost your online sales and design an impeccable buying journey.
Lastly, I will walk you through the entire process of integrating WordPress with funnel builders like ClickFunnels and Unbounce.
To put things into perspective, let's begin by learning a basic example of a sales funnel
How Does a Sale Funnel Work?
The sales funnel aims to give you a holistic view of your sales and marketing efforts and aids in achieving higher conversion rates.
During different stages, you infuse content that encourages leads to take the next step. In a nutshell, sales funnels help you streamline your leads into regularly paying customers, systematically.
For example:
You run an ad on Facebook (or any other social channel), offering a free giveaway
It then navigates to a landing page where the offer is ready to be grabbed in exchange for user's information, like an email address
Once you have the user information, you can run a drip campaign where you offer a paid course, leading to a high-ticket product or service
After that, the user continues to receive emails, courses, and offers consistently.

Above mentioned is a very generic example of how a sales funnel works.
You can infuse different types of content and campaigns, set the frequency of your emails, and eventually monetize your offerings.
It could include social media campaigns, email campaigns, or webinars.
You will be assigning different types of content based on the stage of the funnel your buyer is.
When done correctly, sales funnels are a powerful and smart digital marketing strategy and reap exponential revenue.
Sales funnels can be really basic and also complicated. Based on your needs and requirements, you will be selecting from a plethora of options available.
Sales funnels are helpful because they:
Save you from the hassle of hiring different people for varied roles
Show you precise data, enabling effective marketing strategies
Save ample of your time and effort which allows you to focus only on your core service
Provide an impeccable experience to your users
Increase your revenue and grow your business with the high conversion and least efforts
Now let us dive right into the article and explore the options we have for sales funnel builder for WordPress in no particular order.
Best WordPress Sales Funnel Builders
1. ClickFunnels – Most Popular Sale Funnel Builder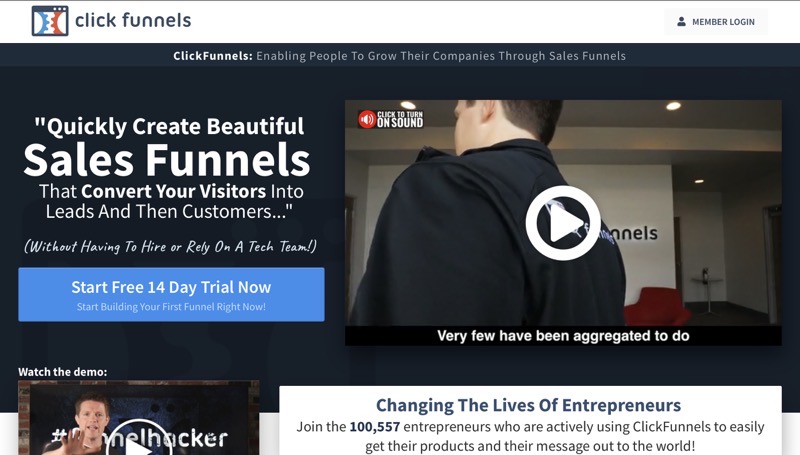 Click Here To Try ClickFunnels For Free
What is ClickFunnels?
ClickFunnels is an extremely famed sales funnel builder that's accredited by many marketers.
Russell Brunson is the brain behind ClickFunnels, which is essentially an all-in-one tool for sales funnel creation.
It got its popularity for its intuitiveness and hassle-free usage.
With ClickFunnels, you can literally do everything under one roof.
ClickFunnels makes the job effortless for you, from building drag and drop webpage editor to Facebook automation and creating high-converting sales funnels.
One feature that attracts most marketers to this tool is its ability to function without a team!
That's correct; you do not need a full-fledged team to handle the overall framework.
Moreover, if you need a reference point, to begin with, you can fill out their quick questionnaire on the website and get a case study crafted specifically for your type of business.
Key features of ClickFunnels
Template: the pre-designed templates make the job quick for you. It enables you to create a professional sales funnel ready to be deployed; without having prior experience.
Intuitive: the drag-and-drop builder makes the entire game a lot easier. With this functionality, you do not need to write even a single line of code yet create robust funnels.
You simply have to transport the elements of the sales funnel, in a way you desire. It is designed in a manner that doesn't make you feel frazzled at the end of the day; instead, it focuses on making the process productive.
Monetization: the affiliate management software called the ClickFunnels BackPack, enables business owners to assign an affiliate link to the marketers and run affiliate marketing campaigns for their products or services.
Another way of monetization is their membership site feature. Through this, you can create and sell the courses right on the platform and don't need to accommodate the hassle of having another course platform.
Pros
Community – FunnelHackers
Popular sales funnel and used by many marketers
Easy and intuitive for beginners and busy entrepreneurs
Follow-up funnel
Cons
No email and automation
Steep pricing structure for beginners
ClickFunnels Pricing
ClickFunnels comes with a 14-day free trial, so you can test the waters before deciding to invest.
Trials are a great way of testing tools out before making a long-term commitment since you will know if it is the right fit for your business or not. After the free trial, here is what the pricing looks like:
Startup plan: $97/month
Etison Suite Plan: $297/month
Bottom line: ClickFunnels is a great sales funnel builder, and it also integrates with WordPress.
Moreover, it is designed for busy entrepreneurs who do not have much time on their hands, yet, want high conversion for their products, programs, services, and more.
The only biggest drawback is the lack of email automation.
However, apart from that, ClickFunnels' fame speaks volumes for its services. It is hands-down, the best sales-funnel builder.
Here's a special discount for you guys if you're are thinking about signing up for Clickfunnels, you can get 6 months of the Etison Suite (worth $297/Month) and other bonuses that include
6 Week Funnel Hacks Master Class – $2,997 value
Instant Traffic Hacks – $1,997 value
Inception Secrets – $1,997 value
SOAP & Seinfeld Email Sequences – $997 value
For only $997! That's over $8700 in savings to get started click the link below and sign up!
How to integrate ClickFunnels with WordPress?
ClickFunnels comes with its own hosted platform; however, if you want the funnels to be hosted on your WordPress website, read on. This will allow you to continue hosting on your WordPress domain and add pages from the
ClickFunnels dashboard. It is quite similar to how you would integrate any other sales funnel.
1. Fundamental:
Let's begin with the fundamentals: you will need to own a WordPress website and ClickFunnels account
2. Installing the plugin:
On your WordPress dashboard, go to Plugins and click on Add New
Find the ClickFunnels plugin and ensure it is by Etison, LCC
Click activate
3. Verify:
Now that you have your plugin installed, it is integral to verify the same.
Find the installed plugin in the dashboard and navigate to its Settings
Under the API connection, enter the account email address you used with ClickFunnels
Now to obtain the API key, open another tab on your browser and go to the ClickFunnels accounts. Within the account, go to the account settings, find WordPress API, and click expand and copy the key.
Come back to your WordPress dashboard and paste the same in the Authentication Token box.
Finally, click on save the setting.
4. Final Step:
And there you are! To ensure everything is in place, click on the compatibility check on the left side and ensure every box is ticked green. It means all settings are enabled.
You can further modify the general settings and select the favicon for your website.
That's how you set up ClickFunnels with WordPress. Let's explore other alternatives and options for building sales funnel for WordPress.
2. CartFlow – Best WordPress Sales Funnel Builder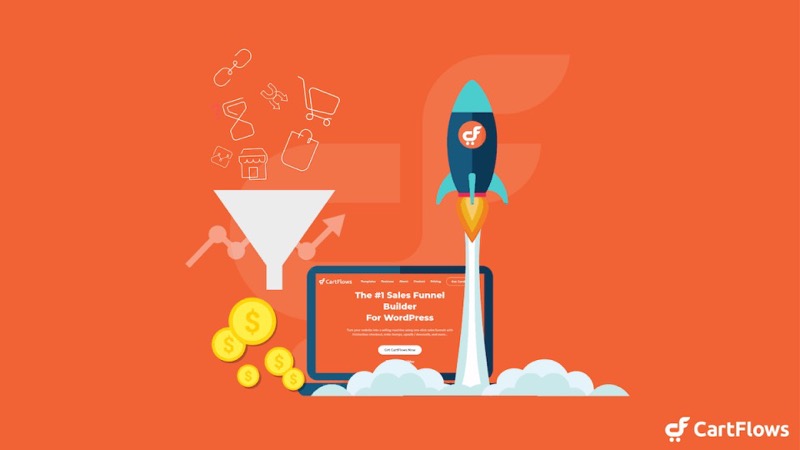 What is CartFlow?
If you own a WordPress website, you are going to adore this tool.
The builder is used in over 10,000 websites and is infamous for one-click upsell, WooCommerce integration, and a plethora of themes that work well with page builders like Divi and Elementor.
One of the biggest frustrations with selling products online is that most pages or funnel builders lack the flexibility of customization.
You come face to face with a wall of rigid content with no clue to customize it. That is where CartFlows really shines because it eliminates the redundant aspect of creating a sales funnel.
Key features of CartFlow
Customization: as discussed above, the most significant edge CartFlow gives you is the ability to customize your landing pages, checkout pages, and more. Apart from that, CartFlow gives you the accessibility to create sales funnels of different types, including lead magnet, membership, webinar funnel, and more.
WordPress compatibility: one of the largest selling points for CartFlow has to be its compatibility with WordPress.
This functionality allows you to get everything under your WordPress dashboard without having to navigate to different tools.
Moreover, if you are already acquainted with WordPress, using CartFlow will be a breeze for you. It enables you to do everything inside the WordPress dashboard. Meaning you own each piece of content and every progress you have made so far.
With sales funnel builders that host on other platforms, you are sort of locked out and don't own the domain. CartFlow eliminates this restriction. You can build everything right inside the WordPress. Build it from scratch within WordPress, and since you own the domain and hosting, it is safe.
Monetization: CartFlow allows you to monetize well on their platform with features like Order Bumps that helps you to make related products available at discounted prices. Apart from that, you get one-click upsell and downsell, cart abandon, and more.
Bottom line: the idea of CartFlow is to aid you with easy sales funnel builders without having to deal with endless, clunky pages builders. Moreover, it is easy for entrepreneurs or newcomers since it lets you work within WordPress, integrate with other plugins, and work smoothly with other page builders.
Pros
Free, ready-to-use templates
Integration with WordPress
Compatibility with page builders
Cons
Lack of learning resources
Lack of email marketing
CartFlow pricing
The best part about CartFlow is that you can begin with free. This module is ideal if you are looking to test the waters or wish to start with a small trial.
In the free version, you will get basic features like checkout and thank you page. This should also tell you how the tool works and if it is worthy of your investment.
Next, if you want to commit to CartFlow, the cost is $299/year. In this package, you get all the premium features that the free version lacks. Features include upsell, order bumps, and more.
Lastly, CartFlow is an excellent tool since it can be used within WordPress, so it comes with no learning curve whatsoever. Also, it offers a free version that you can test before deciding to invest. It is an ideal sales funnel creation tool for all solopreneurs, entrepreneurs, and agencies.
3. Unbounce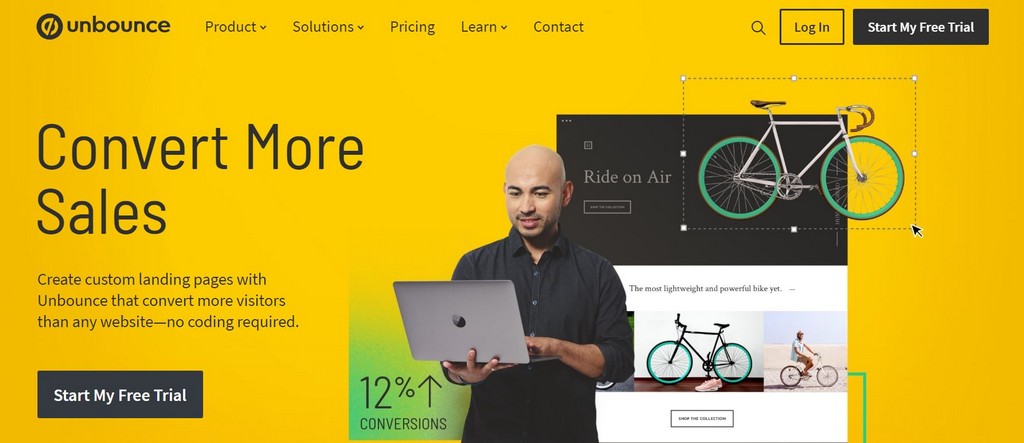 Exclusive Offers For JeremyNoronha.com Readers
JeremyNoronha.com readers can get a 20% Discount on Unbounce. Simply click the link below and signup and the discount will be applied automatically.
What is Unbounce?
Unbounce is essentially a landing page platform, unlike others on this list that are full-fledged sales-funnel builders.
It focuses on only one thing and does it exceptionally well. Again, it lets you create stunning landing pages without writing a line of code.
So far, 15,000 brands have used this tool for increasing their conversion rates on the page.
Landing pages are a crucial part of your entire sales funnel. They have to be enticing, functional and help your users navigate with ease. If you already have developers in house, this should be your go-to landing page builder. Let's now look at the features of Unbounce, its pricing, and how it integrates with WordPress.
Features of Unbounce
Unlimited A/B testing: if you have been around the marketing space even for a little time, you would know testing is essential. It's integral to test two of your copies/pages to see which one performs better. The best part is that with Unbounce, you get unlimited A/B testing.
Monetization: Another reason to adore Unbounce is their monetization options where they make the pages highly-converting.
Since the whole idea of creating a landing page is to drive more conversion, features like sticky bars, pop ups, and smart traffic steal the show. Other impressive features of Unbounce that help you monetize better are integration with Google analytics and other 3rd party applications.
Ease of use: Unbounce is genuinely intuitive and does not require you to write a line of code. This is great, considering you have multiple products and need various landing pages for each of them. With drag and drop usage and over 100 responsive templates, you can create stunning, functional, and high-converting pages with ease.
Pros
Quick, intuitive and highly functional landing page creation
Real-time data dashboard
Create variants for test pages easily
Sophisticated form building
Cons
Integration with third-party applications can be improvised
Bells and whistles can make the process overwhelming
Unbounce pricing
Unbounce comes with a sleek 3 tier pricing that lets you select the plan of your choice and move up the ladder with your evolving requirements.
75 landing pages + 8 popup and sticky bars
150 landing pages + 16 popup and sticky bars
Enterprise: starting at $399/month
Over 375 landing pages + over 40 popup and sticky bars
Bottom line: Unbounce is an excellent landing page builder, and it goes beyond the fundamental service; it offers features like sticky bars, analytics, integrations, and dynamic text replacement that make your works extremely easy.
It takes a bunch of tasks off your plate, and you do not need any other tool with Unbounce to create landing pages.
This is ideal for entrepreneurs, businesses, and agencies selling courses, programs, dropship, or anything else online. Now let us see how Unbounce integrates with WordPress.
Unbounce Integration with WordPress
Using Unbounce with WordPress is almost intuitive and does not require much legwork. The best part is that each element of Unbounce is customizable, and you can create your pages literally within minutes.
Here are the steps you can take to create a landing page on WordPress with Unbounce:
The first and foremost step is to install the Unbounce plugin on WordPress
You can do this by finding the Unbounce Landing Page plugin in your WordPress dashboard's left-hand toolbar.
Once the plugin is installed, select the plugin from the same toolbar. Click on authorize button to verify your page
Now head to the Unbounce dashboard, and make sure you insert the correct details like the URL.
And that's it! It is that simple to use the Unbounce landing page builder with WordPress.
Therefore, without a doubt, Unbounce is the best landing page builder that provides you the ease of creating high-conversion landing pages and goes beyond its price.
Now let's see what the other sales funnel builders are.
4. ThriveThemes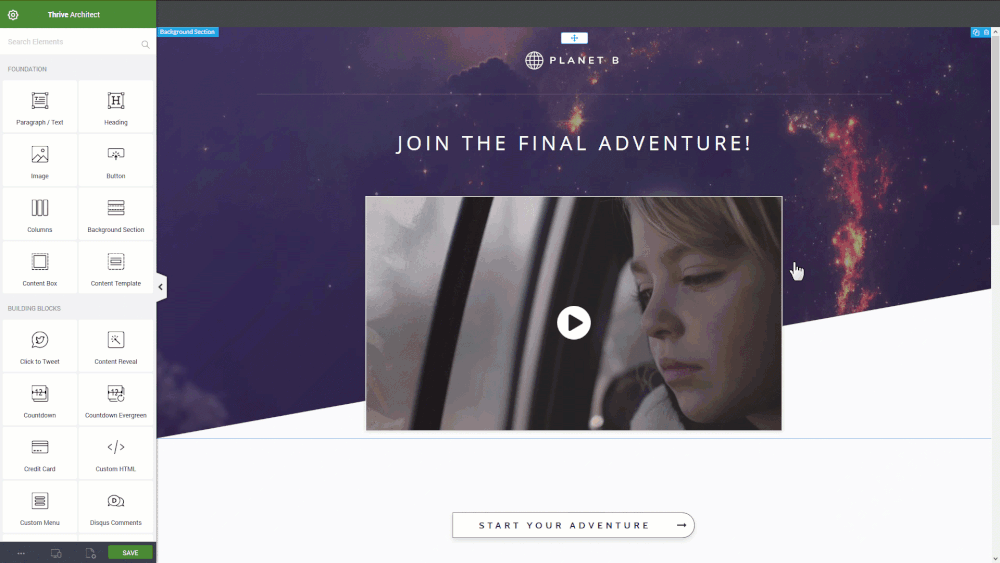 What is ThriveThemes?
ThriveThemes is a versatile suite of WordPress plugins. They have been around 2014-15, and the team has extensive experience in the online space, which makes them credible. Akin to ClickFunnels, ThriveThemes is also everything under one roof sort of platform. This tool is specifically for WordPress, which means you need to have your domain and hosting on WordPress.org.
Key features of ThriveThemes:
Education: There are many resources on how to use the themes in the Thrive University that come really handy to first-time funnel creators.
Ease of use: there is no learning curve if you know how to use WordPress. If you don't have hands-on experience on WordPress, you may want to try that first. Afterward, the process is quick. All you have to do is download the ThriveThemes and see which plugin(s) you want to use. Moreover, you get a bunch of pre-made templates that act as a cookie-cutter for creating a sales funnel.
Monetization: as mentioned above, ThriveThemes is a suite of WordPress themes. Based on how you want to monetize your digital goods, you can install the plugins. To illustrate what I am talking about:
Thrive Architect is a plugin that you can install for landing pages and infuse them with your sales funnel. Similarly, you have Thrive Leads that aid you with lead and email capture.
Pros
A plethora of plugins including countdown timer, testimonial and lead generation plugin
All-in-one solution suite
Full control over each element of the sales funnel and is highly customizable
Cons
Multiple plugins needed for setting up the funnel
No affiliate marketing option available
Lack of marketing automation
ThriveThemes pricing
With ThriveThemes, you can sign up for their membership where you get the plugins. The number of plugins and other features depends on the plan you select.
Thrive membership: $19/month (when paid annually). You get all the plugins + themes on 25 websites you own.
Agency Membership: $49 (when paid annually). You get all the plugins + themes on 50 websites you or own clients own.
Bottom line: Overall, ThriveThemes is a bundle of plugins that you can choose from and construct your funnel. The best part is that it gives you full control over the funnel building. If you have any prior experience, then it'll be easier for you since you will have a roadmap in mind. Apart from that, ThriveThemes are great for every entrepreneur for creating high performing sales funnels.
5. Kartra
Click Here To Try Kartra 14-day Trial For $1
Kartra is a strong competition for influential tools like ClickFunnels. It is yet another robust, all-in-one tool for building exceptional sales funnels.
It is an intuitive tool that guides you through and through the entire process of setting up your sales funnel.
From landing pages to CRM to automation and live chat support, you get everything in one place.
By investing in Kartra, not only are you saving a ton of your time but also creating something that will actually help you generate more leads and revenue at the end of the day. The team behind Kartra is the same as EverWebinar and WebinarJam, which are the most popular webinar platforms available today.
This reflects the authority these people have in the online space and the features they bring in the tool.
Key features of Kartra
Done for you campaigns: this is the best feature you can get in any tool on this planet! DFY campaigns come with pre-written copies and marketing automation sequences, which means you only have to change the name to reflect your business.
This feature saves you buckets of hours and endless to and fro with your teams. What's best is that you do not need to hire an expert for each role. You can pick one DFY funnel, edit your name and deploy right away.
User-focused: with BAM (that is Behavioural Adaptive Marketing), Kartra lets you create a unique experience for each visitor.
Monetization: here is a piece of great news for you: you get an affiliate program within the tool where you can not only assign affiliates but also analyze how each program is performing. This gives you in-depth knowledge of your revenue streams.
Pros
Umbrella for your online business
Intuitive interface makes no room for a learning curve
Built-in stock photo library
Cons
Expensive for beginners
Can be overwhelming
Kartra Pricing
An impressive feature of Kartra is that it lets you dive into the waters before committing to purchase the full suite. The first 14-day trial comes at just $1.
Afterward, here is what their pricing looks like:
Starter Plan: $99/month
Silver Plan: $199/month
Gold Plan: $299/month
Platinum Plan: $499/month
Overall, Kartra is amazing, all in one solution to meet all your online selling requirements. You do not need third-party applications to integrate. Hence, everything can be done under one roof. The only drawback, if you ask me, is its unavailability of an official WordPress plugin.
Apart from that, it is a great tool that provides all functionality under a roof.
Best WordPress Sales Funnel Verdict
These were top 5 sales funnel builders that perform exceptionally well and promise a high conversion for your services or products online. The best part is that all of these integrate well with WordPress without any trouble.
What you take away from this article depends on your business' type, budget, and requirements.
If you want a full-fledged sales funnel, you can go with ClickFunnels that also comes with a CRM yet integrates with WordPress as well. Or, if you wish to go with only a landing page, then Unbounce is an excellent option for you.
Therefore, consider your requirements and make a decision. However, ClickFunnels tops the chart since it offers every possible solution you would require.
Read Next:
Best Landing Page Builders Reddit