Speed! Nothing is worse than visiting a website that takes forever to load! In today's day and age, it's of utmost importance that you do not waste the time of your readers or users. Here's my in-depth guide on how to speed up WordPress and make your site blazing fast!
Why is WordPress Site Speed Important?
Why should you even bother with your website speed, is it really important? Short answer: Yes
In the day and age of quick notifications and instant gratification that we are living through, the attention span of people has never been lower! A quick Google search gives you the result that an average human's attention span is 8 seconds!
8 seconds, that's all the time that you have to make an impression, it would be a shame if your websites didn't even load during that time, wouldn't it? That would cause most people closing your website before anything even loads! That's why it's so important to speed up WordPress.
Here are a few of the other major reasons why WordPress speed matters:
SEO – Google likes fast sites, they mention it clearly in their webmaster guidelines! So that means that not only is having a slow sight cause people to leave your site but it's reducing the number of people coming in the first place. This blog is on the first page of Google for many high valuable keywords like "Airbnb coupon 2018", "best travel backpack 2018", "Best GoPro Alternatives 2018" so speed is very important for you.
A loss in Sales – Your bounce rate is the percentage of people who visit your site who leave after viewing a single web page! There have been studies that have shown that for a 1-second delay in page response can result in a 7% reduction in conversions.
User Experience – Think of it from the perspective of your customer, how do you like browsing the internet? Do you like waiting for ages for a website to load? Hell no, then why put your customers or visitors through that ordeal!
How to Check Your WordPress Site Speed & What Is A Good Site Speed?
WordPress is an extremely versatile platform however the downside to a framework that allows you to do so much is that it's a little bloated. If you don't enable certain settings or keep certain factors in check your site will turn sluggish and take ages to load.
Just opening your website and counting the seconds isn't the right way to check the speed as your browser will have cached (saved offline) files of your website so that your website opens faster! Also, browsers like Chrome by default prefetch your site when you type the name in the address bar so it'll seem like it looks faster than it actually does.
Also based upon the specific location of your server and the user, the load time will vary! Eg if your server is in the USA and someone in Australia opens the website, it would take longer than if someone in LA did it. However, we will solve this issue later in this guide with the help of a CDN.
There are a few free tools available on the internet that helps you identify the load time of your site as well as give pointers when it comes to what issues need to be fixed.
Here are the highest rated ones and are the ones I recommend you use:
Pingdom

Here is my page load time, you can check it on Pingdom by clicking here! Go to Pingdom and type in your domain name in order to find your own website page load time.
PageSpeed Insights

Google has their own speed test tool however it doesn't show you the load time. Google's PageSpeed insights show you what needs to be fixed on your website according to basic speed optimization. It's useful for understanding the factors that make your website slow.
Using Pagespeed Insights tools allow you to see the basic guidelines when it comes to speed optimization, however, Pingdom is better for calculating the Page Load time.
So what's a good page load time? Well, the industry recommendation is 2 seconds! Anything above 4 seconds is just unforgivable!
How To Speed Up My WordPress Site
---
Use A Fast WordPress Host
On WordPress's WordPress Optimization Guide, "server" is one of the most used words because when it comes to speed it's important that you have good and fast servers!
It might sound nice to go for a bargain WordPress hosting provider that gives you "unlimited page views" but that's just a marketing selling point and most bargain WordPress hosts provide horrible speed and service.
Based on the size of your website, the host you pick will vary as there is no 'one-fit-all' WordPress host!
If you are just starting out, and looking for a shared hosting provider I would wholeheartedly recommend SiteGround as a host! They are the only host recommend by all 3 WordPress, Joomla, and Drupal on their official hosting pages!
SiteGround's speed technology is one of the biggest reasons I chose them. They use the latest NGINX servers, solid states drives (SSDs), PHP7, CloudFlare, and HTTP/2 enabled servers. In simple terms, it's got the best tech for your site; hardware, and software wise!
SiteGround is the #1 rated host among most WordPress developers and this website is hosted on SiteGround as well.
The average load time on SiteGround is 1.3 seconds which is miles ahead of the other hosts at the same price!
Read Next: SiteGround Coupon Code 2018
Other than the speed, all SiteGround plans include free SSL, the uptime is just amazing (my site hasn't been down since) and they have the best support I've ever come across. After buying the hosting package at the end of February, I contacted the support, messaged them my login details and in just a single day, without any downtime, they migrated my site over for free.
SiteGround has 3 hosting plan, I personally use the GrowBig plan and I can't recommend that enough to other bloggers and small website owners. It allows you to host multiple sites for free as well as double the servers of the Startup plan.
Read Next: SiteGround Startup Hosting Review
Also if you are a new customer to SiteGround and sign up you get 60% off your web hosting bill!
However, SiteGround isn't the best host for everyone! When I work as an SEO consultant for startups and businesses, most of my clients run websites with 100,000 to 1,000,000 monthly visits. For websites with that amount of traffic, I recommend Cloudways as a website host.
Also if you run a web app built using a different framework and using WordPress just for the blog section, I recommend Cloudways as their cloud servers give you the functionality to run both on them on the same account even if you need completely different hosting environments.
Cloudways is great for businesses as they provide the easiest staging platform and give you a variety of features and access to different services and fast and scalable servers.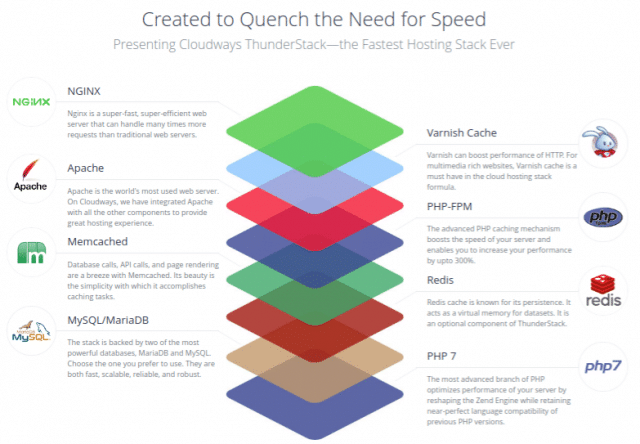 Fast WordPress Hosting Recommendation:
Bloggers and Small Business Owners: SiteGround GrowBig (Get 60% Off)
Bigger Websites >50,000 Monthly Visitors: SiteGround GoGeek (Get 60% Off)
Startups with Web Apps + WordPress: CloudWays (Try It For Free)
---
Good LightWeight Theme
This is where most people mess up! Picking a slow and bloated theme will leave your site sluggish even if you follow the other recommendations below.
Not all themes are created equally when starting out it's easy to go for a free theme that looks flashy, but most free themes carry bloat that slow down your website!
The built-in free WordPress themes like Twenty Fifteen and Twenty Sixteen are lightweight however super boring and dull! Most free themes are slow due to poor coding by the developer or may have too many unnecessary built-in features.
Here is a list of a couple of places where you can good themes, each person has their own subjective opinion of what is a good design and hopefully these will give you a lot of options.
Elegant Themes: Elegant themes is a favorite among many bloggers as it's an incredible deal of $89/year or $249 one time payment with access to around 88 themes with new ones always being added. The most popular paid theme in the world Divi is also a part of it. Divi 3 itself is worth more than the price as it's a drag and drop editor wherein you can build absolutely any kind of website. I would definitely recommend Elegant themes as you get everything you need to build any type of website without touching any code. However, Read This before thinking about using Divi!
Also Read: Divi 3 Elegant Themes Review 2018
StudioPress: Some of the fastest and best themes that I would recommend for a little more advanced users! They're a little more expensive as compared to Elegant Themes but worth every penny. With themes like AgentPress for real estate agents, Cafe Pro for cafes and so many more incredible choices! I use Aspire a StudioPress theme for this site. At ~$99 for a theme or $499.95 for all the themes, it's definitely worth its price for a little more advanced users.
Studiopress would be my first choice as it's based on the Genesis framework which is the best framework on WordPress when it comes to speed. The Genesis framework is also recommended by the co-founder of WordPress!
However, some users might need to hire a web developer to help them set it up, while Elegant themes can be installed and edited easily thanks to drag and drop feature. Hence the reason I included them as an option.
---
Install & Configure A Caching Plugin
WordPress recommends using a plugin to cache your site, but what's caching all about?
Well, your WordPress site is dynamic wherein every time someone visits a page on your website, the page is built from ground zero.
Every time someone visits a page, WordPress has to run processes to find the required information, put it all together, and then display it and this makes your load time longer.
What caching does is it saves a copy of the page once it's displayed, and shows that on the next visit. I personally use and recommend W3 total cache which is a free plugin that does this.
Follow my guide on how to set up W3 Total Cache, This plugin is normally a little hard to set up but the tutorial shows you how to set up W3 Total Cache along with CloudFlare as well. I have a zip file of the same settings that you can upload directly and import into your plugin settings, so it's much simpler.
---
CloudFlare is a free CDN that improves speed and security! A CDN is a network of servers all around the world. Each server stores the "static" files used to make up your website so that the information transferring from your server in the USA doesn't have to travel to Australia every time someone visits from there.
A copy of the files is stored around the world thus reducing the distance and time take for the data to transmit. Using a CDN aka a Content Delivery Network reduces the load time for all your readers.
One-Click Free CloudFlare CDN on Siteground, You can boost security and speed in an instant by enabling CloudFlare in a single click in SiteGround.
Also, a quick tip would be to tweak the settings to match the picture above to make your site even faster!!
If you are not using SiteGround as a host follow the steps below to enable CloudFlare.
Else you will have to go to CloudFlare and sign up. You will be then prompted to add your website.
Click continue, then scroll down and click continue again.
Choose "Free Website" and click continue
CloudFlare will give you 2 name servers
Now you will need to google "how to change your nameservers on SiteGround" however Google with your host if you are not using SiteGround. Once you change your nameservers, it might take a while for them to change.
After that log into CloudFlare and go to the speed section and enable all minify options as well as rocket loader.
Go to the CloudFlare section of my W3 Total cache Guide to make CloudFlare work with the W3 Total Cache plugin.
---
Compress and Optimize Images
Images make posts much more comprehensive as well as increases engagement! However, images at the same time will slow down your site if not optimized right and compressed.
This post would be pretty crap wouldn't images as I wouldn't be able to explain a lot of the features or actions, however, I always make sure that the images on my blog are optimized and compressed so that it doesn't make my site too slow.
PNG is an uncompressed picture format while JPEG is a compressed picture format so it's best to avoid PNGs unless you need transparent images.
One basic tip to speed up WordPress is to upload the image in the dimensions that you are going to use. Eg. Uploading a picture in 640×480 dimensions and using it instead of uploading a picture in 1280×960 and then resizing it using HTML.
There are a few plugins that help you compress your pictures as well. Here are my top two picks
Imagify: I use this plugin personally, it's the best picture compressor however it the free version of Imagify only allows you to compress until 25MB, their lite plan of 1GB is only $4.99 a month and is definitely worth it.
EWWW Image Optimizer: I used to use this plugin in the past, it's pretty decent and free. If you need to compress a lot of pictures but on a really strict budget I would recommend this plugin but I prefer Imagify!
---
Optimize Your WordPress Database
There is a plugin called WP-Optimize that lets you take care of all of this with a single click of a button.
Basically, the reason you want to run WP-Optimize is due to the fact that WordPress creates a lot of files that are completely unnecessary like 'auto drafts' and 'post revisions' every single time you save a post; having one isn't a problem but these post revisions add up and waste a lot of space. You rarely need the thousands of post reviews, auto drafts, and spam comments!
---
Remove Plugin Bloat
Having 50 plugins activated on your site and then wondering why it's slow is like having 50 tabs open on your browser and wondering why everything is sluggish!
Delete plugins you don't use or need: Usually, many plugins can be replaced by using code eg. Pasting your analytics code directly into the header instead of using a Google Analytics plugin.
P3 Plugin: You should install this plugin and run it as it shows you which are the plugins on your site that take up the largest amount of your processing power. Then ask yourself if you really need it, Delete this plugin after use as it's bloat too. Plugins like Jetpack usually slow down your site a lot and it's best to avoid them.
---
Speed Up Your WordPress Site
Hope this guide on How To Speed Up WordPress is useful and helps you improve your site speed!
Have more questions? Is Something not clear? Let me know about it in the comments, and I'll try my best to clear things up.
Read Next: Best Small Business Web Hosting 2018
Cheers,
Jeremy