W3 Total Cache is a great plugin I have used on a ton of websites to make them faster, and did I mention that it's Free? Oh, well it is! How great is that? This guide will help you get the most of the plugin (Because the options and settings can be overwhelming tbh)
Why should you use a WordPress Cache Plugin?
Well, if you use WordPress, every time a web page is loaded, your website spends some time processing the page which takes some time to load. However, if you use a cache plugin your website preload and caches a lot of the website and also stores a copy of the static resources of the website on the user's browser
I use it on this blog, with the settings below, along with an amazing host like SiteGround which is the highest-rated host for WordPress, the site speed you can get using W3 Total cache is insane! (Especially once it's configured correctly!)
I hate slow sites (like most people) and also Google like's fast sites so I'm always trying ways to make my site load faster. In fact, the article you are reading, loads in less than 1s :O!

If you click on the "Install" tab you will see that many of the options are Preset. However, not all, and I'll also help you set up Cloudflare (free).
I use this combination on all of my sites to make them faster. This guide will help you optimize your WordPress site and fix a lot of problems found by Pingdom or Google PageSpeed Insights: Caching, minify, gzip, bad requests, cache validator, add expires headers and much more.
Of course, if you want a load time like this, you need to have a well-structured WordPress theme like StudioPress and fast servers as well.
Download my W3 Total Cache settings here so that you can import into the plugin and hence you don't have to go about setting it up completely. Sadly you are going to have a DropBox account (because Google Drive isn't letting me upload this!) Upload using "Import" under Performance → General Settings → Import / Export Settings. You will still need to configure Cloudflare with W3 cache below.
W3 Total Cache Settings
Follow along with the images 🙂
1. W3 Total Cache General Settings
2. W3 Total Cache Page Cache Settings

If you go to the Install tab, you can see the basic settings recommended by the plugin developer and in that he recommends using Compatibility mode. It reduces performance but your site is less likely to cause problems on your site.
3. W3 Total Cache Minify Settings
Minify should be kept disabled if you are going to be using Cloudflare as I recommend. The best settings are the preset settings when it comes to Minify, Database Cache, and Object Cache.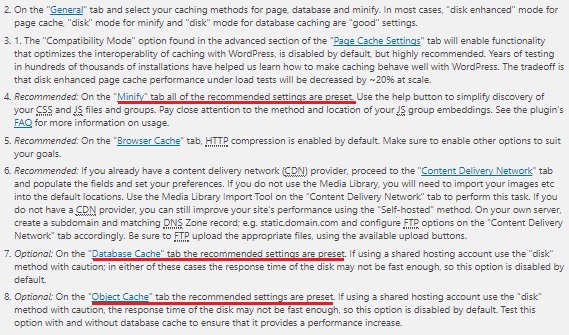 4. W3 Total Cache Database Cache Settings
Recommended to leave as it is.
5. W3 Total Cache Object Cache Settings
Recommended to leave as it is.
 6. Browser Cache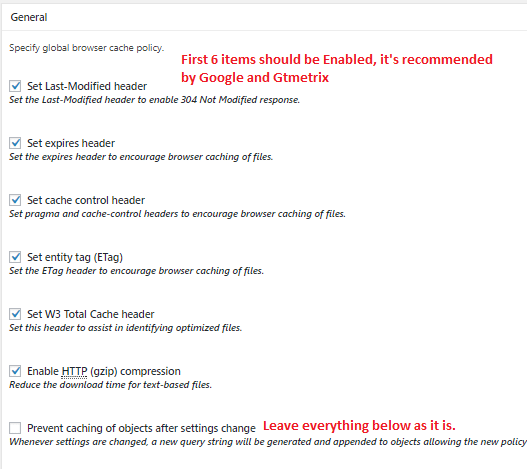 7. W3 Total Cache CDN Settings
MaxCDN currently joined a new company called SlackPath so this part of the guide needs to be changed due to the rebrand. I'll add it once I can.
8. W3 Total Cache Extensions Settings
Enable CloudFlare and then go to the below step.
9. W3 Total Cache Cloudflare Settings
First, you will have to go to Cloudflare and sign up. You will be then prompted to add your website.
Click continue, then scroll down and click continue again.
Choose "Free Website" and click continue
CloudFlare will give you 2 nameservers
Now you will need to google "how to change your nameservers on SiteGround" however Google with your host if you are not using SiteGround. Once you change your nameservers, it might take a while for them to change.
After that log into CloudFlare and go to the speed section and enable all minify options as well as rocket loader.
Now let's add make the W3 Total Cache work with CloudFlare. Click on Setting Under CloudFlare in Extensions.
Configure the CloudFlare Settings as below
Once you're done configuring, be sure to purge all the cache by going to the DashBoard and clicking Purge all Cache.
10. W3 Total Cache Possible Issues and Remedies
If your website breaks and the formatting gets wacky, disabling Minify can usually solve this.
Crashed website: open wp-config through the flight explorer and delete these lines:
/** Enable W3 Total Cache */
define('WP_CACHE', true); // Added by W3 Total Cache
Open .htaccess and remove all code between these 2 lines:
# BEGIN W3TC …
# END W3TC
Also delete: advanced-cache.php, objectcache.php, and db.php from wp-content folder. Along with the w3-total-cache folder in wp-content/plugins.
11. Fast WordPress Hosting
One of the most important fundamentals of having a fast website is to have a good WordPress host. I use SiteGround for my travel blog in the past and they are the only host recommend by all 3 WordPress, Joomla, and Drupal on their official hosting pages!
SiteGround has 3 different plans which cater to different needs.
I personally use the GrowBig Plan and it was amazing bang for the buck as for 5.95$ a month I can host unlimited websites.
Speed is very important to me, very important! I always try and make sure that my blog is as fast as possible and having a good host is crucial in that equation.
SiteGround's speed technology is one of the biggest reasons I chose them. They use the latest NGINX servers, solid states drives (SSDs), PHP7, CloudFlare, and HTTP/2 enabled servers. In simple terms, it's got the best tech for your site; hardware, and software wise!
As you can see from the picture above, this site now loads in <1s in Pingdom and from the image above the Google PageSpeed Insight score of this site is above 90 out of 100, while most blogs in my niche are usually below 70.
The average load time on SiteGround is 1.3 seconds which is miles ahead of the other hosts at the same price!
One-Click Free CloudFlare CDN: You can boost security and speed by enabling CloudFlare in a single click in SiteGround.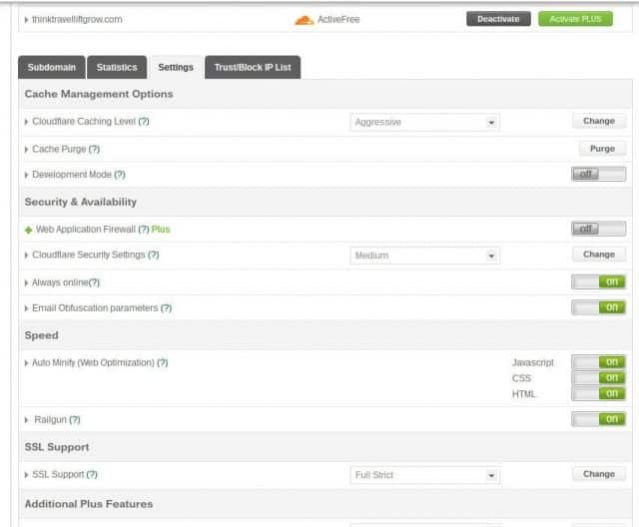 Also, a quick tip would be to tweak the settings to match the picture above to make your site even faster!!
Click here for 70% off SiteGround's Hosting
W3 Total Cache Settings 2021
I hope you found my W3 Total Cache Settings Guide helpful! If you have any questions feel free to ask me anything in the comments. I really do love W3 Total Cache which is why I took the time to write such a long guide!
Cheers,
Jeremy Noronha
Read Next:
Thrive Apprentice vs LearnDash