TLDR: If you're in a hurry NordPass is the Best Password Manager according to Reddit! You can try it out for free, but the premium version is worth it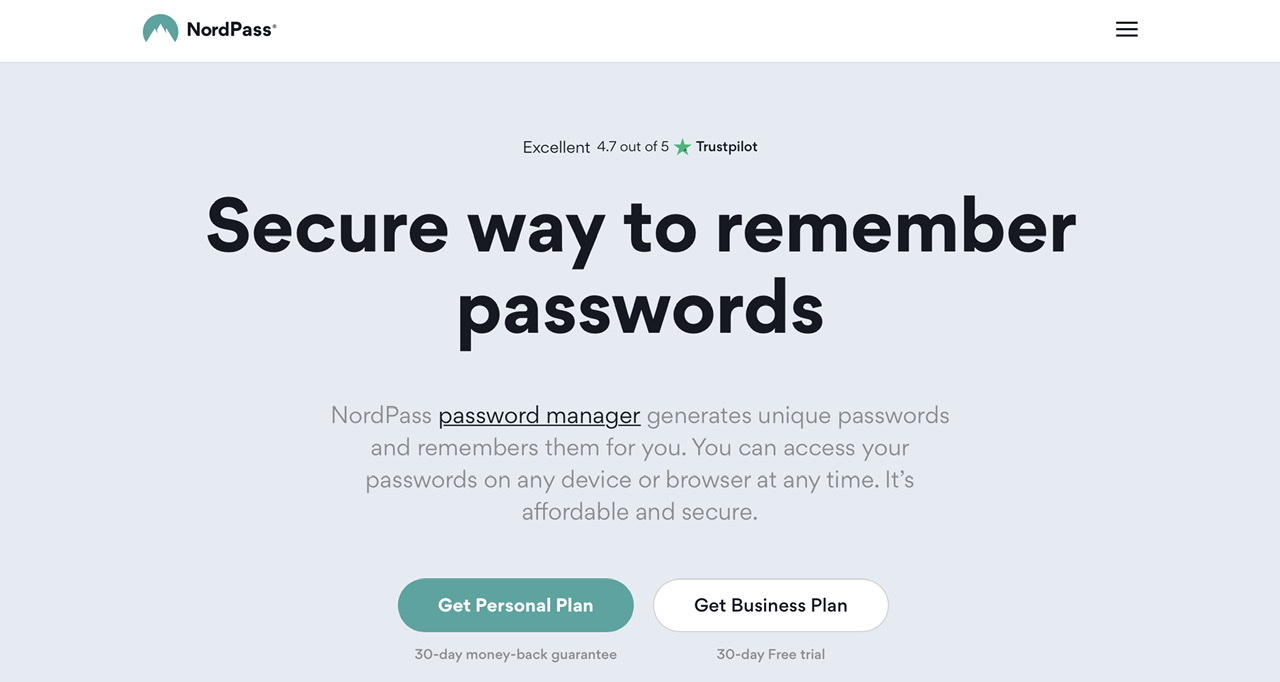 Password managers are computer programs that let users store, generate, and manage their passwords for online services. A report from LastPass says people have 191 passwords on average to remember. Every new website or application that we sign up for means a new password to remember. It becomes complicated to remember all these passwords. People end up using the same password for multiple websites or applications. It could be a massive threat to your security.
Instead of using the same password to access multiple Internet accounts, you need a password manager to save time and remember different passwords. Password managers store your passwords in an encrypted database locked behind a master password.
If you have to shop for password managers you need to know what to look for in a good password manager. Here are the features to look for before you choose a password manager:
Features of a Good Password Manager
Security: Make sure that the password manager that you choose has encryption protocols in place to ensure your data is safe from any hacks. The current industry standard is the AES 256-bit encryption. A zero-knowledge storage approach ensures that a password manager cannot access credentials stored in your vault. This adds an extra layer of security.
Multi-platform support: Password managers that support various platforms ensure that you can access your password vault no matter which OS you use. It should support Android, iOS, Windows, and macOS. Password managers have browser extensions to fill in details on the login page.
Vault storage location: Password managers store your passwords and other personal credentials in a vault. They are saved on a cloud or your local device.
Recovery options: A Master Password is a primary key to your encrypted vault. The recovery option helps you get access to your vault if you forget the master password.
Save and autofill passwords: This feature auto-fills usernames and passwords manually. The save feature stores new passwords and credentials automatically.
Automatic device sync: Syncing devices help you find up-to-date information when you switch to other devices. You will have your passwords and information stored across all devices you use.
These are the standard features that any password manager should have. Our favorite password managers are listed below. We have taken these recommendations from Reddit. Reddit dives deep into online discussions so you can dig deeper and get answers on any topic you might have.
Let's take a look at our top recommendation for password managers.
Best Password Manager Reddit 2023
1. Nordpass – Best Password Manager According To Reddit
Nordpass is a relatively new password manager and has quickly gained popularity due to its design and pretty aesthetic. It has great security features and added features like password sharing, password health checks up, and a data breach scanner. The free version comes with basic features and unlimited storage. It is a simple and secure password manager with the latest encryption technology. NordPass creates a more user-friendly experience than its competitors.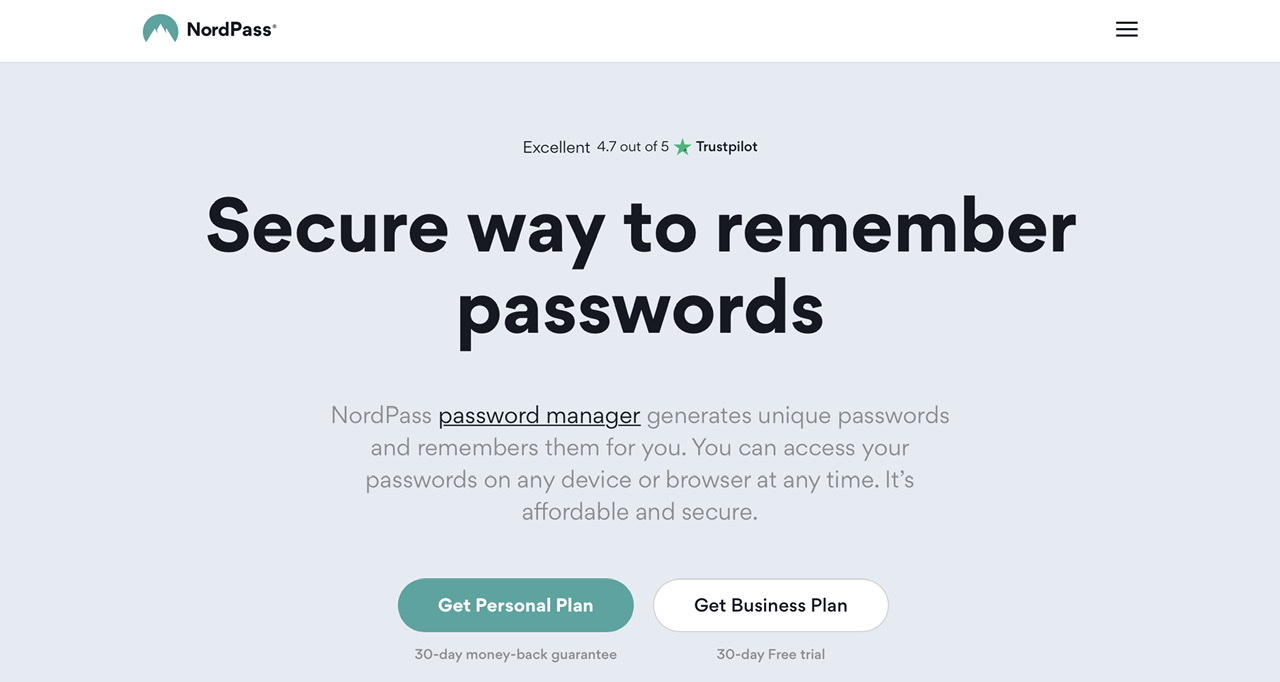 What Redditors had to say about it
u/Jaibamon  "Advantages of NordPass: It looks prettier. The extension connects to the Desktop client, which I consider a usability improvement."
u/Laurul95 "Oh boy does it look pretty. On a computer, NordPass adds these little buttons to a username & password form, that opens a small popup with the saved passwords for that website"
u/2k18_till_infinity "NordPass pros- nicer and somehow more user-friendly UI- it has a password strength indicator when you create passwords + for existing logins"
Highlights
Security: NordPass is very secure and uses the latest encryption technology like XChaCha20 encryption which is better and more secure than AES encryption. It has a zero-knowledge policy and multiple-factor authentication (MFA). Some other security features are Biometric logins, secure password sharing, data leak scanning, password health checks, and emergency access.
Great Password Vault: The password vault can be accessed from desktop apps for Windows, Mac, and Linux and also through mobile apps and web browsers. This means you can access your account from anywhere irrespective of the device you are using. You can create multiple vaults to manage your data.
Data Breach Scanner: The data breach scanner checks if your credit card information or account logins have been compromised. You get an alert in case your account is breached. However, you have to run the scan manually.
Password Generator: The NordPass Password Generator is easy to use and uses lots of variables to create a strong password. You can also view your generated-password history. This is something that other competitors don't offer.
Pricing and Plans: NordPass offers a free, a premium, and a family plan. There is a 7-day free trial for the premium plan and is valid only for 1 user. The free version offers unlimited storage for passwords, password import and export, auto-save, auto-fill, password generator, automatic sync, and MFA.

Pros
Uses app and security key for multi-factor authentication
Has folder-sharing and supports sharing permissions
Has data breach scanner
Cons
The Premium version is expensive
The free version has many limitations
2. 1Password – Most Popular Paid Password Manager
1Password is the most recommended password manager by Redditors. It has all the standard features and much more. It is available on all major platforms and has a very user-friendly dashboard. With its unique features, the price point is very affordable. Overall it is the best option available on the market today.
What Redditors had to say about it:
u/BeanBagKing: "I highly recommend 1Password. It's easy to use, has a client on every platform, and browser plugins work well. It's an old name within password managers, so it's well past its growing pains. "
u/Gre3Gre78: "I don't know how I'd ever live without 1password now. Worth trying the free trial. It's so comforting to know your passwords are synced and you won't forget anything."
u/plaidmo: "I did a 1,000-user trial of 1Password. 1Password was the crowd favorite, by far. 1Password scored higher in all "usability" categories we evaluated. I recommend 1Password to all my family and friends."
Highlights:
Security: 1Password uses AES-256 encryption to secure your data. It uses a 34-character Secret Key for added security. This Secret Key is created and stored on your device to prevent hackers from accessing your data.
Pricing: Their entry-level plan starts at $2.99 a month. They have a 14-day free trial to ensure that you are happy with what they have to offer. A personal account comes with unlimited passwords, 1GB of document storage, round-the-clock email support, 365-day item history, and travel mode.
Travel Mode: The travel mode protects your vaults from customs officials if they request access to your device while traveling. This also protects your information if your device gets stolen while traveling.
Browser Extensions: It has browser extensions for Chrome, Safari, Firefox, Brave, and Edge.
Platforms: It supports various platforms like Windows, Mac, iOS, Android, Linux, Chrome OS, FreeBSD, and OpenBSD.
Biometric login: It has biometric login with Face ID, Touch ID on iOS and macOS, Windows Hello, fingerprint and face unlock on Android, and Linux fingerprint.
Pros
Supports all operating systems and devices
Create multiple vaults
Privacy cards for virtual payment
Cons
No free plan
No live chat support
3. Bitwarden – Best Open Source Password Manager
This is another frequently recommended password manager by Redditors. It is a highly secure and open-source password manager. Its free tier offers a lot more than most competitors. It is great value for those with a budget. The premium plan has extra features like security audits and advanced two-factor authentication. It is an obvious choice for those looking for a free plan.
What Redditors had to say about it:
u/payne747: "Bitwarden has the cross-platform, browser and phone integrations, ability to store files, ability to self-host, audited code, and did I mention free."
u/slackjack2014: "Bitwarden is good for personal use since I can use it on just about anything. It's open source and I can host it personally if I want instead of using the cloud version."
u/jakegh: "Most people can use Bitwarden completely free. If you do need to pay, it's MUCH cheaper. BW is open-source. You can host BW yourself with no reliance on cloud services."
Highlight
Pricing: It has three pricing tiers: Free, Premium, and Family. The free version has all the basic features and has safe storage. It offers unlimited passwords and secure-note storage across various devices. The Premium tier is inexpensive and worth the money spent as it has good features.
Autofill Passwords and Usernames: This happens through Bitwardens browser extensions on a desktop and with the Bitwarden mobile app. You can also auto-fill forms for any payment info. This is also included in the free version but on the desktop only.
Browser Extensions: There are browser extensions for Chrome, Safari, Firefox, Vivaldi, Microsoft Edge, Opera, and Firefox Tor browser. There are mobile apps for both iOS and Android.
Security: Bitwarden uses AES-256 encryption to protect your data. They are SOC 2 Type 2 and SOC 3 compliant. This means that Bitwarden has met the standards set by the Association of International Certified Professional Accountants. All tiers have two-factor authentication. The Premium tier has Duo Security, YubiKey, and FIDO U2F- compliant USB security key.
Other features: It has some extra features such as biometric login for devices like iOS, Android, and Windows 10, local data storage, password auditing, breach monitoring, password generator, and password sharing.
Pros
Unlimited free version
Built-in password generator
Very secure and open source
Cons
Clunky auto-filling
Importing passwords not streamlined
4. LastPass – Popular Free Password Manager
LastPass is pretty cheap and comes with multiple layers of security. They offer you a great variety of features that are easy to understand and use. LastPass has a great free plan that includes unlimited password storage. It is well-designed and user-friendly. Loaded with rich features, this makes for an excellent password manager.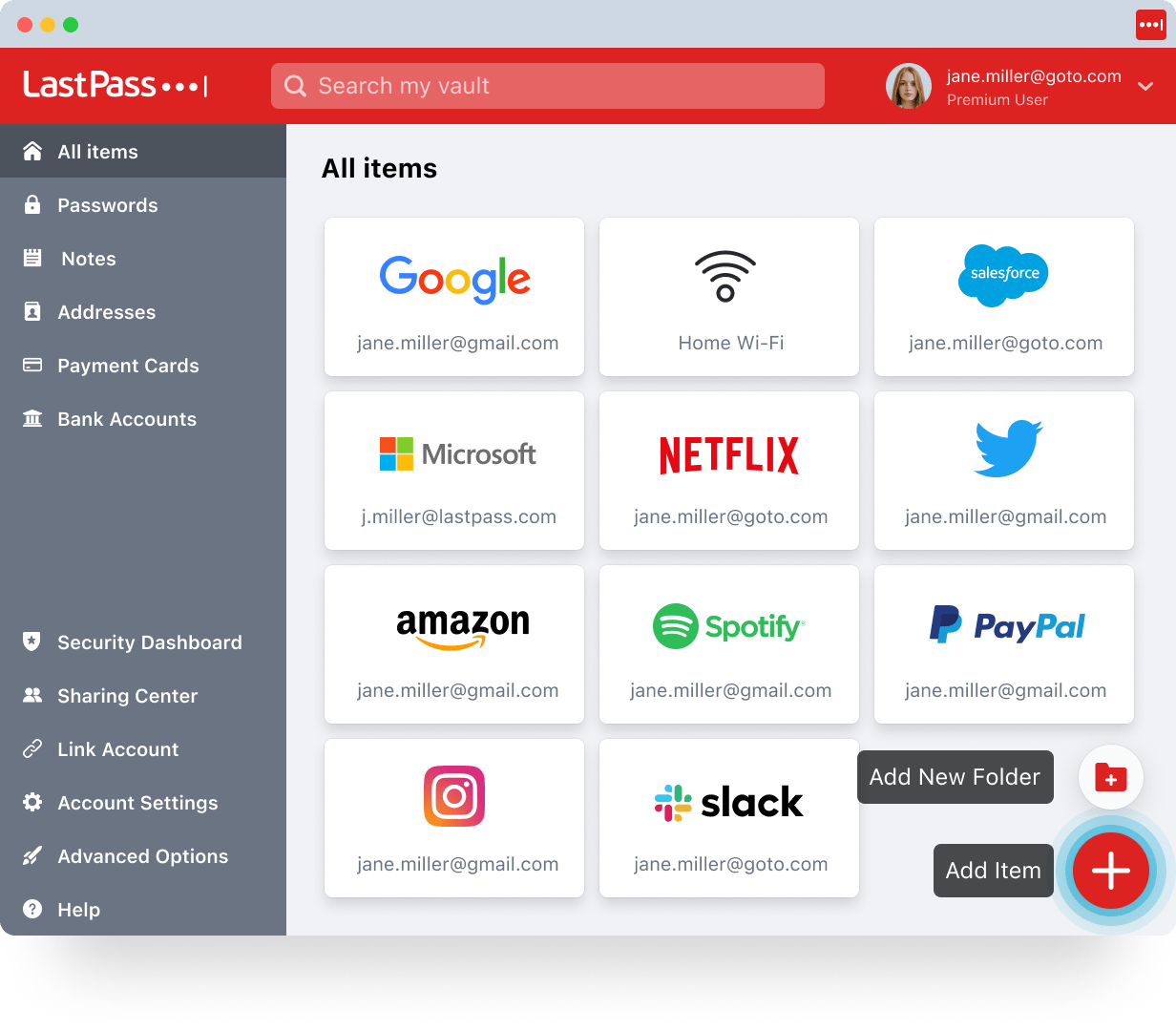 What Redditors had to say about it:
u/OakenRage: "I very much enjoy LastPass. They charge for use on more than one device so in the future I may end up doing my solution using my NAS."
u/dmburl: "I got into LastPass years ago. I love that I can give LastPass to my kids and we can share passwords. I have been fairly pleased with my LastPass experience."
u/letees: "I use LastPass and I like the cross-platform feature, I log in everywhere no matter if I'm using my phone, my tablet, or one of my computers."
Highlights:
Additional features: Secure password sharing, security dashboard, multiple account recovery options, emergency access, credit monitoring, and country restriction.
Plans: They have a free version that includes unlimited password storage across unlimited mobile devices and systems. It also offers one-to-one password sharing. The paid plans have a 30-day free trial.
Security: LastPass uses 256-bit AES encryption. LastPass's user data is decrypted and encrypted on the device level. The master password is not stored on LastPass servers. It has additional security features like zero-knowledge architecture and multiple 2FA options.
Browser Extension: LastPass has browser extensions for Chrome, Firefox, Safari, Opera, and Microsoft Edge.
Account Recovery: You can recover your account using a password hint or SMS. You can use biometrics for account recovery on your mobile.
Pros
Easy to use
Simple design
Two-factor authentication options for all tiers
Cons
Password importing process not up to standard
Customer support could be better
5. KeePassXC
KeePassXC is an open-source fork of KeePass and developed by the community. It differs from KeePass as it is available on Windows, Mac, and Linux. KeePassXC gives you more control over your passwords as it stores everything in a secure local file instead of a remote server. If you are worried about data breaches then this is a solid choice.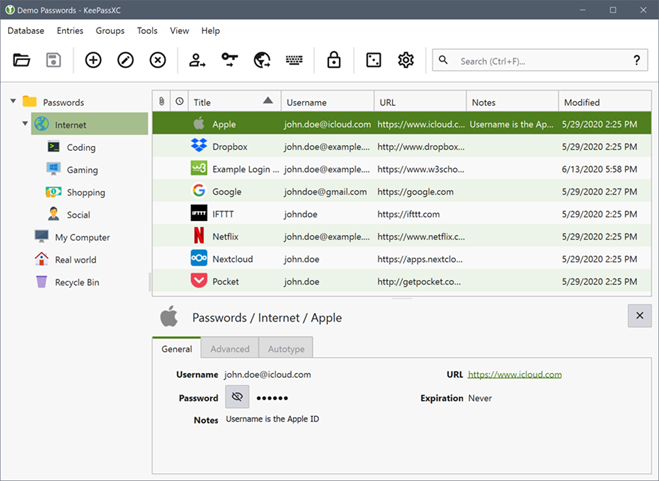 What Redditors had to say about it:
u/noahdvs: "I use KeePassXC myself. It locks automatically when I lock my computer. It's fairly simple to use and I can use the same KeePass database file on all my devices, including phones."
u/fuzzyinterval: "Another vote for keepassxc. Cross-platform & browser integration being the biggest reasons."
u/asleepyguy: "I use KeePassXC for 2 reasons. It stores passwords locally rather than in the cloud & its cross-platform looks good, open source, and community supported."
Highlights:
Auto-type feature: Clicking on the auto-fill shortcut key will fill in the user name and password field of the current application automatically. There is no requirement for a plug-in for this to work.
Easy setup: It has a straightforward setup. The application can be downloaded from their website.
Syncing database: This can be done on platforms like Google Drive or Dropbox as it does not have built-in syncing of the database.
Browser plug-in: There is a separate browser plug-in for Chrome and Firefox. This allows for passwords to be filled in automatically on detected web pages.
Security: It has a secure password generator, and encrypted storage, and offers extra security features like SSH Agent to keep track of password keys.
Pros
Cross-platform support
Secure compared to cloud-based password managers
Completely free
Cons
No plug-in support
No built-in syncing of database
6. Dashlane
While this may not be the most popular password manager out there it is the next best option. It is easy to use, well-designed and has good security features. It has a free plan and the premium plan comes with a 30-day money-back guarantee. Its top-notch security features are what makes it a good choice.
What Redditors had to say about it:
u/MASKEDBOYO: "Is generally safe and has a pretty nice user interface. I chose to use Dashlane after doing some research. Despite Dashlane not being open source, I'd consider it a good choice for the average user."
u/atoponce: "Another proprietary password manager available for Windows, macOS, Linux, Android, iOS, and major browsers. Dashlane offers instant security alerts when it knows about password breaches."
u/excoriator: "5-year customer here. From a security standpoint, I love it. End-to-end AES-256 encryption."
Highlights:
Security: It uses 256-bit AES encryption. It encrypts all data locally and has a zero-knowledge protocol. It has other security features like 2FA, VPN, live dark web monitoring, and secure password sharing.
Biometric login: This is available on Android, iOS, Windows, and Mac. It uses touch ID, fingerprint authentication, and face ID.
Password Generator: This can be accessed through the browser extension and shows up when you create a new password.
VPN: Dashlane is the only one to provide a VPN. It secures your online browsing and prevents anyone from tracking your internet activity.
Pricing: Dashlane has both paid and free plans. The free plan has storage for up to 50 passwords and can be used on one device only. The premium version overcomes the limitations of the free plan and provides unrestricted access to all features.
Pros
VPN
Excellent knowledge base
Very secure
Cons
No account recovery option
Web-based only
A password manager is an effective way to secure your online life but it is important to note that the most popular password managers aren't necessarily the best. The above list will help you in choosing the most secure and best password managers available today.
Read Next:
Best Domain Registrar 2023 Reddit