Writesonic is a popular AI writer in the market that helps generate unique content within seconds. Founded by Samanyou Garg in 2020, it offers several use cases for articles, marketing, ads, blogs, social media copies, and much more. You can get high-quality content generated at lightning speed using this platform.
Click Here To Try Writesonic For Free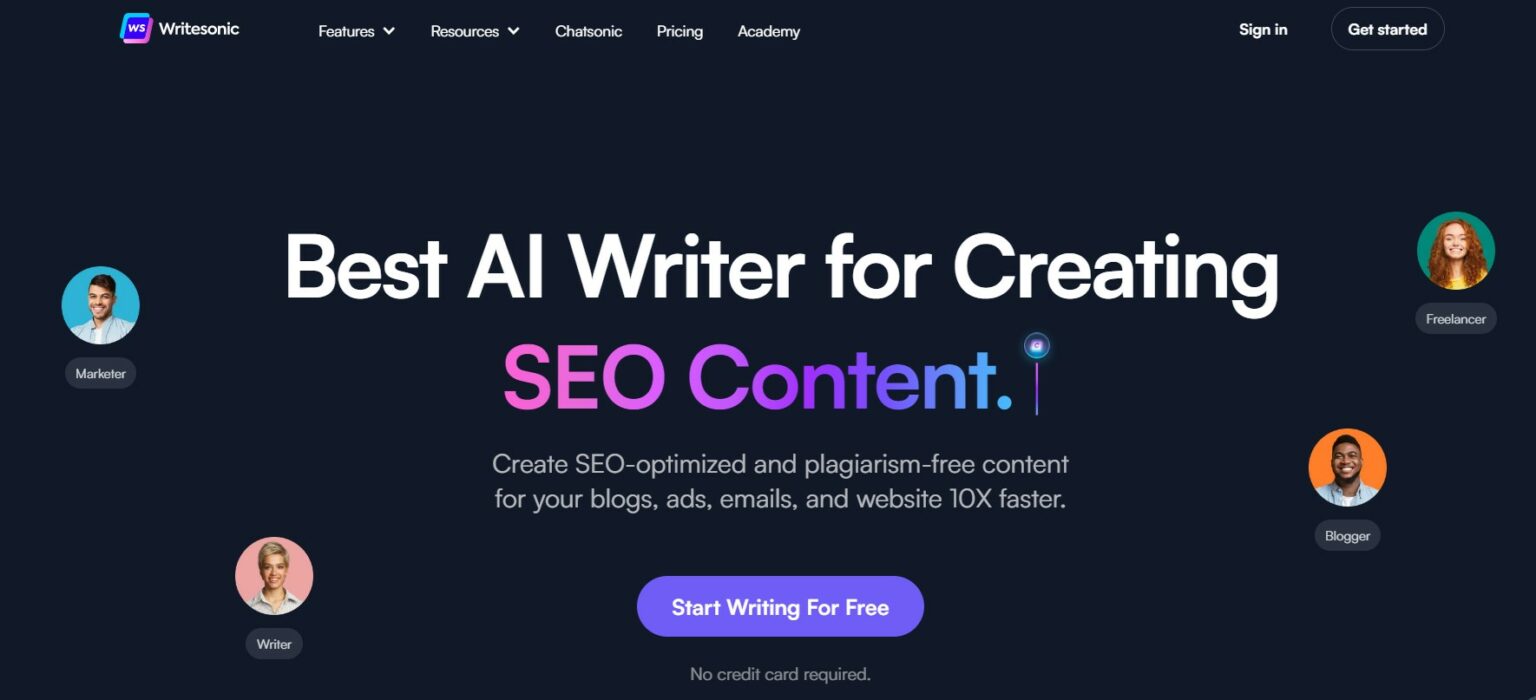 Writesonic is one of the popular AI writers with over 1 million users and extensive 5-star ratings to date. Its popularity is inclined to its large library of AI tools, quality content generated, and easy integration with SEMrush and Surfer.
It is simple to use and a great choice for content marketers to help get past writer's block and attain the desired results. This is just the beginning; we will talk about Writesonic in detail below and see whether it is what you need for your business.
How Does Writesonic Work?
All AI writing tools work on different language models that read through tonnes of data available on the internet. Here, they access different rules of language, style, tones, etc. They will make use of this data to predict sentences and the overall content.
Writesonic is powered by the Generative Pre-Trained Transformer 4(GPT-4). GPT-4 is one of the most reliable and powerful models for AI text generation in the market. Based on the inputs provided, it can produce high-quality content for users.
How to Start Working with Writesonic?
If you are new to Writesonic, follow these steps to get started efficiently.
Sign in to the Writesonic account to create a new project and give it a unique name.
Select the use case and input the right details. Here, you can choose the output you need and the tone of content, if required.
Finally, select the word quality for your content and follow this by clicking the Generate button. The platform will generate content based on the inputs and offer different variations.
Writesonic Review Reddit
U/G_Art33- "I made use of the exact combination of words to describe AI-written product descriptions on my company's website not 2 hours ago. Writesonic is one of the crazy AI writing software in the market".

U/vexba- "I agree on some level. I was actually just like you and felt the same way. If you have tried Writesonic, like me, then I'll be sure that you've changed your mind to give it a shot".

U/TX_HamsterofDoom- "Writesonic helped me expand my synopsis into something I could flesh out with writing".
Click Here To Try Writesonic For Free
Who is Writesonic Designed for?
Writesonic is an AI writing tool that is great for creating long and short-form content. It has a small bias towards marketing content due to several options and extended features. They are great for business-related content, marketing for start-ups, agencies, and eCommerce websites. It makes the entire content creation process fast and easy.
There are several options to generate content from, ranging from writing a short blog post, articles, news headlines, descriptions, and article rewriter. You can turn your ideas into topics, outline, and real content to grab the audience's attention.
Writesonic has great features that help enhance your productivity and get you running. We'll look more at these features offered by them in detail below.
Writesonic Review
1. User Interface
The user interface of Writesonic is modern and aesthetically pleasing to the eyes. The entire platform is easy to use, and the interface is pretty self-explanatory. Its colors and design are quite decent, and the interface isn't crowded with dozens of features either. All this makes it a great choice for beginners new to AI writing tools.
The left panel of Writesonic features the number of words that are remaining on your account. The main screen offers 100+ use cases that belong to various categories like blogging, social media, advertising, business, etc. Overall, its interface is quite easy to use and has a low learning curve. The platform also offers suggestions to get more performance out of it.
2. AI Writing Templates
Writesonic's core feature is its AI writing tool. With this tool, you can create short or long-form content. To start off, you need to select the type of content you want to write in Writesonic's template library. Currently, it has over 100+ AI writing tools to choose from and sort into the following categories. For instance: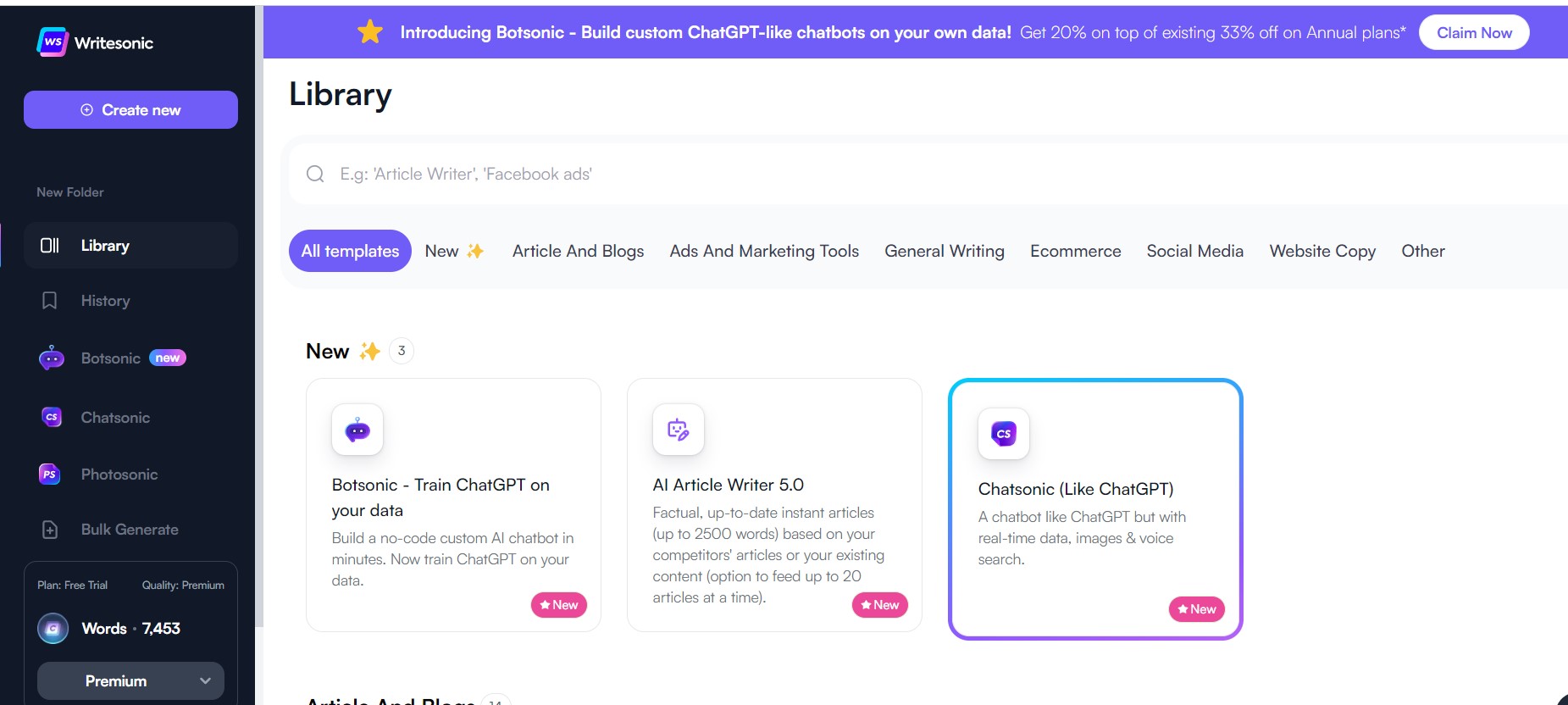 Bloggers and content creators can utilize its AI Article writer, Article intros, content rephrase tool, paragraph writer, conclusion writer, etc.
Copywriters and web designers can use its landing pages, CTA, SEO meta, tags, etc.
Social media writers and marketers can make use of intros, descriptions, posts, and captions for social media platforms like Twitter, YouTube, TikTok, LinkedIn, and Instagram.
eCommerce store and business owners allow you to use Amazon product titles, product features, descriptions, sponsored brand AD headlines, etc.
Ad agencies and affiliate marketers use Facebook ads, Google ads, Ad headlines, LinkedIn ads, descriptions, etc.
Other uses include tone changer, song lyrics, PAS copy, review responder, text summary, etc.
The interesting thing is that every use case can be shared as a public link and also allows you to import it to Microsoft Word or PDF formats.
3. AI Article Writer
In the AI Article and Blogs section in the library, you'll see a range of AI Article Writer templates. The AI Article Writer 5.0 allows you to create SEO-optimized blog posts of up to 2500 words based on your competitor's articles of your existing content. This is an upgrade from the AI Article Writer 4.0 that is still available on Writesonic.
To start with it, you just have to click Write a blog post and select Search Keywords. The platform will suggest a bunch of keywords you would want to target alongside useful metrics like search volume, estimated traffic, and keyword difficulty. Once you have finished adding the keywords, select next and move over to the next step.
In the next window, you'll have to provide additional instructions by choosing your preferred tone of voice, point of view, and language. You can also add your own CTAs and generate your ideas. The platform will offer a bunch of blog post ideas, and a title is suggested for the article.
Follow this by clicking Generate Outlines for you and it will generate a few article outlines to choose from. Each section corresponds to a separate H2 headline for your article or blog post. If you are not satisfied with any options, click on Regenerate Outlines to run the AI again.
After finalizing the article outline, you can easily drag and drop sections to edit or rearrange them as needed. And follow this by clicking Generate Article. Writesonic uses this outline to create complete blog posts in a few seconds.
The outline is not 100% perfect, but at least 80% content is valuable and requires minimal editing. So, on the whole, it speeds up the writing process efficiently. You can edit the articles in the integrated Sonic Editor; we'll talk about this later.
4. Ads and Marketing Tools
Writesonic allows you to run your ads and marketing campaigns efficiently. If you are struggling to run ad campaigns, then the Ads and Marketing tools feature will help you generate up to 5 unique ads for your campaign. All you need to do is enter the product or service name and description alongside its discount percentage. With it, you can create descriptions, titles, advertisements, headlines, and content for SMS or App notifications. You can create campaigns across a range of platforms, which includes
Facebook ads
Google ads
LinkedIn ads
Apps, and SMS notifications
5. E-Commerce
If you own a product or service that you want to market, then the platform offers product description tools to help in writing effective descriptions and headlines. Writesonic allows you to generate up to 5 unique descriptions at a time. The generated content is very impressive and accurate, making it intuitive to create impactful product descriptions in a short period.
If you are a seller on Amazon or an affiliate, this is a great tool that will benefit you. Similar to product descriptions, you can generate up to 5 product features. You just have to enter the product's name alongside a short description of it.
6. Social Media
If you want to help generate written content for social media, then Writesonic has got you sorted. The platform can create anything from threads, captions, descriptions, short posts, video hooks, etc. Some common social media content you can generate includes:
Twitter threads- The Twitter threads tool helps you enhance your engagement with its intuitive inputs that are trending these days.
Instagram captions- Instagram is an iconic social media platform, especially for the younger generation. If you are struggling to find captions, like most other people, then it can generate creative captions for your posts.
YouTube descriptions- To generate YouTube descriptions, you just have to enter the video title, search term, and tone. It will generate the results quite quickly.
TikTok video hooks- Video hooks on TikTok attract readers and make them click on your videos. The platform lets you generate up to 5 video hooks in a single go.
Short LinkedIn posts- If you spend a lot of time on LinkedIn, this feature helps create short posts for your feed and garner more audience on the platform.
7. Website Copy
Writesonic website copy section is designed with some important features to get you going. Some important tools available with it are
Feature to Benefit- Content writing and copywriting are two different aspects. In content writing, we will talk about features while creating a copy; we need to talk about its benefits. This interesting tool helps convert the features of the product into benefits. Simply describe your product and note its features.
Landing pages- You heard it right, Writesonic helps generate entire landing pages. Here, you just need to specify its name and description, like most other options, and 3 features or benefits of it will be displayed.
Call to action- The life of any article is its call to action. A CTA will clearly help your audience know about your product after reading your content.
AIDA framework- AIDA is an important copywriting formula that helps grab attention, desire, interest, and action. This is used commonly for sales letters, intros with a tempting piece of copy to hook the reader.
8. Sonic Editor
A Sonic Editor is a built-in, AI-powered editing tool offered by Writesonic. It is similar to an enhanced version of Google Docs. You can open it in the template library or open it as we've discussed above. What makes the versatile editor special is its AI-powered editing tools.
9. AI-Driven Editing Tools
You can highlight any phrase or paragraph in the Sonic Editor and select the shortcuts in the dropdown menu, and you'll get some cool editing tools.
Content Paraphraser- The paraphrasing tool allows you to rewrite sentences, essays, and paragraphs in a single click.
Content Shortener- If you find yourself guilty of working on long or wordy sentences, then Writesonic's content shortener can shorten content in no time.
Sentence Expander- The sentence expander helps to quickly build on the input provided. If you have a simple statement, then it will expand it by predicting related content around it.
Content Rephrase- Content rephrase is a great tool that helps make substantial changes to the original text by changing the order of sentences or the overall structure of the text.
Personal Bios- Create the bio for your LinkedIn profile, About Us, Resume, etc. This is great to get work done. To use this tool, just enter your name, personal information, tone of voice, and language you need the content to be based in. It generates around 3 to 5 outputs at a time.
Quora Answers- If you are part of the marketing industry, then you can be aware of the importance of Quora. When you are struggling to answer Quora questions on your own, then you can utilize its Quora Answers tool. Just specify the question alongside some information, and it'll generate a detailed answer.
Questions- If you want to create engaging questions for a paragraph, then the tool can be very helpful. All you have to do is enter a paragraph, and it'll generate good questions from it. The tool is very helpful for bloggers or creators that want FAQs for their articles.
Stories- The story generator is a versatile tool in Writesonic. It can be utilized to generate 3 unique story variants. You just have to provide a short outline and tone of voice.
10. Chatsonic
Chatsonic is a powerful AI chatbot that is similar to ChatGPT but offers deeper functionality. The platform uses Natural Language Processing (NLP) and Machine Learning technology to efficiently automate text input or generate images. The feature is powered by Google and allows you to find updated information on different topics to enhance your writing speed.
You can type the question for the bot, and it will generate the answer to your query. It also has a voice-to-text feature, where you can set the tone to get accurate results. Just select the Chatsonic widget in the Writesonic library to get going.
Chatsonic allows you to write code, but it is not like adding two numbers. It offers a complete writing solution to efficiently manage all your software development. This is great to speed up your coding process. You don't have to be worried as it allows the generation of geographically precise data. Set the location, and you'll be provided with information based on a specific area.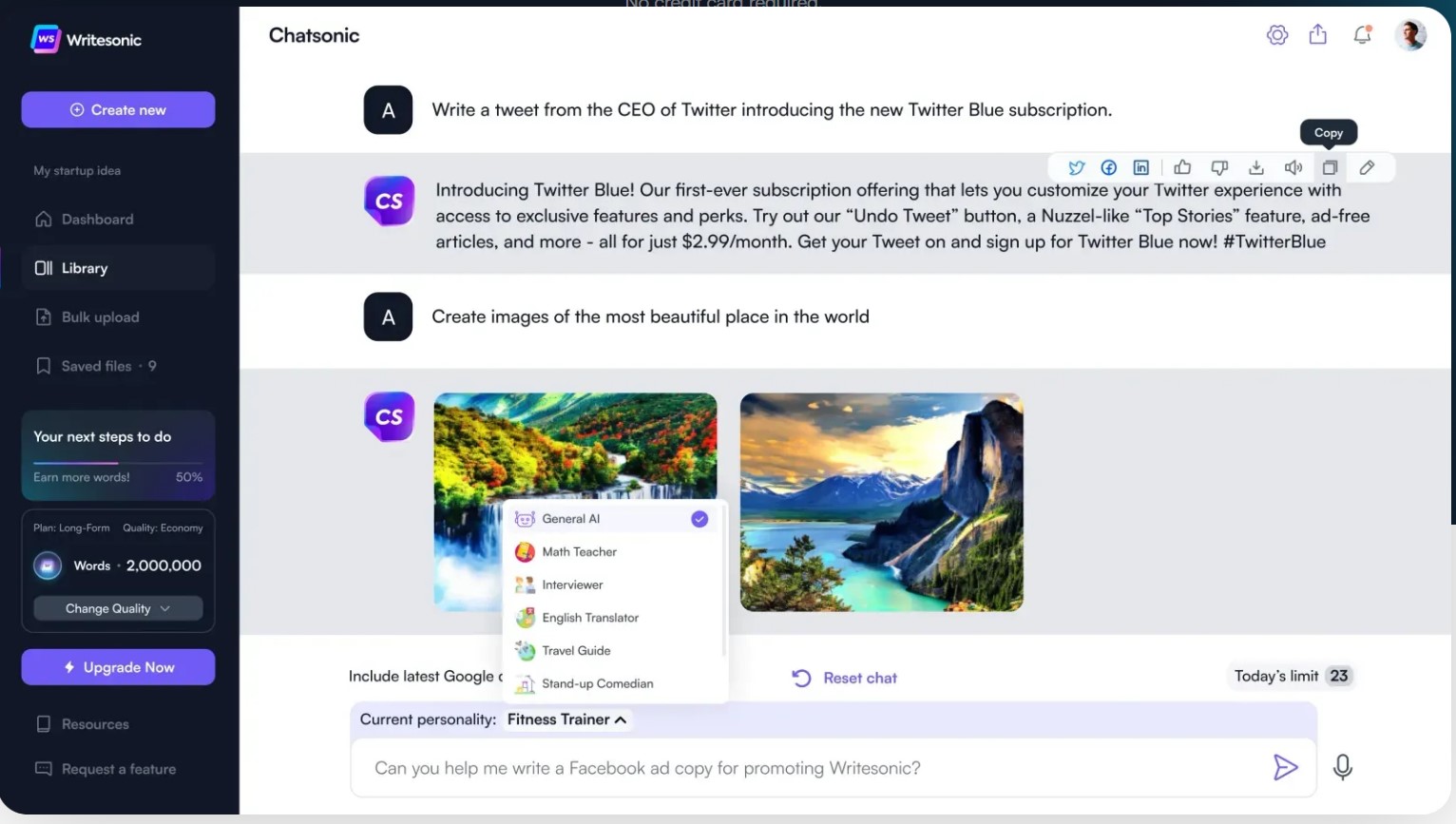 The in-built image generator of the platform helps create images based on text. The bot allows for 25 free image generation, and the design can be customized to suit all your requirements. Further, it has a Chrome extension that allows you to experience the power of the AI chatbot across any corner in a few clicks.
Overall, it is very impressive and can easily allow you to streamline your research and your written content.
11. Botsonic
Botsonic is Writesonic's no-code AI chatbot builder that is inspired by ChatGPT. It is powered by the latest GPT-4 technology, so you can build your custom ChatGPT bot by logging into the Writesonic platform. Now anyone will be able to build a custom AI chatbot using this feature without requiring any technical skills.
You can now turn your knowledge base into your very own chatbot. The NLP-based AI chatbot builder with the powers of GPT-4 acts as a single source of truth for all your customer interactions, giving a dynamic user experience. It offers seamless integration with flexible branding options. You can give a custom-trained experience to website visitors while also offering 24/7 support.
12. Photosonic
Photosonic is a great web-based AI generation platform powered by Writesonic. It generates beautiful art and realistic images based on the inputs given to it. You can easily create images from text in a single click.
This feature is great for a content writer as you want to find relevant and licensed images to use in your articles or as social media posts. Paying for a graphic designer is not affordable for everyone, so this feature is great to get you sorted. It only costs 100 premium credits per two images.
13. Bulk Upload
If you want to run use cases for multiple inputs, then Writesonic's bulk upload feature is extremely helpful. You have to simply specify a use case, choose an output quality, language, and upload the list of inputs based on the template in a CSV file. The output is generally generated in under a minute. Based on the number of inputs of your upload file, you'll be notified about the approximate words that are deducted on a monthly quota.
14. Integrations
Writesonic's integrations help enhance the overall functionality of the platform. It allows you to connect with the following services to enhance your AI writing functionality. The integrations include:
Surfer SEO- Integrate with Surfer SEO into your Writesonic account, then you get access to SEO and keyword research to rank better and optimize your AI-generated content. The integration can be accessed using Sonic Editor's SEO mode.
Zapier- The Zapier integration allows you to efficiently automate your tasks. You can easily publish content over 5000 apps when you integrate your account with Zapier.
WordPress- If you have a WordPress website, Writesonic allows you to directly publish it on WordPress using its Sonic Editor or AI Article Writer directly on WordPress.com or WordPress.org website.
If you require a hosting provider to use WordPress, then Reddit recommends Bluehost for beginners starting out.
Click to Get 67% OFF Bluehost Now
SEMrush- SEMrush integration is the gold standard for online marketing platforms. It offers a complete SEO toolkit with SERP tracking tools to efficiently track keywords or domains in search engines once you integrate it with Writesonic.
15. Writesonic API
If you wish to implement the features of Writesonic to your application, then you got it. The API can integrate the features offered by the platform and get it into your application. To get to the platform's API, you will need to leave a message via chat or mail it to the support team of Writesonic.
16. Customer Support
Writesonic has great customer support where you can get answers to all your queries. Once you contact them, then the right team will get back to you within 2 hours. It has a help center having guides and tutorials on working with important features.
Writesonic has dedicated live chat support to generate answers to queries 24×7. You are also offered email-based support, where replies take 1 day to arrive. Further, they have an active community of 3.7k members on Facebook, where you can find help from other users. Apart from this, its documentation is detailed for every single AI tool to make things interesting.
Writesonic Pricing
Writesonic has 3 plans which are very flexible, making it different from its competitors. The plans are available either as a monthly or yearly subscription. However, the yearly plans offer a 33% discount. The subscription plans can be customized based on your needs. You can select the number of words you want to generate per month and the quality you want for the content to determine its price. The Premium quality uses GPT-3.5, while the Superior quality utilizes GPT-4 and GPT-4 32K. We'll look at the plans in detail below:
Click Here To Try Writesonic For Free
1. Free Plan
The generous free plan is great for somebody looking to get a taste of AI writing. It gives access to 1 user with a total of 10,000 free AI-generated words. The features of this plan include:
ChatSonic chatbot
Botsonic, which is limited to 1 bot with 1 file upload
100+ AI templates
Browser extension
AI article writer
Landing page generator
Sonic editor
1-click WordPress export
Zapier integration
Supports 25+ languages
2. Pro Plan
The plan is the paid version of Writesonic that is priced based on the words you want to generate. It is a great plan for bloggers, businesses, and freelancers that want to generate content for their blogs, articles, books, and much more. Its basic pricing is $19 per month, and you can generate 100,000 words with this plan. It has all the features of the free plan plus:
Access to GPT-4 and GPT-4 32K
Unlimited chatbots with any number of files
Generate factual and personalized articles with its Article writer
Article rewriter
API Access
Surfer integration
Bulk processing
Priority access to new features
Priority support
3. Enterprise Plan
The Enterprise plan is designed for teams and businesses with customizable features. This allows your business to get to the next level by utilizing its custom packages, custom AI model, onboarding, development, support, and much more. Contact the sales team to get a quote and find the features you will get.
Writesonic Pros and Cons
Pros
Simple and attractive interface
Detailed documentation
Impressive share functionality
50+ advanced writing tools
Premium quality content
Scalable solution
Tons of templates and use cases
Built-in plagiarism checker with no extra cost
Flexible and affordable pricing to set quality output
Proactive customer support
Cons
Limited tone settings
Requires integration for SEO optimization
Word limit on all its plans
Requires some form of human intervention to ensure writing makes sense
Is Writesonic Worth it?
Writesonic is a powerful AI writer designed with dozens of AI tools. It is great for users that want to work with textual content, especially those going through writer's block. This includes content writers, social media writers, copywriters, ad agencies, small businesses, etc.
It has a user-friendly interface and offers quality content with tons of templates and tools to choose from. Writesonic is affordable thanks to its flexible pricing system, and not to mention it has integrations with some of the best SEO tools in the industry to help rank your content better.
Just remember that no AI writing tool will be able to replace an experienced writer. As good as it is, it will not replace a real human as the tech right now is not there. You'll just need to put some work to edit it and speed up your workflow and writing process significantly. If you are still on the fence, click on the link below to try it out.
Writesonic Review FAQs
1. Who owns the copy generated using Writesonic?
The user is the owner of all the content that is generated utilizing Writesonic. The copy can be utilized for both personal and commercial uses.
2. Do the unused AI words roll over to the next month on Writesonic?
The unused AI words are not rolled over to the next month as they work on a fully automated renewal cycle to make it convenient for the user. This is why you should use all your words every month before the plan expires.
3. Will copywriters be replaced by AI?
AI might help generate content required by copywriters; however, it can never replace them. Though AI can write intelligent content, but you will need to tweak it to fit your requirements. However, AI can help write efficiently, get rid of writing blocks, and generate content easily.
4. Who is Writesonic designed for?
Writesonic is created for bloggers, social media marketers, content writers, copywriters, students, ad agencies, creative individuals, and several other people who want to write content.
Writesonic Alternatives
1. Jasper
Jasper is one of the best alternatives to Writesonic in the AI writing space. The platform utilizes GPT-4 to generate AI content having over 50 templates to differentiate an array of content types for your business. With this platform, you can create content across a range of outlets with the 10X speed of a regular writer. Jasper allows you to generate everything from web content, social media copies, emails, and much more. Further, it can also help in generating images or other visual content. It has 3 plans starting at $49 per month.
Use my exclusive Jasper AI Discount Link below to get a free trial and a 10,000 word for FREE!
2. Rytr
Rytr is a budget-friendly writing software that helps write content for you. It is a great tool designed to make the content writing process easier for writers utilizing AI. The platform uses GPT-3 model to create content without requiring human intervention. You can create text on a range of topics, including business articles, blog posts, technology, sports articles, and more.
It also has great tools like an AI image generator, SERP analysis, and portfolio page builder. Rytr has 2 plans, which are priced starting at $9 per month.
Click Here To Try Rytr For Free
3. Frase
Frase is a great AI copywriting assistant to generate content as well as optimizes it. It helps create long-form content with different features to create a powerful content creation tool. The platform makes use of advanced AI technology and SEO tools to optimize the generated content for search engines. Frase offers 3 plans, which start at $14.99 per month.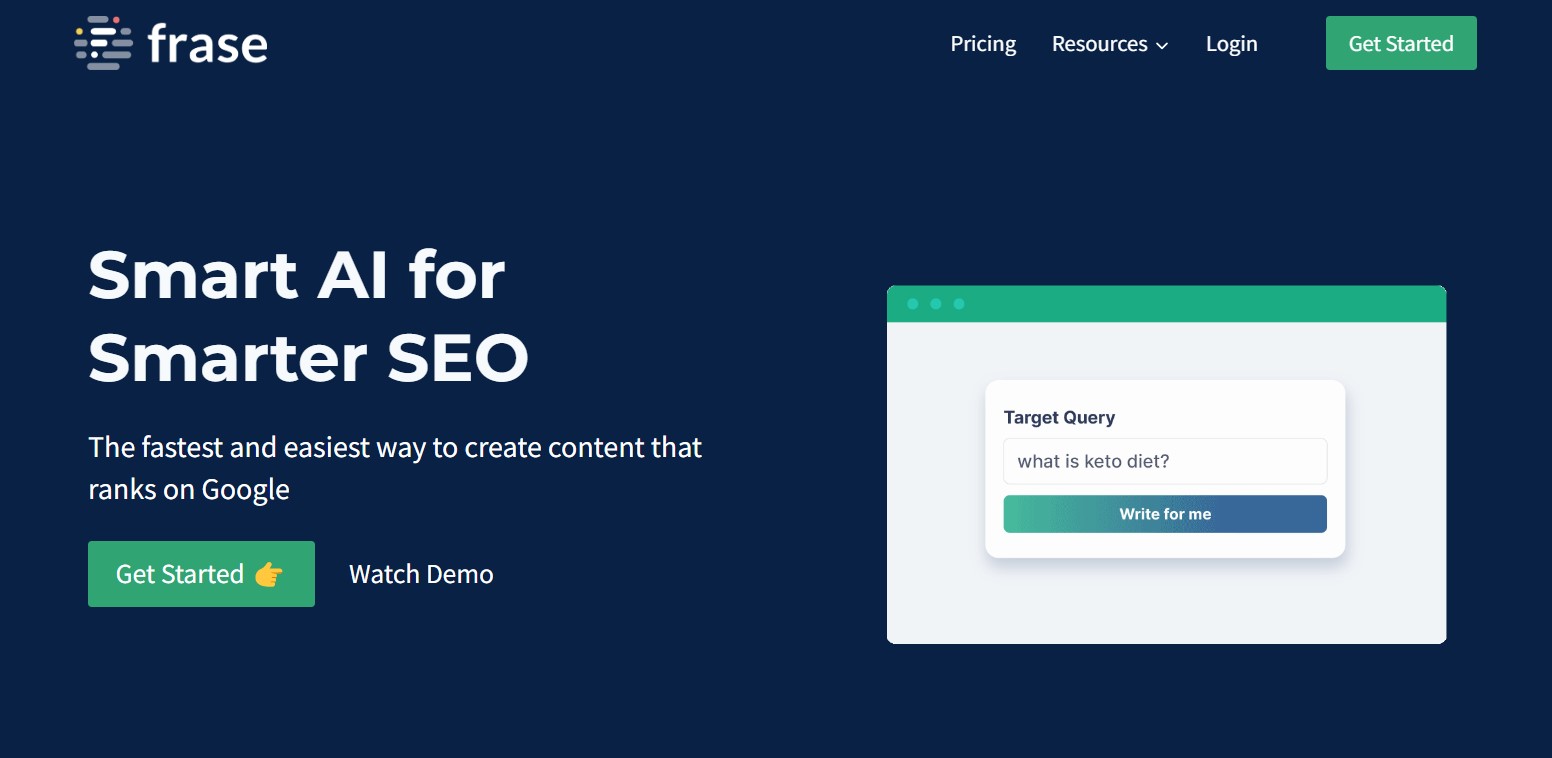 Read Next: