Cloudways is a managed Cloud hosting platform. What that means is that you can have the benefits for running your own dedicated cloud server like on Amazon or Google but you don't have to deal with the technical aspects that come with it. And you can try it's WordPress Hosting for Free without needing a credit card.
Click The Button below and sign up to get the Cloudways Free Trial
Click here to Try Cloudways For Free
When getting started with a new WordPress website the idea of investing hundreds of dollars into hosting where you are locked into year-long contracts can sound daunting. Almost every single will ask you to pay a massive 3-4 figure bill before they even show you their user interface. That sucks!
What does that cause? Well, then you have to Google "Best WordPress Hosting" and listen to "experts" telling you what's best for you!
What if they could be another way?
Well, as you know from the title of the article in this article we are going to dive into the Best WordPress Hosting site that offers a free trial (and you won't even have to give them your credit card!) 
Cloudways Free Trial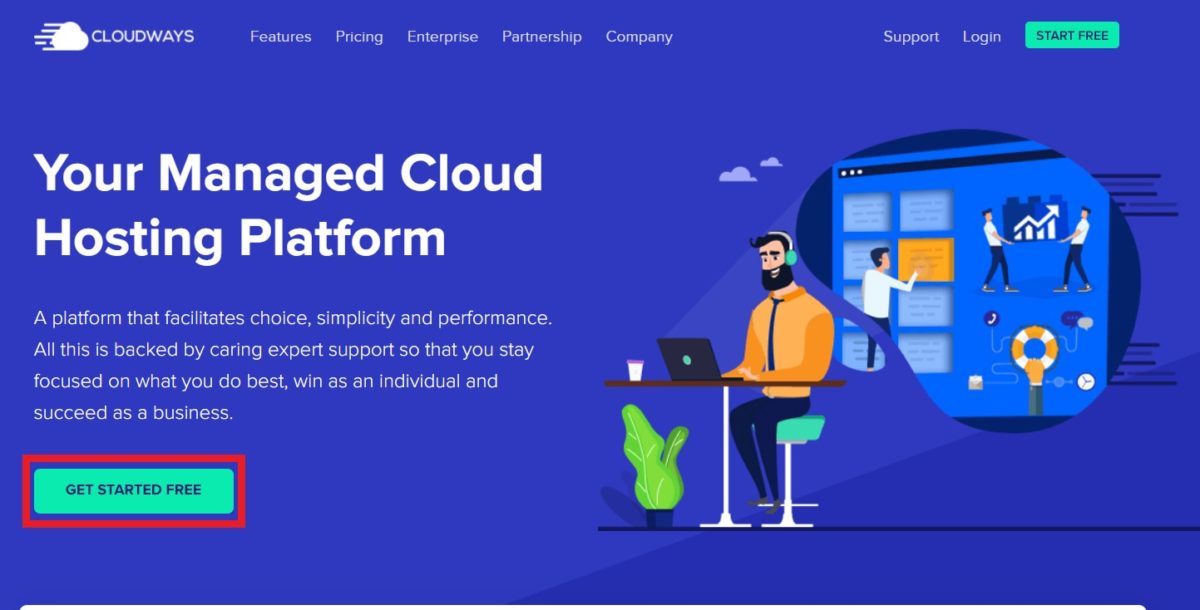 Cloudways is one of my favorite WordPress Hosting sites out there! In fact, JeremyNoronha.com site is hosted on Cloudways!
So what's the big deal with Cloudways?
Cloudways is a managed Cloud hosting platform. What that means is that you can have the benefits for running your own dedicated cloud server like on Amazon or Google but you don't have to deal with the technical aspects that come with it.
Cloudways offers managed hosting on DigitalOcean, Linode, Vultr, Amazon Web Services (AWS) and even Google's Cloud Platform.
Other cool features of Cloudways Include Free Let's Encrypt SSL Certificates, Great Support that can help you with everything you need, ability to host Unlimited WordPress Sites, 1-Click WordPress Installation, easy migration from your previous host and Server Performance Monitoring with a great interface.
Honestly, Cloudways is a no-brainer which is why all my businesses are hosted there.
Exclusive Offers For JeremyNoronha.com Readers
JeremyNoronha.com readers can get 20% off for 2 months of hosting with our exclusive promo code to try out Cloudways' Managed Cloud Hosting. Simply add Cloudways coupon code "JEREMY20" when you sign up and the discount will be applied automatically.
Coupon code: JEREMY20
Click here to Try Cloudways For Free
Hurry Up! Limited Time Offer.
How To Get The Cloudways Free Trial
1. Create A Cloudways Account
First, click the button below to go to Cloudways.com.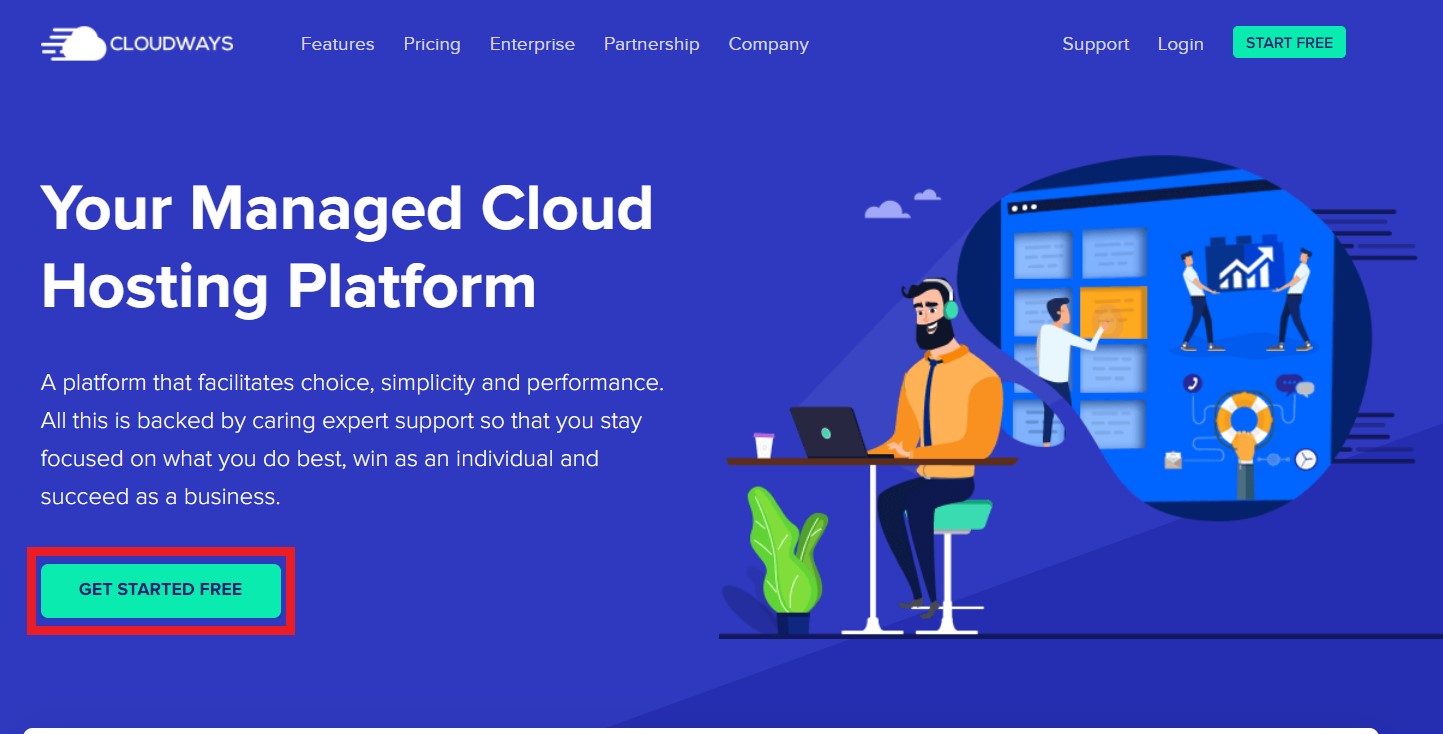 Click on the green "GET STARTED FREE" button, it'll take you a page that looks like this
Fill in your information, and then click on the "Got a Promo Code" and paste JEREMY20 and click "START FREE"
You'll be asked to enter a phone number so you can get a one-time activation code. Once you have verified the activation code, you can access your Cloudways trial and you don't need a credit card!
You can also sign up to Cloudways using your Google, Github or LinkedIn account which is a big plus.
WordPress Hosting Free Trial
They're other hosting providers that provide free trials of WordPress in one way or another however I would recommend you stick to one of the above.
Hostgator: Hostgator offers 30 days WordPress hosting free trial for 1 cent.
InterServer: InterServer offers a month free of WordPress hosting for 1 cent as well.
WPEngine: No Free trial but they have a 60-day money back guarantee.
Kinsta: No Free trial but they have a 30-day money back guarantee.
Most of them aren't really "free trials without a credit card" so I don't think it's worth mentioning. If I were you I'd recommend going with Cloudways if you want an actual WordPress Hosting Free Trial without a credit card! 
Click here to Try Cloudways For Free
What is Cloud Hosting?
Cloud hosting is simply a network of servers that are strategically located around the world that concurrently store user's data. Although it is shared with other users it renders extremely high speed that can beat any other traditional shared hosting as it is powered by some of the finest CPUs and Ram.
The real icing on the cake is the strategically located network of servers that give you 100% uptime at all times as if one server goes down, faces technical issues and traffic spikes the other servers that are connected in parallel cover the outage!
This is why many professional webmasters prefer cloud hosting over shared hosting basically it's cheaper than dedicated hosting and much faster than shared hosting which is a perfect balance as now you don't have to break the bank to get your hands on a really fast and reliable server.
How To Pick Your Cloud Hosting
A server is a foundation that brings your web application to life so it's evident that it needs to reliable and good enough to host it effectively.
Choosing a bad cloud hosting provider can, in fact, kill your business as your web application will experience long loading times and downtime negatively affecting SEO and ultimately sales.
Here are some of the factors that will help you pick a good Cloud hosting provider for your business:
Timing
Certifications and Standards
Uptime Guarantee backed by SSD servers
GooSupport
Timing: Before you even begin to pick a good cloud hosting provider you need to first determine your specific business needs and whether it is the right time to upgrade or get Cloud hosting.
A lot of people fail to understand their businesses needs and end up getting a cloud hosting that's not right for them so clarity on your businesses requirements is the first step towards picking the right cloud hosting for you.
Certifications and Standards: Good cloud hosting providers comply with strict certifications because they invest in best practices and keep their standards high and while standards may not determine which service provider is good for you it depicts the quality of the hosting provider.
Uptime Guarantee backed by SSD Servers: We live in a digital age where customers want everything instantly and definitely do not want to wait for your website to load or worse access an inaccessible website because then they'll just switch to your competitor.
I always look for 99.99% uptime guarantee and also pro-rata credit just in case I do not get the promised guarantee.
And of course, a server with SSD storage to ensure fast performance especially because HDD backed servers experience long loading times.
Architecture: It is important to think about how the architecture will be incorporated into your workflow now and in the future. For example, say your business is invested in the Microsoft universe it makes sense to move forward with Azure however if your organization is more Amazon/Google it's best to look at those vendors for ease of integration.
Note: Cloudways is well integrated with many third-party providers making is quite versatile to choose to pick something.
Customer Support: Now, this is a tough one as investing in good tech support is expensive and not many "cheap" cloud hosting plans can really afford to price their services down and invest in expensive support. However, some cloud hosting provides live chat and call options and it's worth going for these provides although they may be a little bit more expensive.
So yeah that's pretty much all the factors you need to consider whilst deciding to get good cloud hosting.
Let me know how it goes in the comments below.
Read Next: