I've been traveling the world since 2016 and have been to over 20 countries and in that period stayed in countless Airbnb's all around the world. You can say I'm a fan and for good reason, after all, there's no better and easier way to find good and unique accommodation other than Airbnb!
If you're reading this article you already know that and want to know more which is why I'm writing this article to tell you more about what is Airbnb and how it is the perfect platform for travelers to find good accommodation quickly!
If you're looking for an insane $40 discount on your next Airbnb booking I recommend signing up by clicking on this link booking a trip over $75!
What is Airbnb?
Follow the content guideline below for an easy reading experience:
What's the story behind Airbnb?
In 2007 Brian Chesky and Joe Gebbie couldn't afford to pay rent for their apartment in San Francisco so they decided they would turn their apartment into a lodging space so as to make ends meet.
However, Craigslist wasn't going to cut it it was too impersonal and moreover, the entrepreneur in them screamed build your own site! So they did and that was when Airbnb first started…
Fortunately, there was a design conference happening in their neighborhood pretty soon and hotel space was limited so they set up a simple website and marketed their "lodge turned apartment" with a promise of a home-cooked breakfast at the conference and they got their first three guests each paying $80!
After that they got they started receiving emails from people around the world with enquires for the service in destinations like London, Bueno aires etc.
Fast forward today Airbnb is one of the worlds biggest companies with valuation at a whopping $38 billion dollars and more importantly it has become a reliable solution for both travelers and homeowners.
How does Airbnb really work?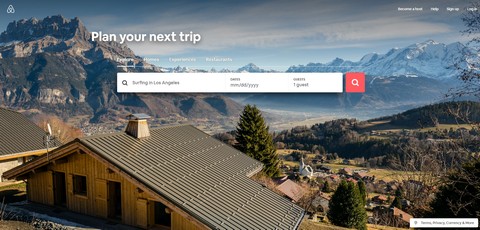 Airbnb is short for "air mattress B&B" platform where Hosts rent out extra space in their house/apartment or an entire home to travelers typically for much cheaper prices as compared to a hotel
In short, it is an aggregator for accommodations of various types all across the world. It basically connects hosts renting out space to a guest seeking that space.
How Airbnb works For travelers
Airbnb does not own any real estate it acts as an intermediary between those that want to rent out space and those that are looking for space and If you're looking for an accommodation ranging from a treehouse to a cabin or even a yacht Airbnb can and will deliver.
Their platform makes it easy and inexpensive to find great deals in almost any part of the world! You can literally create an account within a few minutes and after a simple ID verification proceed to book your stay.
Moreover, guests can use Airbnb's intuitive platform with many filters to help find the right platform and for this Airbnb charges you a 6-12% commission fee.
I recommend reading my beginners guide to using Airbnb for a guide to using Airbnb and also save a lot of money on accommodation. (click here to get $40 off a new booking)
How Airbnb works For homeowners
If you have a home to rent (or an entire home) you can become a host. Simply by clicking on "become a host" and register your home via Airbnb after filling in the setup process which only takes a few minutes.
Airbnb has three different hosting options:
Rent out extra space in your home
Host for others in your neighborhood (neighborhood co-host)
Host unique experiences in your area
Options one and two is if you have a home and want to lease it out to people seeking for space and option three is if you are a local and can share unique experiences with tourists kind of like a tour guide.
Note: You'll need to look into the law with your local area, landlord etc but within a few days (verification) you can start receiving guests and make an extra income.
Airbnb basically serves as a reliable channel to connect and accommodate verified and real guests and for this Airbnb charges a 3% commission from bookings.
I recommend reading my detailed beginners guide to hosting on Airbnb for more details regarding being a host on Airbnb.
Since Airbnb doesn't really own any real estate it's capital costs are extremely low and its profits extraordinary this is why Airbnb continues to grow and offer the best services to both travelers and hosts.
Is Airbnb better than a hotel?
Airbnb vs hotels is still an ongoing debate and honestly one that will never end because they're honestly both good and bad in their own way.
Although recently I'm seeing more Airbnb's invest in caretakers and property managers that offer the same service (if not better) than hotels but it's still early to say one is better than the other.
Top Reasons to say in a Hotel as compared to an Airbnb:
Just because Airbnb's are the new cool kid in town doesn't make hotels bad in fact they can be better for a few things that Airbnb's can't offer some of which will be discussed below:
All the amenities are available right away and not, there's someone at the front desk that's just a short phone call away to get it for you.
Hotels are usually located in good locations perfect for sightseeing, business conferences and of course to visit a lot of good restaurants and bars.
They're better for children and elders. As you can make requests for extra sheets in the early hours of the morning, set up crib on arrival and maybe even opt for a specialized service.  Hotels make sure to cater to your comfort and entertainment needs at all times.
With hotels, everything is guaranteed. You know exactly what you're paying for and getting into before you even arrive.
Of course, all this is great until it's time to pay for "room service" which can sometimes break the bank. However, if you value convenience over cost hotels are your best friend.
Top Reasons to stay in an Airbnb as compared to a Hotel:
Airbnb is one of the biggest hotel chains in the world without owning any real estate! Whether you fancy renting a bungalow on the beach or a tree house in Brazil they've pretty much got you covered.
With Airbnb, you have a lot of flexibility from renting an entire home or just a room in a shared space and more importantly only paying the night, rather than per person. (making it cheaper for big groups.)
You have much more room in an Airbnb and sometimes even have a full-fledged stocked kitchen and a lot more freedom to relax and enjoy your partner's company as opposed to having room service bothering you now and then.
Speaking of room service this is nonexistent in Airbnb and you don't have to pay for any amenities with the only exception being the cleaning fee added at the end of every booking. (this can also be waived off upon request)
However, hotels are good in their own way offering hassle free and reliable accommodation that is always guaranteed to provide you around-the-clock service. In my opinion, it's better to compare both Airbnb and Hotels and find the perfect option because at any time one can be better than the other!
Here are a few points to consider when finding the perfect option between Airbnb and Hotels:
Does the accommodation need to be business friendly?
Is the accommodation good for children/elders?
What are the reviews like?
What is better(cheaper) for groups?
Are there any specialty and boutique hotels?
Airbnb vs Hotels: So Which is better
I personally use both Airbnb and hotels (bookings.com) at times. Airbnb has always offered me a more local and personalized experience as compared to hotels but the latter is also good for hassle-free travel and that hotel experience.
The pros and cons of Airbnb
Airbnb is simply an aggregator (or marketplace) for accommodations (B&Bs) that matches hosts up with guests. You can use their platform to rent out a place to stay in a home or you even to lease out your own home or apartment if you have space and time in exchange for extra income.
However, what's different about Airbnb is the homes aren't the typical bread and breakfast places they could be literally anything! Like a yacht, treehouse, palace, houseboat or anything, you can really imagine!
If it meets Airbnb's policies and standards it can be leased via Airbnb and today it boasts over 150 million users, 640K hosts, and four million listings in 65,000 cities these numbers are continuously growing exponentially!
Airbnb is now the world's largest hotel chain and the best part it doesn't own a single room!
So What are the Advantages of Airbnb
Airbnb has plenty of advantages for both guests and hosts some of which are listed below.
It can be cheaper than a hotel:
This is because of the relatively low capital investment Airbnb Hosts have as compared to a hotel chain. You can also use the Airbnb travel credit (by clicking this link) to avail $40 off a $75 accommodation booking.
Airbnb is more spacious:
In most cases, you can get an entire home for far less than its actual worth (especially during offseason!)
You get that local experience:
With Airbnb, you're living in local's homes that are usually located in a typical neighborhood where most locals stay. So you get that feeling of living like a local without having to own a home
The Platform is easy to use:
Airbnb has an easy platform to book and host homes just sign up and within a few minutes, you can get started.
Most unique homes/Experiences
Like I mentioned before Airbnb homes aren't a typical B&B they can range from a yacht to treehouse to literally anything. In general, the homes are usually very unique.
You'll have a (free) tour guide/host
Sometimes you'll live in homes where hosts live to and you can ask them for recommendations and tips about the area in short a free tour guide!
Earn an extra bit of money
If you've had an empty space or frequently travel leaving your home vacant you can simply lease out your Airbnb and travel from that income!
And What are the Disadvantages of Airbnb
Airbnb Listings can be misrepresented
It's not uncommon for hosts to lie about their Airbnb listing by overselling their listing to attract customers.
Sometimes the photos can misrepresent the place and you can't really do much other than writing a bad review and try to claim a refund which is inconvenient.
You might not like the accommodation:
Just like every travel accommodation, you can sometimes have a bad experience maybe the host is rude or the accommodation is lacking it can happen.
Hosts can cancel: (last minute)
Sometimes hosts can cancel and you can't do much about it then report them to Airbnb. However, if they do this repeatedly then they risk being delisted.
Security and safety issues:
Airbnb doesn't do full background checks (hotels don't either) so you're basically on your own when trying to decide if accommodation is reliable or not.
For instance, if you're renting a room in someone's house there might not be a lock that can lead to nightmares like these.
Amenities can be lacking
Don't expect hotel amenities like a front desk or someone on call. However in some Airbnb's you now have a housekeeper and manager which is equivalent to most hotel amenities if not better.
Important Airbnb FAQs
For Guests:
Is the fridge off limits?
Unless the hosts tell you it's okay do NOT use anything from the fridge also read the description beforehand to avoid any dispute.
Does Airbnb offer discounts?
Yes, you can avail Airbnb coupons from affiliates in the form of travel credit.
Note: Click here and sign up to Airbnb to get a $40 discount off your next Airbnb booking.
Can I change my reservation?
Change of dates is at the discretion of the host and can be submitted through the bookings page on the website or the app.
Can I cancel my reservation?
This is again at the discretion of the host check for free cancellations before booking the place and if not mentioned try contacting the host directly.
How do you get into a property if they're no reception?
Some Airbnb's have a self-check-in so make sure you check your phone over WhatsApp or the Airbnb app itself for any details regarding check-in.
Sometimes you'll need to inform the host of your arrival a few hours prior so as to coordinate your check in so make sure you check the details thoroughly prior to your arrival.
Can I trust the reviews and the people?
Yes, Airbnb follows a peer-review system where hosts and guests can leave reviews only after booking and completing their stay in the Airbnb.
Airbnb also uses a Verified ID system which confirms people's identities by matching them with social media and other government ID's like passport etc.
What are Airbnb's fees for Guests?
The commision from guests varies from 6 to 12% from every booking.
FAQs or Hosts:
If you're interested in hosting with Airbnb I recommend reading my Airbnb Hosting guide for more details.
Does Airbnb provide insurance?
Yes, Airbnb offers free liability insurance of up to $1 million USD to protect against personal injury or property damage claims.
Are there any special requirements to become a host on Airbnb?
Almost anyone can become a host by simply signing up and listing their space however to be genuine and honest about the listing.
What are Airbnb's fees for Hosts?
Airbnb charges a 3% commission for every booking from hosts.
Thank you for reading all the way towards the end I hope by you know what Airbnb is and how you can use it as a host looking to lease out a home or a fellow traveler looking for a place to stay.
Read Next: