Visual Composer makes building custom pages incredibly easy thanks to its drag and drop interface, and in this review I dive into its pros and cons.
Visual Composer Review
The Visual Composer plugin is a massive overhaul in the WordPress Editing Experience. While WordPress is an incredibly popular CMS for a lot of people, it's not easy for none coders (like me) to modify things, that's where the Visual Composer plugin changes everything!
Read to figure out why…
About Visual Composer
Visual Composer is a website builder by the same theme that built the incredibly popular WPBakery Page Builder, however instead of adding more features to the WPBakery Page Builder, they decided to start things from scratch with Visual Composer and built an easy to use Website Builder.
Visual Composer is a good fit for both experts and beginners. With intuitive drag and drop interface and with a range of pre-designed templates and content elements you can convert your imagination into a real website.
In a nutshell, the entire purpose of Visual Composer to make building your website easily without having to worry about coding or anything of that sorts. You shouldn't have to know to code to be able to build a website, not in 2020.
Let me start with some of the best Visual Composer features that make it a great website builder and why it's worth purchasing in 2020
Visual Composer Review 2020
1. Drag and Drop Live Editor
Visual Composer has an easy to use drag and drop live editor that allows you to position text and images with a front end editor. It's a WYSIWYG (What You See Is What You Get) which allows you to edit your entire website in real time.
2. Ease of use
Visual Composer has an easy to use interface that make it's easy for someone starting out to use it.
3. Pre-Made Templates
Visual Composer has class professional website templates to build your layouts in seconds. Simply add a template to your page and replace the content.
All of Visual Composer's WordPress Templates are 100% mobile responsive.
4. 24/7 Great Support
As a Visual Composer user, you can get 24/7 support to help you with any problem you have with your site! So it doesn't matter if you're a beginner, their support team will be there to back you up!
5. Undo/redo option
Revert back and forth at any time when working with your content with quick Undo/Redo.
6. Unsplash stock images
Download and add high-quality stock images from Unsplash right from the Visual Composer Hub. Find beautiful images without leaving your site.
Visual Composer vs WPBakery Page Builder
WPBakey and Visual Composer, and it's honestly not surprising why that happens. The WPBakery Page Builder used to be called Visual Composer.
What?
Yeah, okay let me explain things.
WPBakery is a page builder means that you can build landing /sales pages or even simple pages in WordPress.
Visual Composer, on the other hand, is a full-fledged website builder that allows you to modify your entire theme using just the drag and drop builder. Also, WPBakery is based on shortcodes while Visual Composer isn't.
In all honesty, considering the price difference it's a no brainer buying Visual Composer over WPBakery as it's based on newer technology and also Visual Composer can do everything that WPBakery can, but not vice versa!
Visual Composer Pricing
You can get started for free with Visual Composer by clicking here! However, it's definitely worth upgrading to the Premium version of Visual Composer as you can get a lot more features.
Visual Composer is available in three pricing plans:
Single Website
Perfect for personal and small business
For 1 website
Updates for 1 year
Premium Support for 1 year
Unlimited access to Hub
Premium elements
Premium templates
Global Templates
Template Export/Import
Header, Footer, Sidebar editor
WooCommerce support
Compatibility elements
Price: $59
3 Websites
For small and medium size business
For 3 Websites
Updates for 1 year
Premium Support for 1 year
Unlimited access to Hub
Premium elements
Premium templates
Global Templates
Template Export/Import
Header, Footer, Sidebar editor
WooCommerce support
Compatibility elements
Price: $149
Developers
Unlimited licenses for agencies
Unlimited websites
Updates for 1 year
Premium Support for 1 year
License Management
Unlimited access to Hub
Premium elements
Premium templates
Global Templates
Template Export/Import
Header, Footer, Sidebar editor
WooCommerce support
Compatibility elements
Price: $349
Note: All plan comes with a 15-day 100% No-Risk Money Back Guarantee.
Renewal: There is a 40% discount on renewals that are made within two weeks of license expiring.
Is Visual Composer Worth it?
Visual Composer is an incredibly popular WordPress page builder and one of the oldest ones in the industry. Visual Composer used to be "the" WYSIWYG WordPress page builder you would use when you were building your website in the good old days, however, it's 2020 and there're so many better alternatives to Visual Composer out there!
Why Reconsider Visual Composer?
Price: Visual Composer cost $349 to use on unlimited websites and that only includes updates for one year.
Complex To Use: Visual Composer is definitely not for a beginner as they're interface is complicated compared to the alternatives.
Shortcodes: Visual Composer uses shortcodes so if you decide to stop using Visual composer your entire content will be messed up. So you're basically locked in.
Add-ons: If you run an online business you will probably have to pay extra for an Add-on for Visual Composer to add additional functionality and elements.
Best Visual Composer Alternatives
1. Divi Builder
The Divi Builder by Elegant Themes is of the best investments for someone building their first website. If you ever wished that WordPress was more like Wix or Squarespace and super easy to use, then Divi is the answer for you.
The Divi Builder allows you to basically design almost anything without having to touch a single line of code.
Divi comes with popular plugins like Bloom opt-in forms email marketing, Monarch one of the best sharing WordPress plugin.
Additionally, your Divi website is integrated with a nifty A/B testing system that's great for Conversion rate optimization.
Divi is great for beginners who want a simple drag and drop builder to build websites that still look amazing!
Divi costs $89/year and $249 lifetime however if you use my coupon below you can get 20% off!
Exclusive Offers For JeremyNoronha.com Readers
JeremyNoronha.com readers can get a 20% Lifetime Discount on Elegant Themes. Simply click the link below and signup and the discount will be applied automatically.
Hurry Up! Limited Time Offer.
2. Elementor Page Builder
Elementor is one of the most popular drag and drop WordPress theme builders that can make you instant page edits without touching any code. (which is great for a non-dev like me)
Elementor is a WordPress Page and Theme Builder that was founded in 2016. In just 3 years, Elementor has more than 2,000,000 active installs and is loved by many and has over 3,000 five-star reviews.
One major issue with using Visual Composer or the Divi Builder is that if you decide to switch to stock WordPress or some other theme (like maybe Elementor). Your content will still have shortcodes, which is a huge mess and you'll have to spend a lot of time during the migration.
So, if you decide to use Visual Composer or Divi, it better be for life. While with Elementor you can always switch to another WordPress theme.
You rarely hear of online business professionals like me using Visual Composer due to this reason,
Even Cyrus, the ex-head of SEO at Moz, considers Elementor his go-to Page Builder!
My Current WordPress Stack (for the non-dev):
1. Theme = GeneratePress https://t.co/IvnQmUJisd
2. Page Builder = Elementor https://t.co/hbhCo4fP4p
3. Hosting = @wpengine (also @kinsta)
4. Cloudflare

— Cyrus (@CyrusShepard) June 14, 2018
Elementor Pro is available in three pricing plans:
Personal — Best for a single website
Plus — Best for freelancers looking to build 3 websites
Expert — Best for expert freelancers/agencies looking to build multiple websites
As you can tell, there is a Plan for everyone. Right from a single website to 1000 website plans, everyone can find a good use for Elementor Pro.
Personal Plan
Use on 1 Site
50+ Pro Widgets
300+ Pro Templates
Theme Builder
WooCommerce Builder
Popup Builder
Support for 1 Year
Updates for 1 Year
Price: $49 / Year
Plus Plan
Use on 3 Sites
50+ Pro Widgets
300+ Pro Templates
Theme Builder
WooCommerce Builder
Popup Builder
Support for 1 Year
Updates for 1 Year
Price: $99 / Year
Expert Plan
Use on 1000 Sites
50+ Pro Widgets
300+ Pro Templates
Theme Builder
WooCommerce Builder
Popup Builder
Support for 1 Year
Updates for 1 Year
Price: $199 / Year
Get The Best Deal on Elementor Pro Now! Simply click the link below!
Click Here to Get Elementor Pro
Elementor is current without a doubt the best Free WordPress Page Builder, Elementor comes as a WordPress Plugin and the Elementor Pro subscription add more to the capability of the plugin.
You can get started with the free version of Elementor directly by clicking here. However, the free version of Elementor is limited in what you can do and it's definitely worth upgrading to Pro.
3. Thrive Architect
Thrive Architect is one of Thrive Themes most popular tools and for good reasons, I consider it one of their best! If you're tired of Expensive Page Builder that cost a ton and require yearly subscriptions to use then Thrive Architect is your one-stop solution.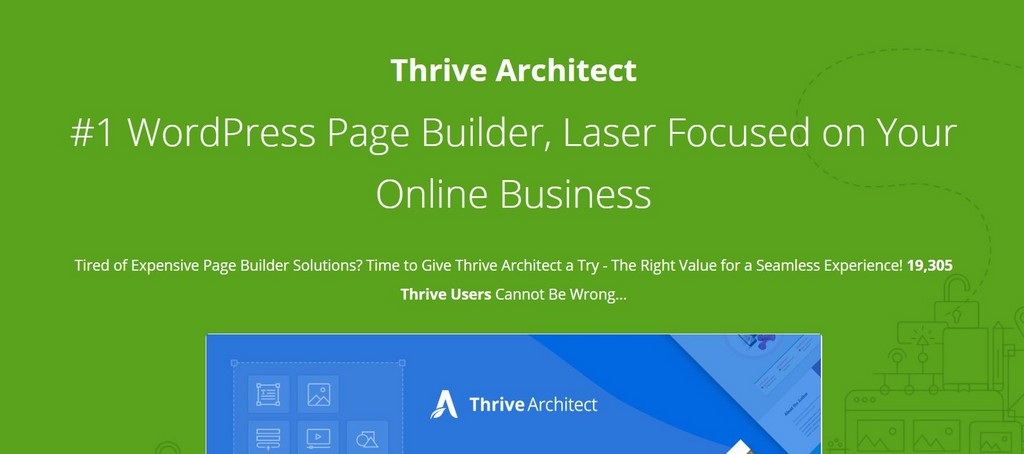 Thrive Architect is a visual page builder plugin for WordPress that helps you create great-looking, conversion-focused pages. Using Thrive Architect, you can create an eye-catching homepage, build landing pages, format blog posts, create Sales Pages, Webinar Pages, Product Launch Pages and so much more!
You don't need to waste 1000s of $$ on a page builder, especially not in 2020. Thrive Architect is setting out to be the Page builder for everybody.
So how much does Thrive Architect cost? well, this will surprise you!
Single License @ $67
5 License Pack @ $97 ($335)
It also includes Lifetime updates which is insane at that price! Thrive Architect is the cheapest full-fledged page builder that comes at such a low price. In comparison, Beaver builder costs $99 and Elementor costs $49/year.
Thrive Themes also has a great Thrive Membership at an AMAZING price of $19/month that basically gives you access to all the things you might want for your WordPress Website.
The Thrive Theme Membership is well worth it as you will get access to their every single product Thrive which include!
If you sign up for Thrive Themes by clicking the button below, you can save over $700 and get all these tools for free with your Thrive Membership!
At just $19/month you can get access to all the tools from Thrive! You can choose to pay Quarterly or annually, but if you choose to go Annual you can get the official 24% Thrive Themes Discount!
Click Here To Get Thrive Themes
Note: All plans include unlimited free updates and a 30 Day Money Back Guarantee!
4. Beaver Builder
Beaver builder is a more high-end page builder suited for those that want to build websites using drag and drop builders but with the ability to hand over the website to a developer in the future. It's most popular among developers and also among agencies who want to white label a product for their clients.
If you are a developer or plan on working with the developer in the near future than Beaver Builder is definitely a great idea for you. Else one of the other alternatives might be a better pick for you.
Click Here To Get The Best Price On Beaver Builder!
There you have it!
Some of the Best Visual Composer Alternatives in 2020, I know that they're many more page builders out there but honestly, most of them aren't worth your time!
Here's the deal:
It makes more sense to understand your preferences and needs before the decision. After all, it doesn't make sense to get something that isn't compatible with your needs.
All the best!
Read Next: