TLDR: If you're in a hurry Wistia is the Best Video Hosting Site according to Reddit!
u/ahartzog- "We use Wistia for our course content, Wistia for product demo/intro, and YouTube for public video posts".

u/inmyhumbleo- "Been using Wistia for 4 years now. It's been a pleasure to watch them grow as a company, and it still continues to get better today. Wistia > any other video host.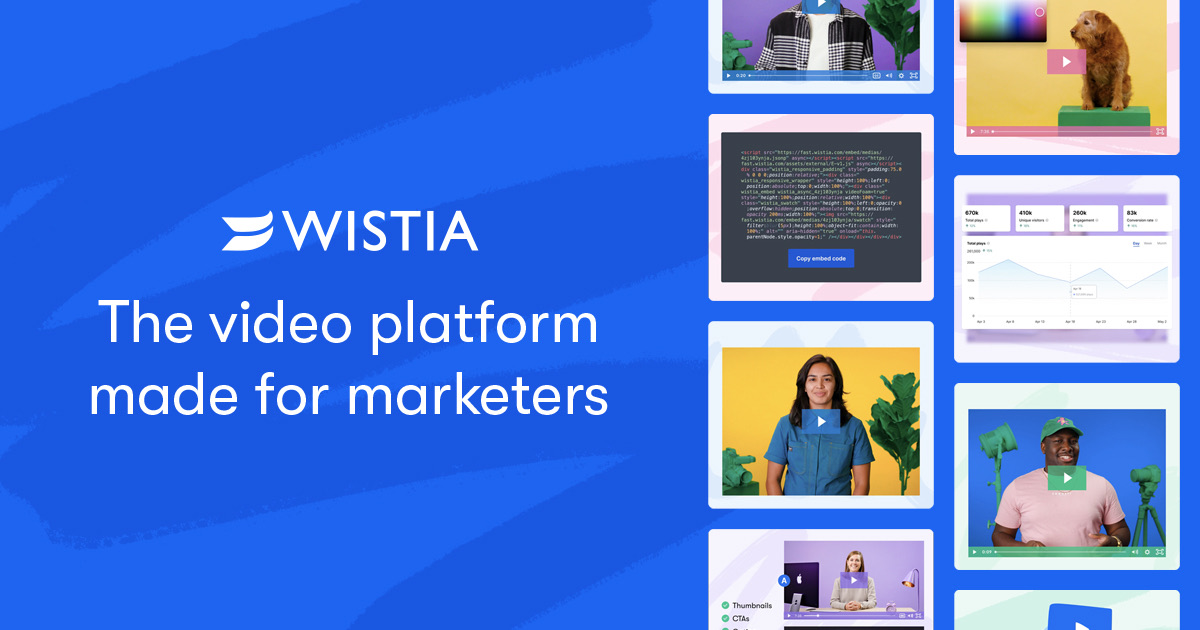 Videos are becoming increasingly popular in today's day and age, whether it may be short clips, stories, or in-depth videos. Uploading videos directly on your website requires the use of several server resources, and it can gravely affect its loading speed. This is why smart business owners make use of video hosting platforms to upload their videos and later embed them on their sites without hindering performance.
Modern video hosting platforms have drastically evolved from their beginnings, and now you can customize them to make them suit your brand. Further, they can be viewed easily on mobile devices or browsers while providing a range of marketing options within them. In this article, I cover some of the best video hosting platforms in the market, as per Redditors.
TLDR: Here are my top picks if you are in a hurry
What makes the Best Video Hosting Service?
Basic analytics tools- the feature helps users check key metrics based on retrieved consumer data to review and analyze it to improve their content to garner more engagement.
SEO tools- SEO tools are employed to rank your content higher and make it search-friendly.
Embed videos on external websites- A good video hosting service should allow users to embed its content on the website; via links or shareable options.
Business needs- A good video hosting service helps meet the needs of independent creators to customize them to fit their brand identity.
Video is very popular today; I had to draw a few hard lines and have left out video platforms that primarily promote live streaming or social media apps, similar to TikTok, Facebook, Twitter, Instagram, and Snapchat, in this list. These apps help you to upload and host videos, but this is an add-on feature and not it's core functionality.
Video Hosting Service Reddit 2023
1. YouTube – Best Free Video Hosting Service With Viewership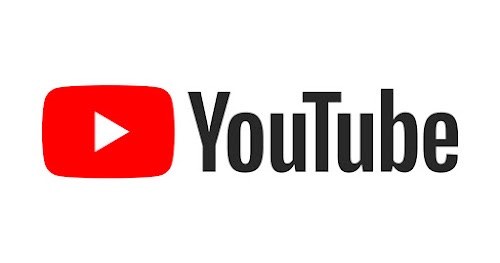 YouTube is one of the biggest video hosting platforms, with billions of users around the world. The free video-hosting platform has a sleek interface with a good built-in audience. There is not a single doubt that this is a great platform if you are planning to upload your videos. It is generally a default choice for business owners looking to host their videos. The videos on this platform always get a prime spot in Google search results through Google's algorithm.
The YouTube Studio is where you'll manage all your channel and video details. You can customize your channel and start uploading videos. Within these videos, users can add subtitles and an end screen to promote related content or highlight it. If you are more concerned with getting your videos in front of the right audience, then you can easily embed them on your website. You also have the option to add videos on your website using a simple code or add external links on your website, which have the same appearance as a YouTube player.
YouTube allows users to monetize their videos once they sign up for its Partner program. This program allows you to upload videos above 15 minutes long and gives you access to analytics and a video editor. You can get a cut of every ad that plays when users watch your content. Further, there is no bandwidth cap for uploading videos, and it has unlimited storage. It also comes with live streaming capabilities, and there are thousands of video tutorials available to optimize videos on the platform. And users will most likely find audiences regardless of what genre their content is based on.
YouTube efficiently integrates with Zapier, which helps you automate your marketing and promotional activities for your videos. The pre-made workflows can allow you to get started building your own workflows efficiently. It also helps users connect with thousands of third-party apps.
What Redditors say about it
u/suzy-six- "I only do YouTube embeds now, and it has saved me big headaches. I would never go back to dealing with my own video player and hosting".
u/Kevinkace- "100% YouTube, its feature to set publishers and consumers is unparalleled. Captions, playback speed, bitrate/bandwidth, responding, and encoding. Not to mention that most users are already part of the ecosystem (videos now in their history, discovering additional content, or subscribe). I couldn't imagine using something else. The hours required to implement something like YouTube is crazy".
Video Analytics
YouTube has an excellent analytics feature that helps users figure out how well their videos are performing and check the performance of their channel. The YouTube Reach Report, which is under the Traffic Sources Report, allows you to see the most popular queries guiding viewers to your videos. You can also connect with Google Analytics to get more information and insights on different metrics.
Pricing
YouTube is free for all users, with unlimited storage and uploads. However, users can opt for a premium plan which consists of 3 pricing plans
Individual plan- $119.99 annually
Family plan- 1-month free trial with $22.99 per month afterward
Student plan- $6.99 per month
Pros
Free unlimited cloud storage for video files
Excellent audience-building opportunities with over 1.9 billion users
It is the second-largest search engine in the market
Unlimited data storage and bandwidth
Basic editing function
Users can easily embed videos using custom-generated iframe codes
Pop-up comments and playlists
A unique translation feature for different languages
Easy navigation
Includes live streaming feature with good privacy settings
Private and unlisted options to remove videos from the public eye
Cons
Ads will play automatically, even on commercial content embedded in your website. This gives you limited brand control
Potential copyright issues even if you are following fair use rules
No download options without using a third-party service
Basic embedding features
2. Wistia – Best Video Hosting Service for Video Marketing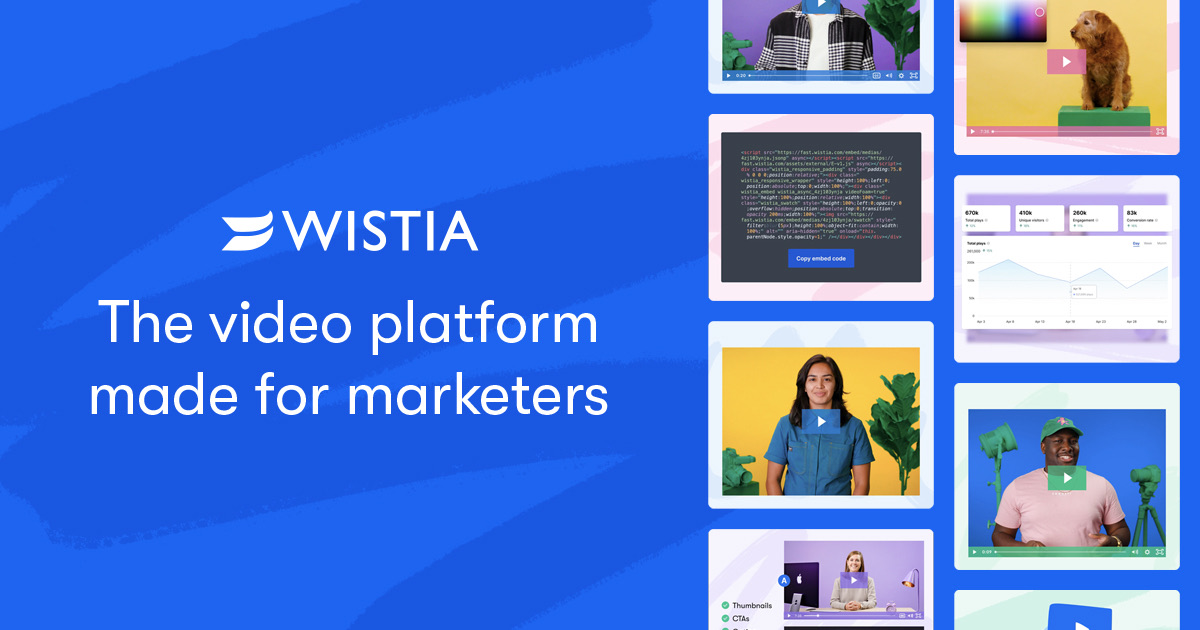 Wistia is a professional video hosting platform that has become a full-blown video marketing company. It is well-suited for marketers and businesses and comes with excellent lead-generation tools. The platform has a customizable player with embeddable channels. It comes with excellent marketing integration and analytics that helps control your audience and enhance your social channels.
Wistia is lightweight, mobile-friendly, and can easily embed codes which means that your videos can load fast. The platform can be further customized to suit your brand identity. You also have the ability to add the right thumbnails, add chapters, and call to action, and you can also set passwords if necessary. Here, your audience can also set the resolution and playback speed of your player, and you can further customize it with the player API. This gives you better flexibility and makes the player unique with your own touch.
The platform comes with versatile in-built social sharing tools and captures leads to start your email marketing campaign. Wistia seamlessly integrates with third-party platforms like Pardot, Zappier, Google Analytics, ActiveCampaign, etc. It is a great platform if you want to turn your videos into a marketing machine.
What Redditors say about it
u/CaptainJamie- "What I want to know is why Wistia is so good. I have used it to host videos for clients, and it's very smooth and fast, but I don't know how they do it. If every video on YouTube was hosted on the Wistia Player/servers, it would be bliss".
u/inmyhumbleo- "Been using Wistia for 4 years now, and it has been a pleasure watching them grow as a company and see their platform continue to get better. Wistia > any other video host".
Video Analytics
Once the website is live, you can track visitor engagement with your videos. Wistia presents valuable insights with premium visualizations and includes viewer-based tracking and heatmaps. The platform also gives engagement graphs and viewer tracking to give users a clear picture of their audience engagement.
Pricing
Wistia video hosting has 4 pricing plans, and the plans include:
Free plan- $0 per month
Plus plan- $19 per month
Pro plan- $79 per month
Advanced plan- $319 per month
Pros
Integrates seamlessly with email marketing platforms and CRM systems
Powerful video SEO
In-video forms and hyperlinks
Works well with Google Ads and marketing automation software
A customizable player with good branding features
Advanced security
Flexible video dimensions
Outstanding lead generation tools
Excellent analytics features
No ads
Create audiences for Facebook or Instagram
Allows integration of CTAs and forms inside your videos
Cons
No inherent audience
Charges per video
A larger menu of options can be confusing
Expensive pricing plans
3. Teachable – Best all-in-one Video Learning Platform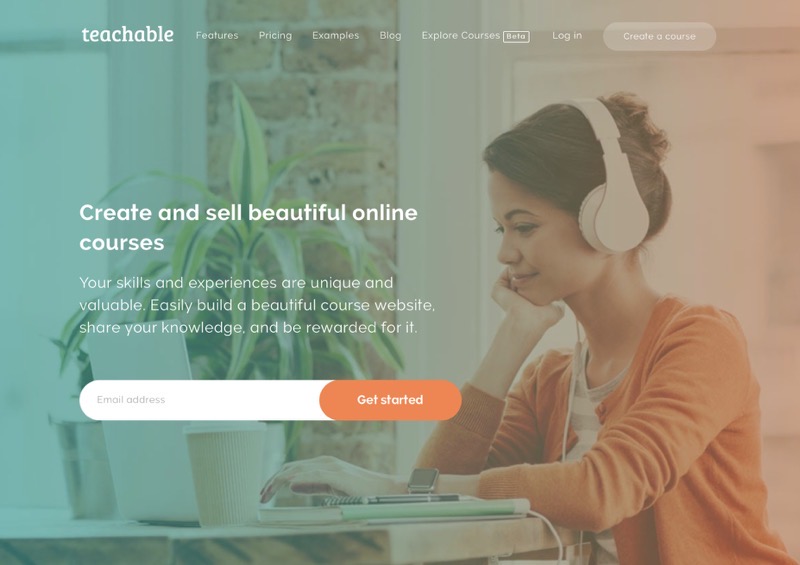 Teachable is an all-in-one learning video management platform that is catered to help course creators to produce and sell their course content online. The platform was formerly known as Fedora before being rebranded. It helps you to sell engaging courses and boost your revenue within no time frame. It has an efficient builder that allows users to create, edit or publish their content online. Teachable's drag and drop builder is intuitive, which makes it easy to create courses. You have an opportunity to build video content in three options, namely courses, coaching, and bundles. It also picks a specific author for a course to help collaborate with team members and assign specific roles and permissions.
Teachable allows users to embed email lead forms in their sales page that helps them collect leads for the protentional enrolment of new customers. They also come with additional sales and marketing features that allow you to create a new marketing suite. Teachable has options like order bumps, upsells, coupons, pre-selling, discussion forums, and certifications.
The platform has the ability to host live classes wherein you can get real-time feedback while interacting efficiently with your students. However, Teachable doesn't allow you to live stream natively. Here, you will have to connect to third-party streaming platforms, like YouTube, Twitch, or other services. They also allow for easy integration with several third-party platforms that allow your course to run like a well-oiled machine.
The videos on Teachable can be monetized via one-time purchase, subscription, and monthly plan specifications. You can select a near-unlimited currency option that makes them a good choice for different countries. The platform can also set a limited course access duration. Further, you can also create multiple-tier pricing using Teachable. Another great way to earn more capital is through affiliate marketing, which is simple to use and highly flexible.
Teachable has a decent knowledge base that gives users guides on every feature and topic offered on the platform. The platform lets users submit a ticket to the customer support team to solve any queries. You can also get support via live chat or email support.
What Redditors say about it
u/drewches- "I have a client that hosts all their courses on Teachable. I think that Teachable is a great platform since it handles several things for you so you can focus on creating content. A lot of courses I write are for sale, and I have a marketing person that I work with regularly. I have realized a long time ago I have limited function of social and I should focus on what I'm good at. I would recommend you are moving to Teachable and work with a marketing person who is familiar with your type of eLearning. Create a marketing plan to help keep your existing customers to increase your reach on socials".
u/connectsnk- "A good option is to opt for a fully managed online platform like Teachable".
Video Analytics
Teachable doesn't provide users with a direct analytics feature on their platform. Therefore, you will have to use third-party applications to check your key performance stats.
Pricing
Teachable offers 4 pricing plans to choose from. The plans are available either as monthly or annual subscription prices. The annual plans come with 33% off compared to monthly plans. The plans include:
Free plan- $0 per month
Basic plan- $59 per month
Pro plan- $159 per month
Business plan- Custom prices based on desired perks
Pros
All-in-one platform with multiple tools to design, build and market your online courses with a convenient dashboard
A good page builder
Free version
Ease of use
Excellent email automation features built-in
Wide range of marketing tools
Bulk coupon generator
Good coding snippets
A monthly recurring subscription fee
Access to its iOS app
Robust security
Outstanding customer support
Course completion certificate
Cons
No phone support
Limited global payout options
Doesn't support many languages
Limited features on the free plan
Slower admin interface
4. Thinkific – Best Online Video Course Builder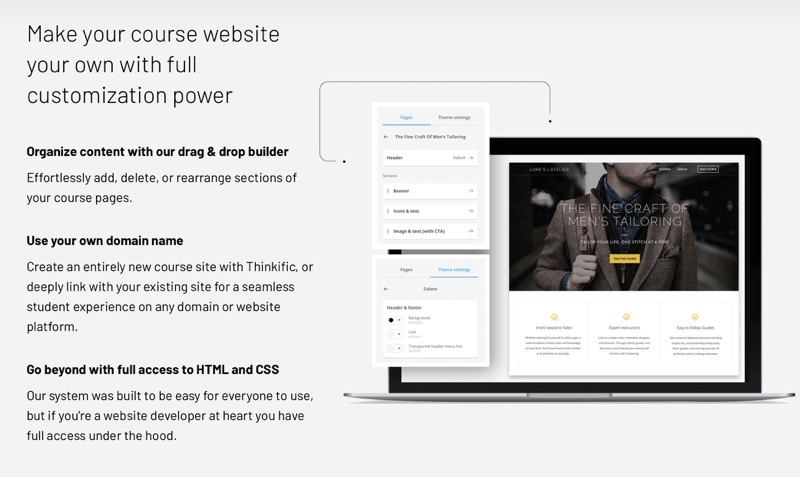 Thinkific is a great online video course platform to build versatile online courses. The platform allows you to create, market, and sell your online courses or membership sites. Users can easily create an account on the platform requiring no technical skills, but it also offers advanced tools to enhance the experience of your viewers. It is designed for entrepreneurs and is highly trusted by enterprises that can create a range of courses without any space restrictions.
The course builder on Thinkific has an excellent drag and drop course builder that allows users to create an intuitive interface. You can customize the platform to add your brand identity on the platform. It also offers rich multimedia support with external integrations.
Thinkific allows you to upload and share your video content online. It also supports a live-streaming feature that allows you to interact with your audiences. They have a reliable content hosting solution, and you don't have to worry about an external hosting solution. This helps save time and allows you to run your course efficiently.
Thinkific's online courses offer varied content to capture for your subscribers to cater to different learning approaches. The platform allows you to support content in different texts, attachments, and third-party channels. With it, you can easily import content and download it without any additional costs. Thinkific allows monetization based on paid subscriptions, membership, and brand partnerships. You can also run ads, use affiliate links, charge for sponsored content or sell digital products. The platform also has third-party embeds that allow you to host content from external apps or databases. Thinkific has the ability to record audio narration for your slide presentation with its built-in voice-over slide tool.
What Redditors say about it
u/Bubble-Wrap_4523- "I recommend Thinkific. You have one free course on the starter plan, and you can upload videos on their servers and make them non-downloadable. Here, users have to create an account and log in. Use the handbrake to compress the videos first".
u/rajshankara- "I make use of Thinkific, and it works great. It helps make money for my lectures".
Pricing
Thinkific platform comes with 4 pricing plans. They can be availed either as a monthly or yearly subscription. The plan includes:
Free plan- $0 per month
Basic plan- $49 per month
Pro plan- $99 per month
Premier plan-$499 per month
Video Analytics
Thinkific has a versatile dashboard that lets users check key analytics, including engagement, plays, and play rates. Student engagement is a key feature of your online courses and plays an important role in your success.
Pros
Good pricing plans
No transaction fees and comes with a free option
Excellent payment options
Several lesson options
Remarkable speeds
Great coding feature that allows you to take a deep dive with underlying theme HTML and CSS for complex tweaks
Smooth video playback
Outstanding analytics features
Zappier integrations
Ability to customize the platform to fit the brand identity
Monthly recurring subscription
Voice-over PowerPoint presentation tool
Good phone support
Cons
No live chat support
Absence of coding snippets
Limited integrations for email marketing
5. Vimeo – Best Video Hosting Service for Collaboration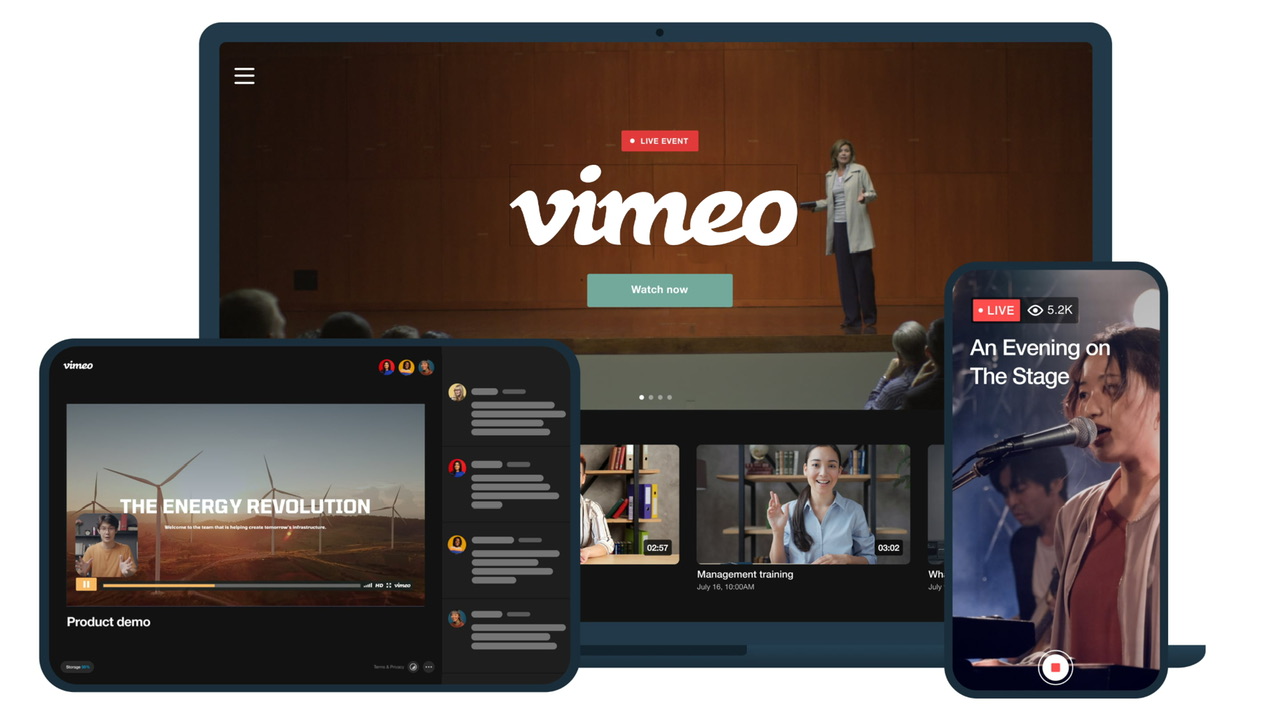 Vimeo is an excellent video hosting platform that allows you to share videos, similar to YouTube. Its features are very competitive, and some of its tools can be found on YouTube. Vimeo has a versatile video-maker feature that allows users to create content. You can choose from a range of templates that are catered to meet specific business needs. And users have no trouble finding the right template to identify what they are trying to sell. Once you have finalized the template, you can start adding your video clips. You can also use Vimeo's stock library to find a clip and customize all the elements to match your brand.
Vimeo allows users to start live stream performances, presentations, classes, webinars, and other event types. It has all the necessary tools to go live, and it includes various registration forms, visuals, graphics, etc. You can access the preview screen to see what your stream will look like before going live. Users can monetize their videos via SVOD, TVOD, and AVOD subscription models.
The collaboration feature of Vimeo is its most impressive and allows for effortless collaboration. This will enable creators to invite clients, freelancers, and collaborators to preview their private projects. Each collaborator is assigned different permissions based on the specified project. There is also a video recording functionality that is ideal for businesses looking to better communicate with their teams. This feature is advertised as an alternative to Zoom meetings or Slack conversations.
What Redditors say about it
u/everythingiscasual- "I second utilizing Vimeo. Its player is highly customizable, and its pricing is very reasonable".
u/MarmotOntheRocks- "Vimeo is the best way to go. Don't host the videos on your site; let Vimeo stream the best format based on your user's devices".
Video Analytics
Vimeo's video analytics feature gives you an in-depth analysis of different aspects of your video on the platform. Here, all members can track performance and check a range of metrics. Further, paid plan members get access to advanced analytics and functionality.
Pricing
Vimeo has 5 subscription plans, and like most other video hosting platforms, can be paid via monthly and yearly subscriptions. The plans include:
Basic plan- $0 per month.
Starter plan- $9 per month
Standard plan- $25 per month
Advanced plan- $65 per month
Enterprise plan- Custom pricing based on desired perks
Pros
Allows organizing and video sharing either publicly or privately
Free of Ads
Excellent video quality
Discreet and customizable video embeds
Create professional media with Vimeo Create
Advertise creative services on the platform
Enables video downloads
Team collaboration features and video conversion
Privacy controls
Video conversion
Sell your content through Vimeo on-demand
Cons
Limited integrations
No auto-generated captions
Longer buffering time
Lower upload limit on the basic plans
6. Uscreen – Best Video Hosting Website for Subscription Videos
Uscreen is a versatile all-in-one platform that allows you to host and sell your videos online. The platform lets you embed uploaded videos on your website and share them via social media. It not only helps keep your content organized, but it also has several monetization options. It is possibly one of the strongest contenders on this list.
Uscreen allows users to use it to launch OTT applications like Netflix and charge a premium subscription service. You can easily broadcast these videos on iOS, Android, AppleTV, Amazon, and other services. The setting up time of the platform is longer, but it is primarily catered to handle video content. The best part of it all is that you don't need to even code it. With Uscreen, you can not only upload videos, but you will need to create a website to configure your subscription and payment plan to link it with a payment processor. Its interface is simple and easy to use for people with different levels of expertise. Further, there are great tutorials and a good support team that can help you get started.
Uscreen has an amazing live-streaming feature, and monetization takes place using a PPV paywall. However, live streaming can be offered via a subscription package as well. The white-labeled player uses HTML5 so audiences can experience fast playbacks in full HD and have the support of VTT captions. Further, it also uses a global CDN to reach global audiences, and you can create episodes, chapters, and playlists for your videos.
What Redditors say about it
u/CuriousHW- "Have you any experience using Uscreen? It seems to be really good from the outside looking in. I joined its free trial from one of their white label customers, and it seemed to be the perfect white label Netflix alternative".
u/BakedHandstamp- "Uscreen is a great solution for community building around video content. Do check them out".
Video Analytics
Uscreen's video analytics feature lets you know the unique views and watch time of the videos you've uploaded on the platform. You can respond to various features to build a successful business. Further, you can connect and integrate with Google Analytics, which allows you to check different metrics efficiently.
Pricing
Uscreen comes with three pricing plans that include
Basic plan- $79 per month
Growth plan- $159 per month
Uscreenplus plan- Custom plans with custom pricing and perks
Pros
Create, organize and sell your videos online
Has video on-demand and live streaming features that can be monetized using pay per view paywall
Utilized global CDN to reach a global audience
Integrate seamlessly with OTT apps on your smart TVs and mobile phones
Custom pricing models
Allows efficient creation of chapters, episodes, and playlists
Extensive customization
Super-fast HD video hosting
24/7 customer services
Several sales and marketing tools
Pre-built themes
Full data ownership and bulk uploading
Cons
Doesn't support advertising video on demand monetization pattern
Limited storage
More expensive compared to its alternatives
7. Dailymotion – Best Video Hosting for Discovering Great Video Content
Dailymotion is another great video hosting website where users can easily upload their marketing and business videos. It is a discovery platform that brings forth the latest and greatest video content. It is branded as the go-to source of sports, news, music, and entertainment videos. The platform is easy to sign up for and get started, but it has a maximum cap of 60 minutes, and uploads are limited to two hours per day. Currently, it has over 350 million active users with over 2 billion monthly views, and it has over 2,000 publishers on the platform.
The customizable player helps deliver high-quality videos, no matter the devices they are watched on. This helps match the player's elements to match your company branding. You can easily change the logos, colors, and other features. Apart from this, the platform also has a picture-in-picture mode.
Dailymotion has a live-streaming feature that helps connect with your core audience in real-time. This feature is flexible and allows you to scale from one event to 24/7 in high definition. You can easily embed your live stream on your website or social media. Dailymotion has a monetization feature that helps publishers earn from their hard work. The company has seamless ad integration and management. Here, you can sell your ad inventory through your monetization solution. You can also monetize live streams and get real-time analytics to see what is working.
What Redditors say about it
u/tenhourguy- "Dailymotion is safe to use, and in fact, they have recently stepped up their game offering video monetization of all sorts. I think they are trying to compete with YouTube, but they are not yet there".
u/clever-spork- "Dailymotion is a pretty great site, and there is an iOS app, and there are no viruses in it. I use an adblocker and never had any trouble with this site".
Video Analytics
Dailymotion has an extensive reporting API with Google Analytics integrations that helps users collect valuable video metrics. This data can also include real-world video insights, and you also have a chance to filter and segment audience data.
Pricing
Dailymotion is another great platform, like YouTube, that allows users to upload videos and store media for free. Dailymotion has a paid option in the advanced plan that comes with custom pricing. It is also free for users to watch the media, and it's legal and safe. However, it comes with advertisements that can be irritating for your viewers. Ads come even on videos that you have embedded.
Pros
Free unlimited video hosting
Ability to create videos private and makes them password-protected
Opportunities to build audiences with less competition
Enables live streaming
Top-quality video player with 4k to Ultra HD quality
Variety of video subcategories
Excellent customizable options
Age-gate features for children and adult safety
Great customer support
Cons
Smaller audience reach
Users can upload videos for up to 60 minutes with a maximum size file of 2 GB.
Content doesn't look rich like you imagine
Distracting ads
Loading time is slow
No video editing features
8. SproutVideo – Powerful live and on-demand video hosting
SproutVideo is a business-oriented video hosting service that caters to businesses. The platform allows you to customize your player and add your touch. You can also help create video-on-demand playlists for your audiences. For a more immersive experience, users can hide player controls. Videos on the platform can autoplay and loop too.
The platform has automatic bandwidth detection and comes with quality adjustment features that allow you to run as smoothly as a possibility. There are several security measures to ensure all video deliveries aren't compromised. SproutVideo allows users to set a preferred resolution and help control video playback speed.
SproutVideo allows you to embed code into your website, and there is no need to mess with your site's code. It also works with major content management platforms like WordPress, Squarespace, Shopify, etc. The platform supports videos of different resolutions and is suited for different devices. It also supports just any type of video format out there.
SproutVideo can easily integrate with different third-party applications, and you can also use it to build a website. The platform allows users to capture leads, and there is an option to add post-play screens. The videos on this platform are monetized via a subscription model, sell access videos or join affiliate marketing channels.
What Redditors say about it:
u/DenotedSong- "I use SproutVideo. It has a monthly fee and comes with a lot of data and controls, and it can be embedded with Patreon and allows for NSFW vids (if that is important for you)".
u/Stevedougs- "SproutVideo works great. I've enjoyed working with it, and it is designed around the concept for classes, etc".
Video Analytics
SproutVideo helps capture your video viewing data, which you can view and present with its analytics feature. This helps you to segment viewers based on country, domain, and other metrics. It makes it simple to keep things in order with an audit log of activity.
Pricing
SproutVideo comes with flexible pricing plans to suit teams of any size. They have 4 subscription plans and include:
Seed plan- $10 per month
Sprout plan- $35 per month
Tree plan- $75 per month
Forest plan- $295 per month
Pros
Strong video playback performance
Excellent and helpful customer support
Good security features, like password protection, login security, and single sign-in
Automatic bandwidth detection and quality adjustment features
Offers good social sharing buttons
Allows users to build a video website if needed
Advanced Analytics
Custom playlists
Cons
Too many features can impact the ease of use
No built-in audience
Playback caching is slow
What Should you look for in a Video Hosting Platform?
There is no doubt that video marketing is very popular, and its surge in popularity is only going to continue. In most cases, free video hosting services make more sense as they are easy to use and very accessible. In these cases, YouTube and Dailymotion are great ways to build your audience and monetize your content. However, the free platforms have certain restrictions on the type of video content you can publish, and they compress videos a lot. To overcome these issues and enhance customizability and reliability, you can opt for paid video platforms like Uscreen, Thinkific, Teachable, and other platforms on the above list. I hope this list has helped you narrow down your search for the best video platforms that allow you to host your videos and content efficiently.
Video Hosting Websites Reddit FAQs
1. How do I host video content?
The simplest way to host video is by going for a video hosting service. Here, you would require to upload the video on the platform and later embed the code or add links to stream your video on your website.
2. Why do you need video hosting?
Video hosting is a process wherein users upload videos to a platform, wherein they are stored for future use. The platform stores videos on its servers and gives users the ability to embed codes or links that allow their consumers to interact easily with their video content. Viewers can also access the video on third-party sites instead of searching for it.
3. What is secure video hosting?
Secure video hosting is a great method for users that help prevent unauthorized access to your online videos. This is a valuable aspect, especially for the streaming media business, to ensure the highest level of security.
4. Difference between paid and free video hosting?
In most cases, a free video hosting solution is great to upload and host your videos that can be embedded into your website. However, influencers and marketing agencies may have several needs that a free service may not cover. That is when they shift over to a paid platform.