Udemy is one of the most popular course platforms on the internet and one of the most popular places to learn on the internet & thanks to the Udemy Sale you can save over 99% on most courses on Udemy!
Click Here To See Live Udemy Offers
Udemy Sale
From learning how to build websites to how to cook a certain dish, Udemy has a ton to offer especially during the Udemy Sale as you can get a great deal and save a ton!
Discount: Upto 99% OFF
Starts: NOW
Coupon Code: No Code Needed
Website: Udemy.com
Shop smart. Get smarter. Courses as low as $9.99
They're a ton of free course and a few of the best courses are paid but they are usually worth the investment and also they have a 30-day money return guarantee.
How Often Does Udemy Have Sales?
Udemy holds so many sales that many people consider the "sale price" to be the official price. It's not uncommon to see courses priced over $200 being sold for $10.
Now given that almost no ones buys a courses from Udemy at the full price and instead just wait for a Udemy Sale that includes the course they want to try. It's also not uncommon to find courses that are permanently on sale.
If fact if you want to get a Udemy Sale all you have to do is click on this link and choose to open in on an Incognito tab if you visited Udemy before.
Click Here To See Live Udemy Offers
Udemy Coupon Code
They're many websites on the internet making misleading offers such as:
Udemy Coupon
Udemy Discount Coupon
Udemy Discount Code
Udemy Discount
Udemy Coupon Code
Udemy Coupons
Udemy Code
Udemy Promo Codes
Udemy Sale
The truth is that Udemy does not offer any coupons! The only way to get a discount on Udemy courses is by buying them during the Udemy Sales and Promotions.
Click Here To See Live Udemy Offers
Let's dive into my Udemy Review!
Udemy Review
About Udemy
Udemy is one of the oldest players in the online course game. With over 40M students and 130k courses as of this writing in 2020, Udemy has definitely made a name for itself in the online course and upskilling market. In fact, over 80% of Fortune 100 companies trust Udemy for employee upskilling.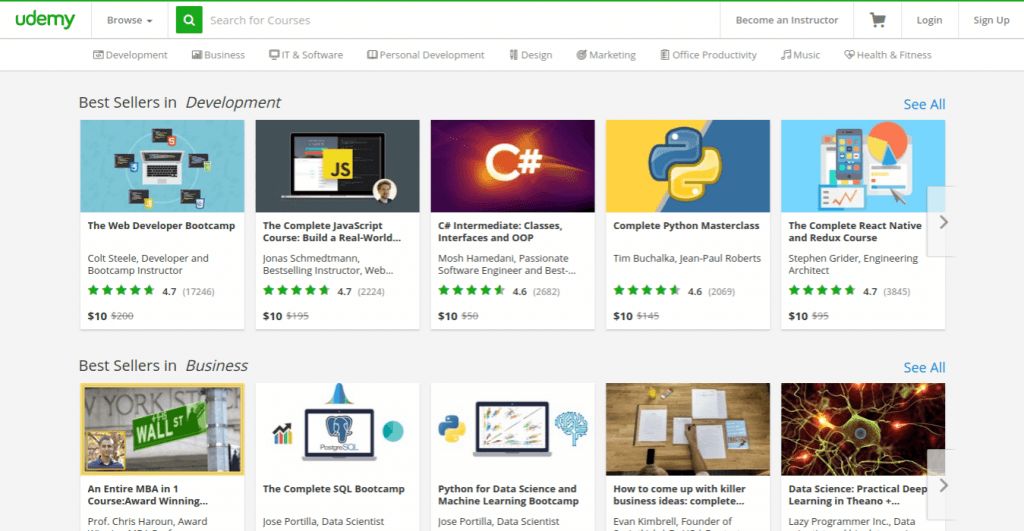 However, Udemy, unlike their competition Edx and Coursera, doesn't curate the courses on their platform. ANYONE can make a course and put it live on Udemy. Even you, in fact, you could just click here and sign up and create a course.
Now, all things considered, the question is simple. There're 2 major questions to answer in the article.
Is Udemy Worth it if you want to learn new things
Is Udemy Worth it if you're looking to sell courses
Surprisingly the answer isn't the same for both 😉
Is Udemy Legit or a Scam
Udemy is definitely legit as a platform.
However…
Since anyone can create a course that means that they're a lot of course that basically are complete garbage and everything you learn could fit on a post-it note. So, how can we solve this problem?
Well, reviews would be one way that you can judge if a course is worth taking. However, the problem with reviews on Udemy is that many course creators offer free courses to their audiences in exchange for good reviews biasing many of the reviews to be positive even in the actual course is pretty nominal.
Also, Udemy is too much into growth hacking making their sales pages incredibly annoying as everything is geared towards making you buy the most reviewed courses for the cheapest price. (In many cases they're times when courses that are actually really good aren't even displayed because they don't put the courses on sale)
Just cause a course is more expensive doesn't mean it better. However, they're many good instructers on Udemy who don't like discounting their courses. One of the best ways to find good courses is by following personalities and not just picking up a course that's "trending"
Well, one other upside is that there is a 30-Day Money-Back Guarantee, so in the worst-case scenario that you didn't like a course you can always get a refund.
Here are a few of the many courses I took and I would definitely recommend giving a look at:
and many more great courses at Udemy.com
Is It Worth Selling Courses On Udemy
They're a ton of articles on the Internet on how to make money selling courses on Udemy. I honestly believe that it's not worth it. Having worked with companies in the online course industry (I used to be the head of SEO at Foundr Magazine) Udemy is the bottom of the barrel when it comes to course platforms.
Udemy takes 50% of your course cost on organic Udemy sales. Udemy and the instructor share equally on these sales, which might occur after a user browses the Udemy marketplace for courses, or makes a purchase via a Udemy promotion
Even on sales which you bring to the platform eg. from your own email list using their "instructor coupon", Udemy takes a 3% cut.
Is it possible to make money on Udemy?
Of course, it is, but you can spend the same amount of time building a brand and sell the course on your own website using Thrive Apprentice. Udemy may have a big marketplace but you have to then play by their rules.
For example, Udemy gets to decide how your tools are algorithmically ranked as well as how much you can charge for your courses. Also, Udemy doesn't market courses that don't discount themselves a ton.
Udemy is the Fiverr of online courses and if you want to be that kind of content creator then, by all means, go ahead. But if you want to get paid for what you're worth then it's a better choice to build your own brand and sell your courses on your own platform.
One thing to note…
Udemy is great to market any free courses if you want to as a lead generation tool as you can then upsell your premium courses to them. So it's not necessarily useless for someone looking to build an online brand.
Is Udemy Worth it?
Well, as a student many of the Udemy courses are definitely worth it! I've taken 100s of courses on Udemy when I got started in online marketing and they have definitely helped me.
However, each and everyone one of the courses on Udemy is useless if you don't turn around and actually DO and implement the things you learn in the course.
Shop smart. Get smarter. Courses as low as $9.99
However, if you're looking to sell courses I'd recommend running the hell away & pick one of my top Udemy Alternatives for Instructors.
Udemy Alternatives
Skillshare
From learning how to cut your vegetables like a professional chef, learning how to freelance and get clients like a pro to building a website. Skillshare is the best place for practical knowledge that you can apply the moment you learn it! You can view an unlimited number of classes with a pro membership. Most of the classes are short 10 mins videos that provide a lot of value and are amazing if you have a busy day and don't have much time to learn.
Coursera
With huge universities like Stanford, Duke and John Hopkins hosting their courses, Coursera.org is extremely useful if you're looking to study many different topics, or want courses from different schools and groups. I find Coursera very useful if I want to learn the fundamentals and theoretical part of different fields, it's not the best for practical (Take-action-now) knowledge but great for fundamentals.
A few of my recommended courses:
Edx
Founded by MIT and Harvard in 2014, Edx.org is an amazing resource with courses from some of the top universities in the world. You can audit most of the courses for free or pay to earn a certification. I have audited tons of courses from Universities across the world, in topics ranging from programming to Astrophysics.
Here are some of my favorite courses:
Read Next: