Udemy is one of the most popular course platforms on the internet and one of the most popular places to learn on the internet.
However….
As an instructor Udemy is one of the worst place to host your courses. I'll list down why (they're many reasons). Let's dive into the Best Udemy Alternatives according to Reddit in 2023!!
If you are a solo creator launching courses go for Podia
If you want to scale your course go for Teachable
If you are a company or startup go with Thinkific
Why Consider A Udemy Alternative?
Udemy is great for students however for many Instructors Udemy's practice makes it an absolute nightmare.
1. Transaction Fee
Udemy takes 50% of your course cost on organic Udemy sales. Udemy and the instructor share equally on these sales, which might occur after a user browses the Udemy marketplace for courses, or makes a purchase via a Udemy promotion
Even on sales which you bring to the platform eg. from your own email list using their "instructor coupon", Udemy takes a 3% cut.
2. Bottom of the barrel
They're a ton of articles on the Internet on how to make money selling courses on Udemy. I honestly believe that it's not worth it. Having worked with companies in the online course industry (I used to be the head of SEO at Foundr Magazine) Udemy is the bottom of the barrel when it comes to course platforms.
Udemy gets to decide how your tools are algorithmically ranked as well as how much you can charge for your courses. Also, Udemy doesn't market courses that don't discount themselves a ton.
Udemy is the Fiverr of online courses and if you want to be that kind of content creator then, by all means, go ahead. But if you want to get paid for what you're worth then it's a better choice to build your own brand and sell your courses on your own platform.
Note:  In my experience Udemy is great to market free courses, that you can then use to get people into your own properties ie Email list and use it to grow your audience. Almost every course platform like Skillshare, Udemy etc aren't great to market your paid courses, its better to own your own content and market your courses yourself!
Best Udemy Alternatives Reddit
To save you the time I have decided to only pick the top Udemy Alternatives, it would've been easy for me to make this a "top 10" listicle but let's be honest, most of the other alternatives aren't worth your time, so here's just the best of the best!
1. Podia – Best Udemy Alternative For Creators According To Reddit
Podia is one of my favorite new online course platform in 2023 Just as ConvertKit changed the email marketing field by building a product designed for "Creator", the guys at Podia have done the same for online courses!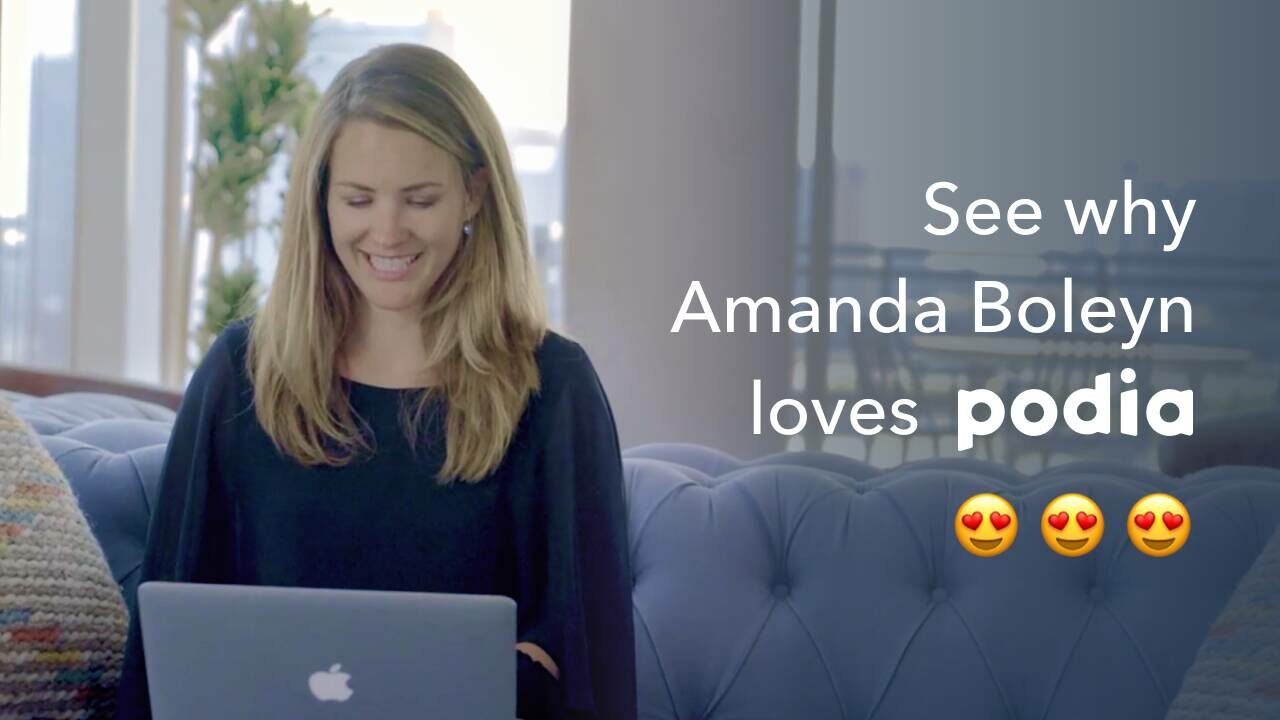 Podia is basically an all in one marketing tool and platform for creators to monetize their audience. You can host your online course, market it with landing pages, send email newsletters + drips, and accept online payments, all for one low price.
Podia vs Udemy
Their pricing is also one of the simplest in the industry. While many of their competitors complicated things with having many plans that they can upsell you on, Podia keeps things simple.
Podia is available in 2 different pricing plans:
Mover ($39/month): Online courses, Digital downloads, Email marketing, Zero transaction fees, Unlimited everything, 24/7 support.
Shaker ($79/month): Everything in Mover + Memberships + Embedded Checkout + Affiliate marketing + Third-Party Code + FREE migration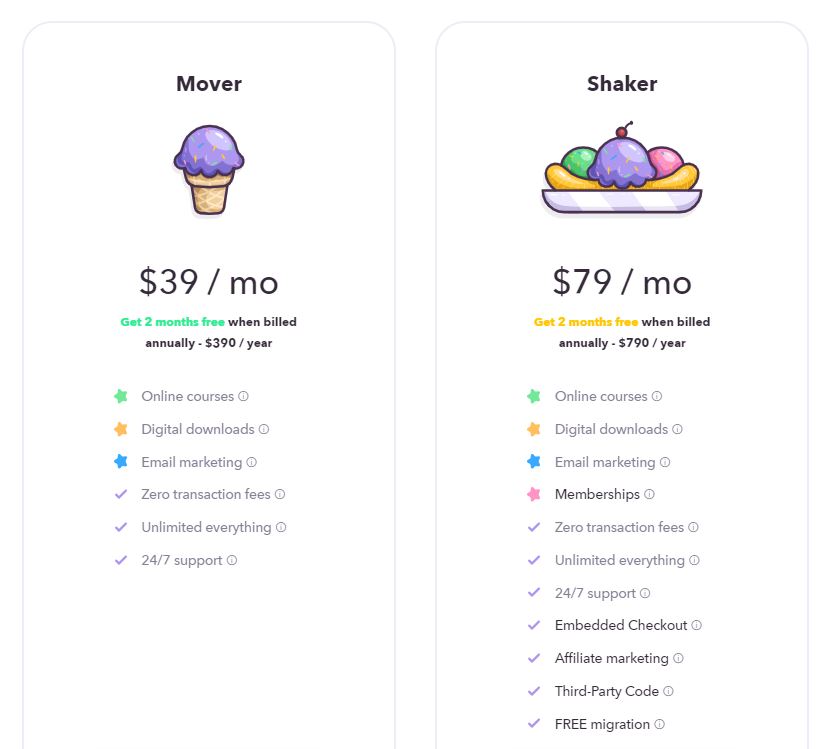 Click Here To Try Podia Free For 14-days
2. Thinkific – Best Udemy Alternative For Companies
Thinkific is one of the most powerful course creation platform available right now. Thinkific is one of the easiest to use course platform that makes it super easy for you to go from building your landing page to growing your customers.

What Reddit has to say about Thinkific:
u/rajshankara: I use Thinkific, works great. Makes money from my lectures
u/c01: If you are just starting out, I highly recommend Thinkific and Teachable both. I suggest you do a trial with both and decide for yourself. Both have freemium versions as well.
u/mickmeaney: I liked it apart from not being able to do full customer management on it.
They even have a free plan that allows you to host 3 courses and have unlimited students! It's even used by companies like Hootsuite and Later to host their courses.
I tend to recommend it most of B2B companies that I work with as it all the tools and features you need to have your courses succeed at scale.
Thinkific vs Udemy
While Podia is geared more towards the Solopreneur, Thinkific is definitely geared to the big SaaS companies looking to scale their customer acquisition with courses.
Thinkific is available in 4 different plans:
Free – Test-drive Thinkific's core feature set for free.
BASIC – Start your course creation experience with the basic features and tools you need to launch your first course.
Pro – For course creators ready to build a successful online course business, a complete suite of tools to create an amazing student experience
PREMIER – For advanced customers ready to build an education empire, get all the Thinkific features + the Growth package. Designed for delivering online education at scale. No limitations – one flat fee.
You can get a 28% Discount on Thinkific. Simply click the link below and start a Free Month trial and pay "Annual" instead of Monthly once your trial expires.
3. Teachable – Best Online Course Platform According To Reddit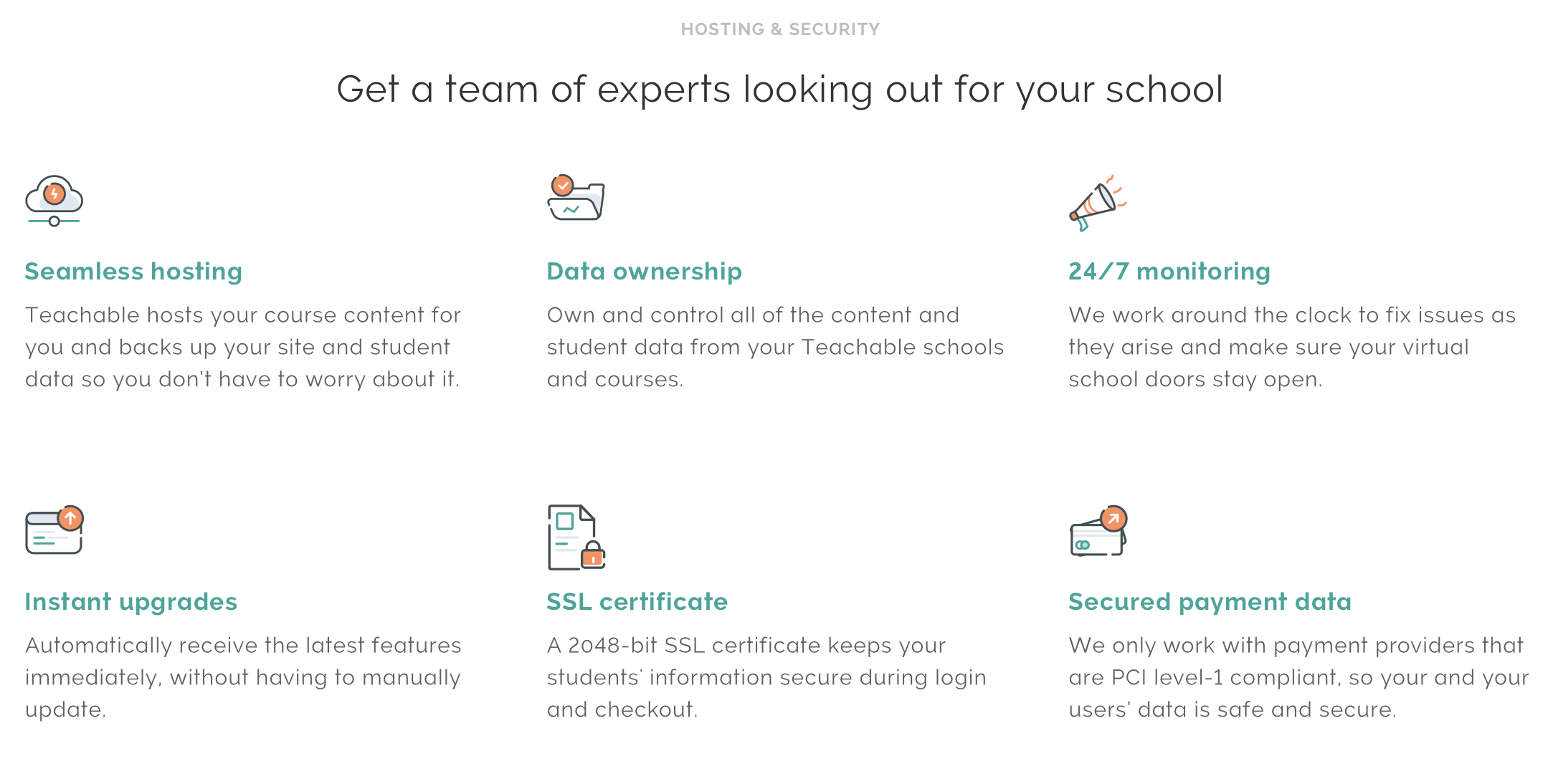 Click Here To Get Teachable
What Reddit has to say about Teachable:
u/drewches: I have a client who hosts all of their courses on Teachable. I think that Teachable is a great platform since it handles a lot of the back end of things for you so you can focus on creating content.
Teachable is hands-down the best online course platform in my opinion. It is beginner friendly, even has a free plan that packs some great features. The most popular plan is only $79, making it one of the decently affordable. Currently, it boasts over 83,000 instructors.
Pros
Unlimited video
Unlimited courses
Unlimited hosting
Integrated payment processing
Student management
Lecture comments
Basic quizzes
No fees for free courses
Cons
Transaction fees on free and basic plans
1. Reasonable plans
Teachable's free plan, while having a high transaction fee, still blows the others out of the water. It has a lot of features that would otherwise cost a premium on other platforms and is great for beginners as you can get used to the platform with it.
The paid plans are likewise great as well. The recommended plan for beginners is usually the professional plan, costing $79 per month. It has zero transaction fees and is basically feature complete.

There are four plans in total.
Free
This plan offers you all these features for free:
Unlimited everything except for unlimited students, Integrated payment processing, Student management, Lecture comments, Basic quizzes and no fees for free courses.
In this plan you will be charged $1+10% for every product you sell.
Basic
Cost of this plan is $29 per month and it offers you everything the free plan does plus all these features:
Unlimited students, 5% transaction fee, Instant payouts, admin-level users, Product support, Course creator training, Custom domain support, Coupon codes, Drip course content, Integrated affiliate marketing, Integrated email marketing and Third-party integrations.
You will be charged 5% for every product you sell.
Professional
This plan goes for $79 per month and it offers you everything the basic plan does plus all these features:
3 more admin-level users (5 in total), Priority product support, Graded quizzes, Advanced theme customization, Advanced reports, Unbranded website, Course completion certificates and Course compliance.
There is no transaction fee in this plan.
Business
This one will cost you $399 per month. It includes everything professional does as well as the following features:
Total 100 admin-level users, Manual student imports, Bulk student enrollments and Custom user roles.
Which Teachable plan is the right one for you?
If you are a beginner just starting out and hesitant to spend money, then the free plan is for you. It is nice for trying Teachable out but only that: trying out. it isn't suited for long-term business so you will need to consider getting the paid plans at some point.
The Basic plan is quite cheap and has some nice features so on a small budget you can go for this one. However, it has a transaction fee attached to it so for seeing some real profit you would have to move to the professional plan.
The Professional plan is the best plan for beginners and small teams as it is virtually feature complete and offers zero transaction fee. That's why it also happens to be the most popular plan Teachable has to offer.
The Business plan is best for large groups and businesses. It offers 100 admin level users which is quite useful in managing multiple teams and courses at once.
2. Unlimited video hosting
This is such a boon with teachable, as hosting large video files on your own website is sure to cause some slowdown but with teachable, that isn't a problem!
Not to mention, it allows you to host unlimited of them with even the free plan!
3. Excellent support
Good support is something every business would want to have, bad support can be a deal-breaker for many.
Teachable offers some of the best customer support out of all the platforms. There is a course creator community as well which is very cool.
There is also another great thing about it, teachable isn't just made up of developers like it usually is the case with these platforms, there are a lot of marketers as well!
4. Ease of use
Teachable is easy to set-up and modify. Unlike platforms like Clickfunnels, you don't have to spend days just getting up your courses.
This is especially true if you already have an online business as you then don't need to worry about different plugins and different integrations and can just get the thing up right away.
5. Secure content
With teachable, all of your content will be protected. You won't need to ever worry about one of your courses being hacked.
The Verdict: If you are just starting out, teachable is very much recommended due to how easy it is to use and the free plan should get you familiar enough with  Teachable that you can confidently move up to the more feature packed plans and be able to create great courses. The recommended plan, Professional, is reasonable in price and packs some nice features.
4. Thrive Apprentice – Best WordPress Alternative to Udemy
If you're tired of Expensive Course Platforms; Thrive Apprentice is a godsend!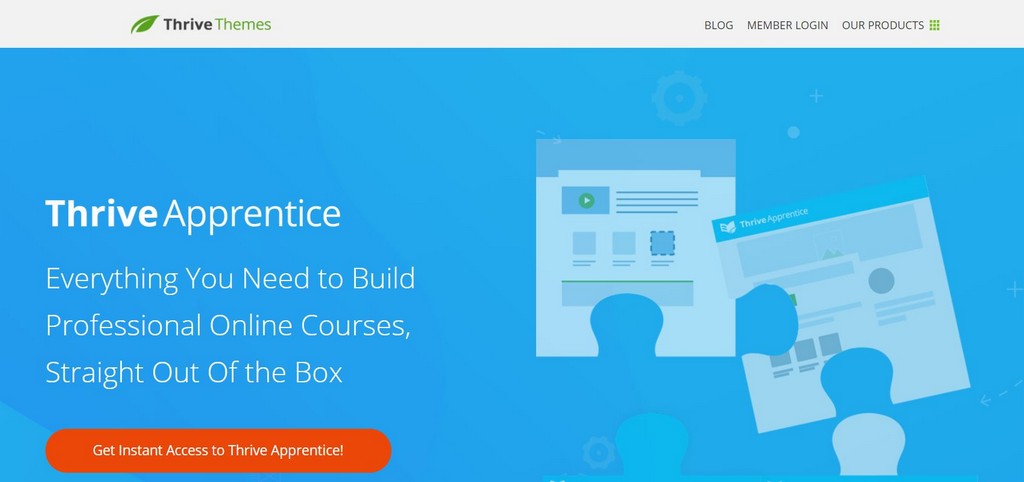 Thrive Apprentice was recently launched by Thrive Themes and it's honestly a game changer! It's an easy to use WordPress plugin that can be used to create online courses on your WordPress blog!
Udemy vs Thrive Apprentice
Thrive Apprentice has easy to follow step-by-step setup process that makes it extremely easy for anyone to create stunning online course Lessons, Chapters and Modules with the fast-action design power of a professional web developer (without having to touch a piece of code).
How does Thrive Apprentice compare vs popular course platforms like LearnDash and Teachable??
Well, for starters it's cheap!
It only costs a one time fee of $67/website to use Thrive Apprentice for life!
In comparison,
LearnDash costs $199/year/website!
Price isn't the only thing Thrive Apprentice stands out in. One of the biggest change that happens when you use a tool like Thrive Apprentice is that you are taking back control of your content.
You are looking at the big gatekeepers (…. Udem..) and saying "NO, I'm going to build my audience on my own, I'm going to own my own content!"
The downside is that you have to handle the structural issues that come with hosting your own content and dealing with WordPress and WordPress plugins. However, for the technical mindset person, Thrive Apprentice is the best value for the money!
How much does Thrive Apprentice cost? well, this will surprise you!
Single License @ $67
5 License Pack @ $97 ($335)
15 License Pack @ $147 ($1005)
Click Here to Get Thrive Apprentice
There you have it!
5. Ruzuku
Click Here To Try Ruzuku For Free
A lot of the products we've gone over so far have a lot of bells and whistles. Sometimes that's a good thing. Other times, you want something that will just get the job done without too much hassle. And that's what Ruzuku has to offer.
Ruzuku offers everything you need from a course creation tool. It's simple to use and may remind you of WordPress in the way that it lets you create content and make edits easily. You can use multimedia such as audio, PDFs, and video to bring your lessons to life.
Udemy vs Ruzuku
The great thing about Ruzuku is that no matter which pricing tier you choose, you get unlimited courses, unlimited video and audio uploads, and unlimited data storage. So at no point do you have to worry about running out of bandwidth to add more content to your courses. Not to mention, you can also have an unlimited number of students enrolled in any of your courses.
This is one of the things that Ruzuku does better than Udemy is pricing. Here's a more in-depth look at the pricing:
Bootstrapper: You can start using Ruzuku at $99 per month or $74.75 billed annually. As mentioned earlier, you can offer unlimited courses and have unlimited students signs up for this price. Ruzuku doesn't charge any transaction fees.
Up-and-comer: This package gets you access to unlimited webinars and unlimited polls and quizzes in your courses. It costs $149 per month or $83.08 per month paid annually.
University: If you have a more full-fledged online school operation, the University package is for you. You can use it to add multiple instructors and site managers to your account so that they can make their own changes. With the University plan, you also get a dedicated account manager to help you with your queries.
Click Here To Try Ruzuku For Free
6. LifterLMS – Most Popular LMS WordPress Plugin
Click Here To Try LifterLMS For Free
LifterLMS is one of the most widely used LMS WordPress plugins today but it does come at a pretty expensive cost. The pricing for LifterLMS starts at $299 per year if you want the entire LMS bundle. There is also the option of buying individual add-ons for $99 per year but if you're looking for a complete LMS solution, it is actually cheaper to buy the entire service.
There are a few things that make LifterLMS great such as its direct integration with tools like MailChimp and WooCommerce. The full bundle also allows you to create sample courses and quizzes, offer certificates, and also create a fully configured site.
Some other value-add features of LifterLMS include free design elements and graphics to make your online course look better visually. It also connects seamlessly with Beaver Builder and Divi which are some of the best drag-and-drop WordPress editors. Some of the key features of LifterLMS include:
Direct integration to WooCommerce.
Great customer support.
Standard features like drip content, quizzes, drag-and-drop editor, and support for all types of content.
Excellent marketing and payment management tools.
Use tools like "social learning" that integrates your online courses with social platforms like Facebook providing a more social experience for students.
Best Udemy Alternatives
These are some of Best Udemy Alternatives in 2023, you don't need 10 choices to pick from because these 3 will basically cover all your needs and remember, each Udemy alternative is good and bad in its own way, so there isn't a single one that's best.
If you are a solo creator launching courses go for Podia
If you are a company or startup go with Thinkific
If you want to scale your course go for Teachable
It makes more sense to understand your preferences and needs before the decision. After all, it doesn't make sense to sell your courses on Udemy when it does tie to the results you want in your business.
All the best!