In 2019, Thrive Themes is no longer selling their Thrive Themes individually, but you do get all the themes included with the Thrive Membership!
Click Here To Get Thrive Membership
10 Best Thrive Themes WordPress Themes
1. Rise WordPress Theme – For Content Sites
Rise is an incredibly well-optimized WordPress theme that well suited for online business owners and bloggers.
The Rise WordPress theme has a ton of focus on having a clean layout, which helps a lot in getting more product or affiliate sales. It also comes built-in with the ability to have different colors for widgets and focus area etc.
Click Here To Read More About The Rise Theme
2. Storied WordPress Theme – Grid Focused Theme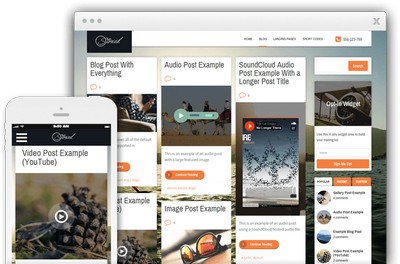 Storied is a theme that was primarily built for blogging. It perfect for someone that has a story to tell and through beautifully formatted multi-media posts (video, audio, image, and other media posts are supported).
One major reason to use the Storied Theme is that it comes with a conversion-focused section.
Click Here To Read More About The Storied Theme
3. Pressive WordPress Theme – Great for Sales Pages
Pressive is a WordPress theme focused on one single thing: Getting you more sales! It doesn't matter whether you want to build a fully-featured marketing website, a collection of brilliant sales pages or just a conversion-focused blog, Pressive has you covered.​
Click Here To Read More About The Pressive Theme
4. Perfomag WordPress Theme – Great Magazine Theme
There are many so-called magazine and news themes available for WordPress, but all they do is give your site a certain look. Performag goes much further than that. It's not about looks, it's about the machinery inside this theme. Performag is built from the ground up to increase ad revenue, increase social sharing and increase user engagement on your site. In short: it's streamlined for the business purposes of a magazine website.
Click Here To Read More About The Perfomag Theme
5. Voice WordPress Theme – Great for Personal Branding
Voice is a theme that emphasizes content & authors. The unique, header-less design and the typography put your content in the spotlight. In addition, the post author is prominently displayed next to the content, making it ideal for personal branding (works for single author and multi-author sites). Alternatively, you can remove the author-focus and just display a logo instead.
Click Here To Read More About The Voice Theme
6. Squared WordPress Theme – Simple Flat Designed Theme
Squared is a theme that makes attention-grabbing design choices without losing sight of the business factor. Too many themes try too hard to be especially fancy or "different" looking and end up losing out on usability. With Squared, you can give your site a striking and unforgettable look, but all the conversion best-practices are still in place.
Click Here To Read More About The Squared Theme
7. Minus WordPress Theme – Minimalist Theme
Minus is a simple minimalistic WordPress theme that keeps design rules simple and yet has conversions as a high priority. It's a great multipurpose theme that can be used for almost any project.
Click Here To Read More About The Minus Theme
8. Ignition WordPress Theme – Drive Signups and Sales
Ignition is a theme that's very well suited for building a marketing website. It's perfect for creating a beautiful, effective homepage layout that can be used to drive sales or free trial signups.
Click Here To Read More About The Ignition Theme
9. Luxe WordPress Theme – Luxury Theme
If you're looking to build a WordPress site for a luxury brand or around a luxe topic than look no further than Luxe from Thrive Themes.
Luxe is a theme that is all about stripping away the distractions and the unessential, and keeping only what truly matters for making your site beautiful and functional.
Click Here To Read More About The Luxe Theme
10. FocusBlog WordPress Theme – Blogging Theme
FocusBlog is a real multi-purpose theme. That means you can use it to create a corporate website, a marketing site with landing pages and sales pages, a site for local business and much more.
FocusBlog is one of the best blogging themes if you want to have a minimalistic design that keeps the Focus on your content.
Click Here To Read More About The FocusBlog Theme
As I mentioned in the intro, you can't buy the Themes individually from Thrive anymore. however, if you sign up for Thrive Membership you get it for free.
Thrive Themes Membership
The Thrive Theme Membership is an online marketing suite of products from Thrive Themes that includes all the above-mentioned Thrive Themes Templates as well as the following:
And the best parts?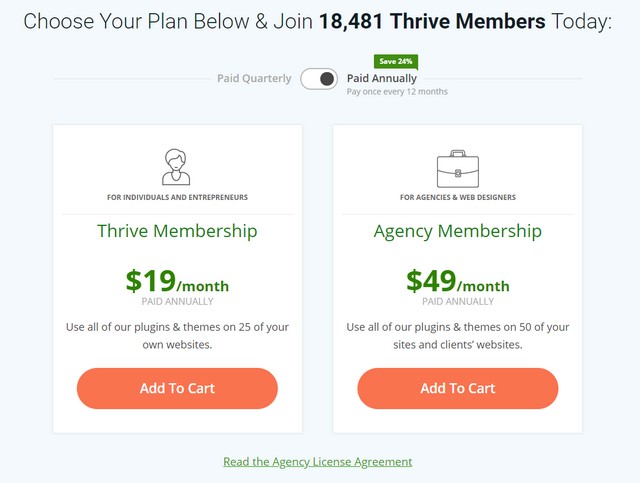 Thrive Themes membership costs only $19/month for individuals and $49/month for agencies and sadly Thrive Themes doesn't have any discount codes but it's still worth it.
Click Here To Get Thrive Membership
Most WordPress bloggers have to combine a ton of tools, to create a fragile system that can break with one wrong plugin upgrade.
Instead of combining, Optin-monster for leads, with Lead pages for landing pages, with ClickFunnel for sales pages, with a StudioPress theme; screw them all! Just get Thrive and you don't have to think about the rest!
#BONUS Thrive Themes Templates
Thrive Architect Landing Page Templates
Thrive Architect is a great Landing page builder that comes included with Thrive Membership! It comes with over 300+ conversion-optimized templates that you can import and use the beautiful drag and drop editor to design it to look exactly the way you'd like!
Check Out All The 300+ Thrive Themes Templates
Here're a few of my favorites.
1. Personal Brand
As someone with a personal brand online, I know how important having a well designed personal brand website can mean for conversions. The Personal Brand homepage templates is a great well-optimized CRO focused theme for bloggers and personal brands.
2. Flat Video Page
The Flat Video Page is a great template with a simple video and CTA button that keep things simple and is focused on getting people to click through.
3. Corp Webinar Registration Page
Having seen the great conversion rates of a lot of webinars, it's great to see a simple registration page that makes it super easy to launch a webinar.