Thrive Themes is an advanced yet intuitive WordPress toolset with a focus on conversion-optimization aka a collection of plugins and themes to give your online business a real boost! 
You can get all of Thrive Themes's current and future products at a  24% Discount by signing by for the Thrive Themes Membership. Simply click the link below and sign up using the Annual plan.
Click Here To Get The Thrive Membership
Thrive Themes Pricing
Thrive Themes doesn't sell their WordPress Themes Individually anymore (however you can still get it if you are a Thrive Thrive Member). Thrive Themes shouldn't be looked at a "WordPress Theme" company but instead as a one-stop-shop for all your WordPress needs.
Thrive Theme along with their popular themes also make great WordPress plugins like:
Many of the plugins can be purchased for between $39 – $127/ license (website). However it's a better value of money to sign up for the Thrive Theme Membership.
Thrive Themes Membership Pricing
Thrive Theme Membership costs only $19/month for individuals and $49/month for agencies. The license lets you use the suite Thrive Themes suite on 25 & 50 websites respectively.
Click Here To Get The Thrive Membership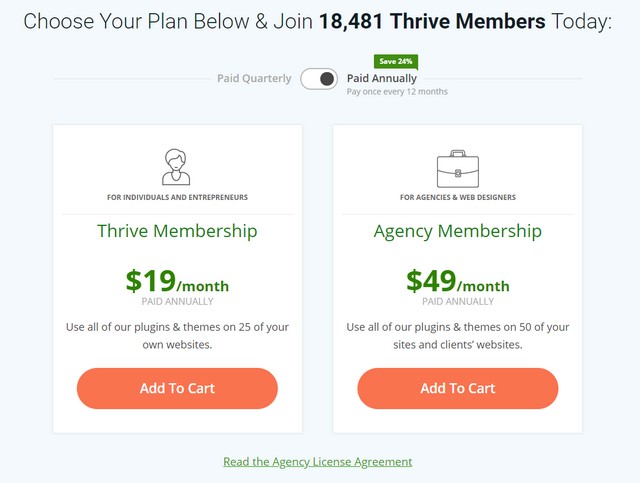 The Thrive Themes Membership includes all the current and future themes and plugins from Thrive Themes.
Most WordPress bloggers have to combine a ton of tools, to create a fragile system that can break with one wrong plugin upgrade.
Let's take the average cost of tools that most marketing guys like me use:
OptinMonster: $19/mo
Clickfunnels: $97/mo
Elementor Pro: $199/year (17$/mo)
Astra Theme: $59/year ($5/mo)
Learndash: $159/year ($13/mo)
Adding all these tools together you could end up paying over $150/month!
Thrive Membership can do EVERYTHING the above tools can do together and MORE! All that for only $19/month. You must be crazzzyy if you think Thrive Membership isn't worth it at that price.
Thrive Themes Pricing Discount
Sadly Thrive Themes doesn't offer any discount codes or coupons anything time of the year, period. Not even on during Black Friday or Cyber Monday sales.
At just $19/month you can get access to all the tools from Thrive! You can choose to pay quarterly or annually, but if you choose to go Annual you can get the official 24% Thrive Themes Discount!
Click Here To Get Thrive Themes
Note: All plans include unlimited free updates and a 30 Day Money Back Guarantee!
Thrive Themes Pricing FAQs
How much does Thrive Themes Membership cost?
Thrive Theme Membership costs only $19/month for individuals (25 Websites) and $49/month for agencies (50 websites)
How much does Thrive WordPress Themes cost?
You can't buy the Themes individually from Thrive anymore. however, if you sign up for Thrive Membership you get it included in your membership.
What are Thrive Themes?
Thrive Themes is best known for producing conversion focused themes and plugins for WordPress. With the Thrive Membership, their aim is to provide an 'all-in-one' toolbox that lets you build a website and start converting visitors into subscribers and customers.
Can I use PayPal for Payment?
Yes, you can use PayPal to pay for Thrive Themes.
Is Thrive Architect Better Than Divi?
Thrive Architect is easier to use for advanced WordPress users while Divi is best suited for beginners. Also the Divi Pricing is better thanks to a lifetime plan.
Is Thrive Themes Better Than Elementor?
Elementor is just a landing page builder while Thrive Themes has everything from a lead gen tool to a Title A/B tester. Just as a landing page builder as well Elementor is more expensive as the Elementor Pro Pricing doesn't have a lifetime plan like Thrive