Thrive Themes is an advanced yet intuitive WordPress toolset with a focus on conversion-optimization aka a collection of plugins and themes to give your online business a real boost!
If you are reading this, you are probably reconsidering buying Thrive Themes so let's dive into the downsides of Thrive Themes and into the Best Thrive Themes Alternatives in 2021!
Why reconsider using Thrive Themes?
Thrive Themes is great as I mentioned above but there is a downside
Not User-friendly as Alternatives
Thrive Themes may be a little complicated for someone building their first website as the visual interface is only available to Thrive Members. (This will change when Thrive Themes 2.0 comes out soon)
So let's dive into the Thrive Themes alternatives that are better in 2021!
Best Thrive Themes Alternatives
1. Divi by Elegant Themes
Divi by Elegant themes is the most popular visual theme builder in the world. It's also incredibly affordable
Also, the best thing about Divi is that's it's an entire drag and drop theme builder. It's basically like using Squarespace or one of those drag-and-drop website builders.
Thrive Themes vs Divi Elegant Themes
Reason #1: Value for money
Thrive Architect cost $67 per site while Elegant Themes Membership allows you to use it with unlimited sites.
For about $89 you are able over 88 themes and five premium plugins for a year, and if you don't want to renew it every year, the sum of $249 is enough for a lifetime one-time payment.
While Elegant Themes comes with a one-time payment for Unlimited sites, you can get Thrive with a one-time payment but you have to pay per site.
Exclusive Offers For JeremyNoronha.com Readers
JeremyNoronha.com readers can get a 20% Lifetime Discount on Elegant Themes.  Simply click the link below and signup and the discount will be applied automatically.
Hurry Up! Limited Time Offer.
Note: Elegant themes allow you a 30-day money back guarantee. Joining now is entirely risk-free.
Reason #2: Beginner friendly
One of Divi's highlights is its highly intuitive drag-and-drop builder. This builder does have a bit of a learning curve, but you can build a beautiful custom website in a few hours.
Reason #3: Add-on Functionalities
Divi comes with popular plugins like Bloom opt-in forms email marketing, Monarch one of the best sharing WordPress plugin.
Additionally you a Divi website is integrated with a nifty A/B testing system that's great for Conversion rate optimization.
Divi is great for beginners who want a simple drag and drop builder to build websites.
2. Elementor Pro
It's obvious that Elementor on this list! It's a great WordPress Theme and Page Builder. When it comes to a page builder, there's little competition to Elementor when it comes to delivering on the goods in the WordPress Page Builder Space!
It's, in fact, one of the most popular drag and drop WordPress theme builders that can make you instant page edits without touching any code. (which is great for a non-dev like me)
Elementor is a WordPress Page and Theme Builder that was founded in 2016. In just 3 years, Elementor has more than 2,000,000 active installs and is loved by many and has over 3,000 five-star reviews.
Click Here to Get Elementor Pro
Elementor is current without a doubt the best Free WordPress Page Builder, Elementor comes as a WordPress Plugin and the Elementor Pro subscription add more to the capability of the plugin.
You can get started with the free version of Elementor directly by clicking here. However, the free version of Elementor is limited in what you can do and it's definitely worth upgrading to Pro.
Thrive Themes vs Elementor Pro
So why is Elementor a better choice than Thrive if you are looking for a page builder?
Faster!
The reason Elementor is soooo popular among Internet Marketers is because of the simple fact that it's the fastest drag and drop builder for WordPress.
Of course, it's not going to be as fast as just using a simple theme like GeneratePress, but in the page builder space, it's the fastest ones out there, making it the Best Alternative to the Thrive Architect Plugin!
3. Astra WordPress Theme
Astra is the new guy on the block when it comes to WordPress Themes, having come out in mid-2017, the Astra Theme hasn't been around for that long compared to its competitors. It's may just be the Best Lightweight WordPress Theme that you are going to find on the internet.
Astra is a lightweight WordPress Theme that was released in 2017 by Brainstorm Force, the company that for the past 9 years have been making great WordPress products like
Ultimate Addons for Gutenberg
Ultimate Addons for Beaver Builder
Ultimate Addons for Elementor
Convert Pro
Schema Pro
WP Portfolio
In just 2 years, Astra has more than 600,000 product downloads and is loved by many and has over 3300 5-star reviews. That's bloody insane! 
To put it into comparison, GeneratePress which came out at around the same time has only 821 5-star reviews as I type this.
Astra is currently without a doubt the best Free WordPress theme that you can use, you can also pay for the Astra Pro add on that adds a lot more flexibility and power to your theme.
Click to Get The Astra Them Now
4. GeneratePress WordPress Theme
GeneratePress is a super light multipurpose theme that you can use regardless of the website building.
GeneratePress is perfect for those who value performance more than visuals. That's not to say that you can't create a good visual website using GeneratePress it's a tad bit harder than something like Divi.
However, you can always combine GeneratePress with a page builder like Elementor Pro and redesign your theme to make it look exactly the way you want.
In fact, that's the exact WordPress stack of Cyrus, from ZyppySEO and who used to be the ex-head of SEO at Moz!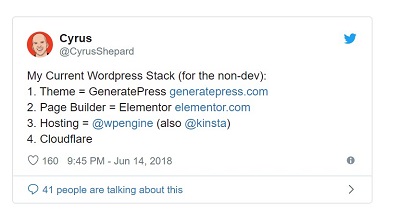 Click to Get GeneratePress Now
5. StudioPress Genesis Themes
This site is built using the Genesis Framework with a StudioPress Theme, and also I recommend StudioPress to most people starting a WordPress business.
Honestly, StudioPress is great for only a certain type of person.
Someone who's not too picky about the way their site looks
Want's a fast theme that Works
Likes one of the designs at StudioPress.
I rather spend my time focusing on the business side of things. I went on StudioPress, saw the Authority Pro theme and was like "yeah I like that" and boom I'm live.
If you are anything like me, then StudioPress might just be the guys for you.
Also, here's a way that you can get StudioPress Theme for Free!
If you pick WPEngine as your WordPress host you don't have to think about buying a WordPress Theme separately and you get the best themes in the Industry for free!
And not just that, if you use my Coupon code below you can save 25% on all of WPEngine Plans.
If we run some numbers and look at the potential savings from each plan:
Startup – You save USD$93
Growth – You save USD$309
Scale – You save USD$783
Note: Annual subscription fetch free hosting up to 3 months which is a great way to cut costs and if you are serious about your website you'll save a ton.
Click Here To Get 3 Months Free WPEngine Hosting
---
There you have it!
Some of the Best Thrive Themes Alternatives in 2021, and remember, each theme is good and bad in its own way, so there isn't a theme that's best. If you are a beginner I'd recommend going for Divi Elegant Themes.
Else if you run an online business the Astra + Elementor Pro combination is better!
It makes more sense to understand your preferences and needs before the decision. After all, it doesn't make sense to get something that isn't compatible with your online business.
All the best!
Read Next: