After being 2 years in development, at long last, the much anticipated Thrive Theme Builder has finally arrived!
If this is your first time hearing of Thrive Themes or your only experience with building WordPress websites was using Page Builders or relying on Pricey Developers, you're in for a treat with this Thrive Theme Builder Review.
Click Here To Get The Thrive Membership
Thrive Theme Builder
Launched in 2013, Thrive Themes has been credited time and again for creating products that address real world problems for its users with pricing that can only be described as a steal for the value they offer. With great products like Thrive Architect, Thrive Leads, Thrive membership,and many more, they've offered products that have always been targeted around the marketing or business aspect of building and running WordPress websites.
Come 2021, with the launch of their latest Thrive Theme Builder, they've delivered a product that'll go beyond marketing and make every aspect of building a WordPress website simple, intuitive, effortless, and enjoyable.
Click Here To Get The Thrive Membership
What Is Thrive Theme Builder?
Let's get one thing straight, the Thrive Theme Builder isn't a Page Builder Plugin like the Thrive Architect or Elementor.
It's an actual theme that does A LOT MORE than your average standalone theme or a page builder.
The Thrive Theme Builder gives you unmatched control over every single aspect of building a WordPress website and makes it super easy to visually create and tweak everything from the page layouts, post templates, header, footer and, much MUCH more.
Click Here To Get The Thrive Membership
Thrive Theme Builder vs Thrive Architect
That's a valid question with a simple answer – It's not a Plugin, it's a complete Theme.
When you're using the Thrive Architect Plugin, you're using it to design and build individual pages for a website with a pre-existing Theme.
With the Thrive Theme Builder, you're not dependent on having a pre-existing Theme anymore because IT is the Theme.
Using Thrive Architect can help you make changes in a single page, but with the Thrive Theme Builder, you can make changes across an entire website by customizing fonts, colors, etc. from a single page without needing a developer or any extra skills.
Now, you're probably wondering if the Thrive Theme Builder is right for you at this point – and I'm here to answer that question for you.
Click Here To Get The Thrive Membership
The Thrive Theme Builder Is Right For You If:
You like using WordPress.
You're a Content Creator, Blogger, or Online Marketer.
You're both 1 and 2, and also want a clean, professional well optimized website.
The Thrive Theme Builder Is NOT Right For You If:
You don't like using WordPress.
You want a custom designed website built from scratch by a professional developer.
You're not too concerned about performance, or costs of building a website.
How do you get started using the Thrive Theme Builder?
Getting started with using the Thrive Theme builder is as easy as 1-2-3.
Click Here To Get The Thrive Membership
#1: Upload the Thrive Theme Builder to your WordPress Website
Once you've downloaded the Thrive Theme builder, simply log in to your WP Admin panel and head over to Appearance > Themes > Add New and upload the theme builder like any other theme.
#2: Follow Thrive's Easy Site Wizard
Once the theme has been successfully installed and activated, just follow Thrive's super easy Site Creation Wizard to configure the core settings of your theme in a few easy steps.
#3: Customize, Create, and Go Live!
Once you've fully configured the look of your website, just start uploading your content and push your website to LIVE and watch the magic unfold.
Thrive Theme Builder Tutorial
Thrive Theme Builder Review
Thrive Theme Builder has been in the works for some time now (around 2 years) and the features it offers perfectly show the thought put into creating a well rounded software that addresses the key need of any site owner – having a fully customizable website without having to depend on external assistance from developers or designers.
Thrive Theme Builder Pros and Cons
Thrive has some interesting features that we're going to dive into in a second. But before we do, let's take a quick look at some of its pros and cons first
Pros
You can easily customize an existing theme.
You're able to build conversion-focused websites for clients.
WYSIWYG drag & drop builder – easy to use.
With lead generation / CTA options pre-loaded, it's perfect for business owners.
No coding experience/skills required.
You can customize your entire website, instead of single pages.
Front-end visual editing makes it easier for you to track changes you make to the site.
Pre-designed templates are conversion-focused and ideal for businesses.
Cons
Some prior WordPress experience is necessary.
Not WooCommerce compatible. However, The Thrive Theme Builder is set to become compatible with WC in the future.
Recently released, rough around the edges, minor bugs.
Click Here To Get The Thrive Membership
Let's take a closer look at some of the Key Features Thrive Theme Builder Offers –
Thrive Theme Builder Features
1. Zero Code Required
In 2021, to be a Theme or a Plugin worth considering, the most important feature required is the ability to use the software with little to no technical skills.
Time is money, so spending time writing code and testing every edit made in the back end on the front end for errors – Ain't Nobody Got Time Fo' That!
2. Site Creation Wizard
A super helpful feature when you're starting out, the Site Creation Wizard can help you get your Theme configured and ready to go in as less as 15mins.
Just sit back and relax and let the Wizard guide you through the configuration process so you can visually build your website without any hassle.
3. Core Page Templates
Thrive Theme lets you establish Core Page Templates for the pages being displayed on your website. This helps increase both speed and efficiency when you're designing a website that has recurring content in changing contexts, think blog posts, etc.
Here's the Core Page Templates that the Thrive Theme Builder offers –
Default page
Blog Archive Page
Blog list Page
Standard Post Page
404 Page
Customizing these pages right when you're starting, helps address the basic requirements you may have for launching your website.
Once you're ready to get into the nitty gritty of the design, you can use Thrive's user friendly WYSIWYG Drag and Drop editor along with its template libraries to fully customize your theme design.
To create recurring pages for your website, you can use page section templates to set page layouts for each template so it's easier for you to select and edit as you add content to your website.
Here are the options you get to choose –
Header
Top Bar
Sidebar
Content
Bottom
Footer
If you're on a page that you'd like to edit, you can quickly access all these options in the Thrive Editor window or in the left-hand sidebar's Main Options tab to access that page's dedicated template layout.
This makes it super easy to customize core areas of all pages and to design themes that look great on all devices.
4. Theme Typography
Key to a visually appealing website, configuring the font type, size, placement can make or break how your website looks and how well it converts your visitors to sales.
It's no secret that configuring a website's typography has always been a bit of a struggle for most website owners – Even Me!
But Thrive addresses that by helping us modify theme/website wide fonts in just a few easy clicks.
How?
It has a dedicated Typography Section available right in the Dashboard that takes you to a section where you're presented with the following options: H1, H2, H3, H4, H5, H6, Paragraph text, List text, Hyperlink text, Plain text, Blockquote text , Preformatted text.
You can choose any of these and easily edit or set fonts, sizes, colors, height, spacing, hover effects, etc. and see these changes update across your entire website instantly.
5. Lightweight and Mobile-Optimized Theme
I've said it time and again, being mobile ready in 2021 is key to ranking in Googles Mobile-First world.
While most themes promise mobile responsiveness, you're usually left with a bitter after taste when you find that your website content never converts properly from desktop to mobile and doesn't even perform as well as you'd hoped.
Thrive takes care of that by letting you see exactly how any page will display on a mobile or tablet device from right inside the editor and thanks to its lightweight Shapeshift theme, Thrive is always light-weight with load times usually under 3 seconds!
6. Site Wide Drag-and-Drop Design Editor
Anybody who has ever used a Page builder or any type of Visual editor can easily appreciate the ease that they provide.
Thrive offers a truly intuitive drag-and-drop experience that allows you to modify every single section of your website from the content area to the sidebar so you can make sure you're fully in control of every last detail of your branding and website.
7. Smart Color Technology
Thrive gives you full control over the colors of your website and branding with its Smart Color Technology.
If you decide to change your brand colors or need to make a temporary change for a special occasion to give your site a fresh look, you don't need to take it offline and spend days updating every page individually.
In a few easy clicks, you can set or unset sitewide colors and see the changes take place in real time.
8. Homepage Templates Library
Usually, when people search for a brand or a business, their standard landing page (organically)is the Homepage.
Built by a team that's always had a marketing focus, the makers of Thrive Theme Builder understand that every one of their users wants a homepage that helps convert site visitors to sales.
Thrive offers a prebuilt conversion focused homepage template for its users that can be fully customized and fine tuned to deliver results.
9. Customized Pages
With Thrive, you have the flexibility to create custom pages for your visitors, so they don't have to see the same old boring pages like every other website out there.
You can design a custom 404 page with your branding, images and even add links so your visitors can choose to click through and continue their journey on your website instead of dropping off at a blank page.
You can also design custom Author Boxes for blog posts, customize category pages and even choose to customize the display of your search results page.
10. Smart Dynamic Templates
Efficiently utilizing the power of dynamic templates can increase efficiency, save time, and greatly improve your website's conversions in the process.
With Thrive, you can use Smart Dynamic Templates and design templates with placeholders for multiple pages that you'd like to have the same layout for while using fresh content for each one.
Click Here To Get The Thrive Membership
Thrive Theme Builder Pricing
Although they plan on launching the Thrive Theme Builder as a standalone product in the future, at the moment and for the foreseeable future, the only way to get access to the Thrive Theme Builder is by signing up for Thrives Membership program.
If you're a Thrive Theme Member, the Thrive Theme Builder is Free for all existing Thrive Members.
However, if you aren't a member and you'd like to use Thrive, you can sign up for Thrives Membership program and get access to ALL their themes and plugins including the Thrive Theme Builder by choosing between the 2 plans they offer.
For individuals and entrepreneurs, their plan starts from $19/month if paid annually ($30/month if paid quarterly) and includes access to all their plugins & themes on up to 25 websites.
For Agencies & Web Designers, their Agency Membership plan starts from $49/month if paid annually ($69/month if paid quarterly) and includes full access to plugins and themes for up to 50 websites.
For anyone who's uncertain, Thrive Themes offer a 100% satisfaction guarantee and offer a Full Refund anytime within 30 days of your first purchase.
Click Here To Get The Thrive Membership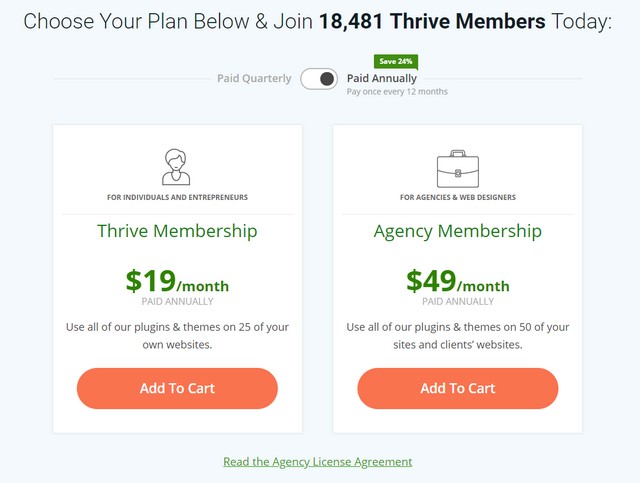 Thrive Theme Builder Alternatives
If you're not fully sure that you'd like to use Thrive for your next project, there are some great alternatives out there that have been around a while and have been tried and tested by many over the years.
1. Elementor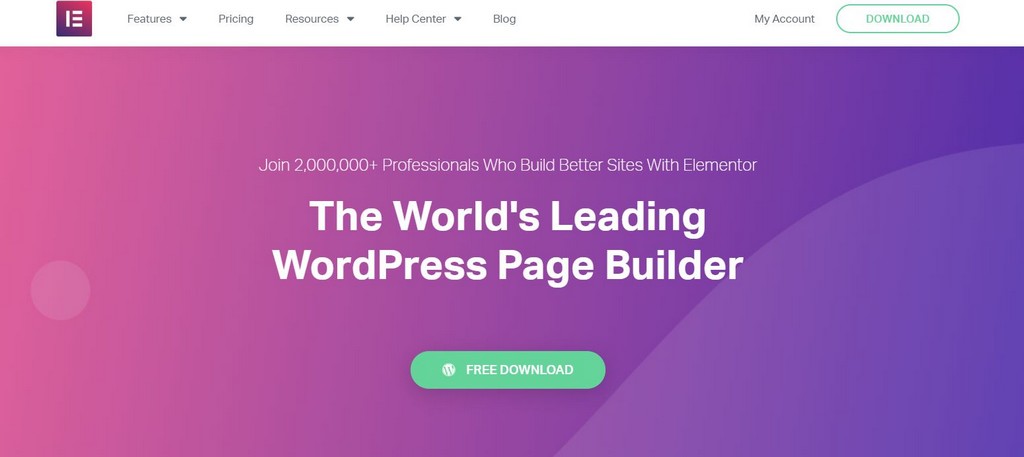 Click Here to Get Elementor Pro
The most popular Page Builder in the market today, Elementor needs no introductions.
Although it isn't a complete Theme like Thrive, used with a fast and lightweight theme, it offers functionality that easily rivals Thrive in most aspects.
Here's a quick look at some of the Pros and Cons of using Elementor on your website-
Pros
Visual Drag & Drop Builder
No Coding Required
Start with a blank canvas
Over 100 Professional Templates
Pixel Perfect Design
SEO ready
Cons
Limited Free Version
Header builder lacks Schema
Lacks A/B testing features.
2. Divi Builder

Hurry Up! Limited Time Offer.
Divi by Elegant Themes is another strong contender and a worthy alternative for Thrive as Divi comes packaged as a Theme + Page Builder combo and also gives its users access to some Elegant Themes other marketing oriented plugins like Bloom and Monarch.
Here's a quick run down of the Pros and Cons of using Divi on your website –
Pros
Intuitive front end page builder.
Wide range of premade templates.
Supports 32 Languages.
Built-in A/B testing tool.
One of the best Support teams + Community Forum.
Bloom Email Opt-in plugin
Monarch Social Sharing plugin
Cons
No Free Option
Glitchy on large pages
Way too many options
Thrive Theme Builder Review Final Thoughts
Now after going over everything and looking at some worthy alternatives, you may be wondering if Thrive Theme Builder is worth using for your next project.
Although a new entrant into a market that's dominated by giants like Elementor and Divi with their massive customer base, Thrive Theme Builder is an exciting prospect and surely an option that deserves consideration.
If you're a WooCommerce store owner, Thrive probably isn't meant for you at the moment, however, if you're a content creator, web designer, marketer or a business owner who wants to design a professional looking theme with maximum ease, Thrive just might be the perfect match for you.
Whether you're a seasoned professional or a newbie, if you want to create a full functional website in 15mins, I highly recommend you give the Thrive Theme Builder a try.
I'm super excited about the potential the Thrive Theme Builder has and I can't wait to see how it grows over the coming months.
Read Next: