Email marketing is one of the most important types of marketing, it helps you stay close to your visitors and that leads to an improvement in your conversion rates. However, if you want to start with email marketing there is one big problem to solve first.
Uhm, what exactly is that problem? Well, it is the very fact that to use email marketing you need a very specific thing to take off.  Yes, you require leads so that you can obtain an email list full of contacts.
What are leads? Leads are basically the people you have the opportunity to follow up on. Like suppose a visitor comes to your website and finds your email opt in form. He then proceeds to fill it up and opt in for your offer. Now that you have their email address with you, you have the chance to send back an email to this visitor and reconnect with them.
But how do you obtain leads? For that, you would usually require a WordPress Leads generation plugin. Such a plugin helps you set up your site as a lead generating asset.
Thrive Leads is one such WordPress plugin. In fact, It is one of the greatest such plugins. Thrive Leads helps you make a huge variety of WordPress email opt in forms that you can then use for optimizing your conversion rates.
It is very suitable for beginners and entrepreneurs due to its ease of use. It is of course also great for advanced users as it offers some pretty advanced options that they can take advantage of too.
But not only that, Thrive Leads is especially great for marketers as there is a big focus placed on marketing based features. A good amount of options and templates available in Thrive Leads are there just for improving your conversion rates. "Made to convert", as they call it.
Thrive Leads giving you the ability to create sign up forms sounds good and all but there is one big thing involved here. Thrive Leads not only helps you with the technical aspect of collecting emails from your visitors, it also helps you with persuading your website's visitors to actually fill up the opt in forms.
But is Thrive Leads the plugin you should go for? In this review, I will talk all about Thrive Leads and explain to you the good and the bad sides of it. Hopefully by the end of this review you will be able to decide whether it is truly for you or not.
Get Thrive Leads For $67 (one-time)

Thrive Leads Review
Thrive Leads is an amazing all-in-one #1 email list building plugin for WordPress. It makes it's easy to build opt-in forms, PopUp Lightbox, "Sticky" Ribbon, In-Line Forms, 2-Step Opt-in, Slide-in and so much more!
Read this Thrive Leads review to figure out how…To begin, I will give an overview of the pros and cons so that you can get an idea about what Thrive Leads strong and weak points exactly are.
Pros
The variety of opt in forms you can create with Thrive Leads is really impressive.
Includes an Easy drag and drop builder.
A great amount of premade templates is available.
The ability to create A/B split tests is available.
A huge list of integrations for email marketing services.
A super useful feature called "SmartLinks" is available.
Cons
The reporting can be a bit slow and buggy
Get Thrive Leads For $67 (one-time)
Reasons To Get Thrive Leads
Since we are getting an overview first, It would be a good idea to get an overview of the main features right here:
A wide variety of opt in forms is featured. These include: In line forms, 2-step opt-ins, screen-filling overlays, content upgrades, scroll mats, floating ribbons, etc.
An advanced A/B split testing engine is available which makes sure that your list grows with maximum efficiency.
Smart features like SmartLinks and SmartExit are available. These features ensure that your visitors aren't annoyed with the pop ups and thus help you achieve maximum conversion rate.
Choose from a huge variety of beautifully designed premade opt in form templates.
You can decide where and how exactly your opt in forms will appear. You can set triggers, scroll triggers, on click forms and more.
A detailed analysis of stats and reports is made available so that you can view exactly which forms are doing the best, so no need to do guess work!
1. Easy of Use
The first thing about the Thrive Leads that makes it's so good especially for someone starting out is easy of use.
I could recommend Thrive Leads to my sister who has never built a website and she'll be able to use it to create a great looking opt-in form.
Thanks to the easy to use front end builder on Thrive Leads it's easy for anyone to start collecting leads.
2. Speed
Unlike many WordPress Lead Generation Tools out there (cough…Sumo…) using Thrive Leads doesn't make your website slow and create a ton of requests on your server. It's in fact fast, fast beyond belief considering it's a full-fledged list building tool.

Google cares about speed a lot, and not just Google has found that 53% of mobile site visits leave a page that takes longer than three seconds to load. So speed is definitely an important thing to think about especially as the number of mobile users is growing.
3. Pre-Made Templates
Thrive Leads comes bundled in with beautifully designed, eye-catching and conversion optimized forms templates designed by professional that you can use to get started quickly.
4. Built-in Conversion Rate Optimization
Thrive Leads comes built in with a ton of conversion-focused tools like A/B testing, Mobile-Specific Opt-in Forms, Advanced Targeting, Actionable Reporting & Insights and so much more! So you can optimize your forms to get the most leads from your traffic.
5. Integrations
Thrive Leads Integrates with almost every single Email Marketing software so you can save your subscriber data easier.
Some of their integrations include:
MailChimp
Drip
GetResponse
ActiveCampaign
ConvertKit
SendGrid
Infusionsoft
Twitter
WebinarJam
reCAPTCHA
……and so many more!
6. 24/7 Great Support
As a Thrive Leads customer, you can get 24/7 support from Thrive Themes professionals and I'm friends with people who are on the Thrive Theme and I can say they know their shit!
They can help you with any problem you have with your site! So it doesn't matter if you're a beginner, their support team will be there to back you up!
7. Unlimited free updates
With a single purchase of Thrive Leads, you can be set for life… you get unlimited Free updates to the tool for as long as it exists and given that the company has been around since 2013 I just see Thrive Leads getting better over time.
8. SEO friendly
Not only is the Thrive Leads fast which is basically part of being "SEO friendly" today. It also has optimized code and is responsive on all devices.
Get Thrive Leads For $67 (one-time)
Thrive Leads Features
There are several features that Thrive Leads has to offer you that give it an edge over the competition. The marketing features especially are great and not many such plugins actually offer most of those.
1. A big selection of opt in forms
This is something I really love about Thrive Leads, it offers so MANY types of opt in forms that you can find a form suitable for virtually any kind of situation you may come across.
One thing you may want to note here is that many other competitive plugins also offer a good amount of opt in forms. However, they don't feature ALL the opt in forms that Thrive Leads does.
They usually only have a relatively smaller selection of these. Well, you may find a selection as big as Thrive Leads in some other plugin too except those plugins would cost you a fortune to obtain.
Another thing is the fact that Thrive Leads is made to help you convert. This kind of marketing focus can be clearly seen in a great number of the opt in forms.
This is a pretty good thing in my opinion, as in the end what reason are you trying to get leads? Yes, exactly. Your end goal is to maximize your conversion rate. So yeah, it can be appreciated that Thrive Leads understand this fact and works on making this one of the selling points.
Thrive Leads is really economical despite the fact that it offers so many opt in forms. This is what kinda separates it from the others for me. Makes it a really accessible email list building plugin.
Though, this feature is kinda less attractive if you aren't interested enough in different types of opt in forms and only really want to create a few pop ups. Despite that, I would say, this feature is really worth it as in the future you may feel like experimenting with stuff and that's where this huge selection will pay off.
Get Thrive Leads For $67 (one-time)
2. A/B split testing for optimizing your opt ins
Some of you might not be aware what A/B split testing is so I will first give a brief explanation regarding that.
Basically, A/B split testing compares two or more different versions of email opt in forms against each other. What this does is that this way you can see exactly which email opt in forms get the most subscribers. Essentially, with the help of this, you can maximize the leads from your visitors.
An example of how A/B split test works exactly: Say you have an email opt in offer. You create an email opt in box for it and come up with two unique designs. But you like both of them and can't tell which one would be better business wise.
That's where A/B split testing comes in, you put both of them through A/B split testing. Some users will encounter one design and some will encounter the other (the ratio of the two is usually roughly the same).
After that is done, you will collect the report and analyze what's different about the two. The design with the higher conversion rate would be a suitable option for you. In usual situations, you would have to do a lot of guesswork and manual tests to see which design works the best. But thanks to A/B split testing, you can pin down the best option with relative accuracy.
The A/B split test feature present in Thrive Leads is especially powerful when compared to the competition. Some of the competition only lets you test different designs and copies.
However, Thrive Leads goes beyond this and lets you test different types of forms against each other. Not only that, it also lets you test different types of triggers against each other. This one is especially unique.
What it means is that you can test for a bit more technical things like whether you get more subscribers when your opt in form slides in horizontally vs vertically or it fills the whole screen vs a small box or the email opt in form appears in 5 seconds vs 15 seconds and so on.
So yeah, you don't see this kind of thing often when it comes to these plugins and it's actually a pretty useful feature too. Definitely something that Thrive Leads highly benefits from and gives it a cut above the competition.
Get Thrive Leads For $67 (one-time)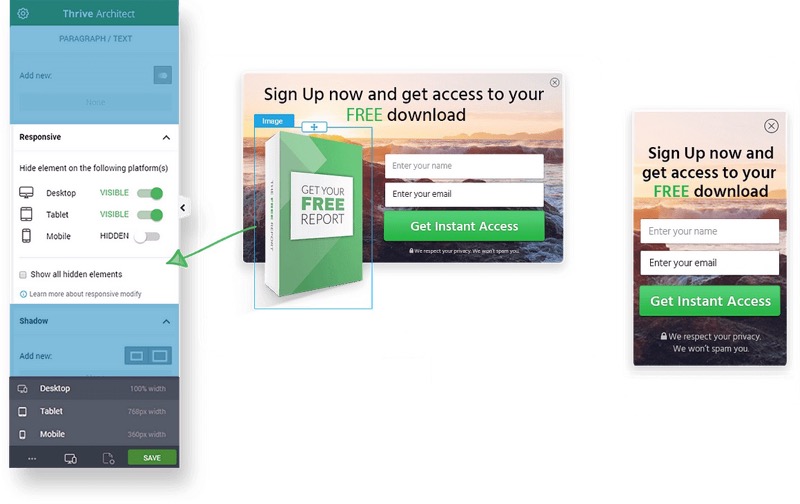 Thrive Leads Smart Features: SmartLinks and SmartExit
The Smart features that Thrive Leads offers are two neat features that aren't really present in other plugins. This is where Thrive Leads truly feels like a unique email list building plugin.
First, let's talk about SmartLinks. You might have visited some websites you have subscribed to but upon revisiting there, you will find that the website is showing you a pop up for subscribing! That's pretty stupid, right?
SmartLinks exists to precisely fix this issue. How does it work? Basically, if a user visits your website and they have already subscribed to your email opt in program, SmartLinks will activate and depending on what you set it to do, it will either show this recurring visitor an entirely new offer or it will show no offer at all.
But how do you set up SmartLinks? SmartLinks is a special type of link that you can put in your emails and then it will ensure that anyone coming from the email you sent doesn't see any opt in forms or if they do see some, they will be different offers.
Get Thrive Leads For $67 (one-time)
The other Smart feature that Thrive Leads has to offer, incidentally also a feature that almost no other email list building plugin offers, is the SmartExit feature.
To understand SmartExit, you first need to have an understanding about Exit Intent email opt in forms. What are these? Simply put, these are forms that trigger if your user is trying to leave your website.
What is the use of Exit Intent forms? Sometimes, your visitors might be annoyed if an opt in form suddenly appears while they are still browsing your website. This can lead to them leaving your website.
Exit Intent forms exist to fix this issue. They track the mouse movement and if a user is trying to leave, the cursor will point on the cross button. Once that happens, the opt in form will be triggered and your visitor would feel relatively undisturbed by it.
There is one big issue with Exit Intent forms though and it is the very fact that you can't use them with mobile and tablet users. There is no mouse cursor to track there so your Exit Intent form will never trigger at all!
Most marketers claim that Exit Intent forms don't improve conversion rates that much. I mean, it makes sense too. More than 50% of your visitor base will usually be mobile and tablet users. If no opt in form is shown to them, it is only natural the conversion rate will be lower too. That's pretty worrying, right?
No need to worry! SmartExit exists just to solve this issue. It does so by taking mobile users into consideration so now you can target your entire user base instead of like half of it, therefore the conversion rates will be automatically higher as well.
What you do with SmartExist is that you set up an Exit Intent form for desktop users. This Exit Intent form is a normal one and simply tracks mouse cursor movement. But for mobile users, SmartExit sets up an alternative time based trigger.
For example, you set up your opt in form to trigger after say 10 seconds of a user visiting your website. This system is not perfect but it still works much better than no opt in forms to mobile users at all. Oh, one more thing, if a user tries to leave before your time trigger is up, the normal Exit Intent form will still work (for Desktop users), this feature is called SmartExit+.
So yeah, as you can see these two are very unique features that really only Thrive Leads offers you. And I personally really like these features too because they are just super neat.
Get Thrive Leads For $67 (one-time)
Thrive Leads integrations
When it comes to these kinds of products, easy integrations with different marketing products becomes a very important thing since it helps easily expand your features and thus helps you maximize the conversion rates.
Thrive Leads features native integrations with a lot of products. Mainly, the other Thrive products. Thrive Architect, another Thrive product, works very well with Thrive Leads.
Thrive Architect is a popular WordPress page builder that features an easy to use, coding free drag and drop builder. Once integrated with Thrive Leads, you can use this powerful page builder to help build your opt in forms.
This is another thing many other email list building plugins simply can't afford to do. I mean, most other companies don't just have a page builder as awesome as Thrive Architect just lying around.
So yeah, with Thrive Architect integrated into Thrive Leads, you can basically easily customize your opt in forms and build some beautiful looking ones without any technical or coding knowledge.
Now it will feel like a huge amount of money to spend on these other products like Thrive Architect just for integration purposes especially if you are a beginner or an entrepreneur. Good news for you! Thrive Membership exists and it is only $19 per month! With this you get literally ALL the Thrive products so you can integrate several of these together!
Of course, Thrive products aren't the only ones you can connect Thrive Leads with. There are integrations for a huge amount of general email marketing services too. So, have you already bought another separate product for marketing? Don't worry! Thrive Leads will most likely simply integrate with it, yay!
So yeah, these are the major features that separate Thrive Leads from the competition. I am sure though, that some of you are still not satisfied enough about whether you should truly go for it or not. In the next section, I will compare Thrive Leads with another popular product called OptinMonster. This should help paint the best picture about Thrive Leads.
Get Thrive Leads For $67 (one-time)
Thrive Leads vs OptinMonster
Before we begin with the actual comparison, it would be best to first explain briefly about OptinMonster, since some of you wouldn't know what it is.
OptinMonster is another great email leads generation software. It is mainly used by marketing agencies and it has some easy to use features and it offers you a great amount of integrations.
What makes it different from Thrive Leads though? Well, the first difference lies in the fact that OptinMonster is a hosted solution and not a WordPress plugin like Thrive Leads is.
What this means is that OptinMonster will work with ANY Content Management System (CMS) like Drupal, Prestashop, Shopify and of course, WordPress as well.
So, Thrive Leads is restricted to only WordPress. If you have a WordPress website, then great you can use both. However, if your website isn't hosted on WordPress then OptinMonster becomes the only option for you.
I would say it's safe to say that at this point, OptinMonster beats Thrive Leads. But what about the other differences?
The second difference lies in the way they are priced. As you know, Thrive Leads is a one time fee with unlimited updates (unless you obtain it through Thrive Membership) but OptinMonster needs to be renewed every year. It only offers you one year of updates otherwise.
And what's worse? The pricing is divided into plans so features are locked behind the more expensive plans. And what's EVEN more worse? The pricing can be absurdly high. $108 per year for the most basic plan (while Thrive Leads is only $67 and that covers all the features).

OptinMonster's most expensive plan, OptinMonster Pro, which covers every single feature is a huge price of $348 per year! The mid tier plan, OptinMonster plus is $228 per year.
So yeah, the pricing of OptinMonster is a huge bummer, don't you agree? I would say Thrive Leads destroys OptinMonster in this department.
Thrive Leads' A/B split testing is also much more advanced than what OptinMonster has to offer. Even the most expensive OptinMonster plan lacks a good amount of the A/B split test features that Thrive Leads offers.
You know how important A/B split testing is when it comes to effective marketing, so yeah that's another bummer. Another thing is that Thrive Leads still offers almost the same or more features (depending on the department being compared) as OptinMonster, kinda stunning given the huge price tag OptinMonster has.
Also, OptinMonster hosts your forms on their website only. So you don't actually own any of the opt in forms you might create while using it. Meaning that if you cancel the subscription, all the forms you created will disappear from your website! I don't like the sound of it one bit.
Well, as you might have seen from this comparison, only OptinMonster Pro is the plan that can even compete with Thrive Leads and that is absurdly high in price. Even then Thrive Leads has some edge above it. So yeah, I guess it's pretty clear that Thrive Leads easily wins over OptinMonster.
Thrive Leads is focused on speed as well as performance. Which is why it's my #1 alternative to OptinMonster in 2021.
Get Thrive Leads For $67 (one-time)
Thrive Leads Pricing
Like with the other Thrive products, here as well you have two ways of obtaining Thrive Leads.
1. Thrive Leads License packs
A single license of Thrive Leads will cost you $67. It's a one time fee and with this you will be getting UNLIMITED updates and one year of full support. You will also naturally get access to ALL the features since there are no plans, it's just this one license you pick up at this cheap price and you get everything.
Get Thrive Leads For $67 (one-time)
There are two more license packs, the 5 license pack and the 15 license pack. Both of these give you multiple licenses at a hugely discounted price. What? You don't believe it? See for yourself: Five separate licenses should cost $335 normally but with the 5 license pack you can get them for only $97. Only $30 more than a single license.
Similarly, you will get fifteen licenses separately for a whopping amount of $1005 but with the 15 license pack the cost is significantly lesser, only $147. These packs are honestly pretty good as they carry some insane value.
Click here To Get Thrive Leads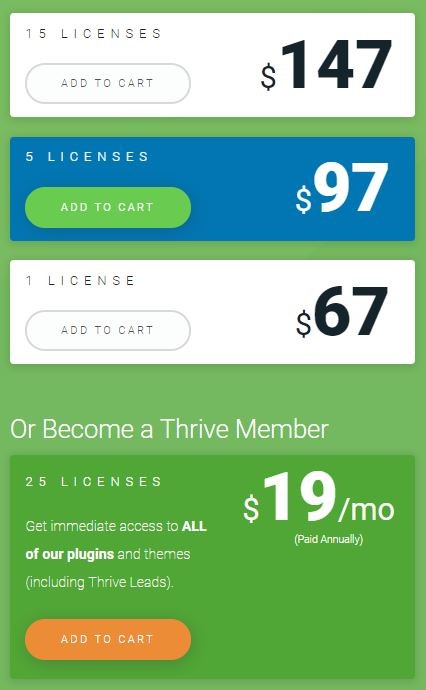 You can get a full refund within 30 days. No questions asked!
2. Thrive Membership
The other way of getting your hands on Thrive Leads is through the Thrive Membership. Thrive Membership is gonna cost you $19 per month and it includes access to ALL of Thrive's products, whether that be themes or plugins, which naturally includes Thrive Leads. But not only that, you get 25 licenses of every product.
That's a pretty great deal if you ask me. Easily the best option to go for if you are interested in a few more Thrive products and also have a considerable number of websites. One thing you may want to note is that Thrive Membership is billed annually. Meaning there is no option to pay monthly.
Click Here To Get Thrive Membership
Thrive Leads Discount Code
You can get Thrive Leads (& all of Thrive's current and future products) at a  24% Discount by signing by for Thrive Membership. Simply click the link below and sign up using the Annual plan.
Click Here To Get The Thrive Membership
Hurry Up! Limited Time Offer
Is Thrive Leads Worth it?
Thrive Leads is an amazing lead generation WordPress plugin. With the easy to use design and low price, it becomes pretty accessible to everyone, especially beginners who may not want to spend a lot of money at first.
The marketing features it boasts are especially impressive, like the A/B split test which is one of the more advanced split testing you can get. This further solidifies its position as one of the best lead generation plugins out there.
The Smart features (SmartLinks and SmartExit) are two really unique features which you can't really find in any other WordPress plugin. The integrations that Thrive Leads supports also help expand more features like these.
So yeah, in the end I would say Thrive Leads is very much worth your money as it offers you top of the class features at a super cheap price, especially if you are a marketer like me.
If you are still unsure about whether you should go for Thrive Leads or not, I would recommend rereading through the features and see if it clicks. You can also look at the comparison with OptinMonster again to see where Thrive Leads stands when compared directly to some of the best competition.
For a one-time payment only $67, you can an amazing Lead generation tool in the world! It's honestly a no brainer
Get Thrive Leads For $67 (one-time)
Most WordPress bloggers have to combine a ton of tools, to create a fragile system that can break with one wrong plugin upgrade.
Instead of combining, Optin-monster for leads, with Lead pages for landing pages, with ClickFunnel for sales pages, with a StudioPress theme; screw them all! Just get the Thrive Membership and you don't have to think about the rest!
Click Here To Get The Thrive Membership
Read Next: