Thrive Leads is an amazing lead generation plugin from Thrive Themes which is a great team focused on conversions and built by people who have actually built their online business themselves! If you're tired of Expensive Lead Gen tools that cost a ton and require yearly subscriptions to use then; Thrive Leads your one-stop solution.
In this Thrive Leads review, I'll dive into why it may just be the Best Affordable WordPress Lead Generation Tool in 2020 that you are going to find!!
---
Get Thrive Leads for FREE
You can get Thrive Leads (& all of Thrive's current and future products) at a  24% Discount by signing by for Thrive Membership. Simply click the link below and sign up using the Annual plan.
Click Here To Get The Thrive Membership
Hurry Up! Limited Time Offer
---
Thrive Leads Review
Thrive Leads is an amazing all-in-one #1 email list building plugin for WordPress. It makes it's easy to build opt-in forms, PopUp Lightbox, "Sticky" Ribbon, In-Line Forms, 2-Step Opt-in, Slide-in and so much more!
Read to figure out how…
Who is behind Thrive Leads?
Thrive Leads is built and sold by Thrive Themes, the WordPress theme company that is now sooo much more than just "Themes". They're the guys behind amazing products like.
and Thrive's products are used by small-time bloggers just getting started with their blog to massive online businesses like Foundr Magazine (When I was the Head of SEO at Foundr I switched Foundr's comments from Disqus which was unnecessarily bloated and slow to Thrive comments)
Thrive Themes has been around since 2013 where they started by making simple WordPress themes as their names obviously suggest, however they're themes weren't just simple they've always been a conversion focused company that built products that helped their customers improve their conversions.
Their founder Shane Melaugh is reason enough to want to start using Thrive Theme's Products! He runs a blog at Active Growth where he shares his journey of building online businesses and helps others do the same.
The team at Thrive is always striving to be the best at what they do, and always being on the cutting edge with respect to WordPress conversion tools.
Anyways, back to Thrive Leads, Let me start with some of the best Thrive Leads features that make it the best cheap full-fledged lead generation WordPress plugin and why it's worth purchasing in 2020 and beyond
Thrive Leads Review
1. Easy of Use
The first thing about the Thrive Leads that makes it's so good especially for someone starting out is easy of use.
I could recommend Thrive Leads to my sister who has never built a website and she'll be able to use it to create a great looking opt-in form.
Thanks to the easy to use front end builder on Thrive Leads it's easy for anyone to start collecting leads.
2. Speed
Unlike many WordPress Lead Generation Tools out there (cough…Sumo…) using Thrive Leads doesn't make your website slow and create a ton of requests on your server. It's in fact fast, fast beyond belief considering it's a full-fledged list building tool.

Google cares about speed a lot, and not just Google has found that 53% of mobile site visits leave a page that takes longer than three seconds to load. So speed is definitely an important thing to think about especially as the number of mobile users is growing.
3. Pre-Made Templates
Thrive Leads comes bundled in with beautifully designed, eye-catching and conversion optimized forms templates designed by professional that you can use to get started quickly.
4. Built-in Conversion Rate Optimization
Thrive Leads comes built in with a ton of conversion-focused tools like A/B testing, Mobile-Specific Opt-in Forms, Advanced Targeting, Actionable Reporting & Insights and so much more! So you can optimize your forms to get the most leads from your traffic.
5. Integrations
Thrive Leads Integrates with almost every single Email Marketing software so you can save your subscriber data easier.
Some of their integrations include:
MailChimp
Drip
GetResponse
ActiveCampaign
ConvertKit
SendGrid
Infusionsoft
Twitter
WebinarJam
reCAPTCHA
……and so many more!
6. 24/7 Great Support
As a Thrive Leads customer, you can get 24/7 support from Thrive Themes professionals and I'm friends with people who are on the Thrive Theme and I can say they know their shit!
They can help you with any problem you have with your site! So it doesn't matter if you're a beginner, their support team will be there to back you up!
7. Unlimited free updates
With a single purchase of Thrive Leads, you can be set for life… you get unlimited Free updates to the tool for as long as it exists and given that the company has been around since 2013 I just see Thrive Leads getting better over time.
8. SEO friendly
Not only is the Thrive Leads fast which is basically part of being "SEO friendly" today. It also has optimized code and is responsive on all devices.
Thrive Leads vs Convert Pro vs Sumo vs OptinMonster
So how does Thrive Leads compare vs other WordPress opt-in tools out there like OptinMonster, Sumo, and Convert Pro?
Well, for starters it's cheap!
It only costs a one time fee of $67/website to use Thrive Leads for life.
In comparison,
Optinmonster costs $109/year/website
Convert Pro costs a one-time fee of $359!
Sumo Pro is definitely not worth it so I'd recommend staying away from it.
Convert Pro is pretty on par with Thrive Leads when it comes to features! However, it has some features that definitely make it stand out when compared to Thrive Leads.
Referrer Detection: You can change the opt-in based on the source of the reader
Adblock detection: As Adblock get popular this is going to be very important.
But, Price isn't the only thing Thrive Leads stands out in. Thrive leads has a great focus on speed, SEO and conversions instead of just being another me-too opt-in builder.
Honestly most all in one marketing tools are usually bloated like Sumo
Just went from ~70 to 95 (on desktop, still work to do on mobile) just by eliminating Sumo 🙁 pic.twitter.com/0gUnc6eDiM

— John Doherty ? (@dohertyjf) November 28, 2018
Thrive Leads is an exception to that and is actually focused on speed as well as performance. Which is why it's my #1 alternative to OptinMonster in 2020.
Thrive Leads Pricing
You don't need to waste 1000s of $$ on a simple lead generation tool, especially not in 2020. Thrive Leads is setting out to be the high converting opt-in builder for everybody.
So how much does Thrive Leads cost? well, this will surprise you!
Single License @ $67
5 License Pack @ $97 ($335)
15 License Pack @ $147 ($1005)
Get It Here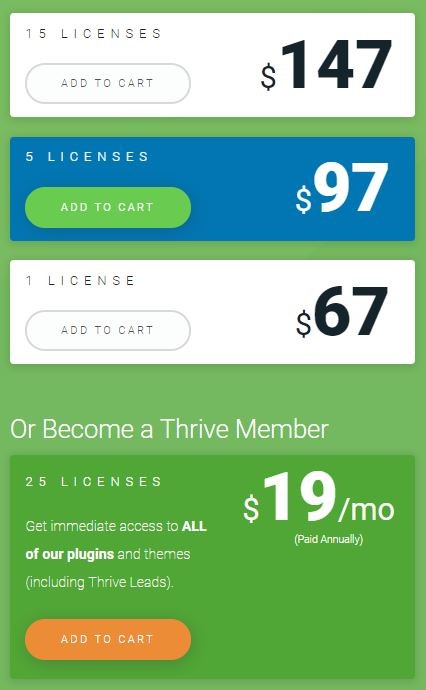 It also includes Lifetime updates which is insane at that price! Thrive Leads is the cheapest full-fledged lead gen tool that comes at such a low price. In comparison, OptinMonster costs $228/year.
You can get a full refund within 30 days. No questions asked!
Is Thrive Leads Worth it?
The answer is definitely yes and I hope my Thrive Lead Review helps you understand that.
For a one-time payment only $67, you can an amazing Lead generation tool in the world! It's honestly a no brainer
Thrive Leads Discount Code
Get Thrive Leads for FREE
You can get Thrive Leads (& all of Thrive's current and future products) at a  24% Discount by signing by for Thrive Membership. Simply click the link below and sign up using the Annual plan.
Click Here To Get The Thrive Membership
Hurry Up! Limited Time Offer
---
Why Pick The Thrive Membership Over Thrive Leads?
Thrive Membership only costs $19/month, which includes all the current and future themes and plugins from Thrive.
psst.. Thrive is about to release their new Theme Builder 2.0 that will blog away all their competitors and you'll get that for free if you are a part of the Thrive Membership!
Most WordPress bloggers have to combine a ton of tools, to create a fragile system that can break with one wrong plugin upgrade.
Instead of combining, Optin-monster for leads, with Lead pages for landing pages, with ClickFunnel for sales pages, with a StudioPress theme; screw them all! Just get the Thrive Membership and you don't have to think about the rest!
Click Here To Get The Thrive Membership
Read Next: