There are many WordPress themes out there but oftentimes you might feel like "Damn none of these themes actually fit my vision"  or you may simply feel "Man wish I could just create my website pages by myself". If that is the case for you, the tool you should be looking for is one of those WordPress Page Builder plugins.
What are WordPress Page Builder plugins? As the name implies, these are WordPress plugins that assist you in easily building pages for your WordPress website. Don't know coding? Well, good news for you because these builders are just drag and drop builders, so no technical knowledge needed, yay!
Thrive Architect is one such page builder and it also happens to be a very popular one at that.  It has a very simple user interface design so you will have no problem in picking up all the features in a short amount of time. Clubbed with a decent pricing, this plugin becomes one of the most attractive options for beginners.
One thing I love about Thrive Architect is the focus it gives to marketing. There are a great number of features that exist for the sole purpose of helping improve your conversion rates and thus helping you grow your business. I think this is one thing that sounds enticing to many of you marketers out there, doesn't it?
So yes, in this review I will tell you guys all there is to know about the WordPress Page Builder plugin called Thrive Architect and help you decide whether it is the right page builder for you or not. If you're tired of Expensive Page Builder that cost a ton and require yearly subscriptions to use then Thrive Architect is your one-stop solution.
Get Thrive Architect For $67 (one-time)
Thrive Architect Review
Thrive Architect is a visual page builder plugin for WordPress that helps you create great-looking, conversion-focused pages. Using Thrive Architect, you can create an eye-catching homepage, build landing pages, format blog posts, create Sales Pages, Webinar Pages, Product Launch Pages and so much more!
Read on This Thrive Architect Review to figure out how…Before I begin to go into details, it would be good to get a quick look at the pros and cons:
Pros
A nice and easy to use drag and drop page builder
Compatible with all WordPress themes
Up to 334 landing page templates are available
Unlimited free updates
Good support
Cons
No third party plugins
Mobile view of the site sometimes differs from the actual mobile landing page view
Get Thrive Architect For $67 (one-time)
Reasons To Get Thrive Architect
1. Easy of Use
The first thing about the Thrive Architect page builder that makes it's so good especially for someone starting out is easy of use.
I could recommend Thrive Architect to my sister who has never built a website and she'll be able to use it to create a great looking page.
Thanks to Thrive Architect's easy to use drag and drop builder everyone can built an easy landing page.
2. Speed
Unlike many WordPress page builder's out there (cough…Divi…) using Thrive Architect doesn't make your website slow. It's in fact fast, fast beyond belief considering it's a drag and drop builder.
Google cares about speed a lot, and not just Google has found that 53% of mobile site visits leave a page that takes longer than three seconds to load. So speed is definitely an important thing to think about especially as the number of mobile users is growing.
3. Pre-Made Templates
Thrive Architect comes bundled in with Templates so you don't have to build your landing page from scratch. Thrive Themes has 275 beautifully designed and 100% conversion-focused landing page templates that you can use and edit so you can design your blog pages to look exactly the way you want it to.
4. Built-in Lead Generation
With Thrive Architect you don't have to pay extra for a lead generation tool like Leadpages to collect emails, as it should be… Email lead capture is built into Thrive Architect. That includes a 1-step and a 2step opt-in lead box.
The Thrive Architect gives you everything you need to build successful websites and landing pages that drive traffic, sales and conversions. Everything from Call to Action Buttons, Testimonials,  Styled Lists, Animated Countdown Timers, and sooo many more features are included as part of the builder.
5. Integrations
Thrive Architect Integrates with almost every single Email Marketing software so you can save your subscriber data easier.
Some of their integrations include:
MailChimp
Drip
GetResponse
ActiveCampaign
ConvertKit
SendGrid
Infusionsoft
Twitter
WebinarJam
reCAPTCHA
……and so many more!
6. 24/7 Great Support
As a Thrive Architect customer, you can get 24/7 support from Thrive Themes professionals and I'm friends with people who are on the Thrive Theme and I can say they know their shit!
They can help you with any problem you have with your site! So it doesn't matter if you're a beginner, their support team will be there to back you up!
7. Unlimited Lifetime updates
With a single purchase of Thrive Architect, you can be set for life… you get unlimited Free updates to the tool for as long as it exists and given that the company has been around since 2013 I just see Thrive Architect getting better over time.
8. SEO friendly
Not only is the Thrive Architect fast which is basically part of being "SEO friendly" today. It also has optimized code and is responsive on all devices.
Get Thrive Architect For $67 (one-time)
Thrive Architect Page Builder Features
Hands down one of the strongest points of Thrive Architect is the page builder that it offers. I mean, Thrive Architect's main purpose is exactly that so it shouldn't come off as a surprise. But it's still a nice thing as there are page builders out there who offer a page builder that absolutely sucks.
When you load up Thrive Architect, you will be met with the user interface. The user interface is a full screen front end interface. When you are working on Thrive Architect, it hides the rest of the WordPress interface so you have the entire space there with you to focus on building your pages.
One important thing to note here is that Thrive Architect's front end editor is the real deal. Many page builders advertise themselves as featuring a front end editor but they don't actually have one. What they do is offer you a pop up window for you to edit the text in. Yes, that's in no way 'real' front end editing as you are essentially still typing on a separate window.
With Thrive Architect, you just click on an area and start typing whatever you want there.  So yeah, in Thrive Architect, you can actually see the changes happening real-time and so there is zero need to check another window just to see how a change you made displays.
Thrive Architect is a drag and drop page builder, which makes the process quite simple. Though of course, as you might be thinking, that's not actually anything special. The inline text editing is what makes it all special.
Another neat feature found in Thrive Architect is the resize feature. If you want to resize something, just drag the boundaries of the elements to resize them. It might sound like a simple feature but it actually makes things very convenient. Like if it wasn't there, you would have to fiddle around with height and width values, which I am sure none of you want to actually deal with.
Thrive Architect also offers you the ability to view the page through mobile sized viewports. This way you can actually see how your website will look like on mobile browsers, and that too with a simple option that's accessed with a few clicks of your mouse.
Get Thrive Architect For $67 (one-time)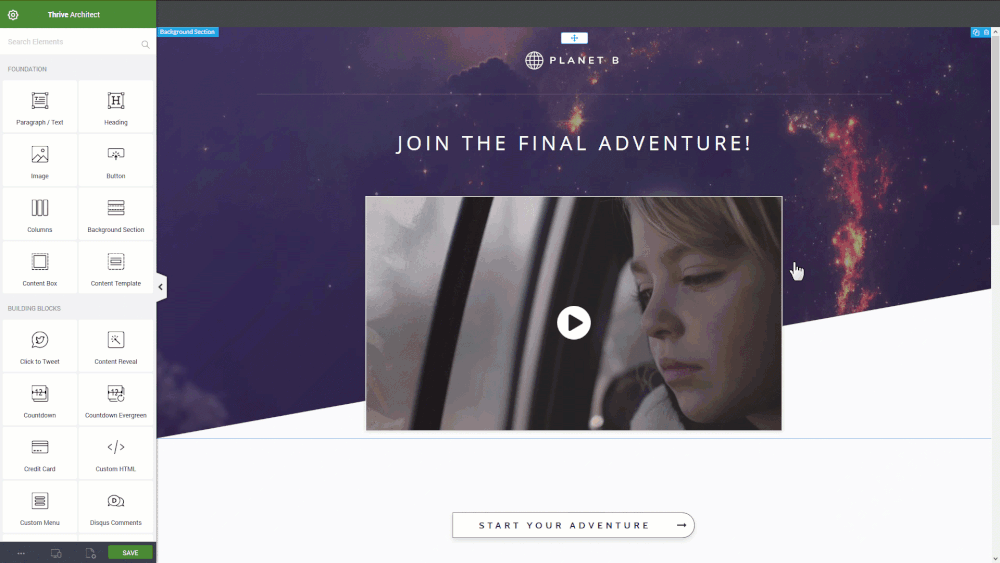 Thrive Architect Landing Page Templates
Like with most other builders, you don't have to actually worry about building from scratch by yourself. Thrive Architect offers you over 334 premade content templates.
With that big a number, you can surely find a template that works for your page. Also, one good thing about many of these templates is that they are made keeping in mind the goal of improving your conversion rate.
Some of you would probably be thinking, how do they help improve the conversion rate? The answer is that these types of templates are focused around getting a user to complete a specific action. For example, signing up for your newsletter or moving along your sales funnel in a specific way.
By the way, if you can't find any template that works for you and still don't feel like building one from scratch, you can just pick the closest template you can find and modify it according to your needs.
So yeah, in the end, these templates are a nice option as they can save you a great deal of time and frustration. And they are especially cool for marketers because of the obvious focus on generating leads and closing sales.
Check Out All The 300+ Thrive Themes Templates
Here're a few of my favorites.
1. Personal Brand
As someone with a personal brand online, I know how important having a well designed personal brand website can mean for conversions. The Personal Brand homepage templates is a great well-optimized CRO focused theme for bloggers and personal brands.
2. Flat Video Page
The Flat Video Page is a great template with a simple video and CTA button that keep things simple and is focused on getting people to click through.
3. Corp Webinar Registration Page
Having seen the great conversion rates of a lot of webinars, it's great to see a simple registration page that makes it super easy to launch a webinar.
Check Out All The 300+ Thrive Themes Templates
Thrive Architect Page Elements
Thrive Architect offers you a great amount of page elements that you can just drop on to your pages. But you might be wondering, what's so extraordinary about them? They are just simple page elements, no?
Well, the special thing about them is the fact that a good amount of these page elements are entirely focused on helping you generate more leads from your website, thus improving your conversion rates. At least for a marketer like me, that's a pretty important feature right there.
And of course, if you feel like making a few changes to these predefined elements, it's a piece of cake to modify them to your liking and make sure they fit with your particular vision.
Some of the page elements worth noting are:
Call to Action Buttons
Credit Card Icons
Content Reveal
Lead Generation Forms
Content Boxes
Countdown Timers
Facebook Comments
Oh and naturally, you can also place widgets from any other plugins you are using. Like, you can just place sign-up forms on your page from any other plugin you are using.
Get Thrive Architect For $67 (one-time)
Some Additional Benefits of Thrive Architect
There are some nice things that Thrive Architect has to offer and these things surely help give it an edge over the competition.
The unlimited updates are very nice. Some plugins like these would ask you for a one time fee but then proceed not to provide updates to you after a specific period of time is up, like wtf! That's practically a scam in my book.
Also, when that happens, you will have to work with out of date features and there might be a few bugs left in the version you are stuck with using. Don't need to worry about that with Thrive Architect though.
The constant stream of updates means you will always have the latest and the greatest features. It also means that you will not have to deal with that many bugs for long durations since Thrive Architect receives very frequent updates and so these updates make sure to iron out any bugs that may arise.
The customer support of Thrive Architect isn't all that bad, either. Though one thing is that with the license you only receive one year of full support but that's fine if you think about it since that's enough time to learn things properly and you will probably no longer need to use customer support after that.
Another benefit of choosing Thrive Architect over the competition is the visual aesthetic. In my opinion, Thrive Architect is visually pleasing. Like, there are hover effects and many other small animations. I for one very much appreciate these small details.
Get Thrive Architect For $67 (one-time)
How does Thrive Architect compare to the competition?
The biggest question in your mind must be "How exactly does Thrive Architect stand when directly compared to the competition?".
I would say Thrive Architect is a competitive WordPress page builder with a great many features and lots of details that make it convenient to use, as you have already seen. But still there might be a doubt left and that is, is it truly better than the competition?
To show this, I will be comparing Thrive Architect with two other popular builders. This kind of direct comparison should be very useful to you as it will help paint the true picture.
Thrive Architect vs Thrive Theme Builder
Let's talk a bit about Thrive Theme Builder first as you already know enough about Thrive Architect but might be clueless as to what Thrive Theme Builder is.
Thrive Theme Builder is another product from Thrive, same as the company behind Thrive Architect. Thrive Theme Builder is a WordPress theme with a front end visual editor. Yes, it's actually a theme, not actually a page builder.
It's focused around making WordPress customization fun and simple and is mainly aimed at entrepreneurs and other kinds of businesses that don't have the technical know how and they don't want to hire a developer just for building them pages.
Typography is an important thing when it comes to the look of your website. With Thrive Theme Builder, you can easily manage the font, font size and other typography features. You also require zero coding to do any of this and the websites made are lightweight and mobile optimized.
How does it differ from Thrive Architect, though? Like I said before, Thrive Theme Builder is actually a WordPress theme and not a plugin while Thrive Architect is a WordPress plugin. That's the first major difference.
Interestingly, both Thrive Theme Builder and Thrive Architect use essentially the same editor. The reason for that is to maintain consistency between the two Thrive products. This way, you don't need to master two different editors when jumping from one to the other.
There is still a big difference between the editors and  that is the fact that Thrive Architect helps you make changes to a SINGLE page. On the other hand, Thrive Theme Builder is capable of updating several pages at once.
For example, if you want to change the font of your entire website, say it has a total of 500 pages, you just have to update the font in Thrive Theme Builder and you will see the effect on ALL the pages at once.
Another difference between the two is that Thrive Theme Builder is more suitable for just easily creating themes while Thrive Architect is the better one for creating content that's well designed for the user.
Though in most cases, one's goal is to achieve both. And the good news is that these two are naturally compatible with each other and in fact, they also kinda complement each other too.
So like, you can use them like this: Use Thrive Architect for managing your individual content pages and use Thrive Theme Builder to manage your website's whole structure and layout.
But how much will it cost you? Right now, at a discount Thrive Theme Builder costs the same as Thrive Architect. That is, a one time fee of $67. Though the normal price is $97.
Luckily for you, you can opt for the Thrive Membership which is just $19 per month and you can get access to both of these at this price only but not only that, you get access to every other Thrive Themes product too.
Click Here To Get Thrive Membership
So yeah, in the end I would say you can't go wrong by choosing either. But, I would say if you can, go for both of them as it will be the ideal combination. And if you can only go for one of these, I would say go for Thrive Architect only as it has better value in my opinion.
Get Thrive Architect For $67 (one-time)
Thrive Architect vs Elementor
Elementor is a drag and drop WordPress page builder plugin, just like Thrive Architect. It is made in mind to be a powerful page builder that anyone can use without any issues.
Elementor is one of the most refined page builders, suited for creating full website builds. One amazing feature it offers is the ability to create dynamic headers or footers and also post templates.
Elementor also offers you a free plan but it pretty much sucks feature-wise when compared to the paid plans so that's a bummer.
What are the places where Elementor beats Thrive Architect?
Elementor has built an ecosystem around itself of third party plugin support. This helps it to greatly expand its features. Thrive Architect, on the other hand, offers ZERO third party plugins. So yeah, it's pretty clear that Elementor takes it here.
Elementor also offers better support than Thrive Architect. Albeit not that better but it's still a victory for Elementor, I would say.
Click Here to Get Elementor Pro

Where does Thrive Architect win over Elementor?
If you care about marketing features, then Thrive Architect is hands down the better option. There are some powerful advanced marketing features that Thrive Architect offers you while Elementor doesn't do so.
There is also the fact that the templates Elementor offers aren't that good. Most of the templates Thrive Architect offers are pretty good. Also, likewise the block library that Thrive Architect has is much better than Elementor's.
Lastly, Thrive Architect also beats Elementor when it comes to the pricing. A single Elementor license will cost you $49. But wait, that's lower than Thrive Architect's $67!
Well, that's what might seem like at the first glance, HOWEVER the price of Elementor is PER YEAR. Yes, there isn't a one time fee like with Thrive Architect so you will need to renew your license every year.
Get Thrive Architect For $67 (one-time)
Thrive Architect or Elementor, who takes it?
Both Thrive Architect and Elementor are pretty good page builders. Each beats the other in some places. However, I would say Architect is the better one overall as it's very cost effective and if you, like me, care about marketing features then Thrive Architect is definitely the way to go.
Get Thrive Architect For $67 (one-time)
Thrive Architect Pricing
Pricing is arguably one of the most important things when it comes to buying a new product: There aren't actually any real 'pricing plans' when it comes to Thrive Architect. Nonetheless, there are still two ways through which you can get your hands on it.
1. Single License
A single license for Thrive Architect costs $67. Oh, you might be wondering whether that is per month or per year? It's neither! It's a ONE TIME fee. Yes, with just a single payment you can own Thrive Architect on 1 website FOREVER.
Get Thrive Architect For $67 (one-time)
With this one license, you will get one year of full support and UNLIMITED updates. You will also naturally have access to all the page templates.
Oh yeah, one more thing. There is a five license pack too. Works the same way as this one except you can install Thrive Architect on five of your websites. How much does it cost though? $67 x 5 = $335, is what you would be thinking. BUT, the pack actually only costs $97! That's just $30 more than the single license, that's insane value.
Get Thrive Architect For $67 (one-time)
You can get a full refund within 30 days. No questions asked!
2. Thrive Membership
Thrive Themes is a popular brand and it has a lot of WordPress plugins and themes to offer you. Thrive Membership gives you access to all of these and of course that includes Thrive Architect as well. The membership costs $19 per month. Though, do note that you can only pay annually, there is no monthly payment option.
I would say the membership is very much worth it if you are even remotely interested in a few other of Thrive's products and also have a considerable number of websites as you can install any of the Thrive themes and plugins on a maximum of 25 websites. There are some other Thrive products that go very nicely with this one, like Thrive Theme Builder.
Thrive Themes also released an add-on to Thrive Architect that allows you to run A/B split tests without messing around with any code. It's called Thrive Optimize and with Thrive Themes Membership you can get this and all of Thrive Theme's other products included.
Click Here To Get Thrive Membership
Though, of course if you only have one website, the single license might be the more worthy option for you. However, if you have more than one website (but still not that great a number that you can justify the cost of the Thrive membership), the five pack is a no-brainer.
Thrive Architect Discount Code
You can get Thrive Architect (& all of Thrive's current and future products) at a  24% Discount by signing by for Thrive Membership. Simply click the link below and sign up using the Annual plan.
Click Here To Get Thrive Membership
Hurry Up! Limited Time Offer
Is Thrive Architect Worth it?
The answer is definitely yes, for a one-time payment only $67, you can have the best WordPress Page Builder in the world!
Get Thrive Architect For $67 (one-time)
Thrive Architect is an easy to use, powerful WordPress page builder plugin and it also has a great price tag that makes it a very economical option. The front end editor is really impressive and smooth. The marketing features are the most attractive part of it (at least for me) and they will definitely live up to your expectations.
So yeah, this is it for this review. If you are still undecided, probably just read through the features again and see if they are for you. And if you ask me about it, I would say: Hell yeah, go for Thrive Architect.
Most WordPress bloggers have to combine a ton of tools, to create a fragile system that can break with one wrong plugin upgrade.
Instead of combining, Optin-monster for leads, with Lead pages for landing pages, with ClickFunnel for sales pages, with a StudioPress theme; screw them all! Just get the Thrive Membership and you don't have to think about the rest!
Click Here To Get Thrive Membership
Read Next: