Thrive Apprentice is an amazing new course plugin Thrive Themes, that has everything you need to go from 0 to 1 with your online course!
If you're tired of Expensive Course Platforms like Udemy, Skillshare that cost a ton and takes a cut out of all your customers; Thrive Apprentice is a godsend!
In this Thrive Apprentice review, I'll dive into why it may just be the Best Online Course Platform plugin for WordPress!!
---
Get Thrive Apprentice With Thrive Membership!
You can get Thrive Apprentice (& all of Thrive's current and future products) at a  24% Discount by signing by for Thrive Membership. Simply click the link below and sign up using the Annual plan.
Click Here To Get The Thrive Membership
Hurry Up! Limited Time Offer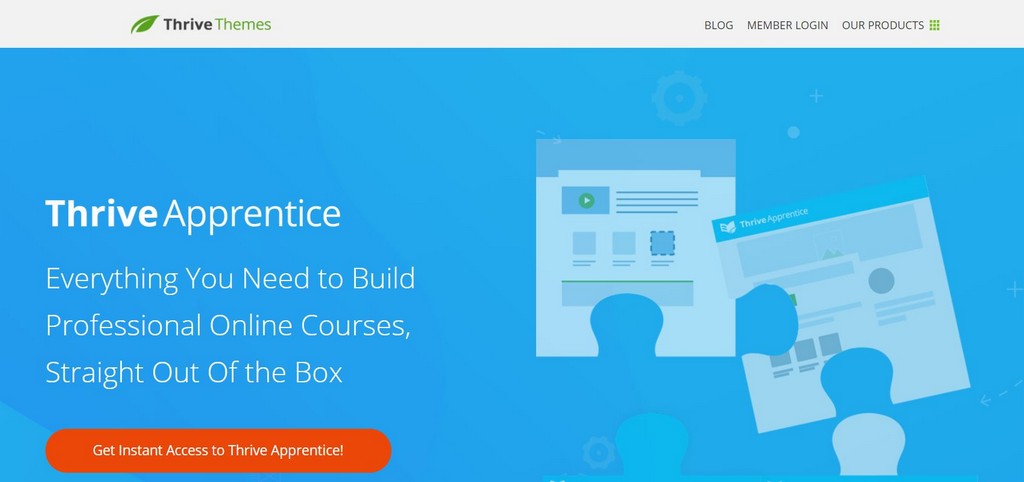 Thrive Apprentice Review
Thrive Apprentice was recently launched by Thrive Themes in early 2020 and it's honestly a game changer! It's an easy to use WordPress plugin that can be used to create online courses on your WordPress blog in a simple and easy way!
About Thrive Apprentice?
Thrive Apprentice is built and sold by Thrive Themes, the WordPress theme company that is now sooo much more than just "Themes". They're the guys behind amazing products like.
Thrive Themes's products are used by small-time bloggers just getting started with their blog to massive online businesses like Foundr Magazine (When I was the Head of SEO at Foundr I switched Foundr's comments from Disqus which was unnecessarily bloated and slow to Thrive comments)
Thrive Themes has been around since 2013 where they started by making simple WordPress themes as their names obviously suggest, however they're themes weren't just simple they've always been a conversion-focused company that built products that helped their customers improve their conversions.
Anyways, back to Thrive Apprentice, and dive into its pros and cons!
Thrive Apprentice – Pros & Cons
Click Here To Check All The Features Off Thrive Apprentice!
Pro: Ease of Use
The first thing about the Thrive Apprentice that makes it's so good especially for someone starting out is ease of use. Thrive Apprentice is simple, but that doesn't mean it lacks any important functionality!
Con: No Paid Courses without Integrations
This isn't a major con as Thrive Apprentice integrates with SendOwl that allows you to easily have paid courses as well. It's just not out of the box which had to be listed as a con.
Pro: Easy Step by Step Guide To Create the Course
Thrive Apprentice has easy to follow step-by-step setup process that makes it extremely easy for anyone to create stunning online course Lessons, Chapters and Modules with the fast-action design power of a professional web developer (without having to touch a piece of code).
Con: You can't drip content
You can't drip content to your users with the Thrive Apprentice plugin without pairing it up with a membership plugin.
Pro: Easy Drag and Drop UI
Thrive Apprentice has an easy to use drag and drop interface that makes designing and building your course genuine fun experience.
Pro: NO cut!
One of the best things of using Thrive Apprentice instead of a platform like Udemy is that you own your content, you are not beholden to the info-product devil ie Udemy who's selling your $100 for $5 cause they just wanted to.
Pro: Lead Generation
A big plus of the Thrive Apprentice course is that it makes it super easy to launch a free course on your site which is an amazing lead generation tool!
BIGGEST Pro: Price
Thrive Apprentice is insanely cheap! Honestly, I can't get over how cheap it is!
One Website @ $67
5 Websites @ $97
15 Websites @ $127
That also includes lifetime updates!
Thrive Apprentice + SendOwl Integration
One of the most important points of the understanding is that Thrive Apprentice isn't a membership plugin.
If you want to sell courses built on Thrive Apprentice, you'll also need to purchase a separate membership plugin from a 3rd party to handle payment processing, the protection of your courses and other advanced features like drip delivery.
However; Thrive does have a custom 3rd party integration with SendOwl that kind of makes all of this super easy!
I actually prefer this strategy vs using an LMS tool like Teachable or Learndash because they're honestly insanely bloated and slow and don't really look that good.
Thrive Apprentice makes building your course a breeze and their integration with SendOwl can take care of the premium courses.
The SendOwl integration not only handles course access technicalities but also gives you a payment gateway, an affiliate program feature, and EU customer VAT/MOSS management all in one.
For a small monthly fee (starting at just $15 a month!) for SendOwl you can sell multiple, payment protected Thrive Apprentice built online courses through your own WordPress website.
Thrive Apprentice vs LearnDash vs Teachable
So how does Thrive Apprentice compare vs popular course platforms like LearnDash and Teachable??
Well, for starters it's cheap!
It only costs a one time fee of $67/website to use Thrive Apprentice for life!
In comparison,
LearnDash costs $199/year/website!
Teachable costs $348/year in their basic plan and they take a 5% transaction fee on top of that WTF?
But, Price isn't the only thing Thrive Apprentice stands out in. One of the biggest change that happens when you use a tool like Thrive Apprentice is that you are taking back control of your content.
You are looking at the big gatekeepers (…. Udemy…Teachable..) and saying "NO, I'm going to build my audience on my own, I'm going to own my own content!"
Thrive Apprentice Pricing
You don't need to waste 1000s of $$ on a course platform, also you shouldn't have to pay "more" as you get more student! That's just absurd!
So how much does Thrive Apprentice cost? well, this will surprise you!
Single License @ $67
5 License Pack @ $97 ($335)
15 License Pack @ $147 ($1005)
It also includes Lifetime updates which is insane at that price!
You can get a full refund within 30 days. No questions asked!
Is Thrive Apprentice Worth it?
The answer is definitely yes and I hope my Thrive Apprentice Review helps you understand that.
For a one-time payment only $67, you can an amazing course platform! It's honestly a no brainer
Thrive Apprentice Discount Code
You can get Thrive Apprentice (& all of Thrive's current and future products) at a  24% Thrive Themes Discount by signing by for Thrive Membership. Simply click the link below and sign up using the Annual plan.
Click Here To Get The Thrive Membership
Hurry Up! Limited Time Offer
---
Why Pick The Thrive Membership Over Thrive Apprentice?
Thrive Membership from Thrive Themes only costs $19/month, which includes all the current and future themes and plugins from Thrive.
Most WordPress bloggers have to combine a ton of tools, to create a fragile system that can break with one wrong plugin upgrade.
Let's take the average cost of tools that most marketing guys like me use:
OptinMonster: $19/mo
Clickfunnels: $97/mo
Elementor Pro: $199/year (17$/mo)
Astra Theme: $59/year ($5/mo)
Learndash: $159/year ($13/mo)
Adding all these tools together you could end up paying over $150/month!
Thrive Membership can do EVERYTHING the above tools can do together and MORE! All that for only $19/month. You must be crazzzyy if you think Thrive Membership isn't worth it at that price.
You can get all of Thrive Themes's current and future products at a  24% Thrive Themes Discount by signing by for Thrive Membership. Simply click the link below and sign up using the Annual plan.
Click Here To Get The Thrive Membership
Read Next: