Thrive Themes is now a well-known name in the WordPress community. The company is perhaps most popular for being the makers of Thrive Architect, a visual website builder for WordPress. If you're looking to turn your website into an online school, however, the Thrive Themes product that will catch your attention is Thrive Apprentice.
Thrive Apprentice is an amazing new course plugin Thrive Themes, that has everything you need to go from 0 to 1 with your online course!
If you're tired of Expensive Course Platforms like Udemy, Skillshare that cost a ton and takes a cut out of all your customers; Thrive Apprentice is a godsend!
In this Thrive Apprentice review, I'll dive into why it may just be the Best Online Course Platform plugin for WordPress!!
Get Thrive Apprentice For $67 (one-time)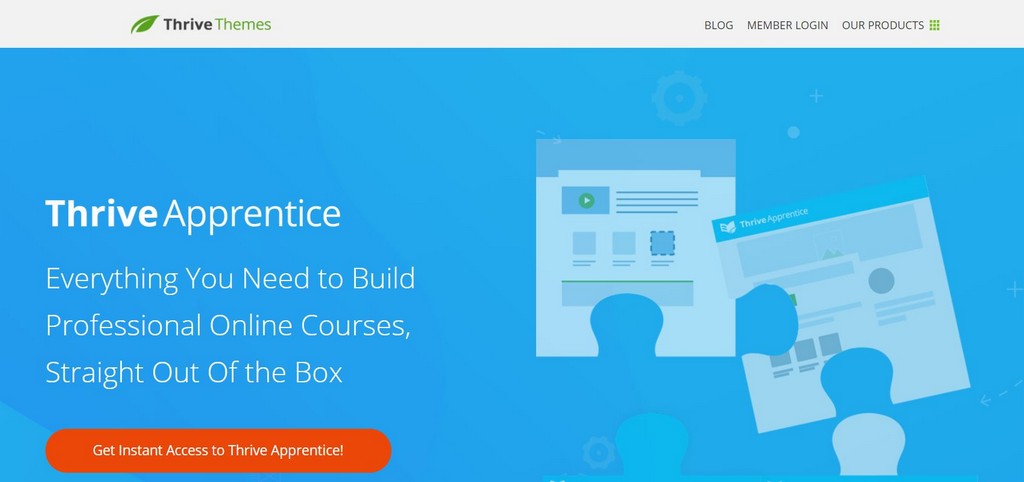 Thrive Apprentice Review
Thrive Apprentice was recently launched by Thrive Themes in early 2019 and it's honestly a game changer! It's an easy to use WordPress plugin that can be used to create online courses on your WordPress blog in a simple and easy way!
About Thrive Themes
Thrive Apprentice is a WordPress plugin from the Thrive Themes stable. The plugin transforms your WordPress dashboard into a course builder that you can use to create professional-looking online courses.
Thrive Themes has dedicated itself to creating products that make creating content for the Web a breeze. That's evident with Thrive Architect, which uses an intuitive front-end page building approach. The same focus is apparent with Thrive Apprentice. It makes creating courses on WordPress almost as simple as creating any other content on the platform.
Thrive Themes has been around since 2013 where they started by making simple WordPress themes as their names obviously suggest, however they're themes weren't just simple they've always been a conversion-focused company that built products that helped their customers improve their conversions.
Why Consider a WordPress Course Builder Plugin at All?
Thrive Apprentice is an attempt to give online educators the one tool they need to quickly create lessons and classes. There are many tools available in this category but most have their flaws.
The most popular choice for course creators are learning management systems. These can be a good solution, but many can be complex and have a steep learning curve. You may also find all your content held hostage because some learning management systems make it hard to export existing data.
Some course creators go with online education platforms that put out MOOCs or courses by individual creators. The problem with associating yourself with one of these platforms is the ungodly amount of competition on all of them. You will more likely than not have a hard time standing out among the seemingly infinite creators on those websites.
Another option that you have is the membership website solution. These let you quickly create membership areas on your website behind a registration area and then a paywall. This is a quick, often affordable solution, but not ideal. Most membership site software doesn't focus on tools required to create online courses. So you may have a way to sign members up to your online school, but the quality of your content will suffer and consequently your sales.
This is where Thrive Apprentice comes into the picture. For those who care about creating engaging online courses, Thrive Apprentice offers an intuitive drag-and-drop builder. The course lives on your own website, so you're not competing with thousands of other courses like you would on an online education platform.
In addition to all that, all your content is your own. Thrive Apprentice doesn't lock away any of your content. You can take your online course to a different platform if you want.
As you can see, Thrive Apprentice set out to be the antidote to a lot of substandard products in the learning management system niche. It's a great goal to have, but do they succeed in doing it? Let's take an in-depth look at the product to find out.
Anyways, back to Thrive Apprentice, and dive into its pros and cons!
Get Thrive Apprentice For $67 (one-time)
Thrive Apprentice – Pros & Cons
Pro: Ease of Use
The first thing about the Thrive Apprentice that makes it's so good especially for someone starting out is ease of use. Thrive Apprentice is simple, but that doesn't mean it lacks any important functionality!
Con: No Paid Courses without Integrations
This isn't a major con as Thrive Apprentice integrates with SendOwl that allows you to easily have paid courses as well. It's just not out of the box which had to be listed as a con.
Pro: Easy Step by Step Guide To Create the Course
Thrive Apprentice has easy to follow step-by-step setup process that makes it extremely easy for anyone to create stunning online course Lessons, Chapters and Modules with the fast-action design power of a professional web developer (without having to touch a piece of code).
Get Thrive Apprentice For $67 (one-time)
Con: You can't drip content
You can't drip content to your users with the Thrive Apprentice plugin without pairing it up with a membership plugin.
Pro: Easy Drag and Drop UI
Thrive Apprentice has an easy to use drag and drop interface that makes designing and building your course genuine fun experience.
Pro: NO cut!
One of the best things of using Thrive Apprentice instead of a platform like Udemy is that you own your content, you are not beholden to the info-product devil ie Udemy who's selling your $100 for $5 cause they just wanted to.
Pro: Lead Generation
A big plus of the Thrive Apprentice course is that it makes it super easy to launch a free course on your site which is an amazing lead generation tool!
BIGGEST Pro: Price
Thrive Apprentice is insanely cheap! Honestly, I can't get over how cheap it is!
One Website @ $67
5 Websites @ $97
15 Websites @ $127
That also includes lifetime updates!
Thrive Apprentice Course Builder
When you install Thrive Apprentice on your WordPress website, it shows up on your dashboard. You can start accessing its course creation features by clicking on the "Thrive Apprentice" button on your dashboard.
Creating a course with Thrive Apprentice is very simple. It starts by having you create individual lessons. You can use multimedia such as videos and images along with text. All of this can be inserted into lessons much like you would on the standard WordPress dashboard.
So now you're probably wondering what the difference is between Thrive Apprentice and creating a standard WordPress post. There are a few important differences to keep in mind.
Firstly, Thrive Apprentice brings along the powerful technology behind Thrive Architect. This is a page builder that lets you put together entire websites using a drag-and-drop approach.
Thanks to Thrive Architect being bundled with Thrive Apprentice, you can rest assured that creating lessons will be a breeze. You don't have to write any HTML or use shortcodes to include elements. Instead, putting together engaging lessons is as simple as dragging elements onto the page and inserting the content you want in there.
Another difference between using Thrive Apprentice and the standard WordPress editor is the native recognition of different course elements. On Thrive Apprentice, you can assign particular pieces of content as lessons. These lessons combine to form chapters and when you have multiple chapters they form a module.
Thrive Apprentice recognizes all these different elements that form a course. In fact, it automatically links lessons for you once you create them and set an order. You don't have to worry about going back to lessons you've created before and inserting hyperlinks to subsequent lessons like you would on the WordPress dashboard.
Another handy trick that Thrive Apprentice has up its sleeve is its course selection page. Once you've created two or more courses, you'll want a separate page to display them. This will allow students to see all your offerings and pick the course they like.
If you were on WordPress, you would have to create a page manually to display your courses. This is a process that you'll have to repeat every time you add a new course. But not on Thrive Apprentice. The plugin automatically creates a course selection page once you've created two or more courses. It automatically updates this page as you add more courses, saving you precious time in the process.
Here are some of the benefits of using Thrive Apprentice's course builder to create your online courses:
Creating lessons is simple. An intuitive drag-and-drop builder makes creating video or text courses easy.
The plugin automatically links lessons for you and dynamically generates a course selection page.
All of the content in your courses belongs to you and can easily be moved to a different platform if you want to.
The course has subscriber registration features built in so you don't need to install a separate plugin for it.
Set access restrictions for different courses based on whether someone is a subscriber or not
Easily turn your courses into lead magnets. You can collect visitors' email IDs and other information in exchange for access to your course.
Get Thrive Apprentice For $67 (one-time)
What Thrive Apprentice Doesn't Do
Before we move on, let's take a look at a few things that Thrive Apprentice does not do. Doing so will give us a better idea of what Thrive Apprentice strives to be and how it stacks up against the competition.
Firstly, Thrive Apprentice is not a learning management system. An LMS is a comprehensive solution that provides all the bells and whistles you require to keep students engaged and administrate online schools.
Here are some features that you get with learning management systems but not Thrive Apprentice:
Thrive Apprentice does not support quizzes as a format. Most major learning management systems do.
You can't hand out certificates or badges on Thrive Apprentice.
Thrive Apprentice does not let you drip-feed lessons to students. So anyone who has access to your course will be able to view all its contents all at once
There are no community-based features on Thrive Apprentice using which students enrolled in the same courses can interact with each other in an online forum.
You don't get analytics pertaining to your online school on Thrive Apprentice. So data such as enrollment numbers and course completion rates are not easily available.
Thrive Apprentice isn't a membership plugin. In some ways it's more than that and in other ways it doesn't offer features that certain membership plugins do.
For example, Thrive Apprentice doesn't let you set up detailed rules to limit access. Its registration feature only recognizes people as either a subscriber or not. But you can't categorize your members in a more nuanced way than that on Thrive Apprentice.
Membership plugins also let you automate a lot of tasks that you'll do repetitively while running a membership website. That includes things like pausing subscriptions, sending renewal reminders, and automatically offering additional features with membership upgrades. All of that isn't possible with Thrive Apprentice.
Finally, Thrive Apprentice doesn't allow you to collect payments. That's right, the plugin itself doesn't allow you to create paid courses. So if you want to use only Thrive Apprentice by itself, you will have to offer all your courses for free and at most use them as lead magnets.
Now you may be wondering if Thrive Apprentice is a wise choice given all the things it doesn't do. There are two important things to keep in mind.
Most of the things that Thrive Apprentice doesn't do, it doesn't do intentionally. The plugin favors simplicity and speed over everything else. To that end, it leaves out some fancy bells and whistles that learning management systems have which many users may not need.
More importantly, it's not like you can't have any of the aforementioned features on your online school if you use Thrive Apprentice. The plugin gives users access to a multitude of additional features using its third-party integrations. Let's take a look at what they are.
Get Thrive Apprentice For $67 (one-time)
Thrive Apprentice Integrations
Thrive Apprentice overcomes some of its own shortcomings through integrations. Here's a look at the important ones.
Thrive Apprentice SendOwl Integration
Thrive Apprentice does not have an in-built payment system. However, you can combine the plugin with SendOwl to sell premium courses.
SendOwl is a tool that creators can use to easily sell digital products to their audience. The software does most of the heavy lifting when it comes to digital selling. It is integrated with payment gateways, so accepting payments is simple. You can create conversion-optimized checkout pages with the tool. SendOwl will handle delivering your digital product once someone has purchased it.
As you can see, SendOwl is a comprehensive solution for those who want to sell things online. That includes those who want to put online courses behind a paywall. It's for this reason that Thrive Apprentice has a deep SendOwl integration. Here's how it works.
You would start, of course, by creating a course on Thrive Apprentice. Then you need to set up your SendOwl account. In order to accept payments, you'll have to connect your PayPal or Stripe through the SendOwl dashboard.
Thrive Apprentice has a tutorial within the dashboard to lead users through the entire set up. To start selling, you'll need to add a new "Product" in the SendOwl dashboard. Along with adding product details, you'll also need to design a popup checkout lightbox.
Once that's done, you're ready to start accepting payments for your online courses. All you need to do is start embedding the SendOwl purchase on different landing pages or on your website.
An added advantage of using SendOwl is that it handles calculating and collecting VAT/MOSS. The software will automatically determine which customers owe VAT and how much. It will then add the VAT for relevant customers and collect it from them. It will then generate the tax remittance documents you need to show authorities. SendOwl doing all of this legwork saves users a lot of time with paperwork.
And that's not even all of it. SendOwl can also double up as affiliate management software. You can create and configure affiliate programs for your Thrive Apprentice courses using SendOwl. Users can quickly create new affiliate programs, set commission rates, and onboard new affiliates to the program.
For a small monthly fee (starting at just $15 a month!) for SendOwl you can sell multiple, payment protected Thrive Apprentice built online courses through your own WordPress website.
Get Thrive Apprentice For $67 (one-time)
Thrive Apprentice Membership Plugin Integrations
We saw earlier how Thrive Apprentice is not a membership plugin. It doesn't handle things like renewal reminders and community forums. If you want those features for your online school, you can use one of the membership plugins that Thrive Apprentice integrated with.
MemberPress, Member Mouse, and Wishlist Member are some of the plugins that Thrive Apprentice integrates with. Each of these let you turn your courses into full-blown membership websites with subscriptions and renewal reminders.
Get Thrive Apprentice For $67 (one-time)
Thrive Apprentice vs LearnDash
A lot of people who have wanted to turn their WordPress website into an online school have had to make the choice between Thrive Apprentice and LearnDash. The reason these two products get compared so often is because they're both solutions exclusive to WordPress. So let's take a moment to understand what makes these products so different.
So how does Thrive Apprentice compare vs WordPress LMS platforms like LearnDash?
Well, for starters it's cheap!
It only costs a one time fee of $67/website to use Thrive Apprentice for life!
In comparison,
LearnDash costs $199/year/website!
But, Price isn't the only thing Thrive Apprentice stands out in. One of the biggest change that happens when you use a tool like Thrive Apprentice is that you are taking back control of your content.
You are looking at the big gatekeepers (…. Udemy…Teachable..) and saying "NO, I'm going to build my audience on my own, I'm going to own my own content!"
Get Thrive Apprentice For $67 (one-time)
From what we've seen so far, Thrive Apprentice focuses on easy course creation. If you want to quickly create lessons or courses on your WordPress website, Thrive Apprentice has you covered. It uses some basic integrations to let you sell courses or set up a membership website.
LearnDash, on the other hand, is a full-blown learning management system built into a WordPress plugin. Of course it lets you create online courses. Along with that, it also offers a ton of features to marketing and administrate your courses.
As mentioned earlier, Thrive Apprentice is not a learning management system. Following are some of the things you can do using LearnDash but not with Thrive Apprentice:
Drip-feed lessons to students on a set schedule
Reward learners with points, certificates, and badges
Create engagement triggers. These are interactions you have with students based on their behavior in your courses. For example, you can automatically trigger an email to a student who hasn't taken a lesson in a while.
Create groups of students and assign a leader to manage the progress of group members.
Develop quizzes and create certificates dynamically based on quiz results
Get detailed reports on completion rates, quiz performance, etc.
It's clear that LearnDash has a lot more features than Thrive Apprentice. But this doesn't automatically mean that LearnDash is the right choice for you.
That decision will come down to what your goals are with your online courses. If you want to create a full-blown online school with multiple admins and want to keep students engaged through multiple courses, then LearnDash is the right choice. On the other hand, if you prefer a simple way to create courses on your WordPress website, then you may want to go with Thrive Apprentice.
Get Thrive Apprentice For $67 (one-time)
Thrive Apprentice Pricing
You don't need to waste 1000s of $$ on a course platform, also you shouldn't have to pay "more" as you get more student! That's just absurd!
Every installation of Thrive Apprentice comes with the following:
All features
Unlimited updates
1 year of support
What sets the different packages apart is the number of websites on which you can install Thrive Apprentice. So how much does Thrive Apprentice cost? well, this will surprise you!
Single License @ $67
5 License Pack @ $97 ($335)
15 License Pack @ $147 ($1005)
It also includes Lifetime updates which is insane at that price! Those are the one-time prices you'll have to pay for Thrive Apprentice.
You can get a full refund within 30 days. No questions asked!
If you want to sell courses that you create with it, you'll need a SendOwl subscription. That costs an additional $15 every month. 
Since we compared Thrive Apprentice's features with LearnDash, let's also compare them in terms of pricing.
A single-website LearnDash license will run you $159. That goes to $189 for up to ten websites and $329 for 25 site licenses.
As you can see, Thrive Apprentice is way more conservatively priced than LearnDash. The latter has the more robust feature set.
Get Thrive Apprentice For $67 (one-time)
Is Thrive Apprentice Worth it?
The answer is definitely yes and I hope my Thrive Apprentice Review helps you understand that.
Thrive Apprentice makes a great case itself as a simple course creator for WordPress users. It is a great starting point for anyone trying to dive into the world of online education. 
This WordPress plugin doesn't come with all the bells and whistles that you see in learning management systems. The goal is to lower the barrier for entry to create courses online without overwhelming users with features. 
For a one-time payment only $67, you can an amazing course platform! It's honestly a no brainer
Get Thrive Apprentice For $67 (one-time)
Thrive Apprentice Discount Code
You can get Thrive Apprentice (& all of Thrive's current and future products) at a  24% Thrive Themes Discount by signing by for Thrive Membership. Simply click the link below and sign up using the Annual plan.
Click Here To Get The Thrive Membership
Hurry Up! Limited Time Offer
Why Pick The Thrive Membership Over Thrive Apprentice?
Thrive Membership from Thrive Themes only costs $19/month, which includes all the current and future themes and plugins from Thrive.
Most WordPress bloggers have to combine a ton of tools, to create a fragile system that can break with one wrong plugin upgrade.
Let's take the average cost of tools that most marketing guys like me use:
OptinMonster: $19/mo
Clickfunnels: $97/mo
Elementor Pro: $199/year (17$/mo)
Astra Theme: $59/year ($5/mo)
Learndash: $159/year ($13/mo)
Adding all these tools together you could end up paying over $150/month!
Thrive Membership can do EVERYTHING the above tools can do together and MORE! All that for only $19/month. You must be crazzzyy if you think Thrive Membership isn't worth it at that price.
You can get all of Thrive Themes's current and future products at a  24% Thrive Themes Discount by signing by for Thrive Membership. Simply click the link below and sign up using the Annual plan.
Click Here To Get The Thrive Membership
Read Next: