Teachable and Udemy are two of the biggest platforms currently when it comes to online learning. Both these platforms make the process of creating an online course and managing it extremely easy and convenient. If you're looking to create your own online course, you are probably wondering which of these platforms would be the right one for you.
While both of them are excellent platforms for all kinds of online courses, there are some differences between the two that you should know in order to make an informed choice and chose the platform that is the best for your online course!
In this article, we're going to take a look at the major differences between Teachable and Udemy. We're not only going to cover the small differences such as course hosting, lesson features, use of custom domains but we're also going to take an overall look at the platforms.

Teachable vs Udemy
Creating an online course can be a great way of earning some extra cash in this economy and the industry is booming as more people turn to the internet to learn new skills. We hope this article is helpful for people looking to create online courses and make some money while helping people master new skills and techniques all around the world!
In order to make an informed decision between Teachable vs Udemy when it comes to picking the best platform for your online course, you have to take a look at the differences between the features they offer. You can find some of the differences between the two major online learning platforms provided below!
Click Here To Get Teachable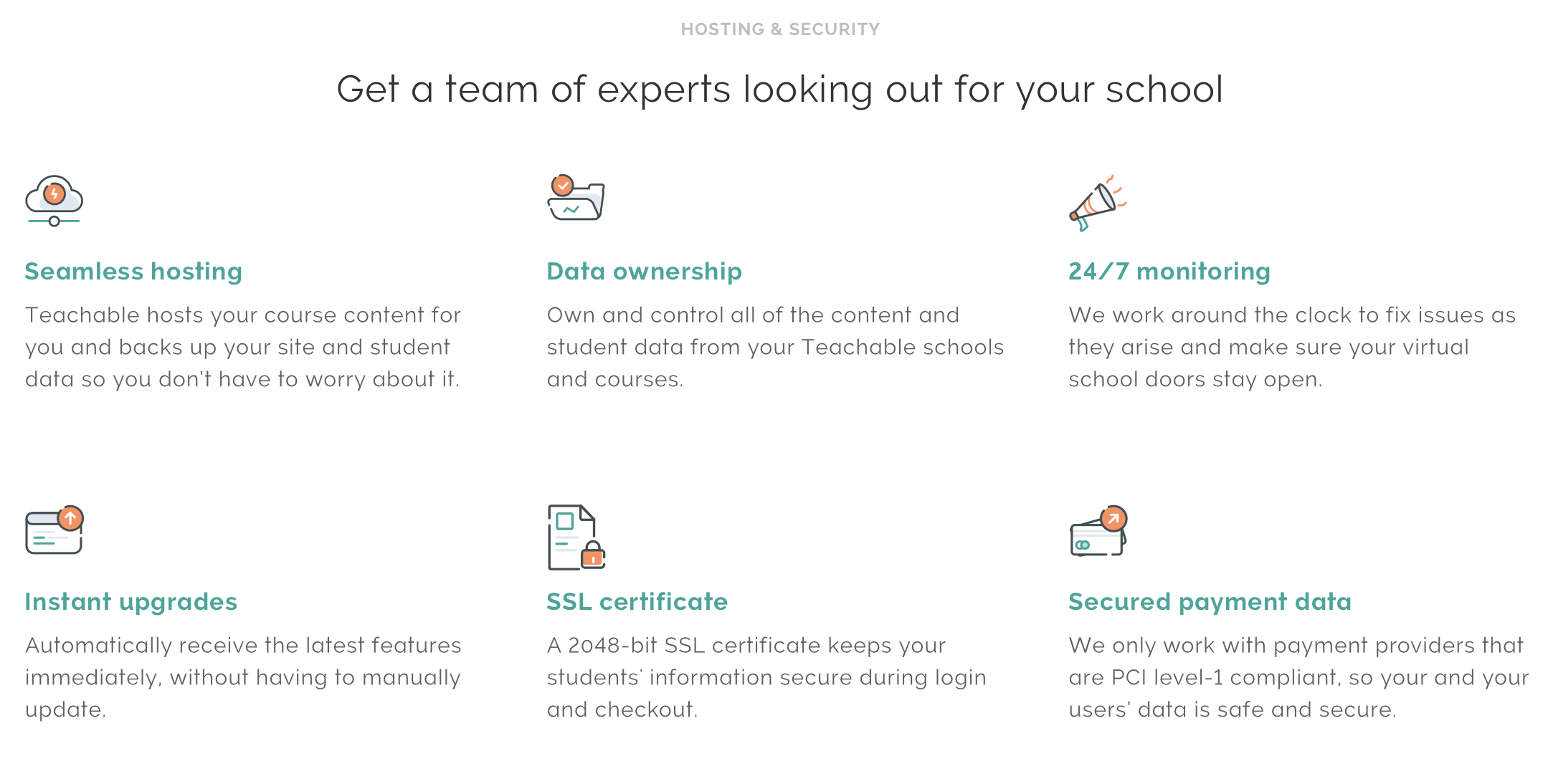 1. Platform Philosophy
One of the major differences between Teachable and Udemy is the structure of the platform. Udemy is basically a market place for online courses while Teachable is a service that allows you to create your own website where only your particular course is offered.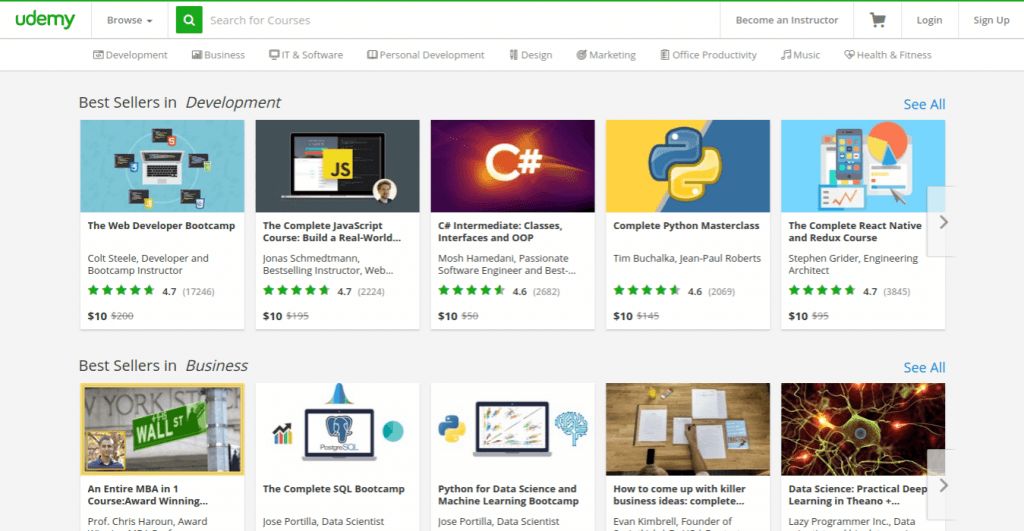 This means that you will have to compete with other course creators on Udemy while in the case of Teachable, you get to keep complete control over your course. Therefore, Teachable is more suitable for you if you want to retain complete control over your online course.
2. Course Creation Dashboard
On both Udemy and Teachable, you'll find a dashboard that helps you create and manage your online course. However, the dashboard of Udemy is much more limited compared to Teachable.
Udemy's dashboard is not flexible and you have to stick to the standard dashboard. Teachable provides a much more extensive dashboard that can be customized as per your liking. If you want to have a custom dashboard, Teachable's dashboard will impress you much more than the dashboard offered by Udemy.
3. Analytics
It normally takes a lot of effort to create an online course and it is very important for the courses to be successful for the course creators. Both Udemy and Teachable allow you to track how successful your online course is by providing you insights and analytics about the sales of your course.
Udemy offers a decent analytics feature where you can check your average rating and the amount of revenue your course is generation. You can also get information on the traffic sources through which your sales are generated.
As for Teachable, you get much more detailed analytics with reports of revenue and the references that are used by students to get to your course. You can also keep track of student performance and get other stats such as which videos are performing particularly well and where the students are dropping off which can be used to further optimize the course.
Lastly, one of the major differences in analytics between the two is that you get to integrate a Google Tag or Facebook Pixel only in Teachable and not Udemy which can help you figure out more important stats and figures for your online course.
4. Data Export
Udemy prohibits the exporting of any data regarding your online course's performance while Teachable allows you to see and export information about all your customers, right down to the IP addresses that are used to sign in.
5. Sales Page Customization
Udemy has a sales page template that you can modify to a certain extent to create the sales page for your course. However, the same template has to be used by everyone else on the platform which can make it hard for you to stand out. While the sales page template is not necessarily bad looking, you can't really do a lot with it since the platform only allows for limited customization such as modifying the text, adding a sales video, and adding a custom cover picture.
As for Teachable, you have full control and get to design exactly how your sales page will look. It is also possible to import custom code and create your own design on Teachable. In case you're not tech-savvy enough to create your own custom code, you can make use of the free backend builder that comes with the platform.
Teachable also allows you to create a customized checkout page and a customized thank you page that'll be visible to the students that enrol in your course. This is a great opportunity to include upsells or create a custom thank you note for your students.
6. Branding
As you can probably guess, Udemy doesn't allow you to have custom branding on its platform. Your course is marketed as an Udemy course which means you cannot add your logos, colours, fonts, and favicons.
Teachable allows you to have your own website look and feel and also lets you use your own domain names. In general, Teachable is much better than Udemy if you're looking to build a brand through your online course.
7. Extra Pages
One of the best ways of adding extra value to your online course is creating extra pages that can be used to provide more information regarding the subject topic. It also helps when it comes to marketing your online course. Some examples of extra pages on online courses include blog posts, free guides, pages like terms and conditions, FAQs and others.
On Udemy, you're not allowed to create extra pages to support your course. On Teachable, you can add pages to your online courses such as FAQs, terms and conditions, and even blog posts! Blogs are a great way of getting your course discovered and creating blogs is really easy using a third party CMS on Teachable.
8. Lesson Features and Comments
Both Udemy and Teachable allow you to add lesson features such as files, code, text blocks, and videos. When it comes to comments, both the platforms allow you to enable students to comment on your course too but Teachable gives you the option of approving a comment before it is published which is not the case with Udemy.
9. Approval Process
As mentioned above in this article, Udemy is a marketplace for online courses. This means they have to ensure that all courses offered on their platform conform to standards that are set by them. This means you have to go through a lengthy and annoying approval process if you want to publish your online course on Udemy.
Teachable allows to you publish your course without needing approval from anyone. This gives you more freedom when it comes to creating your online courses as you don't have to wait a long time to get your online course approved.
Of course, you should strive to provide the best standard when it comes to your online courses on both platforms but Udemy makes it a bit difficult and can make you jump through hoops when it comes to publishing your online course.
10. Multiple Course Instructors
Sometimes, you want to collaborate with other people when it comes to online courses to provide extra value to your students. Both Udemy and Teachable allow you to have multiple instructors on the course and also provide fair revenue sharing options.
11. Compatibility on multiple devices
Both Udemy and Teachable allow your online courses to be viewed from all types of devices including laptops, cellphones, and tablets. Cross-compatibility is very important to increase the reach of your online course as it is very rare that people consume content and study online on just one device.
12. Certificates
You have the option of granting certificates to students who complete your course on both the platforms. However, Teachable takes it to the next level by allowing you to create a custom certificate that can be designed exactly as per your liking which further enhances your branding.
13. Course Pricing
On Udemy, you are limited to charging between $19.99 to $199.99 for any online course you create on their platform. In addition to that, Udemy enforces a revenue-sharing policy due to which you effectively only get 50% of the revenue while the platform gets to keep the rest.
On Teachable, you can set your own price without any limitation. Other than paying the standard fees for accepting payments, you don't have to share the revenue with anyone else. Teachable also allows you to accept payments over a number of payment channels and subscription options which make the platform much better in terms of course pricing.
14. Pixel Integration
Facebook Pixel is an important tool in the digital marketing arsenal as it allows you to create retargeting ads to convert users who visit your website but left without making a purchase.
Teachable allows you to integrate a Facebook Pixel by using the custom code feature but Udemy, unfortunately, does not allow you to integrate a Facebook Pixel into your course.
15. Discounts
Both Udemy and Teachable allow you to provide discount codes to your students. However, Udemy will usually automatically apply the discounts on your courses without your explicit permission. This means that your course will often be offered at prices lower than what you ideally want.
On Teachable, you can offer custom discount codes and create restrictions such as when those codes can be used and the number of times they can be used. This allows you to have more control over the discounts that you want to offer on your course.
16. Affiliate
Udemy comes with its own affiliate program that you cannot edit or modify. On Teachable, it is possible to create your custom affiliate program with commission rates that you decide. It also allows you to see reports and manage everything right from the dashboard itself!
17. Custom Domain
On Udemy, you cannot use a custom domain for your online course and have to offer it under their domain name. Teachable allows you to use your own domain which significantly helps when it comes to building an online brand and business!
18. Email Marketing
Both the platforms provide limited tools when it comes to marketing but Teachable is still a bit better than Udemy in this regard. Udemy has a messenger system built-in but you cannot promote your course on the messenger system. As for Teachable, you get a basic email marketing tool that you can use but if you're really serious about email marketing for your online course, it is better to use a third-party power email marketing tool that can help you market your course better.
19. Drip Content
Drip content refers to additional content that you can release to provide even more value to your students. It can be compared to DLC in the case of video games. While Teachable allows you to publish drip content, Udemy does not provide that feature.
20. Integrations
If you're serious about creating an online course, you will probably use a lot of other tools in addition to the platform used to publish your online course. On Udemy, you only have the option of integrating Google Analytics.
With Teachable, you can integrate several tools such as Google Analytics, Facebook Pixel, and literally thousands of other apps. In terms of integration, Teachable is a far better option than Udemy.
21. Hosting
Both Udemy and Teachable allow you to host your online course on their servers so you don't have to use external hosting. Udemy allows you to host your course on their website for free while Teachable offers plans that come with free hosting included.
22. SSL
Since Udemy is an established online marketplace for courses, you automatically get the benefits of an SSL certificate. On Teachable, you have an option to enable SSL which is fairly easy to set up and comes free of cost.
In case you don't what SSL means, it is an internet protocol that allows you to securely accept credit card transactions and adds an extra layer of validity which verifies that your online course is secure enough to accept payments and handle banking information.
Udemy vs Teachable: Pricing
Now that we have understood the differences in the features of the two platforms, let's take a look at the different pricing options when it comes to Udemy and Teachable:
On Udemy, you can be an instructor without the need to pay anything! However, as with most things in life, there's a catch. If you want to sell an online course on Udemy, you have to sign up for a Premium Instructor application. If you become a Premium Instructor on Udemy, you have to agree to a revenue-sharing policy with Udemy which states that 50% of any revenue you make on the platform goes to them!
Teachable comes with a tiered pricing system and also offers a free plan which is excellent for testing the platform. As of date, the platform offers three plans that range from $29 per month to $399 per month. All of them have different features and you can choose a plan depending on your particular needs. While you have to pay upfront when it comes to Teachable, you don't have to agree to share your revenue with the platform.
Click Here To Get Teachable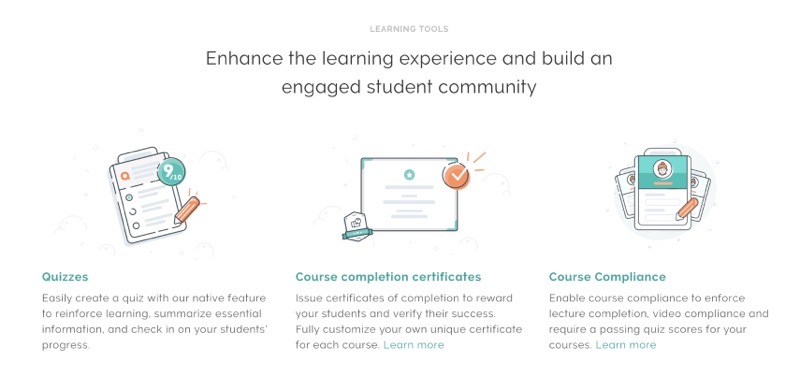 Udemy vs Teachable: Marketing
As Udemy is a marketplace for online courses, the platform helps in marketing your course. However, Udemy usually promotes only the courses that do really well in terms of sales.
You can still market your courses yourself and redirect people to the direct URL of your course. If a student signs up for your course after coming directly to your URL, you don't have to share the revenue with the platform. However, in most cases, your revenue is still lowered as Udemy can often apply discount codes automatically.
With Teachable, you have to be responsible for your own marketing and handle all the marketing activities such as managing sales funnels and lead generation. While you have to put in more effort when it comes to marketing on Teachable, you still get to retain 100% of the revenue that your online course generates.
Udemy vs Teachable: Winner
As clearly demonstrated in this article, both Udemy and Teachable are great platforms for selling online courses but each of them has a different approach.
Udemy is a more integrated solution where you essentially become a part of the platform and have to adhere to their rules and regulations while Teachable is more of a solution that helps you create an online course that you completely own.
If you're selling your online course on Udemy, you have to give up 50% of the revenue you make as you get to enjoy the benefits of their platform. On Teachable, you don't have to share any revenue but you have to be responsible for a lot of other things such as marketing.
At the end of the day, if you are willing to put in a bit of extra effort, Teachable is a much better platform and gives you more control over your online course!
Read Next:
Best JavaScript Courses Reddit