The online learning industry has seen massive growth over the last decade and you can find a large number of robust ready-to-go platforms today that can help you in creating, managing, and selling your online courses. These platforms come with everything you might need regarding online courses such as hosting, course creation, website building, marketing, and much more.
Teachable and Thinkific are two of the best online learning platforms currently. However, since both of them offer very similar features, it is pretty common to wonder which one of them would be the best solution for you if you're getting started with online courses.
If you are a SaaS company or a startup go with Thinkific
If you are a solo creator launching courses use Teachable
Teachable vs Thinkific
In this in-depth review, I've compared both the platforms in terms of the features they offer, the design and customization tools they come with, their pricing, and more. Keep reading to find out everything you need to know about Teachable and Thinkific and to figure out which one would be the best fit for your needs!
About Teachable
Teachable is a solid no-nonsense platform for creating and selling online courses. The interface is really clean and the platform is super easy to understand and navigate through. In my opinion, Teachable is best for video-driven learning content but it also shines in other areas and comes with tools that help in marketing, selling, and building your courses such as the drag-and-drop website builder and customizable sales pages.
Being one of the biggest players in the online courses platform, Teachable comes with all the standard features that you would expect from an online course platform such as Quizzes, Certificates, Student feedback, etc. Teachable plans start from $29 per month for the basic plan and go up to $249 per month for the business plan.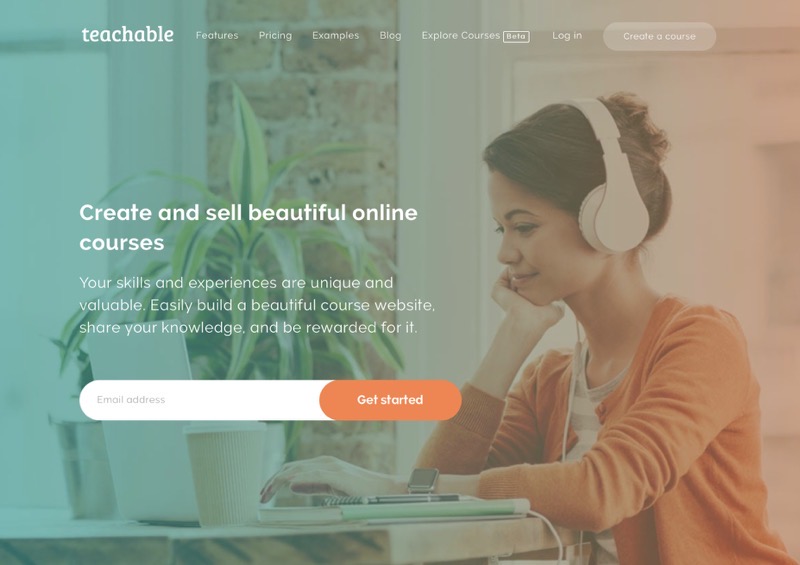 About Thinkific
Thinkific is also a pretty well-established platform for creating and selling online courses. It comes with tools and features that help you build your online courses such as a drag-and-drop builder, free hosting, custom HTML and CSS, and more. It also comes with all the standard marketing and selling tools you might need including integrations with payment gateways, email marketing tools, affiliate marketing features, etc.
Overall, even though Thinkific has a huge userbase with 40,000+ course creators using the platform, it is still considered to be best used for a niche audience of entrepreneurs and small businesses instead of big companies looking to create complex online courses (but more on this later). Thinkific offers a free plan that allows you to host up to 3 courses with some limited features and its paid plans start from $49 per month and go up to $499 per month.
Click Here To Try Thinkific For Free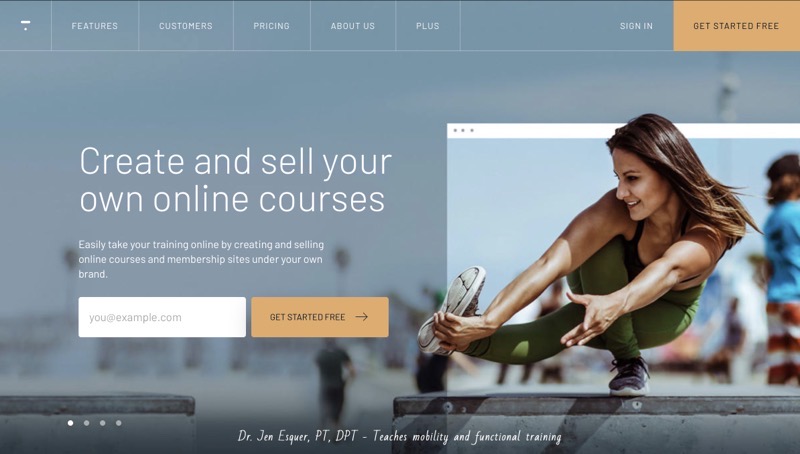 Teachable vs Thinkific: Overview
Teachable and Thinkific are both pretty great platforms for creating online courses but they differ a little bit when it comes to some specific aspects. For example, while both of them are very easy to use, website design and customization is better on Thinkific but when it comes to marketing and sales tools then Teachable is a much better option.
With all that being said, let's take a look at both the platforms in a much more detailed manner in terms of course creation and engagement features, website design features and customization tools, sales and marketing features, customer support, and pricing.
Teachable vs Thinkific: Course Creation and Student Engagement
Naturally, the core feature of any online learning platform is course creation and student engagement. While both Teachable and Thinkific come with great features that help in creating courses and engaging students, there are some differences between the two. I've covered the differences more in-depth below but here's a quick overview:
The Teachable course builder is more flexible than Thinkific. It also comes with a native iOS app for students while Thinkific doesn't. Teachable's course reporting tools are also a tad bit more extensive than the tools you'll find in Thinkific.
The main advantage of Thinkific over Teachable when it comes to course creation and student engagement is that it comes with some niche features such as advanced quizzes, assignments and surveys, communities, groups, etc.
Overall, both of them are pretty good at their core functionality.
Now that you have a brief idea of the differences, let's take a look at them more in-depth:
1. Uploading and Structuring your course
Teachable and Thinkific both allow you to upload different types of files to your courses such as video, audio, text, pdf, other multimedia content types, etc. However, it is worth noting that Thinkific allows you to load captivate and storyline files to your courses too while Teachable doesn't.
Both the platforms also allow you to bulk upload your content and then organize them using a drag and drop interface. Teachable's drag-and-drop organizer is just a bit better than Thinkific as it allows you to set different settings for each individual lesson from the uploading interface itself. Teachable is also a bit more flexible when it comes to structuring your lessons and allows you to easily add different types of files in a lesson while the same cannot be said about Thinkific.
Lastly, Teachable allows you to import content from cloud hosting services like Dropbox or Google Drive which is usually much smoother than uploading them directly from your computer.
Overall, in terms of building courses, Teachable has a slight edge over Thinkific with a better course builder.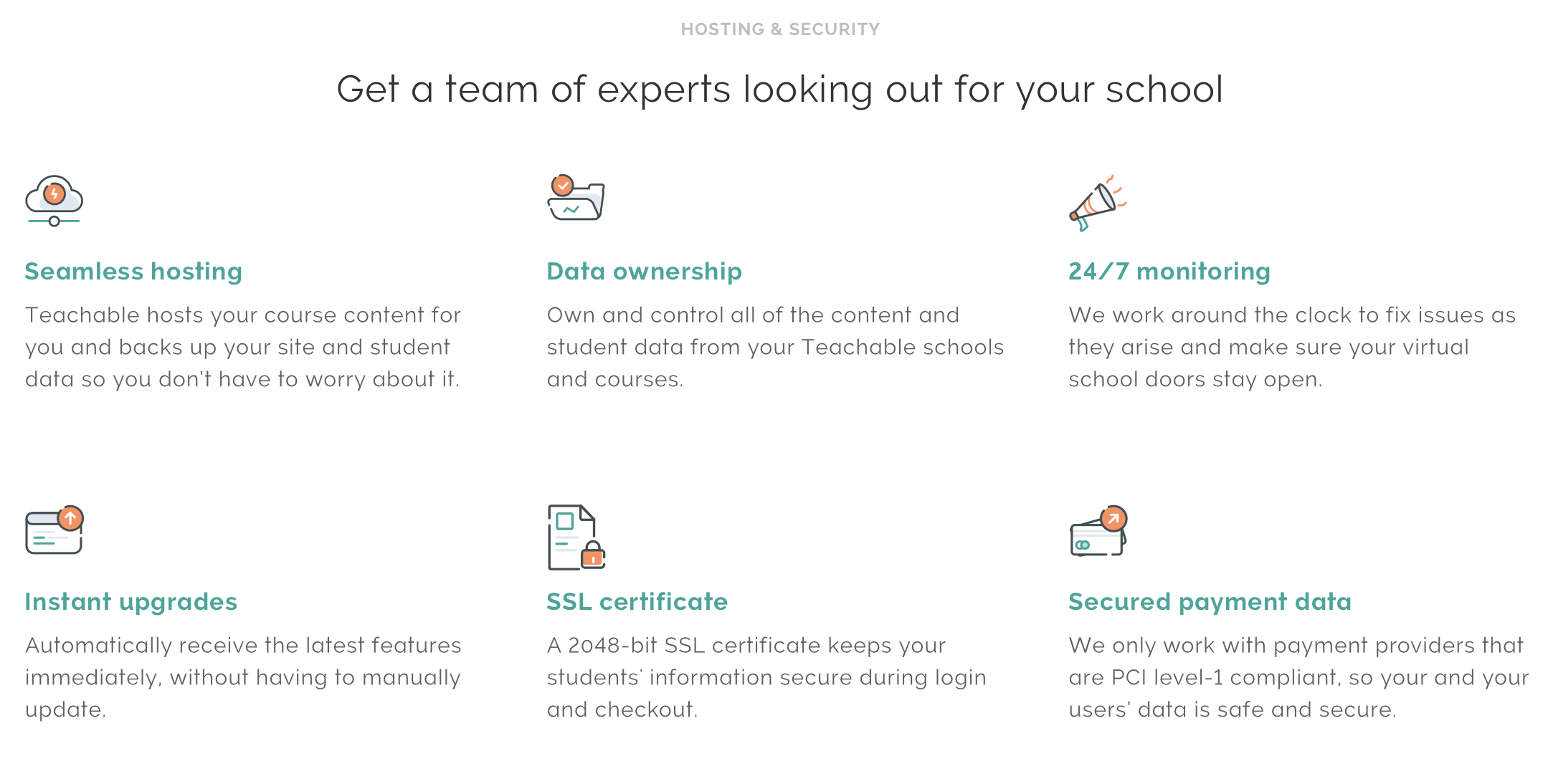 2. Course delivery system
The course delivery system is also pretty good on both platforms. While Thinkific used to lag behind Teachable in this aspect, they've updated their course player and gotten it to a point where it can easily compete with Teachable.
Both the content delivery systems are professional and provide a great experience to students. One advantage that Teachable has over Thinkific in this aspect is that it has a native iOS app that allows for certain features like offline viewing of your lessons.
Lastly, Teachable also allows you to create standalone content and restrict access based on the user's membership status which is important if you want to deliver extra content to some members who pay more, making Teachable is better if you want to create a membership site.
3. Course Discussion
Both Teachable and Thinkific allow students to post comments, ask questions, and interact with other students on courses. The Teachable comments system is slightly better than Thinkific as it allows comments to be embedded into individual lectures while Thinkific has a fixed discussion area where all comments are bundled together. Thinkific is also experimenting with a community feature that creates a social media like experience for students to discuss the course better but it's still in its early stages as of now.
4. Assignments and Quizzes
In terms of providing assignments and quizzes, Thinkific is significantly better than Teachable. This is due to a number of reasons – for example, while you can only add normal text to your quiz questions in Teachable, you can add images and videos to your quizzes in Thinkific. You can also randomize your question banks, add additional explanations, import questions, and find a native assignments feature in Thinkific which gives it an edge over Teachable when it comes to creating quizzes and providing assignments.
5. Certification
Creating a course certificate is simple on Teachable – all you have to do is create a certificate within the platform itself from a template or from scratch, it is then linked to a course and then sent automatically to any student who completes the course.
On Thinkific, the certificates are handled via a third-party service called Accredible (the integration comes free of cost but only the Pro or Business plan). While Accredible is a great software and has a lot of things going for it, some people might want the platform itself to handle the certification process instead of relying on a third-party integration.
6. Content dripping
Both Thinkific and Teachable allow you to drip content to your students. On Teachable students are notified automatically via email once new content is available for them but this feature is missing in Thinkific.
7. Analytics and Reporting
In terms of analytics and reporting, Teachable is a bit more extensive than Thinkific. On Teachable, you can find a wide range of reports such as Lecture Completion report, Leaderboards report, Video Stats report, etc while Thinkific only provides limited reports which do not provide as detailed data as Teachable does.

Teachable vs Thinkific: Website Design and Customization
Site building and customization are considered to be core features of any online learning platform these days. In terms of website design and customization, Thinkific is much better when compared to Teachable as it comes with powerful features when it comes to building sites and customizing them. The differences are explored more in-depth below but here's a quick overview:
Both platforms offer free hosting and come with an SSL certificate. The security and maintenance of the site are taken care of by the platform itself and both of them allow you to link your custom domain to the site.
Both platforms also allow you to completely customize the site and allow you to offer your entire site in different languages too.
However, Thinkific offers much better features when it comes to customization and design.
Let's take a look at some of the website design and customization features more in-depth:
1. Themes
When it comes to themes, the two platforms follow different approaches. While Thinkific has an entire library for different themes that you can use and customize to your needs, Teachable comes with a default template that has to be used for every course created on the platform. You can still customize your Teachable site by adding custom logos, fonts, and colors but that's pretty much it. Even though the template offered by Teachable is pretty clean and effective, the limited customization might be off-putting for a lot of people.
Lastly, Thinkfiic allows you to also change the backend code and import custom themes which makes it much more flexible in terms of customization than Teachable.
2. Building Pages
While you can build pages using a drag-and-drop live editor in both Teachable and Thinkific, the Teachable drag-and-drop is pretty limited. The Thinkific editor offers a lot more different types of widgets that you can add to your page while the Teachable editor comes with limited widgets. The widgets are also more customizable in Thinkific when compared to Teachable.
So, it is pretty clear that Thinkific again beats Teachable when it comes to building pages. However, the Teachable page builder is a pretty new feature and it might be improved in the future.
3. Branding
Once your online course is live, you ideally do not want the Teachable or Thinkific brand to be a part of the site. While both the platforms allow you to create a course that is white-labeled, there's a slight issue in Teachable. The issue is that even when you connect a custom domain to your online course, the URL for the sign-up, login, and checkout pages will have "teachable" as a part of it. Even though this is a minor issue, it might be a problem for people who want every single detail to be perfect.
Teachable vs Thinkific: Sales and Marketing
Sales and Marketing tools are important when it comes to selling and promoting your online courses. Both the platforms have some decent features to optimize the sales and marketing for your online courses but Teachable is much more optimized than Thinkific when it comes to this particular aspect. Here's a quick overview of the sales and marketing features before we explore them more in-depth:
Teachable's checkout process is a very simple and optimized 1-step process whereas Thinkific has a 2-step process where the student has to first create an account and then make the payment for the course. The 1-step process is much better when it comes to the conversion rate for your online course.
Teachable also supports Apple Pay and Google Pay natively, allows you to collect EU VAT, and offers a much better sales and marketing experience in general.
As for Thinkfiic, the only upside it has over Teachable in this aspect is that you can create more flexible pricing and other features like up-selling and instant payments.
Here's a look at the sales and marketing features of the two platforms in detail:
1. Checkout and Up-selling
The checkout process is different on the two platforms, as mentioned above. Teachable follows a 1-step checkout where the user can buy your course in a single step while Thinkific has a 2-step checkout which can affect the conversion rate a lot.
Both the platforms also allow you to customize the checkout pages and add things like testimonials, guarantees, etc. You can also add 1-click upsells to the checkout pages on both the platforms but Thinkific allows you to offer different upsells based on the pricing plan chosen by the student while Teachable doesn't and only allows you to add course-specific upsells.
Overall, Thinkific's checkout and up-selling features are better than Teachable in general.
2. Pricing and Subscriptions for your courses
When it comes to pricing, both platforms allow you to create a wide range of pricing options for your courses. You can use a one-time payment model, subscription model, or even a payment plan model on both of them. You can also sell different courses together in a bundle on both platforms. However, there are some differences when it comes to pricing and subscriptions on Teachable and Thinkific.
For example, you can set different pricing for different currencies on Teachable while you can only use a single currency for your courses on Thinkific. On the other hand, Thinkific allows you to offer a free trial period for your courses and also the option for charging a small setup fee for your subscriptions, these features are not natively found on Teachable and you'll have to mess around with a few third-party integrations to get it done.
3. Payouts and processing payments
The payouts and processing of payments are pretty different on Teachable and Thinkific. On Thinkific, it is pretty simple – you can accept payments using either Stripe or Paypal and the money goes directly to your account instantly. However, you're responsible for handling all payments related to your affiliates.
On Teachable, you have two options – you can use their own in-built payment gateway or use a third-party gateway like Stripe or Paypal (only on Professional and Business Plans). If you use a third-party payment gateway, the payments are transferred instantly to your account.
However, things are a bit different if you use Teachable's inbuilt payment gateway.
If you use the inbuilt payment gateway in Teachable, you can get the money instantly transferred to your account only if you're located in the US or Canada. If you're located in other countries, you'll get all the payments for the last 30 days together on the 1st of each month.
However, there are also some advantages of using the Teachable in-built payment gateway. For example, even if PayPal and Stripe are not supported in your country, you can still use the gateway to accept credit card payments.
You also have the support of Apple Pay and Google Pay and a dedicated service called BackOffice which, after charging a 2% fee, handles affiliate payments automatically and also comes with a taxation system that helps you with compliance.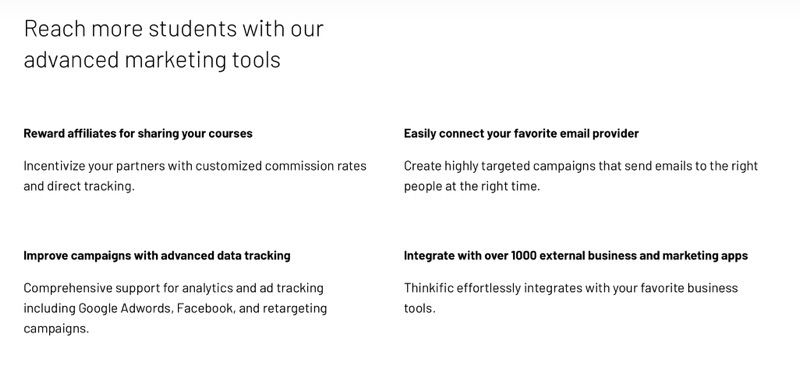 4. Affiliate marketing tools
Both the platforms come with affiliate marketing tools and you can set a custom commission rate for your affiliates. However, Teachable has some features that make it better when it comes to affiliate marketing such as setting a custom cookie period for your affiliates and allowing you to use affiliate tools even if your landing pages are not created on their platform. Lastly, Teachable allows you to pay your affiliates automatically via the BackOffice service.
5. Integrations
Both platforms allow you to integrate with a lot of different third-party marketing tools like Facebook Pixel, Google Analytics, Deadline Funnel, etc. Both of them also feature Zapier integration which allows you to connect with thousands of third-party apps. Popular email marketing tools such as ConvertKit and MailChimp are also easy to integrate with both platforms.
Teachable vs Thinkific: Customer Support
In general, both Teachable and Thinkific offer a decent level of customer support and you can expect to get your issues resolved pretty quickly. However, Thinkific does not provide any real-time support channels and the only way to get customer support on Thinkific is via email. Teachable provides real-time support but only on higher plans.
Additionally, both platforms have a pretty huge knowledge base where you can find a number of self-help and how-to articles that can help you troubleshoot any issues that you might face on the platforms yourself. Both platforms also offer training courses that help you create and market your online courses better which can be useful if you're just getting started with online courses.
Thinkific vs Teachable: Pricing
Both platforms offer a free plan and have three tiers of paid plans. While the free plans provided on both the platforms are great for getting a feel of the site, the high fees charged for selling your courses are not really worth it and I would highly recommend getting a paid plan if you're serious about creating an online course or a school.
Here's a quick overview of the pricing in both the platforms:
Teachable Pricing Plans
Teachable is available in 4 different plans:
Free – Test-drive Teachable's core feature set for free.
BASIC – Great to Create your first online course
Professional – Teachable's most popular plan
Business – Most comprehensive plan of Teachable
Basic
Unlimited students
5% transaction fees
Instant payouts
2 admin-level users
Product support
Course creator training
Custom domain support
Coupon codes
Drip course content
Integrated affiliate marketing
Integrated email marketing
Third-party integrations
Price: $39/month
Professional
Everything in Basic +
No transaction fees
5 admin-level users
Priority product support
Graded quizzes
Advanced theme customization
Advanced reports
Unbranded website
Course completion certificates
Course compliance
Price: $99/month
Business
Everything in Pro +
100 admin-level users
Priority product support
Manual student imports
Bulk student enrollments
Custom user roles
Price: $499/month
Included in Teachable Pricing plans
Unlimited video
Unlimited courses
Unlimited hosting
Integrated payment processing
Student management
Lecture comments
Basic quizzes
No fees on free courses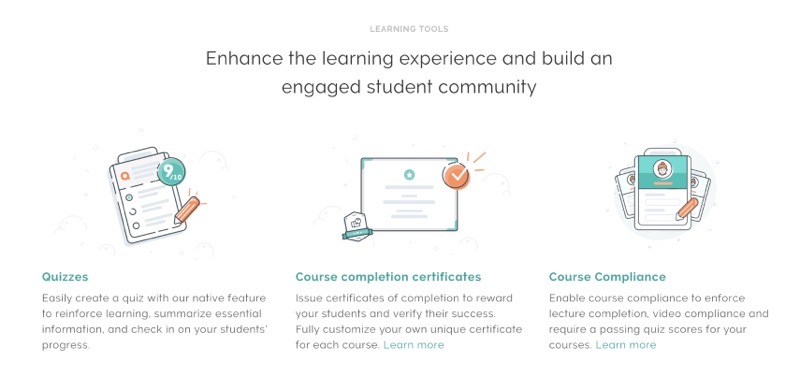 Thinkific Pricing Plans
Thinkific is available in 4 different plans:
Free – Test-drive Thinkific's core feature set for free.
BASIC – Start your course creation experience with the basic features and tools you need to launch your first course.
Pro – For course creators ready to build a successful online course business, a complete suite of tools to create an amazing student experience
PREMIER – For advanced customers ready to build an education empire, get all the Thinkific features + the Growth package. Designed for delivering online education at scale. No limitations – one flat fee.
You can get a 28% Discount on Thinkific. Simply click the link below and start a Free Month trial and pay "Annual" instead of Monthly once your trial expires.
Click Here To Try Thinkific For Free
Teachable vs Thinkific Reddit
What Reddit has to say about Teachable:
u/drewches: I have a client who hosts all of their courses on Teachable. I think that Teachable is a great platform since it handles a lot of the back end of things for you so you can focus on creating content.
u/connectsnk – "A good membership option is to opt for a fully managed online platform like Teachable".
u/bigoldfeet – "Teachable is a platform for creating an online platform, but you can add in features to give your teachable site a community aspect, effectively making it a membership website.".
What Reddit has to say about Thinkific:
u/rajshankara: I use Thinkific, works great. Makes money from my lectures
u/c01: If you are just starting out, I highly recommend Thinkific and Teachable both. I suggest you do a trial with both and decide for yourself. Both have freemium versions as well.
u/mickmeaney: I liked it apart from not being able to do full customer management on it.
Teachable vs Thinkific: Which one is better?
Now that we've covered both the platforms in detail, it is pretty evident that both the platforms offer tons of value. In my opinion, both these platforms are very close but Teachable has a slight edge overall even though it could improve its web design and customization features. I hope this review was helpful in showing the subtle differences between the two as the choice between Teachable and Thinkific finally comes to those slight differences and your particular needs.