This site is built using a StudioPress theme, the Aspire theme to be precise. All of my SEO consulting clients are recommended to use the Genesis Framework as well. At Foundr Magazine (where I'm the head of SEO) we recently switched to a custom StudioPress theme that I worked with the StudioPress team to build and in the latter part of this article, I'll share the impact that it had to our traffic. By the end of this article, you will understand why I use StudioPress Themes and why you will want to as well.
Note: StudioPress team hasn't paid for this review, this is an unbiased opinion and the fact that I actually use them for my own site/livelihood should be proof enough of why I recommend them. However the links in this article are affiliate links, so if you click through and buy a theme I earn a tiny % of the sale but you don't pay extra. That tiny %s adds up and help keep this blog running and help me dedicate time and resources to write more articles like these in my free time.
StudioPress Themes Review 2019
What Is StudioPress?
StudioPress are the guys behind the Genesis Framework, the best framework when it comes it comes to WordPress. StudioPress was started out by Brian Gardner and is a part of Rainmaker Digital which also owns Copyblogger one of the best blogs on the internet when it comes to Content marketing and copywriting.
What is the Genesis framework?
Well, the StudioPress team likes to describe WordPress as the engine of your car, Genesis as the frame and body, and the StudioPress child themes as the paint job and that's the best analogy you're going to be able to find on the internet to explain how all of this works.
Having your WordPress theme coded the right way can make a ton of difference when it comes to SEO. The theme you choose for your WordPress site can significantly affect your SEO outcomes, so you want to choose one that is ready for your future SEO efforts.
Most of the free themes available are free for a reason, they are structurally terrible and if you've ever had a conversation with any developer you know that most of them HATE SEOs like me. Personally, I can't code but I can read code and that's been insanely useful, as I may not be able to build the house (that's why I hire developers) but I can point to the foundation and let the contractor know exactly what's wrong.
For your site to be indexed by Google and to get any organic traffic your WordPress themes has to be developed according to up-to-date coding standards. It should be compatible with all popular browsers, and has valid HTML5, CSS and is mobile responsive ie can be viewed on mobile devices. Nothing is worse than visiting a website only to have to scroll with your sideways on a tiny screen and having to zoom to click a bottom, fix your goddamn sites!
Does your theme have too much additional bloat that it doesn't need? Is it using libraries that don't really serve any function? Well, that's probably slowing your site down and guess what? Google doesn't like slow sites, that's why having a fast and optimized theme is a big point I mention in my guide on How to speed up a WordPress Site.
Your website structure plays such a huge role in how your site is crawled and indexed by Google. Nothing is worse than having a client who switches themes or designs without taking into SEO into consideration and ruining their entire website structure and then wonders why their traffic plummeted.
Schema Markup is a way of explaining the Search engine what each thing on a website is about, and to add additional functionality. If you've ever Googled reviews of a product like if you did for "StudioPress Review 2019" and saw this article you would have seen the yellow review stars in the search results, that's due to Schema Markup on the site.
So what makes the Genesis Framework so great?
Well, not only is it optimized for everything mentioned above, but since you are using a child theme on top of the Genesis framework you can do custom edits to your theme without ever having to touch the fundamentals. Also as future updates of the Genesis Framework come out, you can upgrade your entire site without having to build a new theme or change anything.
Check out some of the Premium Genesis themes available right now.
Here's what happened to the organic traffic to Foundr.com when we switched to a Custom theme on the Genesis Framework, note: The huge rise wasn't entirely due to the new theme they were other things implemented as well, however, the theme did play a large role in growing traffic.
Genesis Framework Child Themes
Using the Genesis Framework by itself is pretty dull as it's like living in a house with no paint or decor. Your child theme is going to consist of all your design elements.
Only child themes that have been built specifically for the Genesis Framework can be used on top of it. However, Genesis is pretty open and anyone is free to create their own child themes for the StudioPress Genesis Framework. For example, the theme on Foundr.com is a custom child theme that we are using on top of the StudioPress Genesis Framework.
StudioPress.com is one of the best places to get child themes for the Genesis framework, With more than 210,000 WordPress websites powered by StudioPress themes, and around 60 templates to choose from, for many WordPress users, StudioPress is the go-to destination for finding new themes.
Here're a few more places where you can buy third party Genesis Child Themes
SEO Themes – Search engined optimized, lightweight and responsive Genesis Child themes.
Restored 316 Designs – Feminine Child Theme For The Genesis Framework
Best Premium StudioPress Theme
So, what's the best StudioPress Theme? Well, that's a subjective opinion. I liked the Aspire theme for the dark colors and minimalistic design which is why I used it on this site, however, you might prefer a more futuristic design. Here're a few picks based on your needs.
StudioPress Theme Demos
Have you found a StudioPress theme that looks pretty nice buy you aren't sure about it just by looking at pictures? Why not have a live demo of the theme to see how it look live. Well, now you can do just that! On the page of each theme, StudioPress has a button that allows you to view the theme live.
StudioPress Theme Pricing
Each theme on StudioPress is priced differently, all the way from less than $100 for a theme like mine to a couple thousand $s if you decide to build a custom child theme. You can also just buy the Genesis Framework if you want.
However, for the theme listed on StudioPress.com/themes/, you can "GO PRO" which is geared towards designers and developers or people with multiple websites like me.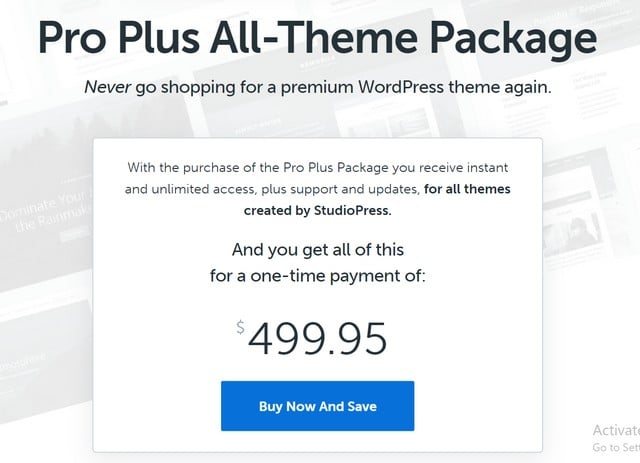 Includes the Genesis Framework
Access to Detailed Theme Tutorials
Includes EVERY Theme StudioPress Makes (Now and Future)
Unlimited Updates, Support & Sites
Pretty much a Savings of $1200 if you try and buy the themes individually
And all of that for less than $500? Insane. Now if you have just one website you are better off just buying an individual theme. However here's one point about StudioPresses pricing that I want to appreciate in a time when most internet companies scam you on price using the fine print.
Let's say your theme like Aspire+ Genesis Framework for around $100, instead of paying the $499.95 that you normally pay for the "Pro Plus Package" You are paying $374.96, which is a saving of more than what you originally paid for your theme. So they give you the discount on the theme that you already paid for since the "Pro Plus" includes your present theme.
So if you are starting out and can't afford to buy more than one theme, (like me when I first bought Aspire) you can always upgrade to Pro Plus later and the cost of your first theme is subtracted, honestly, stuff like this just makes me love StudioPress as a company much much more. No bullshit, you get what you see.
Custom StudioPress Theme
Are you the owner/head of marketing at a big brand running your business on WordPress and want to switch over to the Genesis as you want the benefits but having doubts due to the fact that you want to keep your current structure and design? Well, if you work with the right developers to build your Custom Genesis Child Theme all of that isn't a problem.
Not only will switching over to Genesis make it easier for the developers you currently work with as their "maintenance time" is cut in half due to the Genesis theme, but it's much easier for people with basic knowledge of HTML and who can't code like me to be able to change things thanks to the community, documentation, and guides put out by the StudioPress community. Gone are the days when you hire a development theme just to modify a certain sidebar.
There are a few great companies listed on the StudioPress of recommended developers, click here to see them. The team I worked with isn't listed there if you want to get in touch with them, email me at jeremy@thinktravelliftgrow.com with the words "Custom StudioPress Theme" in the subject line and I'll send you over to those guys. (I'm not getting paid for the referral :), they just did such a great job that I want to share some love)
So there you have it, did you decide to switch over to the Genesis Framework after reading this? If yes, send me the screenshots of your traffic after a few weeks cause I want to share them here! There's a reason I mention them so often on this blog and I use them for my personal as well as business sites. StudioPress gets the job done.
Cheers,
Jeremy
Read Next: