Verdict: The Skyroam Solis X is priced similarly to Teppy but has great battery life and also has an integrated 4,700 mAh power bank which makes it our goto WiFi hotspot device.
Traveling around the world can be fun. You get to visit a lot of interesting places and meet many great people. But like everything, there's also a headache associated with traveling abroad frequently. One of those is having access to proper WiFi. Maybe you run a blog and want to update your readers about your latest trip, or you work remotely or maybe you travel for a business prospect and want to communicate with your client. In fact you don't even have to be any of these to have reasons to stay connected to the internet. I mean there's hardly anyone in this age who isn't online. Anyways, whatever the reason may be, you need to have continued access to the Internet even when you are traveling. One thing you can do is look for public WiFis and use them. But they aren't always reliable and then there are also privacy concerns. The other solution would be to use a local sim card along with an unlocked local phone as your phone might not support that. So unless you are planning on staying at the same place for a longer period this isn't that good an investment and you will have to repeat it in every country you visit. This is where these International Wifi Hotspot Devices come into play. Today we are going to compare two such companies that manufacture this kind of device- Skyroam and TEP.
How do WiFi Hotspot devices operate Internationally?
You might be wondering how these International WiFi hotspots operate internationally and do they local sim or something. Well the simple answer is that all these companies tie-up with local 4G carriers in different countries and make a licensing deal with them. So when you visit a particular country, these hotspot devices use a local carrier to give you wireless connection based on that carrier's 4G network connection. However you don't have to pay the carrier, instead, you subscribe to the WiFi Hotspot manufacturers different plans. This might be a little more costly than if you had purchased a local sim card. You pay the extra amount for the convenience that you are getting. You are no longer required to switch SIM cards and also purchase a local phone plan in every country you visit. A single WiFi hotspot will work in all those countries. This gives you Internet access as soon as you step off the plane no matter where you go. You don't have to worry about switching between carriers and services anymore.
These devices are perfect for you if you frequently travel to different places and don't stay at a particular place for long. All these hotspot devices have a 24-hour subscription which you can use for a few days until you buy a local sim and a local device once you are familiar with the local plans if that's what you want. However if you are someone who plans to stay at a particular location for a slightly longer period, then buy a local sim and local device will be a better option for you.
Skyroam vs Tep
The two most common WiFi Hotspot maturing companies that also dominate the market are Skyroam and Tep. Both companies are almost similar and provide similar services as well. Let us see take a brief look at what each of these companies has to offer. After that we will compare two of the most famous WiFi Hotspot devices, Skyroam Solis and Teppy.
About Skyroam
Skyroam was founded in 2008 by Jung Liu. Like most business travelers Jing Liu also faced most of the problems that were generally associated with traveling for business. These included the challenge of getting a fast, reliable mobile internet connection while traveling internationally or even across a country. Even if they did get that connection, they would have to pay a very high roaming bill. He realized that finding reliable mobile WiFi at a reasonable cost was very challenging. This led him to develop and patent the virtual SIM technology in 2008 and created a network of on-demand mobile data worldwide through local connectivity. He went on to call it the Skyroam Global Hotspot. It is a global mobile hotspot that provides fast, secure, and most importantly affordable mobile data around the world and keeps you connected while you are on the move.
Skyroam has two different products in its WiFI Hotspot device line up that you can choose from. The two devices are the Solis X and Solis Lite.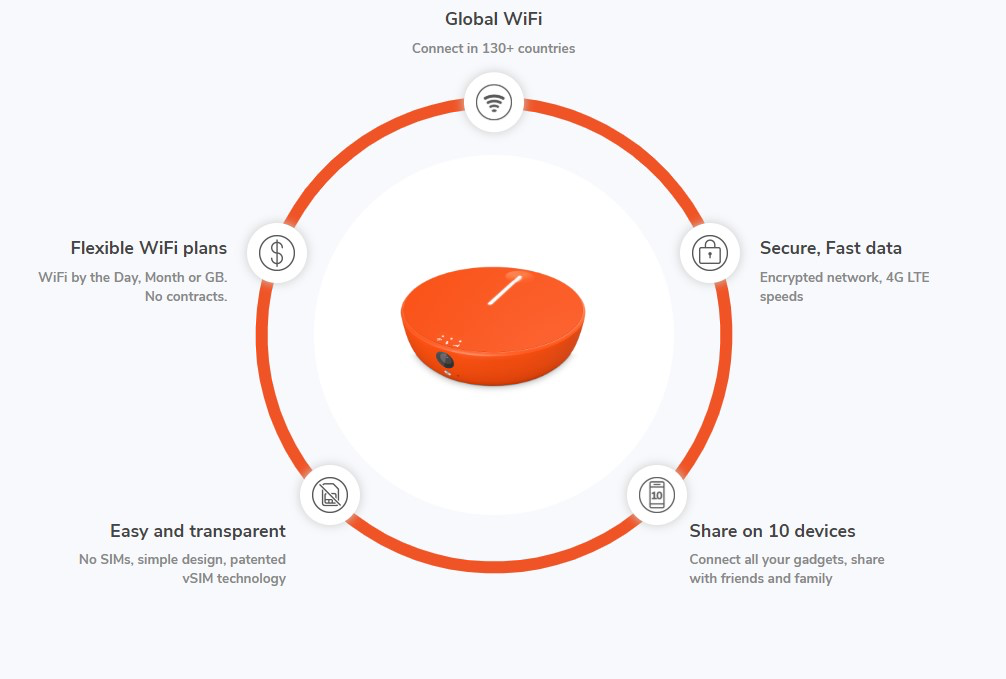 The Skyroam Solis X WiFi Smart spot delivers 4G LTE Mobile data. It can also act as a 4700 mAh Powerbank. Another great thing about it is that it also contains an 8 MP Remote Camera that you can use. There's also a customizable Smart Assistant that you can customize according to your requirements. It can connect to multiple devices i.e up to 10 devices at a single time. It has the patented vSIM Technology and works with all Local & International Data Plans. Additionally it also has a built-in Speaker, Microphone, and comes with Bluetooth.
The Solis Lite WiFi Hotspot is the basic version of the Solis X. It gives you the same 4G LTE Mobile data and can also support 10 connections at a time. It has got all-day battery life. Like the Solis X, it also has the patented vSIM Technology and works with all Local & International Data Plans. But unlike the Solis X, it doesn't have an 8 MP Remote Camera nor it has a built-in Speaker, Microphone, and Bluetooth. There's also no customizable Smart Assistant in the Solis Lite and it also doesn't act as a power bank. In other words, as it's named, the Solis Lite is a stripped-down version of the Solis X with just the basic functionalities.
About Tep Wireless
Tep Wireless was founded in 2010 by Simine Rigoni. It is also known as Tep. It is a telecommunications company that provides mobile broadband for international travelers. Just like Skyroam, their main focus is to prevent the high roaming fees that people traveling abroad end up paying. They at the same time also provide them with wireless mobile data no matter where they are. They provide this mobile broadband service through partnerships with global network operators. They provide this service via their Teppy Hotspot device. They can be either bought or rented for a particular charge.
They have one single WiFI hotspot device. That one is called the Teppy WiFi hotspot. There are over 400+ data plans available in their app that you can choose from. It lets you connect up to five devices including smartphones, laptops, tablets, and gaming consoles. Teppy will last up to 12 hours on a single charge. It is a safe and secure device and is password-protected. With this there are no contracts and you have the flexibility of accessing great coverage on many networks without any commitment commitments.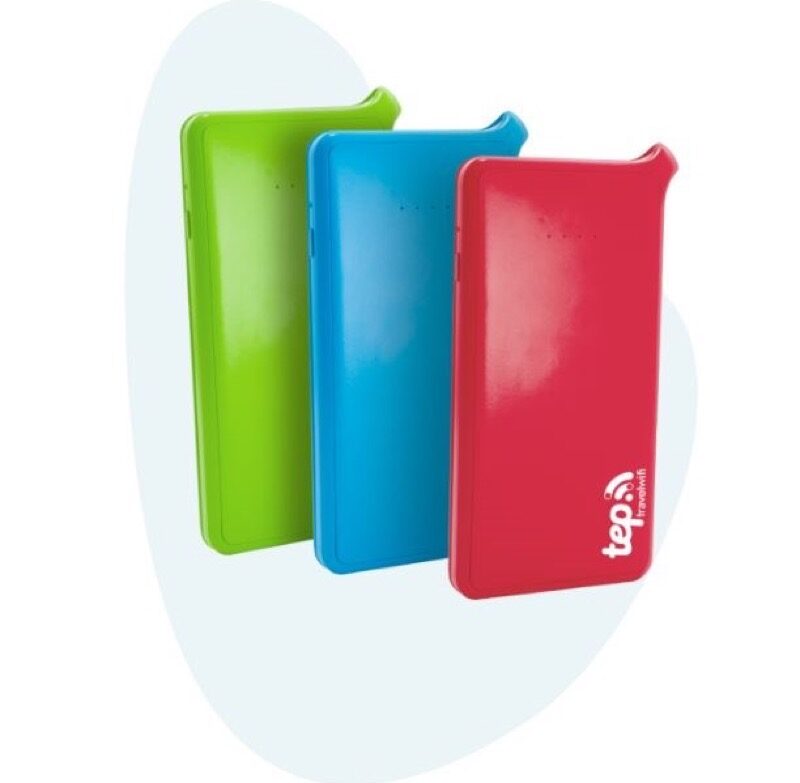 Skyroam Solis X vs Teppy
Now we will be comparing both these WiFi devices and see which one would be best for you.
Build and Design
Solis X: The Solis X is a medium-sized and round-shaped WiFi hotspot device. It has dimensions of 3.5" x 0.9" and weighs 11 ounces. The device is small enough to fit travel purses or the outer pocket of most backpacks but big enough to not fit in the pocket of your jeans. In case you were wondering. it can easily fit in your palm and can be held by one hand. The Solis X comes in an orange color exterior and looks pretty good.
Teppy: Teppy is a small and slim rectangular shaped device. It feels just like a small smartphone. It has dimensions of 3.93″ (length) x 2.75″ (width) x 0.59″ (thickness) and weighs 4.5 ounces. Compared to the Solis X, Teppy is lightweight and small and can easily fit in any of the pockets, be it your backpack or your jeans.
Battery Life
Skyroam Solis X: The battery life of the Solis X is very impressive. It can last more than 16 hours on a single charge which is more than enough for most use cases. But this isn't all. The Solis X also has an integrated 4700 mAh power bank with a USB-C outlet so you can use it all day and charge it on-the-go.
Teppy: Teppy is a bit behind compared to Solis X in terms of its battery life. It has less than half the battery capacity of the Solis X. It can last up to 6 hours on a single charge. However this doesn't mean it has bad battery life. It's just that Solis X is way better in this aspect. Also it doesn't have any integrated power bank like the Solis X.
Simultaneous Connection
This is the total number of devices you can connect to your WiFi Hotspot at a time. Here again Skyroam Solis X takes the lead. While Teppy allows up to 5 simultaneous connections at a time, Solis X offers double of that and up to 10 simultaneous connections at a time. However, you should know that the more number of connected devices would mean even lower speed.
WiFi Plans
Both TEP and Skyroam allow you to either buy the device or Rent them. They both have an unlimited plan and a day plan as well.Skyroam
With Skyroam, you have three different options.
UNLIMITED: This plan gives unlimited data for 30 days. This is the Unlimited Monthly Subscription plan. This plan gives you 30 days of unlimited data and is billed monthly. There are no hidden contracts or something, so you can cancel anytime you want. It is available in either Global or USA plans. The cost for this plan is $99-$49/mo based on geography and the prepayment choice. It gives you high-speed data up to 20GB, after which you get a slower speed i.e 3G or 2G speed. There is no data carryover, which means that the data gets reset after each period.
GoData Pay-Per-GB subscription plan: This a pay as you go plan and has a base price of $9-$4 per month based on geography. The plan gives you 1 GB of high-speed data per month and is also billed monthly. There are no hidden contracts or something, and you can cancel anytime you want. You can then top up with additional GBs as you go based on your requirements. The cost of any additional data depends on the region. It is available in Global, USA, Europe, or Asia plans. The price is $9-$4/mo per additional GB based on your location
Global Day passes: Skyroam also lets you buy a global day pass which gives you unlimited high-speed data over 24 hours. So if you want you can buy a pass and then use it anytime you want. With this you get access to unlimited high-speed data over 24 hours in any of the countries that are covered by Skyroam. The cost of a single day pass is $9/day.
Teppy
With TEP Wireless, you can BUY a Teppy for $129 + $9.95 shipping and pay $8/day for Internet services, which includes 3 Free Day Passes, or you can get a FREE Teppy for subscribing to their $99/month unlimited Internet plan. Or lastly you can RENT a Teppy for $8.95/day which includes the device and unlimited Internet access. Shipping to you is free, and you pay to ship the device back.
Unlimited: This is the same plan as the one of Skyroam. The plan gives you access to 30 days of unlimited data and is billed monthly. There are no hidden contracts or something, so you can cancel anytime you want. The cost of this plan is $99 per month. But there is one great thing about this plan and that is that you get a Teppy device for free if you subscribe to their $99 per month unlimited plans.
Pay-As-You-Go Plans: Teppy has a lot of plans. This is because the device is powered by their sister company Sapphire which gives you access to 900+ data plans that are suitable for every type of internet user for over 130+ countries that it covers.
Day Passes: This is their daily plan with a period of 24 hours and gives you access to unlimited internet. The cost of this plan or a daily pass is $8 per day. You get a free 3 day pass on buying a new device.
Tep beats Skyroam in this section. It is cheaper, gives you 3 free passes compared to Skyroams 1 free pass. Most importantly, you get a Teppy device for free on subscribing to their $99 per month unlimited plans.
Renting the Device
Both Tep and Skyroam allow you to rent their devices instead of buying the devices forever. This is a great thing if you don't plan to travel that long or frequently. So you can rent the device for the period you need and then ship it back once you are done. However, you should know that there are shipping charges associated that you have to pay.
Skyroam Solis X: If you don't want to buy the Skyroam Solis X then you can just rent it instead. Renting the Solis X device will cost you $8.99/day. Other than that you will also have to pay the Shipping Charges. So if you choose to rent it, you have to prepay for shipping both ways. When you want to return it, you can either drop it off at one of their 150+ worldwide dropoff points, if it's available near you. Or you could use the shipping label that they include in the package along with the box. So you can return the device from whichever country you choose.
Teppy: Like Solis X, you can also rent the tippy device instead of buying it. The cost of renting the Teppy starts from $7.95 per day. You can choose from three different plans that offer different amounts of mobile data. At $7.95 you get 1GB of 4G per day. The second option costs $8.95, similar to the price of Solis X, and gives you 3GB of 4G data per day. The third plan is the most expensive one and gives you 8gb of 4G data per day at $11.95 per day. The two more expensive plans also include a travel adapter. The actual prices vary by country with the more expensive countries adding about $1-3/day more. The good thing is that shipping the device to you is free if you are in one of the few countries. You just have to pay for the return shipping charges and ship it back to one of their warehouse locations or you can return it to one of their drop off points for free.
So Teppey is the better device in terms of renting it. It costs a dollar less and you also have to pay the return shipping charges. Shipping the Teppy to you is free whereas you have to pay for shipping in both directions if you rent the Skyroam Solis X.
Remember you should only rent the device if you are going to rent it for 1 or 2 trips. Otherwise if you travel frequently, then you should just buy the device. This is because the shipping charges might end up making it more costly.
Data Capping
There are a few international data roaming agreements that all Hotspot devices have to abide by. The Skyroam Solis X and TEP Wireless aren't any different. These agreements limit the amount of 4G service that can be allotted to the user. Therefore both Skyroam and TEP Wireless limit the amount of 4G you can use. They reduce the speed to 2G/3G speeds after 500mbs usage per day. But with TEP you can add 500mbs at 4G speed for $1.95/day. With the Solis if you have $6/GB (USA/Europe) or $9/GB (Worldwide), you will always have 4G speed.
Our Verdict: Skyroam vs Tep Wireless
Both the devices are very similar and have their strengths. Skyroam Solis X had better build whereas Teppy had a lower price and also gave the device for free if you subscribed to their $99 per month plan. It also had better offers if you wanted to rent the device. In terms of coverage they both did fine. The biggest difference was the extra battery life of the Solis X and that it also has an integrated 4700 mAh power bank. So the device you choose will depend on what your priorities and use cases are. If we had to choose one, we would choose the Solis X.
Our top pick among the two is the Skyroam because of its great battery life and the fact that it has an integrated power bank.
You don't have to choose the same and your decision will depend on your priorities and use cases. But, no matter which one you choose, you will be pretty much covered the next time you travel abroad. You won't have to worry about staying connected on the go anymore.
Read Next: