This is a guest post by my friend Mark who blogs at Dherealmark.com
Lately, I've noticed a lot of BS in the hosting review industry and this is because there's a lot of affiliate money that can be made through a manipulative "genuine hosting review" this is why I decided to share my honest thoughts on my experience Siteground and specifically the Grow big plan.
Here's a screenshot of my bill for SiteGround's GrowBig Hosting
I host all my websites via Siteground hosting and have been specifically on the Grow Big Plan for almost a year now which is long enough to learn everything that's good and bad about it. (like in a relationship! 😉
Lastly, I'm going to leave out all the fluff from this Siteground hosting review and specifically share what's good and what's bad about the GrowBig Plan.
Affiliate Disclaimer: This post will contain some affiliate links, which means I'll get paid a commission if you sign up and buy SiteGround. This DOES NOT mean I'll oversell Siteground, in fact, I do not recommend it for everyone. (more on this later)
So to answer the question NO I'm not full of shit, in fact, this is going to be a brutally honest review of SiteGround's GrowBig Website Hosting. (Apologies to the guys at SiteGround)
Click here for 70% off SiteGround's Hosting
SiteGround GrowBig Hosting Review
Comparison Table: StartUp vs. GrowBig vs. GoGeek
Biggest Reasons to get SiteGround
Why SiteGround may not be for you!
SiteGround's Growbig Performance tested and Reviewed
Will I stay with Siteground?
Comparison Table: StartUp vs. GrowBig vs. GoGeek
Above is the SiteGround Pricing plan chart you'll see on SiteGround and as you can see they offer three distinct pricing plans that are carefully tailored towards different user groups.
Here are the details on the plans and who they are best suited for:
Websites: 1 Domain
Storage: 10GB
Bandwidth: 10k Monthly visits
Who is this for?
Those webmasters who are just getting started with a small website think a personal blog or boutique store.
SiteGround's GrowBig Plan
Websites: Unlimited Domain
Storage: 20GB
Bandwidth: 25k Monthly visits
Who is this for?
This plan is best suited for those starting out with a commercial motive i.e to make money from their blog.
The Grow big plan is also the cheapest multiple site plan from SiteGround that will give you the ability to host multiple websites which will always come in handy if you're getting into freelancing or want to create an affiliate niche website in the future.
SiteGround's GoGeek Plan
Websites: Unlimited Domain
Storage: 30GB
Bandwidth: 100k Monthly visits
Who is this for?
This plan is best suited for those that already have an established website or an online business and require hosting with more resources aka a semi-dedicated hosting plan.
This plan is also good for average-sized e-commerce websites because it can accommodate a much larger product line than average hosting.
Biggest Reasons to get SiteGround
The website hosting industry is HUGE and one that's overpopulated with a whole multitude of hosting providers for all sorts of online businesses and websites so why should you choose SiteGround out of all these?
There are many reasons to invest in SiteGround however I'll break it down to the top five reasons below:
Extremely Easy to Set-up (with Dedicated Support)
When you're looking to build a website you don't want to spend time doing the boring stuff like hosting which is why SiteGround has made it's hosting extremely easy to set up.
3-Click website Setup
Website hosting can be complicated however with SiteGround you are literally just 3 clicks away from setting up a website with them.
What's more is if you're completely oblivious towards the technical stuff their support will even call you to guide you through the whole process.!
Free Drag and drop builder
Apart from help with the setup they even have a simple drag and drop website builder that you can use to create a unique website in no time. This alone will save you about $49 which is the costs to buy a good light SEO friendly theme like GeneratePress.
Easy Website Migration
If you already have an existing website and would like to Migrate to SiteGround you can do so by availing SiteGrounds migration support.
Note: Migration is free for the GrowBig and GoGeek plan.
99.99% Server Uptime
The primary function of a hosting service is to keep your website up and running this is measured in terms of uptime which basically means how long the server remains active.
SiteGround having an uptime of 99.996% is one of the highest in the Hosting industry.
Customer support that actually cares!
This is a big one because I've used their support A LOT to point where I think I'll be blacklisted from SiteGround. (let's hope that doesn't happen!)
All jokes aside building and maintaining a website is no joke and has a lot of hiccups and problems. At times like these, you will want to have support and not just any support but trained experts that will understand the problems you'll have.
Above is a snippet of one of the instances where SiteGround has helped me and in this particular case I managed to solve a highly technical issue within a few hours. In fact, I was pretty slow to reply but you can see how prompt the support is.
Click here for 70% off SiteGround's Hosting
Well integrated with WordPress and Joomla
If you're thinking of building a WordPress website via SiteGround you'll have the best compatibility as this hosting is specialized for WordPress CMS. In fact, it is the only Shared hosting provided that's a recommend WordPress web hosting.

For instance, SiteGround has a special section just for WordPress with nifty tools and features that make it extremely easy to manage a WordPress website.
Bottom line if you're looking for a Shared website hosting service that has resources capable of running a mid-sized website or blog with trained support that will actually help and lastly hosting that extremely compatible with WordPress you should give Siteground some strong consideration.
Click here for 70% off SiteGround's Hosting
Highly Intuitive Interface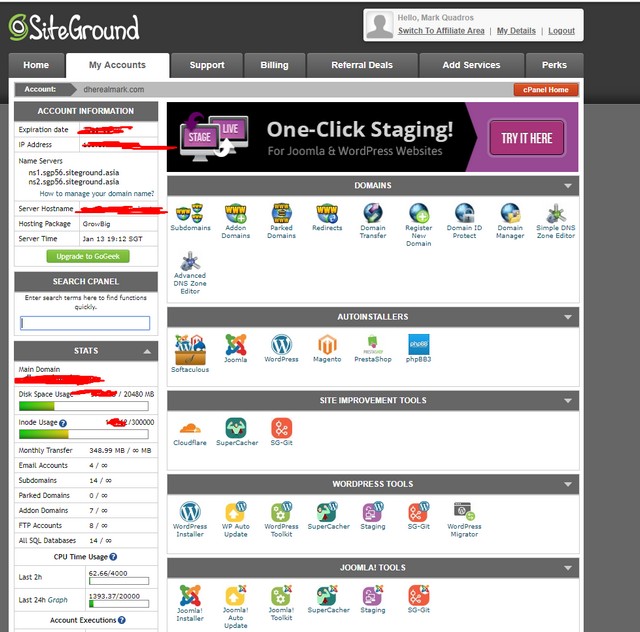 As I've mentioned earlier maintaining a website is no easy feat however a nice friendly UI like the one you have with SiteGround can definitely make things easier.
Everything right from Domains to third-party tools (WordPress) is organized using highly descriptive icons that make it easy for anyone to understand.
What's more is SiteGround also contains a lot of extra features that help you better manage your WordPress website.
Click here for 70% off SiteGround's Hosting
[BONUS] High Affiliate Payouts!
Now although this is not a factor that is directly related to the Hosting it is something that's pretty cool to have and that's a sweet $50 affiliate commision to every referral.
I've taken full advantage of this by recommending SiteGround to my clients and have made $150 already! In fact, this alone has paid for my measly $70 SiteGround GrowBig subscription and much more.
Moreover, I love SiteGround and have no problem recommending it and making money off sharing something that has benefitted me.
On a side note here are the results from a Popular Poll in a WordPress Hosting Facebook Group
SiteGround's Growbig Subscription Reviewed
If you're reading this article you've already decided upon SiteGround but are now confused about choosing between their plans and this is where I come in with my review on specifically the Growbig Plan.
Click here for 70% off SiteGround's Hosting
How is the performance of a website under SiteGround GrowBig?
SiteGround uses some of the finest architecture for its data centers and servers that are powered by top-notch SSD's basically all the good stuff that leads to a website of extremely high performance.
In fact, websites that are hosted by SiteGround are reported to load 3 times faster than other shared hosting providers.
99.99% Uptime Guarantee
Now although most hosting providers nowadays guarantee a 99.99% uptime it is nearly impossible to get this rating in a year.
However, SiteGround is one of the few hosting companies that live up to this uptime rating and even if they have scheduled server maintenance they have fallback servers that ensure your website is always live.
GrowBig's Support Reviewed
After performance Support is one of the most important aspects in choosing a good website hosting provider. Fortunately, SiteGround has one of the best support that consists of experts that will actually understand your problem.
With the GrowBig plan, you get priority support that basically means you get access to very experienced technicians to help you solve your problems and quickly.
Click here for 70% off SiteGround's Hosting
GrowBig's Bandwidth and Storage Capacity
If you're looking to get the GrowBig plan for multiple websites that are relatively new then you should have no problem keeping under the storage of 25GB.
In fact, I have several websites under this plan and still have used only a fraction of the server's web space.
With regards to bandwidth from the Growbig plan, it is big enough to accommodate a small website that generates about 25000 to 35000 monthly visitors however it's recommended for up to 25000 visitors per month which is roughly 800-900 visitors in a day.
If you think you will have more visitors than 1000 a day I highly recommend you to go for the GoGeek plan to avoid performance issues.
Click here for 70% off SiteGround's Hosting
SiteGround's GrowBig Freebies
Another great feature exclusive to SiteGround's GrowBig hosting is its freebies that are as follows:
Let's Encrypt SSL
Premium SSL Certificate
Wildcard SSL
CloudFlare integration with SiteGround
Overall SiteGround's GrowBig Review:
If you are just starting out and with a goal of scaling up your website or online business to at least 800 people a day I recommend going with Growbig.
Even if you don't want to scale up in bandwidth you still have the option to attach multiple domains to the subscription giving you the option to share it with a friend in the near future.
WAIT, SiteGround may not be for you!
I know I've talked a ton of good stuff about SiteGround but here's where I think SiteGround is not the right option for you. This does not make it a bad hosting provider in any way but rather makes it simply not right for you.
Below are the reasons why SiteGround may not be the best fit for you:
Limited Resources: (Web space and Storage Space)
If you look closely at SiteGround pricing plans you'll notice a cap on web space and bandwidth which may not seem like a big deal if you're just starting out but is definitely going to be a problem if you're scaling up or at a point where you're starting to gain traction.
High Renewal Prices:
Although SiteGround is priced extremely low it's only a promo one-time price and the subscription following that will cost you much more when you renew.
In my case I purchased Siteground's Growbig subscription for a measly $71 however when I renew it next I pay a whopping $239USD which is definitely going to be expensive for most people.
However, this should come as no surprise as SiteGround is, in fact, a premium hosting provider that employs a well-trained customer support team and the best architecture for its server which all costs money.
In my opinion in the hosting world, you get what you pay for and SiteGround is definitely worth the premium.
You want A dedicated hosting
Now although SiteGround's is a great hosting provider it is definitely not for everyone especially those that already have an established online business or website that needs more resources you'd get from a dedicated hosting provider.
You could opt for the GoGeek Plan but when you have other more powerful hosting providers like Cloudways and DreamHost I wouldn't recommend SiteGround.
Read Next: Cloudways Promo code 2020
It is definitely one of the best hosting providers in the Shared hosting space but there are other more powerful alternatives in the dedicated hosting space but get ready to spend a ton more on these.
Will I stay with Siteground?
Here's a snippet of the performance of my blog that's hosted via SiteGround. Do note I have multiple websites about 10 more on the same server and my websites performs excellently.
In my opinion, if you're looking to start right in the online business or blogging space invest in a good website hosting provider. It's fine to get shared hosting but only if it's from a reliable provider and I recommend SiteGround for the same.
Bottom line if you value (priority) customer support, top-notch resources, and efficient management you should go ahead and invest into SiteGround's GrowBig subscription.
Click here for 70% off SiteGround's Hosting
Read Next: