Running an e-commerce store involves a lot more than creating great products. Once you have your products ready to go, it's time to start thinking about how you'll get them to your customer. That includes having someone pick the right product from a warehouse or wherever else you may store the product; pack the product in a way that protects it; and finally, ship it off to the right address.
As you can see, there's a lot of additional work that goes into getting products to your customers. This is something a lot of e-commerce outfits don't take into account at the beginning. Entrepreneurs fall in love with their product without realizing that they will spend most of their time worrying about how to fulfill orders. If you've been in this position yourself, don't worry, you don't have to continue to do all the work yourself. You can have a service like ShipBob take care of fulfilling your e-commerce orders.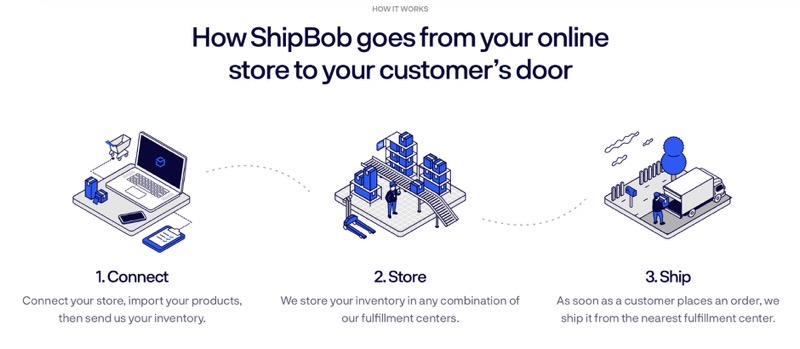 ShipBob Review
About ShipBob
ShipBob is a third-party logistics service for direct-to-consumer brands that need help fulfilling their orders. That means that anyone can have a product that they've created shipped out to customers without having to worry about picking, packing, transport, warehousing, and shipping.
The company was founded by Divey Gulati and Dhruv Saxena in 2014. It has since become one of the fastest rising technology-based logistics companies in America, even managing to make it to number 99 on the Inc. 5000 list. Their goal is to help direct-to-consumer brands stay competitive by providing merchants the best fulfillment services possible.
There are currently over 3,000 e-commerce businesses that use ShipBob. The company fulfills orders with an accuracy rate of 99.95%. 99.2% of all orders get to customers on time. These numbers show that you're in good hands when you decide to trust ShipBob with your e-commerce logistics.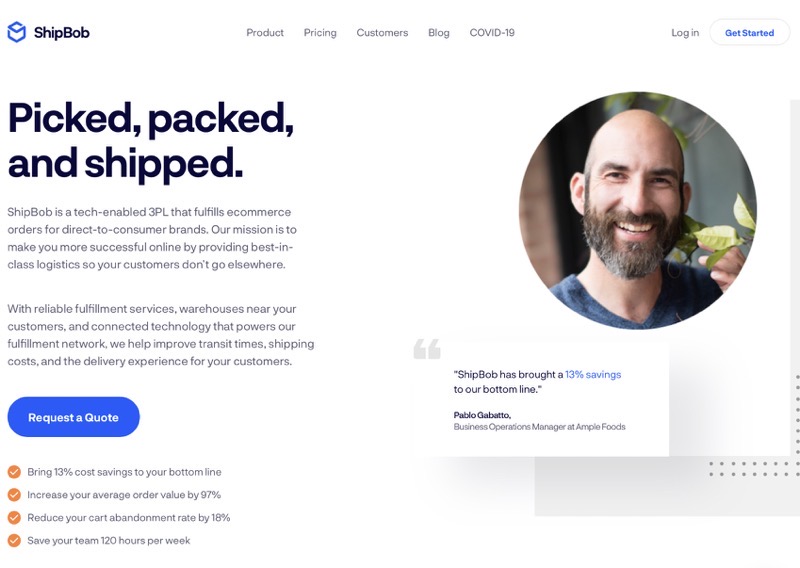 Let's take an example to better understand how a third-party logistics provider like ShipBob can bring value to your e-commerce operation.
Let's say you want to sell honey. Sounds simple enough, right? You either make your own honey or source it from someone and send it off to your customer. Now the first thing you'll need to ask yourself is where you'll store all that honey while you're waiting for orders to roll in. If you have the ability to rent out a warehouse then that may be the best option. Otherwise, you may have to store the honey wherever you can.
Now once the orders start rolling in, you'll have to begin packing the honey and making sure it gets to your customers safely. But how do you ship to customers? You can use a shipping partner, but you will have to be careful to pick one that can do it within the timeframe you've promised your customers.
Since you have all your inventory in one location, you may run into issues with shipping times. A customer who's close to you may get their order early while one that's located across the country gets it late. These are all problems that can pop up when you're trying to set up a logistics infrastructure for your direct-to-consumer brand.
Let's find out how ShipBob solves all these problems for its customers.
ShipBob Order Fulfillment Process
ShipBob eliminates a lot of the hard work that direct-to-consumer brands usually need to do to ship their products on time. Here's the simple process that you would have to follow to make that happen.
1. Connect
The first thing you need to do is get your products up and listed on your online store. This could be on any major e-commerce platform such as Amazon, Shopify, Magento, Walmart, BigCommerce, etc. ShipBob offers integrations with all these major platforms. So once your products are up on any one of them, a two-way information channel is established with ShipBob.
2. Ship
No, not to your customer. If you use ShipBob, all you need to do is ship your product out ShipBob. The company has its own fulfillment centers spread out across the United States. Your inventory can be spread out and store across these locations.
3. Fulfill Order
Now it comes time to deal with orders. When an order is made, it will register on the e-commerce platform that you use. Since ShipBob integrates with those platforms, the order automatically reflects on their software. Now ShipBob will do all of the grunt work of picking the right product from your inventory, packing it, and shipping it to the right address.
ShipBob Features
Here are some of the features that you can benefit from when you become a ShipBob customer.
1. Multi-Platform Onboarding
The ShipBob onboarding process is a quick and easy one. That's irrespective of which e-commerce platform you're currently on. You could be using any major e-commerce service and connect it to ShipBob so that you can start using the company's fulfillment services.
The company starts you off by assigning you to an implementation team. This team assists you with setting up your e-commerce store on ShipBob. You don't have to worry about doing the integration yourself. The team assists you in everything from setting up your online inventory on ShipBob, configuring shipping options, and syncing data between your e-commerce platform and ShipBob.
Luckily for direct-to-consumer brands, ShipBob's onboarding works just as smoothly no matter what platform you're currently on. You could be on Shopify, Amazon, Walmart, BigCommerce, WooCommerce, ShipStation, etc. and the service would still work the same way for you.
As soon as the integration step has been completed, data flows back and forth between your e-commerce platform and ShipBob. You don't have to manually update any orders thanks to the integration. ShipBob is automatically notified when an order is made and sets off the process to fulfill it.
This onboarding step is a feature in itself because of how smoothly the integration happens. Small-scale direct-to-consumer operations can go from having to track every order individually to ShipBob handling all of the logistics directly after an order is made.
2. Inventory Distribution
We saw in an earlier section that ShipBob has a fulfillment network center that is spread across the United States. This isn't just so that their capacity to hold inventory is high. It brings value to customers in a few different ways.
When you send you inventory to ShipBob, it doesn't need to be limited to any one fulfillment center. Your products can be strategically spread across different fulfillment centers.
The selection of the fulfillment center is done automatically. When an order comes in, ShipBob has access to the delivery address. The company's software automatically picks the fulfillment center that's closest to that address. This does two important things.
The first is that you can get your products to your customers faster. If you have all your products in one location, then customers who are located far from that location would have to wait longer for a product to get to them. In this case, your inventory is spread out across the country so it's way more likely to get to your customers on time. And since the process is faster, it's also more affordable.
The distributed shipping network that ShipBob offers also makes you more competitive within your own e-commerce niche. That's because you can now promise your customers two-day shipping as opposed to the long shipping times that they would otherwise have to deal with. Offering this ability makes customers a lot more likely to come back to you for future purchases.
According to ShipBob, offering two-day shipping improves several e-commerce metrics. When you offer it to customers, the average value of orders goes up by as much as 97%. You're also 18% less likely to have a cart abandoned. So the two-day shipping feature is one that contributes directly to a growth in revenues.
3. Order Management
When you become a ShipBob customer, you get access to their powerful order management software. This software tracks and displays all the key information regarding the orders coming into your e-commerce store. Here's some of the information you can access easily on ShipBob's order management software:
Group orders by shipping status, such as Processing, Shipped, Packing, and so on
View the fulfillment timeline for a specific product. You know exactly when an order was received, packed, and shipped.
Get access to shipping details such as the dimensions of a product, weight, the carrier service that has been assigned, etc.
The order management software itself is a powerful proposition for direct-to-consumer brands. Usually, all of this information would either be ignored or spread out across many different service providers. With ShipBob, the data is all in one place and can be accessed easily at any time.
4. Inventory Management
Managing your inventory well is an essential part of any successful e-commerce operation. ShipBob puts the tools that you need in your hands when it comes to inventory management.
Since your inventory is spread out across different locations, ShipBob shows you inventory data across individual fulfillment centers. You know exactly what quantity of your products is in which fulfillment center at any given time.
ShipBob's software also gives you key insights into how your inventory is performing. For example, you find out which products are moving slowly during a particular time, which ones have the highest storage costs, the products that yield the highest revenues, and so on. So you get actionable insights from ShipBob based on the status of your inventory.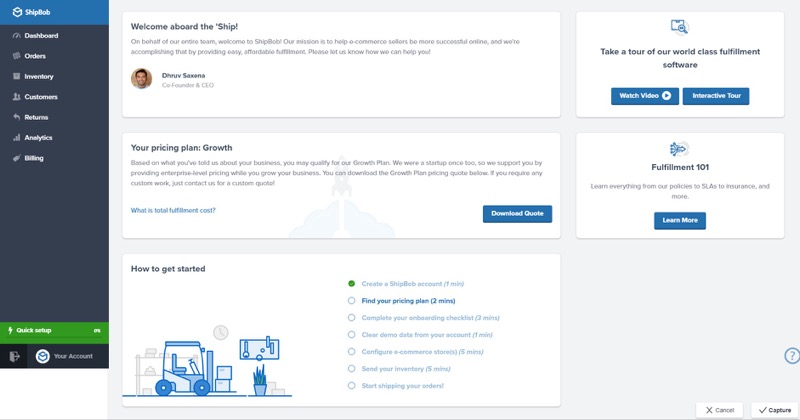 5. Analytics
ShipBob has its own reporting tool where you get a bird's eye view of how your operation is running on the whole. The company says that this is to give their customers the insights they need as well as to hold themselves accountable.
The analytics tool has charts that give you metrics of all kinds. It covers everything from year-end reports to actionable supply chain insights to help you make daily decisions. Here are some of the other pieces of information you get access to with ShipBob's analytics tool:
List of ShipBob fulfillment centers that should be restocked
How different offers and promotions affect stock levels
Number of days remaining before inventory runs out
The average order value across different shipping options
Cost to fulfill each order
Cost to store each unit of a product, etc.
As you can see, there is some very granular data that comes with ShipBob's analytics tool. All of these contribute to running your e-commerce store smoothly and guiding future decisions.
6. Customer Experience
ShipBob doesn't concern itself only with your experience as their customer. It also makes sure that your customers, whom they deliver your products to, get a good experience. For example, the company works with you to create either plain or branded boxes. So you can put some real thought into what the customer's experience is like unboxing one of your products.
Since ShipBob runs fulfillment from a distributed network, shipping costs tend to be low. These benefits are transferred to your customers. When an order ships, customers can easily track its progress. If a customer wants to return a product, you can use ShipBob to handle return management. The service will provide customers with return shipping labels and process the return so that the product returns to your inventory in the smoothest way possible.
ShipBob Pricing
ShipBob's pricing is spread out across a few different aspects of the order fulfillment process.
To receive orders, the service charges a flat rate for the first two hours, which is $25. Then on it's $35 per man-hour.
You have a few different storage options to hold your products at ShipBob's fulfillment centers. So the pricing depends on the kind of storge that you choose. Here are the monthly costs for different storage options:
Pallet: $40
Shelf $10
Bin: $5
Picking and packing products that you've stored is free for every order for the first five picks. From the sixth pick on, it costs $0.20 per pick. The packaging that's used, including mailers, boxes, and tape are free. You can send in your custom packaging to ShipBob and pay to have them hold and use it for you.
The shipping costs that come with using ShipBob vary based on factors like the shipping services being used, dimensions of the package, weight of the package, etc. So this is a variable cost.
ShipBob Review – Final Thoughts
ShipBob is a boon to everyone who wants to run a direct-to-consumer e-commerce brand without having to deal with the many headaches that come with doing that. The fulfillment capabilities that the service offers are unmatched. All you need to focus on is creating and marketing a great product and ShipBob takes care of the rest.
Another reason to use ShipBob is its technology capabilities. The order management, inventory, management, and analytics tool are all extremely powerful. They give you the kind of insights that you need to grow your e-commerce business. So not only do you get your orders fulfilled, but you also increase revenues in the process.
Read Next:
Best Order Fulfillment Services