TL;DR If you're in a hurry, here's a list of all SEMrush Alternatives that I will be discussing in this article.
Best Paid (& Freemium) SEMrush Alternatives in 2020:
Best Free SEMrush Alternatives in 2020:
Google Search Console: reliable internal data analysis
Buzz Sumo: Good for social media signals
UberSuggest: Top Free KW & Competitor research tool
Keywords Everywhere: Keyword everywhere (just as the name say)
Keyword shitter: LSIs and related keywords
Keyword research is at the forefront of any SEO campaign. SEMrush has one of the largest databases of organic keywords and domains. With SEMrush you can do keyword research, backlink analysis, automated SEO audits and so much more.
SEMrush was the tool along that helped me grow my first travel blog to 100k monthly visitors and also helped me 4x the Organic Traffic to Foundr Magazine when I was their Head of SEO.
I still use SEMrush today to do research when writing blog posts on this blog.
But there's one catch: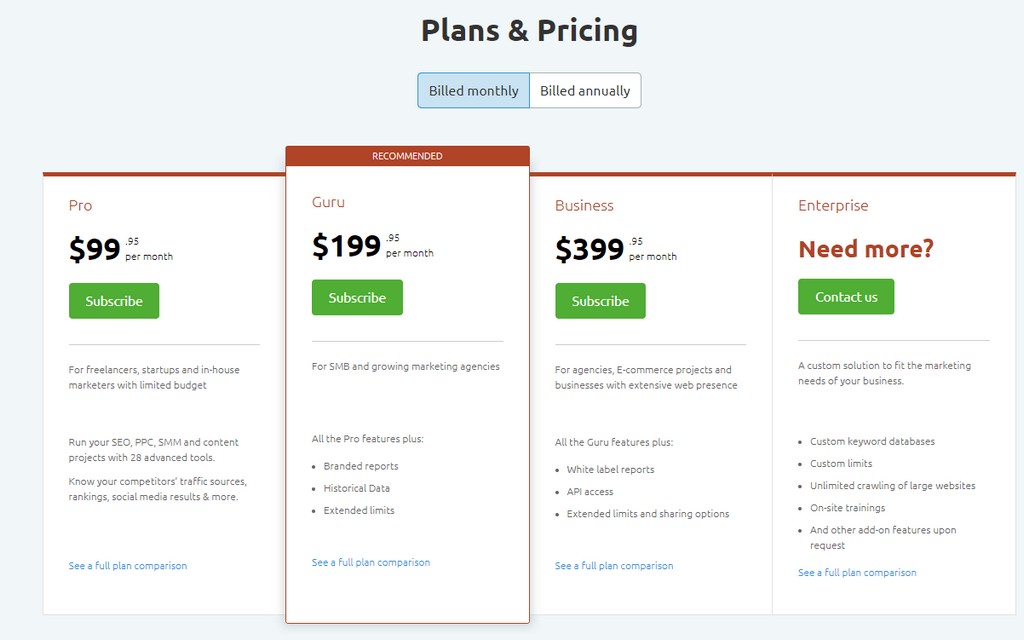 The cheapest plan of SEMrush starts at $99.95/ month, i.e., over $1200 a year on a single tool!
I personally think that SEMrush is worth the price if you work as an SEO, why is that?
Any SEO worth their salt should be able to make >$1000 with SEMrush.
Is there a way to get SEMrush for free?
SEMrush does have a "free account" version that's basically worthless, all you get is:
10 Searches Per Day
10 Results Per Search
100 Pages Crawlable
10 Keyword Tracking
That's basically worthless for anyone unless you are running a super tiny cafe in a mountain town. So what do you do?
Well, one option is to click on this special link give the 7 days Trial of SEMrush a whirl! Maybe even harvest even data to get your business off the ground until you can afford SEMrush.
Click The Button below and sign up for 7 days of SEMrush for FREE!
Click Here To Get SEMrush for FREE!
However, they're a few circumstances that I would reconsider and I'd recommend you pick one of the options below.
SEMrush doesn't have that good of a backlink database and isn't that great for backlink research.
The tool is definitely overboard for a company without an SEO team/person or a solopreneur and many small businesses.
Comparison Table: Best SEMrush Alternatives 2020
Best Paid (& Freemium) SEMrush Alternatives
1. Mangools – Best Budget SEMrush Alternative
If you are looking for a budget alternative to SEMrush, Mangools is definitely the best tool you're going to find that's the greatest value for the money.

The Mangools Suite is composed of 5 different SEO tools
Mangools is honestly the best tool for the first time blogger who finds the $100/month cost of SEMrush to be too high. Also in my experience, the Mangools is actually better than SEMrush when it comes to backlinks.
And that's not all! Link Miner uses the Majestic SEO API data which means you can get all the information such as Citation Flow and Trust Flow (Their SiteProfiler tools also gives you Domain Authority and Page Authority data from Moz) without you having to buy those tools!
In terms of pricing, the entire Mangools suite starts at $29.90 (if paid annually) And their agency plan costs only $79.90/month (if paid annually)
The Agency plan of Mangools is cheaper than the base plan of SEMrush
Click Here To Try Mangools Free For 10-Days
2. Ahrefs
The king of kings in backlink analysis! Ahrefs is the best alternative to SEMrush if the price isn't a concern and backlinks are your main priority eg, if you are doing mass outreach, a guest post-campaign, etc.
Ahrefs beats SEMrush on a lot of fronts making it a no brainer if you want great backlink analysis and an all-in-one SEO tools in one single purchase.
However, if you're on a budget, Ahrefs is a little overboard in terms of functionality and the pricing as well!
Ahrefs's trial cost $7, while many of its competitors offer free trials.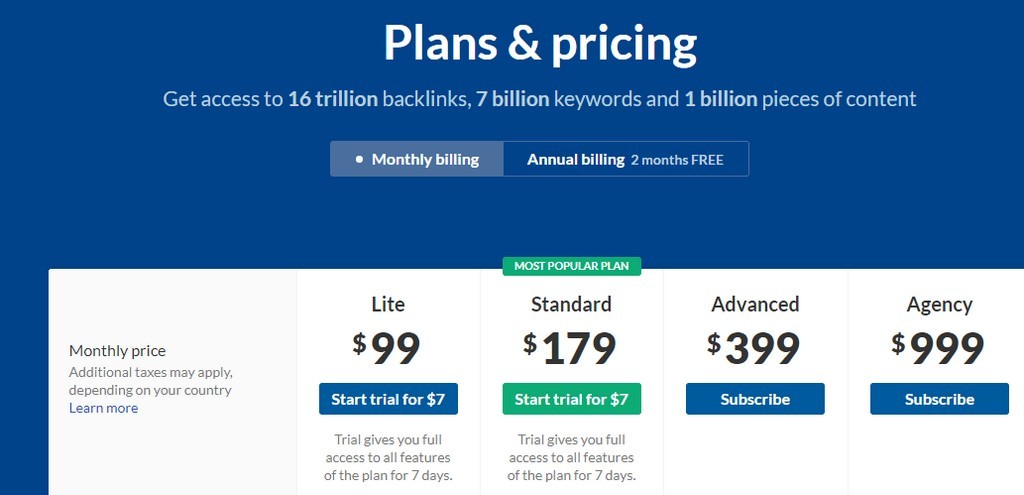 Also, the cheapest plan starts at $99 month, i.e., which is over $1200 a year just like SEMrush! That might be a little out of budget for most beginners which is why Mangools is a better choice for someone starting out!
Simply click on the link below to take you to Ahrefs trial:
3. Serpstat
Serpstat is another great keyword research tool that was founded in 2013. Since then, it has evolved into full-fledged SEO and PPC analysis product with a great user-friendly interface. For this reason, many SEO experts opt for Serpstate over SEMrush.

Here is a list of highlights of Serp Stat
Website Analysis
Keyword Research
Backlink Analysis
Rank Tracker
Site Audit
Tools.
SEMrushVs. Serpstat: What's better?
SerpStat has an extremely clean UI with simple-to-understand reports and excellent support (responds every 5 mins).
Moreover, Serpstat has a slightly better backlink report system as compared to SEMrush and has thus proven to be better at reporting SEO analytics.
Additionally, Serpstat has more affordable plans that start at $55 per month that make it a desirable option over SEMrush.
So, in this case, I would actually go for SerpStat!
How much does Serpstat cost?
Unlike other SEO tools, Serpstat has an affordable pricing plan that makes it an attractive SEMrush alternative.

Serpstat comes in four pricing plans:
Lite: lowest queries suitable for beginner webmasters
Standard: Suitable for beginner SEO freelancers
Advanced: Suitable for SEO enthusiasts and small digital marketing agencies
Enterprise: Suitable for big digital marketing agencies and popular websites
PROS
CONS

User-friendly interface
Affordable plans
User-friendly interface
4. SEO PowerSuite
SEO PowerSuite is a collection of 4 powerful tools; rank tracker, competitor tracker, auditor, and backlink tracker. Together the four tools provide for an efficient and result-driven SEO campaign.
Here is a list of highlights of SEO PowerSuite:
Accurate rank monitoring
Profound link analysis
Powerful keyword research
On-page SEO audit w/ content optimization
SEMrush Vs. SEO PowerSuite: What's better?
As compared to SEMrush, SEO PowerSuite is more expensive. However, it does offer an extensive set of features in SEO analysis settings — and for this reason, I would go for SEO PowerSuite over SEMrush.
How much does SEO PowerSuite cost?
SEO PowerSuite license comes in three pricing plans:
Free Plan: but with volume limitations.
Professional Plan: Unlimited data with the ability to automate and save projects.
Enterprise Plan: Unlimited data: Same as Pro Plan but with White label features.
PROS
CONS

Free trial and free-to-use version
All-in-one SEO features
User-friendly interface

Expensive pricing plans
Discount and promo offers
5. Moz Open Site Explorer
The Open site explorer is one of the oldest and most popular backlink analysis tools.
Open site explorer which used to be able to use for free users is now a part of Moz Pro which is a massive content marketing tool that offers a whole multitude of services!
Here is a list of highlights of Moz Pro:
Keyword Research
SEO Audit & Crawl
Backlink Research
Global Rank Tracking
SEO Toolbar
SEMrush Vs. Moz Pro: What's better?
Moz always gets trash-talked on forums for their link database as it's been going downhill over the years compared to their competitors. However, for all the services they offer Moz is still a pretty good alternative to SEMrush.
How much does Moz Pro cost?
Standard: Great to run basic SEO campaigns
Medium: Huge limits + full access to keyword research tools. (best value)
Large: Ideal for businesses and agencies serious about the search Premium: Large SEO-focused agencies with marketing teams
Note: Moz offers a FREE 30-day trial on all of its plans, which is an excellent option for users to learn more about Moz without committing to it.
PROS
CONS

User-friendly interface
Affordable pricing plans
30-day free trial
all-in-one SEO capabilities

backlink profile tends to be lacking a bit
Best Free SEMrush Alternatives
Now, apart from excellent sites like Mangools, I wanted to share a few more recommendations for those beginners with little to no budget for these tools.
Most of these tools are very very limited in what you can do!
Anyways, here the list of free SEMrush alternatives:
1. Google Search Console
If you want to check your own backlinks and keywords then look no further than GSC ie Google Search console! It's easily the #1 SEO tool on the market. Why? Because it's a must-have for your website!
The only downside?  You can only get data on your own website making it absolutely useless in terms of competitor research or even to understand the value of your own backlinks and keywords.
Some of its key features include:
Detailed page reports
Impression reports
Coverage errors
URL inspection
Note: You need to integrate Google search console with your website to use it.
2. Buzz Sumo
Buzz Sumo is a unique content marketing tool that is used to analyze what content performs best for any topic or competition. This tool is best used to find a popular content idea in comparison to organic keywords.
Some of its key features include:
Content analyzer
Facebook Analyzer question Analyzer
Trend analysis
Backlink analysis
3.UberSuggest
Uber Suggest is another great keyword research tool that recently got acquired by Neil Patel. It provides extensive keyword reports and features an extremely user-friendly interstate that makes it easy for most beginners to use.
Neil Patel also has a backlink analyzer on his website at NeilPatel.com/backlinks that gives some basic information on your backlinks

It's not very in-depth by it does do the job pretty well for a free tool and while many people hate on Neil Patel for his shady marketing tactics, I actually think this tool is really helpful for many beginners.
Ps. I would recommend you ignore the "domain score" as it's not as accurate as metrics like DR or trust score.
So what's the best SEMrush alternative?
Mangools obviously is a much smaller company than many of the premium tools out there. Tools like SEMrush and Ahrefs have a ton more features that Mangools obviously doesn't.
For example,
All SEMrush plans include:
Site Audit
On-Page SEO Checker
Social Media Tracker
Backlink Audit
Brand Monitoring
Content Audit
Keyword Research
SEO Content Template
Gap Analysis
Topic Research
Log File Analyzer
…and so much more!
Sure, Mangools can do a lot of that but obviously not all. However, most people looking to buy SEMrush wouldn't use half the tools SEMrush has to offer.
For example, take a Log File Analyzer, why would someone who's starting their first website have to even bother with their logs. It was only in about my third year of doing SEO that I ever used a log analyzer.
Mangools has all the tools someone blogging or working on small projects needs making it the best Affordable SEO suite!
Click Here To Try Mangools Free For 10-Days
As a recap, here are my recommendations and what they're best used for:
Mangools: Afforbale All-in-one SEO tools for first-time bloggers and businesses on a budget
Ahrefs: Best In-house SEO tool if backlinks are your #1 priority!
So, I highly recommend to settle for free SEO tools and spend a bit to get your hands on Mangools or Ahrefs!
Do let me know in the comments below, if you have any questions with regards to SEMrush and its alternatives, I'll make sure to help you out.