TLDR: ShipBob is the Best E-commerce Order Fulfillment Services in 2023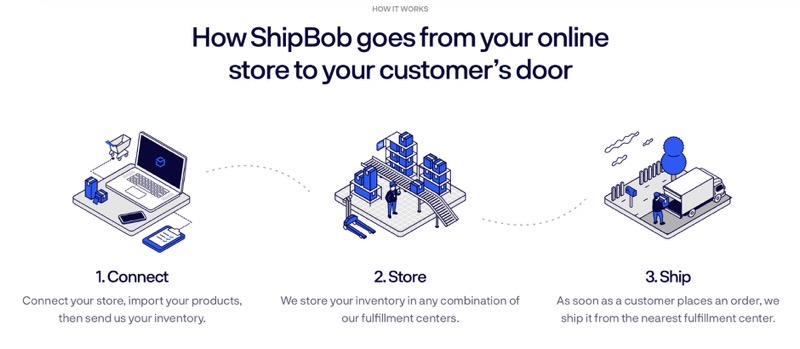 Order fulfillment can be one of those things that e-commerce store owners despise. Most people go into selling products online because they enjoy the process of creating something and selling it. But your job is far from done when the orders start rolling in. You still have to make sure that the product reaches your customers safely. That's often the hardest part of running an e-commerce operation.
Thankfully for those who want to sell products on the Internet, there are third-party services that do the job for you. These companies take up the job of fulfilling your orders for you. The extent to which they become a part of your fulfillment process varies from service to service.
Certain order fulfillment services focus just on deliveries. They concern themselves only with getting a shipment from point A to point B, which is usually between one of their warehouses and your customer's location. These services are good if all you want is to get your shipments out.
Other order fulfillment services take a more holistic approach to logistics. They do, of course, make sure that your orders get delivered. But in addition to that, they may provide customers with custom packaging solutions, order management software, sales analytics, and so on. Such services contribute to the growth of your business along with fulfilling orders.
If you're on the lookout for a service that will fulfill your orders, look no further. We've scoured the land for all the best third-party logistics providers around. Read on to learn more about the landscape of companies in this niche and decide which one you should go with.
Best E-commerce Order Fulfillment Services
1. ShipBob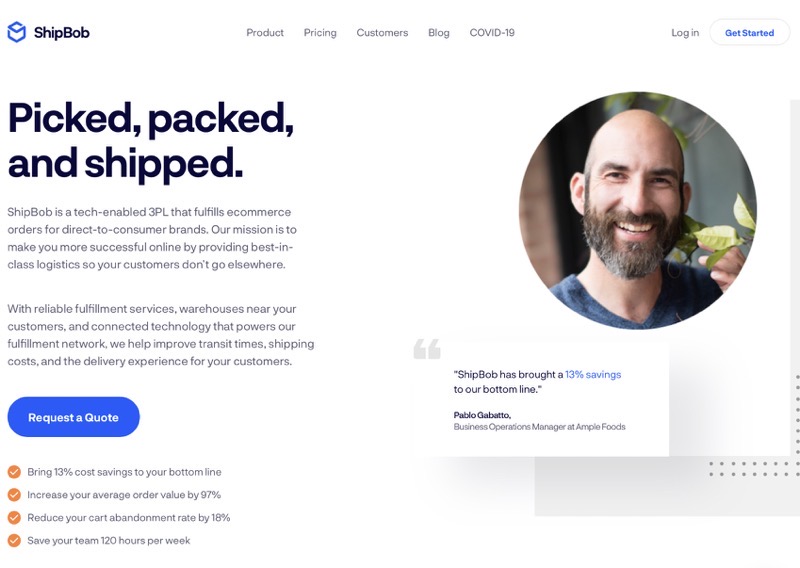 Since its inception in 2014, ShipBob has become a standout player in the order fulfillment and third-party logistics domain. The company's aim is to give its customers the best logistics solutions so that those who buy from them don't choose their competitors. Based on what they've achieved so far, they seem to be fulfilling that promise.
The company was founded by Dhruv Saxena and Divey Gulati. It started off as an operation that was run out of the former's apartment. ShipBob is now headquartered in Chicago and has warehouses across the United States spanning hundreds of thousands of square feet.
The reason ShipBob has been so successful is because it focuses on two important aspects of order fulfillment: logistics and technology. Logistics by itself is an important component because things need to get from point A to point B quickly and safely. And the way ShipBob achieves that is using conventional logistics know-how combined with some very smart technology solutions.
Let's first talk about ShipBob's logistics capabilities. The company has warehouses spread out across the United States. Each of these warehouses has the capacity to hold thousands of e-commerce products of different shapes and sizes. They're also equipped to handle incoming orders quickly so that items are packed and shipped in the quickest time possible. The company's warehouses ship items with a 99.95% accuracy rate and orders are fulfilled on time 99.2% of the time. Those are some impressive numbers.
Now in order to make use of ShipBob's logistics capabilities, you first have to connect your online store to the company's web portal. You can have your store on any major e-commerce platform, including Amazon, BigCommerce, Walmart, and Shopify. As soon as you connect your store, ShipBob will automatically connect to it.
Next, you'll have to ship your items to ShipBob's warehouses. You can decide how to spread out your products among the different ShipBob warehouses across the country. This can be done based on your understanding of customer density in different locations and later on, ShipBob's own insights about where your orders are being shipped to.
Once your products have been shipped to the ShipBob warehouses, you can take your hands off the wheel when it comes to your logistics. As soon as your e-commerce store gets an order, ShipBob will be notified automatically. They'll set about picking and packing the relevant item. The packaging used can be plain boxes or brands can send in their own custom packaging.
Now it's time to ship out the item. ShipBob chooses the right warehouse location and carrier service for the job. The item is shipped out and reaches customers on time 99.2% of the time.
The prevalence of ShipBob's warehouses across the country makes shipping times drop dramatically. As a result, e-commerce brands that work with ShipBob can promise their customers 2-day shipping. This is a huge competitive advantage since customers are more likely to make larger orders and become repeat customers when given 2-day shipping.
That brings us to the technology capabilities that ShipBob possesses. The company has its proprietary software that drives decision-making and provides customers with the insights they need into their own e-commerce business.
First comes the order management software. When you use ShipBob, you don't have to actively carry out the order management process. But you can overlook the way it's being done so you can interject if you need to and optimize processes.
The order management software shows you a full timeline of the orders you have received, the ones that are currently active, and the ones that are being fulfilled. You can pick any particular order and tell whether it's being picked, packed or shipped. This also helps customers stay on top of the process. You also get key information about products in the order such as weight, dimensions, and the carrier being used to make the delivery.
Being able to manage orders using this software is especially beneficial for direct-to-consumer brands. If you ship out products on a subscription basis, you can track all your subscribers within ShipBob's software. If changes need to be made, you can modify orders via the order management software. It also makes it possible to automatically give out shipping information to your buyers.
ShipBob also provides its customers with inventory management software. This is helpful for any e-commerce operation since managing inventory well is an obvious way to optimize your processes.
Since ShipBob spread inventory out across a few locations, you have to track products across them. The company's software shows you inventory levels across locations and notifies you when it's time to restock. You can set it so that you get notified when products need to be replenished and can easily make product transfer requests to ShipBob.
ShipBob's inventory management software also gives you actionable insights based on your inventory data. Here's some of the key information you get from the software:
Quantity of each SKU available at different locations at any given time
Products that are slow-moving or have relatively high storage cost
Fast-selling products and reminder notifications for when they need to be replenished
ShipBob backs its software stack up with an analytics and reporting tool. This tool is packed with charts that visualize the overall performance of your e-commerce business and guides future decisions. It also serves as a way for ShipBob itself to be accountable about its own performance.
ShipBob Pricing
ShipBob's pricing covers the entire fulfillment lifecycle for a direct-to-consumer order. That includes:
A one-time implementation cost which also covers a month of support
Receiving the products in your inventory
Storing the products
Picking items for each order and shipping them out
Here's how those costs break down.
ShipBob charges $25 flat for the first two hours of receiving inventory. Thereon in, it costs $35 per man-hour.
Storing products in pallets costs $40 per month per pallet. If you need a more economical option, you can go with a shelf for $10 or bin for $5 per month.
Shipping costs themselves vary depending on the carrier assigned to your order. It also depends on the weight and size of the consignment.
2. ShipMonk
ShipMonk was founded in 2014 with the aim of giving small- and medium-scale businesses the ability to grow using a fulfillment service driven by technology. The company now has three warehouses – located in Los Angeles, California; Fort Lauderdale, Florida; and Pittston, Pennsylvania – to make that possible.
ShipMonk runs order fulfillment for a few different kinds of operations. Here's what they are:
E-commerce
ShipMonk integrates with 150 different e-commerce platforms and shopping carts. So you can quickly start using this order fulfillment service by integrating your online store with it. The service's e-commerce order fulfillment services cover everything from receiving orders to shipping them out.
ShipMonk has its own e-commerce order fulfillment system. This system ensures that the picking and packing are done in the most efficient way possible. The company has the capacity to do anywhere between one and 10,000 orders every single day. And the best part is that you pay only for the number of products that are picked and packed. So if you have only one product going out in a certain month, you pay just for that one.
To make shipping happen, ShipMonk has partnered with some of the best shipping carriers in the United States. The company receives heavily discounted rates from these shipping companies and passes these benefits on to their customers. That means that you would receive better shipping rates using ShipMonk rather than working with a shipping company yourself.
Retail
E-commerce companies aren't the only ones who require order fulfillment services. Wholesalers need to be able to get products out to retailers across the country on a regular basis. If that's what you're looking to do, ShipMonk can help.
The crux of ShipMonk's retail order fulfillment service is its inventory management software. The software supports bulk processing orders, which means that you can deal with bulk B2B orders in the same way that you would B2C orders. The software has a dashboard where users can set criteria based on which their inventory is controlled. Bulk processing orders is helpful for retail fulfillment since it saves time and you don't need to deal with products on an individual basis.
Every now and then a retail fulfillment order may require special attention. This may include having to do things like labeling products, doing a recount of the bulk orders, repackaging an order, etc. ShipMonk doesn't leave you hanging if you need to get something of that nature done. The company's highly trained fulfillment team is available if you need them to attend to any of these special tasks.
Subscription Boxes
Subscription boxes have become a popular niche in the e-commerce industry. These are a little different from standard e-commerce orders because they run on a predictable schedule for a predefined set of customers. As a result, the order fulfillment for subscription boxes can be optimized in a way that you can't standard e-commerce orders.
ShipMonk has a track record of working with some very successful subscription box companies. After having worked with over 100 such outfits, this order fulfillment service has learned how to save money on things like kitting, shipping, and packaging. The company has perfected the art of subscription box fulfillment down to a few well-defined steps.
Once your products reach the ShipMonk warehouses, they check the inventory levels to make sure that they have enough to cater to your subscribers that month. The day before your boxes are shipped out, you will receive three different photos. The first photo will show all your products laid out, the next one will show the products arranged in the box, and finally you'll see a photo of the closed box. ShipMonk starts shipping out boxes only after you approve these photos.
Crowdfunding
Crowdfunding has become a reliable way for young product designers and e-commerce companies to raise funds. Although crowdfunding websites can help with capital, they don't assist their users with fulfilling orders once campaigns have run their course. If you've just completed a successful crowdfunding campaign, you can use ShipMonk to get your product out to your backers.
ShipMonk caters to crowdfunding order fulfillment, primarily for orders that have been backed through Indiegogo and Kickstarter. The company's inventory management software gives you full control over the fulfillment process, including things like tracking, shipping, missing inventory claims, and notifications. So you can dictate exactly how you want these processes to work before shipping and after products have been shipped.
Perhaps the best part about using ShipMonk for crowdfunding order fulfillment is that the service integrates with various crowdfunding platforms. So you don't have to do much manual work with things like onboarding or order processing. The platform can handle those tasks automatically.
Fulfillment by Amazon Prep
Amazon, the biggest e-commerce platform in the world, is obviously a great channel to get your products out there. Its Fulfillment by Amazon (FBA) service is a great way to get your products out to customers without having to worry about how to get fulfillment done. The problem with using FBA is that Amazon requires products to be ready for fulfillment upon arrival. That means that all the packaging and packing has to be done beforehand when you work with FBA.
This lack of flexibility may be a problem for some e-commerce operations. You may want to be able to use FBA but not have to do picking and packing for your orders on your own. ShipMonk can serve as an intermediary in such a situation. That's thanks to its FBA prep services.
ShipMonk can do everything that Amazon doesn't as part of its FBA program. So you can ship your products out to the company's warehouses and have them prepare it for Amazon. ShipMonk's team will firstly handle all your orders as they come in. They will then use that information to pick and pack the right products before sending them off to Amazon.
An important benefit of using this service is that ShipMonk ensures that your packages comply with Amazon's strict regulations. If you do it yourself and the packages aren't compliant, Amazon may refuse them, or even worse, charge you a penalty for not complying with their standards. ShipMonk oversees the entire process to make sure that your shipments are fully compliant with FBA standards.
ShipMonk Pricing
ShipMonk's pricing for e-commerce fulfillment depends on the number of orders you get per month. Let's say your store received between 500 and 1,000 orders per month. In that case, picking the first item costs $2.25, picking additional items is $0.50, and if you have any promotional material like flyers, that will cost $0.20. The minimum pick fee per month is $250.
Next comes storage requirements. Each SKU that you have will need to be placed in a different storage location so that picking items is easy. Small bins, medium bins, and large bins cost $1, $2, and $3 per month respectively. If you need larger options, ShipMonk's X-Large bin costs $4 per month and a pallet is priced at $20 per month.
3. ShipStation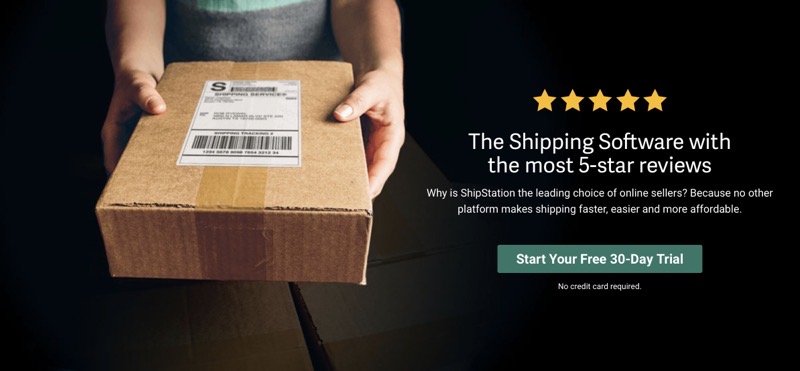 ShipStation puts an emphasis on the software that it takes to efficiently process, pack, and ship e-commerce orders. The company's web interface equips their customers to do everything from order processing to customer communications. It also integrates with most major online shops and shipping carriers so you don't have to worry about doing any manual work.
The e-commerce fulfillment process starts at receiving and processing orders. ShipStation has its own proprietary software to make order management simpler for e-commerce outfits of any size. The software does a lot of handy things that streamlines your entire fulfillment process. That includes:
Tagging orders:
In certain cases, you may want to associate a particular tag with a certain batch of orders. This may be so that you can identify orders that are going to a particular part of the country or a certain segment of your customer base. ShipStation lets you color-code orders to give them a unique identifier. You can then sort orders on the order management software based on their tag.
Edit orders:
Not every order that comes in needs to be fulfilled in that same way. Every now and then you may have to edit an order. That could be because a customer has added an item, changed the shipping address, or something such. You can easily edit any order even after it has been imported into ShipStation's order management software.
Filter orders:
Filters are a great way to view orders in batches based on certain criteria. This could include criteria such as order destination, product type, product weight, the tag that you've given, and so on. You can set any of these filters on ShipStation's order management software. This is a great way to quickly see orders of a particular kind and make changes in batches to save time.
Combine orders:
There are certain instances where your e-commerce store may receive multiple orders from the same address. When that happens, you don't want to have to process these orders separately since that can be very inefficient. When a store gets different orders from the same location, ShipStation's order management software alerts a user that that has happened. Now you can choose to combine these orders so that they use the same shipping label and are sent as part of the same shipment. You save both money and resources in the process.
Alerts:
It is impossible for e-commerce store owners to stay on top of everything going on with their business. This is true even if you run a small-scale operation. ShipStation takes a proactive approach to e-commerce fulfillment by alerting users automatically at key junctures. So if inventory levels of a particular product are low or you have an urgent query from a customer, ShipStation will let you know with an alert. That way you know that you're on top of everything without having to micromanage the operation.
Now let's talk about shipping. ShipStation lets you create shipping labels that are discounted for all your orders. The company's software lets you bring all your order sources and shipping carriers onto one only platform.
You can either use your own shipping carrier or find one on ShipStation. The service has its own Rate Browser where you can see different shipping companies and their charges. Once you have picked a shipping service, ShipStation generates all the required shipping documents.
ShipStation's shipping software can also contribute to a better experience for your customers. You can set up the software so that those who have made orders get automated shipping notifications. Customers can easily know when their order has been processed, packed, and shipped out to them. This can all be done using a tracking page that contains your business's custom branding.
ShipStation has a whole range of integrations with third-party services. And this isn't limited to shipping services. Here's a list of some of the more unique integrations on offer:
Snapchat: Snapchat ads may be a good way to market your products. You can create and track your Snapchat ads using ShipStation's software.
MailChimp: Email marketing is a great tool to generate e-commerce orders. You can create email campaigns, automate messaging, and group subscribers on MailChimp. All this information can be integrated with ShipStation.
ShipStation Pricing
ShipStation has a whole six different pricing tiers. This is probably more than you're used to, but shows that you can pick a tier that suits your needs perfectly.
The service starts at just $9 per month. For that price you can have 50 shipments sent out. The $29 Bronze package goes up to 500 shipments per month, but is limited to one user.
If you want to have more than one user, you'll have to pay at least $49, which is the Silver package. This tier supports two users and allows up to 1,500 shipment each month.
ShipStation's highest pricing package is called Enterprise. It costs $159 per month and lets you send out a maximum of 10,000 shipments. You can have up to 10 users on the account and get phone support, which is not available in any of the other packages.
4. ShipWire
ShipWire is an order fulfillment service that belongs to the Ingram Micro Commerce group of companies. It was acquired by the group in 2018 when the Ingram group was consolidated into the Commerce & Lifecycle Services. ShipWire has since become one of the major players in global logistics and order fulfillment.
ShipWire's logistics capabilities are founded on its cloud-based proprietary software. This order fulfillment technology connects supply to demand on a global scale. The dashboard visualizes transactions and makes it easy to access all the information about the orders coming into your e-commerce store. It's this software that powers all of ShipWire's different logistics solutions. Let's find out what they are.
Fulfillment
ShipWire has the logistical capabilities to fulfill orders quickly on a global level. That's thanks to its over 150 fulfillment centers that are spread out across a whopping 45 countries. You can rest assured that this order fulfillment service can handle your needs even if you're looking to branch out across the United States.
This network of fulfillment centers makes it possible to send out products in very quick time. Orders that come in before a certain cutoff time are processed and shipped on that same day. That means lightning quick order fulfillment and happy customers to boot. Customers in North America and Europe are served via ground carriers. So their orders reach them within two days.
ShipWire's software runs carrier optimization algorithms in the background. That means that it optimizes the way you choose the shipping carriers who deliver your goods. The carrier optimization features help you identify low-cost carriers and processes, saving you money in the process.
This order fulfillment service also deals with returns. It has return shipping optimization, which means that it finds the most efficient way to process a return and get the shipment back in your storage at the warehouse.
Sell Thru Retail
ShipWire's Sell Thru Retail solution does two important things for e-commerce players. The first is that it increases the distribution footprint for your product by tapping into retail channels. Secondly, it also ensures compliance with retailers' service level agreements so you don't have to worry about infringing on any contracts. ShipWire lets you ship your orders with custom labels and packing lists depending on the retail channel. This is a great way to get your brand to stand out in a crowded space.
Thanks to this feature, you can handle your B2C and B2B shipments from the same centralized software platform. This is very helpful for e-commerce companies that go direct to the consumer but also serve retail channels. The software automatically optimizes orders based on the inventory available and the carrier options available at any given time. It also has an intelligent packing feature that lets you virtual pack orders in the most efficient way possible. This leads to an overall great experience when delivering to your retail partners.
ShipWire Pricing
The only grouse that one may have with ShipWire is that its pricing is not easily accessible. The pricing tab on its website leads to a form that you have to fill out. You have to mention your email, phone number, and company on this form. It is only after you fill out this form that you're emailed the pricing information in the form of a PDF downloaded onto your computer.
The following services are included free as part of your using ShipWire's order fulfillment services:
Business reports
Custom shipping quotes
Order management system
Product catalog management
Pre-integrated shopping carts
REST APIs
The following are ShipWire's value-added services. The cost of using these services depends on the labor rates in each region. The services include:
Kitting
Packaging and repackaging
Inventory disposal
Labeling
Nonstandard receiving instances
With the standard order fulfillment processes, the pricing is variable. You have to reach out to ShipWire to get the exact numbers for your needs.
Pick and pack: There is a fee per item for picking and packing
Storage: ShipWire's pricing guide mentions a monthly storage fee depending on product volume without mentioning specifics
Shipping: These rates depend on the carrier you use
5. Rakuten Super Logistics
Click Here To Try Rakuten Super Logistics
You probably know of Rakuten as a massive player in the e-commerce world. They're well-known among customers for their cash back programs at various stores. But that's not all that Rakuten does. They also give e-commerce a way to take advantage of their massive global logistics network with their order fulfillment services.
"From dock to doorstep" is the phrase that Rakuten uses to describe its fulfillment services. This branch of the company is known as Rakuten Super Logistics. This is an outfit that knows how to run a successful e-commerce operation and you can tap into that through their logistics services.
Rakuten's fulfillment centers are spread out strategically throughout the United States. It covers all the major ports in the country and is capable of transporting inbound and outbound freight. The widespread presence ensures that your customers receive their products on time no matter which part of the United States they are located in.
When you have e-commerce orders to fulfill, you have to partner with a great shipping carrier. You may not necessarily get the best prices if you try to strike these partnerships up on your own. If you're a Rakuten Super Logistics customer, however, you can take advantage of their partnerships with major shipping carriers.
There are several shipping companies that fall under the purview of these partnerships with Rakuten Super Logistics. That includes DHL, FedEx, UPS, and even the United States Postal Service. The fact that Rakuten has relationships with these providers means that you get lower shipping costs and quicker delivery times.
Let's take a look at the different services provided by Rakuten's Super Logistics branch.
Order Fulfillment
Rakuten makes a few important claims regarding its order fulfillment capabilities. Firstly, it promises an accuracy of 100% on orders. That means that you can rest assured every customer receives exactly what they ordered every single time. This is thanks to the accuracy of the picking and packing processes at Rakuten's warehouses.
Rakuten Super Logistics also promises e-commerce companies the ability to reach 98% of America within two days. This is thanks to the fulfillment centers that are spread out across the entire country. So you can decide exactly how you want to distribute your products across these centers so your customers can enjoy 2-day shipping.
Kitting
Kitting is the practice of grouping disparate items into one SKU that can be shipped as one unit. There are many benefits to the practice of kitting. Firstly, several different products can be stored as one SKU. This saves on storage costs. Shipping kitted products is easier since they are packaged together. It's also more efficient in terms of pricing since you're selling multiple products at the same time.
Rakuten takes over the kitting process so you don't have to worry about bundling products together yourself. You can kit your products together in your warehouse management system. Rakuten's warehouse staff will do the job of actually picking out these items and packaging them together.
Kitting is known to increase the value of orders on average. All you need to do is make sure that you pick items that combine in a logical sense. If you manage to sell kits at scale you reduce fulfillment costs as well as handling errors.
Subscriptions
Subscriptions allow e-commerce companies to send out their products to customers on a regular, pre-defined basis. It's a great way to ensure a steady flow of cash, which can make or break direct-to-consumer operations. Subscriptions are also easier to fulfill since you know beforehand exactly what every customer needs.
Rakuten can take over the order fulfillment for your subscription box business. You don't need to do any additional work to make this happen. The service's software automatically gathers your orders and details about your subscribers. It then fulfills these orders on a subscription basis, whether that's weekly, monthly, or some other frequency.
Returns Management
Every e-commerce company has to deal with returns. It's unfortunate and it's true. That may not necessarily be because customers are unhappy with your product. They may return something because they want a different size, changed their mind, or something such. Processing these returns in a smooth way is an important part of your online store's customer experience.
Rakuten Super Logistics handles some of the heavy lifting that comes with managing returned items. You can decide how you want your returns to be treated and the warehouse staff will follow those instructions. Here are some of your options when it comes to managing returns:
Specific quality control checks for items that are returned. Send items that pass those checks back into your inventory
Items that don't pass your quality standards can be discarded
All returns from a specified time period can be collected and sent to a location of your choosing
Best Order Fulfillment Services – Final Thoughts
That was our list of the best order fulfillment services for e-commerce players. You're now well-equipped to take a call on which one you should use to get orders out to your customers.
To some e-commerce business owners, using order fulfillment services is about focusing on core competencies. The third-party service handles warehousing and delivery. In the meantime, you can focus on product development, marketing, market research, and so on. There are many more benefits to using a third-party service to run your logistics.
For example, using an order fulfilment service may be what you need to do to take your business to new markets. You can easily ship internationally by handing over your logistics to a partner with a global footprint. This means that you can drive topline revenue growth by using a third-party logistics solution.
Ultimately, you have to choose an order fulfillment company based on the needs of your own business. If you're a fledgling e-commerce company, focus on cost transparency and onboarding. You need to be able to get things running quickly without breaking the bank. Larger operations will want to focus on scalability and range of services when choosing an order fulfillment service.
Read Next: