NinjaOutreach is often joked as being they're responsible for 99% of the automated emails I get for guest post requests but that probably isn't even a joke (as Glen Allsop likes to say it).
When it comes to promoting your content, you have basically 3 options:
Owned Media
Paid Media
Earned Media
Sharing your content on your own Instagram account and email can only go soo far, and paid content cost a ton and also isn't that easy.
Paid Media also usually costs a lot and may not always generate a positive ROI. Some businesses can't really function in a PPC world. So, what are you going to do?
Well, earned media! You have to basically earn it.
What does that mean?
You want people to link to your site to improve your SEO.
You want people sharing links to your post on THEIR social media.
You want people finding out and reviewing your products on their own platforms
How can you get all that when most of the right people have never even heard of you?
How do you even find all the micro-influencers who have an audience?
Sure you could google "niche" blog and try and find their contact info. But that would take FOREVER!
Well, that's where Ninja Outreach comes in.
Click Here To Try Ninja Outreach For FREE
---
Ninja Outreach Review
What is Ninja Outreach?
Ninja Outreach is marketed as an "Influencer Marketing Outreach" tool, but it's soo much more than that. It's one of the best prospecting and outreach tool that can help you in all of your marketing campaigns.
With Ninja Outreach, you can enter your niche, location, audience engagement, and budget, to find the exact people to target.
You can use Ninja Outreach to:
Automize your "Skyscraper technique"
Find guest posts opportunities at scale
Find influencers in any topic and niche
Product Promotion
Content Promotion
Social Media Marketing
Expert Roundups
Sponsored Post Outreach
Resource Page Link Building
Podcast or Interview Outreach
Business Marketing Branding & PR
Click Here To Try Ninja Outreach For FREE
Ninja Outreach Review 2019
Hyper Focused Prospecting
Ninja Outreach makes it super easy to find and contact micro-influencers of any find. For example, I can type in "Travel Bloggers" and under categories select "Serbia". To have a list of all the top travel bloggers in Serbia with their Metrics, Engagement rate, Likes per post, Cost per promotional posts, etc.
I can also filter by the number of followers and by any other metric.
For example, here's the result for "Food Bloggers in New York City, who have over 1000 followers on Instagram and an engagement rate of over 5%".
If I was opening a restaurant of a food expo in NYC, that's my exact list of prospects right there! It doesn't matter what kind of marketing campaign you are planning on running Ninja Outreach is a Ninja (haha) at finding you the leads you need!
Create and Export Leads
Once you've decided on the type of people you want to target, you can start to build lists out of the prospects that you find.
You can not only get their email details and other info but you can organize all your marketing campaigns into different lists and use the different lists for different purposes.
You can have one list for your guest post campaigns
One for your skyscraper campaign
Another for your interview campaigns etc.
You can even export all the data along with the contact info into any CRM or email marketing tool out there.
Automate Everything
While it's important not to get too into automation with your business and killing the soul in your email campaigns aka going straight to spam.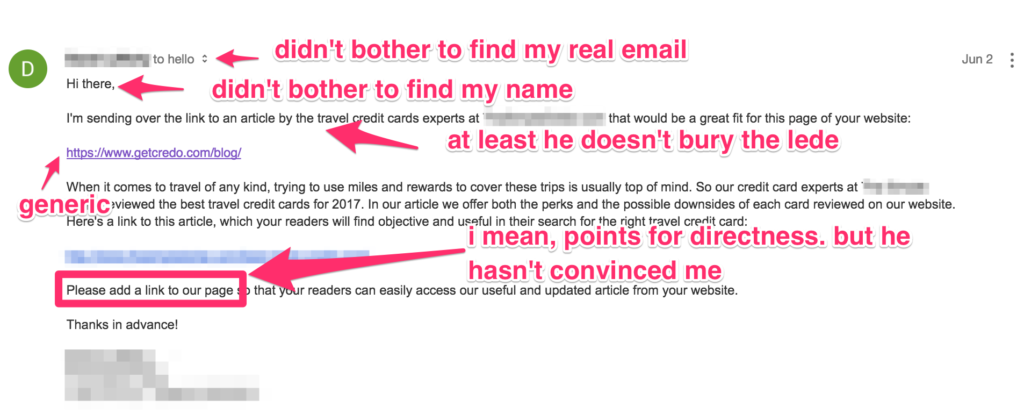 However, when it comes to cold emails there're some aspects of it that are actually easier to automate than others.
For example, if you have a list of influencers that you want to contact and ask them if they want to review products, by all means, automate that shit.
The goes with sharing topic ideas for guest posts with potential sites that you may guest post for. Don't do the "ask" on the first outreach email, use the cold email as a way of getting the conversation going.
Ninja Outreach makes it easy for you to automate your emails and even create email templates that you can change and modify as you go. You can also collaborate with a team and share your templates.
Click Here To Try Ninja Outreach For FREE
Using Ninja Outreach
Once you sign up for Ninja Outreach it can be a little overwhelming for someone just starting out so I created a small example of a campaign I could run.
Let's say I want to share a new project I'm working on, part of my marketing campaign would include doing a lot of guest posts. So, I'd sign up for Ninja Outreach (you can get a free 7-day trial by clicking here)
One of the major topics I would talk about is WordPress and work so I'd type "WordPress" and select "guest post" in the left-hand side column and set the DA as 35-100 to weed out really small blogs.
Going through the list I get all the metrics from DA to Instagram followers, social shares and also their emails. (in this case, I also have a link to their guest page so I could quickly scan their requirements)
I could contact these people individually OR I just select "Add to list" and I can create a marketing campaign that allows me to automate my entire "WordPress" guest posting experience.
Ninja Outreach Pricing
Ninja Outreach's price point may seem a little pricey for someone just starting out with their business. However, for a business looking to scale things, it's definitely worth it. If you want to stop being a small-time blogger or a small startup and be known all over Ninja Outreach can definitely make that possible and is well worth it.
Ninja Outreach Discount
You can get a 60% discount on Ninja Outreach by signing up and paying Annually instead of monthly!
Click Here To Get The Discount
Is Ninja Outreach Worth It?
If you're doing any kind of email outreach or marketing campaign then Ninja Outreach is definitely something you want in your arsenal! It can save you a ton of time and basically replaces hiring a couple of virtual assistants.
The UI and workflow are smooth and the data is presented in a way that easy to comprehend and act on which is the most important part of tools like these.
Let me know your thoughts on my Ninja Outreach Review in the comments below!
Click Here To Try Ninja Outreach For FREE